Booking Travelocity flights or rentals used to be the reliable way for travel bookings, but is Travelocity still decent today? What is Travelocity's customer service like? What services do they still offer? Keep reading to have all your questions answered about Travelocity now.
Online Travel Agencies (OTAs) are third-party companies that sell travel services. They make it convenient for people to browse for travel services offered by different brands on one platform.
With more choice, instant booking process, and detailed information, OTAs are a traveler's top choice when planning their next holiday.
Some OTAs offer multiple travel services, while some focus on a specific service such as accommodation and vacation rentals.
If you are looking for a multi-service OTA, Travelocity is one option to consider.
We've previously reviewed similar services, such as Momondo and Fareportal. But with Travelocity, it is one of the oldest players in the market. Are they still a worthy choice today?
Read our Travelocity review to determine if it's the right choice for you.
What is Travelocity?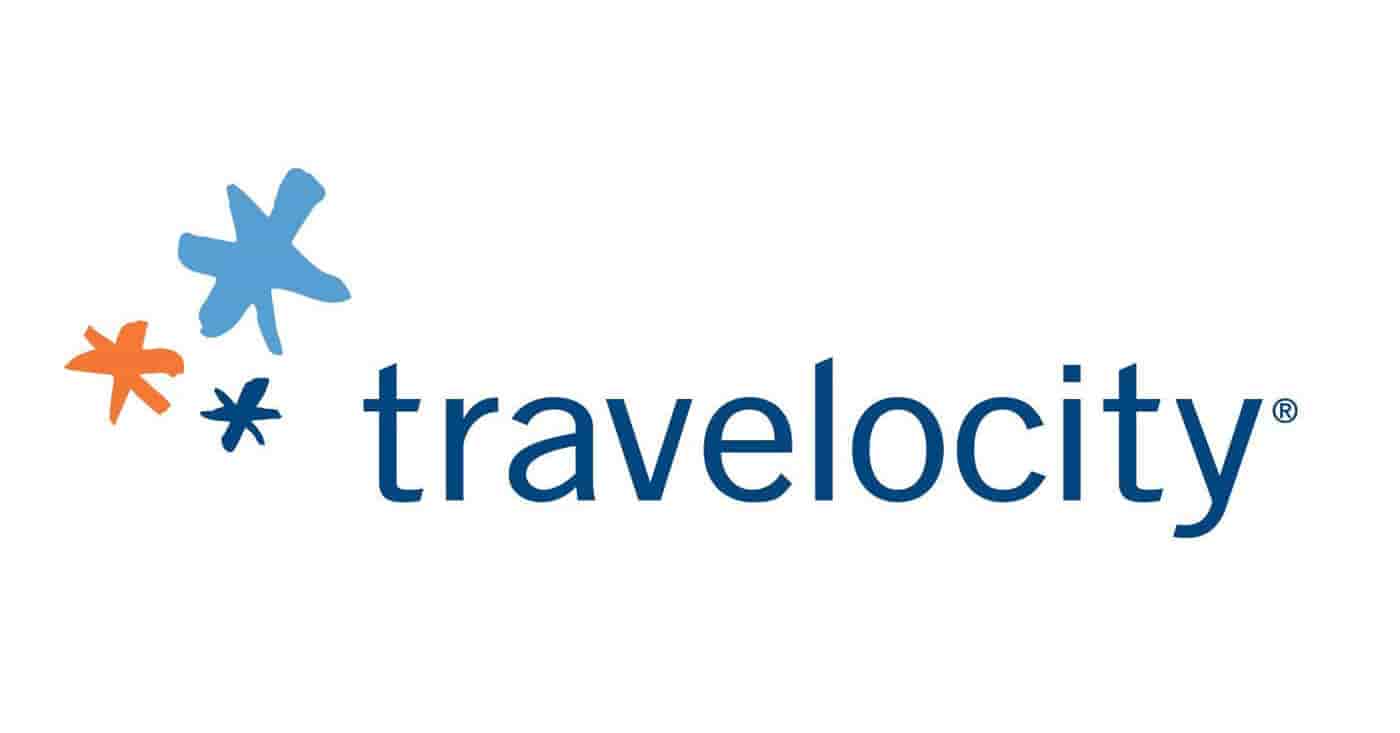 Founded in 1996, Travelocity is an online travel agency offering a wide range of services for travelers. It is owned and managed by the Expedia Group, a leading travel service provider globally. You can browse for travel packages, car rentals, flights, cruises, and hotel deals on the website and book them via Travelocity.
In addition, you can also reserve tickets for popular attractions, read inspirational travel content, and share travel plans with friends and family.
The Travelocity app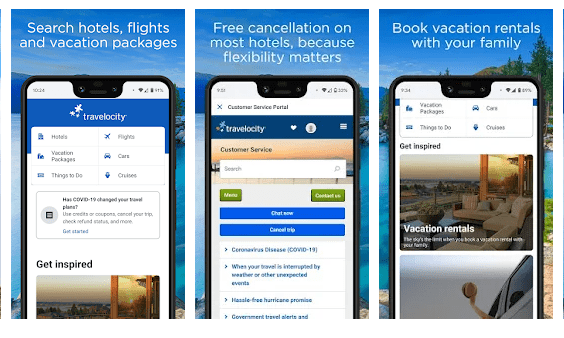 The Travelocity mobile app helps you browse and manage reservations with ease. It is available for both Android and iOS services. The app will notify you of flight status and gate numbers to keep track of delays.
Guests can also communicate with hotels by messaging directly on the app. More importantly, you can access all your travel details in one place, even when offline.
What does Travelocity offer?
Stays: a wide range of hotels, resorts, condominiums, and other accommodation types
Flights: flights to destinations under standard rates as well as bargain fares similar to what's posted by Scott's Cheap Flights
Cars: rental cars and cabs offering airport transportation
Vacation packages: all-inclusive itineraries covering hotels, rentals, and/or flights
Things to Do/Activities: tickets and reservations for major attractions, experiences, concerts, and performances
Travel deals: discounted offers
How does Travelocity work?
Select the service you are looking for on the homepage of the Travelocity website. Once you enter the required details, a search results list will appear.
For example, if you are looking for accommodation, enter the destination, check-in and check-out dates, and the number of people. Filters such as property name, star rating, budget, property type, popular attractions, etc., help you narrow the search results.
After viewing its details, reviews, and availability, you can reserve a room directly through Travelocity if you like a particular hotel.
Benefits of Travelocity
Convenience
Travelocity is a one-stop travel service provider covering accommodation, transport, activities, etc. It's a convenient choice for those who deal with busy schedules and have less time for researching and reviewing travel services individually. You can book everything here, and the website is easy to navigate.
Variety of choices
Having partnered with hotels and rental services worldwide, Travelocity offers a wide range of selections to meet every traveler's preferences. It covers a lot of destinations, offers competitive holiday packages, and posts frequent discounts on its listings.
Notably, this travel agency is great for families looking for comfortable, all-inclusive travel services.
Price-Match Guarantee
Suppose you find a lower-priced deal for the same listing on car rental, cruises, or flights on another US-based website. If you have already booked with Travelocity and find it within 24 hours, you will be credited the price difference.
The price match guarantee is more extended for hotels. You can claim compensation until the day before the scheduled stay.
Downfalls of Travelocity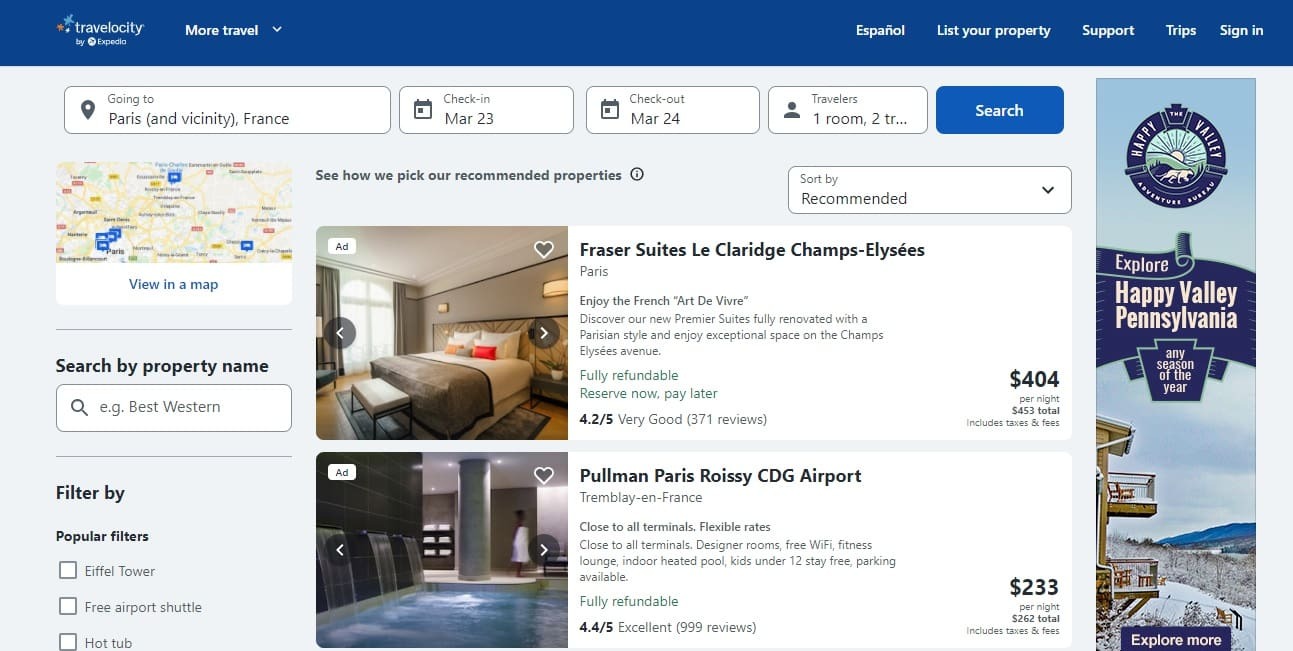 Subpar and Unresponsive Customer Service
Travelocity is infamous for its poor and unresponsive customer service. Although it promises 24/7 support, both the chat support and call center are unreliable. Customers had to wait for hours and days to contact an agent, and getting their issues resolved has been even more difficult. It is a serious drawback that can affect the credibility of the company.
Cancelation Issues
Booking with Travelocity comes with travel protection, offering refunds for canceled or changed plans if informed within the given deadline. However, many Travelocity reviews highlight the woes of customers being unable to obtain refunds despite being eligible for them. Even the website doesn't clearly state its cancellation policies and the terms that define them.
What are some alternatives to Travelocity?
Expedia, Kayak, and Trip Advisor are some popular alternatives. If you don't necessarily need a one-stop OTA to fix all your travel arrangements, the choice is endless. In our opinion, using a vacation rental website to find accommodation is better than using Travelocity as they specialize in that field.
Also, if you are hunting for the cheapest deals on flights, car rentals, holiday packages, and hotels, try using Momondo. It's a platform that scours the web to bring the best bargains for travelers.
Which is better: Travelocity or Expedia?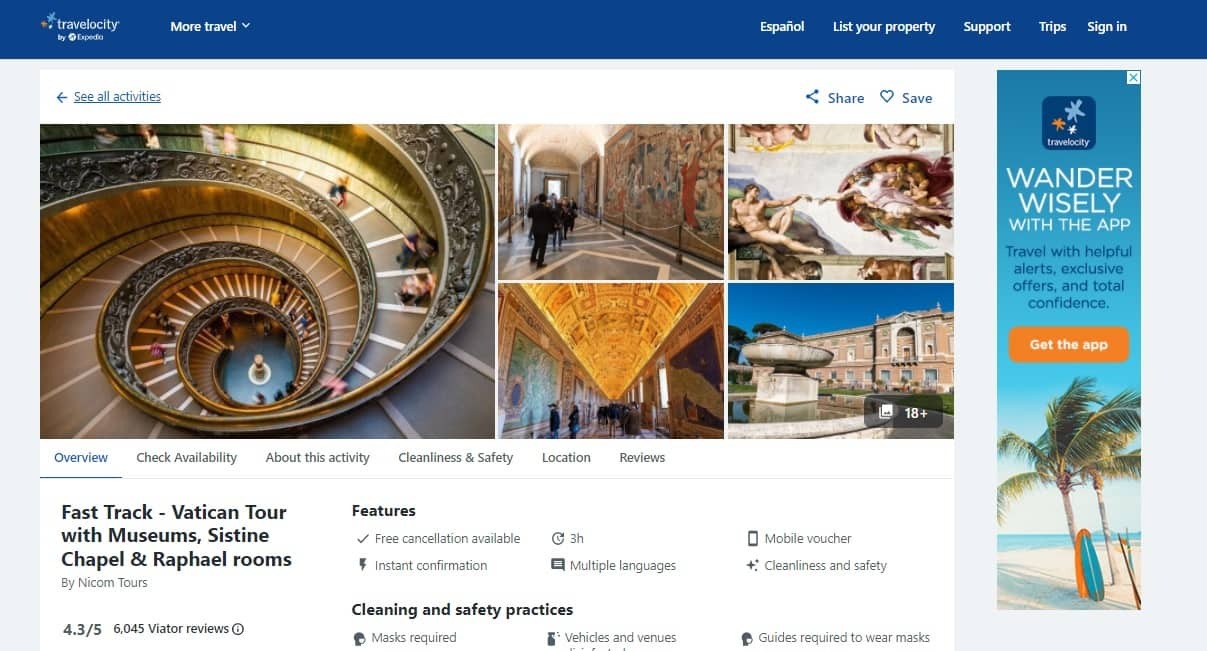 Both the OTAs are operated by the same parent company and offer the same experience. Even the websites look alike. However, Expedia is a better option as more deals and last-minute bargains.
We recommend you review both and select what gives you better choices when planning your trip.
If you'd like to learn more about Expedia and how the travel giant might not be as reliable as you'd think it to be, make sure you read our review of Expedia!
Is Travelocity worth it?
We have mixed opinions about it.
On the one hand, Travelocity is a reputed company and has a significant customer base. They offer tour packages to great destinations, especially family-friendly vacation spots. On the other, the reviews on customer support and refund issues are very concerning.
Travelocity suffer from the same problems and issues many had with Expedia.
We believe that you can use Travelocity for travel bookings. Just be wary that their cancellation policy and customer service aren't as strong as travelers would like them to be.
Our Rating: 2.7/5
Pros:
Super Convenient
Variety of options
Price match guarantee
Trustworthy – by Expedia
Cons:
Varied customer service
Cancelation issues
Same issues with Expedia
Store your travel tickets and plan with Pilot
Regardless of which travel services provider, you plan on using for your bookings, why not have them organized and stored alongside your itineraries?
Pilot is your brand new trip planner that helps you discover and build travel itineraries connecting you to resources everywhere. Make the planning experience more fun by collaborating with your travel buddies!
Pilot makes it fun and easy to share and relive your favorite travel memories with many useful features!
Did we mention that it's completely free? Try it out now!