About Dormify
Moving out doesn't have to mean bare walls and budget cuts. Sometimes, with the help of brands like dormify, it can mean truly embracing the creative side to showcase all that your personality has to offer.
This company offers it all when it comes to dorm and home decorations, so it's no wonder that they have over 253k followers on their instagram account. Featured in pieces by business insider, forbes, business wire, and more, it's easy to see how this business manages to continue their journey, adding more products each year.
We're not here to beautify the brand. This dormify review is all about honesty and that means revealing the truth about products, ratings, prices, and more to determine whether this brand is worth buying.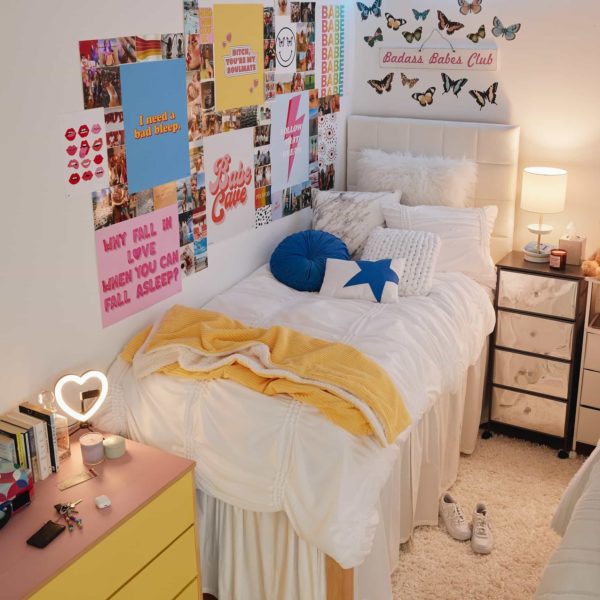 Overview of Dormify
Since 2011, dormify covers all needs when it comes to decorating a space from scratch. Adding ease to the typically overwhelming process of moving out, this company really focuses on the student experience to help young adults find their place and their style all in one location.
Working from the notion that a small space can be more than we give it credit for, this brand is all about bringing style into a limited square-foot home.
For those who need help, recommended sets are offered along general themes. Those who want to flex their fashionista skills can take advantage of the visualizer tools to plan out how to fill the space with available products.
Need more help? Stylist consultations are available to help plan out spaces to every minute detail. Follow the dorm/appt checklist to guide the way when it comes to what to buy and have consultants help fill in the gaps on how to perfect that final look.
This brand really comes down to comfort. While they're all about style and ease of access to a number of products, they really just want students and young adults to feel comfortable in their new spaces. Take standard rooms and turn them into a home – may as well take advantage of the time spent living there.
While this brand has a lot of great elements to it, it's important to offer a full picture in this dormify review to ensure customers know just what they're ordering. We've thrown together a highlights list of some key points to keep in mind: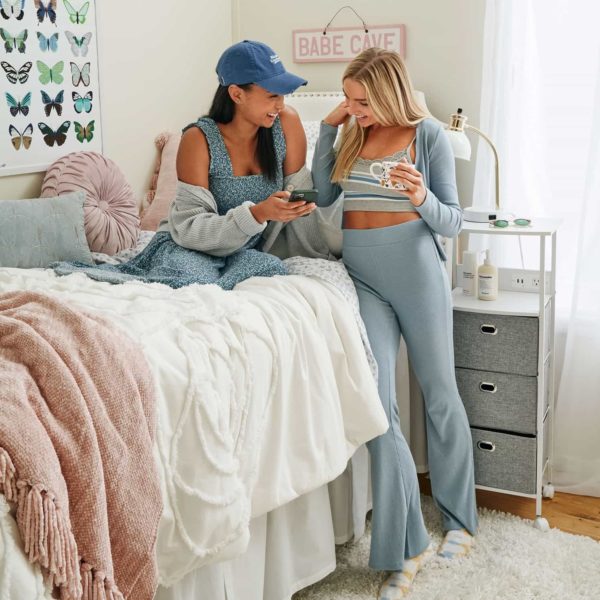 Highlights
Wide range of dorm and bedroom décor
Mid-range pricing on products
Visualizer to plan wall and bed space
Checklists for dorm essentials when moving out
Free appointments with stylists to plan your space
Klarna payment plans availableWe'll be honest, there's a lot to show off when it comes to this brand. For the purpose of keeping things short(er) we're limiting our dormify review to products centered around the bed.With that being said, there are several other categories of décor to fill any space with storage and inspiration.
Dormify Headboard Review
Get ready to lean back against a best-selling dormify headboard. Secure, sturdy, and stunning in their designs, these pieces are all about bringing fun into any standard dorm room. Add some elegance, flair, and fashion with one easy purchase of these popular pieces.
Dormify Pink Full/Queen Velvet Channeled Hanging Headboard Pillow Review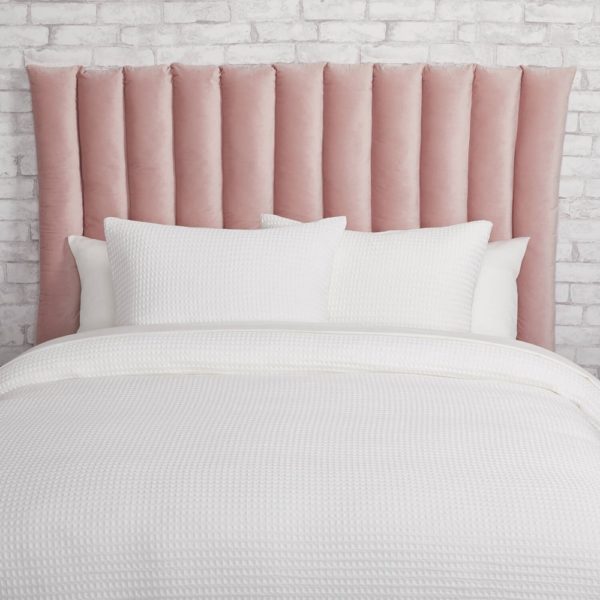 Aiming for a pretty in pink vibe? Check out the dormify pink full/queen velvet channeled hanging headboard pillow. It's a long title, but more than deserving of it.
Utilizing command hooks to secure the piece, this headboard is all about fashion and grace. Columns of soft pink polyester cover the piece, presenting almost a royal appearance to an otherwise common bed.
Cushioned with a poly filling, anyone (student or older) will appreciate leaning back to read or cuddling in for some netflix.
Dormify Queen Velvet Powered Channeled Headboard Review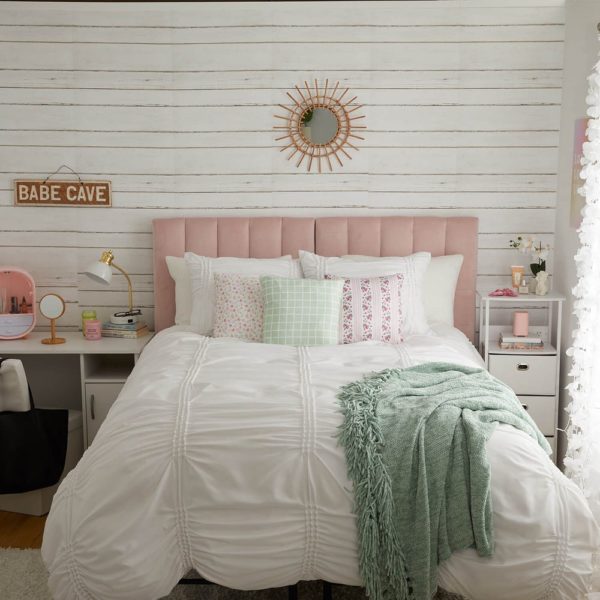 Channel that sleeping beauty slumber when sinking into a bed backed by the dormify queen velvet powered channeled headboard.
This item has a lot of things going for it. First and foremost – it has outlets and usb ports built into both sides. That means no more waking up to a dying phone or struggling because the cord isn't long enough to reach from the outlet on the other side of the room. Keep things simple and close, charging devices as you sleep away those endless hours.
The other great things about this headboard? The colors for sure. With three light and delicate options for styles, match the tone of the room and maintain that gracefully columned velvet appearance. Pink, gray, or white, it doesn't matter what's picked in the end as all three colors look and feel great on any bed.
Dormify Dallas Velvet Headboard Review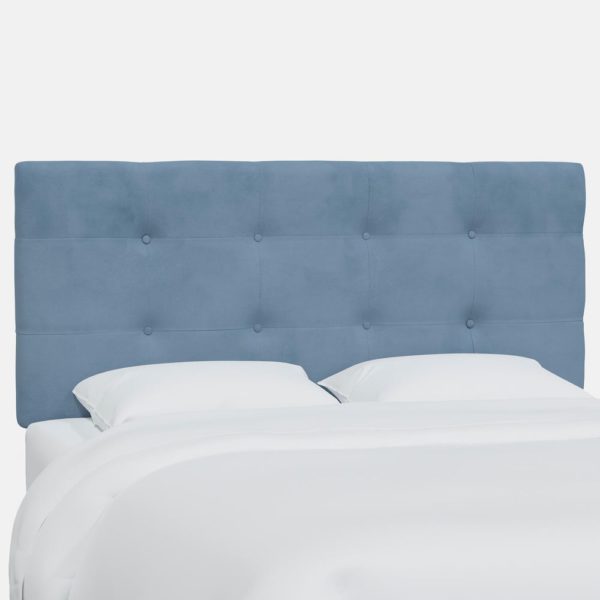 Age up the maturity level of any dorm or bedroom with the addition of the dormify dallas velvet headboard.
Grand in size and colors, this headboard was made for a simple style that stands out amongst the rest. Available in both blue and dusty rose, this polyester velvet board sticks with standard lines and buttons for a bit of fun without going too overboard.
Comfy to lean up against, pleasing to admire with the bed fully made, there's no beating this easy design when it comes to a universal style. With a simple attachment process, this headboard fits twin to queen size beds, meaning nothing can hold customers back when it comes to purchasing this piece.
Dormify Bedding Review
Hot or cold, prepare for all weather types while keeping the space looking great. Dormify bedding is all about adding texture, patterns, and pizzazz to otherwise standard rooms. Throw in some personality, mix and match style, and really make any room feel like home with these highlighted products.
Dormify Eyelash Fringe Comforter and Sham Set Review
Texture takes control when it comes to the dormify eyelash fringe comforter and sham set.
This set is one of the favorites when it comes to this brand, having recently been brought back in a new light blue color to stand out against the previous gray and white options. The big thing for this set is apparent in its name – the fringe.
With light lines of feathery fringe on the outside of the comforter, this texture fades on the inside to leave nothing but smooth material against the skin.
Fun, but subtle enough not to take over the whole space, this design is all about adding a pop of style to an otherwise standard bedding set. Light lines mix up the traditional take on bedding, and we'll be honest, the feathery fringe is incredibly fun to fidget with.
Actually, it might be dangerous to get this one as you won't want to leave the bed in the morning… oh well.
Dormify Faux Fur Heart Throw Pillow Review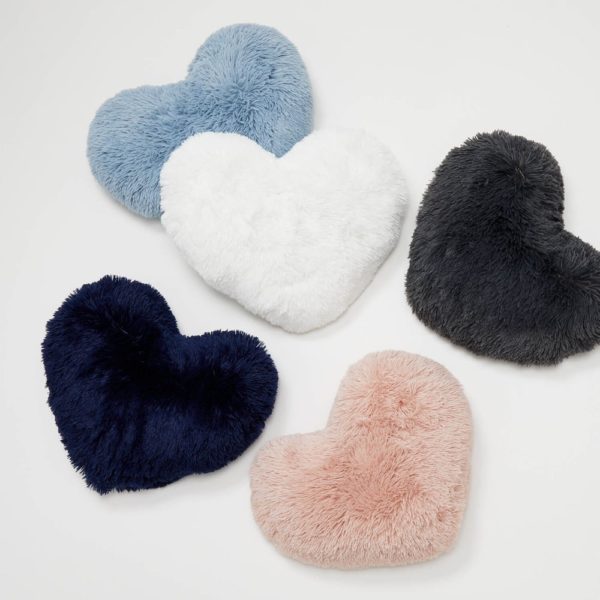 Who doesn't love a fuzzy and furry accent pillow that steals all the attention? The dormify faux fur heart throw pillow is a great addition to any space for that extra pop of color.
Available in 5 colors, this pillow is all about being cuddly and cozy. Super soft in appearance, just wait until you feel it! Tossed on a bed, couch, chair, or anywhere else, this pillow fits perfectly in any arms as a cuddle buddy on those cold nights.
Dormify Ditsy Floral Comforter and Sham Set Review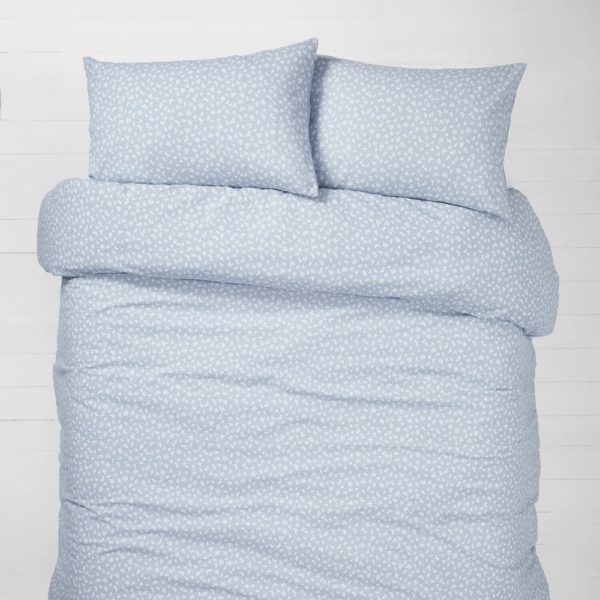 Let's all be serious, floral patterns get a bad rep. It's not about the subject; it's how it's used, and the dormify ditsy floral comforter and sham set uses it well.
We had to end the product portion of our dormify review with this fan favorite. The floral pattern in both blue and yellow options is so subtle, it takes a moment to sink in. While it's not immediately recognizable as flowers (which in our opinion is the sign of well-designed floral), the warmth of the garden bloom still shines through.
Soft in its appearance, this pattern is all about opening the space up into a homey atmosphere. Solid backing for those who may want to switch up the style means this set is really two patterns for the price of one.
Who Is Dormify For?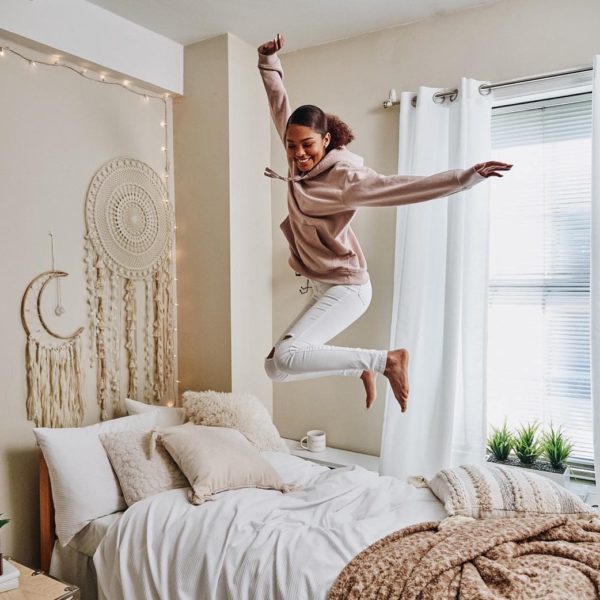 We have to be honest here, this brand really appeals to young adults. Best suited for the dorm-room stage of life, students and post-grads are the target market here. Offering a single location to decorate space in a number of ways, dormify wants to make shopping for home spaces as easy as possible for those new to living alone (or with roommates).
The décor tends to stick to trends for those in their teens and early twenties. We're not ruling it out for other ages – by all means, feel free to shop around if older or younger than the planned demographic!
Dormify Reviews: What Do Customers Think?
We wanted to really beef up this dormify review with some customer ratings and posts, but we'll be honest, they were quite difficult to find. Outside of the brand site, rating platforms showcase fewer than ten reviews per site for the business, meaning the ratings aren't very significant.
We did ultimately pull from a few blogs and media sources, but keep in mind that these reviews don't necessarily reflect the masses like ratings found on dormify's own site.
With all of that in mind, this business comes in with a pretty solid 4.8/5 star rating on their own site based on over 3,880 customer opinions.
It's easy enough to see that many adore this brand for their extensive product line and reasonable mid-range prices. Products come in fun and unfamiliar shades, making it easy to transform a space into your own.
One five-star dormify review commented, "i must say, the texture of the wallpaper is absolutely amazing!!! It was easy to put on my walls and overall a simple process. Although the wallpaper roll was small, i will be definitely buying again because the results are too essential!"
Keeping decorating simple and quick, this business wants all products to impress when it comes to quality patterns and textures in tiny spaces.
Providing the freedom of personalization that's easily removed upon moving out, dormify ensures a level of customization that other businesses in the industry don't.
While some customers on this site have complained about the quality of pillows and comforters, many have refuted those claims and praised the brand for their customer care.
Outside of their own site, business insider posted a whole article on this brand and all they've brought to dorm decorating since their initial launch. This review claims "the site, as well as the design studio, allow for as little or as much effort as the buyer wants and takes out the added stress of worrying if everything will look good together."
Focusing not just on the products, but also their styling services, this article offers a larger picture of what the business brings to the market that others have ignored.
Is Dormify Worth It?