Expedia's powerful search features and rewards program make it the best choice for value-conscious travelers.
The best way to get the most value from a hotel booking site is to use its rewards program. We compared the rewards and found that Expedia's is the best value by far. It's more flexible and versatile than the programs offered by Orbitz or Hotels .com.
When you sign up for Expedia's reward program, Expedia+, you'll get access to a variety of benefits. The primary one is earning points on your purchases. With Expedia+ you earn 2 points for each dollar you spend booking hotels, cars, flights and other things through Expedia. These points can be used to book travel at a later date, and there are no blackout dates for redeeming your Expedia+ points.

Expedia offers some additional benefits with its program that others don't. Not only can you earn airline frequent flier miles and credit card rewards points on the same purchase you earn your Expedia points, but you can also use points you earn through other programs, such as Citi and American Express, on purchases through Expedia by linking those accounts to your Expedia account.
As an Expedia+ member you'll get access to special, members-only prices. These are significantly discounted rates, including daily deals that offer the best price on flight-inclusive packages leaving the airport closest to you.
Expedia+ members are also eligible for a hotel price guarantee. If you find a lower price anytime prior to the midnight before your stay, you'll be eligible for a refund. This option used to be available to all purchases through Expedia, but that service was discontinued way back in 2017.

There are three tiers in the Expedia+ program. The +blue program is the basic level that you get automatically for signing up. The +silver level is earned after spending $5,000 or staying seven nights in qualifying hotels. At the +silver level you'll earn 10 percent more points on eligible bookings, get exclusive travel bookings and get concierge benefits at certain locations. To get the +gold level you need to spend $10,000 or book 15 nights in qualifying hotels. At the +gold level you earn 30 percent more points on eligible purchases, all the benefits of the previous levels, as well as dedicated customer service agents and room upgrades at select hotels.
Of course, a good rewards program is nothing if the rest of the service isn't good. We found that Expedia is one of the easier services to use. Searching for rooms is simple, and Expedia has all the filters and sorting tools to making narrowing down your choice as simple as possible. You can sort by price, rating, member price or distance from downtown. You can set up filters so you only see the results that fall within a certain price range, or that offer certain amenities such as free breakfast.
Other filters include proximity to popular attractions. So if you're planning a trip to Disneyland you can find hotels nearby to minimize transportation hassles. You can also filter by location type. This is particularly useful if you're a solo traveler. Expedia lists hostels, so you can find extremely low-cost lodgings if you don't mind potentially sharing rooms with other travelers.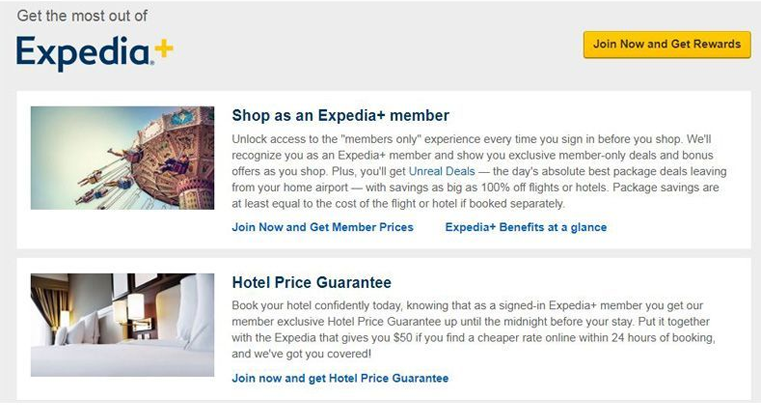 Booking simple, and given the choice to pay as you complete the booking or when you arrive at the hotel. You'll also told how many rewards points you'll earn with each purchase. Expedia allows you to bundle your hotel with flights and car rentals, which is a great way to save money, since a bundle will usually cost less than booking each item individually. Each step lets you choose which flight, hotel and car you want, and you can see how much you're saving as you fill in your bundle. We did notice that the savings fluctuate, and when you make your final choice the price can change dramatically.
Expedia offers other options besides hotels, flights and cars. You can also book cruises and get tickets to tours and attractions in the area you're traveling to.
Expedia is one of the most well-known names in hotel booking. It has the strongest rewards program we saw, offering many ways for members to earn points and maximize returns on their travel spending. It also provides more than just hotel, flight and car booking. As you can purchase tickets for local attractions as well.
Today's best Expedia .com deals