What Is Fiverr?
Fiverr is a popular online platform where sellers can sign up to offer goods and services to visitors. The relationship between the buyer and seller is very similar to that of employing a freelancer to do a certain job for you.
Fiverr earns its name from being a relatively cheaper alternative to employing freelancers for those purchasing services. For those selling content or services on Fiverr, it is a convenient way of making quick money on a side or part time basis. Access to all of these services are via the website and the Fiverr app!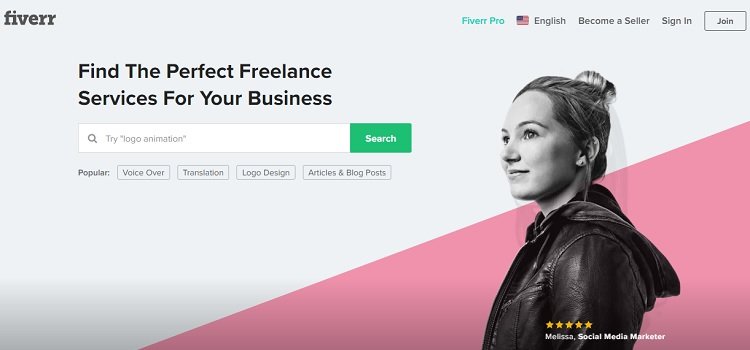 How Does Fiverr Work?
Do you have a special talent or skill that others would find useful? Maybe you're good at designing logos, websites, or wedding invitations. Or perhaps you can help business with their social media or HR strategy.
Whatever your talent is, Fiverr gives you the opportunity to share those skills with the rest of the online world. And best of all, you can make money while doing what you love.
The process of finding Fiverr jobs is fairly straightforward. But first, it's important to understand the two different parties involved in the transaction. Here's how Fiverr works:
Sellers: If you are a freelancer looking for work, then you are what Fiverr considers a "seller". A seller can list any type of service they want, along with how much they would like to be paid. Your chances of being hired depend on your experience in your industry and your experience on Fiverr.
Buyers: If you are looking to purchase a service, you are the "buyer". A buyer has something they need to be completed, whether it's a specific task, job, or project. They can be businesses, companies, or even individual people. On Fiverr, buyers hire sellers in order to help them accomplish this work.
Fiverr is a two-way communication platform, which means both buyers and sellers have the opportunity to find each other. A buyer can browse through the profiles for sellers that meet their requirements. Or, a seller can look through buyer requests for tasks that match their skills.
Once a buyer and seller find each other, they'll agree on a set goal, time frame, and price. Then it's up to the freelancer to do what they do best — work, work, work!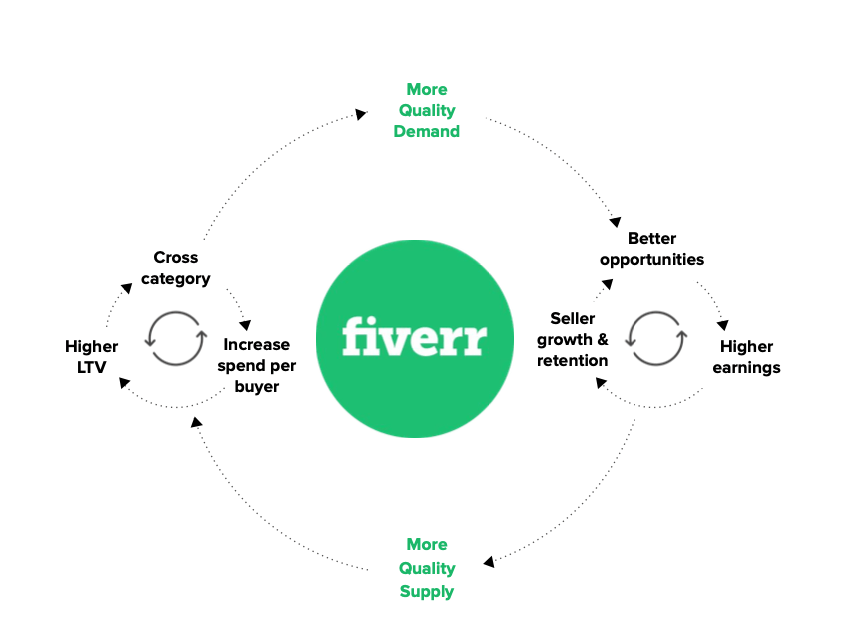 What Is Fiverr's Brand Reputation?
Fiverr is reputable in terms of offering its buyers transparency, as buyers can look at the reviews of sellers before making any purchases. Furthermore, Fiverr offers a dispute resolution service if buyers are not satisfied with the communication or services provided by their seller.
If this escalates, Fiverr can offer a full money back refund, giving buyers peace of mind when making a purchase.
Fiverr also has an SSL certificate which ensures a good level of online security is being used throughout the platform. This helps to protect your personal and billing information from being easily accessible by anyone other than your seller.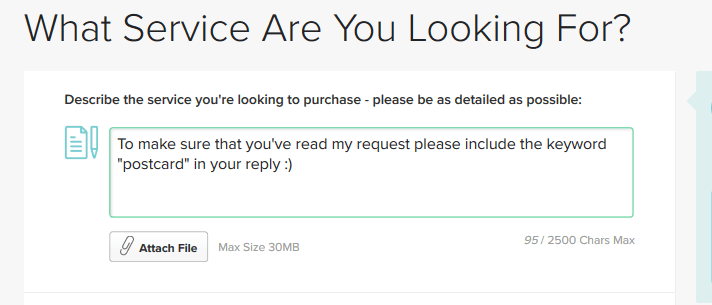 How to Get Started on Fiverr
Making money as a Fiverr seller is easier than ever. By completing the following steps, you can be up and running (and hopefully making money) with Fiverr in no time.
Register for a New Account
In order to make money on Fiverr, you must be a registered user. So, your first step is to sign up for a new account. Once you enter your contact information and details, you'll receive an email confirmation link. After you confirm your new account, it's time to start browsing for work.
Create a Seller Profile
Your profile is perhaps the most important way to get a job on Fiverr. It's your opportunity to showcase your experience, skills, and history to buyers. Essentially, you need to sell yourself with your profile! This is the first thing buyers see when deciding who to hire, so make your first impression a good one.
Create a Gig
Now that you have a descriptive profile, you'll want to create a gig to share with potential buyers. You'll need to provide information on your services, requirements, and what you will charge.
Think of the Fiverr gig as your job description. After reading your profile, a buyer will look through your gig to see if you are a good fit for their project.
Send Offers to Buyers
Although you can sit back and relax while buyers look through your profile, you'll get more gigs if you work proactively.
What Fiverr Services Should You Avoid?
You should aim to avoid purchasing any Fiverr services where the seller does not present any obvious skills or qualifications. This will be apparent in their user bios and service descriptions as most professional sellers will display their achievements or knowledge of that field.
Professional and trustworthy sellers may also reference past work that is available for you to view either in the form of a portfolio or a Google doc.
It is also recommended that you avoid looking for services that you do not know much about. Doing a little bit of research of the service category beforehand will help you to make a more informed decision on which seller to hire.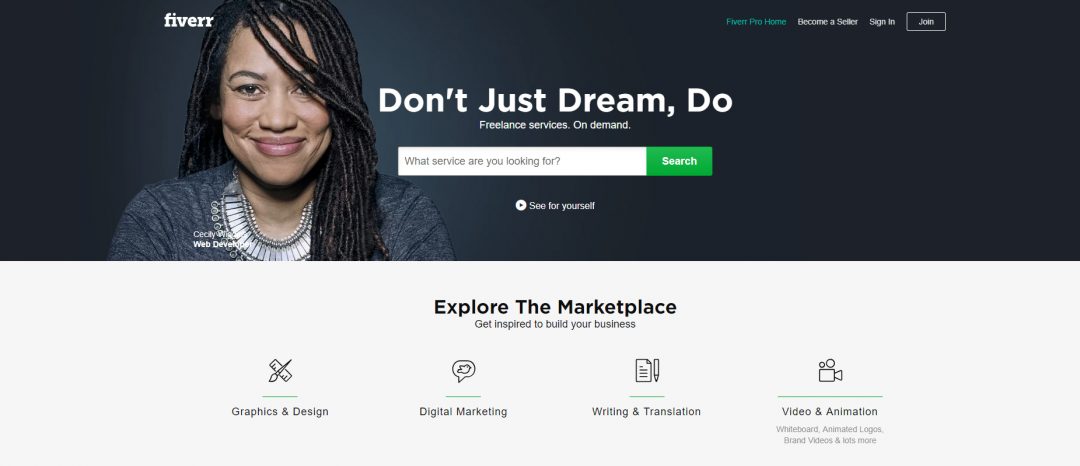 How Much Does Fiverr Cost?
Creating an account with Fiverr is completely free. This is one of the best features of the website. It won't cost you a penny to browse or see what gigs are available.
As a buyer, you pay Fiverr upfront for the cost of the gig, as well as administration fees. And the fee will depend on how much you're paying for the gig. The fee for gigs under $40 is $2, or 5% on gigs above $40.
How To Make Money On Fiverr
The following tips will help you to make money quickly on Fiverr with the increased likelihood of receiving more work requests. Whether you are looking for fiverr logo design or copywriting services, these are some great tips:
Working quickly
Only advertising services in which you are confident in
Encouraging your customers to leave reviews if they are happy with your work
Promptly replying to any messages
Showcasing yourself as a hardworking professional on your profile
Demonstrating professionalism within your customer service
Producing high quality work
What To Sell On Fiverr
The main recommendation when working out what you can sell on Fiverr is to look at what you are talented in, enjoy or hold specific qualifications for. Not only will this make the experience less stressful for you, but it will also decrease the likelihood of receiving negative reviews or buyers requesting refunds.
It is also worth having a look at the other Fiverr freelancers selling in your service of interest as these will be your competition. If you think that they are far more qualified than you, either charge a lower fee for your services or find something else to sell.
Either way, it is important that your charge reflects the quality of your work, or else your customers will request Fiverr refunds.
How Much Can You Earn On Fiverr?
As a seller on Fiverr, the maximum amount that you can charge for a gig (a service) is $995. A report by Priceonomics in 2020 suggests that around 70% of Fiverr sellers make less than $100 a month.
Despite these findings, how much you earn depends on numerous factors, including your self-promotion tactics, how much you charge, your reviews, as well as how you present yourself professionally online.
It is important to factor in that these are earnings after a 20% deduction fee on behalf of Fiverr for the maintenance and promotion of the platform.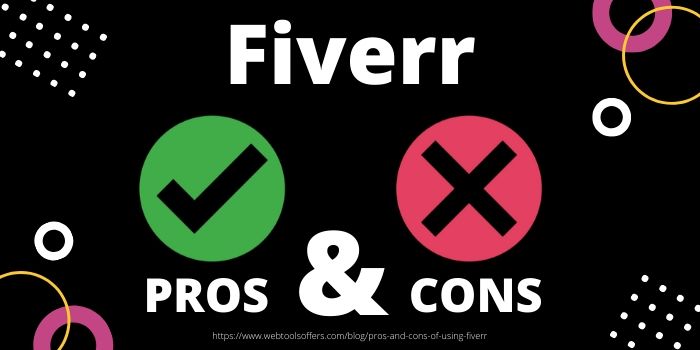 Pros & Cons of Fiverr
Although you have a world of freelance jobs at your fingertips, Fiverr has its advantages and disadvantages. So let's take a more in-depth look to see if learning how to make money on Fiverr is worth your time and effort.
Pros:
Freedom: Most freelance jobs come with a certain degree of freedom, but Fiverr takes that to a whole new level. Unlike many jobs, you have the opportunity to take on the gigs that fit your needs and your schedule. And in most cases, the buyer is not monitoring or setting your hours. Therefore, you can complete the job at your pace.
Confirmation of Payment: Because all buyers must pay up beforehand, you're 100% guaranteed to be paid for your work. You don't have to worry about working with dodgy individuals or unverified businesses.
Potential to Earn Tips: Fiverr allows, and even promotes, their buyers to leave a tip for their sellers. We've heard that over 50% of clients tip with an average amount of around 20%.
Good for Beginners: Since most jobs are quick, easy, and priced low, you shouldn't have a problem snagging a couple in the beginning. You might not earn what you want or be doing the type of gigs you excel at, but it's easy to make a little extra cash while building up your Fiverr reputation.
Working with Different Clients: One of the best things about working with Fiverr is working with a variety of clients and projects. You really get to experience different types and styles of work, which is great for someone who is more entry-level. And you'll meet a ton of new people, which only helps your networking skills in the future!
Cons:
Fiverr Commission: Although it's not uncommon for a job service to take a cut from your fee, Fiverr's 20% commission is high in our opinion. It's important to note that this 20% also applies to tips you earn from your buyers.
High Competition: Compared to other freelance sites, Fiverr is known (and named) for offering gigs at a very low price. If a buyer is purely looking for a good deal, they'll find plenty of sellers who are willing to do a particular job for just $5, regardless of the quality. You'll have to prove your worth in order to earn a higher amount.
Conclusion
As you now know, Fiverr is an excellent opportunity to start earning extra cash. With the right skills, dedication, and a positive work ethic, you can easily find online gigs that fit your talents and lifestyle.