Go West, young man — or rather go East. Word on the street says that's where the cool kids are, anyway. Shoreditch is, and has been for some time, one of London's hippest area's — and it's not hard to see why.
As we reach the outskirts of the city's East End, the cab driver signals at our hotel on his left, a beaming block of glass, hedged by a series of colorful murals. While the area's rugged industrial appearance is in no way similar to Vancouver's cosmopolitan aesthetic (having previously been described as Manhattan with Mountains) this stylish hideaway reveals itself as an unexpected contrast.
The lobby is bright and chic in equal parts, with a spiralling wooden staircase leading to the main floor. Quickly welcomed by one of the hotel's 'ambassadors', I'm directed to a nearby iPad for check-in. This is the modern world, alright. This desk is set between a comfy seating area and the hotel's cateenM — the open concept designed to 'feel like an open kitchen at home'. And it does. Only with better furniture and a fully-stocked bar.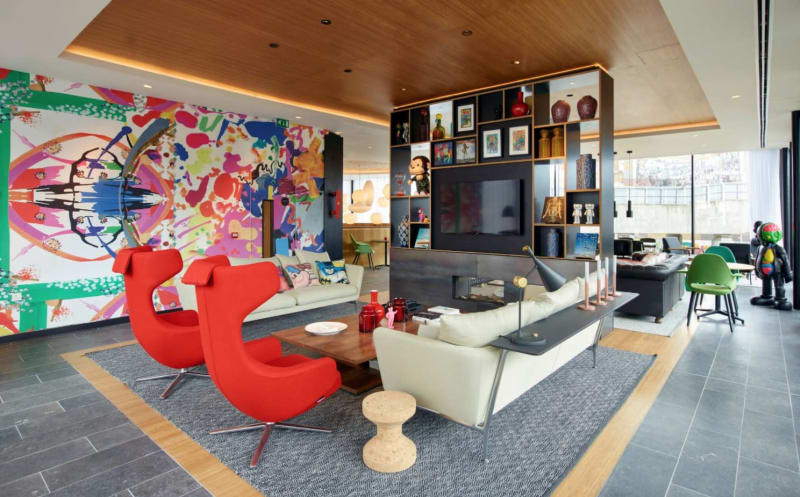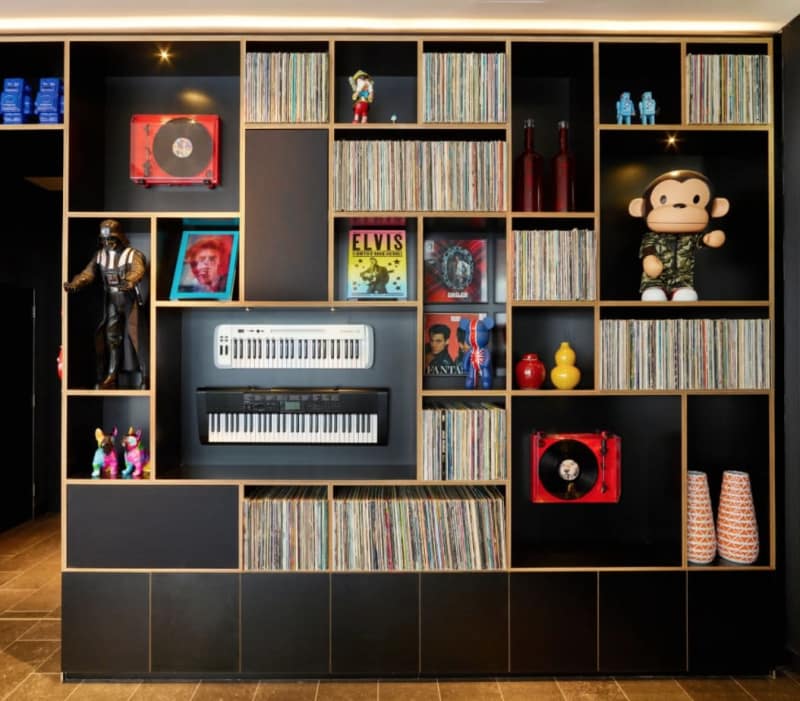 Stylish touches abound, plush red couches, rows of vinyl, and figurines of John, Paul, George and Ringo, all catch my glance. This is a hotel that caters to both upscale travelers and millennials — or a combination of the two. I see a man who I'd guess to be in his 40s flicking through a magazine while listening to music. Blur out his surroundings and he's as relaxed as he would be in his own living room. Next to him, a couple chatting over coffee. This doesn't feel like bustling London and at that I breathe a sigh of relief.
A wallpapered elevator brimming with grayscale images of people reflects the hotel's essence. It's all about the people here. So much so that guests aren't guests — they're global citizens.
Floor five. And, as promised, an 'XL super dooper king-sized bed', topped with a most-inviting fluffy duvet and pillow set. Behind it, a view of urban Shoreditch. Not a mountain in sight, we're not in Kansas anymore — but the change of scenery gets my stamp of approval.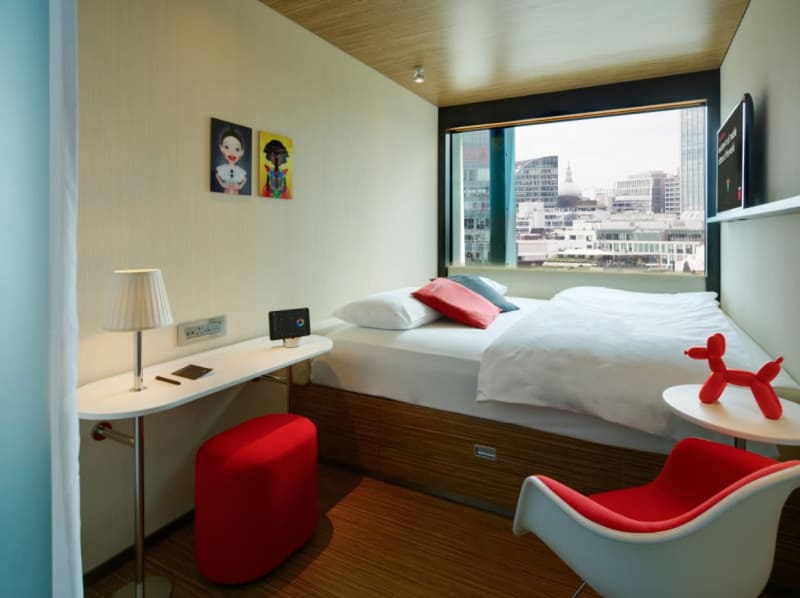 On the desk next to my bedside, I pick up my 'Moodpad'. Having read about this nifty device in my welcome email, I'm intrigued to see what it can do. From the plasma to the room temperature, the blinds to the lighting, everything is controlled with a mere swipe. Yep, it's pretty incredible. But if Brooker's Black Mirror has taught us anything, it's that technology has no bounds.
A personal favorite feature is the 'movie' setting which I'm quick to experiment with. The blinds draw themselves and the lighting dims as a selection of new releases and classics appear on the screen. It's a film buff's dream.
Opposite the sink area, a futuristic pod-style washroom complete with oversized shower head. Oh, and a handheld shower for those won't be washing my hair days. Little touches include a selection of classic fiction, hollywood vanity mirror, and a mini fridge with complimentary water. I could survive an apocalypse here. But I think I'll go out and explore Shoreditch instead.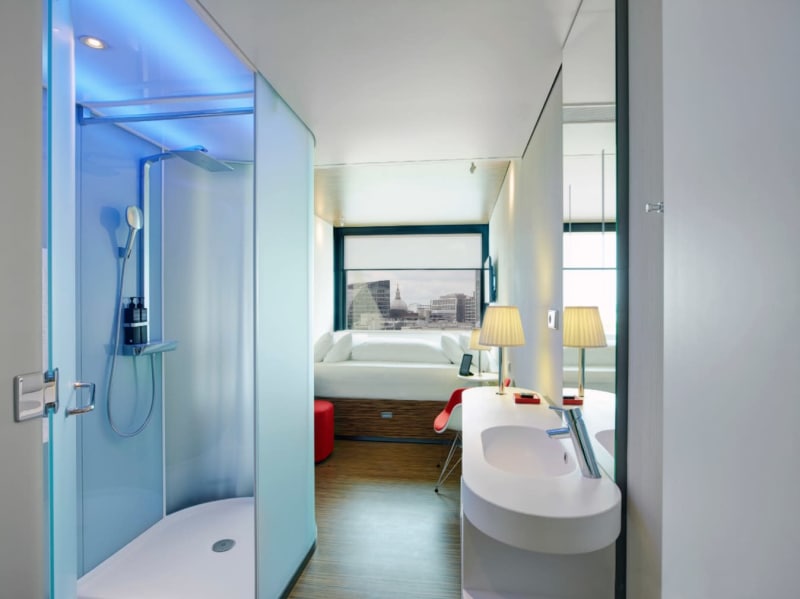 Get Here
The closest rail station to citizenM is Shoreditch High Street — just a two minute walk. Liverpool Street, Moorgate, and Aldgate East Stations are all located within a 15 minute walk, and will take you to most of the city's boroughs.
Flying? The hotel is also easily accessible from all of London's major airports, including Heathrow, Gatwick, Stansted, and Luton.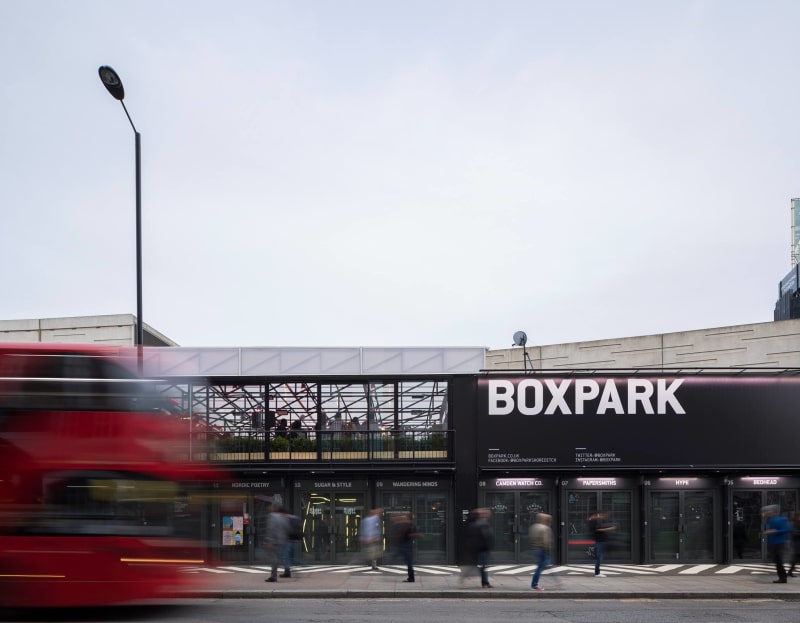 Eat Here
Start your day right with breakfast at citizenM. Enjoy a selection of freshly baked pastries, hot breakfast items, fruit and more. Coffee lovers can enjoy a cup of Joe day or night, 24/7 at the hotel's 'canteenM'. And not the instant stuff, either.
Looking for a great dinner spot? Dishoom is one of London's last-remaining Bomaby cafés and is just a two-minute walk from the hotel. The Book Club is a quirky nearby cocktail bar, and Bull in a China Shop is great for Asian eats.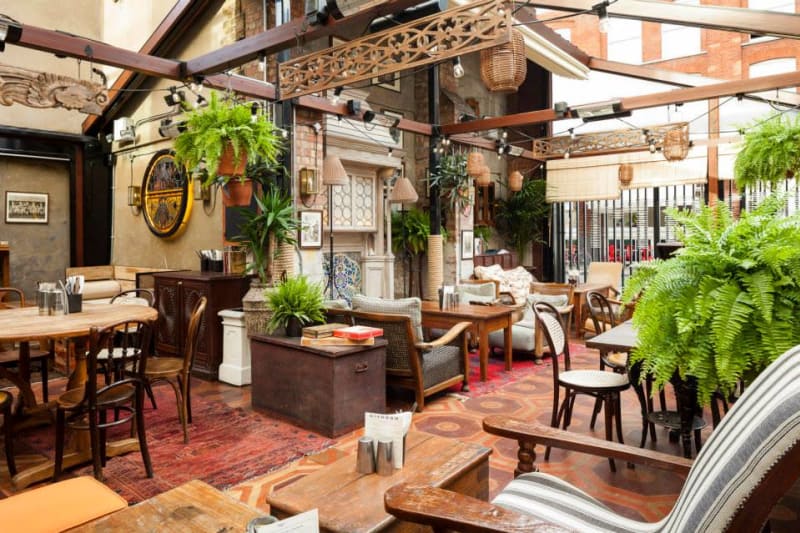 Shop Here
Boxpark is Shoreditch's pop-up mall for independent and global, fashion and lifestyle, stores and cafes —and it's conveniently situated just around the corner from citizenM. Stores occupy what were previously shipping containers, fitting into the area's creative and fashionable vibe perfectly.
Also popular is nearby Brick Lane, home to one of London's largest East End flea markets, and a thrift-store shopper's heaven. Of course, you're never far from the nearest Urban Outfitters either. It is Shoreditch, after all.