MY GROVE COLLABORATIVE REVIEW
Is Grove Collaborative Worth It?
So, what is Grove Collaborative and how does it work? Grove Collaborative features all-natural home, beauty, and personal care products that can be auto-delivered right to your door. This company is focused on sustainable, clean, and responsibly sourced products for your home in your kitchen, bath, and beyond.
Your first Grove order comes with a free Mrs. Meyer's set as well as other Grove Collaborative product extras depending on your order total. I loved how my first order felt like a big welcome package and contained so many items I can see myself having auto-delivered regularly, especially since I am trying to avoid stores right now. To be perfectly honest, I don't often think about cleaning products even in the best of times and frequently find myself forgetting to make sure everything makes it into my shopping cart at the store since the cleaning aisles often feel like a chore. My Grove Collaborative experience changed that because there were so many cool brands, scents, and formulas offered and I am all about good smells, clean ingredients, and beautiful packaging.

About Grove Collaborative
The Subscription: Grove Collaborative
The Cost: The order minimums are:
$25 for recurring shipments
$39 for "Ship Now" plans
The Products: Choose from many familiar brands for all-natural home, beauty, and personal care products as well as products the Grove Collaborative brand.
Ships to: The US for $4.99 flat shipping with free shipping on orders over $49, OR totally free shipping for VIP members on any order.
Good to Know: They are a Certified B Corp.
DEAL: Spend at least $20.00 on your first order to receive a free Mrs. Meyer's gift set. After that, you will have minimum requirements for future orders but can pause or adjust at any time. You'll also get a free 60 day trial of their VIP membership (normally $19.99/yr).
ACTIVE DEAL: 48-hour sale. No coupon needed – just use this link.
My Subscription Addiction paid for this box. (Check out our review process post to learn more about how we review boxes.)
Pros & Cons
The Pros
Auto deliveries for the products you often need restocked in your home.
Emphasis on non-toxic, sustainable, and natural or organic products, and an ethical supply chain.
Grove is working towards becoming plastic-free!
Auto shipments are super easy to pause or turn off. Literally once click!
No synthetic fragrances.
100% cruelty-free.
The Cons
Membership is required ($19.99/year) for free shipping.
Order minimums ($25 for recurring and $39 for 'Ship Now')
Is It Worth It?
I really liked using Grove Collaborative to restock my home with cleaning supplies and other home goods. It saved me a trip to the store and I can see how auto shipping these products (that I often forget to grab) would be a no-brainer long term.
I'd Recommend Grove Collaborative If You:
Want to use cleaner and less toxic cleaning supplies in your home.
Want cleaning and personal care basics delivered to you each month at totally reasonable prices.
Would rather do your staple shopping via your laptop.
Why Try Grove Collaborative?
I was intrigued by the brands and I have been wanting to build a cleaner kitchen routine. Also, I kind of hate the scents of so many of our cleaning products and how they make my hands feel after using them. They can be really harsh! I am also someone who likes to spend her money with companies who are trying to do good, and Grove Collaborative is investing in using less plastic, clean formulas, and ethical supply chains. What's not to love?
The Membership
The membership option can be a little confusing at first, so I want to break that down before we dive into what arrived in my first order.
Grove Collaborative doesn't require a VIP membership to purchase, but this $19.99/year membership does have its perks, like free shipping, a lower order minimum ($10 vs $30 for non-VIPs), early access to new products, and free (truly useful!) goodies every season.
My First Grove Collaborative Order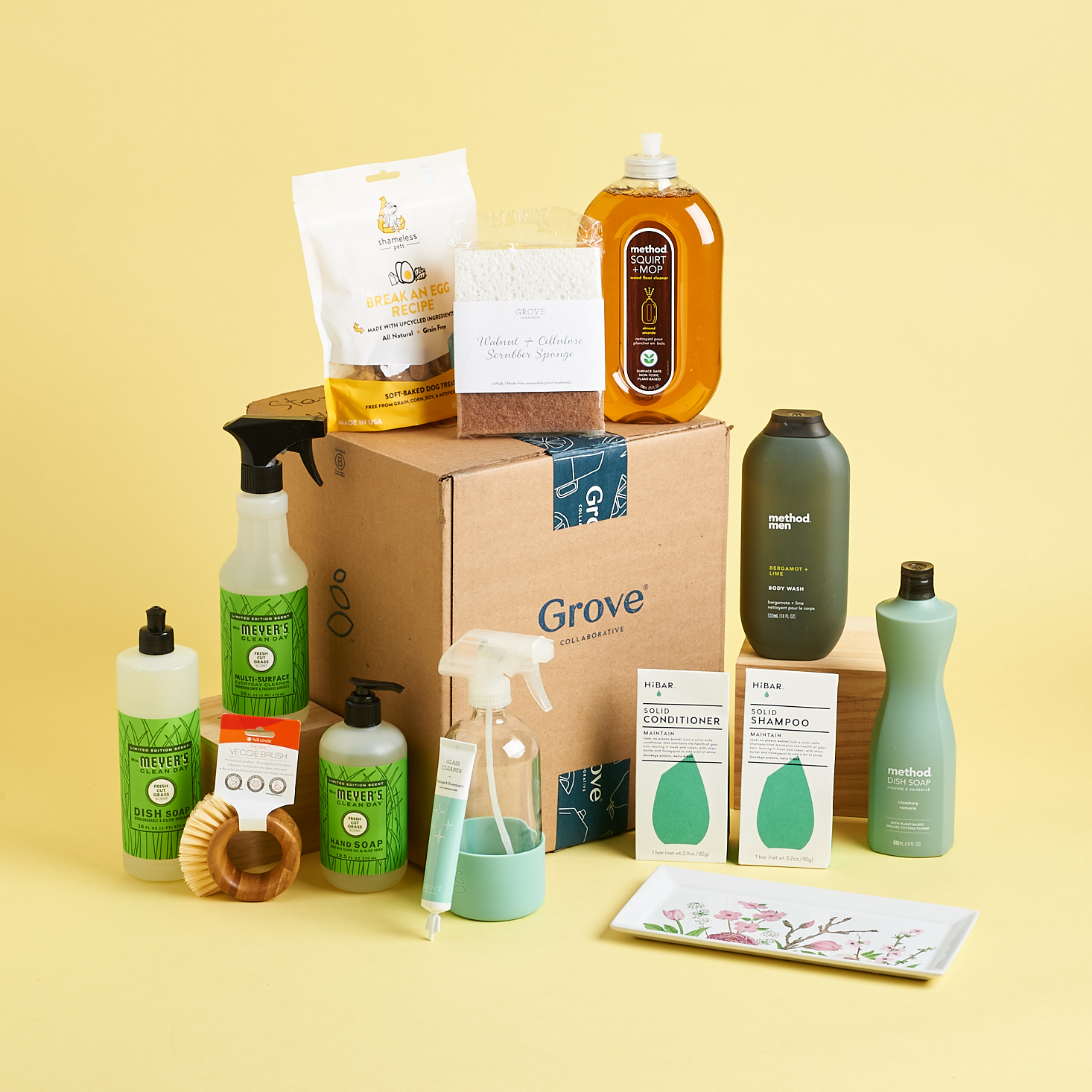 My order arrived in a brown cardboard box with branded tape. The Grove team even included a little handwritten greeting. Everything was carefully wrapped in paper to keep it safe and secure.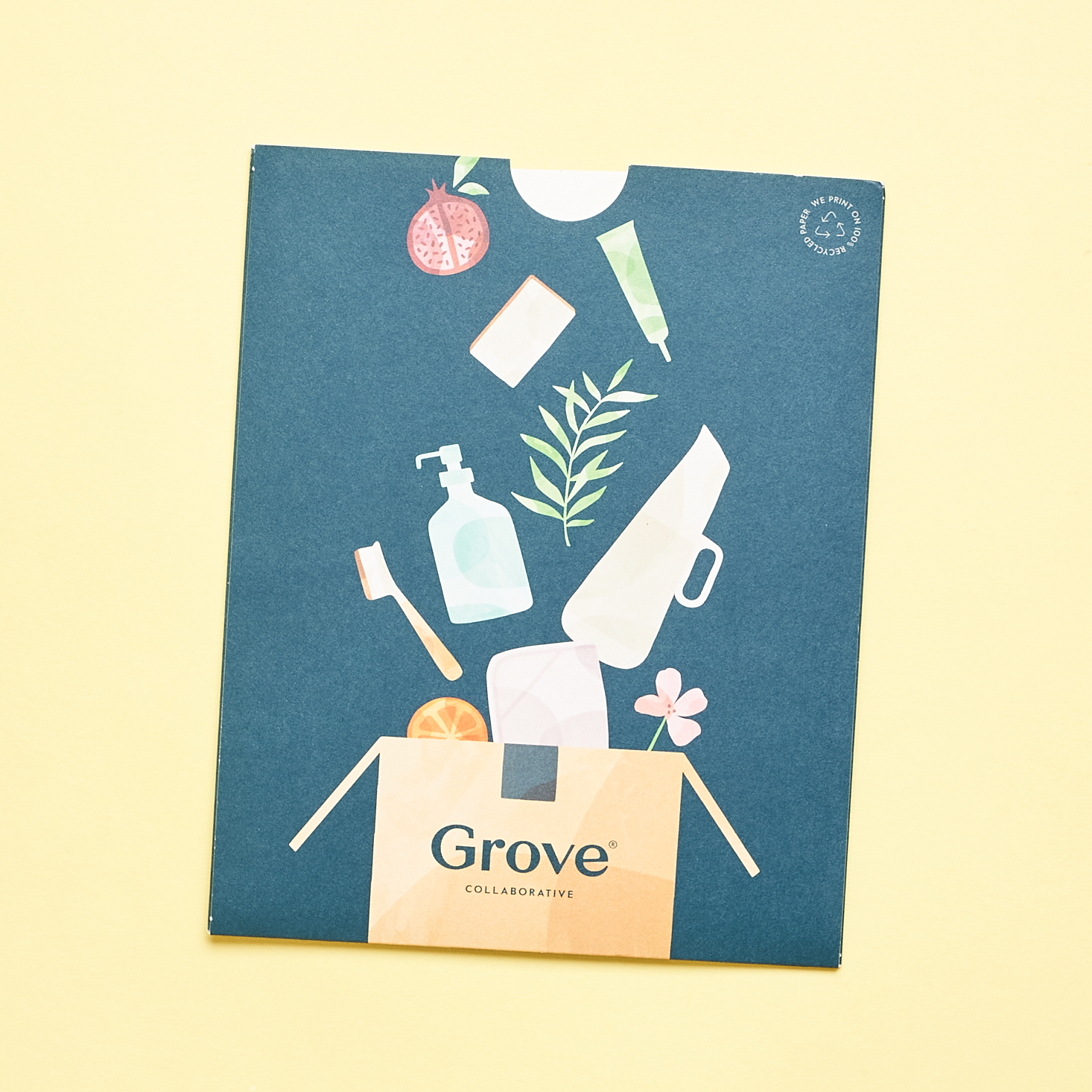 Also included was a welcome packet full of helpful info on the company.
My 'First Order' Mrs. Meyer's Set
When your first order meets a $20 threshold, a trio of Mrs. Meyer's products are included. You can mix and match from any of the scents offered, which might have been the hardest choice I had to make for this order! Though 'Basil' is my Mrs. Meyer's go-to, I decided to try out the Grove Collaborative exclusive 'Fresh Grass' scent which was new to me!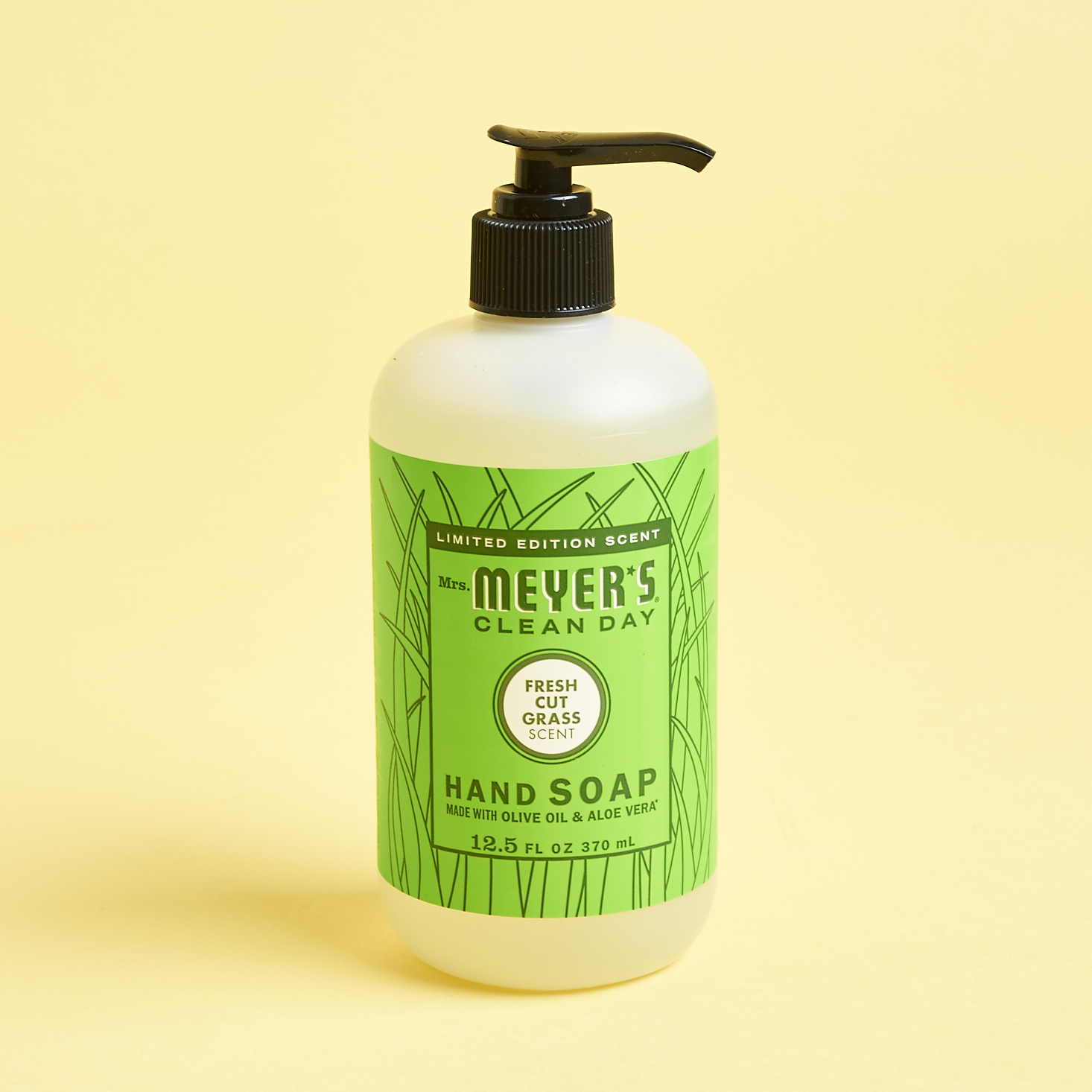 Mrs. Meyer's Hand Soap in 'Fresh Grass' Scent, 12.5 fl oz
This is already my go-to hand soap brand! I love the way it makes my hands feel clean but the formula is very gentle. I generally always buy either the 'Basil' or 'Radish' scents, but Grove Collaborative has an exclusive 'Fresh Grass' scent that I was pretty excited to try. It does certainly remind me of spring days outside and this is a new favorite Mrs. Meyer's scent for sure.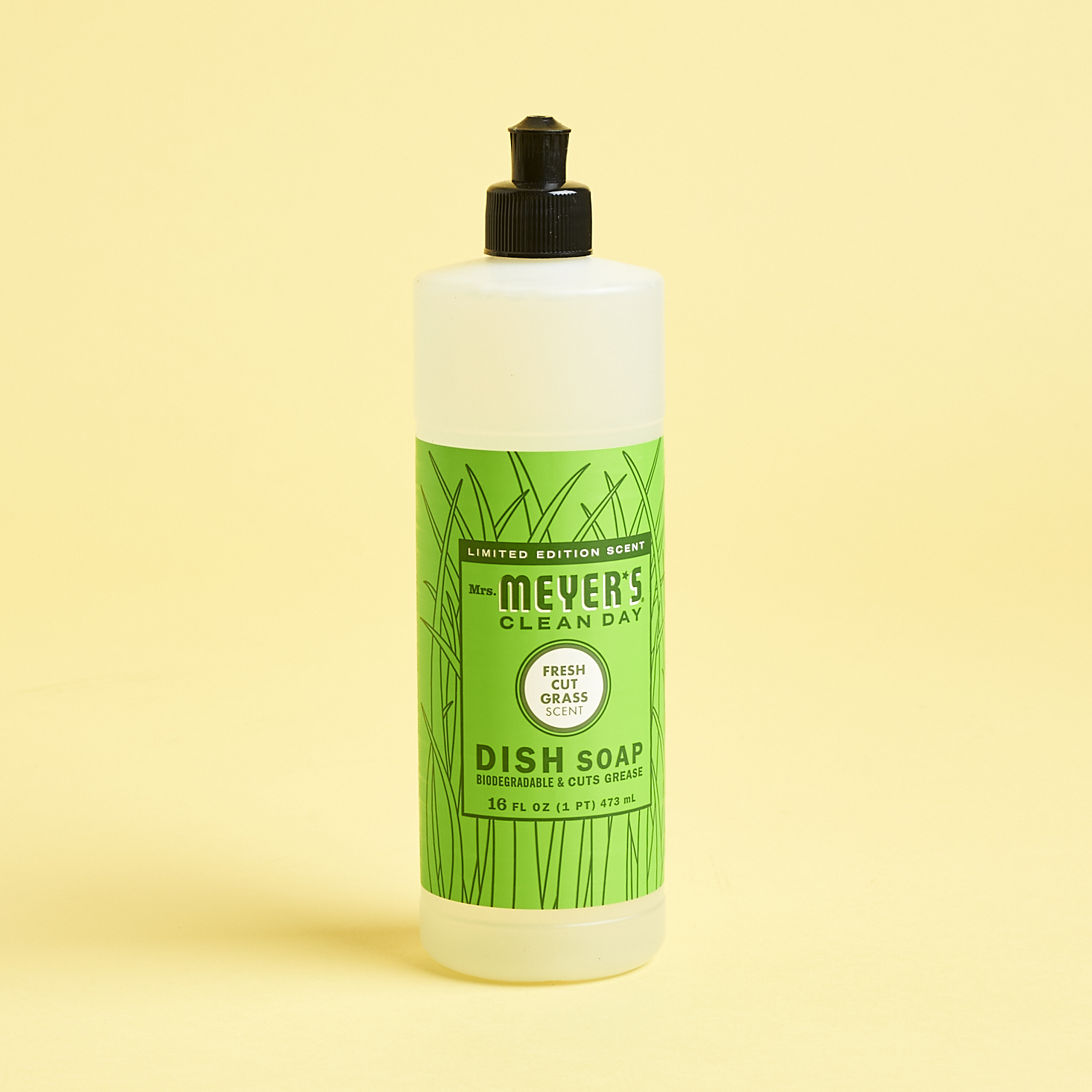 Mrs. Meyer's Dish Soap in 'Fresh Grass' Scent, 16 fl oz
I must admit that I usually just buy whatever dish soap is on sale when I happen to be shopping for it. Prioritizing cleaner products for my home was one of my goals for 2020, so I am very pleased that I like this very affordable dish soap. It has the same wonderful grassy scent as the hand soap and does a really nice job of cutting through grease and mess on my dishes. We don't have a dishwasher in our home, so we hand wash everything! Adding this fragrant and clean soap to that chore seems to make it at least a little more bearable.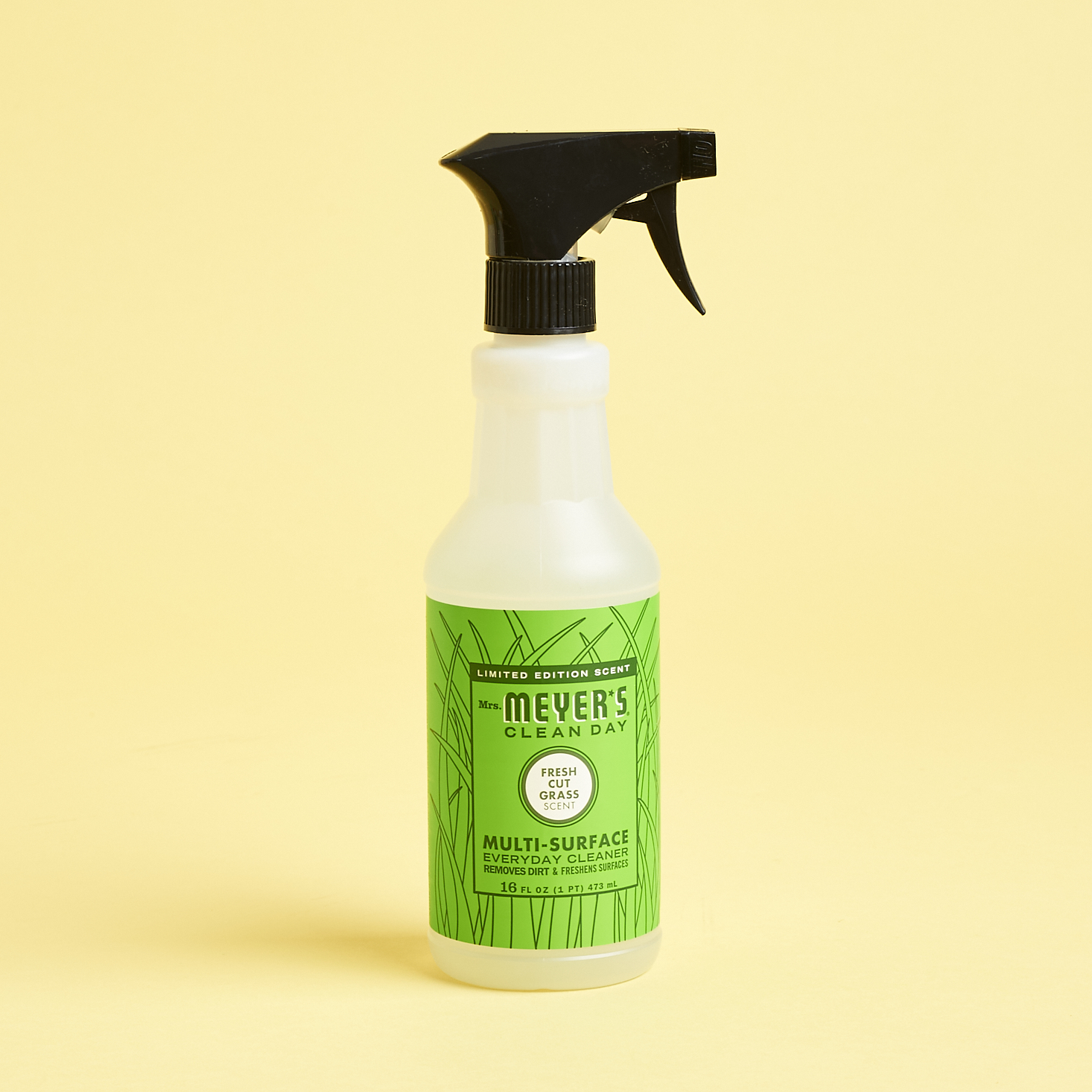 Mrs. Meyer's Multi-Surface Cleaner in 'Fresh Grass' Scent, 16 fl oz
The multi-surface cleaner is probably my favorite cleaning product. We have butcher block countertops and a marble island and I like that this is the sort of product I can safely use on both. This light spray is perfect for wiping away crumbs from cooking or spills. It has that same grass scent and I like that it fills my kitchen when I use this product. A+.
My Freebies
So those free goods I mentioned for being a VIP? Check them out! It looks like more or less are added depending on your order total (mine was $54.00) and they change depending on what Grove Collaborative is offering at the time of your order.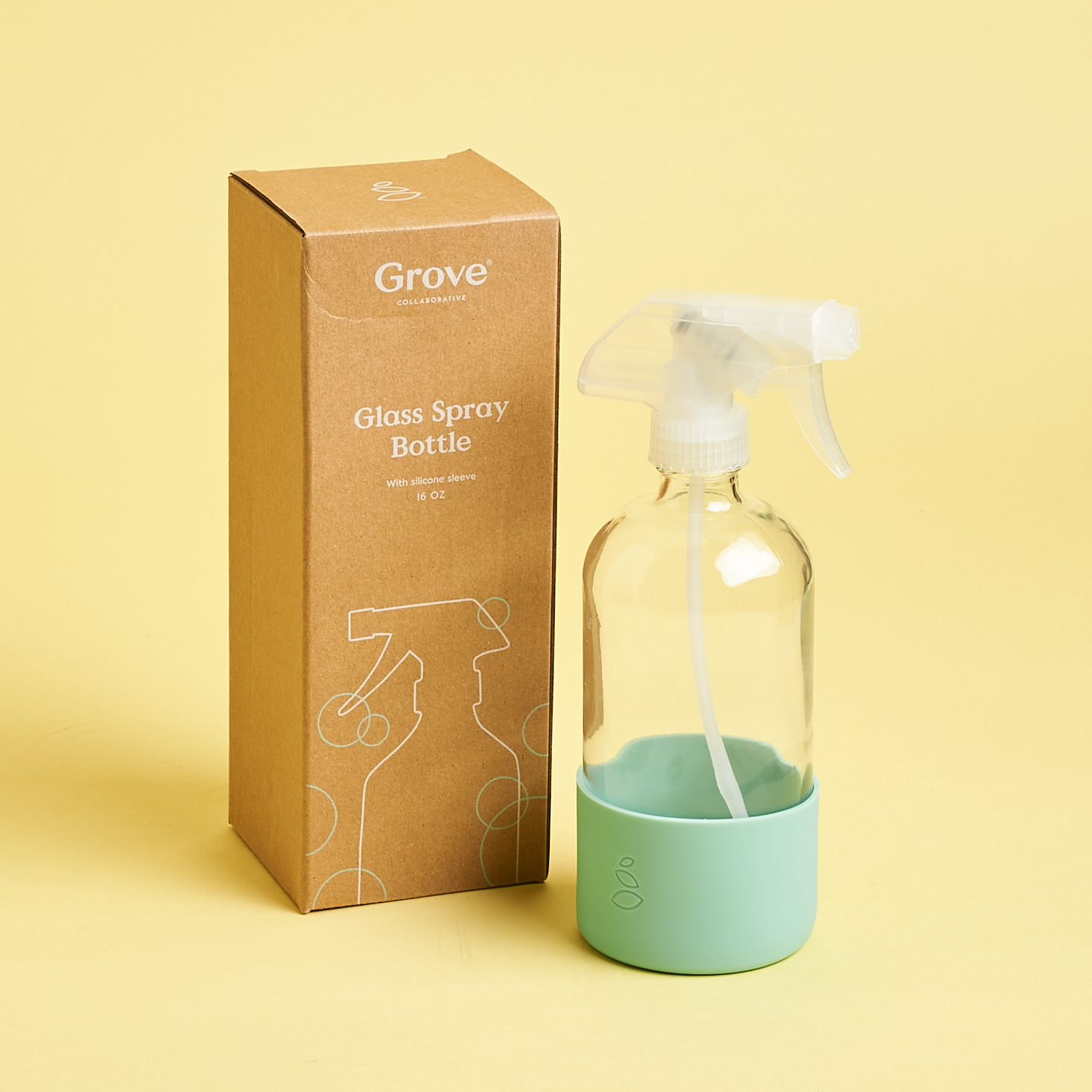 Grove Collaborative Glass Spray Bottle + Glass Concentrate
I am always down for a cute reusable glass bottle! This one came wrapped in a silicone sleeve and complete with a tube of Grove's own glass cleaning concentrate. Simply twist off the cap and pour the concentrate into the bottle, then fill the bottle with water. Easy! This formula has a wonderfully soft rosemary and orange scent and legitimately works as well as my Windex. It even has the same squeaky clean sound effect!  I love that this formula is more natural and because of the reusable glass bottle I can look forward to using less plastic.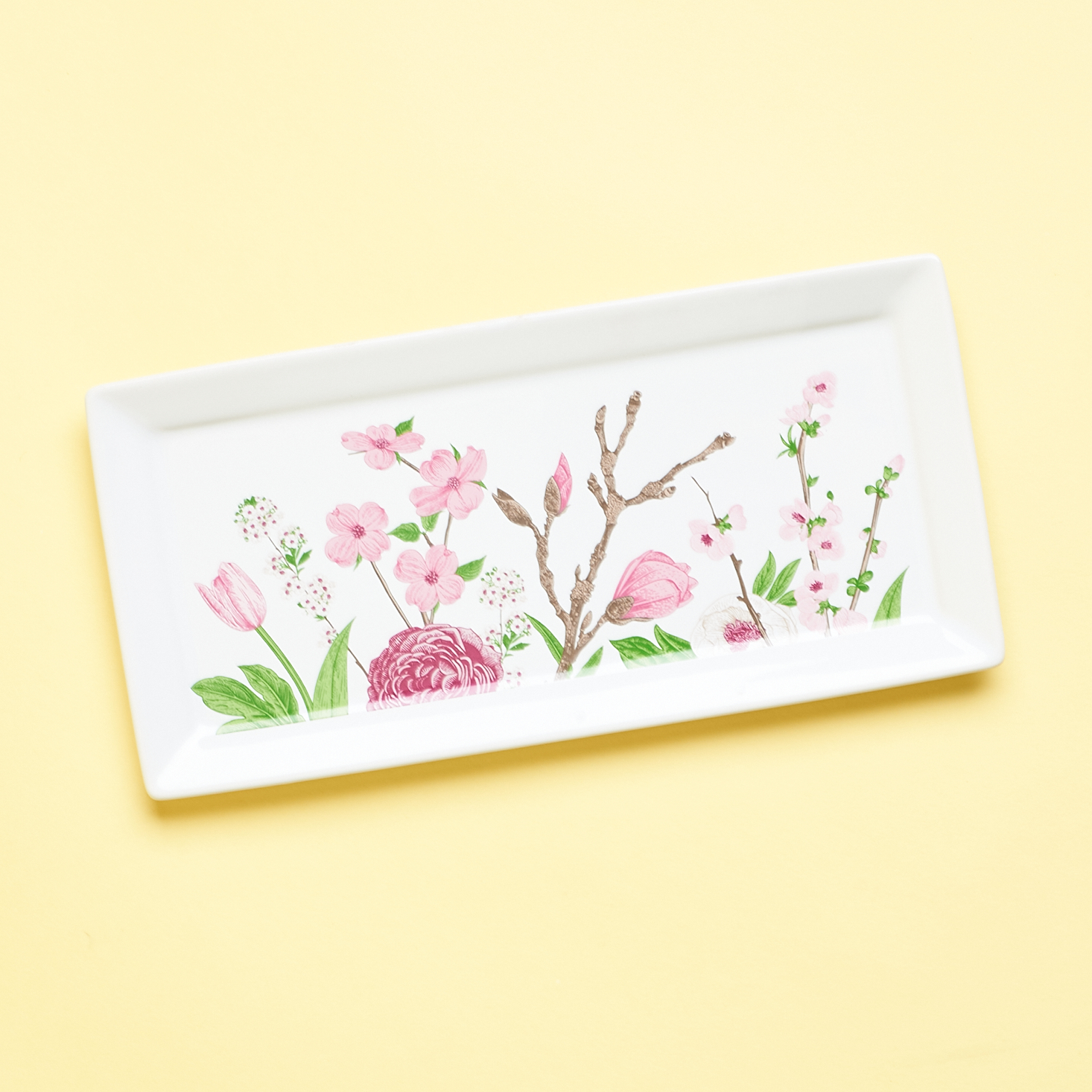 Grove Collaborative Ceramic Sink-Side Tray
I thought this tray was really pretty, especially for spring. It is designed to hang out beside your sink and hold your cleaners and bottles. Honestly, this will probably end up in my upstairs bathroom to catch jewelry, hold perfume bottles, and other little precious things. The floral design is too pretty to not enjoy.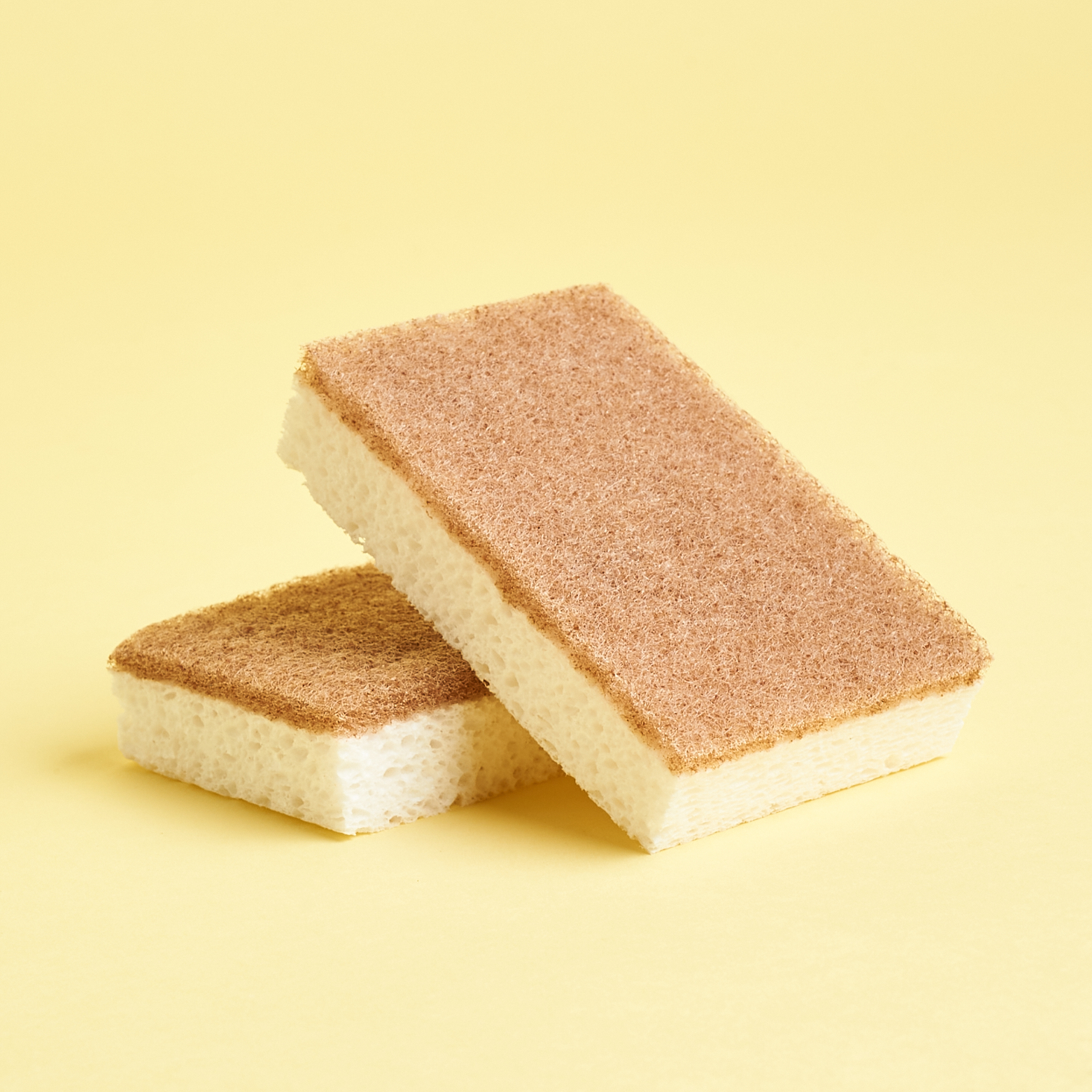 Grove Collaborative Walnut Scrubber Sponge, Set of 2
Because we don't have a dishwasher in our home, we do a lot of manual scrubbing. That means a lot of sponges! We usually just buy your normal run-of-the-mill blue and yellow options, but I really like this more earth-friendly option. The brown scrubber side is made of walnut shells and the sponge itself is made of vegetable cellulose. We have used one for about a week now and they hold up just as well as the others. This is another switch I would be happy to make and the price is fair when compared to what I pay for sponges anyways.
My Order Items
Here are the items I picked out for myself in my first order: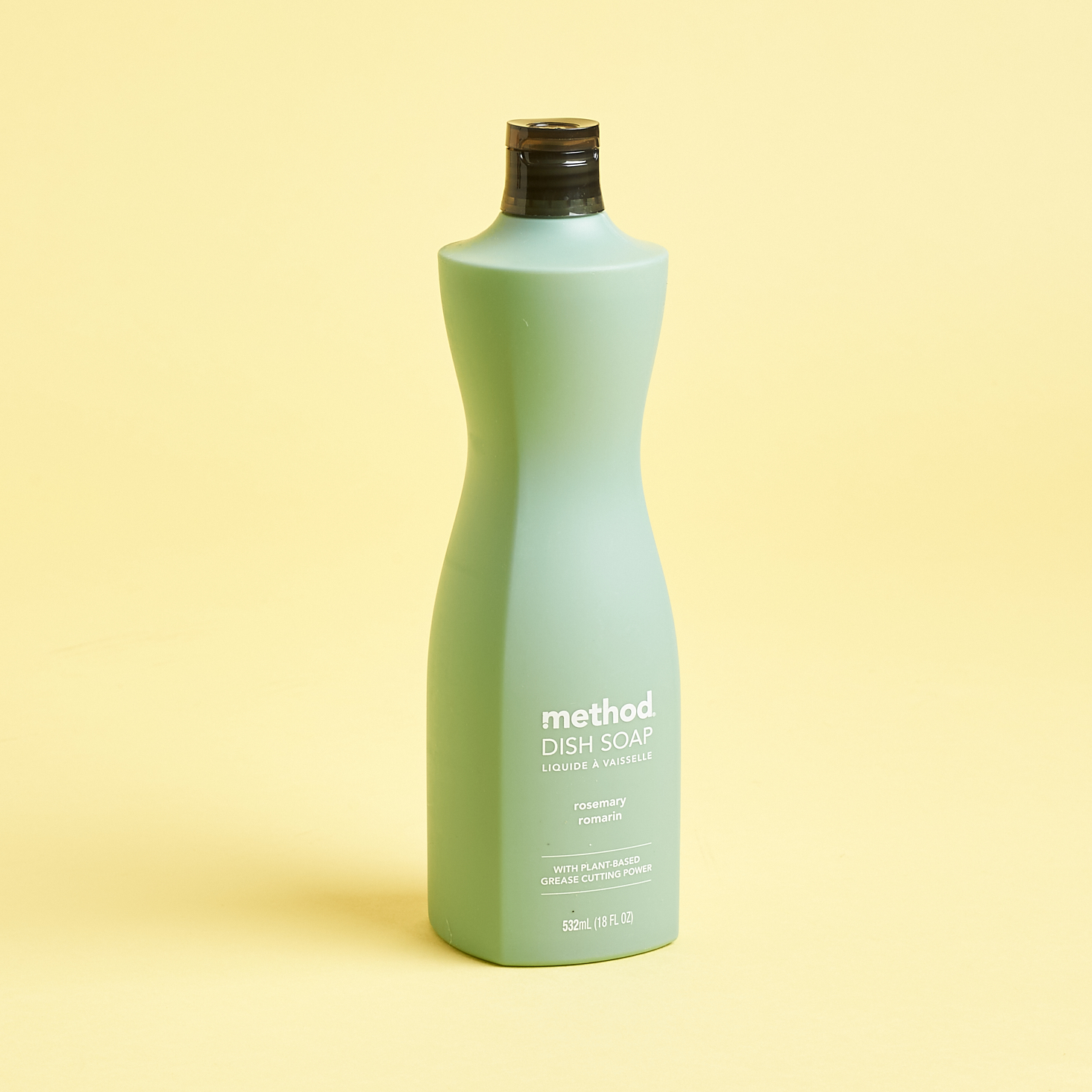 Method Dish Soap in 'Rosemary', 18 oz
More dish soap! When I saw this was rosemary-scented I knew I had to snatch it up. Will adores anything with a rosemary fragrance. I am constantly baking dried rosemary into bread, crushing it on pizza, adding it to cocktails. He loves it! The selfish part of me is hoping that his love will encourage him to do the dishes all the time and just let me be, at least until this bottle runs out… then I will order more! The formula itself works really well at getting food off of our dishes without us having to "leave them to soak." Though I may have lost one of my favorite dish-avoiding excuses, I am pleased that it works so well.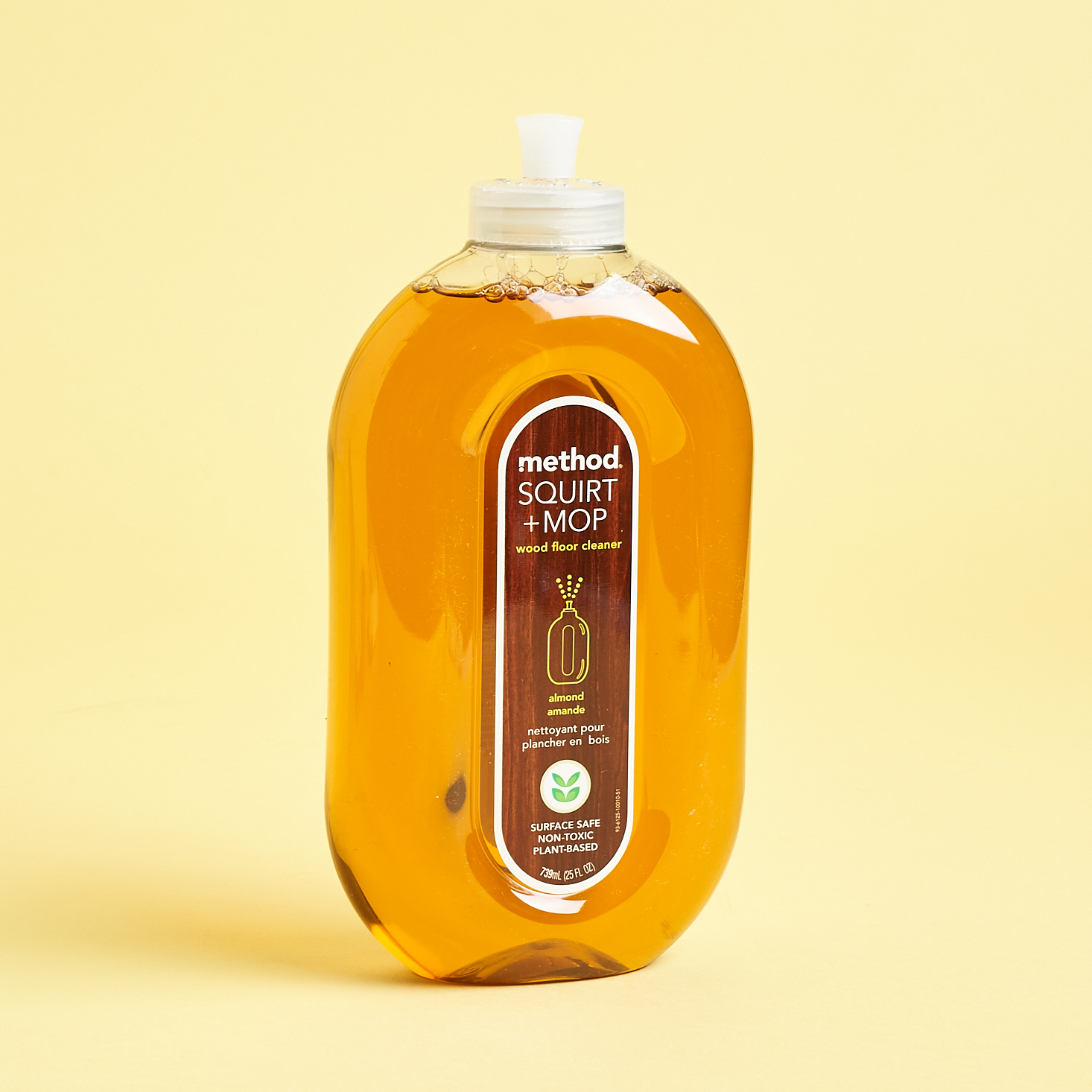 Method Squirt + Mop Wood Floor Cleaner in 'Almond', 25 fl oz
I actually don't love almond scents, and I didn't realize this was when I added it to my cart. My initial disappointment gave way when I sniffed it, because this is actually a very nice and slightly floral sort of almond. Using it couldn't be any easier: simply pop open the spray-style top and squirt it onto your floor. No mixing required! Then mop away. This is actually marvelous because we usually utilize a massive mop and bucket which just isn't necessary unless you are deep cleaning. This is perfect for spot cleaning and everyday life and you can use it with a mop or just wipe it away with a cloth. It is also wax-free!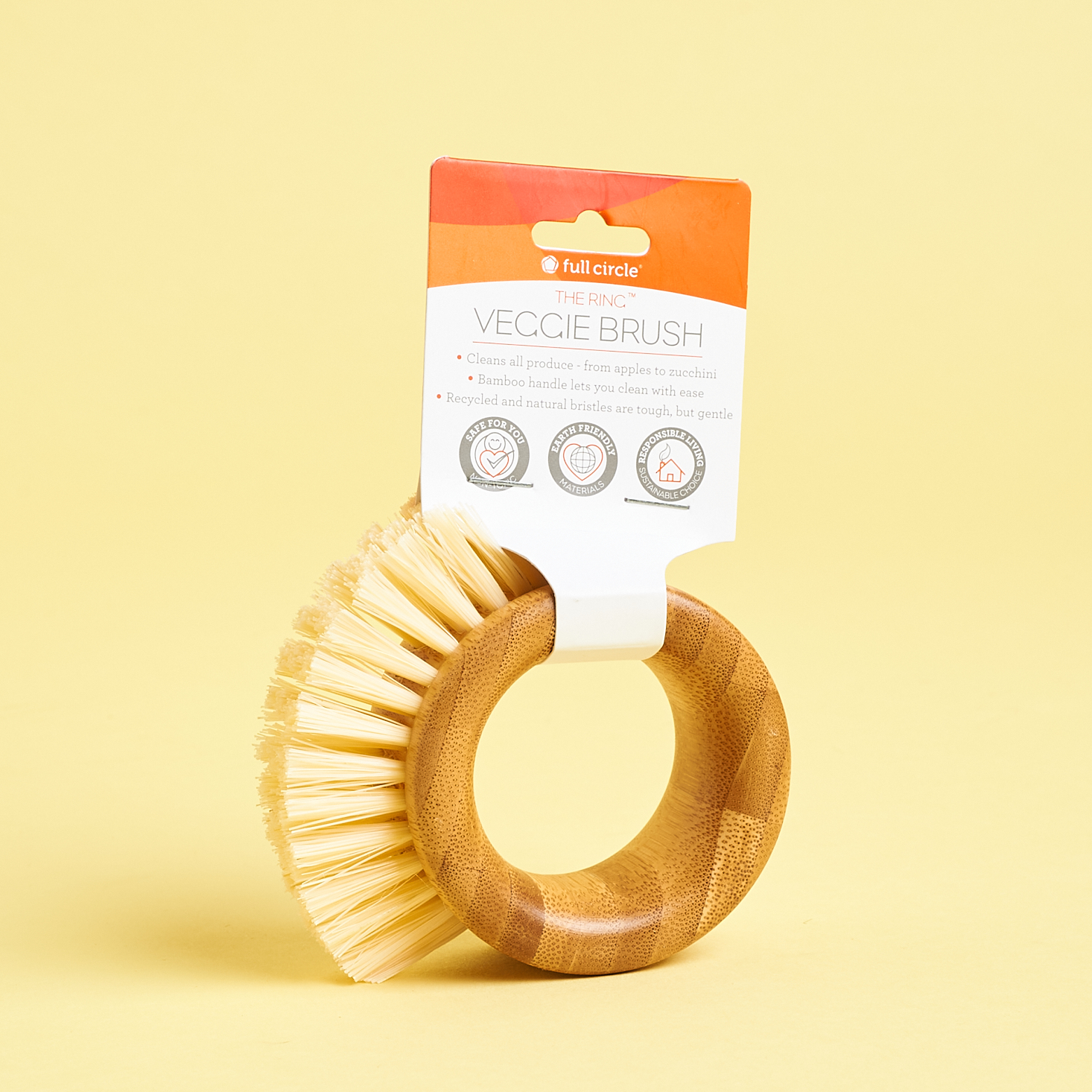 I recently signed up for Misfits Market and we have never had so much produce in the house! While that subscription is organic, I still like to scrub down my veggies, so this adorable circle brush was a no-brainer to add to this order. The bristles are strong enough to scrub, but gentle enough to cause no damage, and the circular wooden handle is easy to hang (and cute as heck!).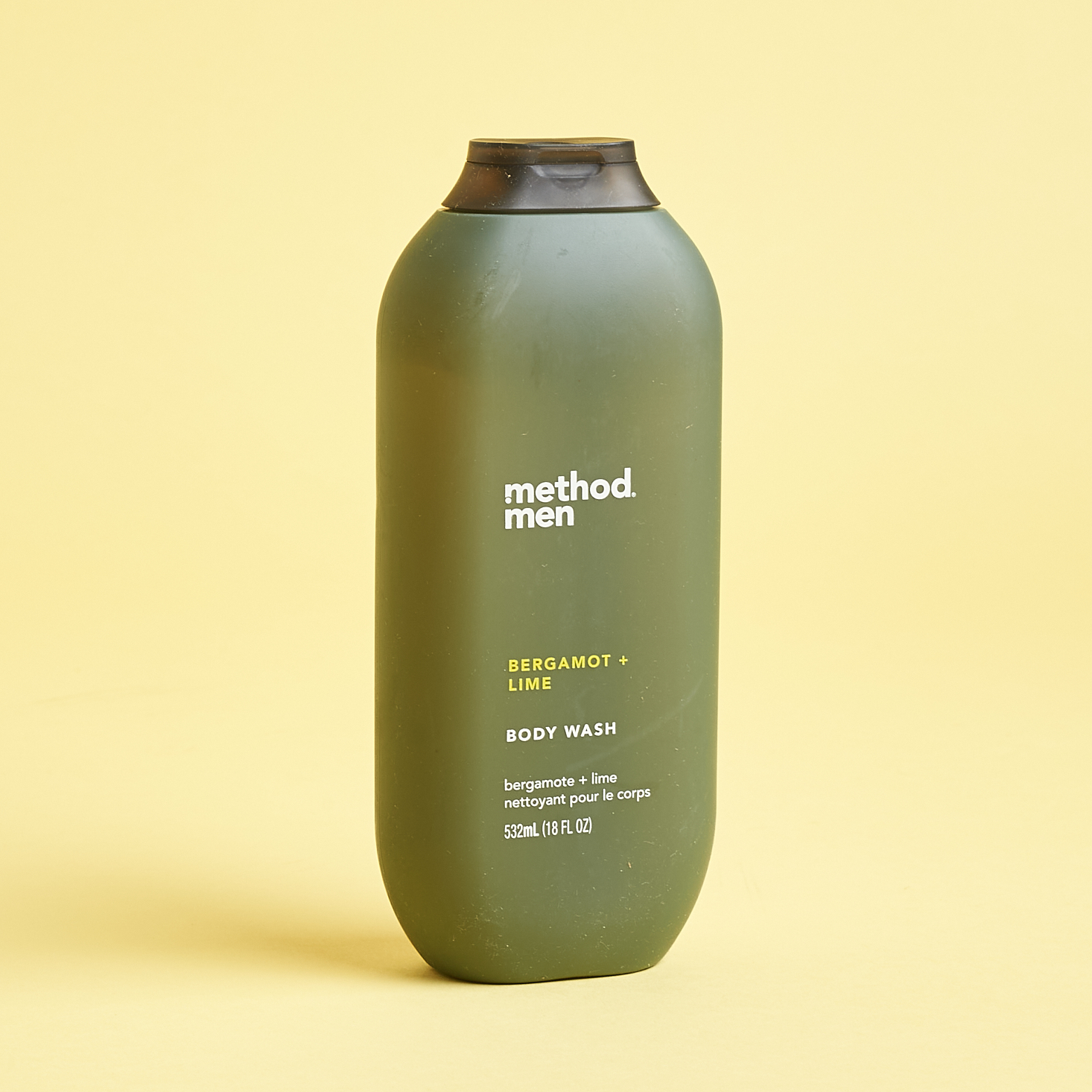 Method Men's Body Wash in 'Bergamot + Lime', 18 oz
Will is a body wash kind of guy, so I thought swapping his old bottle out for something more earth-friendly was an easy win. (The bottle is also much easier on the eyes as it hangs out in my shower.) This has a softer sort of scent, and it is manly and citrusy. Will gave it two thumbs up so I plan on making this a more permanent swap.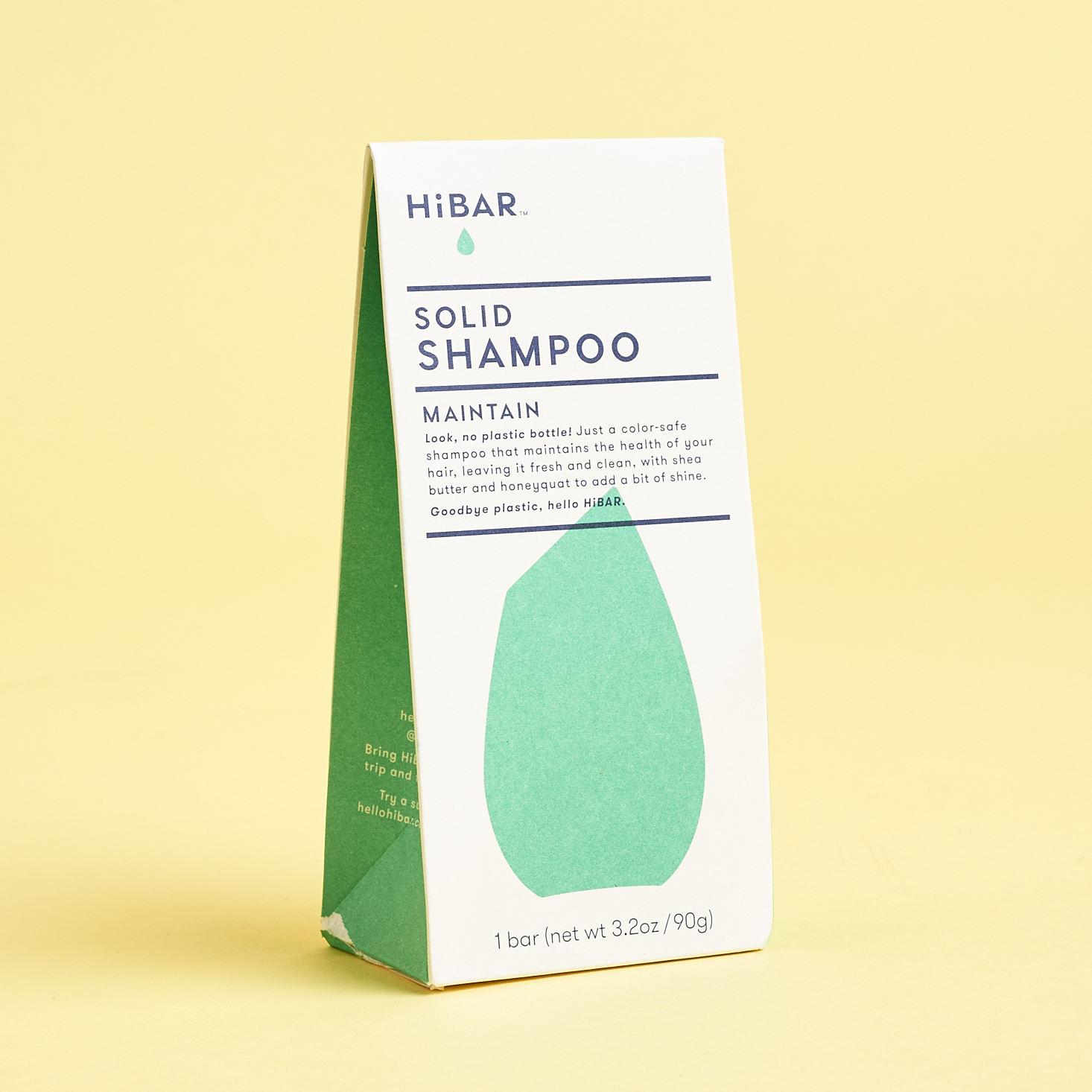 HiBAR Maintain Solid Shampoo (3.2 oz) & Conditioner (2.9 oz) Set
Will and I both enjoy solid shampoo and conditioner bars. Our faves are from Lush, but when I saw these I decided to give them a try. Sadly, I really don't like this scent at all. It smells more like a cleanser I might find in the kitchen than a smell I would want in my hair. Most of you know I am on the picky side when it comes to scents though, and Will seemed to like it just fine. In terms of performance, I loved the shampoo. It didn't take much to get a decent lather and it left my roots feeling squeaky clean.
I know a lot of people who like shampoo bars dislike conditioner bars, and I used to be one of those people. I figured out that using them just a little differently was the trick for me. Basically, I only lightly condition my ends, finger comb while wet, then I wring out my hair without rinsing the solid conditioner out. Think of it like a leave-in conditioner! I then towel dry. This method gives my hair a nice feel and a good amount of conditioning without being too heavy, and it worked well with this bar.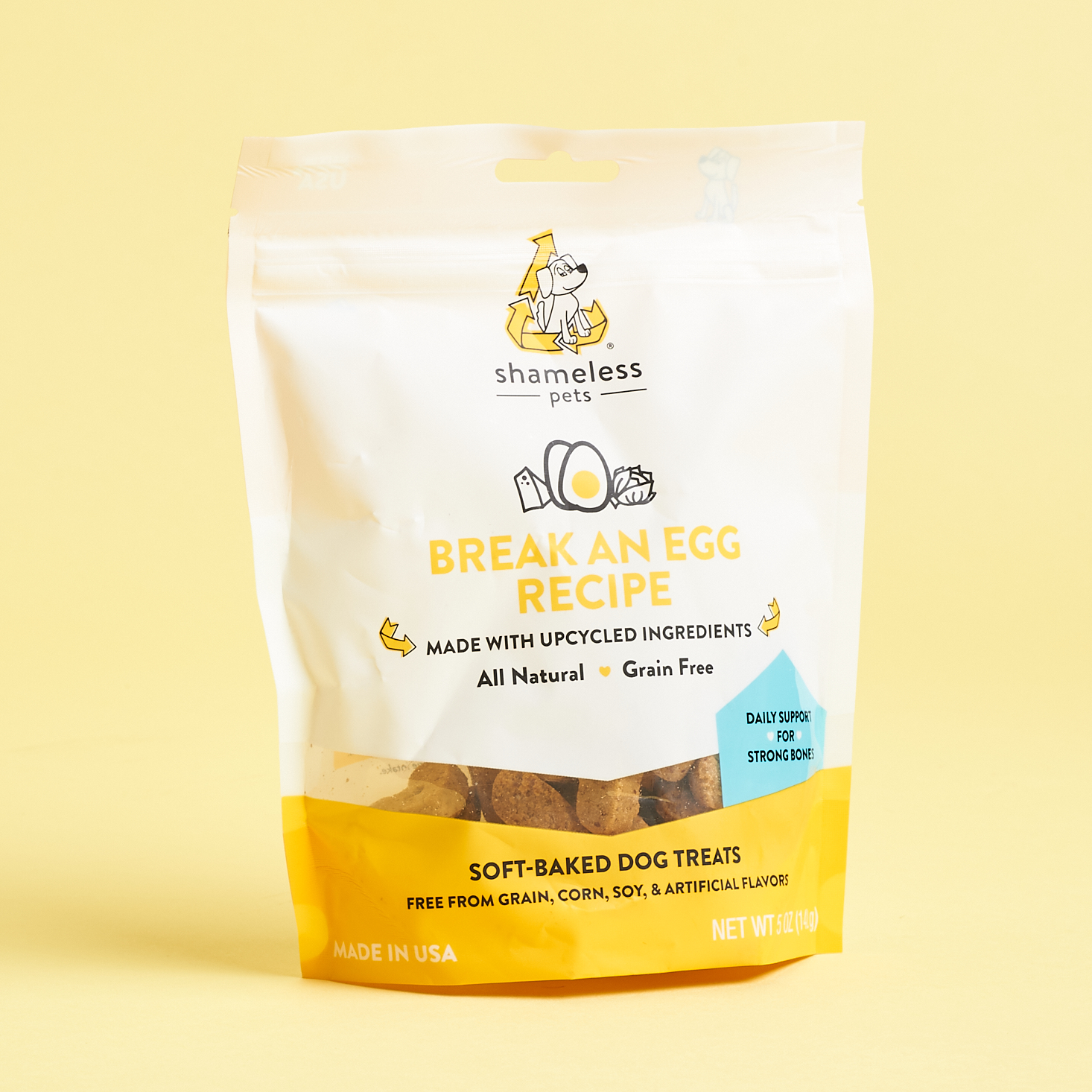 Shameless Pets Break an Egg Dog Treats, 5 oz
I had to grab something for Tucker. His birthday is on the 24th! He LOVES eggs (and bananas… maybe yellow things in general?). These are a softer sort of chew and they are heart-shaped! Inside are ingredients designed to strengthen his bones, like eggshell, mixed with yummy ingredients like eggs, cheese, and potato. Tucker 10/10 recommends.
Value Comparison
Many of these items can be found at other stores. I have seen a few of these brands at my local Target. In comparing prices, I found that Grove Collaborative was about the same for Mrs. Meyer's products and a little bit more expensive for the Method products. Here are some examples:
In my option, the dollar difference in the Method prices is easily forgiven when you add in the bonus products and freedom to just avoid that physical store trip.
Another detail worth noting is that on my first order, I received extras worth $44.52. Sure, not every order is going to have this many free gifts, but it sure was a warm welcome and made my $54.00 total feel like it stretches SO far. While this isn't the sort of subscription that is going to save you loads of money when compared to running to your local store, it certainly feels more than worth it for the quality of the goods and the perks.
So, what's the verdict?
I am kind of way into Grove Collaborative. I like the mix of own-brand products with other brands I already know and love. The site makes what could be a pretty mundane act of shopping for soap feel much more like a boutique shopping experience with loads of options to explore. The convenience factor is also impressive and I also give two big thumbs up to how easy it is to pause or cancel auto-shipments. As someone who finds it pretty difficult to get excited about cleaning products (and often forgets them at the store), the auto-delivery is a lifesaver for me.