About PrAna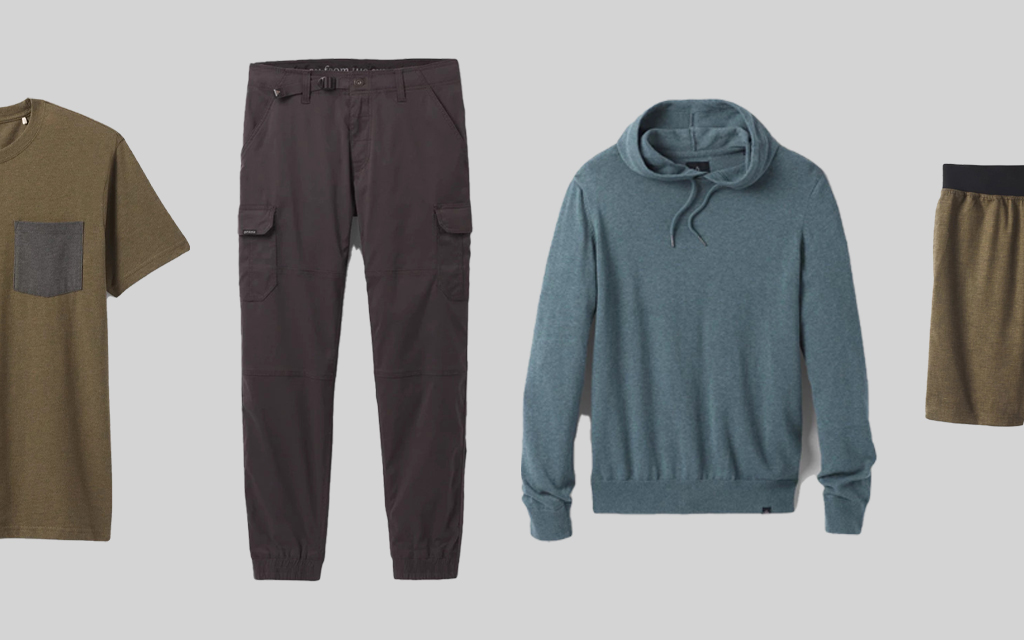 PrAna is an ethical athleisure clothing brand dedicated to designing and delivering on pants, shirts, crop tops, and more, to assist an adventurous lifestyle. Their style is minimalist, functional, and allows for freedom of movement—ideal for yoga, rock climbing, and dynamic activity.
They have an impressive 243K followers on Instagram, and sell their apparel through several retailers in North America. This PrAna clothing review will focus on their catalog of pants, but it will also examine the brand as a whole, how it fulfills its environmental mission, what customers really think, and much more.
Overview of PrAna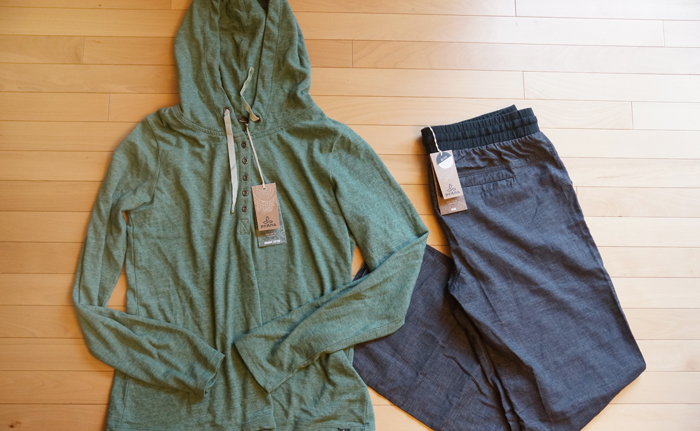 PrAna's philosophy can be found in the meaning of the brand name."Prana" is Sanskrit in origin, and an ancient word that was used thousands of years ago. It represents the eternal energy and life of all living things, and of the universe itself. Prana is something that both we take and give—much like the "force" in Star Wars.
What does that mean for a clothing brand? First, it means sustainable and ethical practices that treat the planet as a partner, rather than as a resource to be mined. This all started in California, in 1992, when Beaver and Pam Theodosakis were unsatisfied by the state of activewear clothing. They sewed the first pieces of PrAna clothing, and the rest is history.
If you're curious to learn more, this PrAna review will now cover some of the pros and cons.
Pros
The brand offers high-quality and comfortable clothing for a range of outdoor activities
Fair Trade Certified
Versatile and minimalist designs
Clothing has strong sun protection properties
Great return policy
No minimum order requirement for free shipping
Frequent sales and accessible through many worldwide retailers
Cons
Higher-end pricing
Some products manufactured in China
Simple styles without much variety
Is PrAna an ethical brand?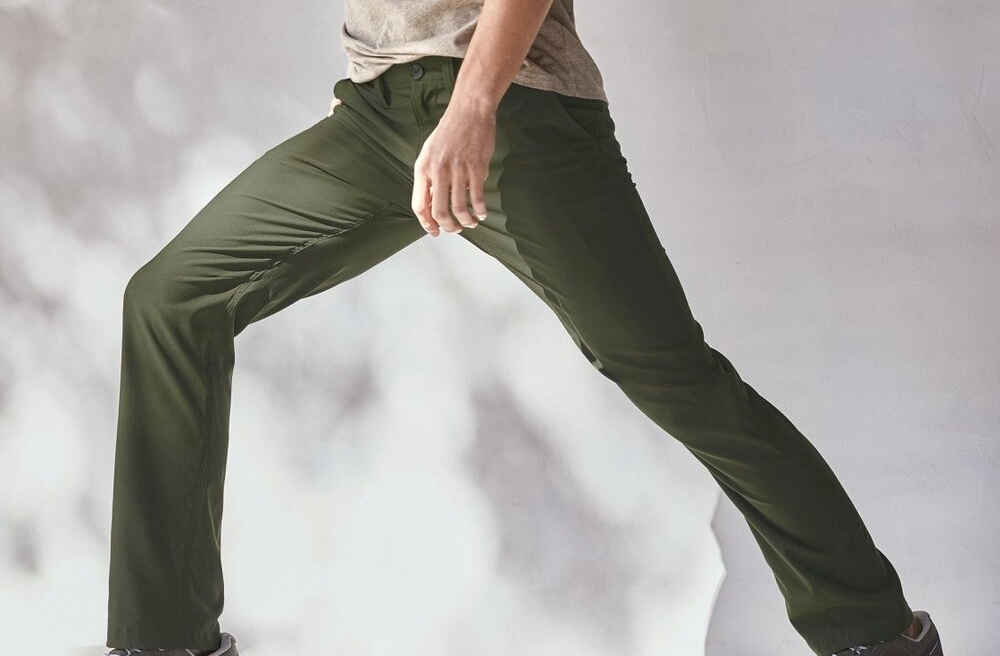 PrAna is absolutely an ethical brand. They pay close attention to the entire production process, ensuring that it meets a high standard of eco-friendly practices. That means using recycled wool, organic cotton, and being Fair Trade Certified. They have a strict list of requirements for how their sourcing partners must treat animals.
PrAna goes above and beyond when it comes to environmental accountability. On top of being part of the Free Trade process, they are aiming to turn their catalog from 22% bluesign to 100% in 2024. That means qualifying in sustainable practices across five categories, including mater and air emissions.
For information beyond what this PrAna clothing review has laid out for you, check out all the details on the brand's official website.
PrAna Clothing Review
Now, it's time for this PrAna clothing review to get into the wool and dye of the brand's products. In the next section, we delve into the materials, pricing, fit, and style of 9 best-selling PrAna clothes.
PrAna Stretch Zion Pant Review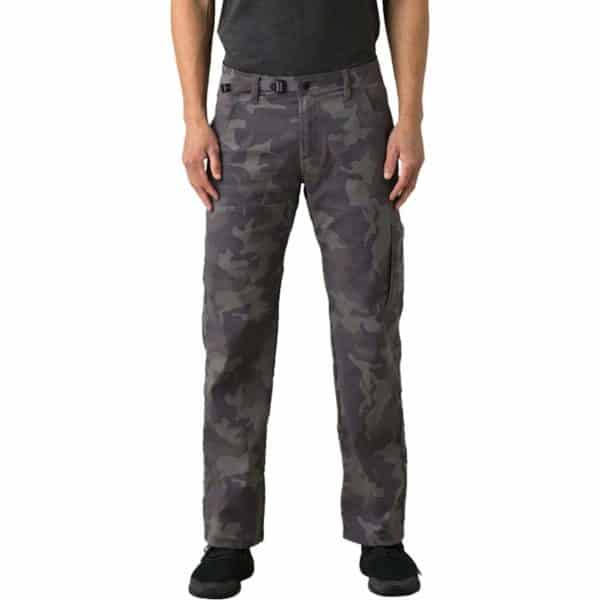 The PrAna Zion Pants come in 9 colors, with one camo pattern option. The waist size options go from 28 to 42, although 38 and 40 are currently sold out. The material is stretchy and resilient against water damage and the effects of rugged travel. Perfect for those long hikes through mysterious terrains.
Additionally, This PrAna clothing review found that the Zion Pants offer strong protection from the sun and easily dry in an outdoor environment. At the same time, customers report that they are super comfortable and can be worn in many settings. You can buy a pair for $89, or for $67 with the current Spring Sale.
PrAna Brion Pant Review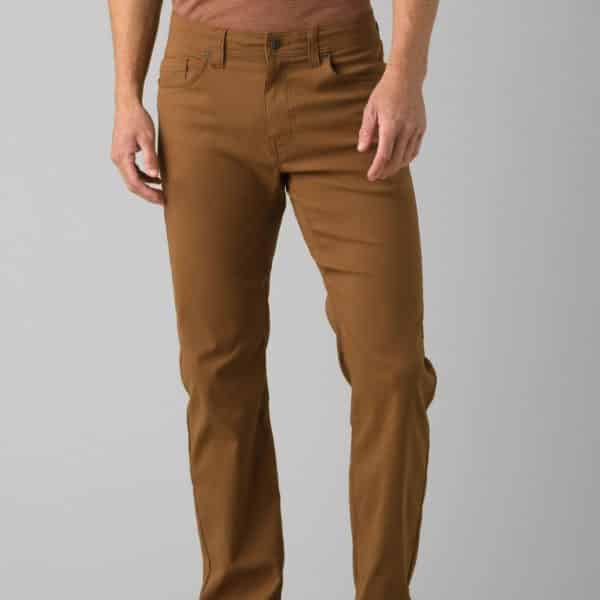 Buy Now
The PrAna Brion Pants give you a sophisticated, put-together look, combined with tough yet breathable material sourced from ethical farms. They come in 8 plain color options, and the waist sizes go from 28 to 42. And, surprisingly, these pants have a good stretch and can be easily packed away for travel purposes. They're ideal for office environments, or even for wearing at nice occasions such as outdoor parties and weddings.
The other thing you need to know about the Brion Pants is that they don't wrinkle easily and are very soft. The material is 97% nylon and 3% spandex. You can buy a pair of these pants for $79 at regular price.
PrAna Halle Pant Review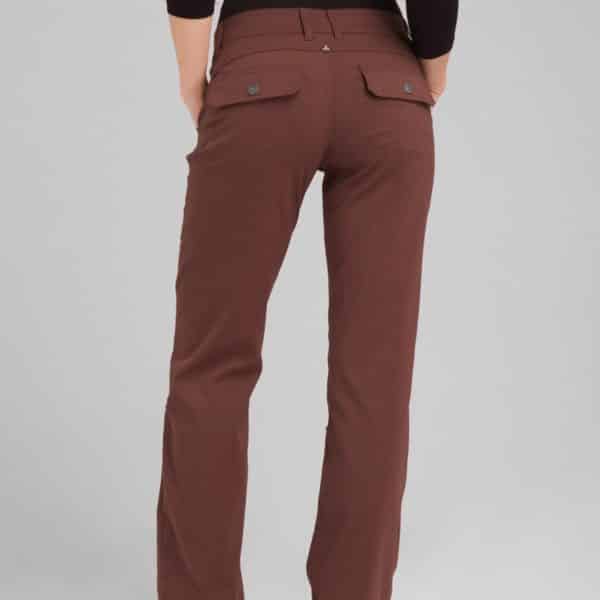 Buy Now
The PrAna Halle Pants are a two-button, breathable fit designed to carry you through your most difficult days. Whether that's on the road, on a mountain, biking through a forest, or commuting to work, these trousers are a great option. They come in 10 block colors and fit at the waist from size 0 to 18.
The thing you can't overestimate about these pants is how resilient they are to the tugs and scrapes of daily life. They are a wonderful long-term investment, while also operating as comfortable and functional clothing for regular household use. This pair comes to $85 at checkout.
PrAna London Jean Review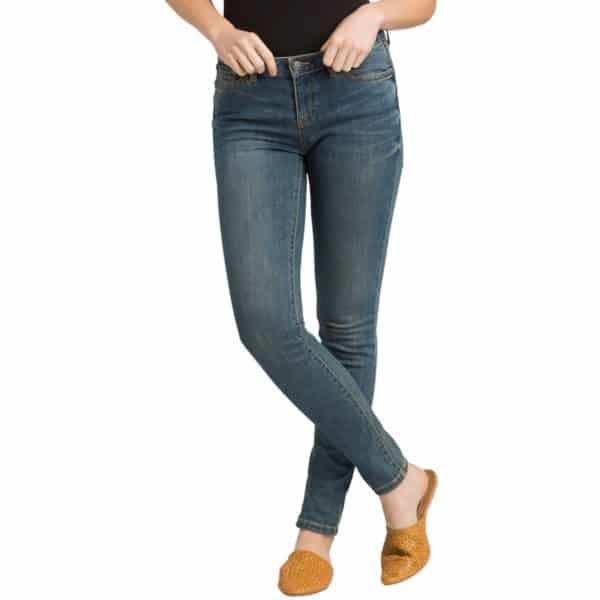 Buy Now
PrAna jeans are a marvel of elastic and resilient fabrics. Made from 86% organic cotton, 13% polyester, and 1% elastane, the London Jeans have that classic look with the suave and stretch of high-quality cotton. They are everything you could want and need for an urban setting.
This PrAna clothing review could not find color or sizing options for the London Jean, but you can operate with the assumption that the sizing goes from approximately 0 to 18, in keeping with other bottoms from the brand.
You can buy a pair of London Jeans and style up the mountainside, boardroom, or sidewalk when they come back in stock.
PrAna Briann Pant Review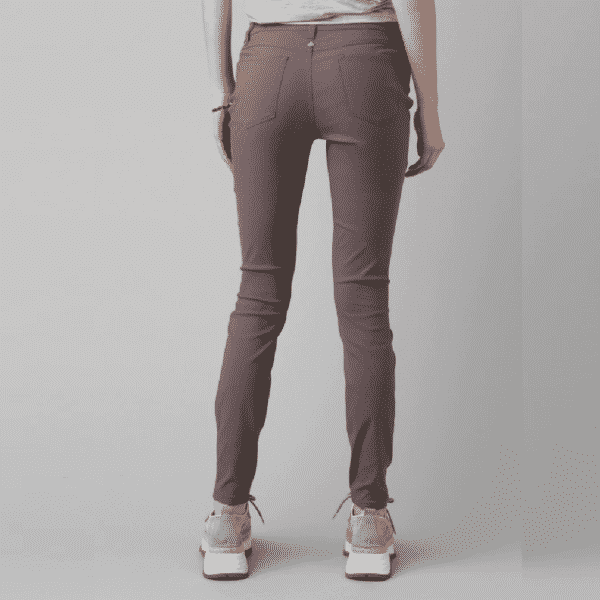 Buy Now
The snug-fitting Briann Pant is designed from the customer-favorite Zion elasticity. It gives you a tapered and elegant figure, while also holding the durable properties required for hard outdoor use. This non-constricting option allows you to carry out high-intensity activities, while feeling like a second skin. The black option would be quite appropriate for wearing on long work shifts when you're on your feet all day.
The Briann Pant is offered for $79. Either way, it's available in 5 colors. Sizing goes from 00 to 18, although sizes 16 and 18 are sold out.
PrAna Kanab Pant Review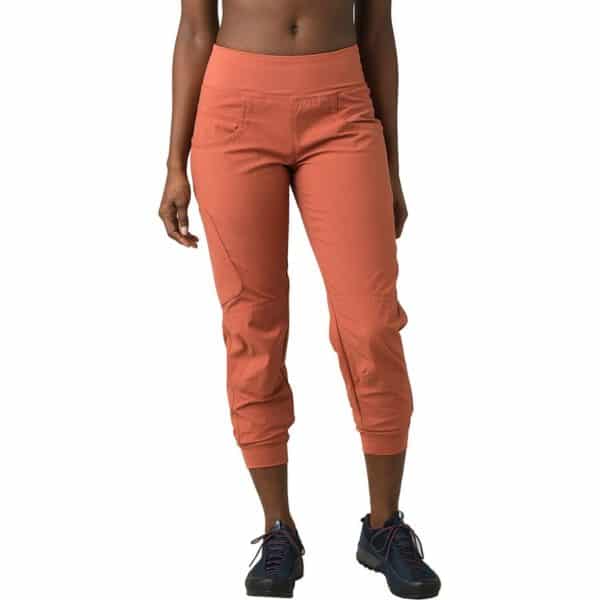 Buy Now
This PrAna clothing review found the Kanab Pants to fill a unique role in the product catalog. These are thoroughly versatile and appropriately worn in many scenarios, whether you're off climbing a V6 boulder or just chilling at home with Netflix. The knit waistband and cuffs provide extra comfort for when you're nursing a food baby after a heavy meal.
They have additional padding and protection where you need it most, but also an attractive combination of stretch and a smooth fit that is perfect for activities where you really don't want your clothes snagging on anything, like rock climbing and cycling.
The Kanab Pants have a classic jogger look, with sturdy pockets and tapering at the ankles. It comes in three colors: liqueur (orange), deep stellar (dark blue), and granite (muted purple). The sizing goes from XS to XL. You can buy a pair for $79.
PrAna Koen Pant Review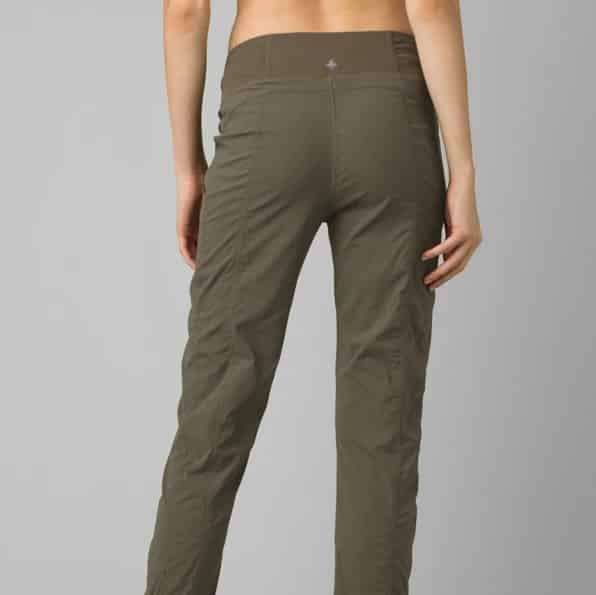 Buy Now
Zippered pockets make a comeback with the Koen Pant. They have a more compressed waistband than other options, and this PrAna clothing review finds the overall style to be an interesting balance between Battlestar Galactica and Tour de France.
If you're long-haul hiking, cycling, destroying cylons, or going about yard work, the Koen Pants are right for you. They are not, however, the best choice for a professional environment, or a general stroll.
The Koen Pant is sold out in many sizes, leaving L, XL, and XXL all that's left in the grape leaf color, while the full range from XS to XXL is available in black. You can rock a pair for $89.
PrAna Vaha Short Review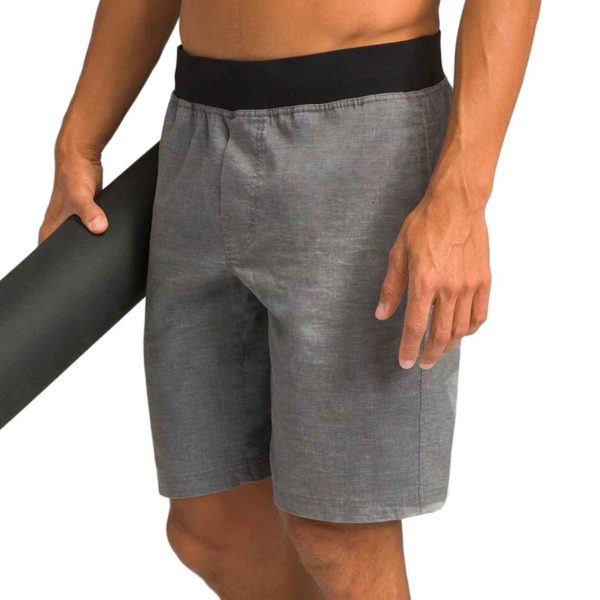 Buy Now
This PrAna clothing review has to come clean and state the obvious: the Vaha Shorts look a little too much like boxer shorts—amazing quality and slickly-designed (and, man, they look great in the bedroom) but it's somewhat distracting. Then again, most climbing shorts and general attire have that style and look very much like they could double as PrAna swimwear. So, it's not a feature unique to the Vaha's.
In fact, these PrAna shorts are designed for rock climbing, so it all makes sense. But the hemp and polyester fabric blend is so snoozy that you'll want to wear them during breakfast, too. They come in 4 patterned colors and the standard XS to XXXL sizes. The regular price is $65.
PrAna Hooded T-Shirt Review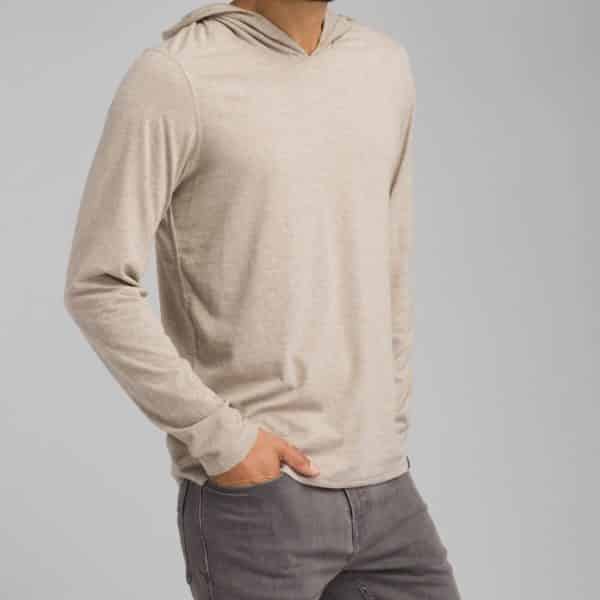 Buy Now
The Hooded T-Shirt is a light-as-a-feather piece of clothing that probably won't keep you warm from autumn chills, but it is perfect for long summer nights when you're camping around a fire. The long sleeves and hood protect you from damaging sun rays through long outdoor activities, while the breathable fabric helps you stay cool.
The Hooded T-Shirt comes in 4 patterned colors and sizes XS to XXL (XS currently sold out). It's a minimalist look that, with silver elbow patches and cigarette stains, would work wonderfully for cyberpunk cosplay. It's available for $49 on the brand's website.
PrAna Reviews: What Do Customers Think?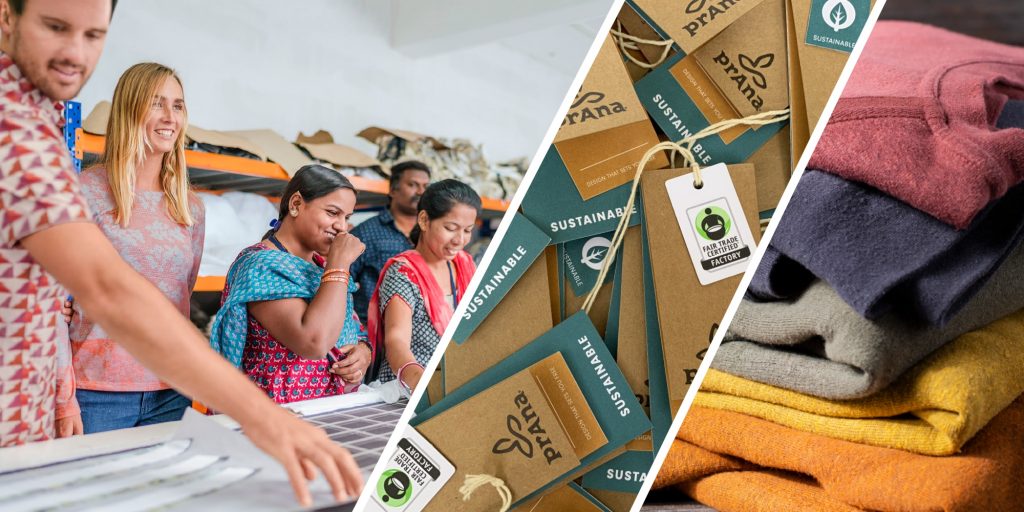 Buy Now
This PrAna clothing review looked over hundreds of reviews across multiple websites and came up with this selection, to give you an overview of what buyers think of the brand. Overall, most people seemed to have a positive experience.
Customers on the Altitude Sports retail website left 5,000+ reviews and a 4.5/5 star average. They are most pleased with the soft and lightweight clothing fabric, which is quite dependable on hot summer days, especially when outdoors.
Another common point was that PrAna clothing is true to size and fits well, in addition to being breathable and suitable for many environments, both indoor and outdoor.
In the words of one customer, "It is very flattering. The fabric is soft and feels nice on the skin. You can dress it up or dress it down. I can see that it will be one of my favourite pieces."
We also find very happy customers on the MEC retail website. Although there are only about 150 reviews, they give PrAna 4.5/5 stars on average. Customers gave the clothing high praise for being comfortable and well-fitting. They also liked that the fabric has built-in sun protection qualities, and that it is both easy to clean and dry after outdoor excursions.
A typical MEC PrAna review reads, "I ordered these pants online, received them and liked the material, colour etc. However, I have larger hips and a smaller high waist. They are a true mid-rise pant and they just weren't high enough for me. I was going to use it for hiking, but when I squatted in them not much was left to imagine from the back."
4,000+ customers on Amazon gave PrAna a 4.5/5 star average. In keeping with reviews on other websites, the most common feedback noted how comfortable the clothing is to wear. Two criticisms that stood out: men's pants have a short zipper, which can be awkward; and colors fade quickly from the clothing. However, many customers said that PrAna clothing are long-lasting and durable.
One PrAna customer writes, "These are the most comfortable jeans I have ever worn. At the time I purchased, they were about half the retail price, so I bought a couple pairs. Arrived nicely packaged and exactly what I ordered. These jeans are nice and light while still being plenty durable enough for labor industries and outdoor activities."
Is PrAna Worth It?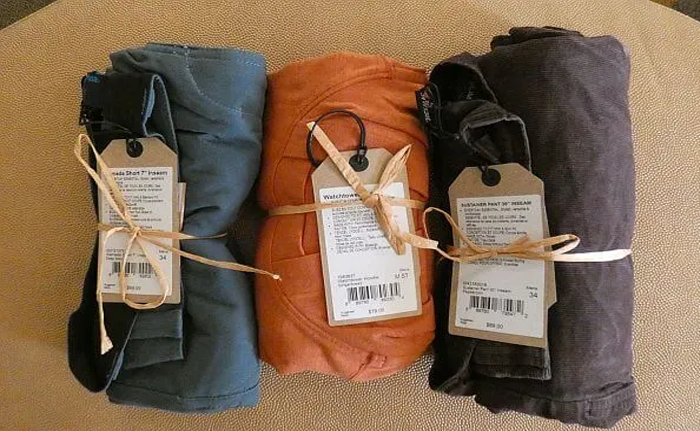 PrAna is worth it if you lead a very active and athletic life—whether through yoga, hiking, rock climbing—or regularly engage in any regular dynamic-movement excursions. Their clothing is minimal, highly functional, and made from top-notch materials.
Is PrAna a good brand? Well, the sad news is that PrAna does engage in Chinese manufacturing, where there are little to no regulations. This muddies their promotional efforts to appear as a pure, ethical, sustainably-focused brand.
Yet, even when accounting for this discrepancy, PrAna does an amazing job to ensure their products are sustainably and ethically sourced—especially when compared to other brands.
PrAna Promotions & Discounts
We really hope you're reading this PrAna clothing review in May!
Right now, there is a PrAna sale with multiple products in their catalog going for 30–40% off, plus free shipping. This includes the PrAna dresses, jeans, and leggings.
While sales are limited time offers, PrAna also grants new subscribers 10% off their first purchase when they sign up for their newsletter. You can take advantage of that easy discount throughout the year.
PrAna influencers can get a PrAna Pro Deal by filling out an application and being accepted after a review.
Where to Buy PrAna
The best way to purchase PrAna clothing is directly from their official website: prana.com. They are also sold through Amazon, MEC, Outter Limits, and in many department stores all around the world. To find the retailer closest to you, use the store locator on their site.
FAQ
What does PrAna mean?
PrAna, normally spelled "prana", is an ancient Sanskrit word that means "breath" or "vital life force". PrAna energy is an essential component of yoga, Tibetan healing practices, and of religions across the world. The use of the word goes back at least 3,000 words, and it is found in the Hindu Upanishads and Vedas.
Who started PrAna clothing?
PrAna clothing started by Beaver and Pam Theodosakis in 1992, in California. They sewed the first PrAna clothing pieces themselves and mailed them out. As avid rock climbers and yoga practitioners, they wanted attire that worked with their lifestyle.
Is PrAna made in China?
PrAna clothing made in the US and China. It a contentious subject, and one that PrAna wrote a blog post about in 2011 which, although advertised on their Facebook, has since been removed from the PrAna website.
Do PrAna pants run small?
Some customers have reported their purchases running small, but this is commonly due to the snug fit that the brand strives to achieve with their activewear. Overall, this PrAna clothing review can confidently say that their pants do not run small.
What sizes does PrAna have?
PrAna pants and other attire come in a variety of sizes. Whether you fit best in XS or XL, or anything in between, the brand has clothing that will enable the adventure of your choosing. Waists go from 28 to 42 for men and 00 to 18 for women.
Does PrAna have a warranty?
PrAna products come with a warrant that allows you to make returns within 60 days of delivery. That gets you a full refund. If you've missed this window, PrAna will still accept a return, but for in-store credit worth the amount that you paid for the original clothing item.
This PrAna clothing review has compiled a list of other requirements:
If you are returning to a physical retail store, you must show them your ID
If you are mailing your return, you must include in the package the purchase/gift receipt
PrAna only accepts returns for items that you bought from their online store or their authorized retail stores
What is PrAna's Shipping Policy?
This PrAna clothing review has put together a list of all the US shipping information you need to know:
Standard shipping paid for by PrAna and will be delivered in 5–7 business days
Expedited shipping costs $20 and takes 3–4 business days
Express shipping costs $32 and will delivered in 2–3 business days
PrAna also ships internationally to over 130 countries. Customers will receive a tracking number via a confirmation email to locate their packages.
Are PrAna returns free?
The company does not indicate if they will create a prepaid shipping label for returns. As far as this PrAna clothing review is concerned—no, returns are not free. You must pay any fees and dues that may incur when sending a package back.
They will, however, provide a prepaid shipping label if you want to exchange that PrAna yoga mat, or any other product, through one of their official stores.
How to Contact PrAna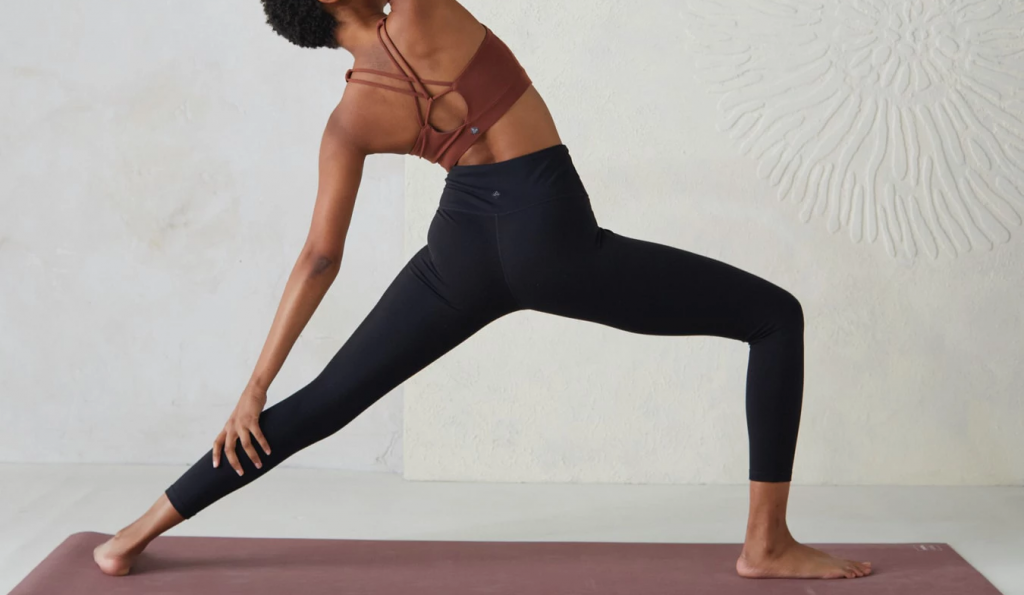 Still have questions after reading this PrAna clothing review? Get in touch with the brand directly in one of two ways:
Filling out the contact form on their website
PrAna customer support team is available on weekdays, 7 AM to 5 PM PST.