About Red Wing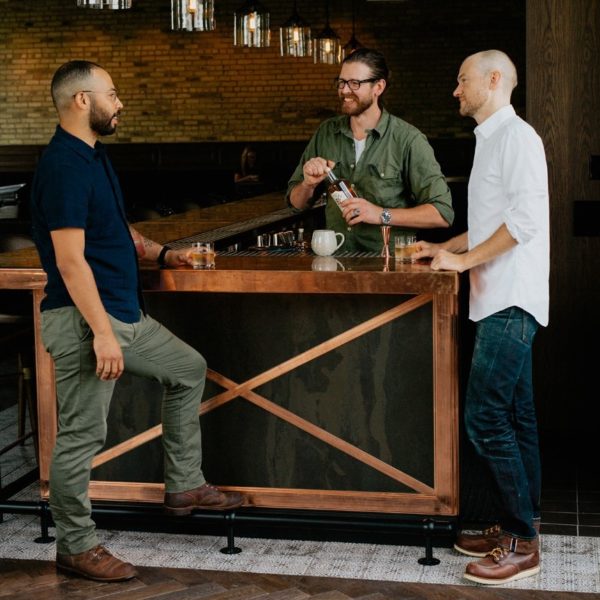 Move over, Doc Martens! There's a new boot in town. Red Wing shoes are the perfect combination of practical, bold, and edgy—so say hello to your new favorite footwear. The brand carries a selection of work and heritage boots, both of which will belong in your closet for years to come.
Celebs have been spotted in Red Wing shoes for years, including Jack Nicholson, Bradley Cooper, David Beckham, and Winona Ryder. With over 490k followers on Instagram and 375k likes on Facebook, the brand has established itself as one of the top boot brands.
This Red Wing Shoes review will take an in-depth look at all there is to know about the brand, including its mission, some highlights, product reviews, and customer ratings to help you decide which pay walks its way into your heart and which pair gets the boot!
Overview of Red Wing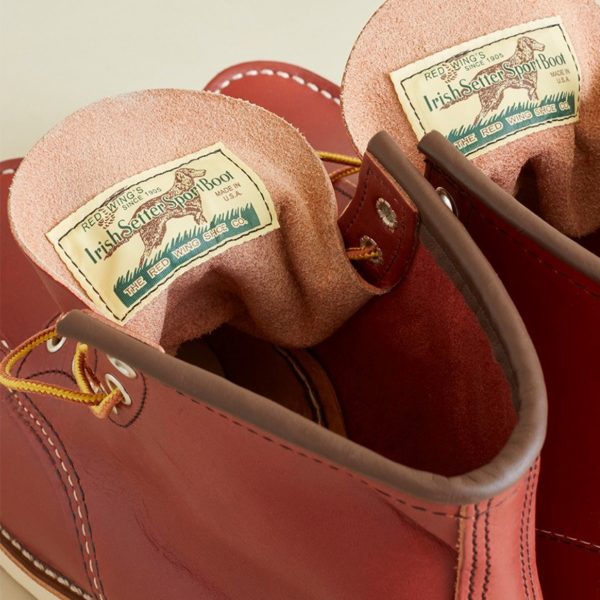 Since 1905, Red Wing has been committed to making quality workwear. Charles Beckman founded it to create comfortable and safe shoes for jobs that required a lot of hard work. People shouldn't have to worry about whether their feet are protected and blister-free when they're trying to get things done.
Anything over 115 years old has to be good, and Red Wing proves us right. The brand has always been fueled by the need to make a "difference in people's lives" and has "strong values and the commitment to craftsmanship."
Made in the USA, the brand aims to continue with the same values it started with, making it the perfect marriage of traditional designs with today's innovation.
Now that we've taken a few steps into the brand's history, this Red Wing Shoes review will walk you through the highlights of the brand.
Highlights
Wide selection of comfortable and affordable work boots for men and women
Free shipping on orders over $75
30-day comfort guarantee
12-month warranty
Good size ranges and options for wide feet
Only ships within the US
Some styles are in-store only
Red Wing carries all the different types of boots you need: whether that's for hiking, working, or even being fashion-forward. Quality is a top priority, but so are classic and timeless designs.
This Red Wing Shoes review will now look at all the best-selling pairs of boots to help you choose which ones are made for walking!
Red Wing Work Boots Review
Looking for a new pair of protective work boots? Red Wing carries styles for men and women (though all shoes are unisex) that focus on safety and comfort without sacrificing design! Read on for some more deets on Red Wing's top-selling work boots.
Red Wing Men's Supersole 11" Waterproof Safety Toe Met-Guard Pull-On Boot Review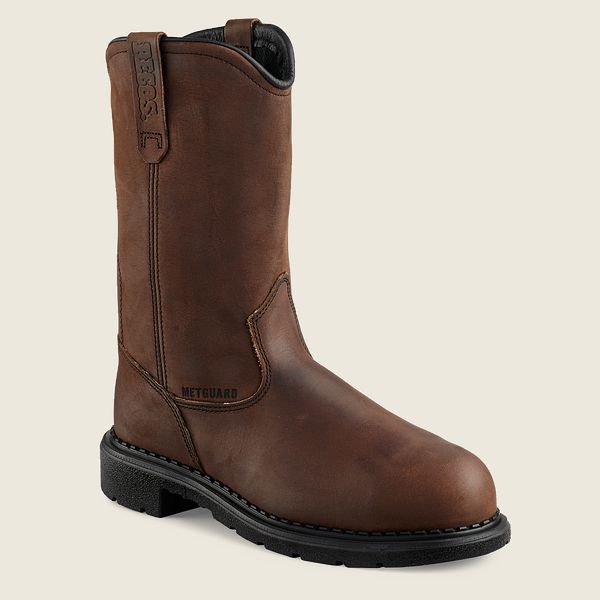 Work boots by day, cowboy boots by night. The Men's Supersole 11" Waterproof Safety Toe Met-Guard Pull-On Boots have a rounded steel toe that lends work boots, while the height and stitching designs have a Western vibe.
These waterproof pull-on boots are super durable for heavy-duty work, so you know they'll hold up in the toughest conditions. The antimicrobial treatment ensures things will stay fresh, and the comfortable sole protects your feet for even the longest of days.
Tuck your work pants into these boots to protect your ankles, then change into some jeans after work for a more casual look. These boots come in sizes 7-15 and from narrow to extra-wide for $275.
Red Wing King Toe Men's 6" Waterproof Soft Toe Boot Review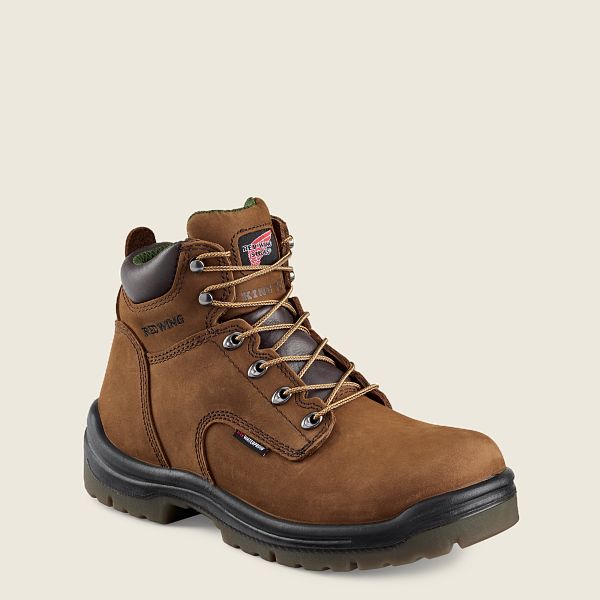 If you prefer a more classic hiking boot, the King Toe Men's 6" Waterproof Soft Toe Boot is for you. This flexible brown leather boot is durable and doesn't scratch easily, so that it will look newer for longer.
There's also extra toe room in these waterproof shoes, so you don't have to worry about squished or stubbed toes. The warm camel brown leather contrasts with the black rubber soles and the shiny chocolate brown leather detailing the ankle and tongue.
These boots are perfect for hiking but can also be worn casually with jeans, a plain tee, and a flannel. These boots are available in sizes 7-15 and regular to extra wide for $210.
Red Wing Women's Zero-G Lite Safety Toe Chukka Review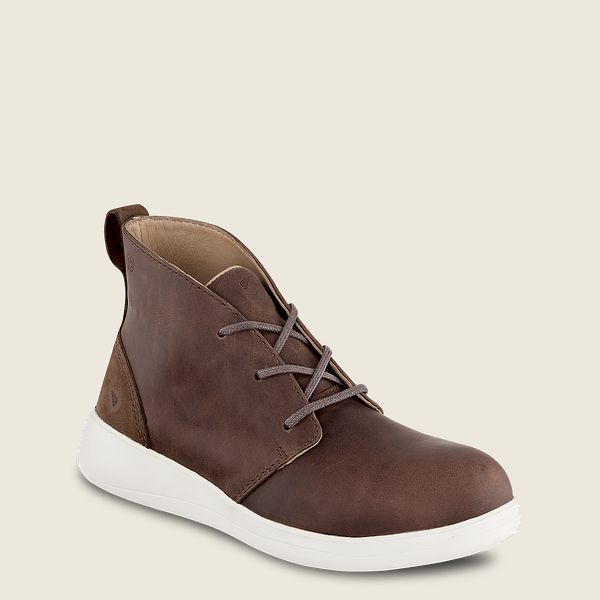 The Women's Zero-G Lite Safety Toe Chukka is a super stylish leather boot that doubles as workwear. The aluminum toe, protection from electrical currents, and slip-resistant soles go completely unnoticed but ensure your safety in these sleek boots.
The full-grain leather and high ankle look stylish, allowing you to transition between roles at work quickly and when you're out and about without ever looking out of uniform (from casual to business chic to ready to get dirty).
The versatile brown boots are available in sizes 5-11 for regular to wide for $180.
Red Wing Women's Zero-G Lite 5" Side Zip Safety Toe Boot Review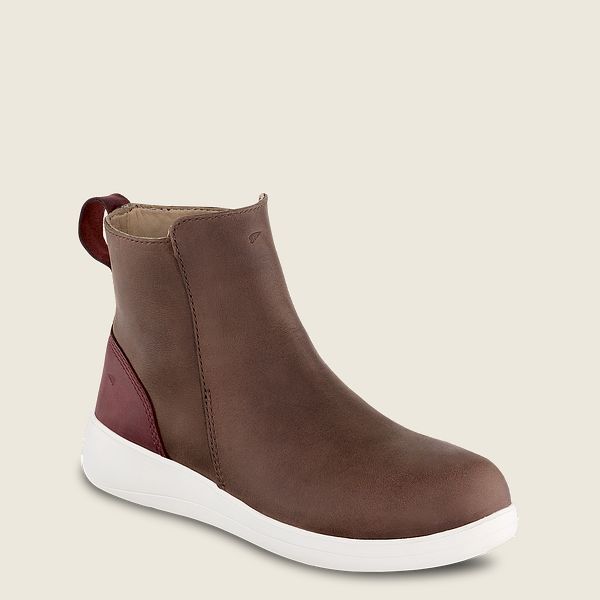 Do you prefer a shoe that's easy to slip on when you're heading out the door? The Women's Zero-G Lite 5" Slide Zip Safety Toe Boot is super lightweight and protective.
This soft brown leather has a complement of maroon on the heel, as well as a pull tab and zipper so you can easily step into your daily uniform. The footbed is super comfortable, and the sole offers electrical hazard protection while the aluminum toe protects your toes.
These boots resemble a Chelsea boot, making them the perfect choice to transition you from work to home and hold up in inclement weather. These shoes are available in sizes 6-11 and come in regular and wide for $180.
Red Wing Heritage Review
The brand also carries a selection of Heritage boots for men and women that are more casual in design, great for everyday wear, and will last you through the seasons. Let's hop into some of Red Wing's most popular styles!
Red Wing Men's Classic Moc 6" Boot in Oro Legacy Leather Review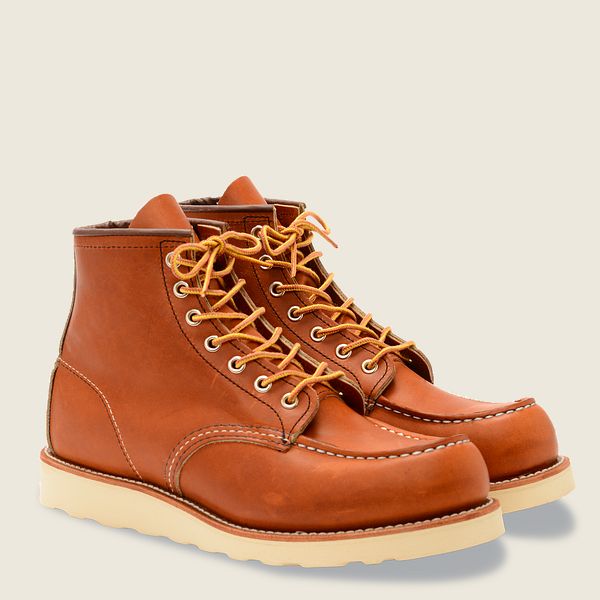 If you want a versatile and casual boot great for things like hiking, winter weather, and any job where you don't need a heavy-duty steel toe, the Men's Classic Moc 6" Boot is your new best friend.
These boots have a classic moccasin toe, thick sole for weatherproofing, and contrasting stitching for added detail. The waxed, full-grain leather holds up over time, and the traction tread ensures a no-slip zone.
Available in six different shades ranging from navy blue to a warm mustardy brown, these shoes come in sizes 6-13 and in regular to extra wide for $300.
Red Wing Men's Work Chukka in Charcoal Rough & Tough Leather Review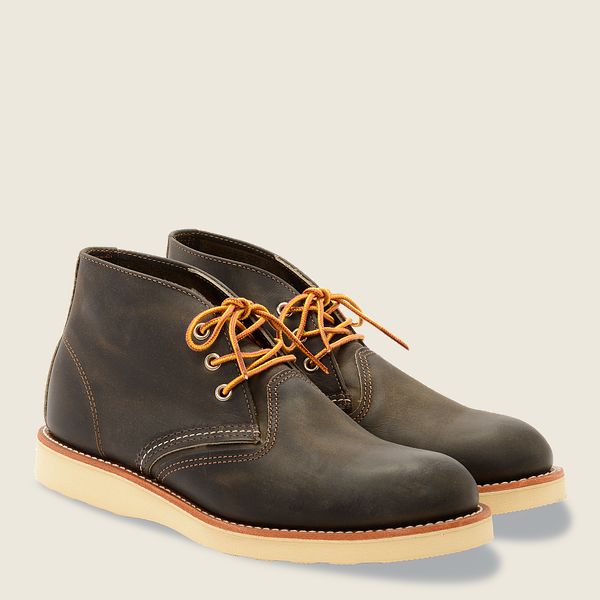 For a pair of boots that double as a semi-casual dress shoe, the Red Wing Men's Work Chukka is a timeless style. The diamond stitching around the tongue, heel, and sides adds visual interest, while the contrasting laces and soles make these shoes stand out from the crowd.
Pair them with some plaid dress pants and a fitted button-up for a dressier look, or make them a little more casual with some distressed jeans and an oversized dark-colored blazer. These flexible, comfortable shoes will be your new go-to for any environment, whether that's work or play.
These shoes come in lots of different options, from dusty charcoal to brushed copper, as well as other leathers. From size 7-14 with regular, wide, and extra-wide options, these shoes run for $280.
Red Wing Women's Eileen Boot in Amber Harness Review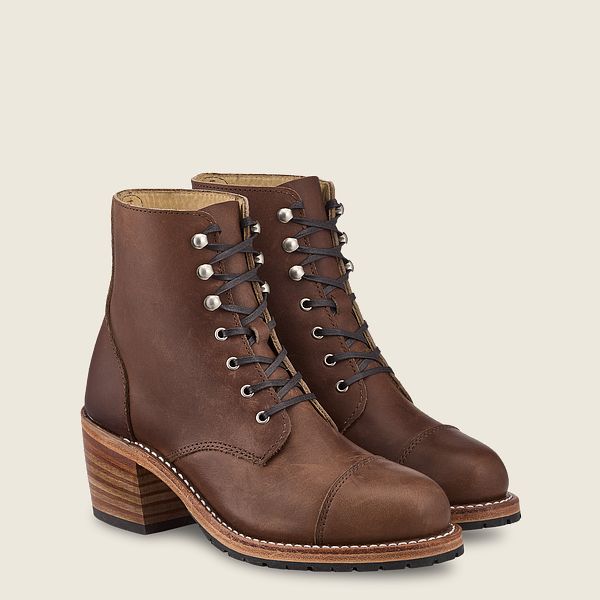 Are you looking for a heel-boot hybrid? Look no further because you've found the Red Wing Women's Eileen Boot. The chunky heel and traction on the sole ensure no slips or falls so that you can even walk on ice in these bad boys.
The nickel eye detailing around the laces and capped toe give a vintage flair, while the chunky heel pulls more modern. Pair them with some dark jeans and a black puffer jacket, and you'll be ready for a winter wonderland.
These comfy heeled boots are available in chestnut brown or classic monochrome black in sizes 5-11 for $340.
Red Wing Women's 6" Chelsea Short Boot in Pecan Boundary Leather Review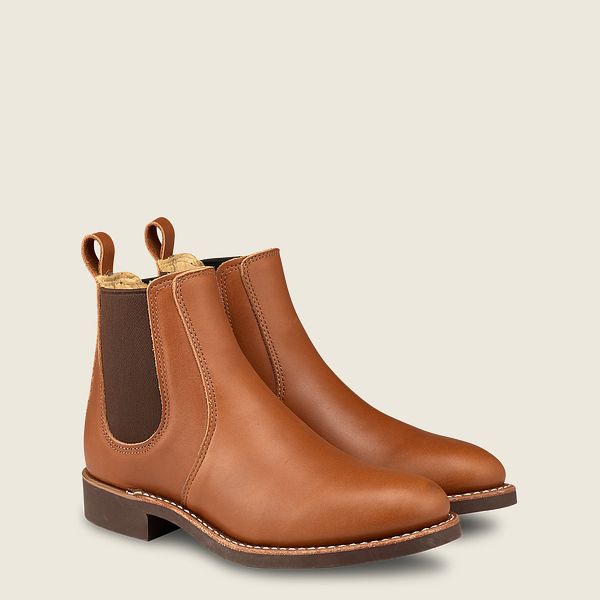 A good Chelsea boot is a must in every closet, and the Red Wing Women's 6" Chelsea Short Boot is potentially your sole-mate. These boots sit comfortably above the ankle and have stretchy panels on the side for easy pull-on, classic traits of a good Chelsea boot.
The boundary leather is smooth and easy to clean, while the soles have good traction, so they'll work great in winter weather. We can see it now: a red flannel, a knit beanie, and your new favorite chestnut brown boots walking you through the apple orchard, and then again in three months paired with your warmest winter jacket with a hot chocolate in hand.
Dreamy, isn't it? Dreams come true with these boots.
Available in steel blue, roasted pecan brown, or a timeless black in sizes 5-11, these boots run for $340.
Who Is Red Wing For?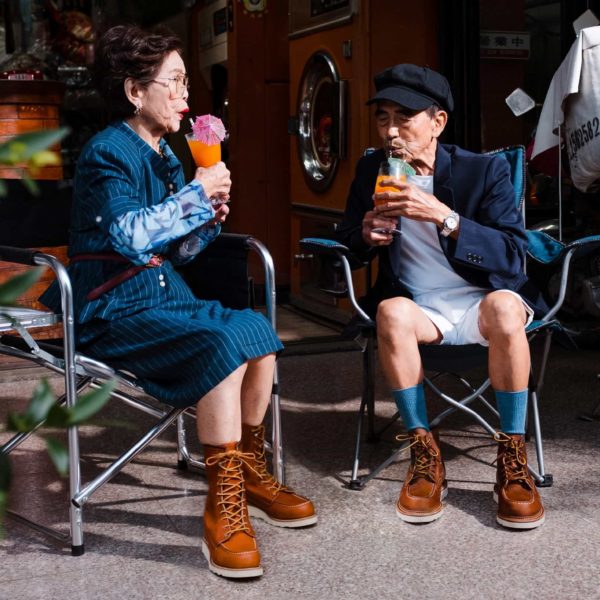 Red Wing boots suit people from all walks of life. You know what they say: if the shoe fits, and it does! Thick soles and steel toes keep you safe on the job, while waterproofing ensures you can walk through all weather.
Everyone needs a good pair of boots, whether you like to go for hikes, have a heavy-duty job, or simply need something that looks cool for the colder seasons. Red Wing shoes are made for anyone who needs them, with styles for men and women, but overall unisex pairs.
Are Red Wing Shoes Worth It?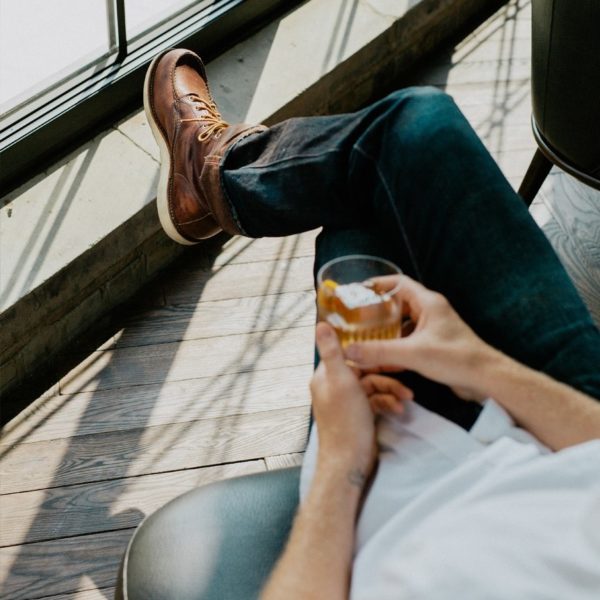 Donned by workers and for casual wear for over a century, this brand is firmly established as a top-tier shoe industry option. This Red Wing Shoes review deems the brand worth the buy. They are a suitable choice for everyone and anyone and are manufactured with the wearer in mind.
Though the shoes are expensive, you do get what you pay for. It all comes down to quality materials, being hand-made in the USA, and being tried and true for years. The glowing reviews, the versatility of the shoes, and years in business mark them as a must-have and, so, totally worth it.
Red Wing Promotions & Discounts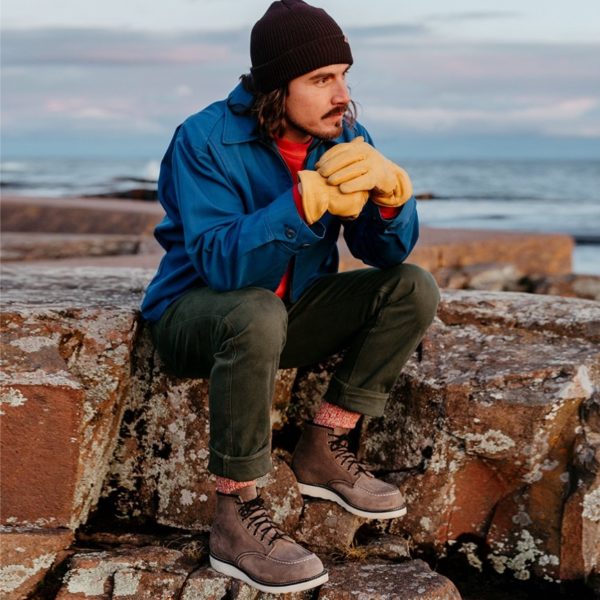 This Red Wing Shoes review found that the brand is not currently holding any sales. But you can always sign up for their email notifications to learn when the next one happens.
Where to Buy Red Wing Shoes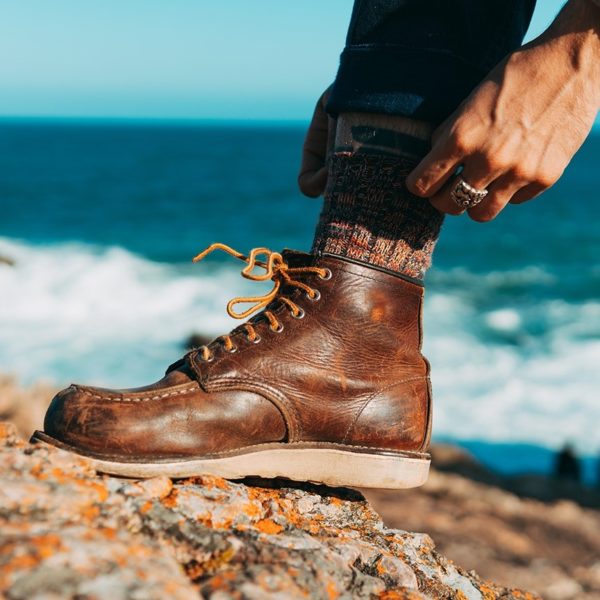 If you're on the hunt for a brand new pair of boots that will last you forever. This Red Wing Shoes review has you covered! You can shop the brand directly through their website, redwingshoes.com, or on Amazon.
If you'd prefer to try them on, you can visit retailers like Altitude Sports or visit a Red Wing store!
FAQ
When was Red Wing Shoe Company founded?
Red Wing was founded over 115 years ago in 1905. The brand was founded to make shoes for workers but has only become more popular as time has gone on.
Where are Red Wing Shoes made?
Red Wing shoes are made in the same country the brand is based: the USA. The brand is all about honoring tradition, and continuing to make the shoes in the same place they began is a part of that.
What are Red Wing Shoes made out of?
All Red Wing Shoes are made from leather. The materials come from the brand's own tannery, S.B Foot Tanning Company.
Do Red Wing Shoes come with a warranty?
All Red Wing shoes come with a 12-month warranty. This covers any damage or defects from everyday use rather than normal wear and tear. The brand will either exchange or repair the boots, depending on the damage.
How to care for Red Wing Shoes?
Good shoes need the proper care, too. But don't worry, it's not a long process at all, and this Red Wing Shoes review is here with the rundown:
For oil-tanned and smooth finished shoes, start with warm water and a soft-bristled brush to remove debris and dry it with a clean cloth.
For rough out/nubuck shoes, use the cleaner bar that comes with the kit sold on the site, gently buffing and following up with a soft bristle brush to maintain the integrity of the fabric.
Make sure to condition with a proper oil and apply a leather protectant
What is Red Wing's Shipping Policy?
Desperate for a new pair of boots? Luckily, Red Wing offers lots of shipping options:
Free standard shipping over $75
Standard shipping (2-7 days) for $5
Express shipping (2-3 days) for $10
Next-day shipping for $30
Unfortunately, the brand only ships within the contiguous US, and these shipping charges change for Alaska and Hawaii.
What is Red Wing's Return Policy?
For returns, Red Wing issues refunds or exchanges within 30 days for unworn boots. Returning is easy. Just follow these simple steps:
Start a return on the website at https://www.redwingshoes.com/orderstatus
Print the supplied label and attach it to your package
Ship it through your nearest UPS
Your return should process within 10-14 business days.