If you want to upgrade your wardrobe with stylish clothes and gorgeous accessories, then we're happy to let you know: you have come to the right place. Revolve is a next-generation fashion retailer, offering a wide variety of trendy clothes, shoes, accessories, and beauty products to women who treasure fashion. Today, we are going to dive deep into Revolve reviews and see how the previous shoppers see the company. We will also take a close look at the history of Revolve, analyze the items they sell, and answer some of the most frequently asked questions regarding the company's values. 
If you are wondering whether Revolve is worth your money and trust, keep reading our unbiased and honest review and you will find your answers!
About Revolve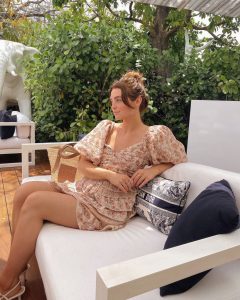 The history of Revolve goes back to 2003 when the company was founded by Michael Mente and Mike Karanikolas. The two co-founders believed that traditional retailers were failing to offer the right variety of merchandise and they could not consistently provide on-trend products to their customers. Understanding the significance of this gap, Mente and Karanikolas created a one-step destination where Millennial and Generation Z shoppers can enjoy an extensive selection of quality items that are following the newest trends. 
In the beginning, another important concept of the company was to leverage technology through their marketing strategy and use digital channels to connect with young customers. It is no coincidence that Revolve is recognized as a pioneer in social media and influencer marketing. The company runs a very strong influencer marketing strategy, working constantly with thousands of fashion influencers all over the world. 
Today Revolve defines itself as "a premium lifestyle brand, and a go-to online source for discovery and inspiration". Being a completely online retailer, the company offers more than 49,000 fashion items, including clothing, footwear, accessories, and last, but not least beauty products.
Pros
Wide variety of quality clothes made by different designers

Plenty of options for all styles: bohemian, sporty, casual, elegant, etc. 

True to size clothes

Straightforward customer service and trustworthy refund policy

Fast shipping
Cons
Not all items are affordable for everyone, as some clothes tend to be pricey

No customer reviews on the official website
Revolve Clothing Reviews
If you are interested in Revolve clothing reviews, you are at the perfect place. In the next section of our review, we will dive deep into the quality, pricing, and selection of products we found on the company's website. After taking a close look at the Revolve dresses, jeans, shoes, activewear, and jewelry, we will analyze some customer Revolve reviews collected from multiple sources. Ready? Let's get into it:
Revolve Dresses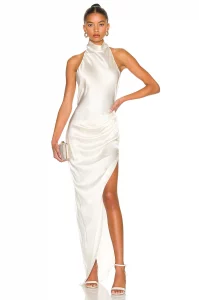 The best way to start our Revolve reviews is by taking a closer look at the most popular items of the company, the Revolve dresses. There are more than 7000 pieces to choose from all made by different designers. You can filter the dresses into 4 main categories depending on the occasion: special event, vacation, night out, and weekend. You can also limit the results by searching by length and sleeve length or filter the dresses by style. 
If you do a search with the phrase Revolve clothing white dress, the very first result is the 100% silk X Revolve Samba Gown. Available in multiple colors, this dress is one of the most popular dresses on the website. Elegant, feminine, and classic, a go-to dress for romantic vacations or special events such as weddings or parties. This dress costs $321, but if you are looking for a more affordable one, you can find similar pieces for less than $300, too. 
Revolve Jeans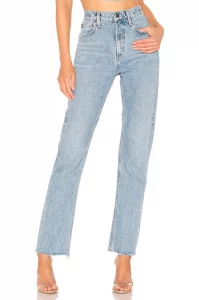 If you are interested in buying Revolve jeans, we've got quite good news for you. There is a great selection of jeans by popular designers you can choose from. On the company's website, the jeans are categorized by fit and style, so you can easily find what you are looking for. 
In terms of fit, you can choose from 5 popular cuts: boyfriend jeans, flared & wide-leg, straight leg, high waisted jeans, and last, but not least skinny jeans. In the style category, you can find skirts, dresses, jackets, vests, maternity jeans, overalls, jumpers, rompers, shirts, and shorts. You can also filter the options by cut-offs, destroyed jeans, cropped jeans, black and white jeans. In addition, there is the option to filter the items by color, stretch, rise, length, and designer, too. 
Regarding the price, the cheapest shorts cost $62, while the most expensive item is a jumpsuit that will cost you $695. 
Revolve Shoes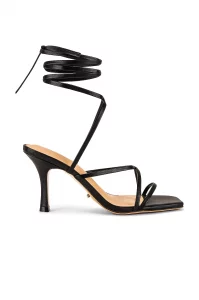 As you navigate to the Revolve shoes category, you will find an extensive selection of shoes ranging from slippers to heels. There are more than 2000 items to choose from. No matter if you prefer flats or high heels, you will be able to find a pair that you can integrate into your shoe collection. In terms of categories, the company offers a colorful selection of booties, boots, espadrilles, flats, heels, mules, sandals, slippers, and sneakers.
Depending on the brand and type of shoe, the price range varies from $20 to $1,950. At the time of writing, the most expensive pairs are the Isabel Marant Larli Boot for $1,950 and the Giuseppe Zanotti Metal Azalea Heel for $1,125. Among the cheaper items, you can find Flora Nikrooz Criss Cross slippers and Havaianas flip flops for $20, or Free People and Schutz sandals for less than $50. 
Revolve Activewear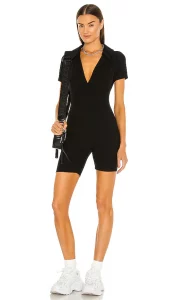 After taking a closer look at the Revolve shoes, now we are going to review activewear on the brand's website. According to Revolve reviews, these leggings, tees, shorts, and sports bras are very popular, and we kind of get why.  They are mostly colorful, energizing pieces that give you an instant boost before and during workouts. You can find jackets, jumpsuits, rompers, pants, shorts, ski clothes, tops, sweatshirts, hoodies, sports bras, and workout accessories on the Revolve website. 
The price range of the Revolve activewear varies, depending on the brand. Looking at the tops, the cheapest piece costs $25. This one is a Classic Racerback Puma Tank top. The most expensive one is the Thermal Scuba Hood which costs $250. The workout accessories selection is quite minimalistic. The company sells mainly sports sprays, body bands, yoga mats, and a few other accessories that can come in handy during sports activities.   
Revolve Jewelry
Before we dive into the Revolve reviews from customers, let's see what are your options if you want to treat yourself to some Revolve jewelry. The overall impression is that the company offers a wide variety of beautiful, quality jewelry in different styles. No matter if you like classic, elegant, or bohemian jewelry, you will most likely find something that fits your taste. 
In terms of products, there are 6 main categories: body jewelry, bracelets, earrings, necklaces, rings, and watches. Most pieces are made of silver, gold, and rose gold, but you can choose from fine jewelry with precious metals and stones as well. The price range usually varies from $20 to $2,861. When shopping for Revolve jewelry, it is worth looking for sales and discounts, as you might be lucky to find some gorgeous pieces under $20, too. 
Revolve Reviews from Customers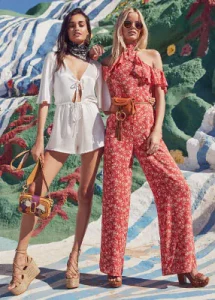 A good way to decide whether it is worth spending your money on the Revolve website is to look at Revolve reviews from previous shoppers. On the official website, there are customer reviews you can scroll through, but if you want to find out more, you might want to check other sources, too. To understand how people rate their experience of shopping from Revolve, we analyzed reviews from the official Revolve website and third-party platforms such as Trustpilot, Sitejabber, etc.
The overall impression is that people are satisfied with Revolve, both products, and customer service. Shoppers enjoy the "endless selection" of stylish clothes, the constantly updated options. According to Revolve reviews, people see the company as a go-to destination for on-trend clothing and accessories. There is positive feedback regarding the fit, saying that the clothes are true to size and fit well on different body types. 
Shoppers describe the website as convenient and easy to use and they are happy with the company's prompt shipping and simple return policy. In terms of quality, most customers are happy with their purchases. Some seem to have issues with the quality and pricing of the items they ordered, being the price too high for average or low-quality apparel. On Trustpilot, based on 761 reviews, the company has a 3.4 score out of 5 that is categorized as Average according to Trustpilot's rating. 
Sign Up for Revolve
If you want to sign up for Revolve, you need to create an account. The good news is that the sign-up process is genuinely simple. All you need to do is to fill out the sign-up form with your e-mail address and create a password for your account. On the very same page, you also have the option to subscribe to the Revolve newsletter where you can learn about sales, discounts, promotions, and new arrivals. 
Where to Buy Revolve
If you were looking for a Revolve store nearby without success, here's what you need to know: Revolve has no physical stores. You can purchase your favorite Revolve dresses or jewelry on the official website of the company. 
Revolve Shipping and Return Policy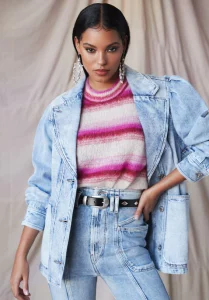 When it comes to shipping and delivery, the company offers free international shipping for all orders over $100. In the US, you can choose from 3 different types of shipping, such as:
2-day Shipping: This option is free of charge, and it takes 2 business days for your order to arrive.

UPS Next Day Saver: If you opt for this shipping option, your order will arrive the next business day until 8 pm. In terms of cost, the shipping of the first item will cost you $24, then $8 for each additional item. The max fee you will need to pay for the UPS Next Day Saver is $50. 

UPS Next Day: This option allows you to receive your package the next business day until 12 pm. In this case, the first item will cost you $30, then you will need to pay $10 for each additional item. The max amount you will be charged is $50.
Return Policy
Now let's take a look at the Revolve returns policy. The company offers two free options to buyers to return their purchases: Revolve Happy Returns and returns via mail.
Thanks to the company's partnership with Happy Returns, you can easily return your orders without any hassle. All you need to do is to start the online return process, receive a QR code and find a nearby Return Bar where you can take your package for return. This option seems to be the simplest: it is box-free, label-free, contact-free and most importantly gives you an immediate refund. 
You can also rely on the mail to send back your unwanted items to Revolve. In this case, you are instructed to pack the item or items you want to return and affix the prepaid mailing label you received with your order. You can either drop your package at a UPS/FedEx location or you can leave it at a location that offers daily UPS/FedEx pick-up. 
According to the Revolve website, once a return arrives back at the company's facility, it takes them 2-3 days to process it. In the meantime, you can track your return in your purchase history. As the return was processed and the refund has been issued, Revolve will send you an email. Depending on your bank, within a few business days, the full refund will appear on your credit card account.
Revolve Promotions & Discounts
The next step in our Revolve review is taking a closer look at the promotions and discounts the company offers. The Loyalty Program allows shoppers to earn points and enjoy rewards that can not only be redeemed on the Revolve website but on the FWRD website as well. You can earn points on anything you purchase from the two brands, and every after 2000 points you will receive $20 to spend on your next order.  
There are also special promotions and discount codes you can also use to save some money when shopping from Revolve. Usually, you can find these on the official website, but if you sign up for the newsletter, you can be the first to learn about current promotions and sales. 
Revolve Reviews: Editors' Verdict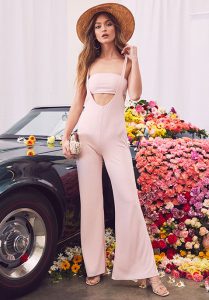 Now it's time to sum up our final opinion based on all the information we gained from the Revolve reviews, the company's website, and other sources we came across during our research. After taking a look at the products the company sells and learning about how previous customers rate their shopping experience, we can confidently say that Revolve is a legit and trustworthy company that is worth your money. 
We really appreciate that Revolve is a one-stop destination, where we can find everything from clothes to jewelry for any occasion we can think of. The selection of clothes is extensive and everybody can easily find something that fits their style and taste. 
Undoubtedly, some items are pricier than others. However, the good news is that the price range is quite broad, so even if you are on a budget, you can still find beautiful pieces that are definitely going to turn heads. 
So, if you are looking for some gorgeous clothes to spice up your wardrobe, we recommend you to check out the Revolve website. 
Still on the hunt for trendy clothing? Consider reading our similar brand reviews of Staud, Musier Paris, and Vetta Capsule.
Revolve FAQ
Is Revolve trustworthy?
Looking at the brand's values, and a large number of Revolve reviews we can confidently say that the company is legit and trustworthy. They offer fast shipping, their return and refund policy is straightforward and last, but not least, they offer a great variety of quality products.   
Does Revolve clothing run small?
According to customer reviews, Revolve clothing is true to size. The company has a great fit guide for every piece of clothing they have on their website which helps shoppers decide which size fits them the best. So before you send your order, just take a quick look at their size guide to make sure your order will fit you perfectly. 
Who is the owner of REVOLVE?
The owners and co-founders of Revolve are Michael Mente and Mike Karanikolas who started the company in 2003.
Is REVOLVE a marketplace?
Yes, Revolve acts as a marketplace, selling clothing from over 500 already existing, individual fashion brands and from more than 20 owned brands.