About RevZilla
RevZilla is a leading online retailer specializing in motorcycle gear and accessories. Founded in 2007, RevZilla is based in Philadelphia, Pennsylvania, and has established itself as a trusted destination for motorcyclists looking for high-quality products and expert advice.
RevZilla offers a wide range of motorcycle gear, including helmets, jackets, pants, gloves, boots, and protective gear. They carry products from various well-known brands in the industry, catering to riders of all styles and preferences. In addition to gear, RevZilla also offers a selection of motorcycle parts, accessories, and aftermarket upgrades.
One of the distinguishing features of RevZilla is its focus on providing detailed product information and customer reviews. Their website features comprehensive product descriptions, specifications, and video reviews, allowing customers to make informed purchasing decisions. They also have a team of knowledgeable Gear Geeks who are available to answer customer questions and provide personalized recommendations.
RevZilla has a strong online presence, with a user-friendly website and a dedicated YouTube channel. Their YouTube channel features product reviews, gear guides, and other motorcycle-related content, further establishing their reputation as a reliable source of information for riders.
RevZilla is renowned for its commitment to customer satisfaction, extensive product selection, and expertise in the motorcycle gear industry.
HJC RPHA 71 Helmet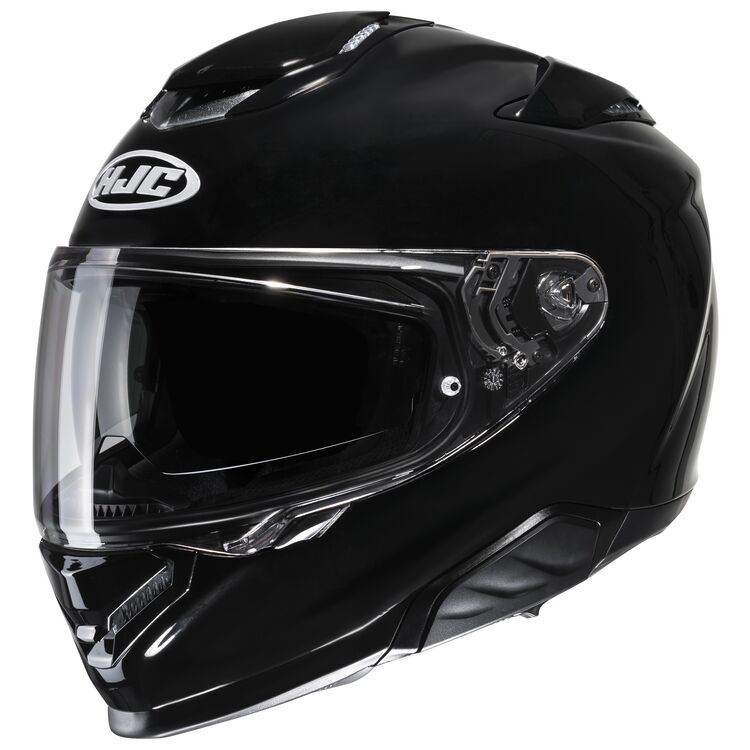 Designed to bridge the gap between sport riding and touring, the HJC RPHA 71 Helmet meets the needs of riders who want both the lightweight performance, airflow and protection of a race helmet and the comfort, quiet and convenience of a touring helmet.
Features:
Premium Integrated Matrix / P.I.M. EVO (Reinforcement materials including Carbon-Aramid Hybrid and Natural Fiber provide enhanced Shock-Resistant performance)
Aerodynamic design shell reduces air resistance and provides stability at high speed
Full front-to-back airflow, 2 intakes and 2 exhausts
Pinlock Ready HJ-40 Visor
Quick, Simple and Secure Visor Ratchet System
Push release visor lock more secure and convenient
Adjustable 3-step sunshield for optimized position
Dark Smoke Sunshield Installed (HJ-V12)
Interior with advanced anti-bacterial fabric provides enhanced moisture wicking and quick dry function
Removable/washable crown and cheek pads
Ready for 21B & 50B Bluetooth (sold separately)
Alpinestars SMX 6 v2 Vented Boots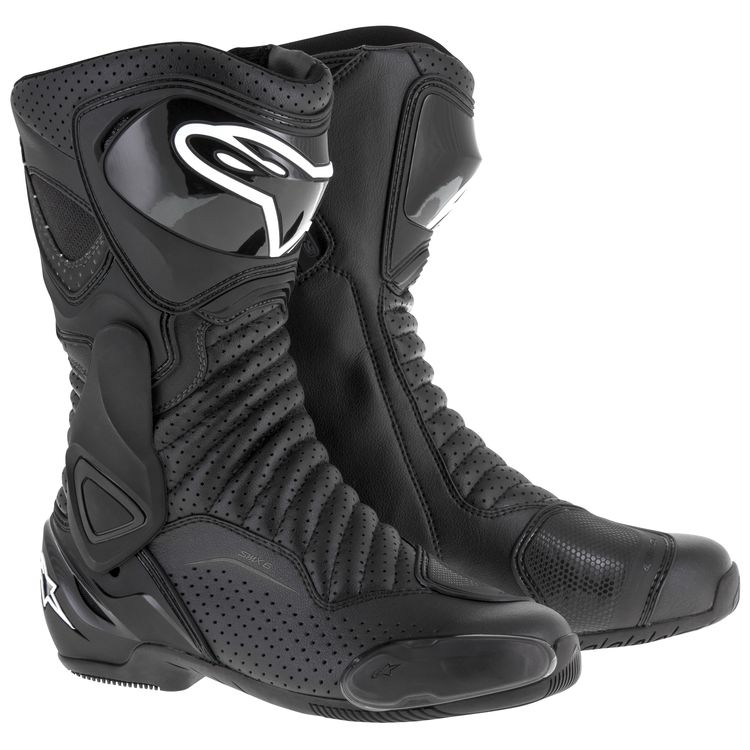 A formidable force on street and track, the second generation Alpinestars SMX 6 Vented Boots have been carefully upgraded without compromising the versatile performance and protection that made the originals such a success. The ergonomics have been refined for increased anatomical fidelity. The perforated accordion stretch paneling has been augmented on the forefoot as well as the back of the ankle for added flexibility and comfort.
The characteristic race-bred protection of the SMX 6 lineage has been preserved via the high modulus TPU bio-mechanical ankle support, injected shin guard, calf protector, heel counter, shift pad and toe slider. Air vents have been integrated into the heel counter and shin plate to prolong rider comfort even under demanding conditions. The microfiber at the forefoot and upper shaft has been perforated as well for optimal breathability in hot weather.
Whether your playground is the racetrack or the back roads, the Alpinestars SMX 6 V2 Vented Boots are designed to offer protection, dexterity and performance without compromise.
Features:
Boot upper incorporates innovative front, rear bellow and rear calf zones for superior levels of flexibility
Upper constructed from microfiber for durability and abrasion resistance
Ergonomic last for forefoot streamlining to enable greater control of the bike's controls and for superior, wide-ranging foot profile, fit and comfort
Alpinestars' innovative TPU lateral ankle brace protection provides a bio-mechanical support between lateral top calf/shin and ankle and offers improved structural integrity, protection against impact shocks, repeated abrasion resistance and flex support
Air vents on the heel counter and shin plate plus breathable mesh inserts improve comfort and reduce fatigue on short and long rides
High modulus TPU injected shin guard, calf protector, heel counter, shift pad and toe slider for improved shock protection and durability
Double density ankle protector on medial side layered under the upper offers protection in key area
Integrated, replaceable bi-injected TPU slider features easy screw fixing concept for quicker and easier replacement
Innovative instep and Achilles accordion flex zone construction for superior comfort, extension, control and support
Internal insole with the shank reinforcement integrated for support to the arch area and foot protection
Medial side entry opening/closure system features elastic-mounted zipper with wide closure for flexibility and secure fit
Breathable textile interior lining features anti-sliding suede reinforcement on heel area to help keep foot in position while riding
Removable anatomic footbed includes EVA and Lycra for performance, comfort and support
Alpinestars' exclusive compound rubber sole promotes improved feel and grip, water dispersion and durability
CE certified
Alpinestars Bionic Action Jacket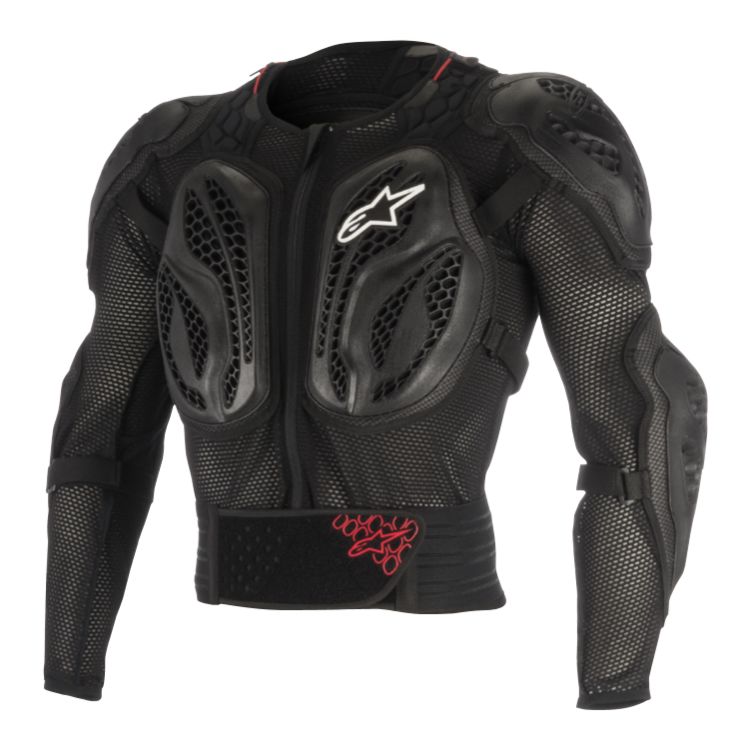 Features:
Shoulder and elbow protector CE certified against EN 1621_1:2012 Level 1
Back protector CE certified against EN 1621_2:2014 Level 1
Divided chest protector CE certified against EN 1621_3:2016 Level 2
Lightweight protection jacket with high adjustability and maximum breathability
Back protector developed in three waist-to-shoulder dimensions in order to cover all body sizes
All shells are constructed from a high performance polymeric material blend for optimized flexibility and excellent weight-saving properties
All shells are highly perforated for maximum breathability and air ventilation
Single injected shells constructed with a back integrated grid structure which absorb and dissipate impacts forces
Shells are vented and channeled to improve airflow and prevent heat buildup
Ergonomic protection shell contour following the natural curve of the back ensuring optimum fit while riding
Plates lock to prevent overextension of the back
Removable upper back panel for Bionic Neck Support compatibility
Soft touch BNS puller for convenient and safe engagement of the BNS
Shoulder and elbow adjustment straps for personal fitment
Lateral adjustment straps to tighten the back protector towards the chest shell for safe and secure fit
Kidney belt to tighten the back protector to the body
Technical elastane main construction is highly breathable and retains shape
Premium, auto-lock YKK zipper for main frontal closure
Shoulder reinforcement for BNS attachment and position stability of protector
Dainese Full Metal 6 Gloves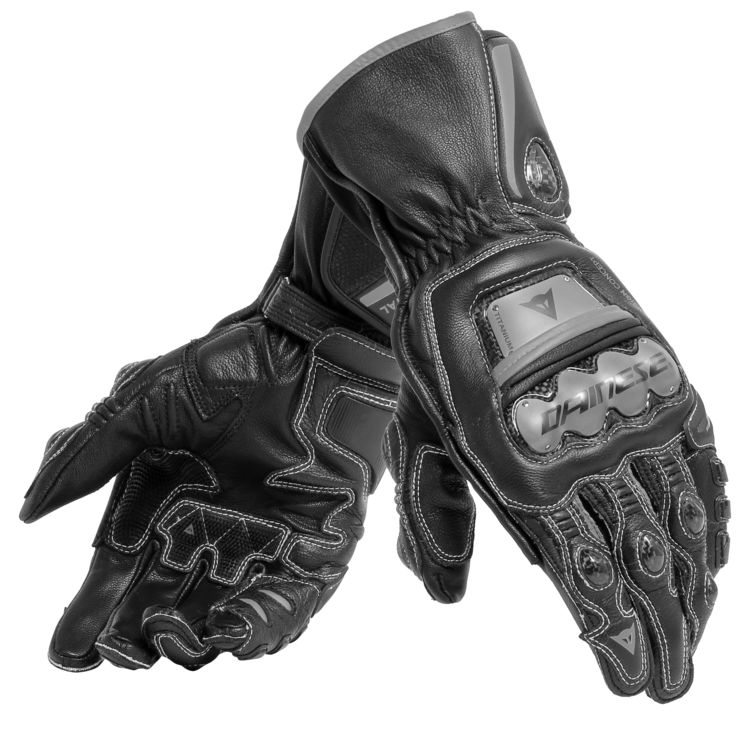 The Dainese Full Metal 6 provide improved comfort and outstanding protection from a top performer, packed with innovations and advanced technologies. Quad elastication for increased mobility between the knuckles and the back of the hand. Preformed and precurved cuffs with inner closure for outstanding fit, wrist mobility and comfort. Carbon fiber and titanium inserts with aramid panels for superlight strength and protection. Beyond compromise. This is the track glove to grasp victory.
Fit:
Protection:
Carbon fiber inserts at the joints of the fingers and the head of the ulna bone
Composite inserts in carbon fiber and titanium on the knuckles and back
DCP system on little finger
External thermoplastic resin inserts on side of little finger
Gloves certified to CE – Cat. II – PrEN 13594 Standard lev. 1
One single leather panel to the size of the hand
Polyurethane insert on the palm
Quadruple elastication between knuckles and back of the hand
Reinforced leather palm
Reinforced preformed cuff construction
Ergonomics and Comfort:
Aramid fiber stitching
Drum-dyed goatskin leather super soft palm
Goatskin Leather
Internal reinforcements with aramid fiber jersey
Adjustable cuff strap
Elasticated inserts
Micro-injection reinforcement on the palm
Microelastic elasticated inserts
Palm Super Touch in goatskin
Pre-curved fingers
Precurved wrist
Tightening strap
Other Features:
Cover on the tightening strap
Elasticated cuff inserts
Soft inserts
Vance & Hines Stainless 2-Into-1 Upsweep Exhaust For Harley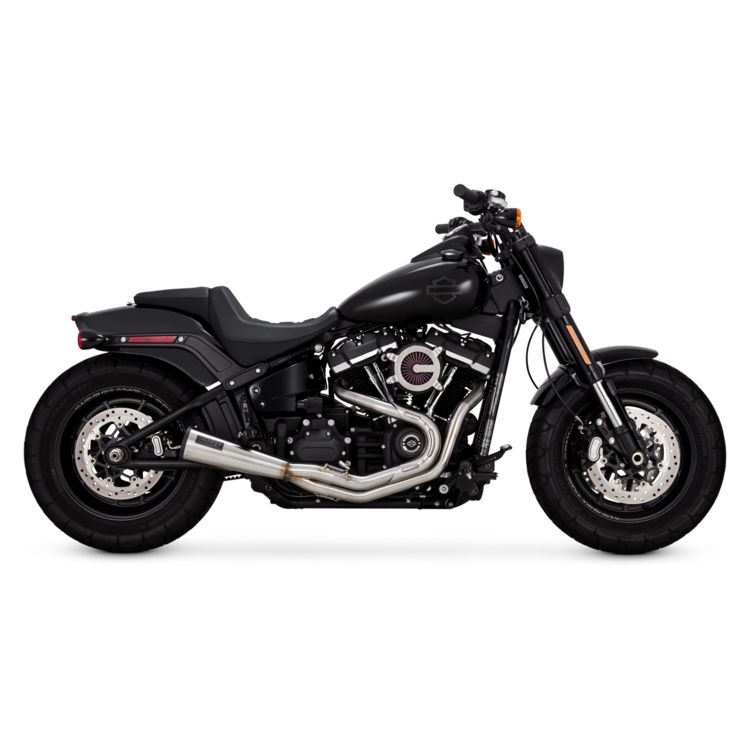 Refined from four decades of on-track competition, the Stainless 2-into-1 Upsweep looks and acts the part. The system is hand TIG-welded of high grade (ASTM A269) 304 stainless steel with a brushed "works" finish and engineered to maximize torque and power output!
Features:
High grade 304 stainless steel (ASTM A269)
Megaphone muffler
Oversized 2-into-1 merge collector
Race inspired heat shield
Fits forward and mid controls
Mounting hardware and installation instructions included
Made in the USA
Pros & Cons Of The RevZilla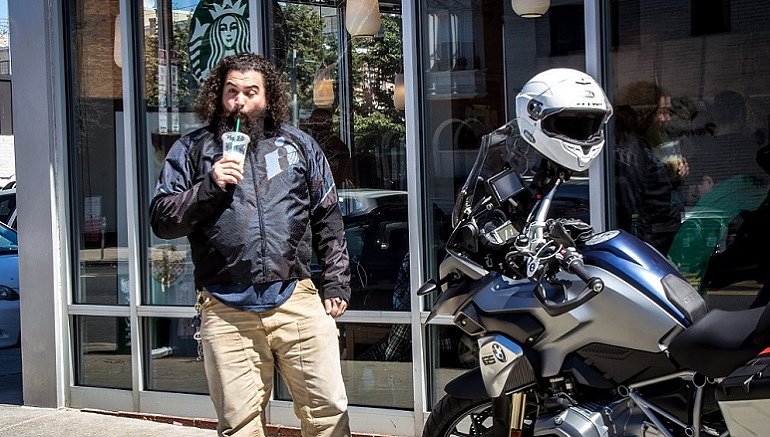 Pros of RevZilla:
Extensive product selection: RevZilla offers a wide range of motorcycle gear, accessories, parts, and aftermarket upgrades, catering to riders of different styles and preferences. Their extensive selection allows customers to find the products they need in one place.
Detailed product information: RevZilla provides comprehensive product descriptions, specifications, and video reviews on their website. This level of detail helps customers make informed purchasing decisions and ensures they know exactly what they're getting.
Expert advice: RevZilla has a team of Gear Geeks who are knowledgeable about motorcycles and gear. They are available to answer customer questions, provide personalized recommendations, and offer expert advice, ensuring customers receive the assistance they need.
Customer reviews: RevZilla features customer reviews on their website, allowing shoppers to read about other customers' experiences with products. These reviews can provide valuable insights and help customers make confident choices.
User-friendly website: RevZilla's website is well-designed and easy to navigate. Customers can quickly find the products they're looking for, filter search results, and access helpful resources such as size charts and fitment guides.
Cons of RevZilla:
Limited physical locations: RevZilla primarily operates as an online retailer, which means customers who prefer an in-person shopping experience may be limited by the lack of physical store locations.
Shipping costs: Depending on the order size and location, customers may have to pay shipping costs. While RevZilla offers free shipping on certain orders, additional charges may apply for smaller orders or international shipments.
Pricing: While RevZilla offers competitive pricing, some customers may find that certain products are priced higher compared to other online retailers or local stores. It's always recommended to compare prices before making a purchase.
Returns and exchanges: While RevZilla has a reasonable return and exchange policy, some customers may find the process a bit cumbersome or time-consuming, particularly if they need to return or exchange an item.
International availability: RevZilla primarily serves customers in the United States, and international shipping options may be limited. Customers outside the U.S. may face challenges in accessing the full range of products or may encounter higher shipping costs and longer delivery times.
FAQ
Does RevZilla ship internationally?
RevZilla primarily serves customers in the United States. While they may offer international shipping options, availability and costs may vary. It's best to check their website or contact their customer support for specific international shipping information.
What are RevZilla's shipping options and costs?
RevZilla offers various shipping options, including standard ground shipping, expedited shipping, and overnight shipping. Shipping costs can vary depending on the order size, weight, and destination. RevZilla often provides free shipping on orders that meet certain criteria. It's advisable to review their shipping policy or contact their customer support for accurate and up-to-date information.
What is RevZilla's return policy?
RevZilla has a customer-friendly return policy. Typically, they offer a 30-day return window for most items. The products should be unused, in their original packaging, and include all accessories and documentation. However, it's recommended to review their return policy on their website for specific details and any potential exceptions.
Can I get assistance with product sizing and fitment?
Yes, RevZilla provides assistance with product sizing and fitment. Their website includes size charts and fitment guides for various products. Additionally, their Gear Geeks are available to answer questions and provide personalized recommendations based on your measurements and requirements.
Does RevZilla offer warranty support for products?
RevZilla is a retailer, and the warranty coverage for products purchased through them may vary depending on the manufacturer. It's advisable to review the warranty information provided by the manufacturer or contact RevZilla's customer support for assistance with warranty-related inquiries.
Can I find customer reviews on RevZilla's website?
Yes, RevZilla features customer reviews on their website. These reviews can be helpful in providing insights into the experiences and opinions of other customers who have purchased and used specific products.
Does RevZilla have physical retail stores?
RevZilla primarily operates as an online retailer. While they do not have physical retail stores, they have a showroom located in Philadelphia, Pennsylvania, where customers can view select products by appointment.
For more specific or updated information, it's recommended to visit RevZilla's official website or reach out to their customer support directly.