As Longfellow might have said: Into each life spent commuting, running errands, or watching a kid's soccer game, some rain must fall. We spent two and a half months researching 134 raincoats and testing 30—with a panel of six testers in a range of shapes and sizes—to find seven of the best rain jackets in a wide variety of sizes, styles, colors, and lengths to keep you dry and comfortable.
Our picks include an all-purpose women's raincoat, a warm, insulated women's coat, a mid-thigh men's coat, a stylish men's coat from a classic British brand, women's and men's jackets made for hiking and other outdoor activities, and inexpensive, sporty women's and men's raincoats. All of the jackets we picked did an excellent job of keeping us dry—so which one works best for you will likely come down to style, fit, and price. Most of our picks are available in extended sizes. Companies categorize coats by gender, but anyone can wear them (and we have some unisex options in the Competition section).
A classic women's raincoat: L.L.Bean H2Off Mesh-Lined Rain Jacket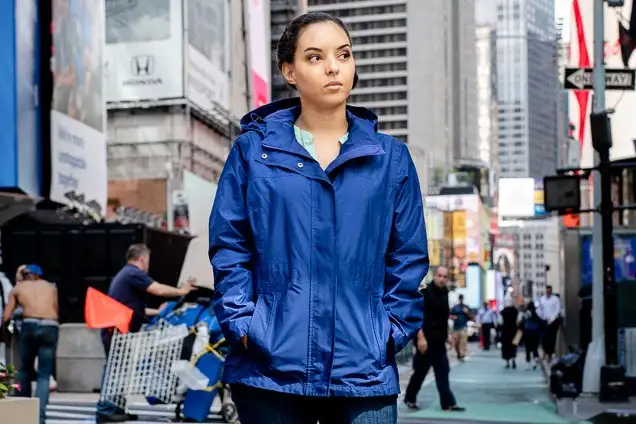 Who this is for: Anyone looking for an all-purpose raincoat that won't go out of style.
Why it's great: The simple aesthetic of the L.L.Bean H2Off Mesh-Lined Rain Jacket works equally well for commuting to the city or standing on a soccer field, and it's comfortable to wear from spring through fall. It has the most style and size variations of any of the coats we tested—it's available in 13 sizes and three lengths, and comes in an insulated version for winter. It also has the most thoughtful details of any women's raincoat we looked at. One of our testers noted, "I have very little to say about this coat, which is a good thing! It just does its job."
The H2Off's subtle, logo-free style and simple details make it less sporty looking than the Columbia Arcadia (which we also recommend), and we think the four classic color choices and the print options (now unavailable) will suit both work and weekend wardrobes.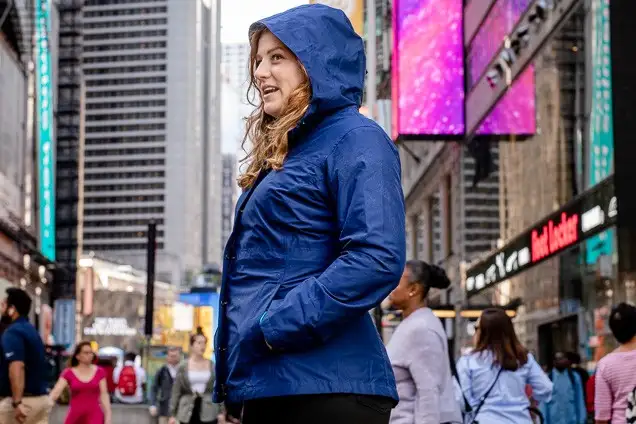 The H2Off offers more cuts and sizes than any other pick. It's the only coat we tested that comes in three lengths: hip, mid-thigh, and ankle (the latter two lengths come in fewer colors). Our testers preferred the shorter lengths, commenting that the longest style looked too sci-fi for them. "I feel like I'm an extra in Blade," one tester said. Another said that they felt "like Trinity from The Matrix except I look like a penguin." The longer coat was less breathable since it totally covered the legs, and we also had difficulty starting the zipper down at the ankles.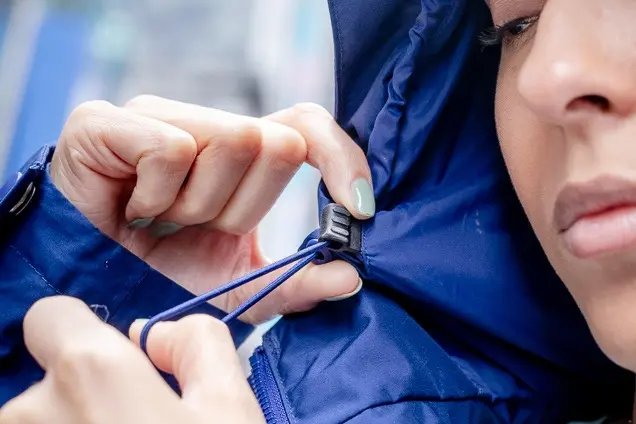 The H2Off's size range was one of the best we found. The hip- and ankle-length versions include petite and plus sizes, and the mid-thigh option comes in petite sizes. L.L.Bean also makes a PrimaLoft-lined version for winter, in hip, mid-thigh, and ankle lengths. (We didn't test the lined option, but it has the same design as the regular version.) We recommend sizing up if you have curves, fall between two sizes, or want to add thick layers underneath.
In the rain, water rolled right off the H2Off jacket. This was typical for most of the coats we tested, but it seemed to roll faster from the H2Off than from the J.Jill and Eddie Bauer coats. The H2Off's fabric was thicker than that of the Columbia and J.Jill coats we tested, and it felt smoother than the fabric of any of our other women's picks. The fully taped seams help to block water, and the top half of the lining is mesh, which makes the coat breathable. The hood is adjustable with a Velcro strap (though testers didn't need to use this feature), and it's deep enough for most hairstyles, except high buns, and hair thicknesses. Testers said the H2Off's two-way zipper was among their favorites. The design allows you to unzip the bottom of the coat for ventilation, and this makes it easier to sit down in longer versions of the coat. Testers also loved that the colors of the zippers matched the coats' colors. You can tighten the cuffs on the sleeves with snaps; these cuffs were better than the Eddie Bauer Girl On The Go's nonadjustable cuffs at keeping water out and customizing fit, but not as good as the the Columbia Women's Arcadia coat's Velcro cuffs, which allowed the most fine-tuning.
The L.L.Bean H2Off Mesh-Lined Rain Jacket is my go-to raincoat, and I've absolutely loved it for the past two years. I bought myself one of the polka-dot prints, and it's proved to be a solid around-town jacket. The hood is substantial, with room for my thick curls (even when my hair is up in a high bun). And the pockets have lots of space—I've stuffed flashlights, water bottles, eggs from my chicken coop, and gardening tools in them. This coat has definitely been watertight through some really heavy rainfall where I live, in Washington state. It's also warm, even the version I have, without the PrimaLoft lining. (Honestly, it's sometimes too warm, when I'm working out in the yard. I've overheated in it a couple of times.)
I've been using the H2Off as my regular raincoat for a couple of years, and it still looks new after a few washes. I haven't worn it for any intense outdoor sporty activities to see how it holds up. But I have worn it for a lot of country-life stuff: gardening, cleaning up after my chickens, hauling around feed and supplies, and around the stables, where my kiddo takes riding lessons, too.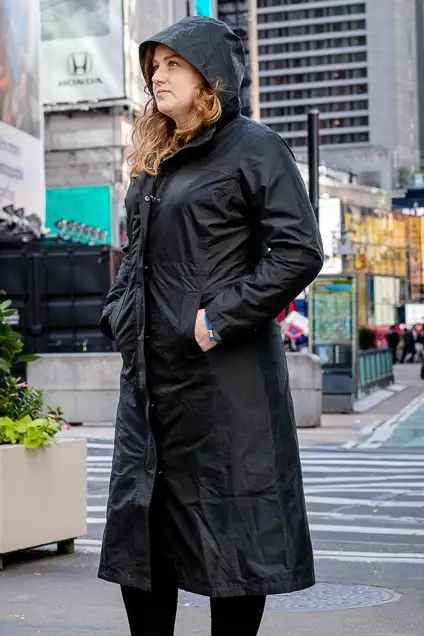 Flaws but not dealbreakers: We were disappointed to learn that the mid-thigh version of the H2Off didn't come in plus sizes. In an email, an L.L.Bean spokesperson told us that the company had discontinued plus sizes in the mid-thigh version because relatively few people bought this length compared with the other two lengths, but they added that L.L.Bean was considering bringing it back in upcoming seasons. As of fall 2020, L.L.Bean had not brought it back, although you can buy mid-thigh plus sizes in the jacket's PrimaLoft version.)
Our testers also noted some size differences between the hip and mid-thigh versions. They all found the mid-thigh version to be a little roomier, but we still think sizing up is the way to go. The pockets didn't have closures to keep them dry, which wasn't a problem in our rain tests, but it did make testers nervous about losing things. The pockets were also smaller than the ones on our other picks, but all of the H2Off coats had an inside chest pocket that zipped to protect valuables.
Sizes: hip and ankle lengths: XS–XL, petite XS–XL, plus 1X–3X;
mid-thigh length: XS–XL, petite XS–XL
Colors: hip length: gray, black, red, navy, khaki; mid-thigh and ankle lengths: black, navy, khaki
Other options: mid-thigh and ankle lengths; PrimaLoft-lined hip, mid-thigh, and ankle lengths
Materials: polyester
Returns/warranty: one-year returns, with a warranty against defects after that
A men's commuter raincoat: Helly Hansen Moss Rain Coat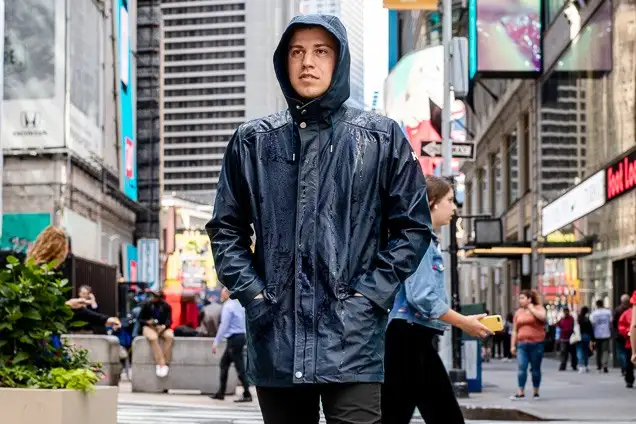 Who this is for: Commuters who want to keep their rear ends dry when sitting at the bus stop and those who want style without a luxury price tag.
Why it's great: The Helly Hansen Moss Rain Coat is the best coat we found that combined a longer, mid-thigh length with style and price (there's also a shorter option available). Although the Helly Hansen wasn't as size-inclusive as our other picks, it did have more sizes and was more breathable than other similar trendy coats.
If you need something to help keep your bum and thighs dry but don't like your raincoat to fall too low, the Moss is exactly in the middle (it's about 2 inches longer than the hip-length Columbia Watertight II and 2 inches shorter than the Hunter). Our shortest tester for the men's coats was 5-foot-9 and our tallest was nearly 6-foot-4, and both of them liked how the length hit them. The Moss doesn't offer as many sizes as the Columbia Watertight II, but it does have more options compared with similarly styled mid-thigh coats we considered, such as the Stutterheim Stockholm. We thought the cut was consistently generous in all of the sizes we tested, and the design was flattering on more body shapes. All of our testers noted that the Moss felt comfortable and roomy enough for layers, and one tester told us that the Moss's XXL fit was more spacious in the arms than the Hunter's XXL (these were the largest sizes offered by both brands). Helly Hansen also makes a hip-length Moss Jacket (which we didn't test) if you like the Moss Rain Coat's style but want something shorter.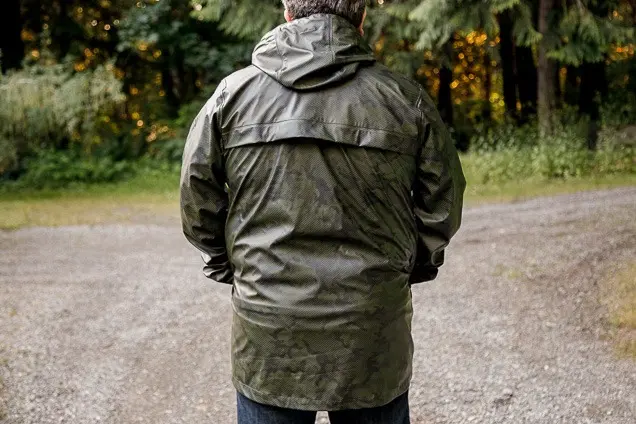 Helly Hansen may not evoke luxury like coats from brands such as Hunter or Stutterheim, but if you want something more urban for commuting, the Moss Rain Coat looks less outdoorsy than a basic nylon jacket. We found the zippers to be well made. The hood was deep enough for most testers, and it repelled water just as well as other coats we tried. It's our only pick that's made with polyurethane, which testers noted gave it a "rubberized" feel that they liked. Although the fabric isn't bulky, it's less breathable than the cotton, polyester, and nylon coats we recommend. There is a ventilation flap in the back, but testers didn't notice a difference in breathability with the flap open or closed (this was also true for the Hunter, another coat with a back flap). We called Helly Hansen's customer service, which confirmed that this coat is probably best for cooler temperatures.
My husband has been wearing the Helly Hansen for a couple of years now, and it's the coat he immediately grabs when faced with Washington state's heaviest rains. Since it's thicker and longer than the other rain jackets we recommend, it gives him better protection against the rain when it's coming down hard. I've inspected the coat, and even after two years, I don't see any major signs of wear or tear. The stitching looks fine, and my husband tells me that it's still perfectly waterproof to protect him outside when he needs it the most.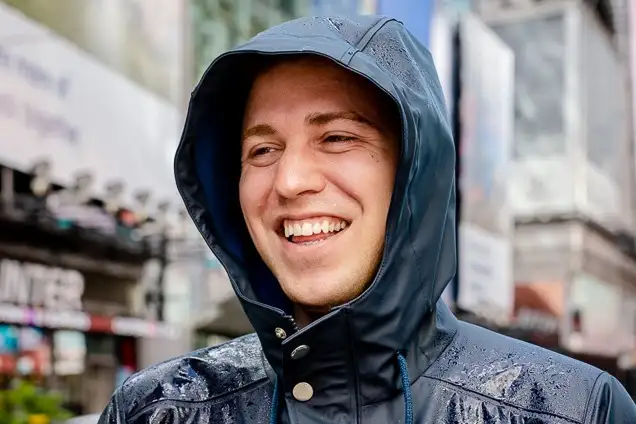 Flaws but not dealbreakers: This is the only coat we recommend that can't go in the dryer (putting it in the dryer voids the warranty), according to the label instructions. But it held up fine when I decided to tumble-dry it during testing. I also air-dried it and found that dragging a dripping-wet raincoat out of the washing machine was a hassle.
Our testers didn't like the placement or design of the Moss's pockets. They weren't fans of the almost vertical openings (although one did note that this factor would probably keep the contents dry), and they found the openings too tight to fit hands into.
Sizes: S–XXL
Colors: black and yellow
Other options: hip-length
Materials: polyurethane
Returns/warranty: 90-day returns, one-year warranty against defects
An affordable women's raincoat: Columbia Women's Arcadia Casual Jacket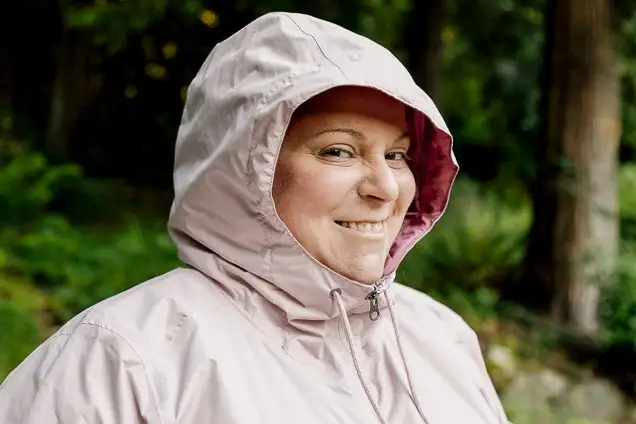 Who this is for: People looking for an inexpensive women's jacket that will do the job in warmer weather.
Why it's great: The no-frills Columbia Women's Arcadia Casual Jacket is one of the best values we found. Compared with other sporty coats we tried, it came in more sizes, was more flattering on our testers, cost less, and performed just as well in the rain.
Our testers said they felt cute in this jacket, and they preferred the style to similar sporty models. They said its slim cut didn't make them look like potato sacks, and they liked the high-low bottom hem. Compared with activewear coats we tried from both REI and L.L.Bean, the Arcadia came in more sizes. If you fall between sizes, we recommend sizing up.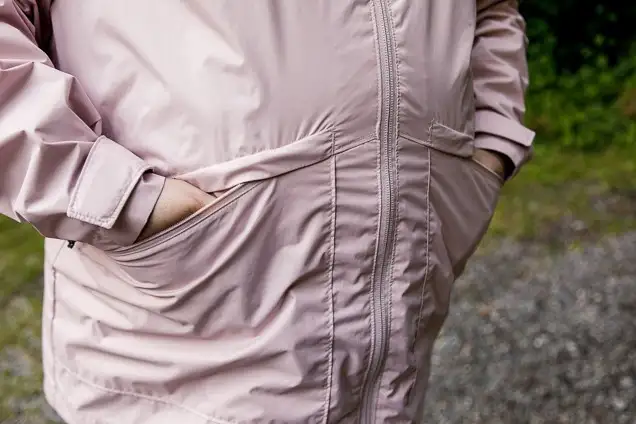 The Arcadia comes in six colors, more than any other women's style on our list, and each tester was happy with the color they tried. With options like "peach cloud" (a delicate orangy-pink) and "new moon" (an icy blue), you can show off your personality in this jacket. Testers liked the fabric, and although they found it to be thinner and less smooth than the L.L.Bean H2Off's, they said it still felt cool and comfortable. The Arcadia's mesh lining keeps it breathable in warmer weather, too.
The Arcadia is one of the most affordable jackets we considered. We noticed some price fluctuations while working on this guide, but you can typically get one for under $100. This coat's midweight fabric made it feel more substantial than the J.Jill Fit Packable Anorak, but it wasn't as heavy-duty or warm as the Eddie Bauer Girl On The Go coat. Our testers had room to layer underneath the Arcadia, which would help it transition through the seasons. They also said that the hood provided some of the best full-face coverage for a variety of hairstyles, from top knots to thick curls.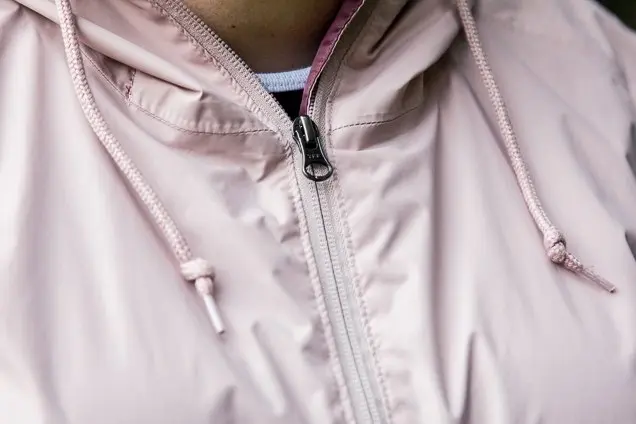 The Arcadia is the only women's coat we recommend with Velcro wrist cuffs, which we prefer to snaps (even though snaps might last longer) because Velcro gives you more control over the fit. And the zippered pockets are roomy enough to hold your keys, phone, wallet, or even a bottle of water or a small umbrella (if you don't zip the pockets closed). The Arcadia survived our wear tests with no problems, repelling water just as quickly and effectively as our other picks, even after three washes.
Flaws but not dealbreakers: The Arcadia lacks some of the nice extras we found on expensive raincoats. The zipper feels a little cheap compared with zippers on other coats we tried. Also, the zipper doesn't have a placket over it to stop water from seeping in, and not all of the seams are taped. Although we didn't experience any leakage in our tests, this coat is probably better suited to a lightly rainy day than to a torrential downpour, and it lacks the warmth for cooler months.
Sizes: XS–XL, plus 1X–3X
Colors: green, black, navy, white, light blue/gray, pink
Materials: nylon shell, polyester lining
Returns/warranty: 60-day returns, limited lifetime warranty for defects
A utilitarian men's rain jacket: Columbia Men's Watertight II Jacket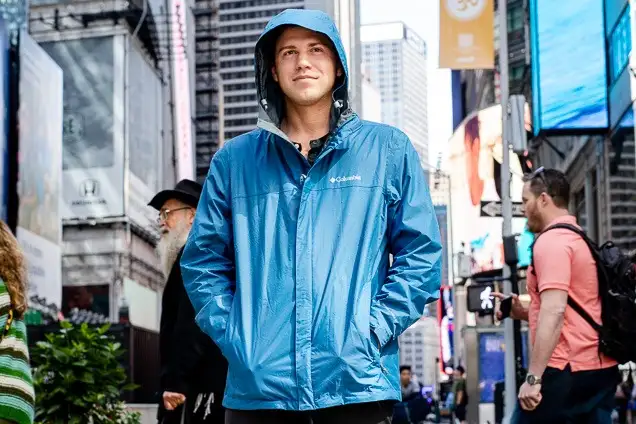 Who this is for: People who prioritize sizing and affordability and who don't mind a sporty look.
Why it's great: All of the hip-length men's rain jackets we tried were sufficiently waterproof and had streamlined, simple designs—one tester called this category "well-made, normal raincoats." The Columbia Men's Watertight II Jacket stands out because it has a better size and color range than other jackets we considered. It's also the best value of any jacket we recommend, at a fraction of the price of other coats we tested.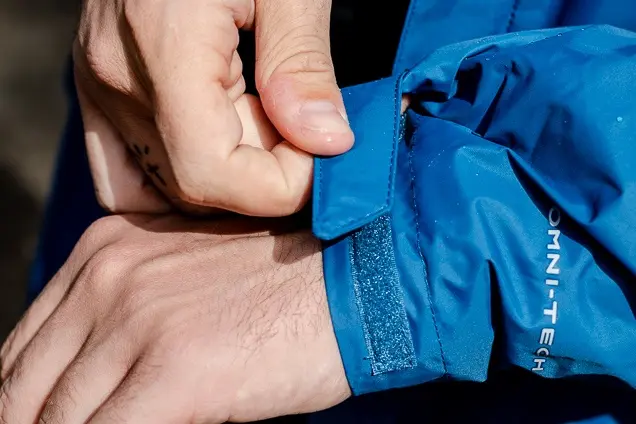 The Watertight II was the most size-inclusive men's coat we found, with options for regular, plus, and tall sizes that extended to 6X. It comes in over a dozen colors, more than any of our other picks, and we think there are choices here to cover a neutral, workweek style or a bright, sporty weekend look. Testers appreciated that the Watertight II had the least-boxy fit compared with similarly cut jackets (most preferred a slim cut), but they still had plenty of room to add layers. Because it's a shorter coat, the Watertight II is compact enough to keep in your car for surprise rain showers or to toss into your work bag on those iffy-weather days. It's also one of the most affordable men's coats we considered.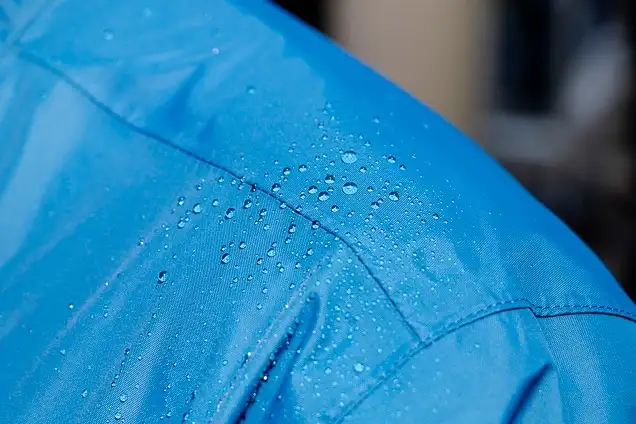 The Watertight II's seams are taped on the inside for extra protection against leaks, as on the Hunter men's coat on our list, and the hood was deep enough to shield testers' faces from the rain. Testers said the pockets were well sized and comfortably placed for easy access to things like phones and wallets. This is the thinnest men's raincoat we recommend, but the nylon fabric feels the softest and the most fluid, so it's easy to move your arms around without that stiff, constrained feeling that often comes with wearing a synthetic coat. With its light fabric and mesh lining, the Watertight II is more breathable than our other picks—none of the testers worried about overheating.
My husband has been wearing the Columbia Men's Watertight II Jacket for about two years. The Watertight II has been perfect for outdoor activities like mowing the lawn and fixing things—I even saw him wear the Columbia Watertight II to cut down a fallen tree with a chainsaw.
He tells me that it's his favorite jacket to wear because he feels comfortable throwing it on everyday; its pockets are roomy and at a comfortable angle to keep his hands inside, and the hood covers his head without falling into his eyes. Plus, it's not too heavy or warm.
My husband wears an XXL in the Columbia Watertight II Jacket, and he often comments positively on the cut and the coverage: He says the shape is great because he can throw it on even without zipping it up, and the hood will do its job without getting in his face. With other rain jackets, he has to fasten all the way up to get the hood to function properly.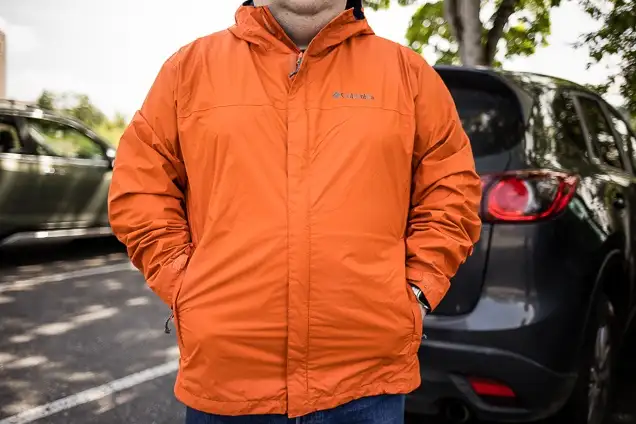 Flaws but not dealbreakers: The Watertight II's pockets are made of mesh, which could cause keys or small objects to become tangled, and one tester wasn't sure whether they would stay dry. Another tester wished for an inside pocket, too. Some of our testers thought the hood was maybe too deep, and one tester wanted a tab on the peak to help adjust it. Testers also noted that the zippers were a little small to grab hold of and that they occasionally caught in the fabric.
Sizes: S–XXL, plus 1X–6X, tall L–4X
Colors: 19 colors, plus more currently unavailable
Materials: nylon
Returns/warranty: 60-day returns, limited lifetime warranty for defects
An outdoorsy raincoat for men and women: Patagonia Torrentshell 3L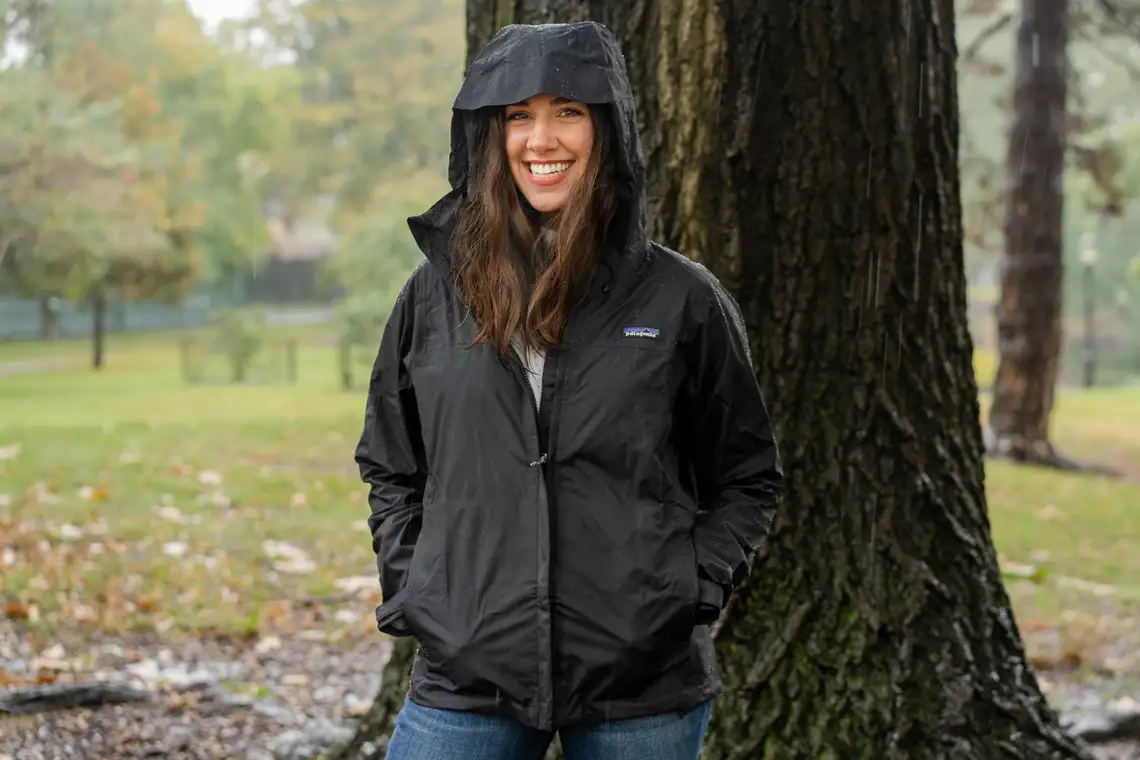 Who this is for: Someone who wants a raincoat specifically for outdoor activities such as day hiking or backpacking, or even the occasional ski trip.
Why it's great: A simple, no-frills rain shell is one of the key pieces of an outdoors wardrobe. If you want to stay dry, the Patagonia Torrentshell 3L for men and women works better than the other nine outdoorsy options we tried, thanks to a big hood that amply covers your head and a stiff brim that moves water away from your nose and chin.
This used to be a two-and-a-half-layer jacket, but the 2019 redesign introduced a full fabric lining to the interior, making it a three-layer coat. This means the inside printed layer that can sometimes flake off—the Achilles' heel of this sort of light, packable hiking coat—is now covered in a breathable fabric that protects it, giving you a much more durable coat. The trade-off is that it's now more expensive and a little bit heavier, but the additional ounce or so won't make much of a difference for general outdoor use.
This is still a waterproof/breathable jacket, meaning that water stays out and vapor trapped in the coat is pushed out, as well. For a long time, the household name for this type of fabric was Gore-Tex, but there are now at least a dozen other options. This one is made out of Patagonia's in-house H2No waterproof/breathable fabric.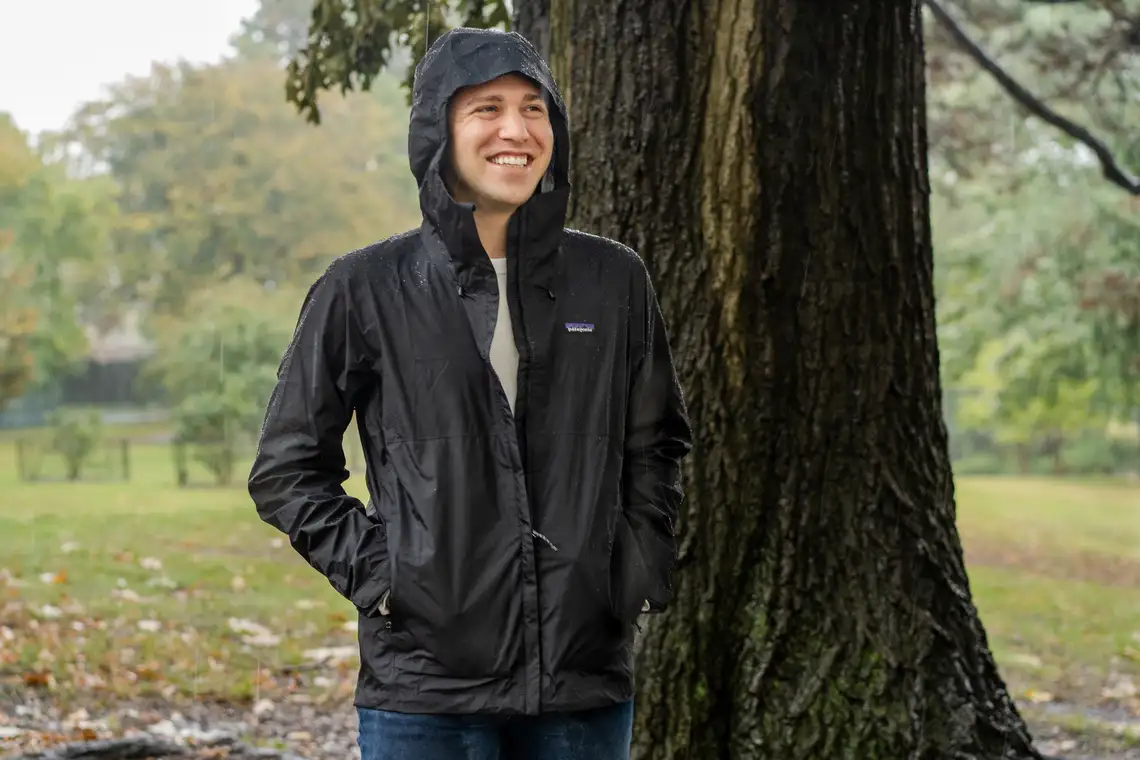 However, if you're being active in this jacket and getting sweaty, open it up and air it out. The membrane alone won't transfer all your heat. For that reason, all good outdoor coats have vents under the armpits; the Torrentshell 3L is no exception. You can also undo the zipper when the rain lets up and dump all the heat in one go.
There are some details that make the Torrentshell extra-watertight that we didn't find on any other hiking jacket. Its pockets are fully lined, an alternative to more common mesh pockets, which can let moisture in and transfer it to your clothes. It has a double storm flap over the zipper that stays shut without the use of Velcro, so you can zip your coat while wearing gloves and they won't snag. And zero elastic on the cuff means water slides off the coat instead of onto your wrist.
The fit is generous, which makes this coat ideal for layering when it gets cold. It comes in several colors, including a few eye scorchers, so you can be easily seen on the trail on a cloudy day. We also think Patagonia provides one of the best warranties in the industry.
Staff writer Dorie Chevlen and Wirecutter's Justin Krajeski have both been wearing the Patagonia Torrentshell 3L (for women and men, respectively) for a few months. Neither of them have noticed any issues so far: The zippers on their jackets still pull smoothly, and there has been no tearing. And they have noticed that they remain especially dry in their jackets, even when it's storming outside.
"The Patagonia is super light," said Justin. "It hardly feels like I'm wearing a rain jacket at all, and the fit is roomy, so layering underneath to stay warm is welcome and appreciated." Neither staff writer has been able to take the Patagonia on a ski trip—yet.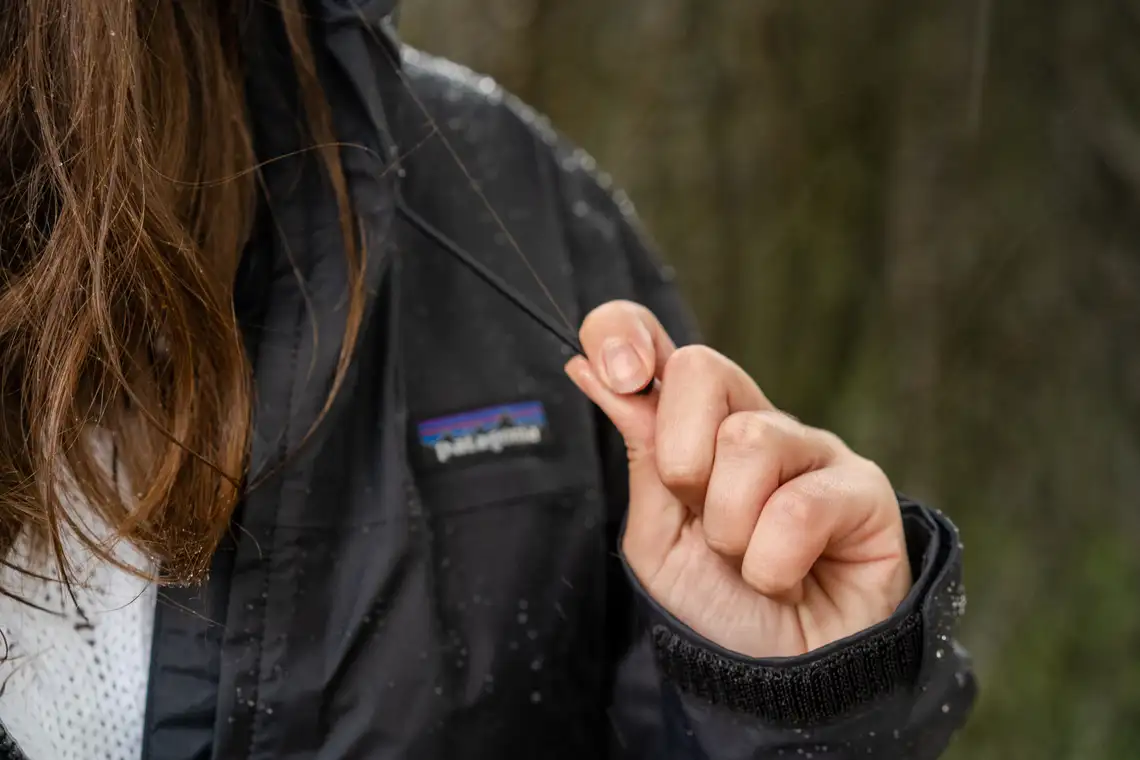 Flaws but not dealbreakers: The front pockets on this coat don't work well with a backpack; the straps cover them. Unfortunately, that was the case for every single hiking jacket we tried—we wore a backpack over all of them—with the exception of the Montbell Thunder Pass, which is now discontinued.
Women's sizes: XXS–XXL
Men's sizes: XS–XXL
Colors: dozens of colors for men and women
Other options: women's: Torrentshell 3L City Coat, Insulated 2.5L Torrentshell (now unavailable); men's: Torrentshell 3L Pullover (now unavailable), Insulated 2.5L Torrentshell (now unavailable)
Materials: recycled nylon, polycarbonate membrane, tricot backer, durable water-repellent finish
Returns/warranty: Patagonia has no set time limit for returns, asking only that "returns for fit or color be made in a timely manner and that items be kept in new condition with tags attached." If you return something more than a year after you've bought it, you'll get a credit instead of cash. The "ironclad guarantee" promises repair, replacement, or refund at any time if you're not happy with an item; the company charges a "reasonable" fee to repair damage due to normal wear.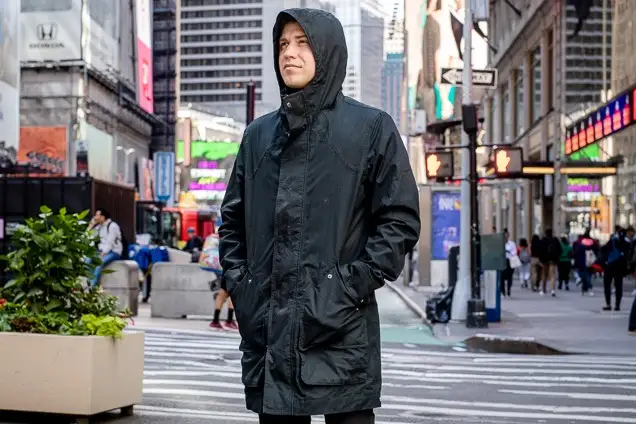 The most stylish raincoat for men: Hunter Men's Original Waterproof Cotton Hunting Coat
Who this is for: People who are willing to pay more for luxurious-feeling fabric and stylish details from an iconic English brand.
Why it's great: We love the classic but updated look of the Hunter Men's Original Waterproof Cotton Hunting Coat. It's handsome and will keep you dry in the rain, with happiness-inducing details like lots of pockets and great colors. It's made from a smooth treated cotton that makes it feel like a regular coat, versus the shiny, wrinkly synthetic materials of sportier options. We think it works best in chillier weather. It's the least-inclusive coat we recommend in this guide, and we wish it came in more sizes, but it still offers more options than style-forward brands such as Stutterheim or Everlane.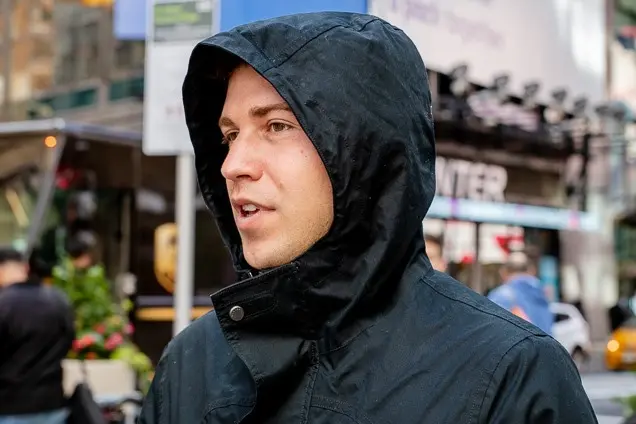 Hunter is an iconic British brand, and if anyone knows how to make everyday rainwear that's functional, comfortable, and stylish, it's the Brits. They spend a lot of time being damp and looking good regardless. Not only did our testers love the look of this coat, but they also found it to be significantly more breathable and better-fitting than coats from Stutterheim, another well-known brand from a rainy country, Sweden. We found that the Hunter left more room for layers than the Stutterheim Stockholm and Ekeby coats, which were tight around the middle for several of our testers.
True to its name, the Cotton Hunting Coat is made from cotton treated with durable water repellent, or DWR, but it repelled water just as effectively as the nylon Columbia Watertight II and the polyurethane Helly Hansen Moss. With a magnifier, we noticed some fibers sticking up from the coat's surface after a few washes, which is normal with cotton, but it gave the coat a fuzzier look than our other men's picks. It also meant water didn't bead up and roll off as quickly as on our other picks, but we didn't notice any moisture inside the coat.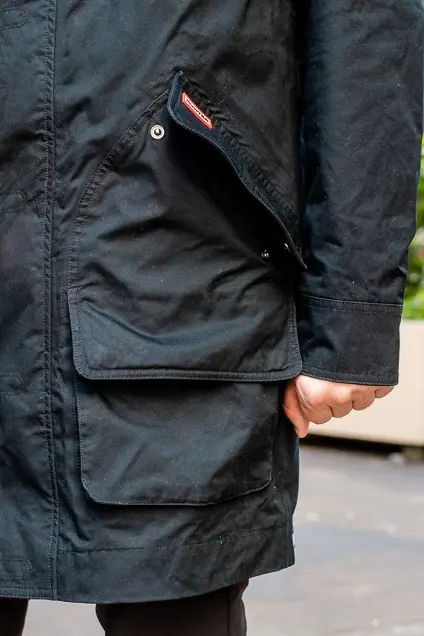 The Cotton Hunting Coat has taped seams to help prevent leaks, like the Columbia Watertight II. Our testers found the hood to be a comfortable depth, and the zipper was easy to use and didn't catch the coat's fabric. Because it's cotton, the fabric itself feels more high-end than the fabric of the Columbia and Helly Hansen coats; it's softer and doesn't have the shine of a synthetic fabric. The Cotton Hunting Coat felt a bit heavier than our other men's picks, but it was still light enough that we were able to move around in it comfortably. Our testers agreed that it was probably best for colder temperatures, but it did have a mesh lining and a back flap to help keep it breathable. When we tested the coat, it came in six colors, including crossing-guard yellow and bright red, but as of winter 2022, it's available only in black. This coat has more pockets than any other men's pick, and they're roomy, too: There are double pockets on either side and a stealthy inside pocket right behind the zipper.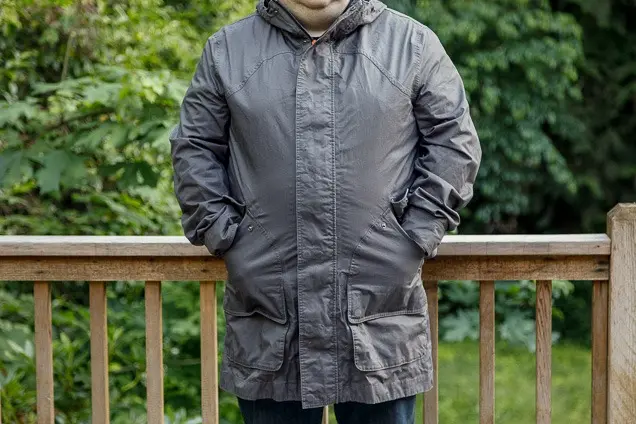 Flaws but not dealbreakers: We tried the Cotton Hunting Coat in a range of sizes, including the XXL, which one tester found to be so tight in the arms that it was hard to move around. This wasn't a problem with the equivalent size on our other men's picks. It's a beautiful coat, but the sizing won't work for everyone.
Sizes: XS–XXL
Colors: black
Materials: cotton shell, polyester and nylon lining
Returns/warranty: 60-day returns and 2-year warranty
An insulated women's raincoat: Eddie Bauer Girl On The Go Insulated Trench Coat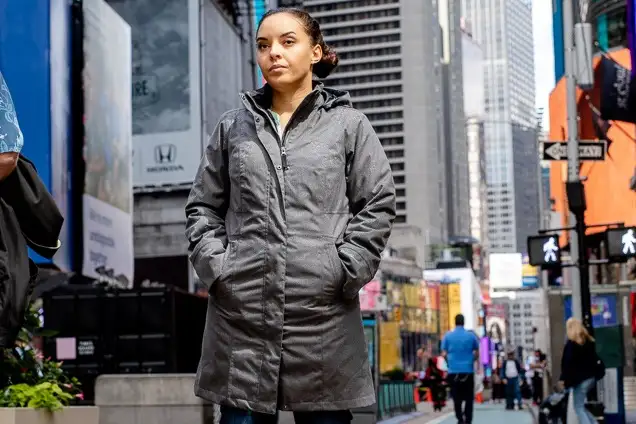 Why it's great: The Eddie Bauer Girl On The Go Insulated Trench Coat is the most versatile women's coat we tested. With a detachable insulation layer, the Girl On The Go works as a comfy raincoat or winter coat. All of our testers thought the style was flattering, and the Girl On The Go comes in more sizes than any other women's coat on our list. There's also a non-insulated version available if you don't need the extra warmth.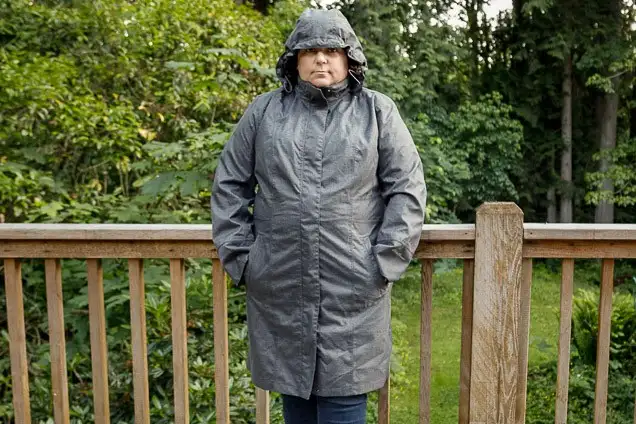 We love the idea of a single coat that can carry you through rainy days and moderate winter weather. Eddie Bauer says this coat will keep you warm down to 35-degree temperatures for everyday activities, and even lower if you're more active. With the liner, the Girl On The Go coat feels toasty and snug without having the bulk of a winter parka. Without the liner, this trench is roomy but still stylish. We also tried the Lands' End 3 in 1 Squall Rain Jacket, another coat with a removable insulated layer, and the Girl On The Go looked smoother and was less restrictive in the sleeves, and the insulation was easier to remove. The Girl On The Go has simple lines and a slightly nipped waist that were flattering on every tester's body shape, and most of our testers agreed that the fit was true to size (our petite tester found it a little too snug). The Girl On The Go comes in more sizes than any of our other women's picks; the four neutral colors should work for most tastes.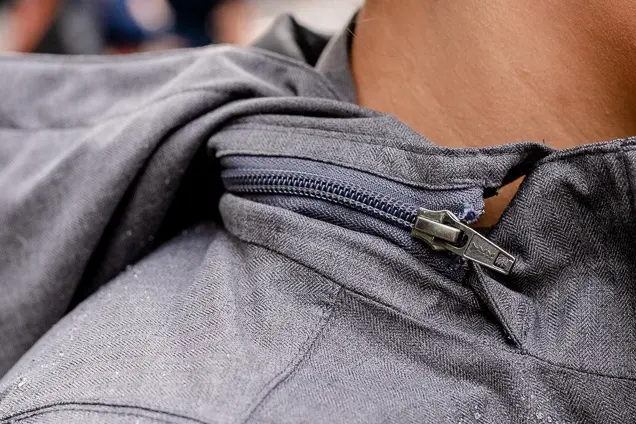 The Girl On The Go's fabric is softer than the fabric of our other women's picks, and it has a slightly brushed texture. The pockets are lined in a soft, fleecy fabric that feels wonderful on the hands, and the two-way zippers feel sturdy and durable. One tester did have a coat with a sticky zipper, but we think it was a fluke. The seams are taped to keep water from leaking through as on the L.L.Bean coats, and the Girl On The Go is our only pick with a removable hood, if you prefer a trench style.
Flaws but not dealbreakers: Because the fabric is brushed, the fibers don't lie as flat as on other coats we recommend. We observed this with a magnifier—the coat had little fibers sticking up from the surface of the weave, and the more we washed it, the more fuzzy fibers we saw. We think this affects how quickly it repels water. It kept our testers dry and never looked or felt saturated, but without a smooth surface for water to roll off of, some water soaked into the coat. We'll long-term test it and continue washing it to see if this has any effect on its waterproofing over time.
The Girl On The Go is the only coat we recommend that didn't have adjustable cuffs, which made the sleeve lengths feel awkward for some testers. The cuffs also won't keep rain away if you lift your arms up, but we didn't notice a problem with wet arms in our testing (and we weren't practicing our raise-the-roof moves during downpours). Also, our testers disagreed on the hood—one found it too deep, one found it too shallow, and another found it just right.
Sizes: XS–XXL, petite XS–XL, plus 1X–3X, tall S–XXL
Colors: charcoal gray, black, eggplant, dark green
Other options: non-insulated
Materials: polyester
Returns/warranty: one-year returns
Who these are for
The raincoats in this guide are meant for day-to-day life. They're the raincoats we wear to the office or to brunch, that we throw in the car just in case, or that we grab when heading to the stadium to watch a rainy-day game. These jackets will all repel water equally well, so consider the ones that come in styles, sizes, lengths, and prices that match your needs.
Because these coats don't need to withstand extreme backcountry conditions, we didn't weigh their technical specs and performance features heavily. We focused on finding coats that came in inclusive sizes and versatile colors, and in a range of lengths, styles, and warmths that would work for different urban lifestyles. We also considered coats to suit a range of budgets.
How we picked and tested
There are so many raincoats in the world. We researched by skimming articles from Forbes, The Strategist, and GQ; by checking outerwear brands that we've either tested or know by reputation; and by searching Instagram hashtags such as #raincoats to find styles we may have otherwise missed. We also went on a shopping trip in New York City so that several staffers could check coats for sizing, fit, and style. Our initial list consisted of 134 jackets and coats in men's and women's styles. After consulting with Kate Borgia, who at the time of our interview was Eddie Bauer's senior designer for outerwear, and Dan Simon, L.L.Bean's outerwear merchant manager, we settled on this list of essential features:
Lots of sizes: Finding the best-quality raincoats in the most sizes was our top priority. We considered some coats with more-limited sizing if we couldn't find similar well-made options with more-inclusive sizing.
Thoughtful design: Eddie Bauer's Borgia told us that the best everyday raincoat designs should be versatile enough for a wide variety of people. We aimed for a range of picks, from the simplest shapes to more modern options that were flattering on different bodies. L.L.Bean's Simon mentioned that everyday raincoats are often longer than outdoors-focused coats (the length helps protect clothes underneath) and come in more "city-friendly" colors. We looked at hip-length, mid-thigh, and ankle-length coats, and searched for coats in neutrals as well as some brighter colors to add personality to your closet.
Reliable availability: Since clothes are seasonal, we stuck with coats that had customer reviews going back at least a year.
Versatility: Eddie Bauer's Borgia told us that everyday raincoats should have room for lighter or heavier layers underneath to accommodate different types of commutes. She also noted that breathability is less of a concern than with outdoor raincoats because people tend to wear them for shorter periods of time. We looked for coats that worked for most seasons and wouldn't cause intense overheating on a summer commute. (We did, of course, take breathability into account when testing our hiking pick.)
Water resistant: All of the jackets we tested were water resistant in our testing. They will keep someone dry in most conditions—short of hiking through a full-on storm. The experts we spoke with told us that everyday raincoats don't need to be as thoroughly waterproof as performance raincoats for extended outdoor use. The jackets needed to keep our testers dry during their normal routines, but we didn't expect them to withstand the same conditions that we would if they were sailing during a squall. We did expect the coats to keep repelling water perfectly after several washes, and all of the coats we tested did that.
A roomy hood: A hood should be deep enough to keep water off the face, whether you have no hair or the thickest, curliest mane. We also looked for coats with removable hoods, although we didn't find many.
Extra details: We looked for features that help keep water out and make raincoats easier to wear and use. Eddie Bauer's Borgia told us to look for seams that were taped on the inside to keep excess water out. Simon told us that two-way zippers are often a nice feature on non-performance raincoats: They let you unzip the bottom of your coat to make the fit more comfortable when you're sitting down, and they allow you to just let some air in if you're hot. We also wanted roomy pockets that protected hands and items from the rain.
For testing, we narrowed our contenders down to 11 women's styles and 10 men's styles. We sent all of the coats to a panel of six staff testers (including me), half in New York City and half in the Pacific Northwest. Three testers wore women's styles (one petite, one tall, one plus-size) and three wore men's styles (one regular, one tall, one plus-size). Testers spent a few weeks with these coats, trying them on and wearing them in the rain when they could. I tried all 21 coats in the rain and also ran dribbles of water down the sleeves over a sink to see how the water beaded and repelled from each one. I hung the coats on hangers to see if they looked wet or dripped excessively while air-drying. I also washed and dried the coats three times, checking for shrinkage, damage, or changes to their water repellency. I found that most of the coats barely shrank (some even stretched out a bit), and all of them completely maintained their water resistance. I also examined each with a magnifying glass to see how the fabrics held up after washing and found only a handful—typically those with cotton in them—that had signs of loose or fuzzy fibers. I compiled all of the testers' feedback with my notes, and we settled on our seven picks. In summer 2020, Eve O'Neill tested the new version of Patagonia's Torrentshell jacket, and we've added that as a pick in this guide.
Care and maintenance
Unless you're wearing your raincoat in muddy conditions or sweating profusely, you don't need to wash it very often. Eddie Bauer's Borgia told us that when companies test raincoats to rate waterproofing and how long it lasts, they wash everyday raincoats for a fraction of the times (five to 10 washes) that they do high-performance raincoats (20 or sometimes even 50 washes). When you do wash, follow the care instructions on the label. The labels on most coats we tested said to wash in cold water and tumble dry low.
If you start to notice a change in how your coat repels water over time—the water no longer beads off the surface, but instead is absorbing into the top layer—refresh the DWR (durable water repellent) coating, which is sprayed on most raincoats to help keep water from absorbing into the fabric. This can be done by tossing the jacket in the dryer, physically reapplying the layer with a product like Nikwax TX.Direct, or even ironing the outside of it. To find out which method is best, check the specific care instructions for the material your jacket is made out of. Also, not every coat we tested mentioned having a DWR layer (although it's pretty common), so check with the company's customer service first.
The competition
Women's styles
The thinnest, lightest women's coat we recommend, the J.Jill Fit Packable Anorak was flattering on all of our testers and offered the most plus sizes of any jacket we tested. And it folds into a pouch, so it's easy to throw into a bag. However, as of spring 2020, it was no longer on the J.Jill site.
Our testers really liked the hip-length style of the Eddie Bauer Charly Jacket, and I thought it was one of the best-looking raincoats we tried—but it wasn't long enough to cover a rear end. It was also less breathable than other coats we tried.
Testers said the mid-thigh version of the L.L.Bean Women's Trail Model Rain Coat had an inconsistent fit, which is something reviews have also noted (we used to recommend the hip-length version in the precursor to this guide). Testers also thought the quality didn't match the price.
The mid-thigh-length REI Co-op Pike Street Trench Coat performed well in our water and wear tests, but none of our testers loved the style. They found it too baggy, and one disliked the back, which came to an odd point that didn't look right on shorter frames. (Since we tested this coat, REI has replaced it with a version that uses a more breathable fabric (now unavailable); we'll be looking at it soon.)
The Snap-Front Hooded Raincoat By Ellos is a super-cute mid-thigh-length coat. We were disappointed that the upper arms were so tight we could barely move, since this is the only coat from a plus-size brand that we tested.
The hip-length Lands' End Women's 3 in 1 Squall Rain Jacket had a bulky fleece insert that made wearing the coat very unpleasant. Without the fleece it was still tight in the arms. We've noticed that Lands' End offers this coat most years, but it doesn't always stay in stock.
Our staffers tried the Everlane ReNew Anorak (now unavailable) jacket on in store, but it felt surprisingly cheap compared with other jackets we tried. Testers thought the fabric seemed thinner than that of similarly priced coats, and the sizing was not inclusive.
We visited Macy's to look at several London Fog raincoats, because it's such a classic rainwear brand. The fabrics felt cheaper than the fabrics of the budget coats we considered, and the styles—we saw a lot of double-layer collars—just didn't feel modern.
Men's styles
The REI Co-op Rainier Rain Jacket is well made and well priced, and it comes in 10 colors. It fully repelled water in our tests. Although it comes in fewer sizes than the Columbia Watertight II, it was the next-best hip-length jacket we tested. Two of our testers recommended sizing down for a slim fit.
We tried the new hip-length L.L.Bean Men's Trail Model Rain Jacket, a version of a former pick in the precursor to this guide. Our testers didn't have any problems with the fit (one recommended sizing down for a slim fit), but it came in fewer sizes than the Columbia and cost a little more.
The L.L.Bean Men's Trail Model Rain Coat, the mid-thigh version of the Trail Model Jacket, performed well in our water and wear tests, but the length wasn't popular with our testers, who generally preferred shorter jackets. Opt for this coat if you like a longer length on a more active style.
The Eddie Bauer Men's Rainfoil Packable Jacket performed well in the rain, but it lost points to the Columbia because it was pricier and came in fewer sizes. Testers also suggested sizing down for a slim fit on this hip-length style.
The North Face Men's Resolve 2 Jacket, another hip-length style, comes in a good range of sizes. But testers wanted an inside pocket, and they thought the fabric wasn't as soft as the fabric on others we tried. The sleeves and body length were also on the long side.
In stores, we liked the look of the men's hip-length Eddie Bauer Cloud Cap 2.0 Stretch Rain Jacket, but we thought it was better suited to backcountry wear.
We tried the Everlane ReNew All-Weather Jacket in store, but we thought the fabric felt cheap. The coat was already sold out in most sizes, and it didn't come in as many size options as our picks. (The jacket is no longer available as of fall 2020, but Everlane notes on its website that it may return in the future.)
Uniqlo makes several versions of its Blocktech raincoats in men's and women's styles. We tried the Men Blocktech Parka in store and didn't like the fabric enough to bring it in for more testing. We also have found that Uniqlo's size availability, especially in bigger sizes, can be unreliable.
Unisex styles
Stutterheim's Stockholm Raincoat, made of rubberized cotton, is stylish, but in our tests it wasn't breathable. It also closed with buttons, making it harder to fasten the front. One tester commented, "There is no zipper and I hate it." The largest size was XXL, but it was significantly tighter than this size in other brands we tested.
The Stutterheim Ekeby Lightweight Raincoat is lighter than the Stockholm, but one tester also said it ran hot. We had the same issues with sizing as we had with the Stockholm, and we noticed some tearing around the button holes (which weren't reinforced with stitching) before we even washed it. (As of fall 2020, the coat has disappeared from Stutterheim's website.)
We tried on the Rains Jacket, Long Jacket, and Poncho in store. (The Rains website lists the coats separately as men's and women's, but they're really the same.) All of the coats we tried looked very cool, but the sizing was some of the least-inclusive we encountered. We also had to ask a salesperson for the largest sizes—they stocked them but kept them hidden behind the counter, which we thought was ridiculous.