About Warby Parker
People have many options to choose from when it comes to buying glasses. Below, we'll take a deep dive into one retailer, Warby Parker, and explain what customers can expect.
Nearly 200 million adults in the United States require eyeglasses or contact lenses, according to The Vision Council, with the average consumer paying $127 for their frames.
What is Warby Parker?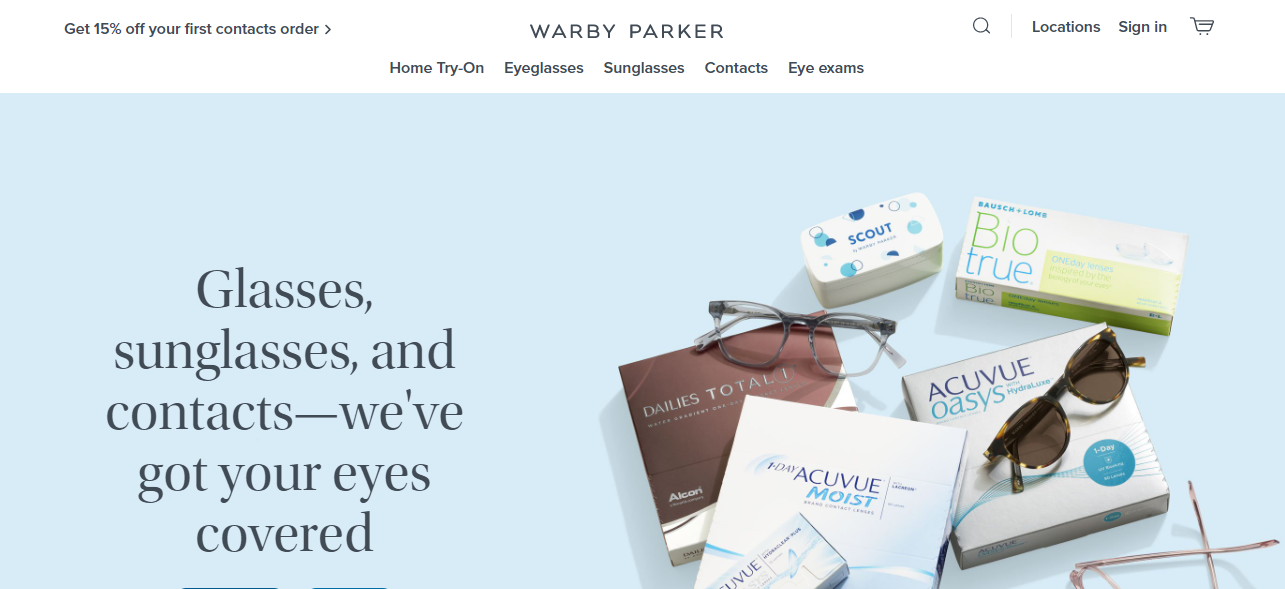 Warby Parker is an online retailer of prescription eyeglasses, sunglasses, and contacts based in New York City. While their products can be ordered online, they do have 71 locations in 28 states in the United States, where you can try on glasses, have your measurements taken, or pick up your order.
Here are some pros and cons to consider when ordering from Warby Parker:
Warby Parker pros
All of Warby Parker's eyeglasses are designed and constructed in-house, which helps to keep prices down and to maintain quality.
They have a home try-on option, which allows you to pick five frames to try for free at home.
They offer free shipping.
For every pair they sell, Warby Parker partners with nonprofits to provide a pair of glasses to someone in need.
Warby Parker cons
Though Warby Parker does offer a virtual try-on tool, it requires you to download the Warby Parker app and only works on iPhone X and above.
Their most basic eyeglass setup starts at $95. This price is less expensive than most optometrists, but it's not the cheapest option found online.
They don't offer major brand names.
Those with strong prescriptions may find that the quality of Warby Parker's high index lenses isn't high enough for their needs.
What's available from Warby Parker?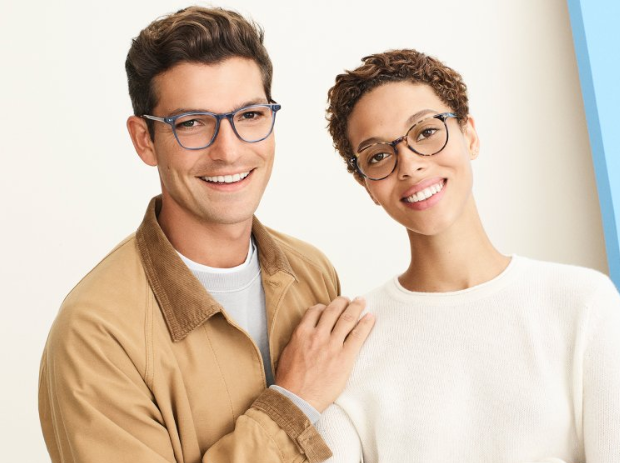 Warby Parker offers the following types of lenses:
polycarbonate lenses
1.67 high index lenses
1.74 high index lenses
blue-light-blocking lenses
light responsive lenses
While they have progressive lenses, they don't offer bifocal lenses.
Warby Parker offers sunglasses (including prescription sunglasses) in a range of styles, sizes, and colors.
The majority of their frames are made of acetate, which is a lightweight plastic, with limited styles available in all metal.
They also sell a variety of daily, monthly, and biweekly contact lenses, including their own line of daily contact lenses called Scout.
According to Warby Parker, their disposable lenses use CentraForm technology, which makes for smooth lens edges, and are shipped in environmentally friendly packaging.
How much do eyeglasses from Warby Parker cost?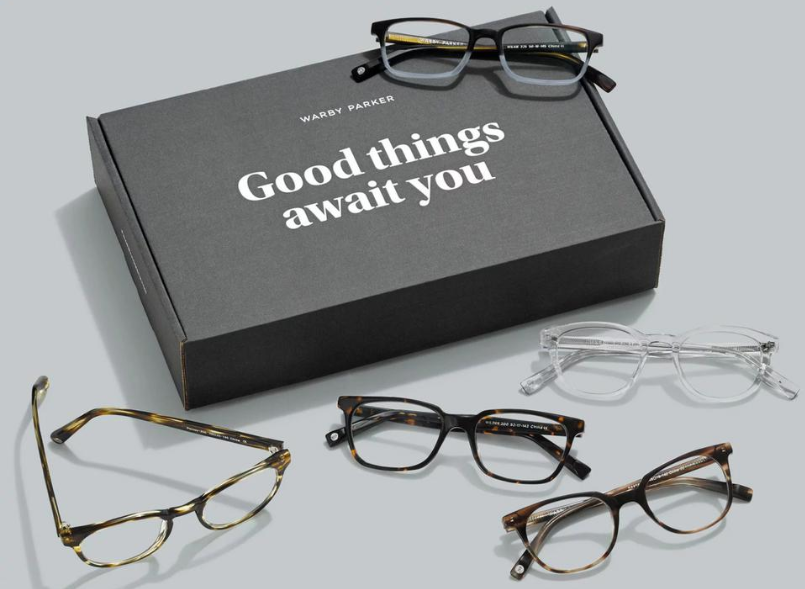 By selling to you online and owning the full range of production, from lens design to construction, Warby Parker is able to keep prices down, compared with those found at brick-and-mortar optician's offices. But Warby Parker isn't the cheapest game in town when it comes to online retailers.
That said, you can pay as little as $95 for their most basic prescription glasses. The cost hikes come with add-on features. Their 1.67 high index lenses (thinner lenses) cost an additional $30. While their 1.74 high index lenses (thinnest index of lenses) cost an additional $130.
If you add the blue light or light responsive lenses for $50 and $100, respectively. You can expect to pay at least a couple of hundred dollars for your new glasses.
Does Warby Parker take insurance?
Unlike some of the cheaper online options, Warby Parker considered an in-network provider for vision plans through UnitedHealthcare and for select employer groups. Also an out-of-network provider for other carriers.
Orders can also placed using flexible spending accounts and health savings accounts.
Ordering from Warby Parker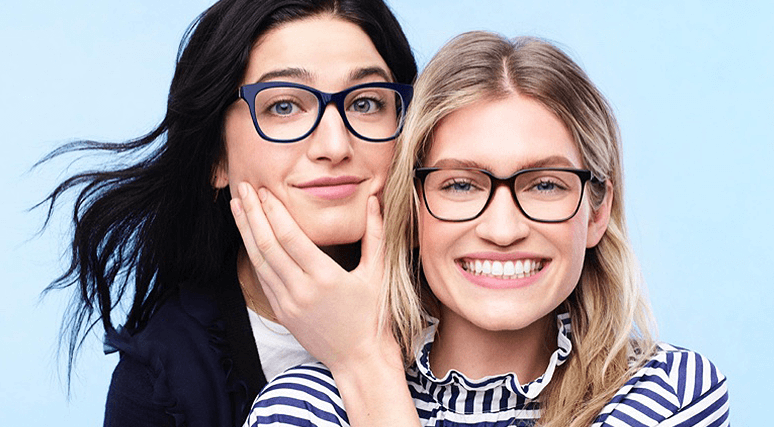 Warby Parker offers lots of features to make choosing the right frame online easier. Their home try-on program allows you to pick five frames and gives you 5 days to decide if you like them before returning all 5 pairs and placing your order. Shipping is free both ways.
This was a favorite feature of Healthline editor Chelsea Logan. "I liked that you can get five glasses at a time to try, and it was easy to select and return them. Not all colors of every style are available for home try-on, unfortunately, which was kind of a bummer," she said.
Note that their virtual try-on tool requires you to download the Warby Parker app and only works on iPhone X and above.
What you'll need before ordering
To order your glasses, you'll need a prescription, your pupillary distance (PD), and a general idea of what type of frame you'd like to wear.
To measure your PD, you'll need a ruler and either a mirror or a friend. Line the 0 edge of the ruler up to the center of your right pupil, then measure the distance from your right to your left pupil.
This is usually easiest to do by placing the ruler across your brow line, above your eyes. Your eye doctor can include this measurement in your prescription.
How to order from Warby Parker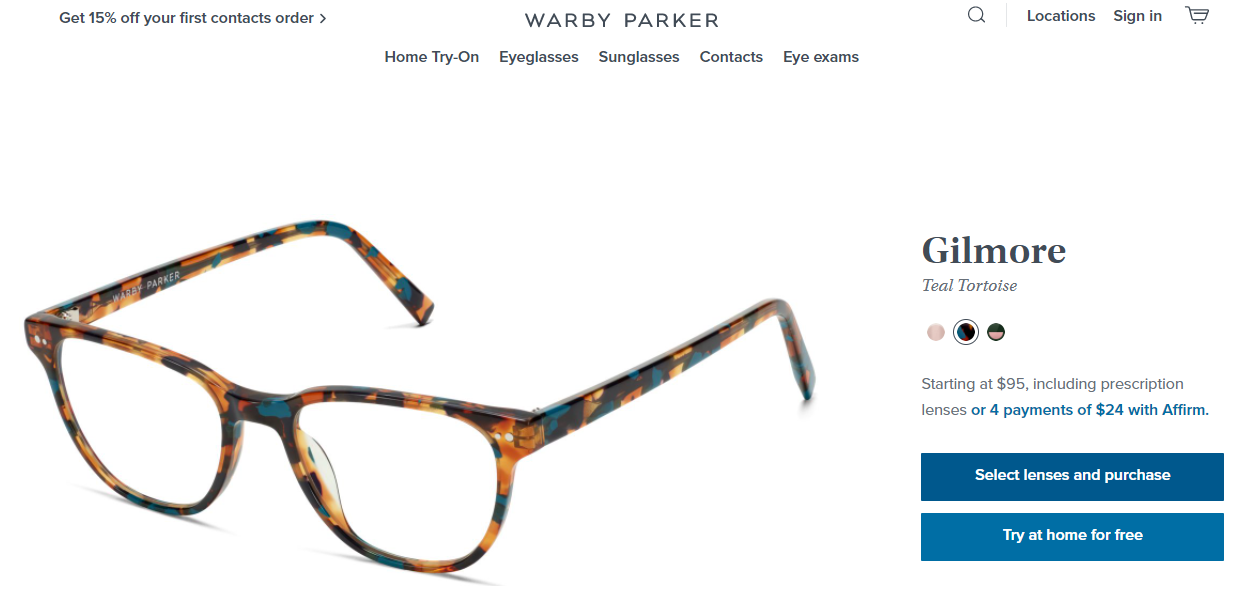 Scroll through their large offering of frames or take their online quiz about your face shape and style preferences.
You can choose up to five frames to have sent to you to try on or buy the frames you know you want. In either case, you'll prompted to create a new customer account for free.
Ready to buy your glasses?
Once you've locked into a frame you like, select the prescription (single-vision, progressives, or nonprescription) and lens types.
You'll have to register with Warby Parker or log in to continue.
Then, you'll prompted to add your prescription details either by uploading a photo of the information, asking that Warby Parker emails you for it, or providing your doctor's information so they can contacted. The last option considered generally slower.
If you don't have your prescription on-hand, you can ask your doctor's office for a copy. They're required to share this with you.
Getting your shipment
Prescription orders for eyeglasses and sunglasses take 9 to 12 business days, while contact lenses take 5 to 7 business days.
Warby Parker return policy
Warby Parker offers a 30-day return or exchange policy for eyewear and accessories. Returns are only available by mail at this time. Warby Parker will replace scratched lenses within the first year. If your prescription changes, they'll replace the lenses for a fee.
Warby Parker customer service
Anyone who has walked into one of their stores or taken a spin around. Their website can tell that Warby Parker makes customer experience a priority.
Healthline editor Ruby Thompson noted that. When she ordered blue-light-blocking readers, even though the wrong lenses were sent to her initially. "They were really responsive to everything that was going on and always expedited shipping to make sure I got everything ASAP… I love the actual glasses."
On Trustpilot, Warby Parker has an average score of 3.5 stars based on customer ratings, with some people claiming delays in customer service or issues with frame quality.
Other options for eyeglasses
A 2016 study conducted in the United Kingdom and published in the Journal of the American Academy of Optometry found that lens quality and accuracy. Were similar between online retailers and optometrists.
However, study participants preferred glasses purchased at an optometry practice over those from online retailers due to "poor frame fit, poor cosmetic appearance, and inaccurate optical centration."
So, if you want the highest level of attention when it comes to selecting frames. Measuring your PD, and making sure everything fits perfectly, head over to your local optometrist's office. Just prepared to pay for the overhead costs.
If you're looking for the cheapest frames around. You may want to opt for a company with simpler features, such as Zenni Optical.
Is Warby Parker worth it?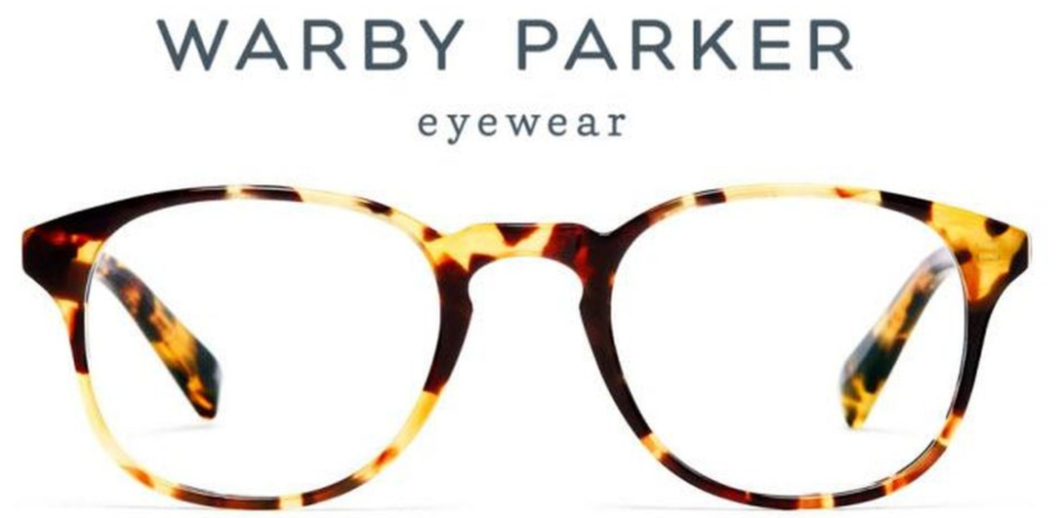 Warby Parker is a great option for those wanting the convenience of buying online with customer service to back it up. The company offers a bit more in the way of service than a budget online eyeglass retailer and has a handful of physical locations.