If you have a business, you know that dealing with the customers or working on the product or service is not the most hectic job of the company. It is accounting and finances.
Keeping track of all the payables and receivables, the payrolls, billing, and general ledger are not trouble-free. There is the chance of human error, difficulty handling a massive amount of data at a time.
If you are still holding onto the traditional pen and paper method- storing the information and keeping it safe is a big challenge. And even if you know how to handle Excel sheets, you have to rely on your business computer to access the data. There is also the security issue and the extensive labor that goes behind tracking all the transactions manually.
But accounting software brought a revolution in the business world when it automates a large chunk of your work. It uses cloud storage so you can get access to the data from anywhere, and you do not have to worry about taking backups on time. It tracks all your transactions and helps you regulate your financial functions too. And it is generally password-protected, so you are free from the risk of the information getting leaked.
It is the best time to convert your accounting tool to online software. It is going to save you a lot of time, effort, and risk of losing data. But with so much software available nowadays, it is a great challenge to find the one that can be the right fit for you. You need to find out their benefits, features, and backdrops and compare them accordingly.
QuickBooks is one of the most popular and best accounting software. So many businesses around the world use it regularly and find it extremely helpful.
You can go through this QuickBooks Online review to understand how it can help you in your accounting and finances.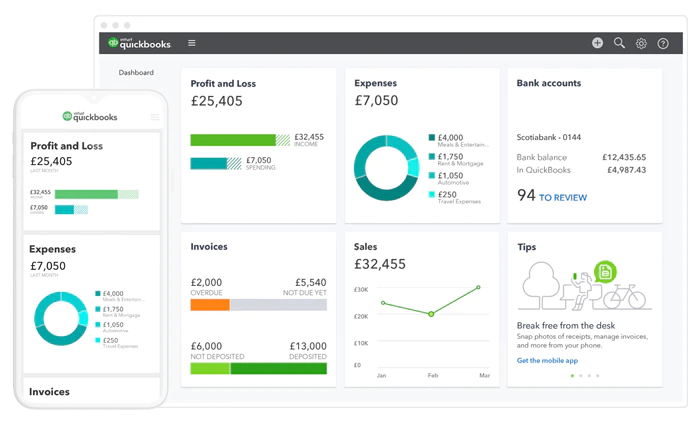 What is QuickBooks Online?
In short, QuickBooks Online is your bookkeeping companion in your business. It helps you keep track of all your transactions, create invoices, and calculate taxes.
As the #1 accounting software for small businesses, it takes care of your business accountancy in a holistic way. It is the single solution to handle your multiple spreadsheets and detailed calculations without any chance of losing data or making an error.
It creates invoices two times faster and tracks all the payments for you. It tracks all your mileage receipts and helps you to maximize the deductibles while filing your taxes. You can connect your bank accounts and credit card links in one go, and QuickBooks Online will give you the whole balance sheet.
QuickBooks has a global clientele of 7 million, and their satisfied and happy customers worldwide can vouch for the utility of this software. It offers four kinds of plans to suit your exact needs and requirements and offers live bookkeeping sessions.
The best part of the versatility you can get from it. QuickBooks Online is online software, so you do not need any downloads and backups. You can access it across all your devices, like PC, MacBook, Tablet, and Mobiles. And the multiple-user facility makes it easy for you to delegate tasks and handle the Accounting works more swiftly.
As one of the best accounting software, it needs only a few minutes of setup, and you can avail of a live bookkeeping session to set up your accounts here. You can also enjoy the VIP service for QuickBooks Online Advanced, also known as QuickBooks Priority circle. You can have a dedicated account team for your business in this case and also premium technical support around the clock.
In this QuickBooks Online review, we have discussed all the benefits, features, and other aspects in detail. Just go through the article, and you will know everything about the functionality of this software and how it can help you scale your business.
QuickBooks Online Pricing
Every business has its own needs and pain points at every point of its growth. And QuickBooks Online understands that. That is why they have four different plans on their shift- so you can choose the plan that covers all your needs without investing money on the features you would not use.
QuickBooks Online pricing also comes with two different offers. One is to have a 30-day free trial. You can cancel your subscription after that. And another is to pay for the three months on the first day and get 50% off for those months.
The most basic plan of QuickBooks Online pricing with payroll is a simple start. It is for $25 per month, though you can get the first three months for $12.50 if you choose that option.
It will give you all the basic features of tracking your expenses, income and generating invoices, receiving payments. It also helps you run the general reports, maximizes the tax deduction, and organize receipts. The features of managing the cash flow, keeping track of the sales and sales tax, and managing 1099 contractors give you all that you need for your business to get automated.
The next QuickBooks full-service bookkeeping is the essentials plan. You will have to pay $40 per month for it, and in the first three months, it will be for $20 if you avail of the discount. It will equip you with all the advantages of the basic version, and you will also get to manage and pay your bills and track time.
It lets you use three more users, so you can get access to your account from multiple devices at a time and have some trusted people assist you in your bookkeeping. The password system will keep you safe from data bankruptcy as well.
The third one of the QuickBooks Online plans is also the most popular one among the user base worldwide. It is the plus plan. Apart from all the facilities of the essential plan- it lets you track the project profitability and the inventory.
So it helps you get a proper view of your business at any point in time. This plan also lets you add five more users to diversify your accounting a bit more. It comes for $70 per month. And you will, of course, get the discount of $35 if you choose to pay for the first three months.
The fourth and last plan advanced is the most expensive in your QuickBooks Online plan comparison. But it will also give you the most benefits you can gain from this software. It lets you add up to 25 users and comes with a lot of facilities. You can customize access to the users by role so you can divide the responsibilities more efficiently.
This plan lets you batch invoices and expenses and get business analytics and insights. It will provide you a premium experience with its dedicated account team helping you out, 24/7 support, and even on-demand online training. It will help you truly expand your business, as you can automate the workflow and restore all your data. You also get access to the newest premium apps of Intuit.
The advanced plan is for $150 per month- which you can again get at $75 for the first three months. It is the most beneficial plan, according to our Intuit QuickBooks Online Review.
What are the benefits of QuickBooks Online?
QuickBooks Online has been the favorite bookkeeping partner for thousands of small businesses for different reasons. In this Intuit QuickBooks Online Review, we have collected the top benefits you can get from this software-
1. Collaboration
You can share access to your QuickBooks account with your employees easily. This way, you can collaborate with your employees and make the accounting process quicker and smoother.
As an online platform, you only need the username and password to access your QuickBooks account from anywhere in the world. So you do not have to worry about the device you have access to at this point. It will help you with so many tasks to delegate your admin work and keep your books accurate and checked even when you are busy.
The best part is- you can share your login credential with any employee and also can keep it to yourself if you wish to. Just use a strong password, and your privacy is protected.
2. No storage on the system
Be it your mobile or desktop- systems can crash. And you do not want to lose all your crucial business information just for a device malfunction. Neither is it easy to keep a backup of every piece of data every day.
QuickBooks offers you its online cloud storage facility that lets you safely backup all your data with no extra time and effort. It is automatic, and your data stays safe on Intuit's server.
You can access them and use them however and whenever you want. And also can be free from the worry of losing the data.
3. Send reports quickly
QuickBooks Online can be a lifesaver when you have to send a particular report amid some work.
As an online platform, QuickBooks Online lets you handle multiple reports at a time. And its device interconnectivity lets you locate a report on your iPad or iPhone while you are busy on other tasks- and quickly send it to your manager. It saves you time, and the hassle the traditional excel sheets used to come along.
The number of reports you can get your hands on depends on your overall user license. So you can easily access more reports related to your business once you contact their customer service.
4. Send automatic invoices
Calculating and printing out the invoice, then again mailing it to your client is a headache. And it is not required anymore.
As QuickBooks Online offers you the option to send invoices directly to your client's company. If you need to create multiple invoices per month, QuickBooks Online is there to save your time and energy.
Just put the mailing address of your client's accounts department, and you are done.
And if you want to attach the scanned copy of related documents, you can let QuickBooks handle that part also.
5. Get help with a click
Despite all the instructions and usability, there are always some glitches and problems when you depend on any online tool. QuickBooks understand that as well.
It gives you constant support online and can help you to recover from any issues quickly. Intuit's help desk is there to help you out from wherever you are stuck at setting up your account, how to add a user, how to upgrade the program, get out of the jam, or even the general issues.
You only have to make sure you are paying for the user license in time. The professionals will not charge you for the help either.
6. Easily track inventory
QuickBooks Online Pricing becomes justified when you can track the inventory apart from your accounting.
Due to the multiple user facility of this platform, it is necessary to keep track of your inventory. Whether you are at home, on a vacation, or in the warehouse, you can quickly check the status of your inventory with a few clicks and can even update them right from the site.
The tracking follows the FIFO or First-in-first-out rule.
7. A bliss for Apple users
This platform also lets you sync your information across devices. QuickBooks full-service bookkeeping is far easier when you can access them using your iPhone or iPad. The synchronization makes your work swift and saves you the time to open your desktop or laptop.
All you need are your user license, and the QuickBooks apps downloaded on your device. The cloud server can let you change the information of the tracker or other parts from any iOS device with ease. It also supports nightly automatic downloads for ease of access.
8. Receive electronic payment quickly
Receiving payment through checks is not an option these days. But online transactions through debit or credit cards or ACH and online bank transfer are hectic in terms of keeping a tab on all the payments and tracking them accordingly.
This software can also handle this job for you. QuickBooks Online pricing with payroll will be worth it for you when you can save time from doing the routine and mundane work and devote yourself to the prioritized tasks that can help your business grow.
9. No hassle about software upgrades
In the case of any offline software, there is the risk of the software getting outdated. You need to purchase a new version and update it accordingly. You also might need to hire technical support to do that from time to time. There is also the risk of an error while upgrading the software that may take hours to fix.
Not to mention there is the chance of losing your data and disrupting your workflow for your software malfunction. But as online software, QuickBooks Online is free from all kinds of upgradation from your side. QuickBooks Online plan comparison can help you get the plan you are the most suitable for. And you are free from even storing the software on your device forever.
10. Use multiple windows at the same time
QuickBooks Online plans come with the facility of having multiple users simultaneously. It also gives you the feature of supporting more than one window at any instant.
You can quickly check and compare different data for your business and make decisions accordingly.
What are the disadvantages of QuickBooks Online?
QuickBooks full-service bookkeeping is a wholesome place to manage your business effectively. Though it works well in so many cases, it is not completely free of disadvantages.
Here are the two main areas where the site can work on improving-
1. Online support system
The online support system is a great relief for anyone learning to use this software, as it is supposed to help them out from any issues and problems. But at times, the support is not adequate. The professionals take a bit of time to contact you, and it is the main disadvantage as it may impact the flow of your business.
You need constant tracking and recording of data in your business, so the time you need to fix the issues might cause you a lot of trouble and unnecessary delay especially when you are working with your employees.
3. Mobile apps
Also, the mobile apps that come with your iOS store are not comprehensive either. You may sometimes find wrong data input or even missing data input and the app synchronization is not perfect.
Hopefully, QuickBooks Online plans will have upgrades that will address these issues in the future, and we can get a flawless experience with it.
QuickBooks Online features
QuickBooks Online comes with a diverse range of features. From accounting to inventory and tracking mileage- the different types of features make your work easy.
It will help you operate and control all your business aspects from one point. But you do not get access to all the features from the get-go, some of them are only available to advanced users. So you need to check the features before you decide to buy a plan. Here are the main QuickBooks Online essentials features listed down-
1. Bill management
It organizes all your bills in one place. You can schedule and pay right from the website for all your business-related needs.
2. Bill pay
You can choose the method of payment for your products and pay multiple clients with one click. You can even set reminders with automated workflows.
3. Business funding
It becomes easy to apply for loans right from the software and get approved within 1-2 days for payment. You get the option to avoid interests with an early payoff.
4. Cash flow
Open a QuickBooks cash account from the software itself, and get paid instantly. You can even predict the cash flow of your business for the next 30-90 days as part of the QuickBooks Online advanced features.
5. Contractor
You can manage 1099 contractors and assign vendor payments. It helps you to track their payment and maintain their files.
6. Custom access
You can collaborate with up to 25 users using this app. Delegate your workload and manage important tasks simultaneously while protecting your privacy.
7. Estimates
Customize the estimates according to your needs and convert them into invoices. You can also leverage mobile signatures to make the process quick and easy.
8. Income and expenses
Easily track the transaction reports of your bank and credit cards via the software.
9. Invoice and payments
It helps you to ease up in your accounting tasks as you can generate and send automatic invoices, and accept payments from all kinds of online tools with this site.
10. Inventory
From tracking your product stocks to do product research from other sites- you can get holistic support here.
11. Live bookkeeping
Have a certified bookkeeper with industry experience manage your accounts, so you can get a clearer picture of your business.
12. Multichannel commerce
It helps you manage your diverse portfolio and all the sales channels from a single platform.
13. Mileage tracking
Track the mile while transporting from your mobile GPS.
14. Payroll
The QuickBooks Online payroll features calculate your income and then file and pay your tax with ease. You no more have to worry about the hefty calculations.
15. Project profitability
Track each of your projects with minute details of labor cost, expenses, and income.
16. Reports
Create and run customized reports of profit & loss, expenses and manage them easily.
The best part is, the number of QuickBooks Online new features is constantly going up. So you will always get to see new features every once in a while once you become a user.
QuickBooks Online Integrations
If you run an online retail business, QuickBooks Online will be the center of your business while all its integrations will revolve around it. This software has the facility to let you integrate with most of the software you need in your business. This feature lets you automate your work a lot as the software sends the data to themselves and organizes them for your use.
From bookkeeping, invoicing to data entry and paying bills- integrations can boost your productivity and streamline the tasks so you can grow your small or mid-sized business with ease. QuickBooks support many integrations. Here are the top examples-
1. QuickBooks Online integration with Salesforce
Salesforce connects your accounting wing of your business with the CRM so you can have an in-depth view of where your business is getting the most profit and how it can improve further.
You can bring your sales and finance team to work together with this for the best result. These two sectors are not always integrated no matter how frequently they discuss their plans- but in this way, they can collaborate in real-time and the process of invoicing, sales and payments become faster.
You can avail of this feature through the premium Salesforce Connector app that you get only in the "Advanced" plan.
2. QuickBooks Online integration with Shopify
Shopify was the first software to connect sellers and buyers directly. With over half a million stores built in Shopify, it is your best choice as an online retailer- regardless of how long you are in the industry.
Shopify helps you create your brand as you can link your domain name to your shop. And when it integrates with QuickBooks, it gives you the chance to automate the accountancy related to product selling and analyzing. It is a great help as it will save you a lot of time and work.
You can use a third-party payment gateway or the one that comes with Shopify- you can track the sales in both ways.
3. QuickBooks Online integration with Amazon
Amazon business purchase is the integration that gives you the option to link your Amazon sales with QuickBooks.
Now you do not have to manually track the purchases and calculate every day. It gives you details like product description, cost breakdown for every transaction.
You can easily plan your next products or the product manufacturing and distribution this way. Once it gets linked with your bank transactions, QuickBooks will provide you the total balance sheet automatically.
4. QuickBooks Online integration with Stripe
Stripe can provide you the best payment gateway that you need in your business to thrive. It will give you the means to transact money and keep a tab on the total transactions.
Its integrations with QuickBooks give you the ease of organizing and reviewing all your sales and purchases in one single place. It will also save you money and unwanted labor.
There are also numerous other integrations like Magento, Bigcommerce, Woocommerce, Volusion, Bill.com, Hubspot, DocuSign, LeanLaw, Fathom, Expensify, etc.
QuickBooks Online Mobile App
QuickBooks Online is an online platform, but you can access it easily from the apps on your mobile and tablets. There are apps available for both iOS and Android phones so you can get connected to your business all the time.
You can now create invoices, track profit and manage cash flow from anywhere, at any time.
These QuickBooks Online android apps and iPhone apps use your phone's GPS to calculate the mileage without draining your battery. The cash flow dashboard lets you overview the sales and purchases of the last 90 days, so you have enough data to make useful decisions.
You can create invoices in different currencies and get paid sooner through bank transfer or debit or credit cards. The QuickBooks Online mobile app features can also help you track your profit and loss and get the maximum tax deductibles.
The best part of the mobile accounting app is it is extremely easy to get started. If you have your online account set up, you need the username and password to access it.
The massive positive rating of the QuickBooks Online ios app, as well as the android app, is enough to prove the efficiency of these apps.
QuickBooks Online Customer Service
One of the great benefits of QuickBooks Online is its customer support. It provides extended support to its users so they can get out of any lingering issue. The support starts from day 1 when a professional assists you set up the account with all the details intact.
The advanced plan users get the most support as they offer quality support 24/7.
But the problem with QuickBooks Online customer service support is its inconsistency. Earlier it was known for its long wait in the phone calls. Nowadays, it has decreased to a great extent, and some of them get help instantly.
But still, there are the occasional waits to talk to a representative. Also, the support is typically available during a predefined period from Monday to Friday- but any issues occurring at any other time get delayed and unresolved till the support is available again.
It does not provide email support, but QuickBooks has several other alternatives to reach out for help. Apart from the regular call or phone support, it has an in-software help button- that connects with an AI chatbot.
It also has a comprehensive help center and even an informative blog on its website. You can also avail online video tutorials and guides for help.
If you deem it necessary, you can get professional and personalized training at an additional cost. Also, QuickBooks online offers an active social media presence that helps you fix the issues you can have.
Our review – Bottom Line
Till now, we have described all the aspects of this accounting software to you. Now we are going to explain our views on this software where we will discuss the three specific points-
1. Ease of use
QuickBooks Online is one of the most easy-to-use software, no doubt. It lets you use it instantly and sync apps and devices seamlessly.
You do not face any struggle while dividing the responsibilities to your employees accordingly. Only the username and password are enough to get started on a new device, yet it is safe with a strong password.
2. Customer support
Customer support is also a great benefit of this software. Still, this feature has some room for improvement, like- hiring more people at the support team or broadening the service timing so people can get a broader coverage of their problems. They should also consider enabling email support and work on reducing the waiting time of the call more.
3. Functionality
You can say the functionality is the best part of this. During our research for the QuickBooks Online Review, we found the high functionality of the app to be especially helpful. The range of integration options this software provides and how it can automate all the aspects of the business is impressive.
QuickBooks Online is a popular choice among all kinds of businesses for justified reasons. Although it comes with a few problems like being a bit expensive and lacking seamless customer support. Compare your needs with your plans carefully while choosing this accounting software.