What Is TubeBuddy?
TubeBuddy is a Chrome extension that's designed first and foremost to streamline your video marketing efforts. It does that with bulk processing capabilities and productivity features. Beyond that, TubeBuddy also helps with video SEO and offers enhanced analytics. It's really a comprehensive tool that acts as a one-stop shop for all your YouTube marketing needs. And it resides right there within your Chrome browser. You don't even need to leave YouTube to use it.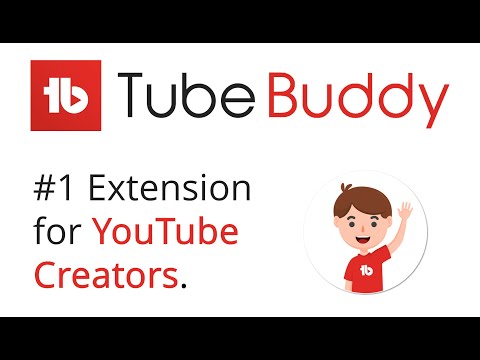 Features of TubeBuddy
Some of the key features of TubeBuddy are dissected and explained in the section below:
SEO Features
TubeBuddy has over 65 features that can help you boost your videos in the YouTube algorithm. Some of them include the:
Keyword explorer
The "keyword explorer" one of the most important and indispensable tools if you really want to really grow your channel. It is a very handy tool to start planning videos for your YouTube channel.
YouTube is the second largest search engine (behind Google) that people look to for music and information to solutions for their needs or problems. If you're able to generate keywords worth aiming at for your YouTube channel (based on authority and size), you will be able to rank higher and generate more views from your videos.
By adding a keyword in Keyword Explorer, you get a score that is specific for your channel, an overall score based on search volume and the competition for such keyword.
Suggested tags
Another great video SEO feature on the software is Suggested Tags. This simply suggests tags for you to use. You will find this in your YouTube channel's video editing screen when you set it up for posting. Depending on the choosen tags, the tool will offer you associated tags.
Video tests
Although you cannot test the main content of each video, TubeBuddy lets you to test their "packaging" i.e. the thumbnail, tags, title, as well as Meta description. Yes, all of these factors are important when posting a YouTube video! An A/B test is a technique that includes offering several types of the same objects that differ because of one criterion. An example can be the headline.
Videolytics
When watching a YouTube video, TubeBuddy displays a Videolytics panel located at the right part with a bunch of stats that can be useful. It gives a general summary of video performance, SEO, tags used, social stats, and channel. This can be very handy if you really want to compare your videos with those of your competition.
Translator
You want people all over the world to find and read the title and description of the video in their language. You want your video to appear as a related video on other videos around the world. The Auto Translator automatic translator (available only for the "Legend" plan) can be useful to you. It is available from the Subtitles panel when you are editing a video.
To use the tag translator, click the "Translate" button in the tag tools available when you are on the edit video screen. TubeBuddy displays the top languages ​​spoken by your audience and once you choose the language you want to translate into, it generates tags in it.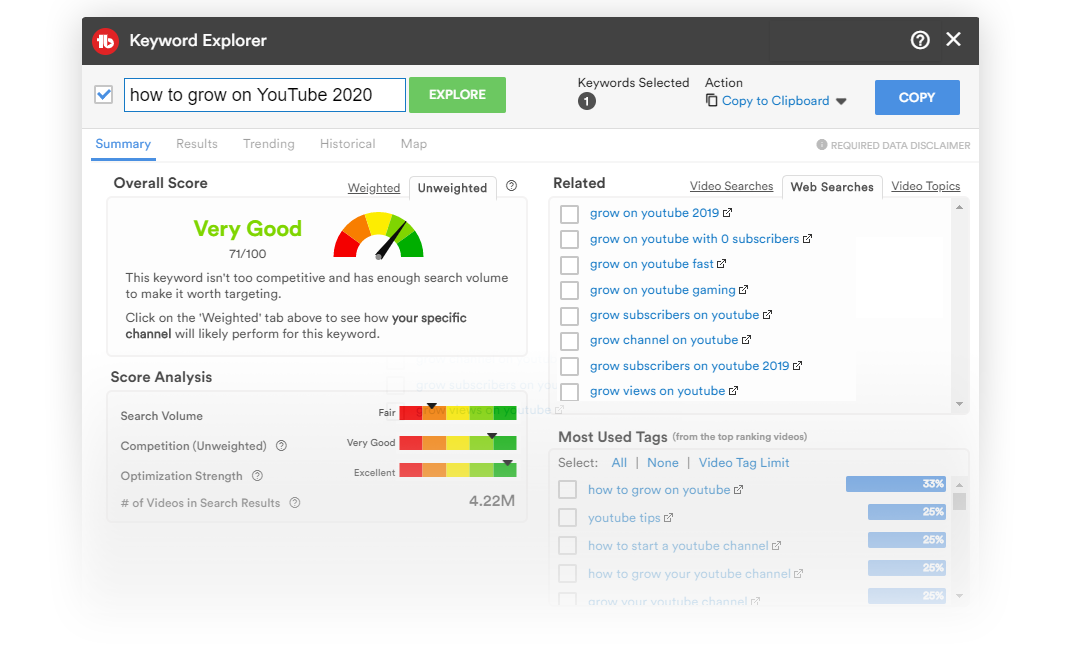 Productivity Tools
For every video you post, it is recommended that you add files (possible under certain conditions and only from 1000 subscribers); define end screens; respond to comments; etc.
In Productivity Tools, TubeBuddy also offers a lot of productivity tools. These help you to tend to these tedious tasks.
Upload checklist
With Upload Checklist appearing on the right hand side when publishing a video, then an automated practice test will be performed to make sure you're following YouTube guidelines.
End screen template
To save time, you can choose to add the same end screen to all your new videos uploaded using End Screen Templates. To do this, set a video as your end screen template (you can then apply this template after any new video has been uploaded and processed).
Comments
If you are lucky enough to receive a lot of comments regularly, TubeBuddy makes it easy to moderate them with its Comment Filters feature. You will be able to quickly and easily find questions, profanity, positive feelings, negative feelings, or certain words in the comments of your videos. It is also possible to identify your supporters on Patreon or your recent followers.
To quickly respond to comments, a TubeBuddy feature called Canned Responses can help you create a set of suitable messages that are pre-written.
Scheduling of publications
If you don't want to publish your videos right away, it is possible to "pause" your videos – that is, set their privacy to unlisted until a certain day and time with Scheduled Publish. This way, you can give your patrons early access to a video before making it public.
With TubeBuddy, you can schedule a modification of the title, tags, description, or thumbnail of a video or even automatically remove a video from playlists at a given time.
Thumbnail generator
Thumbnail Generator allows you to choose still images from your videos to create your thumbnail. You can also choose solid colors as your background or download and upload existing image to your computer. Once you have selected an image, then you can overlay it with texts, emojis, different shapes, logos, and other images.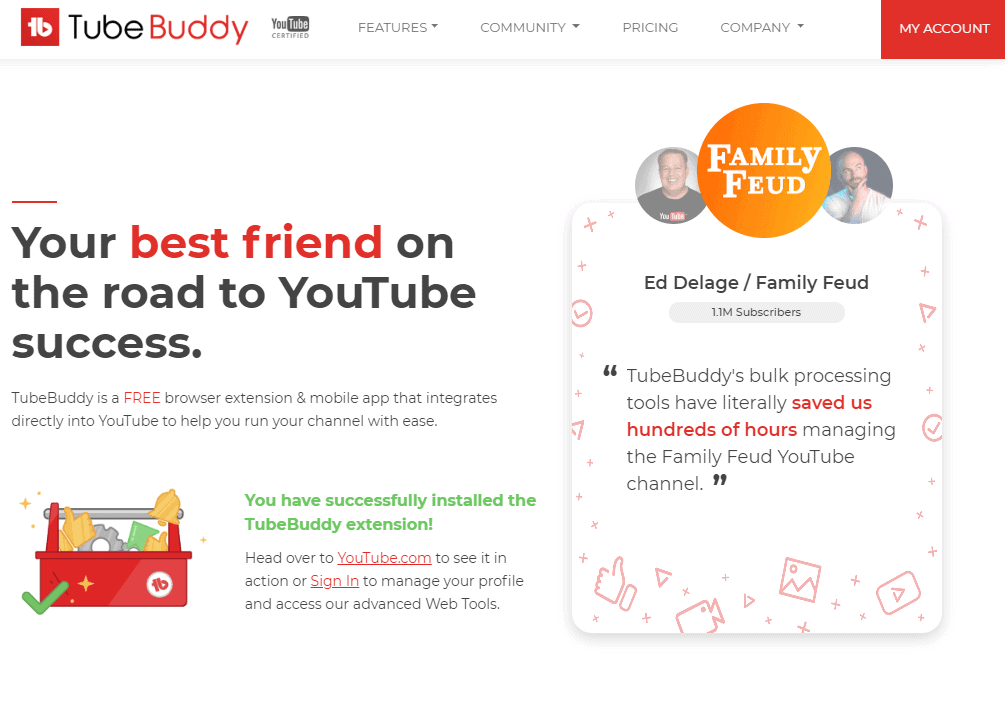 Promotion Tools
Posting your videos, promoting them on social network, your website, as well as aadding them to your mailing list can improve their visibility. So let us see some features TubeBuddy offers you in Promotion Tools.
Best Time to Publish
With the Best Time to Publish option, quickly identify when your audience is most active. This will show you when is the best time to broadcast your video or even to do live streams.
Promotional material
TubeBuddy offers Promotion Materials to promote your channel. For example, you can direct some links to your new videos and embed codes, as well as links to your channel artwork, channel, and thumbnails. You can have access to them by logging into your TubeBuddy account.
Social networks
With Share Tracker, you can share your video on several social networks and follow those on which you have shared. With Publish to Facebook, you can natively publish your YouTube videos to Facebook in just a few clicks. With Share on Twitter, share your video and automatically attach your thumbnail on Twitter.
VID2VID Promotion
The Vid2Vid promotion function allows you to promote your YouTube videos in descriptions of all your other videos. This will allow you to get more views of your last older video uploads.
TubeBuddy Pros and Cons
No tool is perfect. TubeBuddy isn't an exception to that rule. Although TubeBuddy offers a wide variety of features that will interest all video marketers, it's also got some limitations. Here are the tool's pros and cons, as related by users around cyberspace.
PROS:
A comprehensive tool with a rich feature set
Easy to use, limited learning curve
Enables you to spy on competitors
A free option with plenty of features
Reasonably priced
CONS:
Only works on one channel (you have to buy a separate subscription for another channel)
Advanced features (such as bulk editing) aren't available in basic plans
Customer service is lacking
No Android app available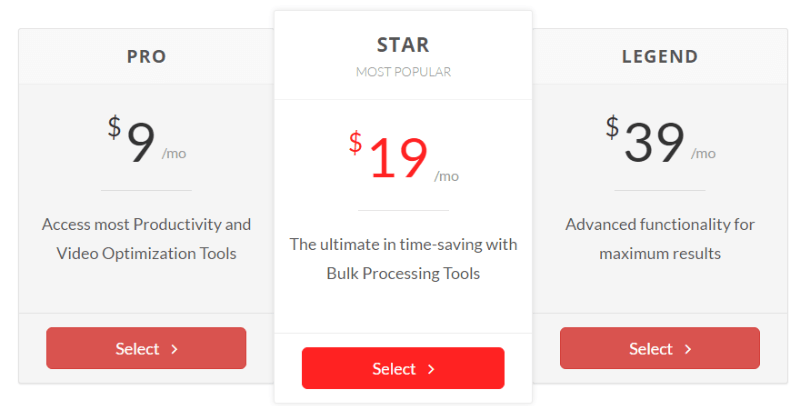 TubeBuddy Premium Pricing?
TubeBuddy offers unlimited use of its mobile app only to paid users. Here are the details of its three levels:
The "Pro" costs $9 per month. If your channel has less than 1000 subscribers, you qualify for a 50% discount, which makes it barely $4.5.
The "Star" is priced at $19 per month and includes advanced planning, monetization, and productivity tools in addition to Pro tools.
The "Legend," priced at $39 per month is the highest tier. It comes with the full range of features that TubeBuddy has to offer. You can test your YouTube videos, make competitor analysis, and keep channel's search rankings in check. Would you like to have manage multiple channels? TubeBuddy also offers business plans.
If you pay annually, you will have a 20% reduction on all of these rates.
Conclusion
Just do it. If you're into YouTube marketing, TubeBuddy is almost indispensable. It will save you time, increase your reach, and boost your bottom line. Even if you still aren't sold on it, just start with the free service. You'll have limited options, but you'll see what TubeBuddy can do for your business without spending one dime.