The footwear brand has unveiled the "Plant Pacer", a sneaker featuring a leather alternative made from all-natural materials such as rubber and plant oils, in a step forward for material innovation.
Allbirds has launched its first plastic-free plant-based leather sneaker in partnership with material innovation company Natural Fiber Welding (NFW), in a move that could help the industry to reduce its reliance on harmful chemicals.
The Plant Pacer sneaker uses Mirum, a technology patented by NFW that creates a leather-like material by combining and "curing" natural components such as rubber, plant oils and agricultural byproducts including rice hulls and citrus peels. Allbirds invested $2 million in NFW in February 2021 to support the development of Mirum. The two companies had hoped to launch the Plant Pacer later that year, but it has taken until now to ensure it met the durability and comfort standards required to bring it to market.
The lining of the sneaker is made from Tencel and the midsole from Allbirds's Sweetfoam sugarcane-based green ethylene-vinyl acetate, a polymer that is known for its rubber-like flexibility and softness. The outsole and sidewall are created using natural rubber. The Plant Pacer also comes in a canvas version made of organic cotton.
The sneaker will be available to buy from 13 September on Allbirds's website, retailing at £120 for the plant-based leather version, and £110 for the canvas.
"For way too long, fashion companies have relied on dirty synthetics and unsustainable leather, putting established ways of doing things and costs before the environment. We wanted to put an end to that, which led us to create the Plant Pacer," a statement from Allbirds co-founder and co-CEO Tim Brown reads. "Through the innovative use of natural materials, like plant leather and others, we're going to continue stretching the limits of sustainable footwear."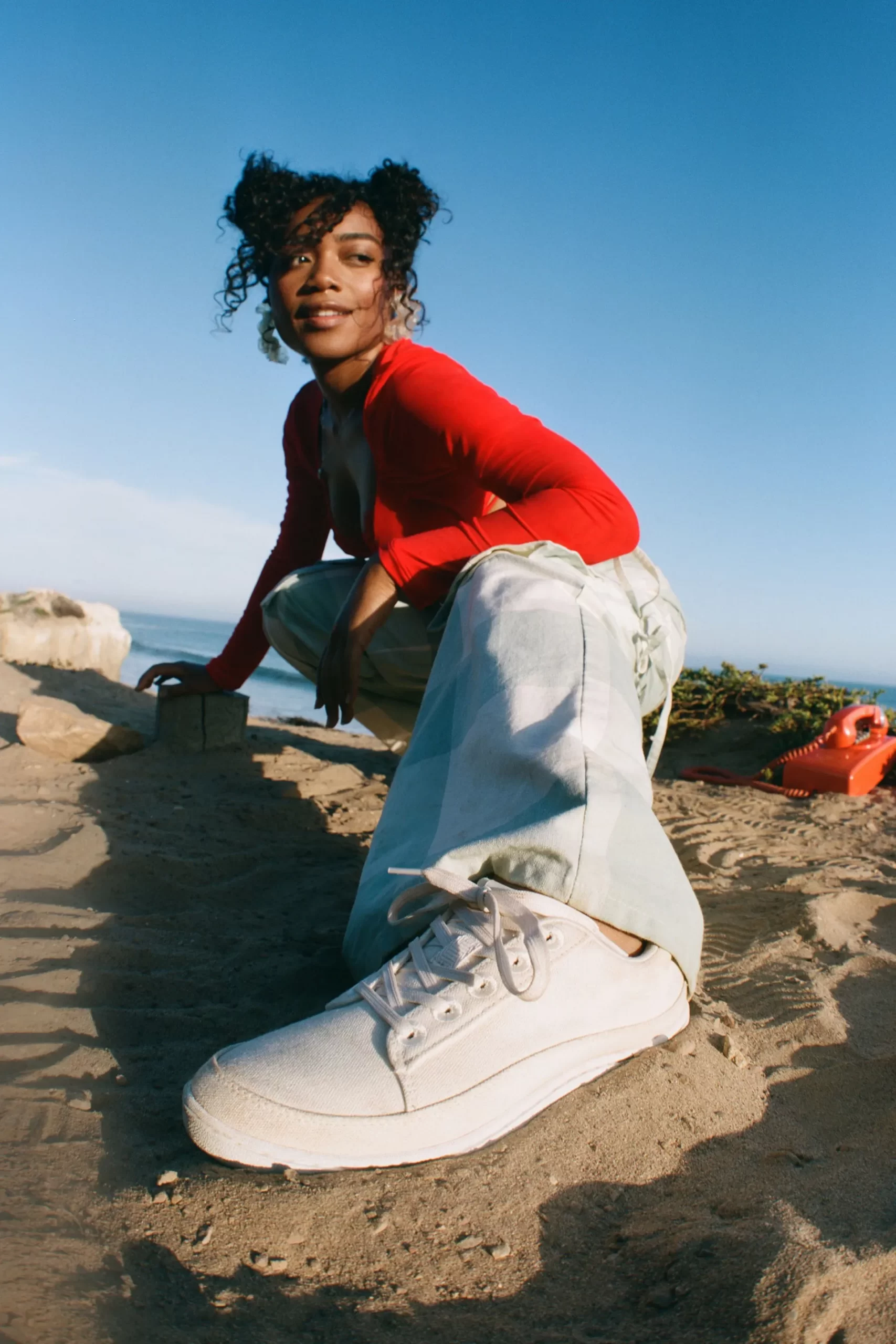 The fashion and footwear industry has begun turning away from fossil fuel-derived plastic-based vegan leather, toward plant-based alternatives. However, while leather alternatives such as mycelium from startups including Mycoworks, Ecovative, and Bolt Threads are gaining traction, they are still in the early stages and only starting to be used at scale (Mycoworks launched with hatmaker Nick Fouquet in July, and Ganni and Stella McCartney released limited-run products also this summer). Some also rely on synthetic chemicals, such as polyurethane.
Jad Finck, vice president of innovation at Allbirds, tells Vogue Business it took longer than expected to get the Plant Pacer ready for sale. "We had hoped to launch in late 2021, but as is often the case with first-of-a-kind materials… it takes time to develop innovative new materials, apply them to a silhouette, and wear-test the product," he says. "Ensuring that the high standards that both Allbirds and NFW have on sustainability, comfort, durability and aesthetics are met, is of utmost importance. Our customers know and expect this of us, and we didn't want to compromise on any of this along the way."
"Through the ongoing use of innovative super natural materials like plant leather, as well as others made from ZQ Merino wool [ZQ is a certification that looks at animal welfare and environmental standards], eucalyptus tree fibre and sugar cane, we're going to continue stretching the limits of sustainable footwear to drive down the carbon footprint of our products," says Finck. "As we continue stepping further into the lifestyle footwear category, we're exploring how plant leather can be used on both existing and new silhouettes."