Amazfit is a might not be as popular as Fitbit but it is one of the top brands in the smart wearable tech space. Amazfit's parent company Huami Technology is one of the top manufactures of smart wear in the world. They also supply Xiaomi's smart bands. Amazfit has a variety of brilliant products ranging from Smartwatches to Smart Treadmills. Check out our list of the Top Amazfit Products for all the details.
The best Amazfit smartwatches have been the Amazfit Pace, Amazfit Bip, Amazfit GTS, Amazfit GTR and more. Based on our reviews and sales, we've come up with the list below.
During our review process we went through the entire catalogue of Amazfit products and zeroed in on the best of the best Amazfit products across categories.
The Top Amazfit Smartwatch is the Amazfit T-Rex smartwatch. Not only is this watch sturdy and robust in design but It comes with 12 Military's certifications that make it extremely durable. It comes with the latest AMOLED display and various other features like 14 sports modes in addition to the common Android smartwatch applications. Most importantly, it can last 20 days on a single charge.
Top Amazfit Smartwatches 2021
#1 — Amazfit Neo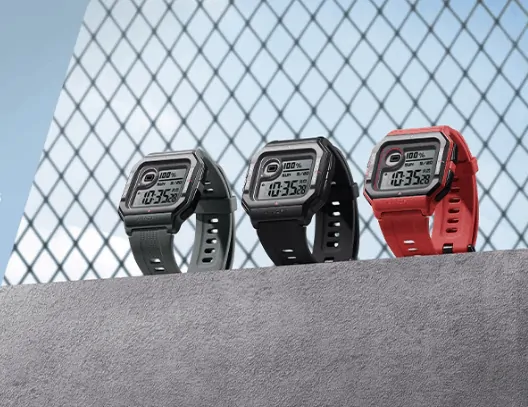 The Amazfit Neo is the latest smartwatch by Amazfit and it's a game-changer. It's a brilliant fusion between a retro style and a modern smartwatch. Not only does it have a cool design and built to it but it also comes with the latest modern features of a sports watch. Most importantly, it's extremely affordable. It's one of the Top Amazfit Products of 2021.
Although it's very reminiscent of the old school G-shocks, the design is pretty modern in certain placed. While the screen is a square-shaped old Casio-like digital display, it has a modern display feature like always-on mode, light-to wake-up mode and a much much higher quality LED screen.
At its core, it's still a full-fledged sport swatch that capable of tracking not only your heart rate for 24 hours but also provide you with real time data that can help you get a control over your health and set fitness goals.
The high level of accuracy with respect to health data can be attributed to the BioTracker PPG sensor and to the existence of the latest PAI Health Assessment System. This genius technology basically tells you where you stand in term of health and what you need to do to bring it to an optimal state instead of simply throwing a bunch of numbers in your face like other smart wearable devices.
One of the most amazing features about this watch other than being resistant (Waterproof up to 50 meters) to various environments is battery life. The battery can last for 30 days on a single charge.
Key Features
Waterproof up to 50 meters
30-day battery life
Extremely effective PAI Health Assessment System
BioTracker PPG sensor
#2 — Amazfit T-Rex – Best Overall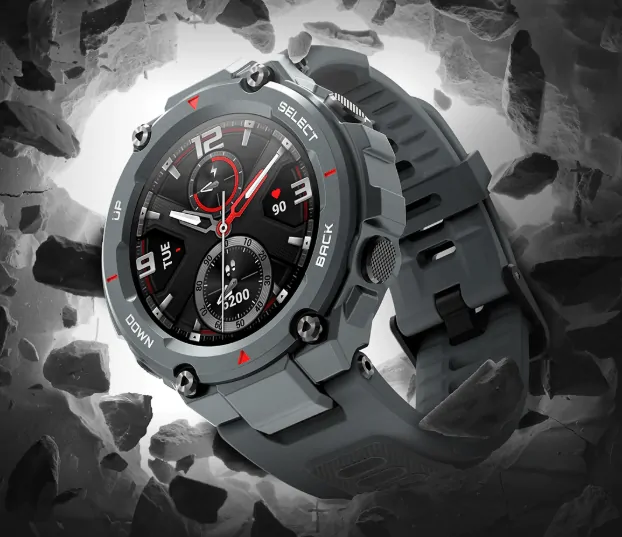 This beast from Amazfit is meant for athletes and outdoor enthusiasts. The Amazfit T-Rex Is designed to be tough and solid with distinct angles. Every millimeter of this watch is meant to be practical. It is definitely one of the Top Amazfit Products out there.
For example, the large etched metal buttons allow you to find the buttons easily, and the silicone band doesn't allow sweat to get in the way.
It also has the features of a regular smartwatch like the 1.3 inch AMOLED display that supports always-on display. It also has a variety of face watches.
This watch has a high-precision GPS Dual-Satellite Positioning. So, somebody can always keep track of your location.
It is water-resistant to 50 m and has 14 sports modes. You can always track your fitness and health levels. It has a battery life of 20 days.
The most amazing thing about the Amazfit T-Rex is the fact that it has 12 Military Certifications. This watch was meant to be a true outdoor beast that could withstand any environment. Some of these Military certifications include 70 degrees Heat Resistance, -40 degrees Cold Resistance, 240h Humidity Resistance, 96h Salt Spray Resistance.
Key Features:
AMOLED Display
12 Military Certifications
Rugged Body
20-day Battery Life
#3 — Amazfit Bip U Pro – Best for Fashion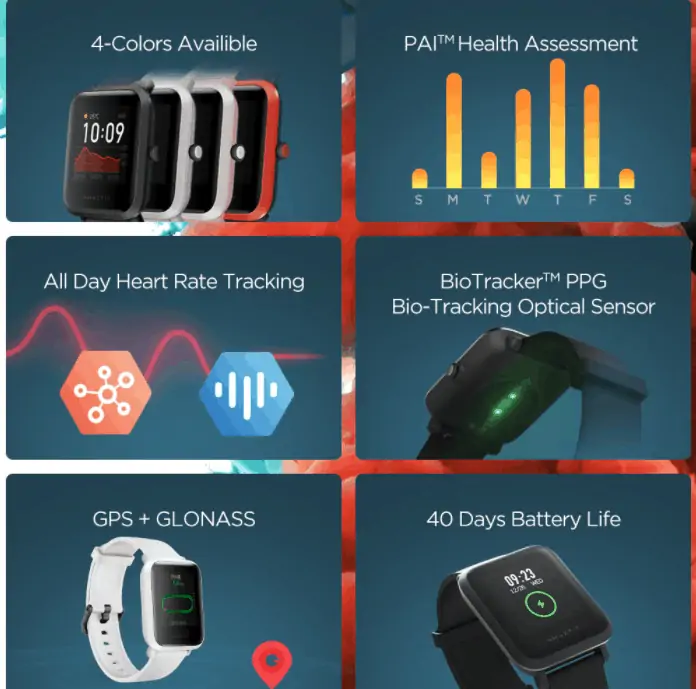 This a true-blue fashion watch from Amazfit, The body of the watch is made from a two-tone color technology. Basically, it's made of a two color polycarbonate material that ensures that the watch is both lightweight while being hard. This color is developed to make it look more expensive and beautiful.
You have four color options with this watch. It's quite light, weighing about 31grams. The wristband is also fashionable and made to be soft and resistant to dirt. It is also water-resistant.
This watch has a Transreflective display which performs in outdoor environments under the direct sunlight.
One of the best things about the Amazfit Bip S is the outstanding battery life. It lasts for 40 days on a single charge. It's definitely one of the best Xiaomi backed Amazfit Watches.
The Amazfit Bip S has over 40 watch faces with 2 editable dials. You can, of course, control music, check the weather and access various apps. This smartwatch also has 10 sports modes along with swim tracking.
This watch is equipped with the revolutionary Bio-tracking software from Huami. It tracks your health and fitness levels with an accuracy of 98%.
Key features:
Multiple color options
Dust and Water resistance
Transreflective display
40 days on a single charge
40 watch faces
Bio tracking software
#4 — Amazfit Stratos 3 – Best Amazfit Watch for Running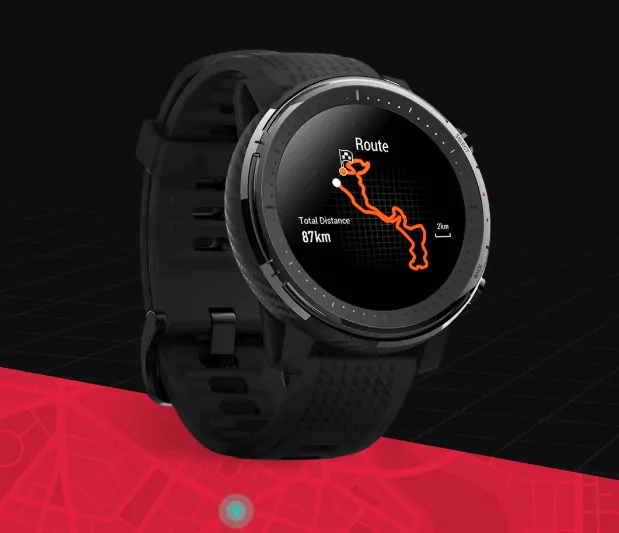 The Amazfit Stratos 3 looks pretty damn good doesn't it? This beauty was built for sports. With over 80 sports modes and 70 continuous hours of GPS, you can rely on this smartwatch for when you want to test your limits.
This Amazfit smartwatch has a 1.34″ full touch round transflective display that is perfect for outdoor use. This watch also comes with four physical buttons that enable you to access the various features and control the device without using the touch screen. This is useful when you're in the middle of intensive workouts. The silicone strap ensures ventilation.
The Amazfit Stratos 3 has a 316L stainless steel body that is combined with reinforced plastic which makes it one of the more robust watches out there. While it does look bulky it's amazingly lightweight.
This watch has a dual operating system which is powered by two different chips. It's equipped with these in order to balance the sports modes and daily life modes.
Honestly, this smartwatch is an absolute beast. It comes with 80 sports modes and 14 days of battery life. It tracks your health and fitness. It's the closest thing to perfection.
Key Features:
1.34-inch display
Dual OS
80 sports modes
14-day battery life
Lightweight
#5 — Amazfit GTS 2e / GTS 2 Mini
The GTS 2E is a sub $150 watch from Amazfit. It's a hybrid mix of sporty and professional. Similar to the Huawei GT watches. But at a much lesser price. The updgraded versions such as the GTS 2e has amazing battery life of up to 2 weeks of continuous use.
The GTS 2e has a 1.55-inch AMOLED screen with a 301 PPI. This is slightly smaller than the GTS 2. It has no bezels, which gives it a clean look. The display has a 2.5D curved edge display. The display is also a lot harder than the GTS because of oDLC carbon addition.
The body is made of aluminum. It's super strong and looks ever so stylish. It's available in Black, Green and Purple.
One downside to the GTS 2e compared to the GTS is, it doesn't have music storage of 3GB and also doesn't have the option for a Bluetooth call.
It's got customized watch faces, where you can add your own image as a watch face.
In terms of tracking, there's the usual 90 sports modes, activity tracker, stress tracker, sleep tracker and heart rate monitor. It is waterproof up to 5 metres.
The 14 day battery life is quite an attractive proposition.
The only difference between the GTS 2 Mini and the GTS 2e is that the former has 20 sports modes lesser than the latter and comes at a $40 cut.
Who is this watch for?
The GTS 2e / GTS 2 Mini basically is a sporty watch without the sporty look. It looks like a professional watch that can be worn with a dress or a suit. This is what differentiates this watch from the other Amazfit smartwatch offerings. Just the style element.
#6 — Amazfit Band 5
The Amazfit Band 5 is the only fitness band in this list. It makes its way into the list of smartwatches because, it has become quite popular in the market and it's Amazfit's only fitness band offering.
The Amazfit Band 5 is quite cheap costing under $50. Why should you buy it over the Mi Fitness bands?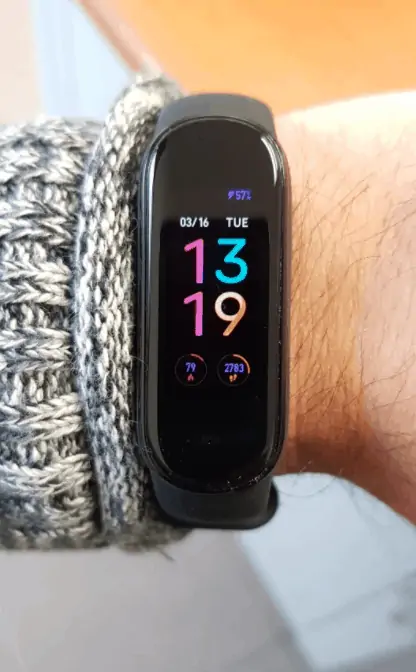 I don't think it beats the Mi Fitness bands, especially because the Mi Fitness band costs much lesser and has a much better app experience with the Mi app.
The display of the Amazfit Band 5 is a 1.1-inch full touch AMOLED color screen. The screen does look fantastic! The watch faces can be customized. And there are 45 different watch faces available.
It's got the Alexa integration which lets you speak to Alexa to get your work done. Another highlight is the bloody oxygen level tracker. How accurate is this information? I wouldn't trust it and take it as medical advise. Considering the current scenario of Covid, this could lead to a lot of stress.
One cool addition is the stress monitoring and breathing exercises. I've noticed that this simple feature REALLY helps with anxiety. For people who suffer from anxiety, require breathing control and this is a top feature.
For women, there's the menstrual tracker. There's the heart rate monitor and other sport tracking features which are default across fitness bands.
It's got 11 sports modes, which is a tad less, but it does record your performance. The green strap Amazfit Band 5 is truly stunning for people who don't like the usual black color.
Who is it for?
I wouldn't recommend the Amazfit Band 5 over the Mi Band 6. But the display is breathtaking and the breathing feature is on point. As the Mi Band 6 is cheaper, that's a better option!
#7 — Amazfit GTR 2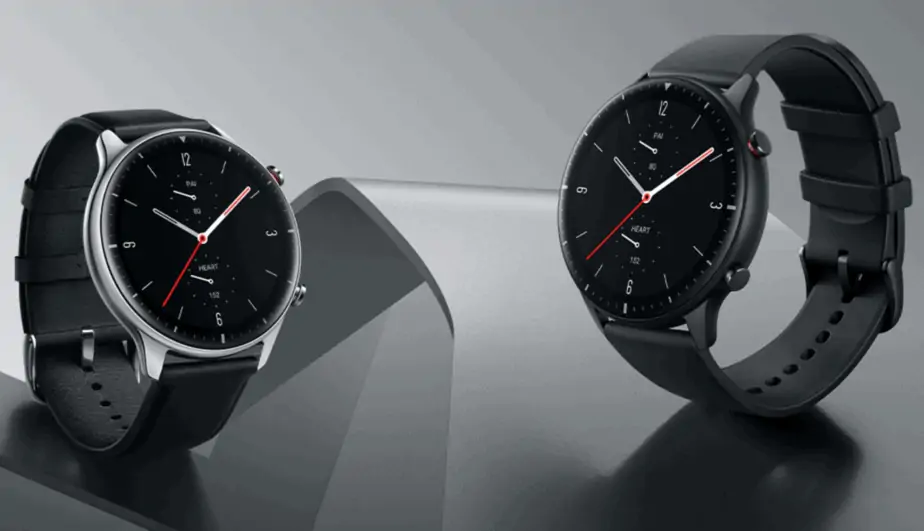 The GTR 2 is an absolute premium offering that comes with the likes of the Samsung Galaxy Watch Active, which is easily $100 more. The new Amazfit GTR 47 is sub $200, which is the latest version.
The GTR 2 is a premium smartwatch from Amazfit with a bezel less, circular design with 3D curved edges. The body of the smartwatch is stainless steel which looks like the old classic watches.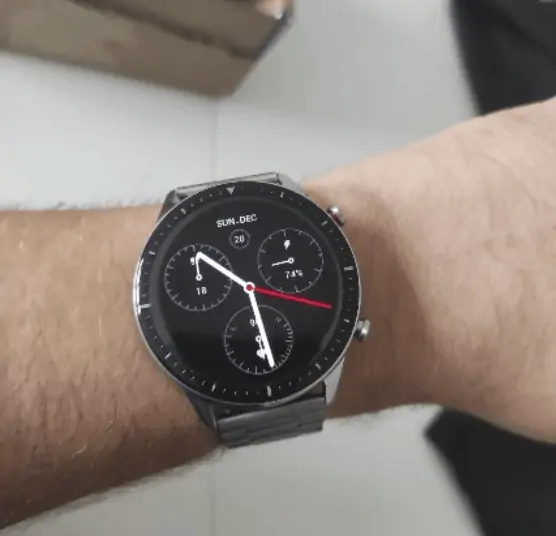 The display of the watch is a 1.39-inch color AMOLED display. The watch faces can be customized to show different pieces of information.
The smartwatch has an always-on display.
Like most Amazfit watches, it has a PAI Health Assessment System and the sleep tracker is powered by SomnusCare. Apart from the usual heart tracking, there's stress tracking as well.
There aren't too many sports modes and the GTR 2 has only 12 sports modes that are tracked. The battery life lasts up to 14 days on normal use, which is quite great.
The premium features that makes the GTR 2 stand out is the Bluetooth call function, where you can take calls through your smart watch directly.
It can be password protected when removed, which is an additional security feature.
Who is it for?
This watch is for people who want the Samsung Galaxy Active experience at a much cheaper price. This is what makes the GTR 2, the ultimate premium smartwatch from Amazfit, that's worth every penny.
What Brand is Amazfit?
Amazfit is a fantastic brand owned by Huami Technology. Huami is a smart wearable innovation corporation that came into existence in 2013. Popular consumer electronics giant Xiaomi is an investor in the company.
Huami also provides tech for Xiaomi's smartwatches.
Huami offers seven series of smartwatches under the independent brand Amazfit:
The Stratos series
Basic series
Flagship series
Health series
Fashion series
Outdoor series
X series
In addition to smartwatches, Amazfit also has a variety of sports and health-centric products like shoes, clothes and much more.
The company launched a truly wireless sports earbuds and a smart treadmill at last years CES. Needless to say, Amazfit is a major player that has made it to the New York Stock Exchange. So it's definitely a reliable brand.
Check out our list of the Top Amazfit Products for all the details above!
Is Amazfit worth buying?
Amazfit Smart Watches are available in all kinds of designs and for all occasions – they have everything from office-ready professional-looking wearables for maximum efficiency at work or school, to rugged, outdoors-ready smartwatches for worry-free connectivity anywhere you go.
Amazfit smartwatches are appropriate for just about any occasion, with several ranges including the Amazfit Sport, the Amazfit GT, the Band, the Flagship, the Bip series, and the all-new Amazfit GT 2. Amazfit also offers all kinds of accessories, like the Amazfit Powerbank, extra watch straps in a variety of styles and materials, and chargers.
Amazfit is definitely a good brand. Huami Technology which owns the brand is one of the few companies to have made it to the New York Stock Exchange.
They have multiple investors including the consumer electronics giant Xiaomi.
Currently, Amazfit is one of the top manufacturers in the Smartwatch market across the world. In fact, the brand is extremely popular in China, Russia, India, Indonesia, and other countries. The company also has strategic partnerships with the long-established US watch brand Timex and US digital medical company AliveCor.
Honestly, Amazfit products are absolutely stunning.