Fossil Gen 5 Carlyle Smartwatch
The Fossil Gen 5 Smartwatch is the best Wear OS 2 watch you can buy. It delivers in nearly every area — performance, aesthetics, and customizability. I just wish the watch lasted longer on a charge without turning sensors on and off. If you're on board with Wear OS 2, you'll love the Fossil Gen 5. The hardware is great, but don't expect any updates to Wear OS 3 once it becomes available.
Fossil launches multiple smartwatches each year, and they're some of the best-looking Wear OS watches in the business. Despite this, I didn't expect to like the latest Fossil watch as much as I did — many Wear OS 2 watches are slow and struggle to last a full day on a charge.
The Fossil Gen 5 Smartwatch is different. Its upgraded specs, custom battery modes, and new hardware make for one of the best Wear OS 2 experiences you can find right now. Read our complete Fossil Gen 5 Smartwatch review to find out why you should buy one and why you might want to pass.
Pros
Crisp, bright display
Plenty of great watch faces preinstalled
Useful custom battery modes
GPS, NFC, and heart rate sensor
Accurate fitness tracking
Built-in speaker is very useful
Cons
So-so battery, but better than average
Not eligible for Wear OS 3 update
High price for older package
Fossil Gen 5 Smartwatch Review: The Big Picture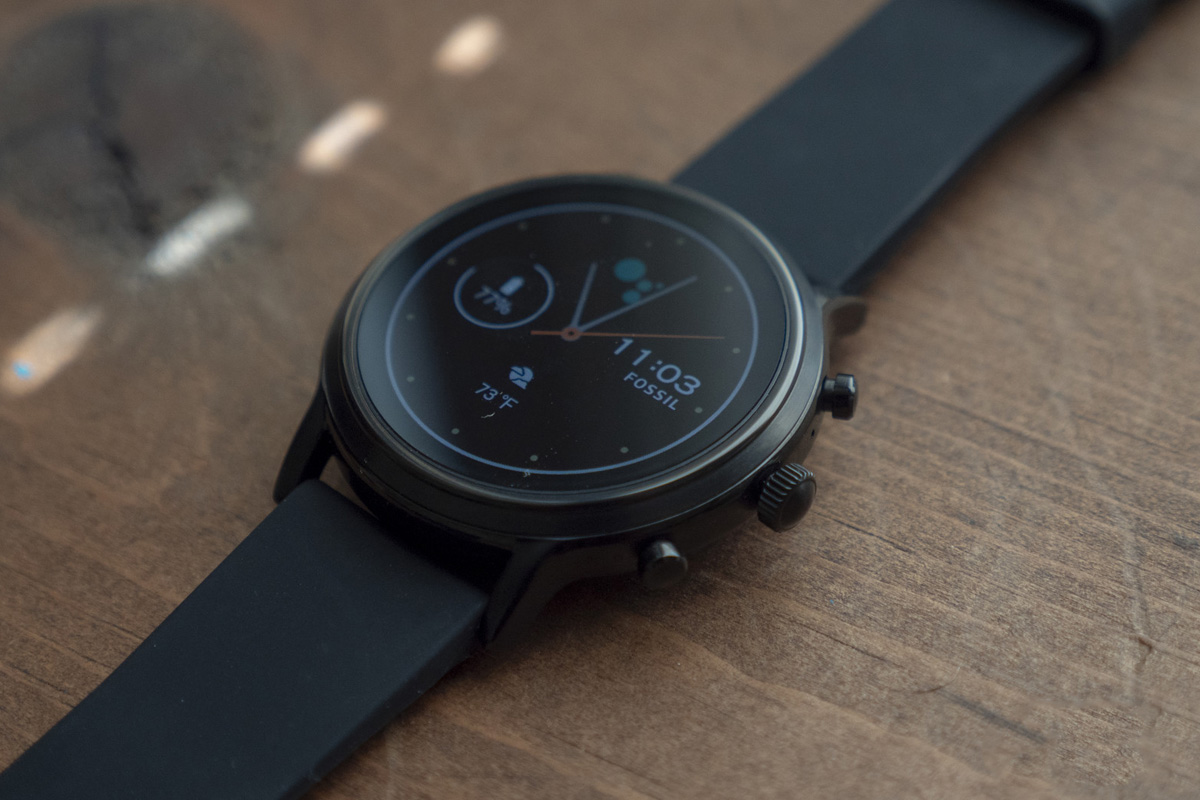 Wear OS is in an awkward place. A host of smartwatches from major fashion companies to tech brands still have devices running Wear OS 2 — the older version of Google's operating system. More recently, Google and Samsung announced Wear OS 3, which currently only runs on the Galaxy Watch 4. This is important, as Google's attention has seemingly turned towards the new OS version, while Wear OS 2's future and the future of devices that run it remains uncertain.
The Fossil Gen 5 is one of those devices. However, despite its aging OS, the Gen 5's hardware offering remains solid, even three years after its launch.
The Gen 5 Smartwatch runs on the Snapdragon 3100 chipset, and it has a few features you won't find on other devices of its era: custom battery modes, plenty of RAM to help with performance, and even a built-in speaker.
It remains in the running as one of the best Wear OS 2 watches out right now, but it has more competition outside the relatively small Wear OS bubble. Can it really compete with the Apple Watch, Fitbit, and Samsung?
Fossil Gen 5 Smartwatch review: Design and display
Display: 1.28-inch AMOLED
416 x 416 resolution
328ppi
Case size: 44 x 12mm
Strap size: 22mm
Weight: 99.79g
If you're at all familiar with Fossil smartwatches, you'll be right at home with the Generation 5 smartwatch. It features a similar overall design to previous Fossil watches, with a big, bright 1.28-inch AMOLED display, a sharp pixel density of 328ppi, and three programmable pushers on the right side — the middle of which is a rotatable crown. The buttons are easy to press, and the spinning crown provides a nice alternative to swiping on that tiny screen with your finger. It's no rotating bezel like you'll find on the original Samsung Galaxy Watch or newer Galaxy Watch 4 Classic, but it'll do.
There are three Gen 5 models: the Carlyle (our review unit), the Julianna, and the newer Garrett model that launched at CES 2020. They're all at the same price and come with a variety of different strap options. Our review unit has a black silicone strap, but you can also buy variants with metal and leather straps. Of course, the straps are interchangeable, so you can swap them out for any 22mm straps you have lying around.
There's no functional difference between the three models. They have the same case size — 44 by 12mm — though it's clear Fossil is marketing the Julianna towards the more feminine crowd. Julianna models come with soft rose gold and pink, rose gold with a tortoiseshell leather strap, rose gold with a silver mesh strap, and yellow-gold with a mesh strap colorways, while Carlyle models are black and smokey stainless steel. The Garrett models are a little chunkier and come in five colors: dark grey stainless steel, stainless steel with a blue silicone strap, stainless steel with a red and blue bezel, silver with a black silicone strap, and yellow-gold.
The Fossil Gen 5 Smartwatch is classy, versatile, and a step in the right direction over the Generation 4 watches. It still isn't my first choice for a workout companion, but luckily it has the hardware you need if that's what you need it for.
Hardware and performance
Qualcomm Snapdragon Wear 3100 SoC
1GB of RAM
8GB of onboard storage
Three custom battery modes
GPS
Heart rate sensor
NFC
3ATM
Bluetooth/Wi-Fi
No LTE connectivity
Short of the $1,000 Montblanc Summit 2, Suunto 7, and Skagen Falster 3, the Fossil Gen 5 is probably the most stacked Wear OS 2 watch you can buy. It comes with the Snapdragon Wear 3100 chip, which definitely isn't new in 2022, but remains a reliable wearable chipset. Thankfully, the jump up to the 3100 pays off for the Fossil watch — performance is excellent.
I really only noticed the watch stutter when pulling up the keyboard within the Google Play Store. Other than that, no complaints here.
Every Wear OS watch needs the Snapdragon 3100 and 1GB of RAM.
That buttery smoothness is helped along by 1GB of RAM, nearly double what other Wear OS watches offer. Fossil also included a full 8GB of onboard storage — plenty to store apps and music. That amount of ROM is good news for people who like to work out while leaving their phone at home.
What's more, the Fossil watch comes with NFC for Google Pay contactless payments, as well as built-in GPS and an optical heart rate sensor. When manufacturers try to cut costs, these are usually the first things to go, so it's nice to see them included here. Clearly, Fossil isn't trying to cut corners.
Fossil claims the heart rate sensor used is an upgrade of the Gen 4's. I tested it against my Wahoo Tickr X chest strap and Garmin Forerunner 245 Music running watch during a 2.75-mile outdoor run. Check out the results below:
The Tickr X heart rate strap reported an average heart rate reading of 117bpm and a max of 148bpm. This is a little under what the Forerunner and Fossil reported. Both wearables actually came back with the same max and average heart rate readings: 164bpm for max, 148 for average. The Fossil smartwatch hit its 164 max heart rate at around the 6-minute mark, while the Forerunner 245 didn't hit 164bpm until the 16-minute mark.
Either way, both the Garmin and Fossil watches were at least able to pick up on significant heart rate trends throughout the workout, even though they both overshot their readings. I ran with all three of these devices two more times, and both the Garmin and Fossil watches overshot max and average heart rate readings compared to the chest strap.
The fitness crowd will also be happy to hear that the smartwatch has a 3ATM water-resistance rating, as well as an altimeter, accelerometer, and a gyroscope built in.
For fitness tracking, the Fossil Gen 5 connects with Google Fit. I'm not a huge fan of the platform's barebones approach, but I'll admit it is growing on me. Luckily since this is a Wear OS device, you can download a third-party fitness app to your watch if you'd rather stay away from Google Fit.
It's a struggle to find any complaints with the Fossil Gen 5's hardware.
Perhaps my favorite part of this hardware is the addition of a speaker module. This absolutely needs to be a standard on all Wear OS watches, and thankfully, we're seeing this trend continue with newer devices. If you speak to your watch through Google Assistant, you can actually hear things being said back to you. It's great.
You can also play music through the watch's speaker, but I don't know anyone who'd want to do that (probably the same people who like to look at photos on their watch).
Battery life is decent. It's certainly better than the average Wear OS 2 watch — which, in my experience, lasts less than a full day — but it's certainly no Fitbit or Garmin. I usually get through a full day on a single charge without any issues, but I typically don't have enough juice in the tank to wear it overnight for sleep tracking. I had the always-on display turned off, so expect even worse longevity if you keep it turned on.
The smartwatch lost about 10% battery during a three-mile run with the GPS and heart rate monitor turned on.
Wear OS on its own doesn't seem to have the best battery-saving techniques, so Fossil threw in three custom battery modes (four in all) to help your device last a bit longer. First, there's daily mode, which keeps every feature turned on simultaneously — location, always-on display, NFC, speaker, and everything else. This will obviously drain your battery the quickest.
Extended battery mode is one step down from daily mode. In this mode, you can set Bluetooth to turn on and off on a schedule for the day, allowing the watch to disconnect from your phone at bedtime so you're not wasting battery when you're asleep. This mode also turns off everything except for button-to-wake, notifications, and vibration.
Custom mode is my favorite — you can turn on or off anything you'd like. I keep everything turned on except for the always-on display and NFC. This setup allowed the Fossil watch to last over a day on a charge, but not much more than that.
Finally, a time-only mode gives you a black screen (not always-on) with the time, date, and a Fossil logo. This lets the watch last days or even weeks on a single charge, depending on how much battery you start with.
In January 2020, Fossil rolled out these custom battery modes to all its Gen 5 smartwatches, including those that don't have the Fossil name.
The Fossil Gen 5 received a huge update in August 2020, which brought a variety of design updates and new features. It can now natively track sleep, which is pretty uncommon for Wear OS watches. It also now has access to battery-saving workout modes with a new Wellness app and the ability to track VO2 max. It also gained a simplified design for custom battery modes and a new Phone app tile.
December 2020 brought a new screen brightness layout, a buff to the tile limit, theatre and cinema mode changes, and the option to long-press the power button to activate Google Assistant.
In September 2021, Gen 5 received another update to further improve its performance. The revision stripped away more than 30 watch faces that the majority of users reportedly didn't use. This cull freed up on-device resources.
Wear OS problems and Fossil's solutions
Wear OS gets a bad rap in the tech community. I can't say the reputation is undeserved, but I think it's overblown. Every time I strap a Wear OS device to my wrist, I remember how nice it is to have quick access to Google Assistant, Calendar, and the many other Google apps I use on a daily basis. The Tiles feature was a welcome addition, too. I should mention one bug, though: For the life of me, I can't get Google News to show headlines in the new Tiles feature. That's really the only oddity I noticed throughout the review period.
Wear OS also works really well with Android phones — it isn't the buggy mess it used to be.
However, I understand people's concerns about buying a Wear OS device, especially one running Wear OS 2. Google takes its sweet time to issue updates (maintenance and major updates), so if something goes wrong with your device, you may be waiting a while for that bug to get squashed. Big feature updates just don't come around too often, and it's especially true as Wear OS 2 slowly fades into the background.
Instead, Google relies on third-party watchmakers to make up for Wear OS' shortcomings. In Fossil's case, that's working out quite well.
It seems like Google doesn't focus on Wear OS as much as Fossil does.
Traditionally, Wear OS 2 devices struggle to last all day on a charge, but the Gen 5's custom battery modes help make it achievable. The OS can also be quite slow and buggy without sufficient RAM, but Fossil packed in more RAM than we're used to seeing on 2019-era Wear OS devices. This ensures a smooth experience.
I don't think Wear OS should keep anyone from buying the Fossil Gen 5, but you should know what you're signing yourself up for. The Fossil Gen 5 isn't eligible for the Wear OS 3 upgrade, so if you want the latest features and regular software support, you should avoid this smartwatch.
Value
Fossil Gen 5 Smartwatch Review
All Fossil Gen 5 Smartwatch models — the Carlyle, Julianna, Garrett — launched at $295, no matter which straps type you choose.
$300 is a lot of money to spend on a smartwatch, especially one that's now three years old and running a dated version of Wear OS. However, the Fossil Gen 5 is your best option for a well-working Wear OS 2 device.
If you really aren't a fan of the Gen 5 for some reason or want a more modern version of Wear OS, your only option right now is the Samsung Galaxy Watch 4. Starting at $249, it comes with a broader health tracking kit, the promise of software support, and quicker hardware. It's the gold standard of Wear OS devices right now.
As for non-Wear OS options, you shouldn't overlook the Fitbit Versa 3, which also undercuts and outperforms the Fossil Gen 5. There's also the Garmin Venu Sq for a more health- and fitness-focused user seeking oodles of battery life and a sub-$200 price.
If you're an iPhone user, you're not entirely out of luck here. The Apple Watch Series 7 is by far the best smartwatch you can buy for your iPhone, even if Apple hasn't changed much in the last few years. And thanks to Fossil's proprietary iOS application, you can receive Bluetooth calls from your Fossil Gen 5, making Fossil's smartwatch a solid option for iOS users. Notably, Wear OS 3 devices no longer support iOS, which means the Fossil Gen 5 is still your best bet for a Wear OS device for the iPhone.
The final alternative option we can offer you is Fossil's own Gen 6. Like many sequels, it aims to improve upon the Gen 5 and largely does so. The display is bright and impressive, yet we felt let down by a few battery issues and the sleep tracking overall. More importantly, it's in line to receive the update to Wear OS 3 in the coming months.
Fossil Gen 5 Smartwatch review: The verdict
The Fossil Gen 5 Smartwatch is still the best Wear OS 2 watch you can buy, even through 2022. It delivers in nearly every area — performance, aesthetics, and customizability. I just wish the watch lasted longer on a charge without turning sensors on and off, though that seems like more of a Wear OS problem than a Fossil problem.
Fossil nailed it with this smartwatch.
If you're on board with Wear OS 2 and don't mind its limitations, you'll love the Fossil Gen 5. Fossil nailed the hardware offering with this watch. It's just unfortunate that its software future remains uncertain.