Are you eager to travel and asking yourself, is Booking.com legit? With so many booking websites out there, that all promise nearly the same thing, it's tough to decide which one to use!
I get it – with how much I travel, I have been down the rabbit hole of booking sites and have done my fair share of research on which ones are and are not scam sites.
It's easy to continue to ask yourself which one will work best for your travels.
Luckily for you, I've also asked myself, is Booking.com legit?
And you can now benefit from me having to answer that question! So if you've been wanting to use Booking.com but holding off due to a little lack of trust, this review is for you.
The short answer: yes!
What is Booking.com?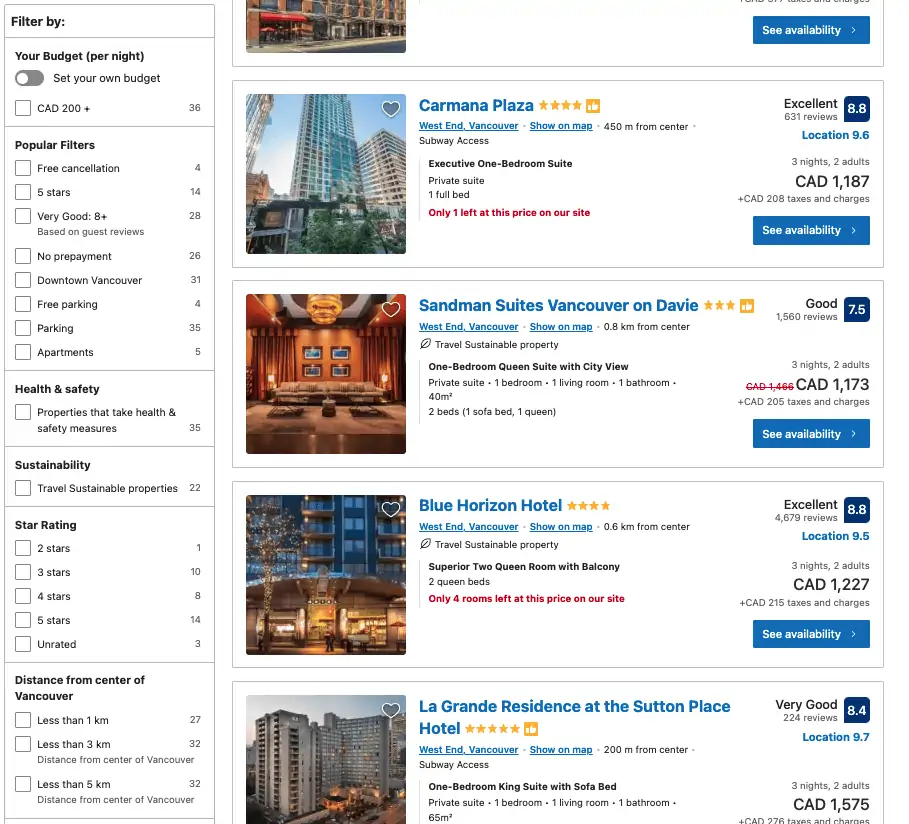 Booking.com is a website that allows you to make your own reservations for travel accommodations and manage them. When you arrive on their homepage, it says "find deals for any season." Clearly playing to the buyers who are understandably hesitant to pull out their credit cards to book a trip.
While some may refer to it as an online travel agency, that's not entirely accurate. You are still in charge of all of your accommodations instead of handing them off to someone else like you would a typical travel agency.
Booking.com functions as a search engine for travelers with the ability to be the "middleman" or third party for people that find and want to book hotels, flights, car rentals, and other travel accommodations, as you can book all of these directly on the site.
A unique feature of Booking.com is the variety in types of accommodations you can find. Basically, you can do anything from pitching a tent in a campground to booking a 5-star luxury hotel on the site.
While the company formed in 1996, it really took off in late 2010 with the launch of its app on various platforms for online booking and has now become one of the most popular sites for that.
How Does Booking.com Work?
Booking.com works for you by comparing bookings from various hotels, property owners, and other service providers in hopes of finding you the best deal, making you a returning customer to the site.
After booking with Booking.com, you are then entered into a contract with the service provider.
Overall, the ease of using the site is one of the biggest draws for Booking.com. You sign up for a free account and then use the search bars to type in the type of accommodations you are searching for and the dates of your trip.
After this, it will show thumbnails of the hotels and vacation packages available to you, and you can click to see the details for each. Based on these, you can narrow your search results even further if needed, getting as specific as review scores or type of hotel room.
Don't Forget to Pack the Essentials!
Once you have booked by clicking "I'll reserve" on the confirmation page, the system within Booking.com saves your confirmations.
This way, you can manage the reservation, including making any changes or cancellations directly from the site.
Who is Booking.com For?
Booking.com is for anyone looking to travel!
It's a great way to research all the accommodations anywhere you may be thinking of going. Guest reviews of different places can be super helpful when deciding where you want to go. As you can see, I've put them to good use myself!
It also lets you act as your own travel agent and avoid all the fees associated with paying someone to take care of every detail of a vacation or work trip.
It's also a great place to score discounts on your bookings. Who doesn't love a great discount?
As someone who has used the site for research and booking, I can tell you this is all true!
Booking.com can also be used if you want to register your property as an accommodation. It's beneficial because it gives you access to Booking.com's audience, which is worldwide.
Is Booking.com Legit?
The simple answer to is Booking.com legit is yes. Booking.com is reliable and safe as they are one of the largest booking platforms in line with sites like Expedia, Kayak, and Google Travel.
If you've questioned that, you may also be wondering is Booking.com safe? Or is Booking.com reliable? Yes, it is.
However, there are some things you need to look out for or be careful of. We'll dive deeper into those a little further down, so read on!
Booking.com Cancellation Policy
Booking.com lays out very clear cancellation policies on their site.
First, you're probably wondering if you can cancel your booking! In short, you can, but be sure to read the fine print.
As you entered into a contract with the service provider when you created the booking from the site, they determine any cancellation fees, and you'll pay any additional costs to the property.
Honestly, answering the question of is Booking.com legit becomes more clear after looking at their FAQs about cancellation policies.
While some people claim to have Booking.com problems, everything is laid out in clear terms, making the site more reputable and trustworthy.
Pros of Booking.com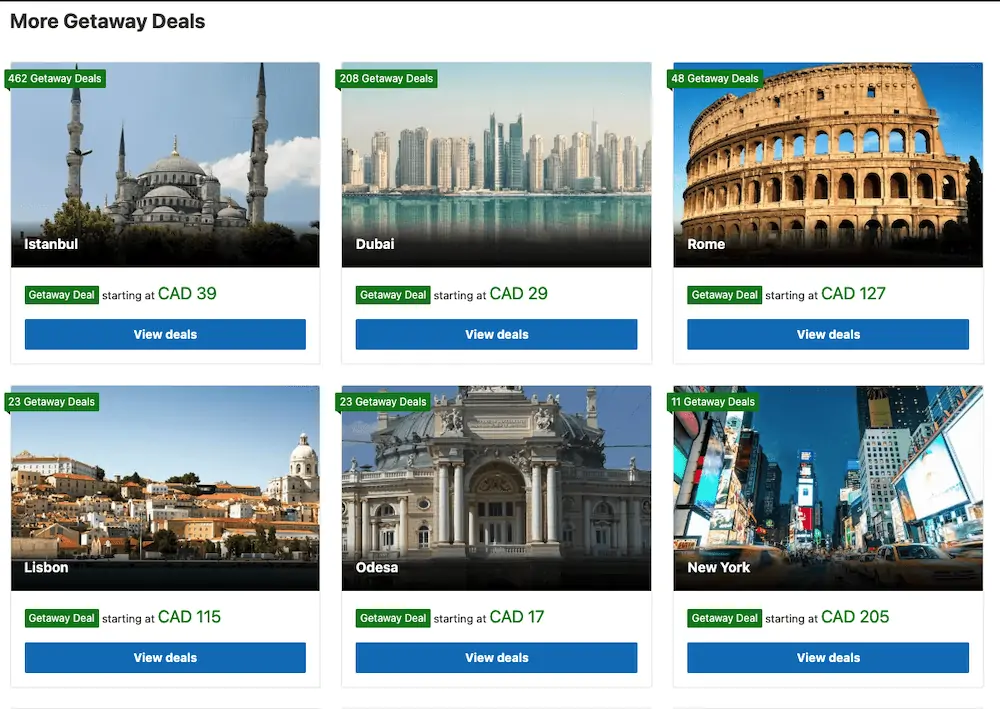 Let's talk about why you would want to use Booking.com!
There are quite a few reasons, with one of the main ones being that it can save you time.
Instead of looking into all the places to stay in a given location, there is an embedded map feature on Booking.com that is really helpful to see everything in one place.
This way, you don't have a million tabs open trying to compare. We've all been there!
Ease of Use
As I just mentioned, Booking.com makes it easy to look at everything from hotels to car rental places to flights all in the same place. No bouncing from site to site or toggling between tabs required.
You can also see all of the bookings you have in one place. This way, instead of going to each hotel's page, you can see all your upcoming trips in one place.
Not only does this keep you oh-so organized, it also shows you all the incredible experiences you are about to have in one place.
Talk about an excuse to get excited!
If you are going on a longer trip and moving from place to place, this is a convenient feature, as you can access all your bookings, see if you've paid, and make changes, all within one account.
There are also tons of great filters on Booking.com, making it easy to narrow your search to exactly what you want, including:
Date Availability
Your Budget
Star Rating
Review Score
Property Type
Fun Things to Do
Room Accessibility
And so much more! All of this makes it easy to make sure your booking will have exactly what you are looking for.
Value for Money: Best Price Guarantee
A great feature of Booking.com is that if you find a better price for the same accommodation or reservation, they'll match it!
There are a few requirements to make sure this goes smoothly and you get the difference back, so let's chat about those now.
First, you have to go through Booking.com directly to get the money back. You'll need to contact them as soon as you book and at least 24 hours before your check-in date and provide the live link to the other offer.
Secondly, the accommodation or property type must match the one you have booked, and it has to be for the same dates.
Lastly, the other offer must have the same cancellation policy as your current booking.
To get this perk from Booking.com, you simply need to click "found this room cheaper somewhere else" on your confirmation page.
Having the best price guarantee is another reason why I list Booking.com in my list of travel accommodation sites I consider legit.
Organization
Booking.com is not just a site for booking hotels. It's organized in a way that lets you find so much more information about your travels.
While it does let you search and book hotels in a super organized way, it also lays out transport services, car rentals, and flights.
Another great feature is its vacation packages, where you can search for flights and hotels together. This, often, means saving money for you because the round-trip flights are included in the price of the package.
They even have suggestions based on their popular deals, so you can see where other travelers are going most often!
Of course, you can also put in all of your own information and take advantage of the filters that they have in place, which are also organized in a user-friendly way.
Guest Reviews
After your experience at a property, you can make your voice heard on Booking.com!
Booking.com sends a review invitation to you after you've stayed somewhere about 48 hours after you've checked out.
So if you had a really great (or really poor) experience at a Booking.com location, keep an eye on your inbox so you can help future travelers with their decisions.
Checking guest reviews before your stay is a great way to see if the property you are looking at has just what you are looking for. By having reviews, guest experiences get better and better at the accommodations provided through feedback directly from them.
In reviews, you'll find common highlights of properties as well as the negatives or where they have room for improvement, so you know exactly what you're getting!
Cons of Booking.com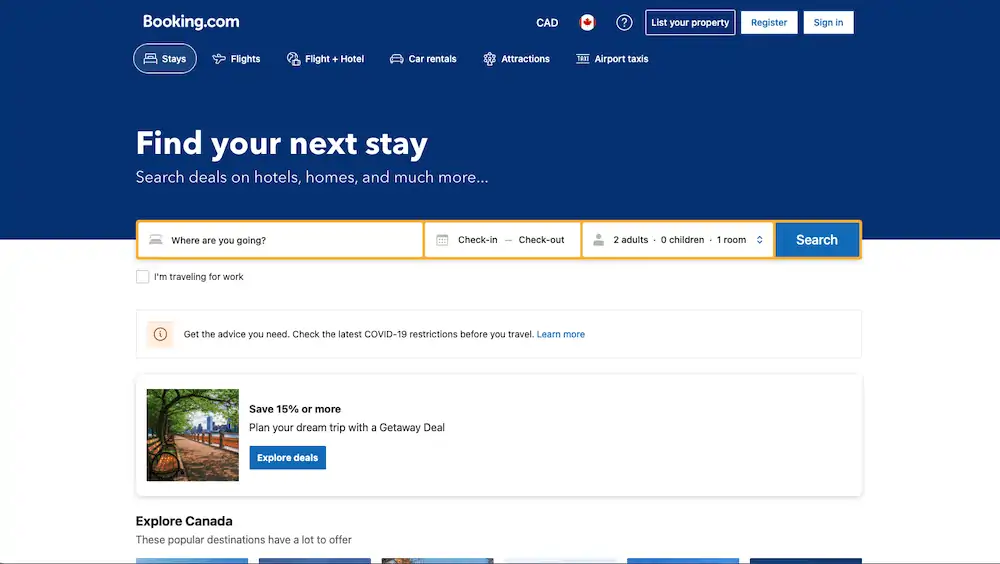 Obviously, there are pros and cons to everything, so let's also chat about some reasons why you might not want to use Booking.com – or at least some things to look out for when you do.
Overall, I've had a really positive experience with Booking.com, as I point out in this post all about my favorite travel resources.
So these are just some things that I've seen in my research that I felt you needed to know before deciding for yourself if Booking.com is legit!
Negative Booking.com Reviews
As you can see from most of this post, my opinion of Booking.com is favorable. And as a seasoned traveler, I like to think I know a thing or two about making reservations and travel plans!
BUT- there are quite a few negative reviews online for Booking.com, so I wanted to make sure I addressed this for you.
You'll find blog posts, google reviews, and reviews in some other places dragging Booking.com's name through the mud.
So, why is this happening?
It seems that some people have had trouble getting refunds or cancellations after requesting, or have had poor customer service experiences.
I'm under the impression this may be due to a lack of reading carefully as the cancellation policy is so clearly laid out, stated again before booking, and put on all confirmations as well.
Booking.com Scam: Unexpected Costs
While I've had favorable experiences with Booking.com, I know this hasn't been everyone's experience, and I want to be sensitive to that.
So, is Booking.com a scam?
Overall, no, but there have been instances of unexpected costs popping up for people as they book their travels.
Some have seen this as accommodations unexpectedly collecting payment before the stay.
Some have seen the fees incurred with their booking that weren't directly related to the price of the stay (but were stated) catch them totally off guard.
My pro-traveler advice? Use your best judgment. Read everything. Double-check your numbers. Keep an eye on credit card statements.
But don't let other people's negative experiences stop you from taking the trip of a lifetime!
Conclusion: Is Booking.com Safe to Use?
Overall, Booking.com is a very safe and reliable platform for you to book accommodation. While some have had negative experiences, the overwhelming majority of people who book accommodations, flights, car rentals, vacation packages, and more have a wonderful experience with Booking.com. I have used it for my own travels and encourage you to do it too.
I hope this breakdown of who Booking.com is for and how to use it was helpful to you!
I'd love to hear what you book next.
So, let me know where you are headed! I'll let you know if I've stayed somewhere I booked through Booking.com!
Take a look for yourself to see what deals await you on Booking.com:
FAQs: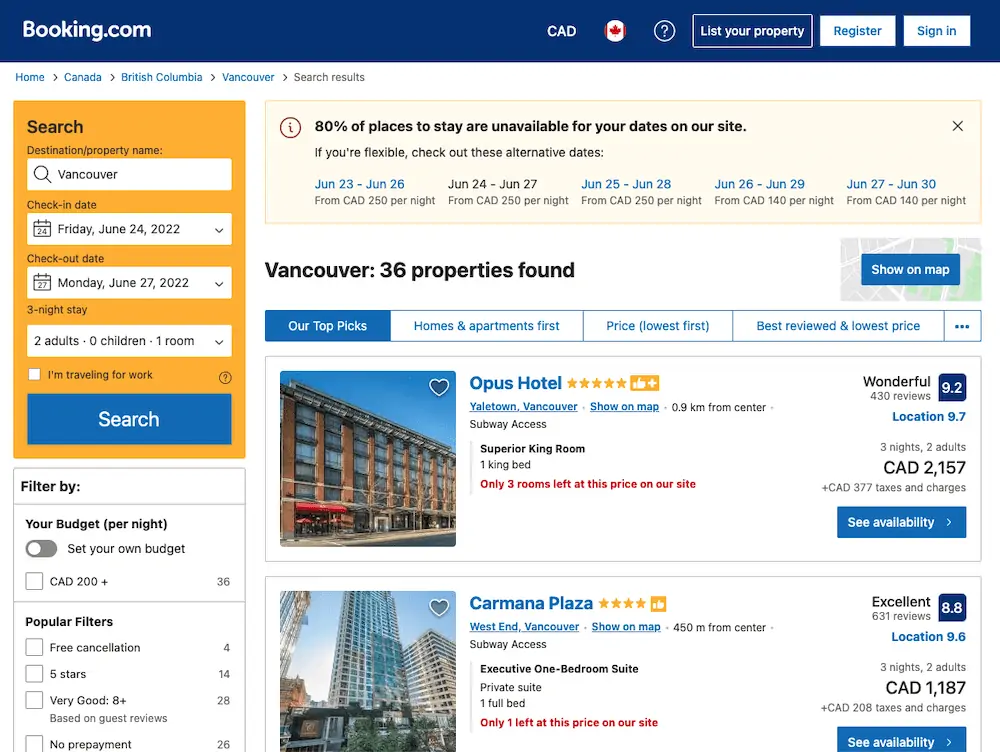 What is Booking.com's cancelation policy?
Booking.com itself doesn't host the cancellation policy. As a third-party site, it's the actual hotel or airline whose cancellation policy you'll be working with.
This is clearly laid out on each booking page.
Many companies offer free cancellation up to 48 hours before arrival.
There may be a cancellation fee if you cancel within 48 hours of the reservation.
However, some hotel rooms or flights booked at cheaper fares (usually the lowest price) may be nonrefundable. This will be clearly shown on the page.
Is Booking.com or Expedia better?
Booking.com and Expedia both offer "best rate" options for hotel bookings, flights, and rental cars.
I've used both extensively during my travels.
Ultimately, it's up to personal preference. I use Expedia more frequently, as I've used them more often and have collected a number of rewards points.
That being said, I often find Booking.com has better deals if you act immediately. And the Booking.com website is more user-friendly.
Are Booking.com reviews fake?
Booking.com reviews require that you stayed with that hotel or flight via their platform.
They offer star reviews.
That being said, there are some people who stay and leave negative reviews regardless of their experiences. This is unfortunate, but positive reviews take more effort on behalf of the user, so it's expected and common in the travel industry.
Is Booking.com legit for flights?
Yes! Booking.com is one of the best ways to find low prices for flights from across a wide variety of airlines.
Does Booking.com use cookies?
Yes, like 99% of sites online, Booking.com uses cookies. You can read their cookie policy here.
I recommend clearing your cookies or checking for hotel prices from an incognito browser.
Frequent travelers will already know this, but sites like Booking.com will raise the prices if they see you re-check a destination. It's a common thing, so clear your cookies and it'll seem like you're a new customer as far as the site is concerned.
What personal information does Booking.com collect?
You can read Booking.com's privacy policy here to find out what information they collect and retain.
How can I contact Booking.com customer service
You can use this site to send them a message virtually.
Alternatively, their phone number is +1 (470) 363 2501 (North America).
I can't find my confirmation email from Booking.com. What do I do?
Booking.com sends a confirmation email with every booking that you can save for your next trip.
If you don't receive your email in your main inbox, double-check your junk folder.
If you still haven't received it, you can go into your account and resend it to yourself.
If that doesn't work use this link to contact Booking.com for help and they will send it to you.
Can I book airport transfers on Booking.com?
Yes, you can book your airport transfer or airport taxis right from Booking.com.
Do I have to pay with a credit card?
It depends on the provider you book with, but in most cases, you will need a credit card to book.
Does Booking.com have a mobile app?
Yes, you can download it for free from the App Store or Google Apps.