About CitizenM
CitizenM (branded citizenM) is a Netherlands-based, global hotel developer, investor, and hotel chain. It opened its first hotel at Amsterdam Schiphol Airport in 2008, followed by the city of Amsterdam in 2009. Its first overseas hotel in Glasgow opened in 2010, followed by London in 2012. CitizenM has since expanded its portfolio across North America, Europe and Asia.
CitizenM New York Times Square
Scene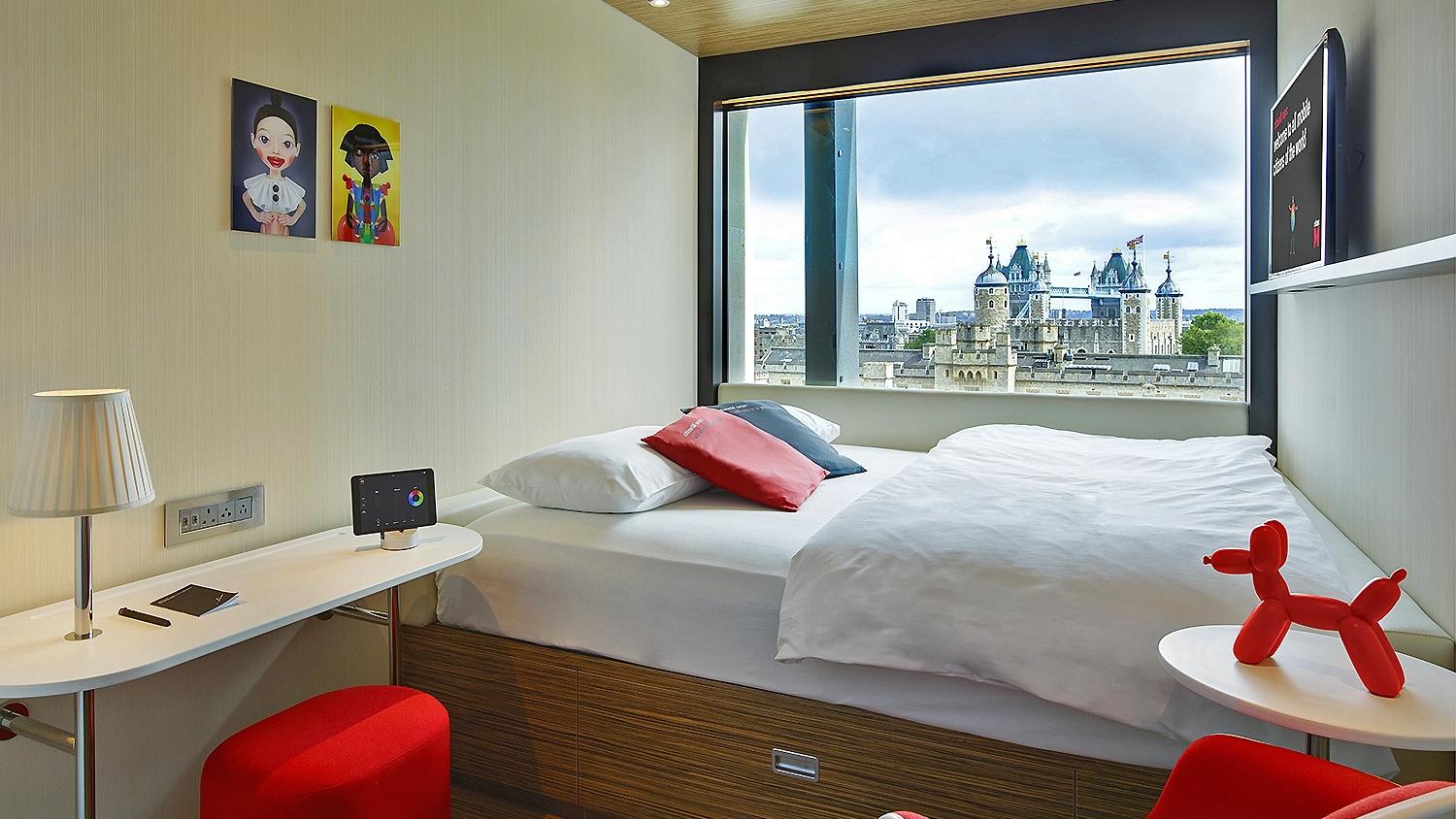 The citizenM conveys its decidedly untraditional hotel attitude from the moment guests enter the lobby, which is an open living room-style space, albeit a quirky and whimsical one, with no front desk. Large sectional sofas with daybeds on the corners are scattered throughout the two-story space, which has a bank of floor-to-ceiling windows. Bold colors are used throughout, with reddish-orange the predominant accent. Black is also prominent and plays nicely as a contrast color. An entire wall of modular bookcases displays a cornucopia of knickknacks, photographs, and artwork. The cozy canteenM, where food and drinks are available 24/7, occupies a far corner. Like the spacious lobby, it's bathed in soft light from small chandeliers suspended from the ceiling. This is a busy yet fun place to stay that's geared toward travelers seeking something beyond a traditional hotel.
Location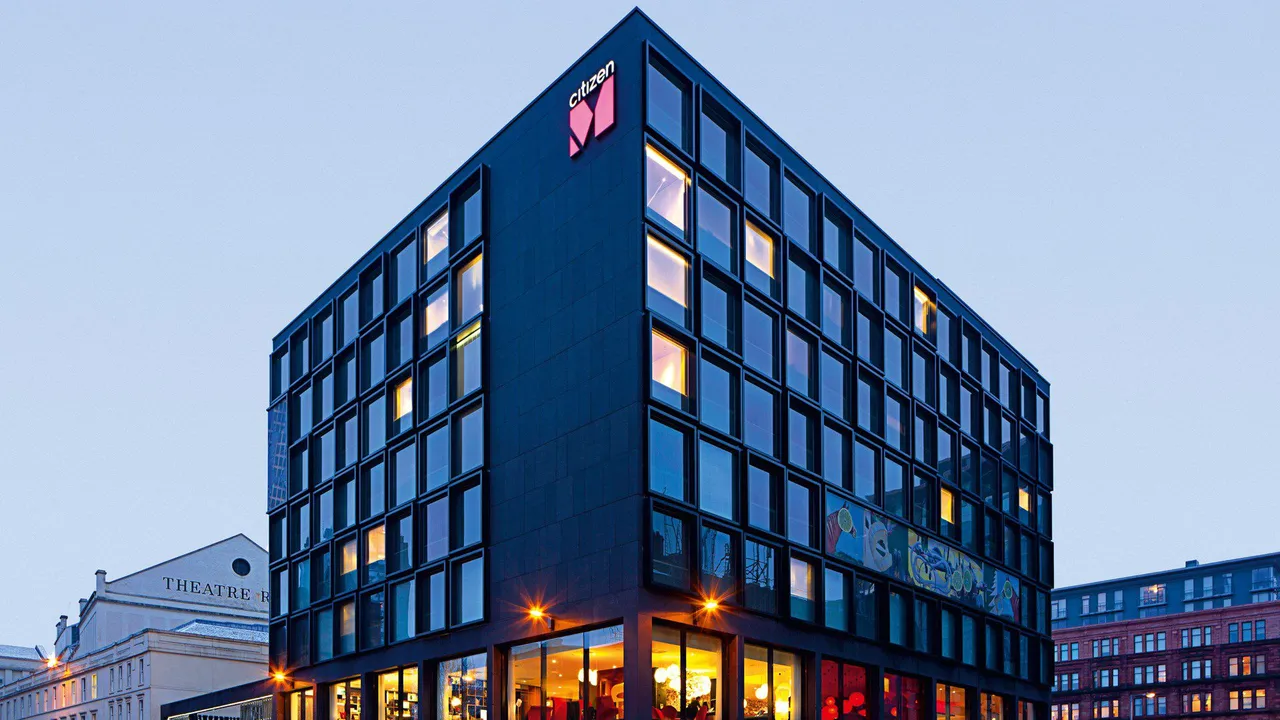 Located on West 50th Street, CitizenM is in the heart of the Theater District — with the Winter Garden, Gershwin, and Ambassador Theaters less than a block away — despite its name, it's about eight blocks north of Times Square. A Subway, grocery, and 24-hour pharmacy are less than a block away. While some adult-oriented shops and clubs are nearby, it's a safe area that bustles with people at all hours. A subway station at 50th and Broadway is about a half-block away, with other subway stations a bit farther. The Port Authority Bus Terminal is a 10-minute walk from the hotel, or five minutes away by subway, and Bryant Park, adjacent to the New York Public Library, is within a 15-minute walk. Rockefeller Center, Radio City Music Hall, and Carnegie Hall are about an eight- to 10-minute walk from the hotel. Central Park is a 10-minute subway ride, while Penn Station is seven minutes away on public transportation. JFK International Airport is approximately 70 minutes away by train or 45 to 50 minutes away by taxi or airport shuttle, depending on traffic. Travel times to LaGuardia International Airport are about 45 to 50 minutes away by public transportation, and 30 to 35 minutes away by taxi or shuttle.
Rooms
Compact and functional rooms, with fun mood lighting and mini-fridges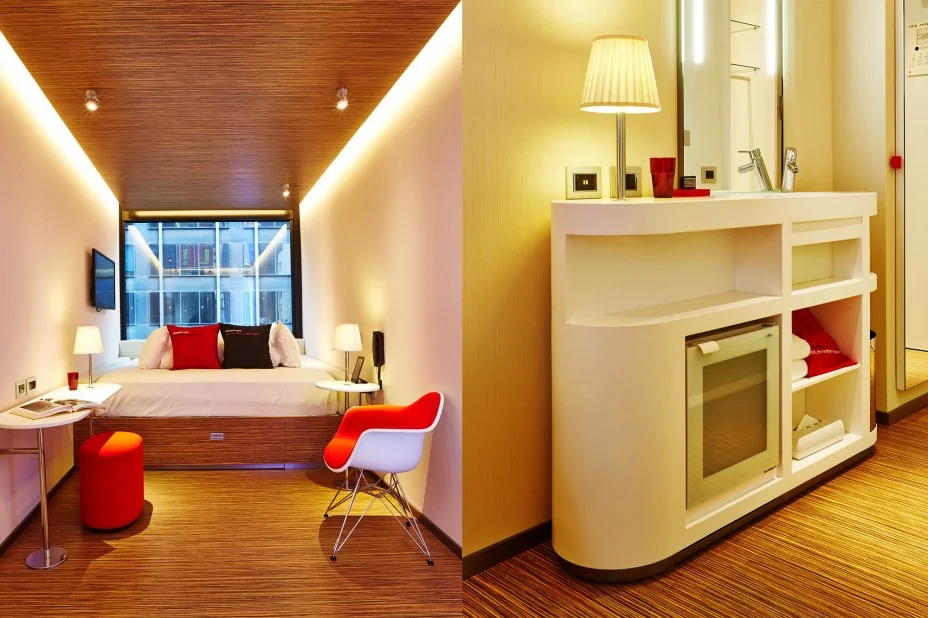 Despite their hip, minimalist design and quirky decor, there's no escaping the fact that citizenM's ultra-modern rooms are small, measuring approximately 170 square feet. The king beds with all-white bedding take up the entire space against the far walls — so much so that guests sleeping next to the windows must climb over their partners to get out of bed. Despite the space limitations, these pod-like rooms are functional, with comfortable Sealy mattresses (king beds are the only option). White is the dominant color — walls are off-white and furniture is bright-white acrylic with stainless-steel frames. Rooms include desks, small oval tables, armchairs, and vanities in their hallways. Bright red is the primary accent color that's used in bed throws, chair pads, and ottomans, which serve as desk chairs. Laminate wood in a tiger-wood pattern covers the floors, ceilings, and bed frames which have pull-out drawers large enough to store two carry-on suitcases. Small closets for hanging clothes are in the narrow hallways. The cramped, circular bathrooms are encased by frosted glass and have curved shower rods/curtains for added privacy. The small showers have rainfall showerheads, but they lack mirrors. "Moodpad" tablets control almost everything in the rooms, including the changeable mood lighting and blinds, the temperature, and the flat-screen TVs. Mini-fridges come with two free bottles of water upon arrival, and free Wi-Fi is standard. Note that adjoining rooms are not available.
Features
Rooftop bar with outdoor seating, 24-hour lobby restaurant/bar, fitness center, and free Wi-Fi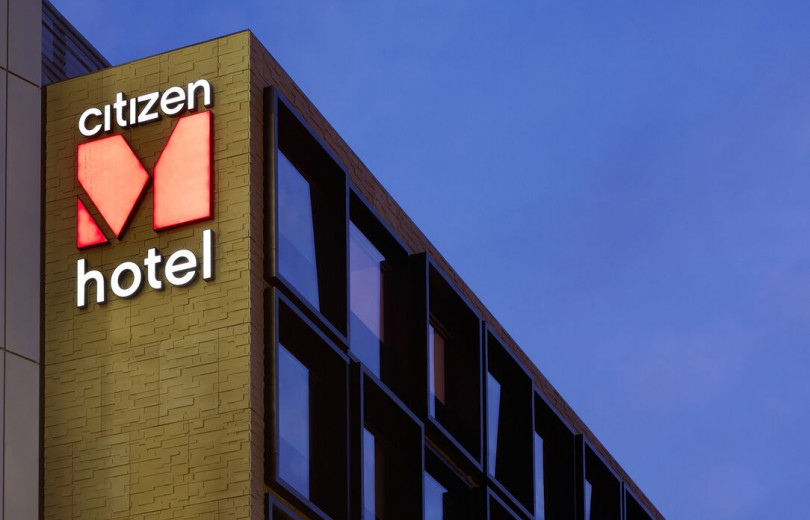 The amenities at citizenM are geared for people on the go who like having drinks and food on demand. The canteenM in the lobby is a bar/restaurant that's open 24/7. The hot breakfast buffet (not included in room rates) includes barista-brewed coffee, but breakfast items are available all day. Lunch and dinner items, like sushi and sandwiches, are available as well, and drinks are served 24/7. The rooftop bar on the 21st floor has a covered outdoor terrace and indoor seating. It serves craft cocktails and has impressive views, and is open only to guests of the hotel. (It does close occasionally to host private events.) The fitness center on the 20th floor has a bank of cardio machines that overlook the skyline, as well as free weights and boxing equipment. It also has an outdoor terrace where guests can lounge or practice yoga (mats are provided). Free Wi-Fi is available throughout the property, and several iMacs with Internet access are available in the lobby, where there are lots of books and magazines for guests to borrow. There's self-check-in in the lobby, but hotel staff members (called Ambassadors) are ready to help guests if needed. While there's no on-site parking, a garage directly behind the hotel offers discounted rates to hotel guests.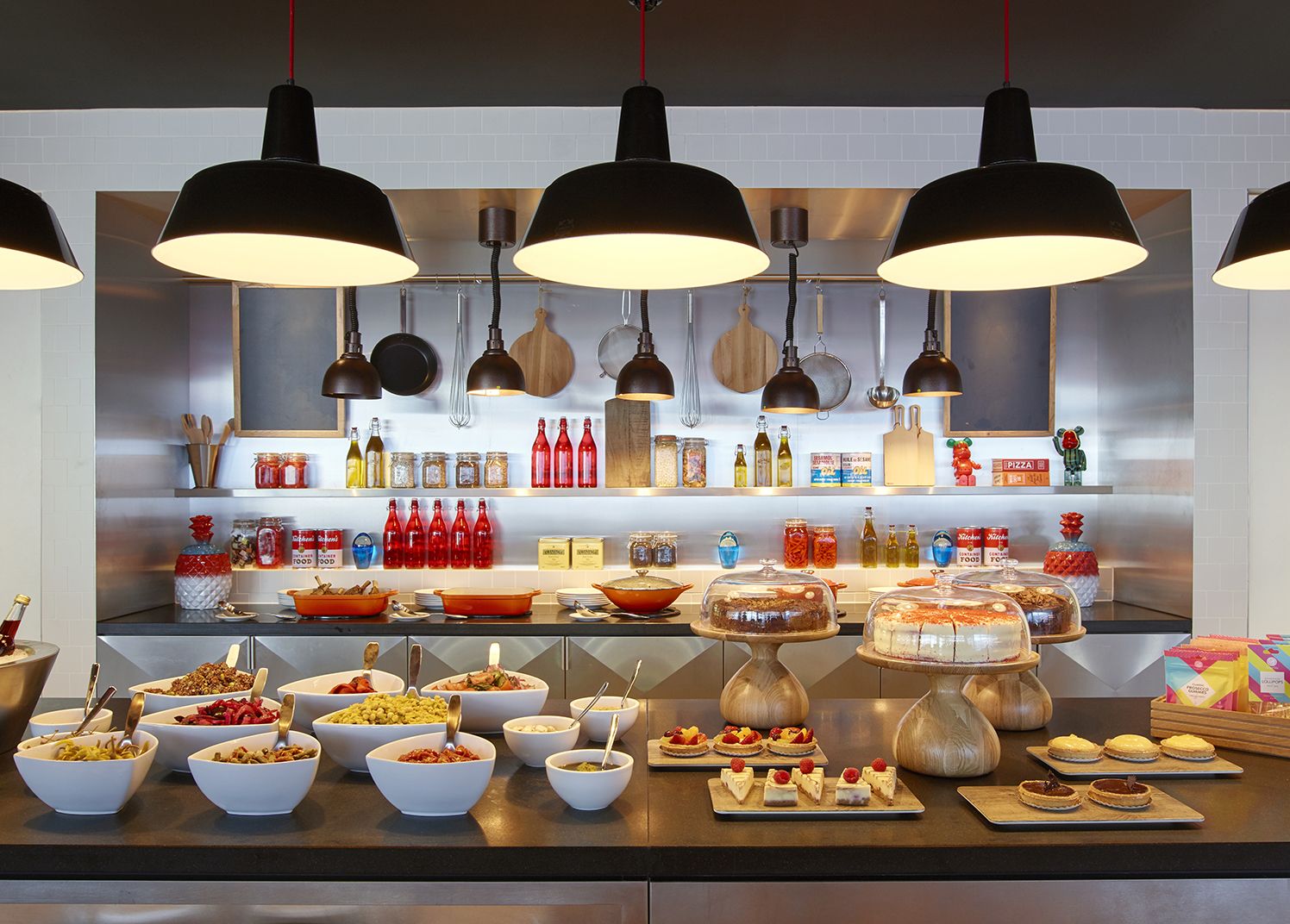 Pros
Convenient location in the Theater District, near Times Square
Attractive rates for a stylish, boutique property in Manhattan
Compact, functional quirky rooms with mini-fridges and rainfall showerheads
Fun "moodpad" controls everything in the rooms, including mood lighting
Rooftop bar with covered outdoor seating for guests only
24/7 lobby restaurant and bar serving breakfast items all day
Fitness center and outdoor yoga terrace overlooks the city skyline
Several iMacs in the lobby for guests' use
Free Wi-Fi throughout
Discounted parking rates in the garage directly behind the hotel
Cons
Small rooms with no coffeemakers or irons
No interconnecting rooms, and no extra beds or cribs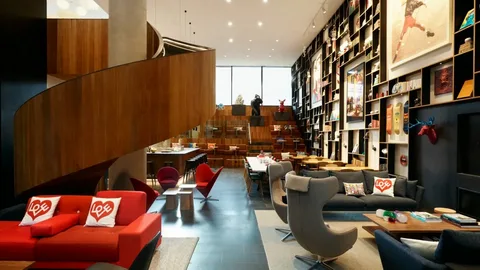 Bottom Line
The upper-middle-range citizenM New York Times Square is an ultra-modern, funky property in the Theater District, about a five-minute walk from Times Square. From the self-check-in, airport-style kiosks to its spacious, living room-like lobby filled with colorful knickknacks and whimsical art, citizenM rejects typical hotel trappings — in their words, there are "absolutely no trouser presses, bellboys, or other tired old hotel cliches." The lobby restaurant/bar is open 24/7 and serves barista-brewed coffee. The rooftop bar on the 21st floor offers spectacular skyline views and covered outdoor seating. Rooms, with storage units underneath the beds, are compact and functional, yet still quirky and colorful, outfitted with mini-fridges, but bathrooms are cramped. Those looking for a more traditional option could try the Hilton Garden Inn Times Square, which has spacious rooms with microwaves, coffeemakers, and mini-fridges, at comparable rates.