If Your Lunch Breaks Don't Include Morbidly Curious Google Image Searches of Giant Trash Heaps Floating in the Middle of the Ocean, You Might Have Missed the News That the Whirling Trash Mass We Have Affectionately Named the "Great Pacific Garbage Patch" Is Now Three Times the Size of France.
That's Right — the Earth's Equivalent of the "Don't Look in There" Hallway Closet Where You Stuff the Weird, Broken Electronics and Knick-Knacks Has Grown to Be Double the Size of Texas.
It's Not Exactly Good News, but It Is Great Incentive to Start Making Smarter (And More Environmentally-Friendly) Choices in Our Day-to-Day Lives. Thanks to Human Innovation (Which Is Partly What Got Us Into This Mess), There Are More Than a Few Great Options Out There That Do Good for the Planet at the Same Time as They Ask Zero Compromises on Your Part in Terms of Comfort, Luxury, and price.
Coyuchi Bedding Is One Such No-Compromise, Eco-Friendly option.
A Little Over a Month Ago, I Wrote About the San Francisco Startup's Avant-Garde Linen Recycling Program, a 'Subscribe and Save' Option That Would Counteract Textile Waste, Save You 15% on Those Brand-New Bathroom Towels You No Doubt Need, and Recycle Your Old Ones So They Don't Wind Up in Landfills. It's Also a Luxury Linen Brand — and It Brings You High-End Textiles That Feel Better Than What You Have Right Now and Feel Much Better (And Guilt-Free) to Buy. and Since the Startup Is Still Direct-to-Consumer, Their Prices Are Much Lower Than What You Could Expect to Pay in a Department store.
Recently, the Company Sent Me a Set of Their Spring 2018 Collection to Try. the New Collection, Called the Bio-Mimicry/Biosoft Sheeting Collection Is Made of 100% Organic Cotton Grown in India and Woven in Portugal and Is Their Most Eco-Friendly Option Yet — and I Mean Eco-Friendly.

Coyuchi's Head Designer Used Vegetables to Create Block Prints for Each of the Patterns, and the Company Became the First North American Company to Use the miDori bioSoft Green Technology — Softening Its Sheets With a Plant-Based Formula That Eliminates the Need for Harsh Chemicals. It's Certified by GOTS, USDA, ZDHC, and GreenScreen Silver Status.
You Can Find the Full Selection Below, but the Set I Chose — Their Most Sustainable Option (The Tidal Stripe Printed Organic Sheet Set) — Features Stripes Printed by Fennel Dipped in Low-Impact Paint to Create a Chain of Tiny Circles. the Original Artwork for Each Sheet Set Was Inspired by the Ocean (Sea Glass, Organic Stripes Left on the Beach by Ebbing Tides, etc.) and Though the Processes Are Potentially More Time-Consuming and Thoughtful Than Your Other Options, You Can Purchase a Sheet Set Made in a Comfortable, Luxurious, Eco-Friendly Way for $198 – $298. for That, You'll Get a Flat Sheet, Fitted Sheet, and Set of Two Pillowcases. in Comparison, if You Get the Same at Popular Startup Parachute, You'll Pay About $209.
I've Tested a Lot of Sheets (Brooklinen, Parachute, SHEEX, etc.), and My Bed Is One Place That I Allow Myself Disproportionate Spending. I Worship at the Altar of Comfort: I'd Rather Buy a Fluffy $98 Robe Than a New Dress, and I'd Rather Wear Sneakers Than Heels to an Event Unless They Were Made by an Orthopedic Surgeon for Comfort. So, Having Said That, I Mean It When I Say That Coyuchi's Sheets Require Zero Compromises on Comfort for Their Fantastic Production Cycle, and You Don't Need to Baby Them Much Where Laundry Is Concerned (Machine-Washable, Cold Water).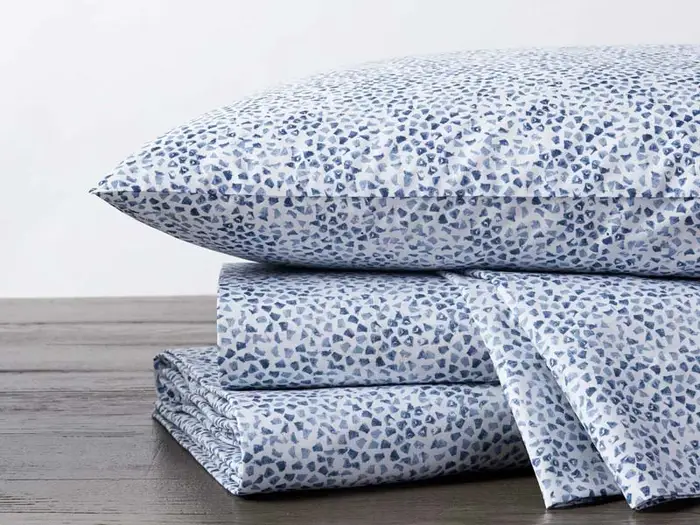 The Feel Is Similar to Brooklinen's Percale Sheets — Crisp and Clean Like Your Favorite, Worn-in Button-Down Shirt. I Loved the Softness, Thoughtful and Minimalist Design, and Would Pay a Little Extra for the Feeling of Genuine Happiness Waking Up and Going to Sleep on Something That Isn't Contributing to Environmental Hazards or Outdated Business Plans. I Use Brooklinen's Twill Set for Cold Nights, but I've Actually Switched to Coyuchi's Sheets for My Day-to-Day Set, Thanks to Their Crisp Feel, Feel-Good Effect, and Beautifully Understated Artwork With an Original Story. if You're Looking for a Set of Eco-Friendly Sheets That Won't Break the Bank or Require You to Compromise on Comfort (Ie. Sleeping in a Burlap Sack Instead of Luxe Cotton), I Regularly Recommend Coyuchi to Friends and Family. But, if You Decide to Buy Now and Don't Love It as Much as I Did, You've Got 30-Days to Return the Item for a Full Refund or 1-Year to Exchange or Get Store Credit for Your Purchase.
Sea Glass Printed Organic Sheet Set
Inspired by sea glass, the original art for this pattern is hand stamped by Coyuchi's designer using the triangular ends of carrot sticks dipped in paint using the miDori bioSoft green finishing product for softness.
Tidal Stripe Printed Organic Sheet Set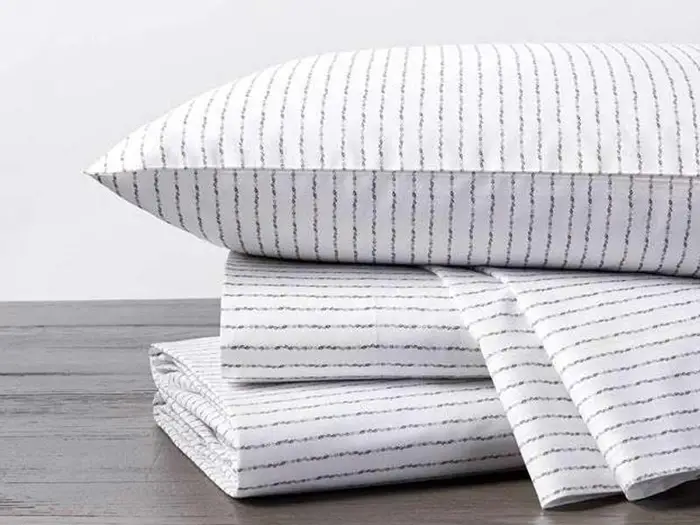 Their most sustainable set, these sheets were inspired by ebb tide when the beach is banded with trails of stones, shells and sea glass. These organic stripes inspired Coyuchi's designer to use fennel dipped in paint to create chains of tiny circles. The pattern is printed with low-impact GOTS-certified dyes on 200-thread-count organic cotton percale.
Scattered Sky Printed Organic Sheet Set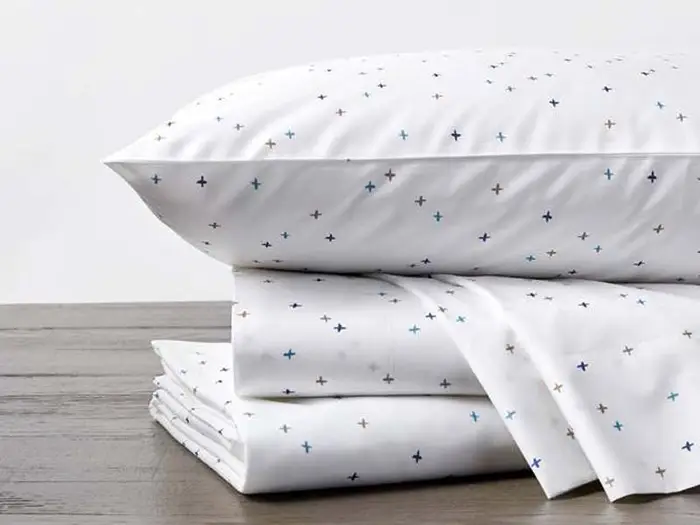 This fun scattered sky pattern is printed with low-impact GOTS-certified dyes on 200-thread-count organic cotton percale using the bioSoft green technology.
Luna Printed Organic Sheet Set
To create the original artwork for this sheeting, Coyuchi used paint-dipped celery stalks to stamp full-moon shapes. Translated into an all-over pattern by Coyuchi's partner mill in Portugal, the design is printed with low-impact GOTS-certified dyes on 200-thread-count organic cotton percale, which gets its soft, smooth feel from the miDori bioSoft finishing process.