About David Yurman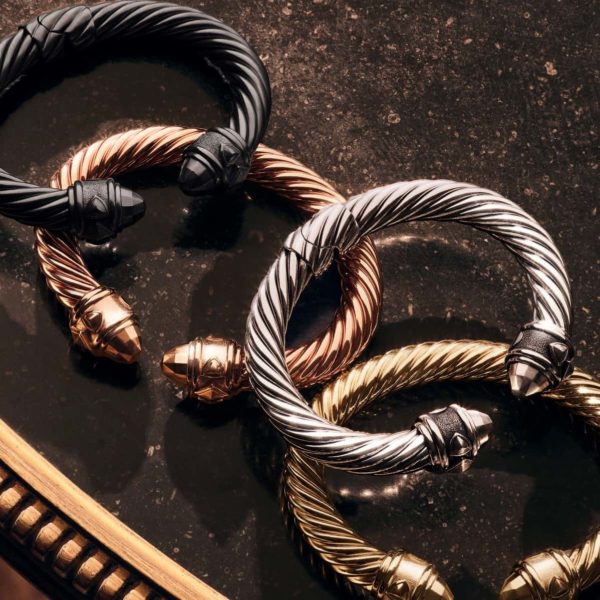 Known for its two-toned jewelry and hand-twisted cable design, David Yurman's collection is filled with contrasting textures, glistening stones, and modern spins on classic pieces. Its impactful sterling silver and 18k gold pieces pour on the drama, taking inspiration from the world of sculptural art.
It's not hard to see why the brand has garnered a community of 1.1 million followers across its social media pages—shoppers flock to its unique array of creative jewelry. David Yurman's collection can be found in every magazine worth reading, like Elle, In Style, and Vanity Fair.
Ready to see what this intriguing brand has to offer? It's all coming up in this David Yurman review. We'll explore the company from cast to polish, looking into the fine details of its best-sellers, consulting customers for feedback, answering FAQs, and more.
Overview of David Yurman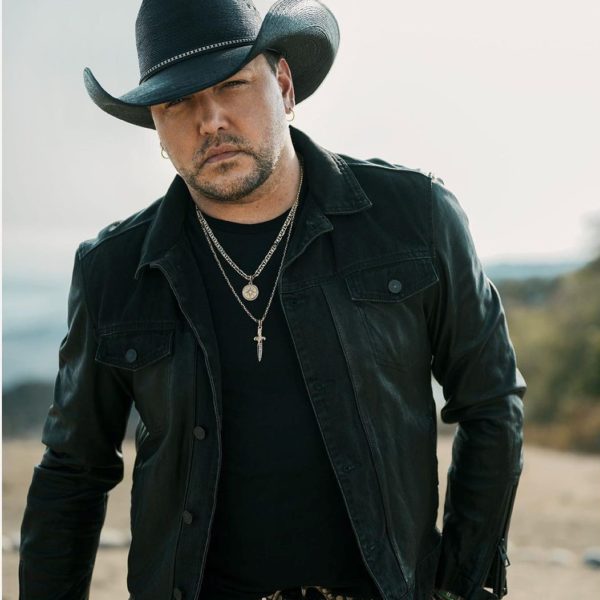 Did you know that the David Yurman jewelry brand wasn't created on purpose? David, a New York City sculptor, created a necklace for his partner Sybil. After receiving much attention (and rejecting many cash offers), the pair set out to create a company in 1980 with the same heart represented in Sybil's adored chain.
With Sybil's fine attention to detail as an established painter and David's sculptural knowledge, they combined their talents to create a jewelry brand unlike any that existed. Bursting with their love for each other and life's fondest moments, the David Yurman collection quickly became a highly coveted brand.
Over the years, David Yurman added collections that represented great life events, like memorable trips to Lanai and anniversaries of long-loved designs. In 2003, the Yurman's son Evan joined their team, bringing his own creative voice to its men's and high jewelry selections.
Designed and made in NYC, the brand's jewelry captures the ever-evolving nature of life and produces pieces to mark special moments along the way. Coming up next in this David Yurman review, we'll walk you through the brand's highlights before examining a sliver of its classy collection.
Highlights:
Wide array of jewelry pieces (necklaces, earrings, bracelets, etc.)
Designs for men, women, and weddings
Range of prices
Family-owned and run
Free 2-day shipping and gift-wrapping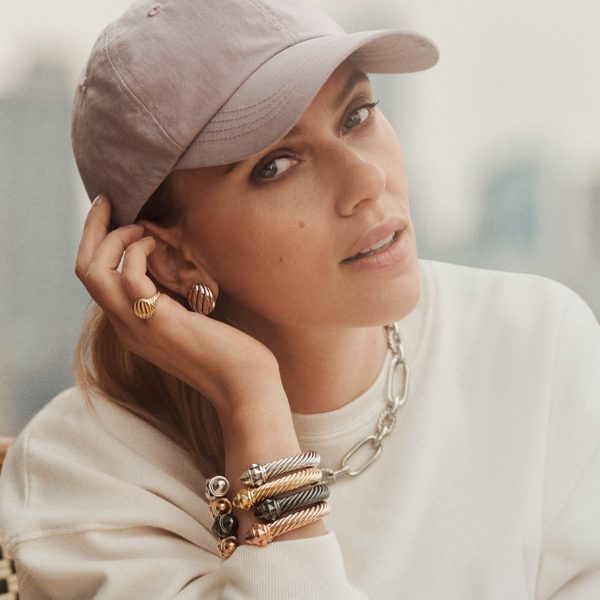 Land on David Yurman's website and you'll immediately be invited to 'Come Closer.' The name of its most recent collection, it's hard not to be lulled into a state of wonder by its calming colors and chunky, oversized designs.
If you do happen to gain the strength to pull away and explore the line, we'll tell you that the rest of its jewelry only makes things more alluring. With selections for both men and women, along with sections just for gifts and weddings, you'll also have the chance to create your own bracelet or customize many of its preexisting designs.
Up next, this David Yurman review will start exploring its inspired, imaginative bracelets, rings, necklaces, and earrings perfect for every occasion. Each piece can be paid for in installments with Affirm.
David Yurman Bracelet Review
With David Yurman bracelets, it's all about classic shapes reimagined. There's the bangle, but it's recast into a shape that evokes feelings of more passionate times. There's the classic link design, but it's turned edgy and exploratory with contrasting textures and sizes.
Made in sterling silver, 18k yellow gold, and a mix of the two, just ahead, we'll introduce you to the brand's best-selling styles.
David Yurman Renaissance Bracelet in Pink Aluminum Review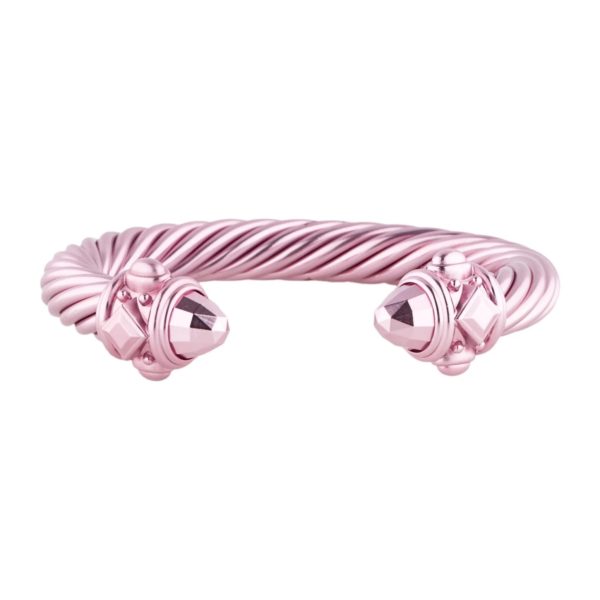 The Renaissance Bracelet in Pink Aluminum captures the spirit of period-specific architecture but brings a surprisingly modern twist. Colored in a creamy pink shade, the anodized aluminum bangle is sculptural, contemporary, and everything you'd expect from David Yurman.
We're loving the new direction the brand is exploring with monochromatic color. This 10mm bracelet is a fun contrasting piece to your existing jewelry collection. Pair with a pearl bracelet or glistening diamonds for a fresh, captivating cuff.
Get the David Yurman Renaissance Bracelet in Pink Aluminum for $395. If pink isn't your color, opt for one of the seven other hues, such as black, green, or sand.
David Yurman DY Madison Chain Small Bracelet 8.5mm Review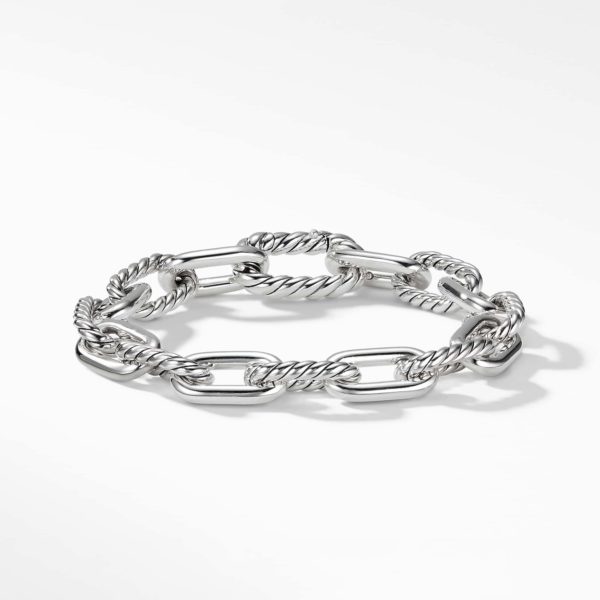 Oversized, twisted cable links create a beautiful contrast with smooth, shiny metal in the David Yurman DY Madison Chain Small Bracelet 8.5mm. An edgy exploration with a modern feel, this sterling silver bracelet is an alluring take on classic chain links.
The links measure 8.5mm in width, but you can get the bracelets in small, medium, or large sizes for the perfect fit. It's easily fastened with a push clasp.
Stack this one with smooth, simple bangles to keep the attention on Madison. Add it to your collection for $325.
David Yurman Rings Review
The David Yurman rings section contains different collections that evoke different feelings. With a hefty dose of jaw-dropping stones, diamonds, and shiny metals, you'll discover rings for stacking or ones that want to claim all the attention. You'll meet the brand's two top-sellers next.
David Yurman Petite X Ring with 18K Yellow Gold Review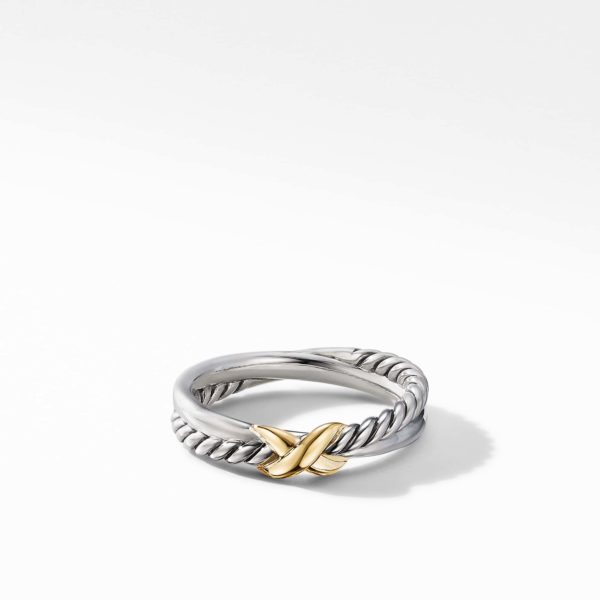 Part of the brand's Crossover line, the Petite X Ring with 18K Yellow Gold is a Yurman classic. Merging cable, smooth metal, and a crisscrossing gold hitch across the top, it oozes entangled love in every twist and turn.
The body of the ring is sterling silver, but the 'X' on top is 18k yellow gold. Measuring 4mm in width, the band takes on an infinity design to strengthen its message of everlasting love.
Meaningful but simple, you can get the David Yurman Petite X Ring with 18K Yellow Gold in sizes 4-9. Tell someone they're special for $275.
David Yurman Cable Collectibles Band Ring Review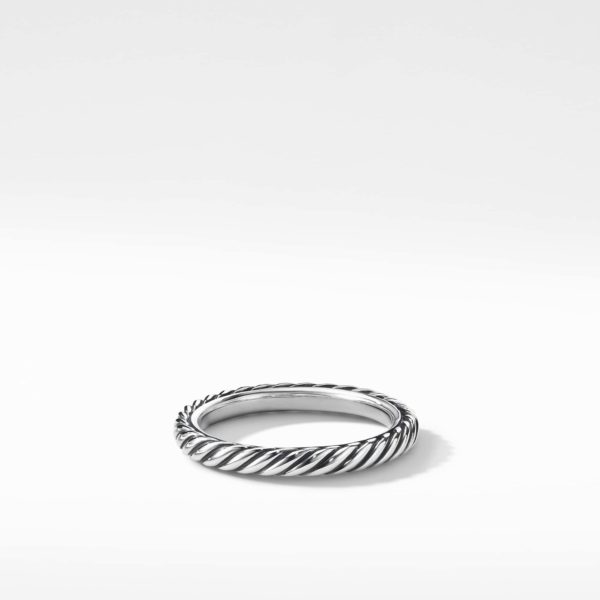 The Cable Collection is perhaps Yurman's most iconic line. Simple yet impactful, it harkens back to his original design of hand-twisted cable that embodied the strength that results when two lives are intertwined.
The David Yurman Cable Collectibles Band Ring is an easy choice to express your love. It's cast in sterling silver and measures just 3mm in width. With a simple design, this ring shows its real beauty in the contrast of shiny silver against the dark grooves of the cable twist.
Enjoy this timeless design in sizes 4-10 for $165.
David Yurman Necklace Review
With inventive, mesmerizing spirals and jutting, metallic fringe, the David Yurman necklace collection proves that this brand is unlike any other. It takes risks not many jewelers do—those risks pay off in his selection of necklaces adorned with artistic links and glimmering stones. Ahead, we'll give you a peek at the best-sellers.
David Yurman Cable Collectibles Double Heart Necklace with 18K Yellow Gold Review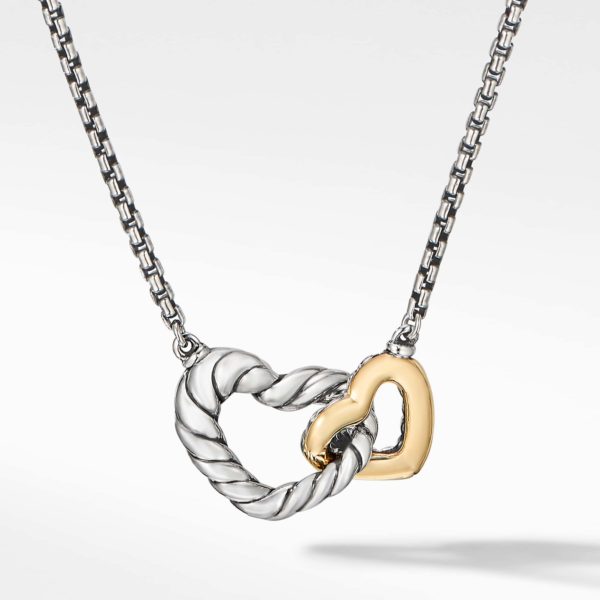 Love is often associated with jewelry, but the David Yurman Cable Collectibles Double Heart Necklace 18k Yellow Gold radiates it to a T. Featuring one sterling silver cable heart linked with a smaller 18k yellow gold heart, the two appear to be leaning onto one another.
Capturing the love, support, and comfort provided by those closest to you, this breathtaking necklace makes the ideal gift for a mom or daughter. With an adjustable 15"-17" chain, it can be worn close to the heart.
Make a meaningful choice with the Double Heart Necklace for $350.
David Yurman Heart Pendant Necklace in 18K Yellow Gold with Garnet Review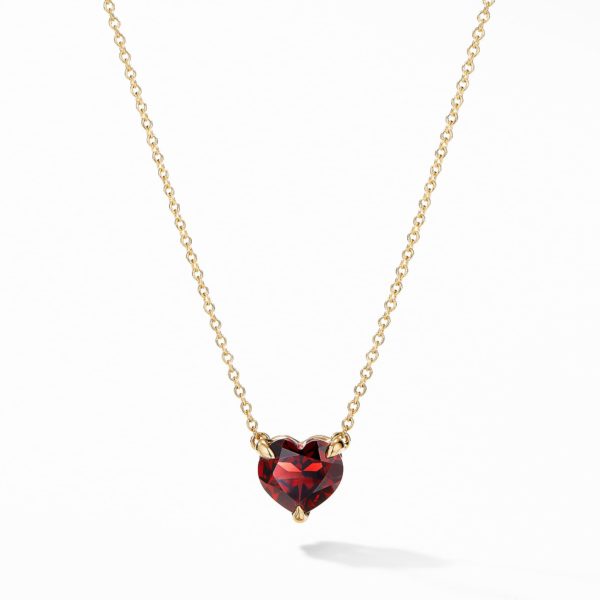 The David Yurman Heart Pendant Necklace in 18K Yellow Gold with Garnet captures the passionate nature of love within a solid, shimmering stone. With a yellow gold chain that loops through a simple garnet pendant, this moving necklace carries a tone of burning romance.
It measures 18" in length and fastens safely with a lobster clasp. Whether it's a personal gift for yourself or for the one you love, this understated design speaks volumes. Get it for $750.
David Yurman Earrings Review
If there's one thing we've come to love about this brand (and there's not only one thing), it's the variety. The David Yurman earrings collection is packed with hoops, studs, and dangly pieces with creative textures, beautiful stones, and a primarily vintage aesthetic.
Up next, we'll show you the two designs that customers are loving the most.
David Yurman Small Cable Hoop Earrings Review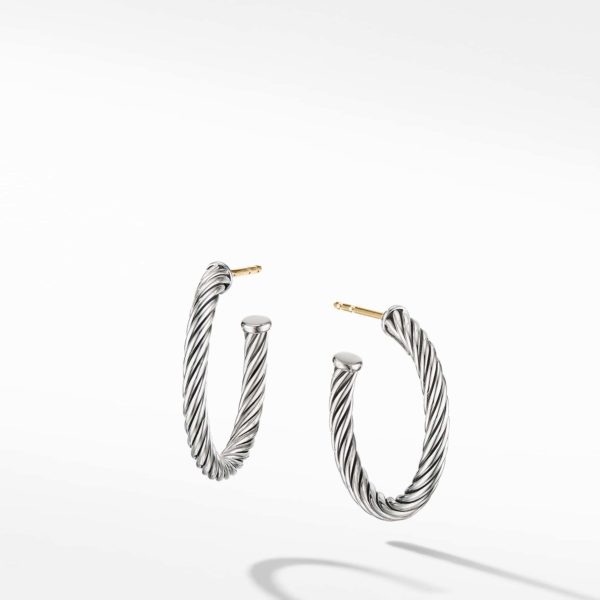 Another timeless pick from the brand's Cable Collection, the David Yurman Small Cable Hoop Earrings exude elegance in their simple design. Cast in sterling silver, they measure just 0.75" in width and feature gold posts for eye-catching contrast.
Wear them daily or to your next special event. They're a gorgeous understated piece that blends beautifully with classic black dresses. Get the pair for $295.
David Yurman Pearl Stud Earrings with Diamonds Review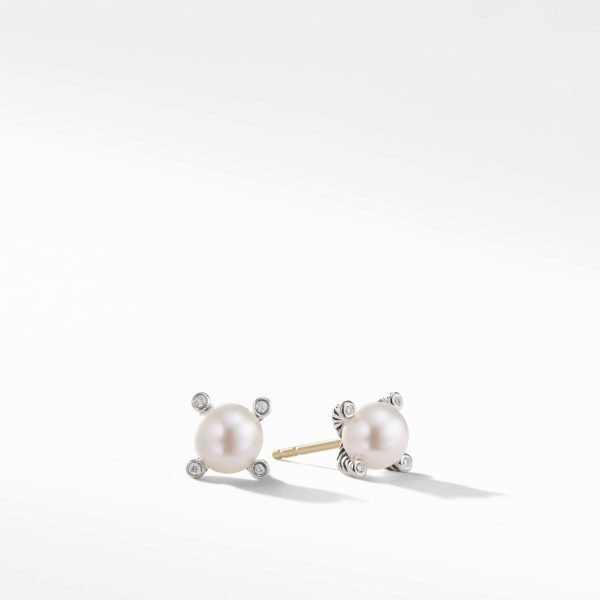 A meeting place between classic and edgy styles, the David Yurman Pearl Stud Earrings With Diamonds feature a solitary 6mm freshwater pearl on either post, corned by four tiny 0.03ct pave diamonds.
Measuring 7mm in width, the earrings play with shape, creating a dainty design with artistic flair. Made in sterling silver and 18k gold, you can get them for $375-$850.
David Yurman Engagement Rings Review
David Yurman engagement rings can only bought through an appointment. The collection of shimmering bands and stones you see online can tailored to your unique preferences. So it's critical that you have a conversation to discuss what you're looking for.
With five diverse collections inspired by special moments, this David Yurman review will be looking at its best-sellers from the Crossover line.
David Yurman DY Crossover Engagement Ring in Platinum Round Review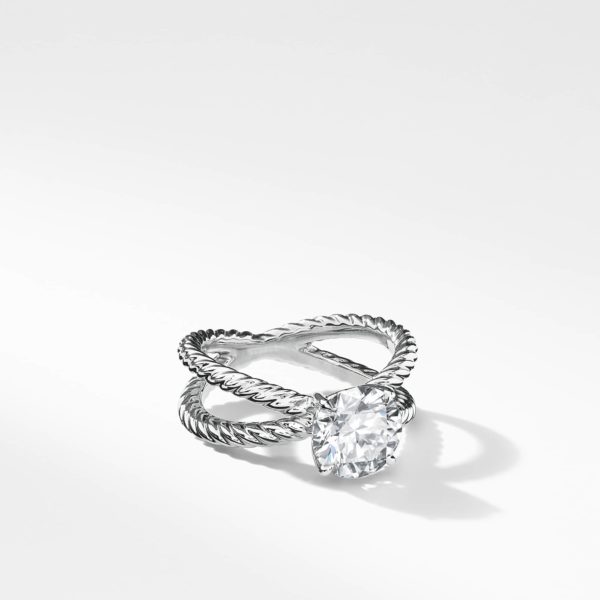 The Crossover Collection represents two lives intertwined into one. Made to represent the long-lasting love between David and Sybil, the DY Crossover Engagement Ring in Platinum Round is truly something to behold.
Featuring a round, glistening conflict-free diamond, you have your choice of the carat, but your options start at 0.70ct. Your diamond will affixed upon a platinum band that resembles the twisted cable the brand so well known for.
Did you fall in love with the David Yurman DY Crossover Engagement Ring in Platinum Round? Book an appointment to get the exact ring you know she'll love.
David Yurman DY Crossover Petite Engagement ring in 18K Yellow Gold Round Review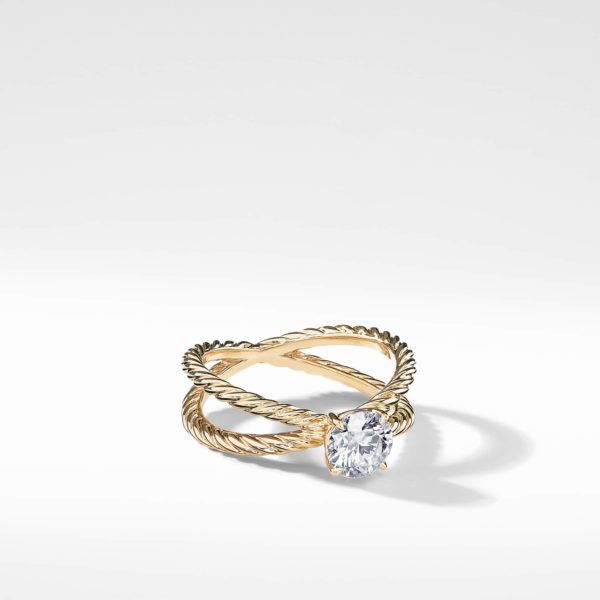 Like the ring before it, the David Yurman DY Crossover Petite Engagement Ring in 18K Yellow Gold Round is all about the joining of lives, souls, and hearts in holy matrimony. Forming an infinity-like design, the place where these two twisting bands meet sprouts a round, glistening diamond.
You'll have your pick of the carat for this ring's diamond, though they start at 0.30ct. Made from 18k yellow gold, this precious ring expresses a big commitment in a petite, breathtaking form. Book an appointment with an expert to discuss your options.
Who Is David Yurman For?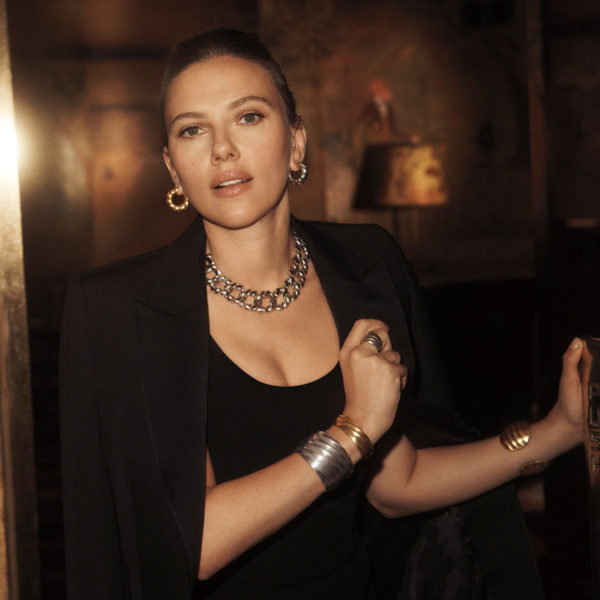 When David Yurman came on the scene, the world of jewelry forever changed. Merging sculptural art with breathtaking stones and metals. The brand's pieces designed for those who embrace the creative side of life.
With rings that resemble the twisting island vines of a romantic getaway and bangles that capture the romantic spirit of longtime lovers, David Yurman's jewelry is so much more than jewelry—it's a feeling, a spirit, and a memory. With designs for both men and women, it's ideal for special occasions, gifts, or just because.
David Yurman Reviews: What Do Customers Think?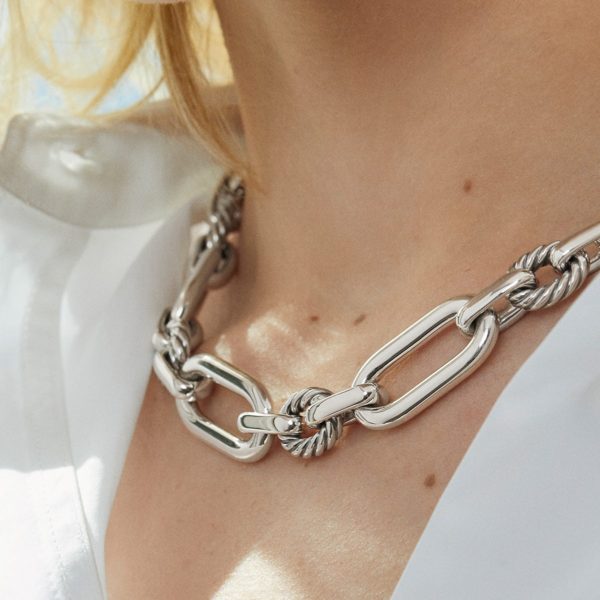 It's one thing to drool over photos of a gorgeous bracelet, necklace, or ring on a screen, and another thing entirely to admire it around your wrist, neck, or finger. This part of our David Yurman review exists to bring you as close to the in-person experience as possible by turning to customer feedback.
We'll start with a David Yurman review for the Cable Classic Bracelet with Gemstones and Gold found on Bloomingdales.com. It reads:
"This onyx faceted D. Yurman bangle is everything. It's simply and elegantly stated…Great choice. Unfortunately, this is just the start of what I feel will become my new obsession." Other comments mention the great quality and express love for this bracelet that goes well with other textures and styles of jewelry they already own.
The comments on Bloomingdales reveal that the brand loved by those looking for unique and artistic jewelry. With so many nice things said about the Cable Classic Bracelet. We understand why it received a 4.9/5 star score from 49 shoppers and currently sold out on the site.
Next, we headed over to Nordstrom to see what buyers had to say about the Crossover Ring. Awarding it a 4.4/5 star score, here's how that score breaks down between the 88 people who bought it:
5 stars: 74%
4 stars: 14%
3 stars: 0%
2 stars: 5%
1 star: 7%
We didn't come across one shopper who didn't like the design of the ring, saying that it's dainty, stacks well, and looks great on their fingers. One David Yurman review read:
"The ring is a beautiful product that fits my SO very well. It's understated and elegant, which great because it fits every occasion. My SO also reports no fading and no green coloring on her skin. Highly recommended."
Because the quality of David Yurman jewelry has proven to speak for itself, we decided to seek out feedback about what the shipping process is like. When ordering something valuable online, usually, the quicker it gets to you, the better.
The brand offers complimentary 2-day shipping with its orders, and we wanted to find out if it indeed arrives on time. Turning to a David Yurman review on the Gin and Pretzels blog, we were happy to find that it does. The review read:
"Ordering was very simple as most online shopping experiences are extremely easy. It was close to Christmastime, and my bracelet arrived within 2 days."
For a jewelry order to arrive within 2 days around Christmas is something that not many companies can accomplish. This speaks volumes of the brand's commitment to its customers and respect for their needs no matter what time of year it is.
In the end, the feedback for David Yurman was just what we expected. Customers love the brand's designs and as soon as they buy one, they find it hard not to buy more.
Is David Yurman Legit?
While we dug around for feedback for this David Yurman review, we found a lot of customers very pleased with the quality of the brand's jewelry, but more so, over the moon about its artistic designs.
With that said, there were a few reports of shocked customers about the fact the brand uses sterling silver-plated stainless steel for its silver jewelry.
That's the largest issue we found from customers online and it's nothing that would deter us, nor thousands of other customers from choosing the brand. It's good to aware of the materials your jewelry made from though. Even if it's affordably priced like DY's sterling collection. If you have any questions, don't hesitate to get in touch with the brand.
Is David Yurman Worth It?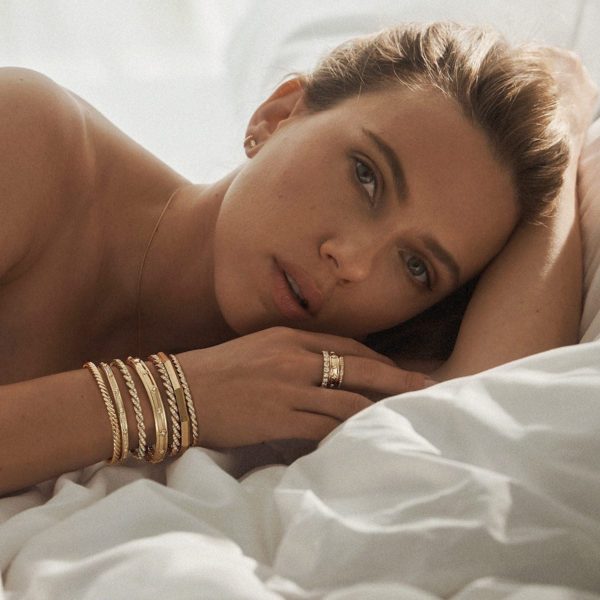 David Yurman is one of the greats. With a style that's unique to the brand, if you're looking for something with a little more wow-factor than your average bangle or diamond ring, we recommend browsing through its collection.
Its looks aren't the only reason we love David Yurman though. Family-owned and run, the brand's jewelry made by David, his wife Sybil, and their son. It's something that makes its pieces more meaningful—you can really feel their emotions within the designs.
Using a range of metals, David Yurman makes its pieces accessible for those with all kinds of budgets.
David Yurman Promotions & Discounts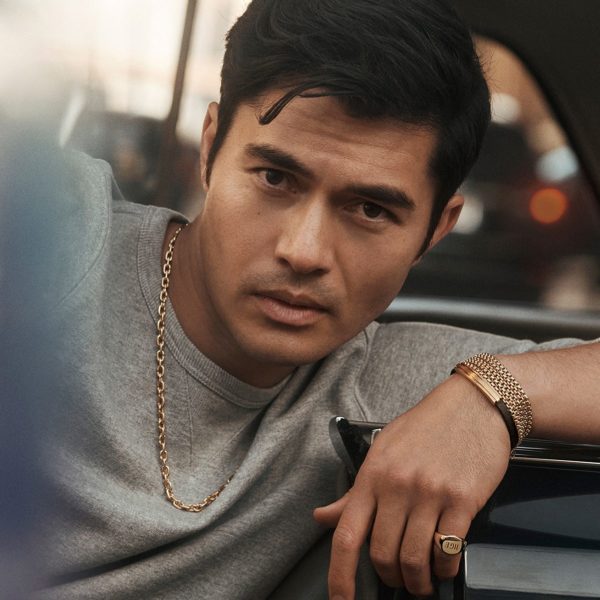 While we made our way through the brand's website for this David Yurman review, we discovered that the brand offers complimentary 2-day shipping and gift packaging with all of its orders.
Where to Buy David Yurman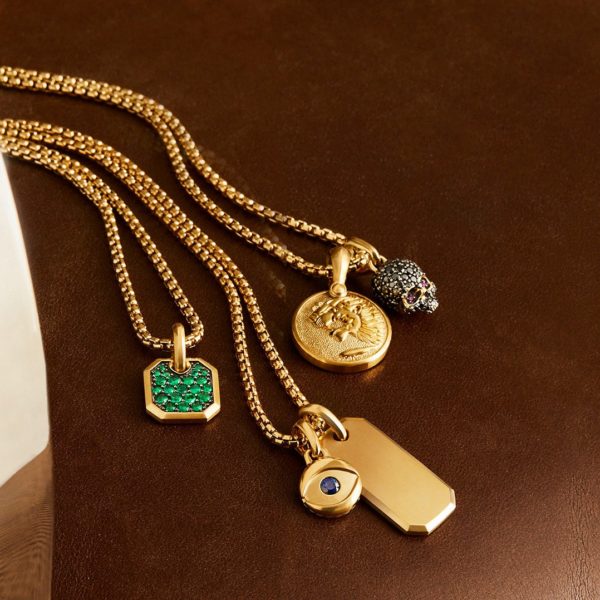 The brand's timeless jewelry can purchased directly from DavidYurman.com or from one of its retail locations across the US and Canada.
You can also find select designs at partner retailers such as Saks Fifth Avenue, Bloomingdale's, Nordstrom, and Neiman Marcus.
FAQ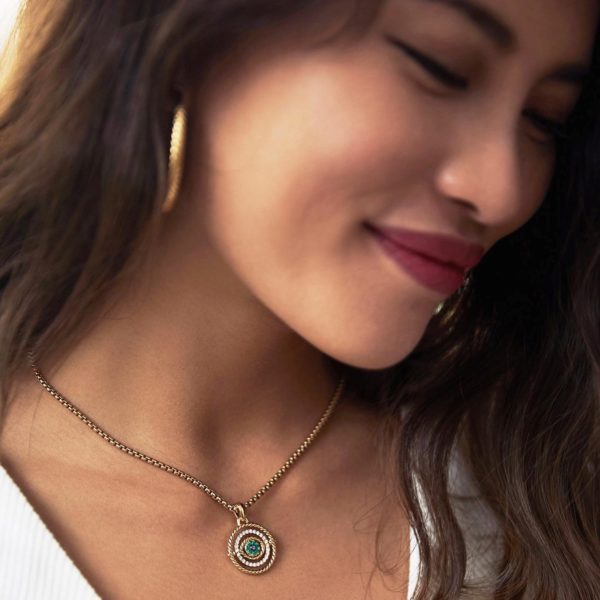 Who owns David Yurman?
David Yurman is a family-owned and run company. David, his wife Sybil, and their son Evan make the brand's creative designs.
Does David Yurman ship internationally?
The brand's jewelry does not ship internationally. For information on shipping to the US and Puerto Rico, read the details in the next section of this David Yurman review.
What is David Yurman's Shipping Policy?
Unless you ordered personalized jewelry, once you place your order online. David Yurman will put your order together within 1 business day and it shipped out. You'll have three shipping options:
FedEx 2-Day Air or Ground (2-3 business days): free
Domestic FedEx Overnight Air (1 business day): $17
Alaska, Hawaii, Puerto Rico FedEx Overnight Air (1-2 business days): $17
If you placed your order on a Monday and chose standard shipping, you should get your order by Friday. Once your order ships out, you will receive a confirmation email with a tracking link to can keep an eye on your order's arrival date.
What is David Yurman's Return Policy?
Need to send your jewelry back? David Yurman has a 45-day return policy that allows returns or exchanges within that time. If you live in any of the 50 states, all you need to do is follow these steps:
Head to the 'Returns' section of DavidyYurman.com
Print out a shipping label
Package up the items you wish to return and attach the shipping label
Drop your package off at the nearest post office
All refunds are credited back to the original method of payment.