About ESN Designer Whey Protein
The ESN Designer Whey Protein is undoubtedly one of the best-selling protein powders in Germany. In this article, we will try to clarify whether this is due to the quality of "Made in Germany" or rather to the marketing.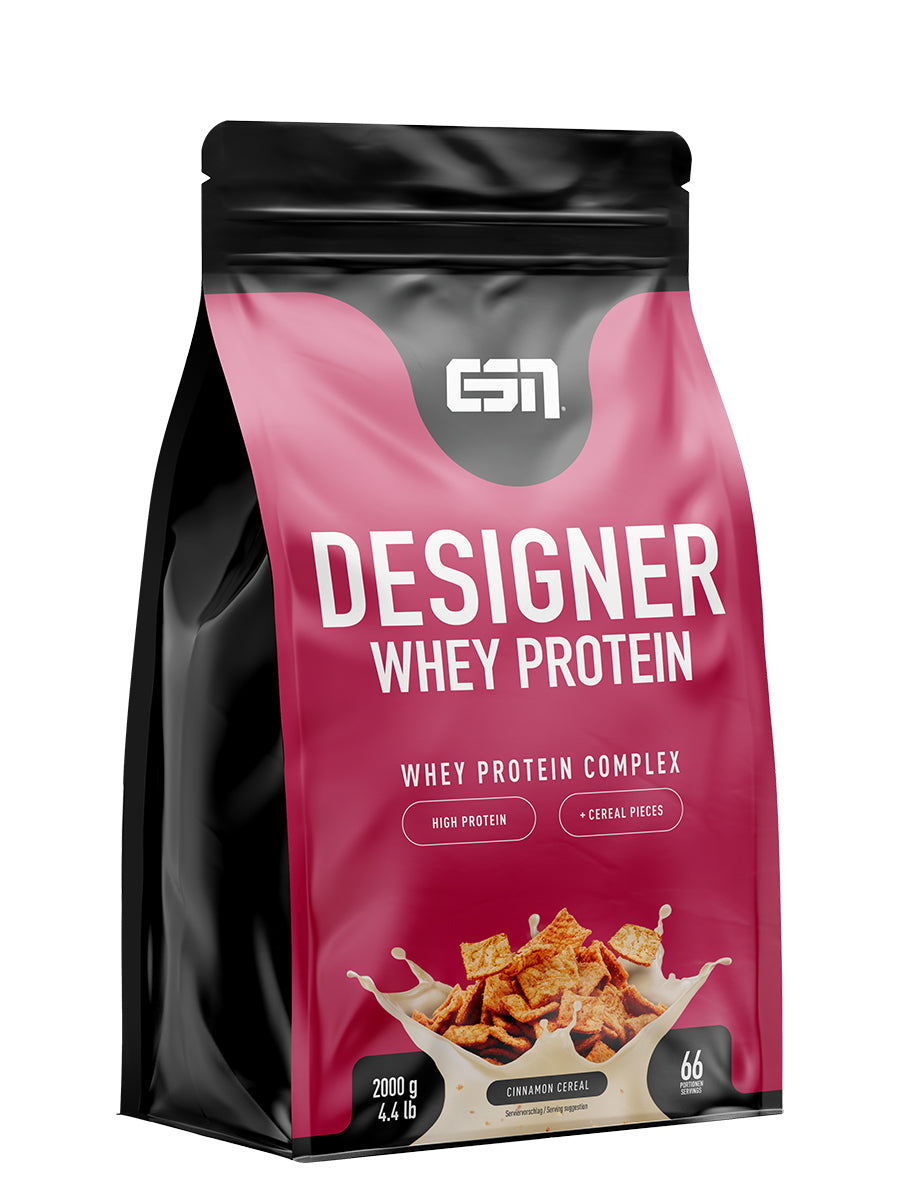 Packaging
The first thing that catches your eye is of course the packaging. The design is rather reserved and simple, but still appealing. The purple color may not be for everyone – but you can't please everyone anyway.
Design
Designer Whey used to have a completely different look. We like the new design much better, at least because it is no longer glossy but matte. This makes the bag look a little higher quality.
On the negative side, the flavors are unfortunately not visible on the front. This may not matter at all in online trading, but it is not optimal for a retail store. For cost reasons, "one-size-fits-all" bags are used here and the nutritional information including flavor is stuck on the back as a sticker. Also for those who have several bags of Designer Whey lying around at home, a "front labeling" of the flavor would be useful. Other manufacturers also work with a sticker here. Maybe ESN can learn a thing or two from the competition.
Functionality
What comes next, some will surely ask. Stand-up pouches are not for everyone, but you know that beforehand and you can choose your product according to the type of packaging. What really bothers me, however, is the clasp. It is difficult to close the bag properly after opening it for the first time. Other manufacturers have already reacted here and rely on a zipper-like closure or a Velcro-like closure. Here, too, the costs seem to be in the foreground. It should be noted that the competing products mentioned are not more expensive. So it can hardly be argued with a cost advantage for the consumer.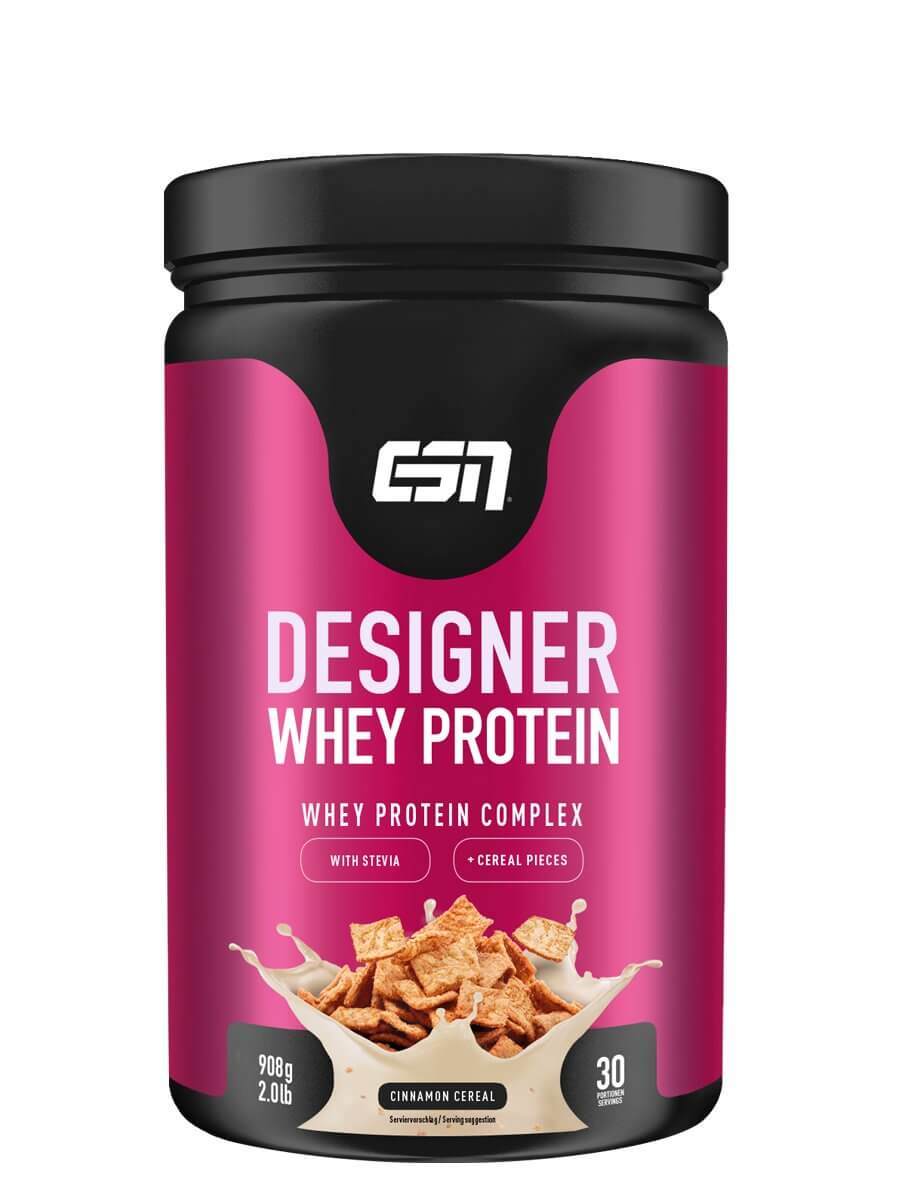 Accessories
You can dig as much as you want there. You won't find a scoop in Designer Whey. Of course, once you have one, you don't need a new one every time. That makes sense from an environmental point of view. However, it can of course be the case that a free measuring spoon is also dispensed with here in order to maximize profits.
Ingredients
But as the saying goes – it's what's on the inside that counts. So let's take a look at the ingredients used.
Protein sources
The main ingredient is a whey protein mixture consisting of whey protein concentrate and CFM-filtered whey protein isolate. What always makes us a bit suspicious is that ESN is stated on the manufacturer's homepage with 30% isolate content, but you won't find this quantity on the packaging.
Thickener
The food additive carrageen (E 407) obtained from red algae is used as a thickening agent. This is classified as harmless by the FAO, the World Health Organization, and the FDA. However, it remains to be seen whether it is absolutely necessary to add a thickening agent. The aim here is simply to create a creamier shake than would be the case without a thickener.
Sweetener
First of all, it should be said that the ESN Designer Whey is a protein powder without aspartame. Acesulfame-K, sodium cyclamate, sodium saccharin, and sucralose are used as sweeteners. Cyclamate has been banned in the USA since 1970, but the sweetener can still be used in the EU with maximum quantity restrictions. Unfortunately, it is not clear how much of the respective sugar substitute is contained in each serving.
Nutritional values
Now we come to the parameters which are most important. ESN identifies the following macronutrients for the Chocolate flavor:
| | per serving (30 g) | per 100g |
| --- | --- | --- |
| calorific value / energy | 113 calories | 378 calories |
| Fat | 1.7g | 5.6g |
| – hereof: saturated fatty acids | 0.7g | 2.3g |
| carbohydrates | 1.5g | 5g |
| – of which sugars | 0.9g | 3.1g |
| protein | 22.8g | 76g |
| Salt | 0.15g | 0.5g |
As you can see, it is a protein powder with 76% protein, only 5% carbohydrates, and less than 6% fat. These values ​​can convince and are perfectly fine for a concentrate/isolate mix. Anyone who is currently on a ketogenic diet will be more likely to use pure whey isolate anyway.
Amino acid profile
Now let's examine the amino acid profile per 100g:
| | |
| --- | --- |
| alanine | 4.6g |
| arginine | 2g |
| aspartic acid | 11g |
| cystine | 2.7g |
| glutamic acid | 17g |
| glycine | 1.2g |
| histidine | 1.5g |
| isoleucine | 6.1g |
| leucine | 11.2g |
| lysine | 9.4g |
| methionine | 1.8g |
| phenylalanine | 3.1g |
| proline | 5g |
| serine | 4.7g |
| threonine | 7.8g |
| tryptophan | 1.7g |
| tyrosine | 3.2g |
| valine | 6g |
Of course, the 23.3 g BCAA (isoleucine, leucine, and valine) immediately catches your eye. A very good value. In addition, the 17 g of glutamine is positive. The ESN Designer Whey Protein consists of over 47% essential amino acids ( EAA ) which the human organism cannot produce itself and is therefore dependent on an external supply.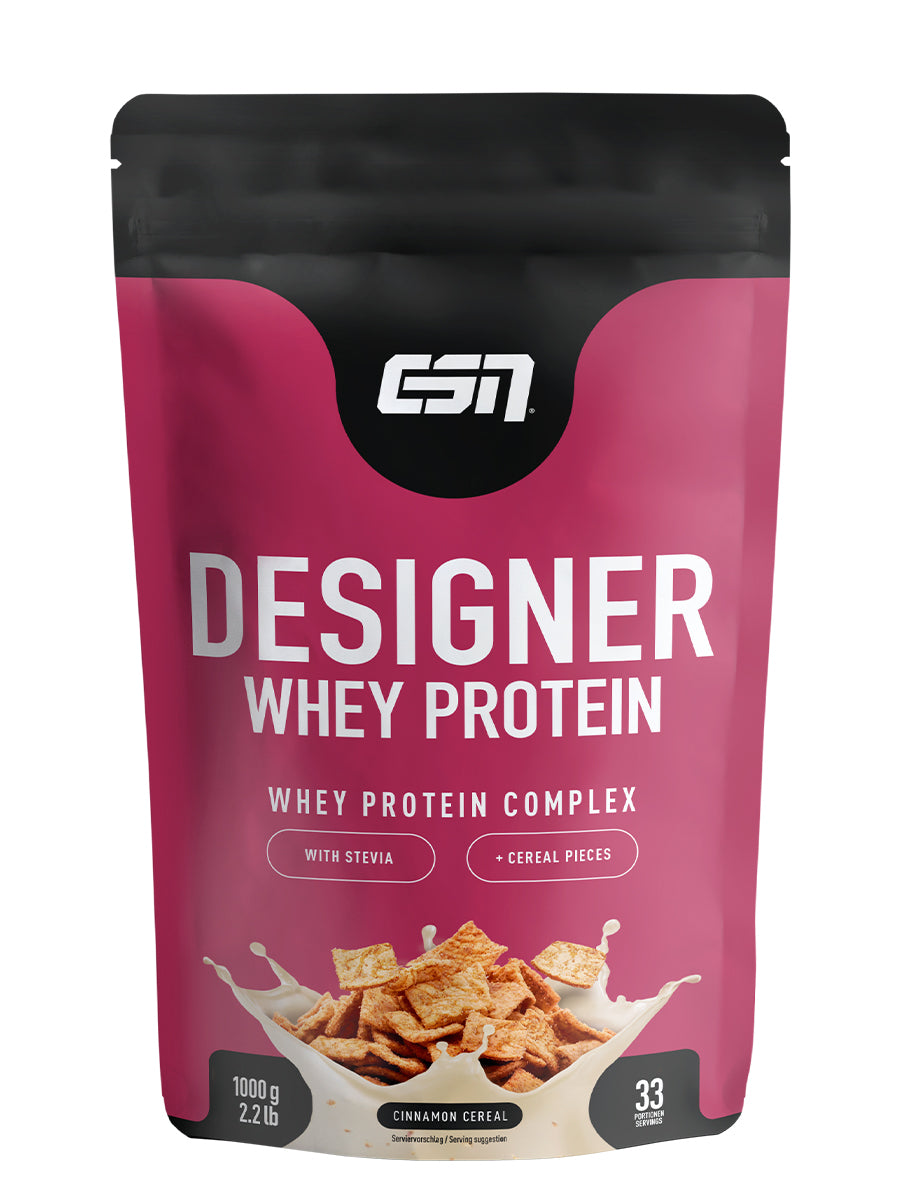 Solubility
Solubility is another important criterion for many users. There are no criticisms to be found here. The protein powder dissolves excellently and results in a nice, homogeneous shake. However, a smooth result cannot be achieved with a spoon. You should use a shaker. Here, however, a cheap variant is sufficient. And you no longer have any lumps.
Taste
It doesn't have to taste good, it has to work. This saying can be found in almost every corner of the fitness industry. However, we have no problem with it if the shake also tastes good. Because only then will you drink it regularly. This is definitely the case with Designer Whey. Where taste, as always, who would have thought it, is a matter of taste. 😉Since you can now choose from 40 different flavors, it never gets monotonous, although you are sometimes spoiled for choice.
It tastes great mixed with both water and milk and isn't quite as sweet as other proteins. However, if you don't want any sweeteners in your protein shake, you should use the unflavoured version.
CONCLUSION
The ESN Designer Whey is a high-quality protein powder "Made in Germany" which definitely has its right to exist. It is ideal for anyone looking for a post-workout shake or simply looking to increase their daily protein intake. The variety of flavors on offer also leaves nothing to be desired. Only the packaging still has room for improvement.