If you are curious whether or not Eddie Bauer is a good brand, you came to the right place!
Eddie Bauer is a staple name in the outdoors business. What began in 1920 as a tiny tennis supply company run by Eddie himself has since exploded and is now a dependable source of entry- and mid-level outdoors gear suitable for the city and camping trips of all kinds.
If you want to know more about the Eddie Bauer brand, keep reading!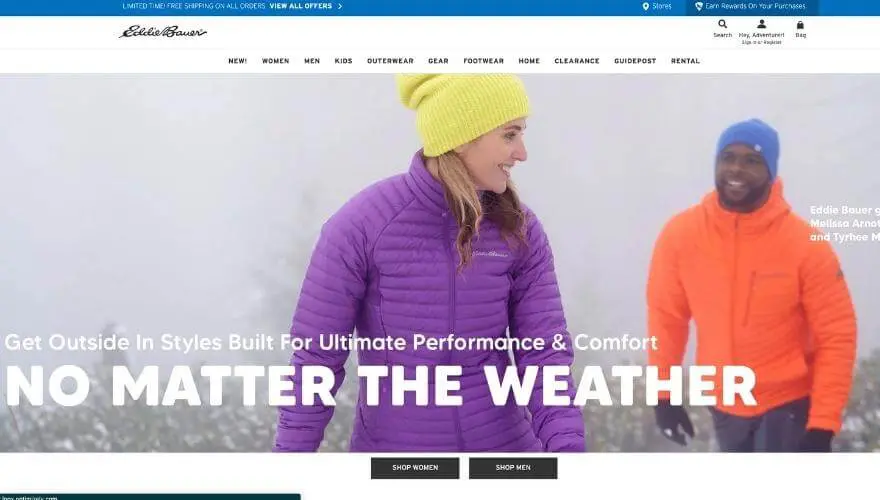 Is Eddie Bauer a Good Brand?
Eddie Bauer is an entry- to mid-level outdoors gear brand. It makes quality clothing in general, aimed at audiences who need to stay warm outside and look good in the city.
It's not as high-quality as brands like Canada Goose and Arc'teryx — and its price point reflects that.
What Is the Eddie Bauer Brand Known For?
Eddie Bauer is known for making quality outdoors gear at reasonable prices, aimed at everyday consumers.
It's a staple in the outdoors industry, as it can trace its origins back more than a century.
Is Eddie Bauer an Ethical Brand?
That's debatable. It has made donations to ethical organizations and taken steps to reduce its carbon footprint.
Also, it uses down certified by the Responsible Down Standard.
However, the company is not transparent about its labor conditions or emissions and creates its products in offshore factories.
Sustainable fashion fact-checker Good On You gives Eddie Bauer the lowest score possible — "we avoid" — due to its carbon and greenhouse gas emissions, opacity about labor practices, and animal rights practices.
Is Eddie Bauer a Green Company?
Eddie Bauer says it's dedicated to sustainability.
The company is committed to using half organic cotton, polyester, nylon, rayon, modal, and lyocell fibers by 2025. It aims to reach 100% organic cotton, polyester, nylon, and rayon by 2030.
Half the fabrics it uses will be approved by the eco-friendly bluesign system by 2025. All of its down and feathers are Responsible Down Standard-certified.
Eddie Bauer also pledges to measure its greenhouse gas emissions by 2023 and set "aggressive targets" to lower its emissions.
It promises to use at least 80% renewable electricity by 2025, and 100% by 2030.
The company promises to reduce its average product packaging weight per item by 30% by 2025 and aims to reduce it by half by 2030.
Half of its plastic packaging by weight will be recycled by 2025, while half of the rayon, modal, and lyocell fibers it uses will be made from recycled materials or agricultural waste by 2025.
The remainder, it says, will be Forest Stewardship Council-certified fiber from sustainable wood sources.
Eddie Bauer also promises to:
Develop and implement a list of harmful chemicals it won't use by 2023, with the goal of not using any of those substances by 2030.
Plant 100,000 trees per year and, starting in 2022, support one "Tree Equity" project per year in partnership with American Forests.
Launch programs for product rental, used product resale, product repair, and upcycled products by 2023 and establish targets for growing these programs.
However, some have cast doubt on just how eco-friendly Eddie Bauer is.
Sustainable fashion fact-checker Good On You gives the company a score of 2 out of 5 in its "planet" section, noting: "It uses some eco-friendly materials including recycled materials.
There is no evidence it minimizes textile waste when manufacturing its products. There is no evidence it reduces its carbon and other greenhouse gas emissions.
There is no evidence it has taken meaningful action to reduce or eliminate hazardous chemicals."
Does Eddie Bauer Have a Land Acknowledgement?
Yes, it does. The company lists all the Indigenous nations that its stores sit on, throughout the United States and Canada.
This sets it apart from many other suppliers, which don't do this.
Does Eddie Bauer Use Sweatshops?
It's unclear whether Eddie Bauer uses sweatshops, as the company does not disclose much information about its workforce.
Another outdoor brand, Patagonia, revealed that it had found suppliers using labor practices amounting to "modern-day slavery." Experts who spoke to Outside said that similar practices probably exist at many companies.
Does Eddie Bauer Sell Other Brands?
No — everything sold on the Eddie Bauer website and in Eddie Bauer stores is from the Eddie Bauer brand.
Where Are Eddie Bauer Products Made?
Most Eddie Bauer products are made in Asian countries with lower labor standards, like China, Vietnam, India, Pakistan, and Indonesia.
Are Eddie Bauer Jackets Waterproof?
Some, but not all Eddie Bauer jackets are waterproof.
The company manufactures and sells the Could Cap series, a popular line of waterproof rain jackets, along with many others.
It also sells many jackets, like the down MicroTherm line, which shouldn't be worn in the rain (unless you like being soaking wet for a long time).
Check the label or product description before you buy it, to make sure it'll work for your needs.
Is Eddie Bauer a Luxury Brand? 
No. Eddie Bauer is an entry-level to mid-level outdoors gear manufacturer.
Its primary audience consists of "weekend warriors" — people who might go camping on the weekend, but for whom the outdoors is not really a way of life.
If layered properly, Eddie Bauer gear will keep you warm, dry, and happy in nearly any normal camping condition.
But you wouldn't want to take it on a multi-day expedition to the Canadian North.
Is Eddie Bauer Expensive?
Generally, not really. Eddie Bauer is an entry-level to mid-tier brand, and its pricing reflects that.
Some of its gear sells for hundreds of dollars or even passes the thousand-dollar mark, but a lot of it is priced to attract everyday people.
The company often has sales, which can hit 60% off or more.
Who Was Eddie Bauer?
Eddie Bauer was a noted outdoorsman throughout the 20th century.
He founded the Eddie Bauer outdoor company, which has outfitted many expeditions to the world's highest mountains and is one of the world's most prominent camping, hiking, paddling, and general outdoor companies.
Bauer was born in 1899 to German parents on Orcas Island, northwest of Seattle. At the age of 13, he dropped out of school to work at Piper & Taft, then one of the biggest sporting goods stores on the West Coast. He worked there for six years.
At the age of 20, Bauer decided it was time to strike out on his own. He created Eddie Bauer's Tennis Shop, which consisted mostly of him restringing rackets.
He spent a good portion of each year hunting and fishing in the backcountry.
He married Christine "Stine" Heltborg in 1929. Stine Bauer was a champion markswoman; Eddie said she had more stamina in the backcountry than he did.
When he patented the first down jacket in America, after nearly dying of hypothermia on a fishing trip, his life changed forever.
People — including seasoned mountaineers and soldiers in the United States Army — couldn't get enough of his gear, and he became extremely successful.
Bauer had one son — Eddie Christian, born in 1938 — who also loves the outdoors.
In the 1960s, he became a breeder of champion field trial Labrador retrievers.
One of his dogs, Wanapum Dart's Dandy, was the first American Labrador retriever to be a Triple Crown national champion and was inducted into the Retriever Hall of Fame.
Bauer would later be named Retriever Breeder of the Year.
After he retired, Bauer and his son sold their stakes in the company to their business partners and retreated to the place he knew best: the woods. They hunted and fished together for many years.
In the 1980s, Bauer co-authored three books: The Eddie Bauer Guide to Family Camping, The Eddie Bauer Guide to Cross-Country Skiing, and The Eddie Bauer Guide to Backpacking.
He died on April 18, 1986 — 15 days after his wife's death.
History of the Eddie Bauer Brand
In 1920, at the tender age of 20, Eddie Bauer launched his brand inside another man's gun shop. Calling it "Bauer's Sport Shop," he initially sold and strung tennis rackets.
In 1925, Bauer started making fishing flies out of feathers and down — which would become key components in his outdoors gear.
Later, he would patent a badminton shuttlecock made with goose feathers.
In 1936, he patented the United States' first down jacket: the Skyliner. The jacket was inspired by his experience suffering from hypothermia on a winter fishing trip and would change his life forever.
In the 1940s, Bauer designed the first down flight suit for the U.S. Army in World War II. Pilots wrote to him demanding more products. He obliged, launching an outfitter catalog soon after.
In 1944, Bauer patented a women's down jacket, inspired by his wife, Stine.
Throughout the 1950s, '60s, '70s, and '80s, Bauer outfitted expeditions to Kara Koram (K2), Gasherbrum I, the South Pole, Mt. Everest and Makalu (the first American ascents), and Great Trango Tower.
He got rave reviews. The South Pole team even recorded the coldest temperature ever registered on Earth at that point: -102 F.
The 21st century has seen the Eddie Bauer brand launching gear innovations like the EverTherm down jacket, Thindown technology, and First Ascent gear, which is trusted by serious mountaineers.
I hope you found this Eddie Bauer brand review helpful, and I wish you many happy outdoors adventures!