Are you thinking about buying GreenPan cookware but unsure if it's right for you?
Are you wondering if GreenPan is a good cookware brand and how it stacks up against others?
In this in-depth review, I break down the pros and cons of GreenPan cookware.
You'll learn:
How it looks and feels (with lots of pictures)
How it performs in the kitchen
What I like (and don't like) about it
How much it costs
And much more
By the end, you'll have all your questions about GreenPan answered and be able to decide for yourself if it's worth it.
Design
GreenPan has over a dozen collections, and designs vary from matte black with gold-tone handles to sleek brushed stainless steel and high-sheen pastels.
In this section, I'll highlight the design features focusing on the Paris Pro collection since it's one of GreenPan's best sellers.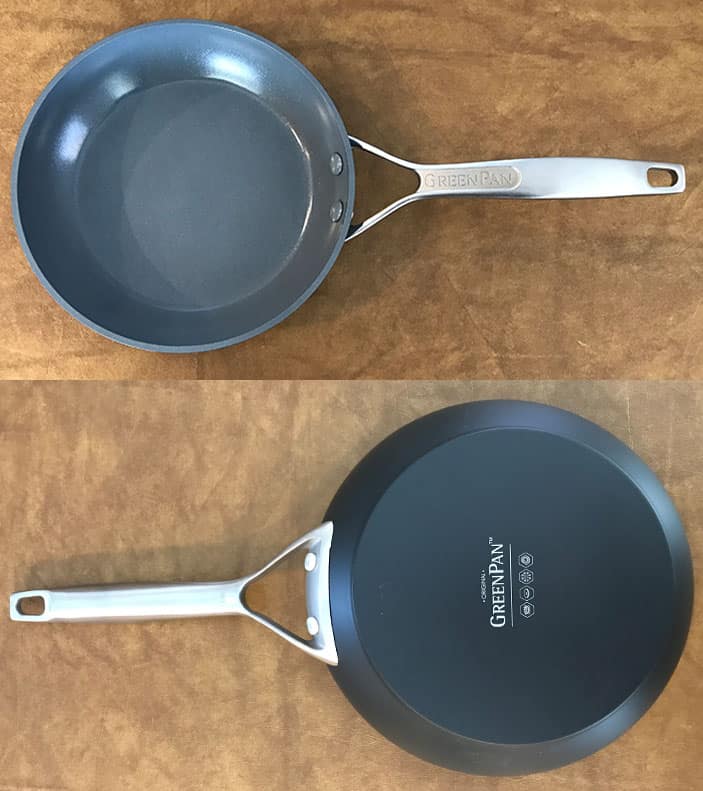 Exterior
The Paris Pro frying pan, like many other GreenPan collections, is constructed from hard-anodized aluminum. This material not only makes the pan extremely durable, but it also provides quick and even heating with excellent heat retention.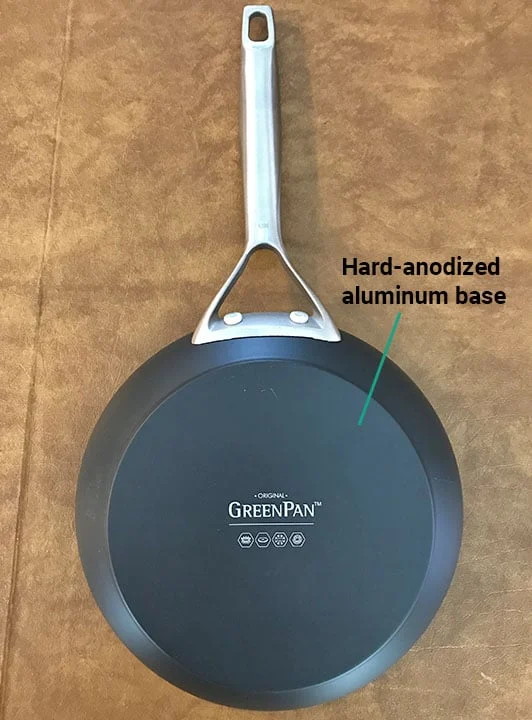 The exterior is jet black matte and provides good contrast with the lighter-colored interior.
The bottom is completely flat, which provides stability and even heating.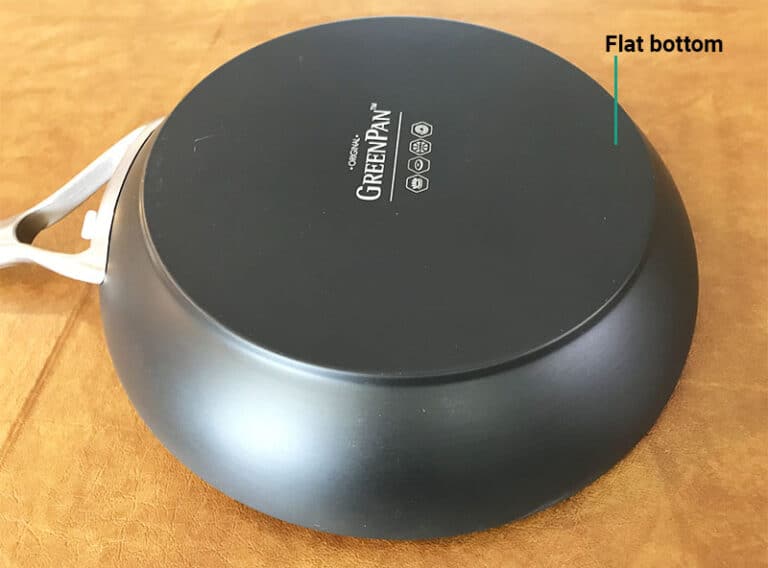 If you are looking for something brighter or a color to match your kitchen, other collections, such as the Rio, offer a brightly colored exterior.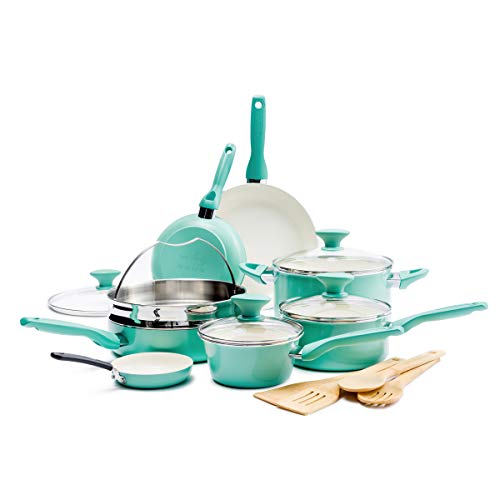 You can also opt for a classic stainless steel exterior with the Venice Pro collection.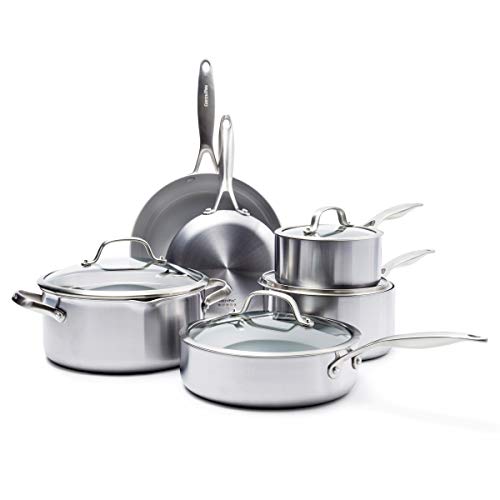 Interior
Most GreenPan interiors are shiny dark gray, thanks to the Thermolon coating — a ceramic non-stick material that is PTFE and PFOA-free.
Thermolon is a more natural alternative to traditional non-stick. It does not release toxic fumes if accidentally overheated and has been repeatedly tested to ensure its safety.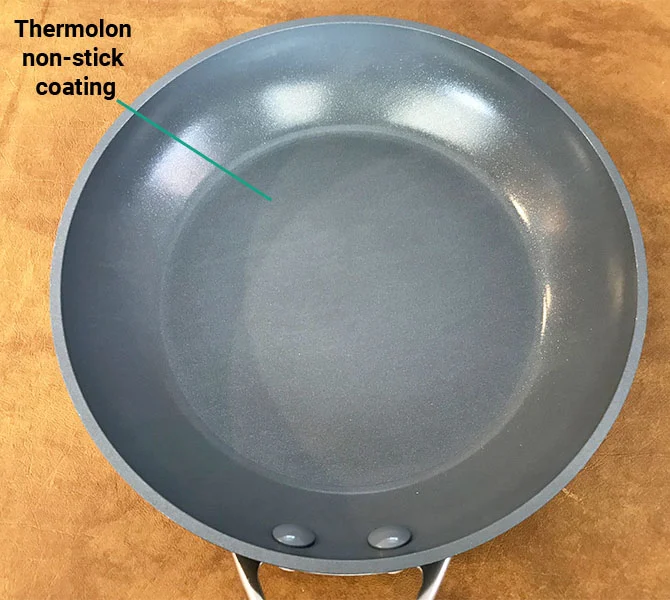 Some collections feature darker, almost black, interiors while others have very light interiors.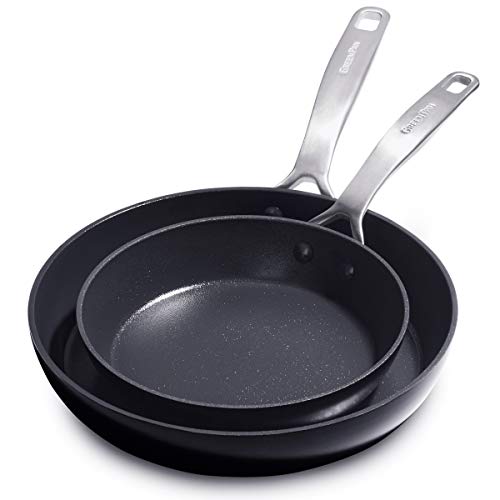 Lighter interiors (like the ones on the GreenPan Rio collection) tend to show stains and discoloration easier, so keep that in mind when choosing which GreenPan collection to buy.
The fry pans and wok have sloped sides, and the saucepans feature straight sides.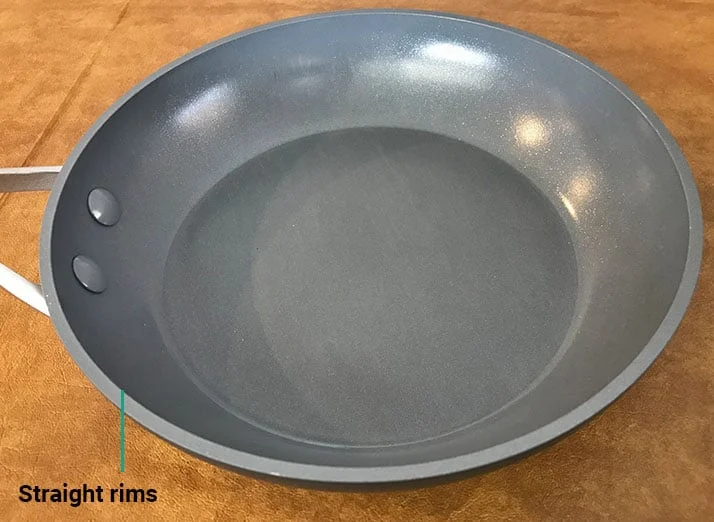 Most GreenPan pots and pans have straight rims (rather than flared), which help contain ingredients but make it more difficult to pour liquids without making a mess.
Handles
The handles are ergonomically designed and riveted to the base for stability.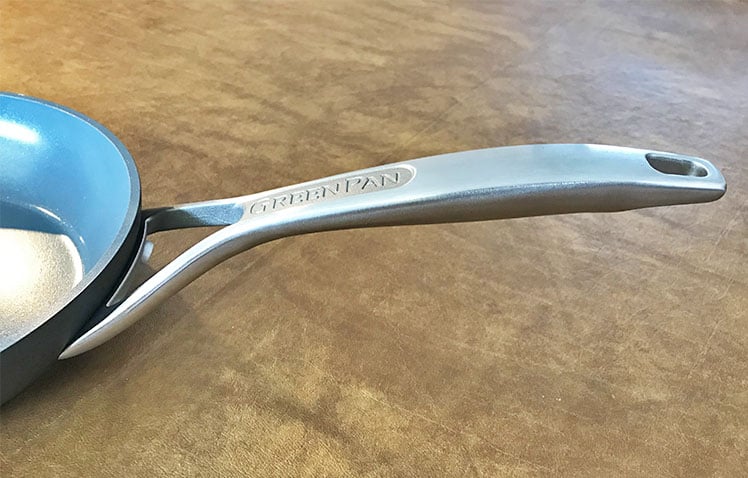 You'll notice that they fork before connecting to the base. This design allows the handles to disperse heat and stay cool.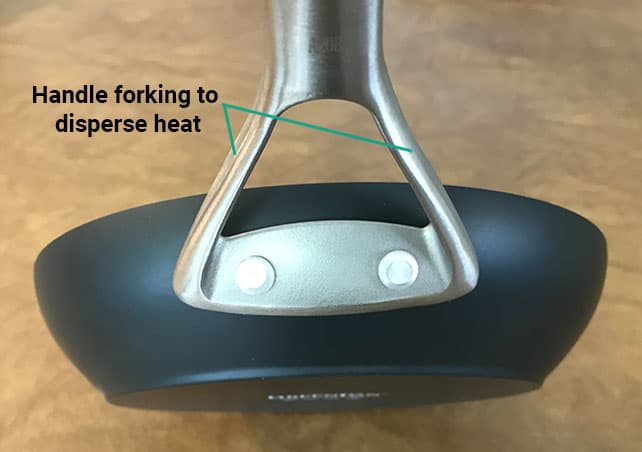 The rivets can make the pan more difficult to keep clean, as bits of food or oil can get stuck around them.
The same goes for the GreenPan logo engraved on the handle. It will require a little extra care when cleaning.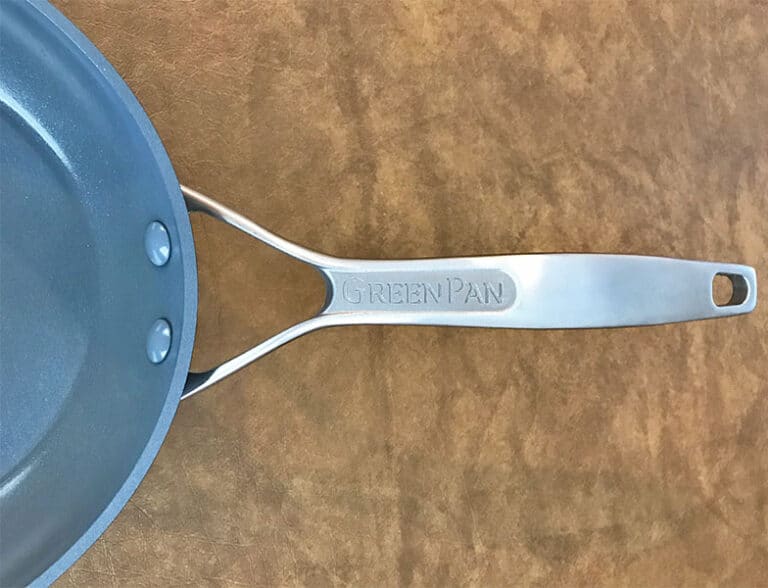 Most handles are stainless steel, but GreenPan offers some variety across its collections. For example, the Padova collection boasts gold-toned handles.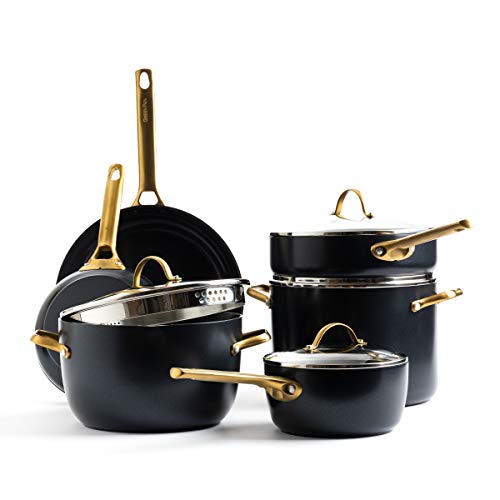 And the Hudson collection features wooden handles for a more rustic look.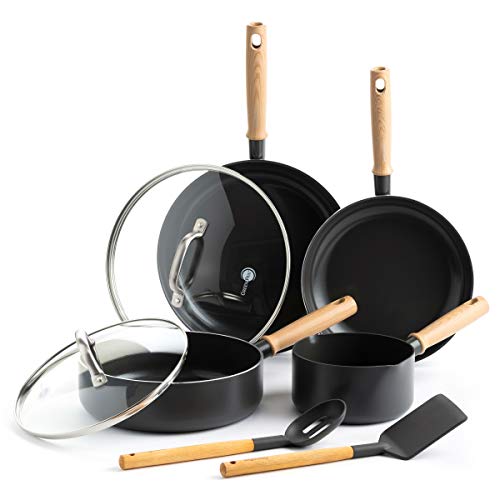 Other collections, such as Rio, feature Bakelite (durable plastic) handles that provide a bit more comfort but don't look as high-end.
Lids
Lids match the brushed stainless steel handles. They come with the saucepans and are recessed for a snug fit, trapping moisture and keeping your meals tender and juicy.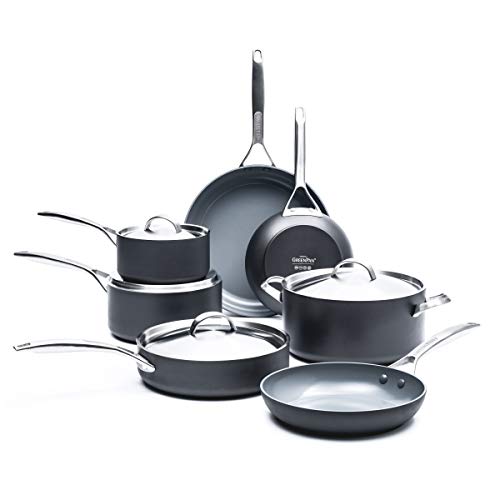 The lid handles are thick, sturdy, and arc-shaped. It's not a design you often see in stainless steel, as many cookware manufacturers tend to add stainless handles with more of a squared or angular profile with visible riveting on either side.
Materials and Construction
As I mentioned, the cooking surface of all GreenPan cookware is coating with a proprietary ceramic non-stick coating called Thermolon.
However, GreenPan's base construction varies by collection. You have a choice of aluminum, hard-anodized aluminum, or stainless steel clad (3-ply) cookware.
As a general rule, the collections with a fully-clad stainless steel base are the most durable (and most expensive), and the ones with an aluminum base are the least durable (and least expensive). Hard-anodized aluminum is in the middle.
The chart below shows the base material of GreenPan's most popular collections:
| Collection | Base Material |
| --- | --- |
| GreenPan Paris Pro | Hard-anodized aluminum |
| GreenPan Valencia Pro | Hard-anodized aluminum |
| GreenPan Venice Pro | Fully-clad stainless steel |
| GreenPan Venice Pro Noir | Fully-clad stainless steel |
| GreenPan SmartShape | Aluminum |
| GreenPan SmartShape Design | Aluminum |
| GreenPan Kitchen Stories | Hard-anodized aluminum |
| GreenPan Levels Hard Anodized | Hard-anodized aluminum |
| GreenPan Stainless Steel | Fully-clad stainless steel |
| GreenPan Chatham | Hard-anodized aluminum |
| GreenPan Hudson | Hard-anodized aluminum |
| GreenPan Padova | Hard-anodized aluminum |
| GreenPan Barcelona Evershine | Fully-clad stainless steel |
| GreenPan SearSmart | Hard-anodized aluminum |
| GreenPan Lima | Hard-anodized aluminum |
| GreenPan Rio | Aluminum |
Performance
I've been cooking with GreenPan for several years, and here are my thoughts on its performance.
GreenPan heats quickly and evenly, so you rarely need to turn the burner above medium.
In fact, low temperatures are sufficient for most recipes. Only use high heat to sear and brown, and adjust the heat to medium for the rest of the cooking process.
Since the cooking surface is non-stick, it's the perfect cookware for omelets, sauteed veggies, seafood, and poultry.
However, I prefer stainless steel and cast iron (GreenPan doesn't offer either) for cooking steaks, burgers, and other proteins that benefit from a good crust.
You need to keep the surface exceptionally clean to get the best cooking performance. Once something sticky gets "baked in," not only does the pan lose its non-stick properties, but it will also burn just about anything you cook.
Thankfully, if you simply allow it to cool and hand wash, you can clean it easily. Scotch-Brite-style sponges are only necessary for heavy-duty jobs. In most cases, soaking in warm water and soap will loosen any stuck-on food.
GreenPan isn't all that compatible with aerosol cooking spray. It leaves a film on the surface that can build up over time. Use olive oil, coconut oil, or avocado oil.
Many GreenPan collections have straight rims (versus flared rims), which contain the ingredients and prevent spills but make pouring sauces a challenge.
Overall, I am impressed with how well GreenPan's interiors hold up, especially when you consider that ceramic non-stick pans are known to wear down and lose their non-stick properties quicker than traditional Teflon-coated pans.
Heat Conduction and Retention Test
I mentioned that GreenPan heats up quickly, but how does it compare to the competition?
To find out, I conducted a simple test. I poured two cups of cold water into the GreenPan Paris Pro fry pan. After setting the pan on the burner and turning the heat to high, I set a stopwatch to measure how long it took for the water to boil.
I conducted the same test with HexClad, All-Clad, Calphalon, and Misen pans. Below are the results:
| Pan | Time to First Bubbles | Time to Boil |
| --- | --- | --- |
| GreenPan 8-Inch fry pan | 1 minute and 47 seconds | 2 minutes and 41 seconds |
| HexClad 12-inch fry pan | 1 minute and 40 seconds | 2 minutes and 30 seconds |
| All-Clad 12-inch skillet | 1 minute and 55 seconds | 2 minute and 55 seconds |
| Calphalon 12-inch fry pan | 1 minute and 45 seconds | 2 minute and 40 seconds |
| Misen 10-inch fry pan | 1 minute and 50 seconds | 2 minute and 45 seconds |
As you can see, the GreenPan boiled the water faster than the All-Clad and Misen pans and only one second slower than the Calphalon pan.
The bubbles were completely even across the entire cooking surface, which indicates uniform heat distribution.
I also tested its heat retention properties by pouring out the boiling water and seeing how warm the pan was after five minutes.
With GreenPan, the pan was slightly warm after five minutes, which was similar to the HexClad, All-Clad, and Calphalon pans, but not nearly as warm as the Misen pan.
The key takeaway is that GreenPan advertises itself as the cookware with a healthy ceramic non-stick coating, but it has much more to offer. Its heat conduction and retention are on par with high-end, well-established cookware brands.
Downsides
GreenPan pots and pans have several benefits but also many downsides. Here are the cons to consider before making your purchase decision:
Price: Due to its high-end Thermolon non-stick coating, GreenPan cookware is more expensive than comparable non-stick pans with PTFE (Teflon) coating.
Limited options: All GreenPan cookware is non-stick. While it offers excellent food release, you need to shop other brands for other cookware types such as stainless steel, cast iron, and carbon steel.
Longevity: When it comes to durability, some home chefs complain that GreenPan's ceramic coating doesn't last as long as a high-quality traditional (PTFE) non-stick coating. In my testing, I've found GreenPan's coating to last longer than most ceramic coatings but not as long as PTFE non-stick coatings.
Versatility: Although all collections are oven-safe, many are safe at relatively low oven temperatures and might not be versatile enough for all recipes.
Performance: Some home chefs complain that food sticks to the fry pans, even when you grease the surface with oil. While most customers don't report this issue, it's a common theme among the negative GreenPan reviews.
Induction compatibility: Many GreenPan collections are not compatible with induction cooktops. So if you have an induction cooktop, read the fine print before choosing your cookware.
Price
GreenPan is more affordable than some other comparable ceramic non-stick brands (like Caraway), but it's more expensive than most traditional Teflon-coated non-stick cookware.
GreenPan Cookware FAQs
Before I wrap up this GreenPan cookware review and give you my recommendation, let's quickly go over the most frequently asked questions about the brand.
How many cookware collections does GreenPan offer?
GreenPan boasts nearly a dozen unique cookware collections, and they continually rotate products. Some of its most popular include: Barcelona Evershine, Chatham, Hudson, Kitchen Stories, Levels Hard Anodized, Levels Stainless Clad, Lima, Padova, Paris Pro, Premiere (exclusive to Williams Sonoma), Reserve, Rio, SearSmart, SmartShape, SmartShape Design, Valencia Pro, Venice Pro, and Venice Pro Noir.
You can explore all of these options on GreenPan.us or Amazon.
Where is GreenPan cookware made?
GreenPan cookware is designed in Belgium and made in a GreenPan-owned, ISO award-winning factory in Jiangmen, China.
Is GreenPan oven-safe?
All GreenPan cookware is oven-safe, but the temperature ratings vary by collection. The cookware has a range of 320 – 600°F, while lids range between 350 – 600°F.
Here are a few examples:
– Paris Pro: Oven safe (cookware and stainless steel lids) up to 600°F
– Valencia Pro: Oven and broiler safe up to 600°F and glass lids up to 425°F
-Hudson: Oven safe up to 320°F and glass lids up to 425°F
– Levels Hard Anodized: Oven safe up to 400°F and glass lids up to 350°F
Is GreenPan dishwasher-safe?
GreenPan offers dishwasher-safe options but recommends hand washing. Use a soft cloth or non-abrasive sponge and warm, soapy water to maintain the cookware's longevity.
Is GreenPan induction-compatible?
Venice Pro, Venice Pro Noir, Valencia Pro, and Levels Stainless collections are all induction-compatible. The other collections are not.
Is GreenPan metal utensil-safe?
Within its official FAQs, GreenPan advises against the use of metal utensils. However, I spoke with a GreenPan representative, and she said that collections coated with Thermolon Diamond Advanced ceramic non-stick could handle metal utensils. Those collections include Levels, Padova Reserve, SmartSear, and Premiere.
Does GreenPan come with a warranty?
GreenPan offers a 2-year warranty on its ceramic non-stick coating and a lifetime warranty on the pan. The warranty covers manufacturing defects and workmanship issues.
What is GreenPan's return policy?
You can return unused products in their original packaging up to 14 days after receiving them.
Where can you buy GreenPan?
You can buy GreenPan on GreenPan.us, Amazon, or at retailers such as Target and Williams-Sonoma.
When did GreenPan first launch?
GreenPan launched in 2007 in Belgium. The company searched diligently for just the right non-stick coating. The result? Thermolon. The innovative invention is a proprietary ceramic non-stick, and it was the first of its kind. GreenPan is the pioneer of this type of natural non-stick cookware.
Conclusion: Is GreenPan a Good Cookware Brand?
I've reviewed dozens of cookware brands over the years, and GreenPan is one of the best in the ceramic non-stick category.
Not only did the company pioneer the ceramic non-stick movement, but it has been innovating and refining its collections for over a decade.
Now that you have all the facts, it's time to decide if GreenPan is right for you. Here are some tips to help you decide:
You should buy GreenPan cookware if:
You want oven-safe ceramic non-stick cookware.
You want ceramic non-stick cookware from an established brand, and price is no issue.
You want non-toxic, eco-friendly cookware that emits 60% less CO2 into the environment during production than traditional non-stick cookware.
You want a brand that uses sustainable practices; GreenPan uses upcycled stainless steel and aluminum as much as possible.
You want a variety of choices in construction and design.
You want celebrity chef-endorsed ceramic non-stick cookware.
If this sounds like you, check out GreenPan.us or Amazon, where you can learn more about the offerings and read verified reviews.
You should NOT buy GreenPan cookware if:
You are on a tight budget and looking for a cheaper alternative.
You are looking for the most effortless food release possible (traditional non-stick wins).
You want a more comprehensive selection of induction-compatible collections.
You prefer to use metal utensils when you cook (you can use metal utensils on Thermolon Diamond advanced pans only).
You prefer a longer-lasting non-stick coating.
You prefer flared rims on fry pans.
If this sounds more like you, I recommend that you check out other non-stick offerings like Caraway, Scanpan, or Calphalon.
Bottom line — GreenPan is a reliable, health-conscious, and environmentally-friendly choice if you want an alternative to Teflon and other PTFE-based non-stick cookware.
If you're ready to buy or just want to read more reviews and view current prices, check out GreenPan.us or Amazon.