About McGee & Co.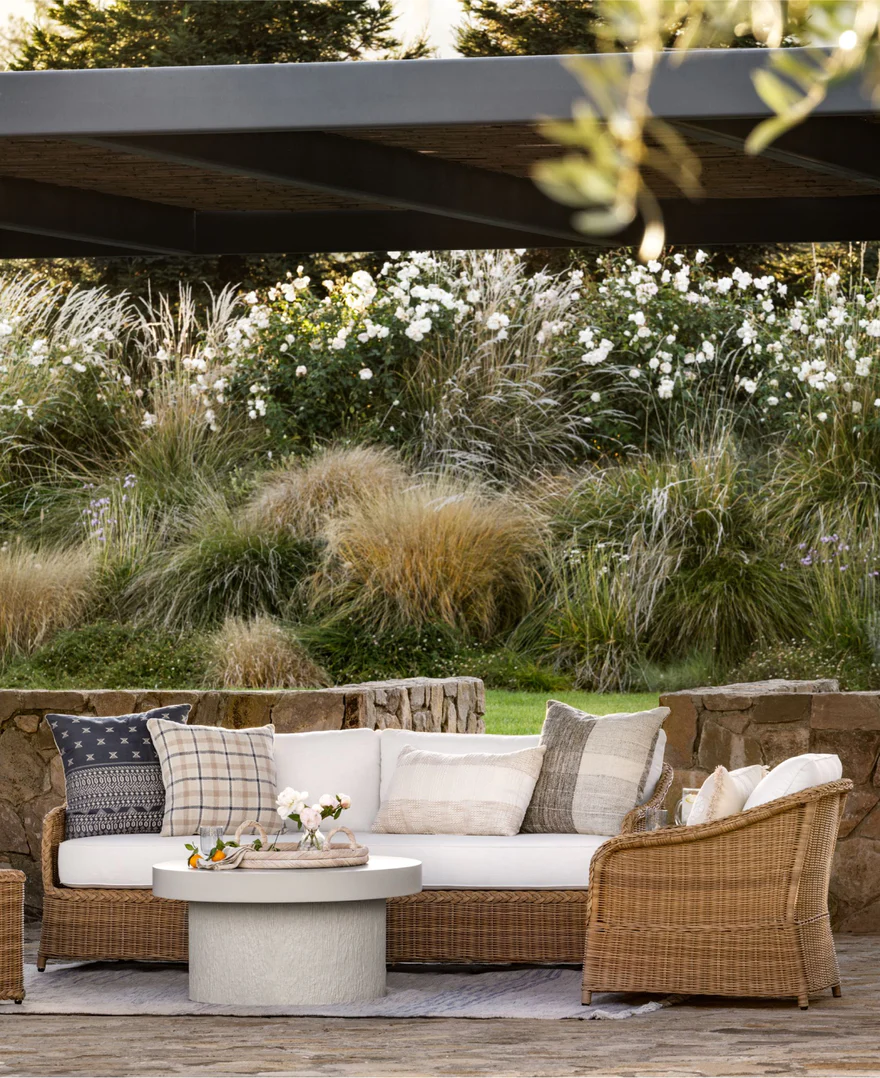 McGee & Co. is a home furnishings and decor brand that was founded by Shea McGee in 2016. The company is based in Salt Lake City, Utah. Known for its modern and sophisticated designs, McGee & Co. offers a wide range of furniture, home accessories, lighting, rugs, and other decor items.
The brand's aesthetic is characterized by a blend of traditional and contemporary styles, resulting in timeless and inviting spaces. McGee & Co. focuses on creating pieces that are both functional and beautiful, with an emphasis on quality craftsmanship and attention to detail.
The furniture collection offered by McGee & Co. includes a variety of pieces for different areas of the home, such as sofas, chairs, dining tables, beds, and storage solutions. The designs often feature clean lines, neutral color palettes, and natural materials, creating a sense of warmth and comfort.
In addition to furniture, McGee & Co. also offers a curated selection of home decor items, including lighting fixtures, mirrors, wall art, textiles, and tabletop accessories. These pieces are designed to complement the furniture collection and help customers create cohesive and stylish interiors.
McGee & Co. primarily operates through its e-commerce platform, allowing customers to shop for their products online. They also have a brick-and-mortar store located in Utah, where customers can view and purchase their items in person.
The brand has gained popularity through social media, particularly on platforms like Instagram and Pinterest, where their designs and home styling inspiration are widely shared and admired. Their approachable yet sophisticated style has resonated with a wide audience, making McGee & Co. a go-to brand for those seeking elevated and well-curated home furnishings and decor.
Simeon Outdoor Chair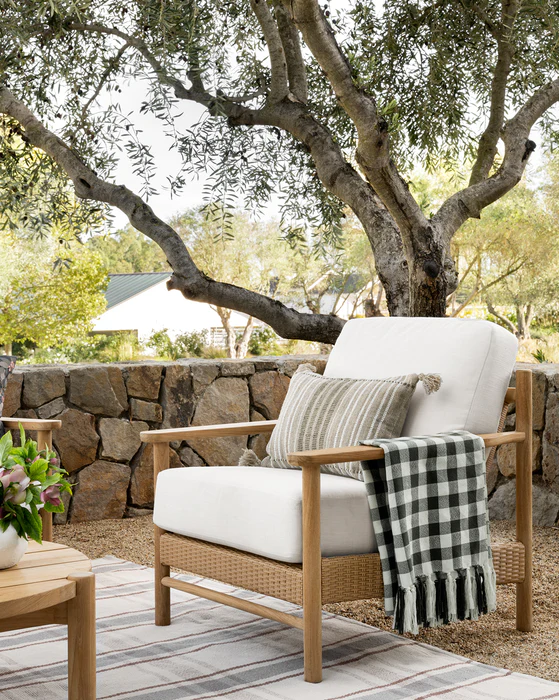 Crafted from teak wood, our Simeon Outdoor Chair offers both aesthetic and functionality to outdoor lounging. Designed with woven wicker detail and comfortable white upholstered cushions, this outdoor chair is both inviting and organic.
Barden Sofa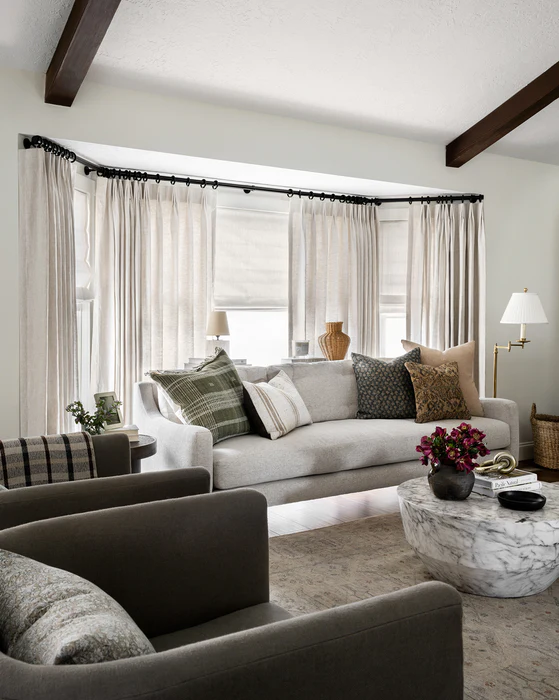 With tufted cushions and decorative legs, the Barden Sofa gives a modern update to traditional elements. Its reeded wood legs give nod to turn of the century style and are fitted with brass caps, while its single upholstered cushion gives a refreshingly minimal tone to the piece. Beautiful in form while functionally comfortable, the Barden Sofa comes in a variety of colorways.
Kensington Cabinet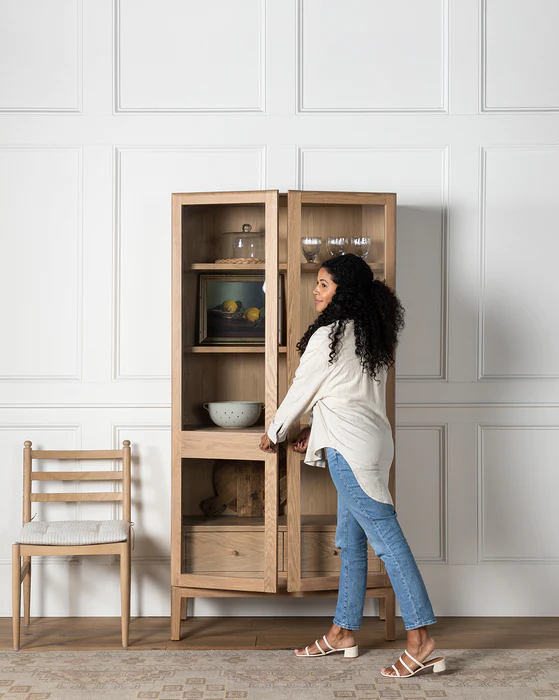 Dynamically designed, the Kensington Cabinet has a neutral, warm white oak finish and a stately form. All tucked inside beautifully framed glass doors, the shelving and drawers inside the Kensington Cabinet add dimension and are perfect for styling your more precious pieces.
Magda Teddy Bear Boucle Lounge Chair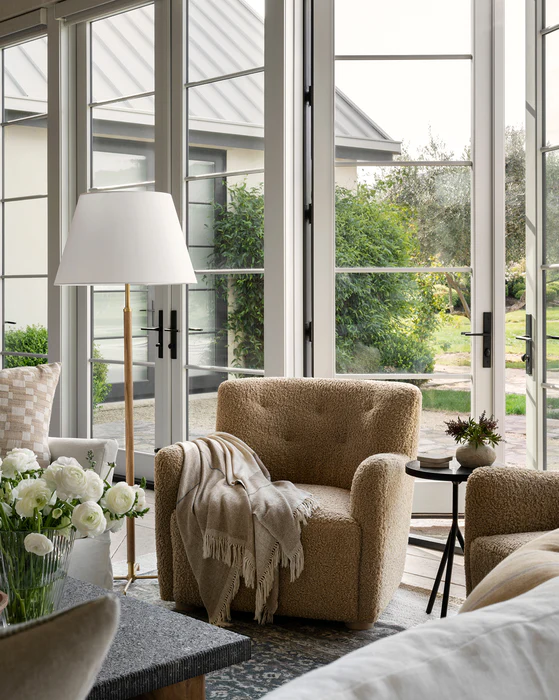 A neutral and elevated shearling chair, our Magda Teddy Bear Boucle Lounge Chair is textural and modern. With a white oak frame, plush seating, and subtle tufting, the shearling chair is masterfully crafted, bringing comfort to your home in two colorways.
Elton Dining Chair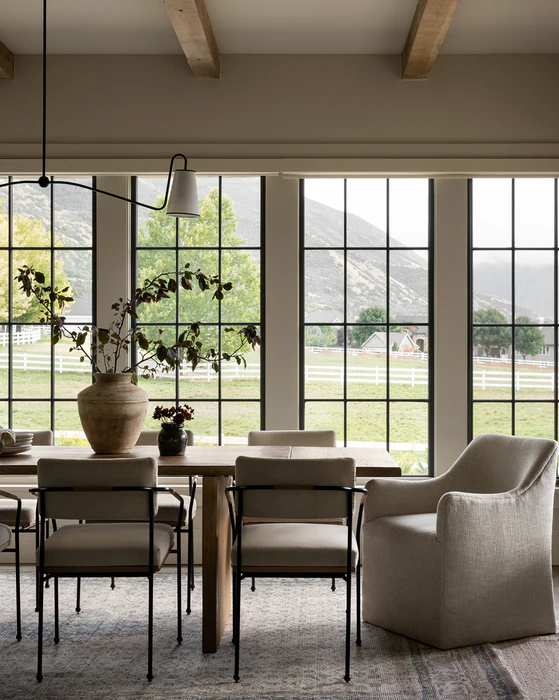 Dramatic and poised, the Elton Dining Chair is upholstered with a linen blend, with elegant lines that bring sophistication to dining spaces. Its back fluidly extends into its armrests, creating an elongated look and elegant feel.
Guthrie Cabinet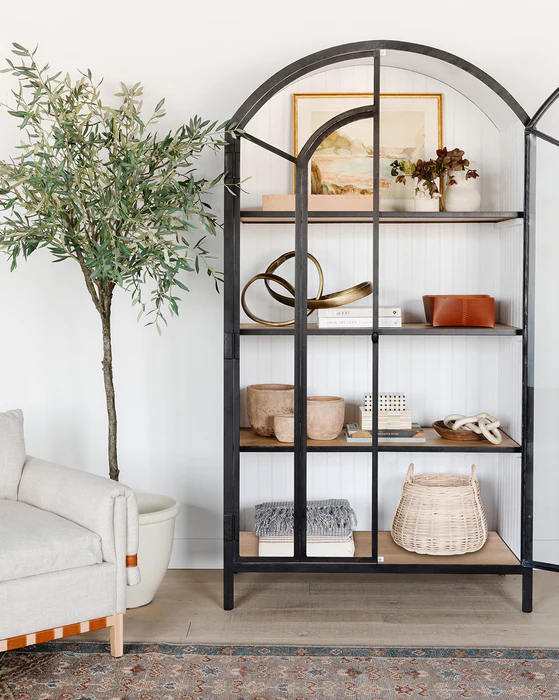 Constructed with a strict attention to detail, our Guthrie Cabinet features a sophisticated curved shape and powder coated iron frame. A white beadboard surround covers the interior of the frame, while four natural oak wood shelves finish off the design. Filled with anything from books, your favorite treasures or even dinnerware, this cabinet elevates your space while keeping function in mind.
Hoffman Bed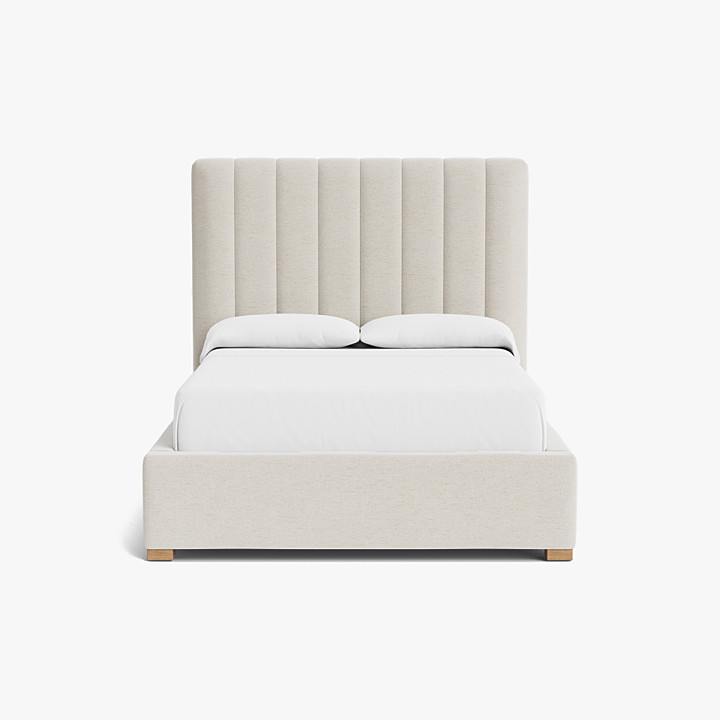 Fully upholstered on a kiln-dried oak frame, the Hoffman Bed is customizable in a variety of high-quality fabrics, each hand-selected by our team for their beauty and durability. With distinct channels that flow through the headboard and subtle wood block feet, the Hoffman Bed brings a refined touch to classic bed designs.
Emory Extension Dining Table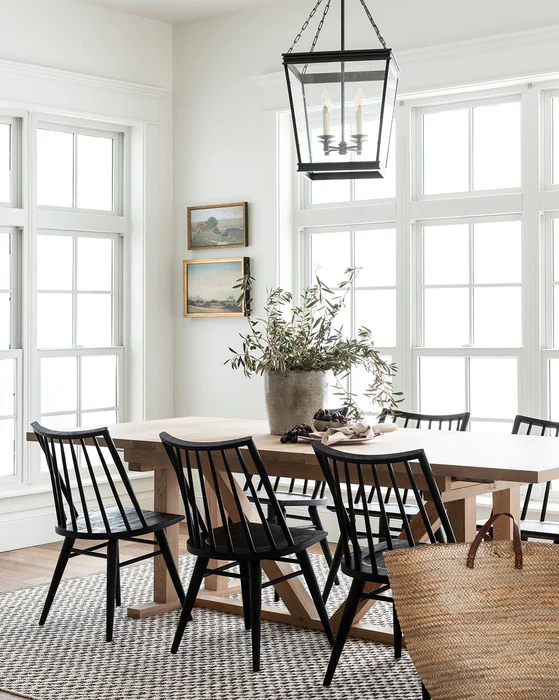 We designed our Emory Extension Dining Table with both intimate family dinners and large Holiday gatherings in mind. Crafted from solid white oak, this table brings both form and function to your dining space from its architectural base, to the easy extending leaf. Its sturdy, high-quality construction stands the test of time as it grows with your family from memory to memory.
Abigail Silk Stripe Pillow Cover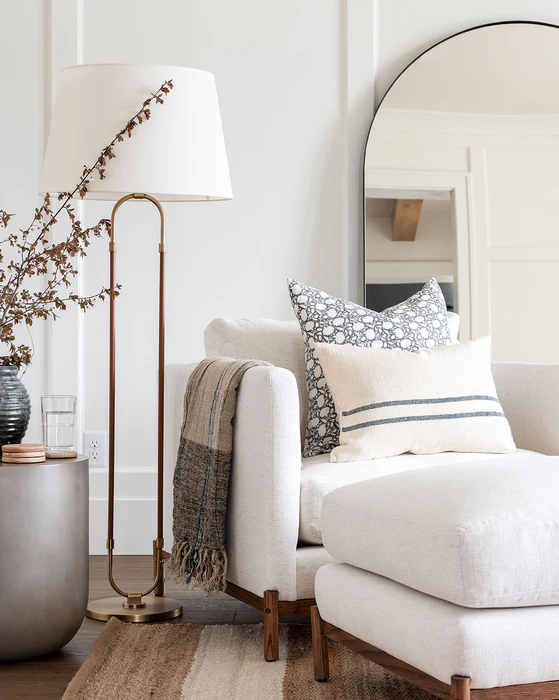 Handwoven by skilled artisans, our Abigail Pillow Cover is the epitome of luxury crafted from silk and finished with a classic color palette. Styled as part of a curated collection, this textile brings dimension with its unique, refined texture.
Final Thought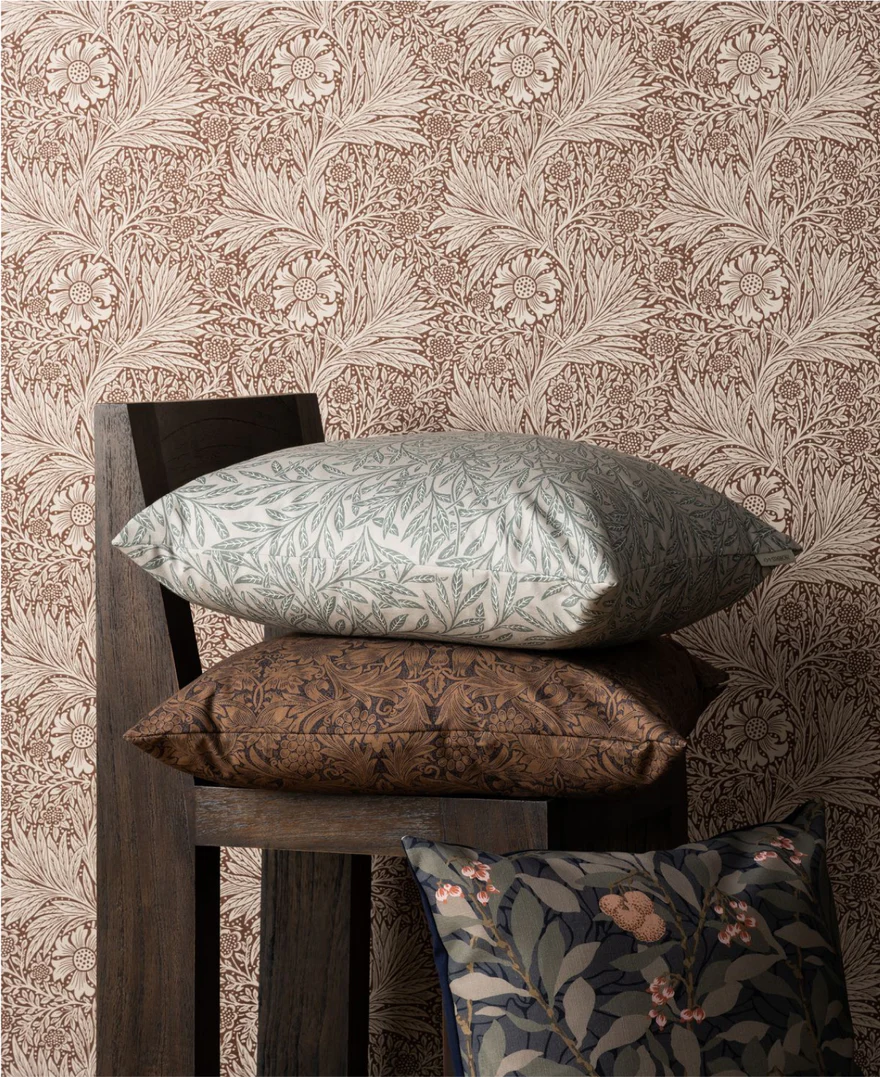 McGee & Co. has made a significant impact in the world of home furnishings and decor since its inception. With their emphasis on modern and sophisticated designs, the brand has become synonymous with creating inviting and timeless spaces. The combination of quality craftsmanship, attention to detail, and a curated selection of furniture and home accessories has contributed to their success. Whether shopping online or visiting their physical store, customers can expect to find a range of stylish and well-crafted pieces that blend traditional and contemporary aesthetics seamlessly. McGee & Co. continues to inspire and delight homeowners, offering a trusted source for those seeking to create beautifully designed and thoughtfully curated interiors.