Eddie Bauer is a clothing store in the United States. It is one of the longest-running clothing stores in America, as it was established in 1920. In this article, we will dive deep into different aspects of the Eddie Bauer brand to find out if it is a good brand.
Eddie Bauer is a good brand of clothes and related products. Interestingly, it wasn't a fashion store to begin with. This Seattle-based company was founded by Eddie Bauer, who was an outdoorsman. His first product is a quilted-down jacket for three-season adventures. Later on, he made several patented designs. Until now, the company holds a rapport for being a manufacturer of rugged yet fashionable apparel and gear.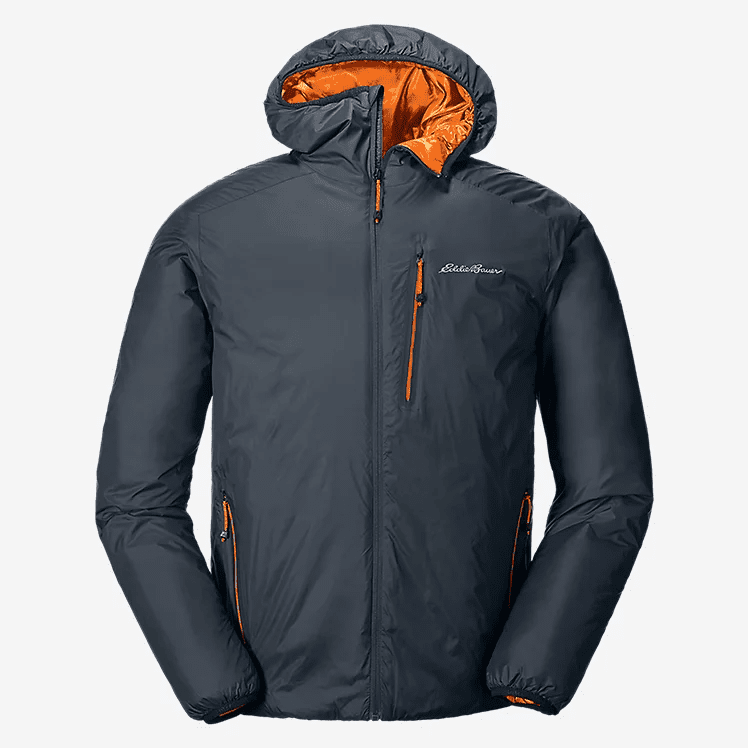 Is Eddie Bauer A Good Brand For Winter Clothing?
As mentioned, the first product of Eddie Bauer was a down jacket. It is a given that this brand is a master in the construction of jackets and top layers that can protect their users against the cold since they've been doing it for so long.
I also have to emphasize that Eddie Bauer was the very first third-party company that was hired by the United States Army to tailor its uniforms. We all know that military uniforms are tailored to be rugged and temperature-resistant. So that alone proves that Eddie Bauer knows a thing or two about insulation.
Eddie Bauer holds their own when it comes to outdoor winter clothing when compared to other brands in this industry such as Regatta, Canada Weather Gear or Mountain Warehouse. They can withstand the elements and provide impressive defence against changes in temperatures. So yes, Eddie Bauer is a good brand for winter clothing.
Is Eddie Bauer A Luxury Brand?
Eddie Bauer is a premium clothing brand. That's something that I can guarantee. However, we can't really say that this clothing company is similar to luxury clothing companies. One could say that Eddie Bauer sits in the middle-range category – it isn't that cheap, but not too expensive, either.
Despite not being a luxury brand, Eddie Bauer is still a desirable route for those who are looking for durable and comfortable clothing. It provides a plethora of apparel for different seasons. The quality of its gear is impressive, as they have been tailored using authentic materials. Some of them are hand-sewn, so there's a degree of precision and quality that Eddie Bauer can offer.
Pricing-wise, Eddie Bauer remains competitive. It is a known small competitor to major outdoor clothing brands, such as North Face. This means that if you are looking for an alternative, you might want to consider going to Eddie Bauer. The premium quality of its clothing is all worth your money.
Eddie Bauer vs North Face
Both of them are also primary manufacturers of clothing in the outdoor niche. They have an extensive history in the market, proving that they know the fundamentals of making clothes that can suit various seasons and fit different applications.
Eddie Bauer typically uses polyester and nylon as its primary fabrics. It also utilizes other materials, such as wool and cotton, on its jackets. Through the use of modern innovations in fabrics, such as eVent, Eddie Bauer has been able to produce rugged, weather-resistant clothing lines.
They are also among the few clothing manufacturers that provide affordable options. Its retail price for its products ranges from $100 to $250. Of course, its jackets are a lot pricier.
Meanwhile, North Face is a known American brand that specializes in clothing and gear production. It is an outdoor brand, similar to Eddie Bauer. But unlike Eddie Bauer, The North Face focuses on manufacturing products for outdoor adventures. It is not a fashion brand like what other people thought it to be.
Notably, North Face is known for its environmental responsibility. Hence, most of its fabrics are actually recycled. It employs durable water resistance (DWR) treatments that are free from PFC. In this way, its items won't harm the environment. North Face also sources the materials it uses from sustainable and responsible farms, ensuring their traceability.
When it comes to popularity, The North Face is better than Eddie Bauer. Meanwhile, their average pricing is quite evenly matched. Quality-wise, these two brands are comparable.
What Type Of Budget Does Eddie Bauer Suit?
Generally speaking, Eddie Bauer is an affordable brand that offers entry-level options to its consumers. It has to be emphasized that most of its catalogues are within the mid-range category. This means that you might need to spend a little higher if you want to get its merchandise.
Fortunately, the cost of Eddie Bauer products isn't extremely steep. After all, it isn't a luxury brand. One could say that this company sets its prices based on the quality and build of its apparel. In short, you will get what you pay for.

Is Eddie Bauer A Sustainable Brand?
Sustainability is one of the core aspects of Eddie Bauer, which is not surprising, given that it started as an outdoor company. It has prioritization over various sustainability measures, ensuring that its operation doesn't cause a negative impact on the environment.
Specifically, its primary mission is to preserve and enhance the environment and resource conditions for its business to thrive. This means that its business, as well as its clients and communities, are environmentally sensitive.
Its priorities, are, on the other hand, are the following:
Protecting the outdoors from the harsh impacts of climate change, as well as the potential loss of habitat and biodiversity
Providing versatile and durable products that don't cause environmental emissions or footprints
Ensuring that its business, products, and partners are all safe, accessible, and inclusive
One of its core principles is to guarantee that its products are sustainable. And it has little to do with the use of low-impact materials. Instead, Eddie Bauer guarantees that its customers will be encouraged to use and reuse its merchandise for as long as possible. The more they use its product, the less they need to buy a new one.
Similar to reputable outdoor brands, Eddie Bauer is not a fast-fashion company unlike the big names such as Shein or Asos. It anchors sustainability in its production. Its usage of ethically sourced materials is also proof that it is an environmentally conscious brand.
On the flip side, we have found out that there are several complaints when it comes to the business practices of Eddie Bauer. Accordingly, the company lets its workers experience substandard working conditions. This is something that we have to verify yet.
Where Are Eddie Bauer Products Manufactured?
We've stated that Eddie Bauer is a U.S. brand. However, you'll be surprised that Eddie Bauer doesn't manufacture its products entirely in the United States. Instead, its apparel is mostly manufactured in other countries such as India, Vietnam, Pakistan, Indonesia, and China.
While this might sound appalling to some, it is quite understandable. After all, offshore countries have cheaper manufacturing costs. The labour costs aren't expensive, and the supporting infrastructures are easy to build and rent.
Furthermore, there are a lot of skilled workers in these areas. This is the primary reason why many Western companies tend to source the assembly of their products from offshore countries.
The mere fact that there's a "Made in China" label in Eddie Bauer is indicative that some Americans are hesitant to buy from Eddie Bauer. On the flip side, there's still decent quality control on Eddie Bauer. Therefore, we can't really conclude that its apparel is cheap and bad.
Does Eddie Bauer Have Good Customer Service
So far, the customer service of Eddie Bauer has a decent degree of consistency and responsiveness. It has customer service representatives that handle all the complaints, inquiries, and other matters coming from its clients.
Of course, we can't say that its customer service is perfect. After all, we have read some feedback that Eddie Bauer didn't help some of its customers regarding their concerns.
But if you are going to purchase products directly from its stores, then you will guarantee that the aftersales would be just alright. We can't really say the same if you are going to order its merchandise online.
It has a dedicated Help Center on its website. There, you can send a message directly to its customer service department. There's also a portion there for returns and another separate tab for tracking your orders.
Eddie Bauer is pretty transparent when it comes to its returns policies and exchanges. It also listed all of its warranty information.
What's The Returns Policy Like?
Eddie Bauer strives to attain customer satisfaction. If you want to return a product, make sure that you return it in its unworn or unused condition. When you return the product, make sure that you have attached the proof of purchase.
As much as possible, the returned products must be in their original packaging. It is also indicated that the shipping fee will not be refunded or covered.
Interestingly, the validity of returns for Eddie Bauer is within one year. Customers have an option for a full refund or replacement.
Conclusion
So, is Eddie Bauer a good brand?
Overall, Eddie Bauer is an excellent brand for outdoor apparel and clothing. It is a high-quality manufacturer of clothes that are suitable for adventurers, hikers, and outdoor enthusiasts. Its products are made from genuine and responsibly-sourced materials. They are also rugged and can withstand constant use and abuse.
Hence, if you are searching for a reputable brand of off-the-grid clothing, Eddie Bauer is a great option to try.