About Lovesac
Lovesac is a furniture company that developed the Sactional, or the World's Most Adaptable Couch, and the Sac, the World's Most Comfortable Seat. The Lovesac Sactionals are completely customizable. They can be added on to other Lovesac furniture pieces and rearranged to fit any space in any setup. The Sac is filled with dura foam, so although it may look like a beanbag, it's so much more than that.
Lovesac has been around for over 20 years. You may have already seen a commercial about the brand or read about the Moviesac being incorporated into certain movie theatres for special screenings. Appearances aside, Lovesac furniture has been featured on Business of The Home, Forbes, Real Simple, as well as hundreds of other media outlets.
This Lovesac furniture review will take an in-depth look at the brand, their products, customer reviews, promotions, plus more, to help you decide if Lovesac is worth the buy.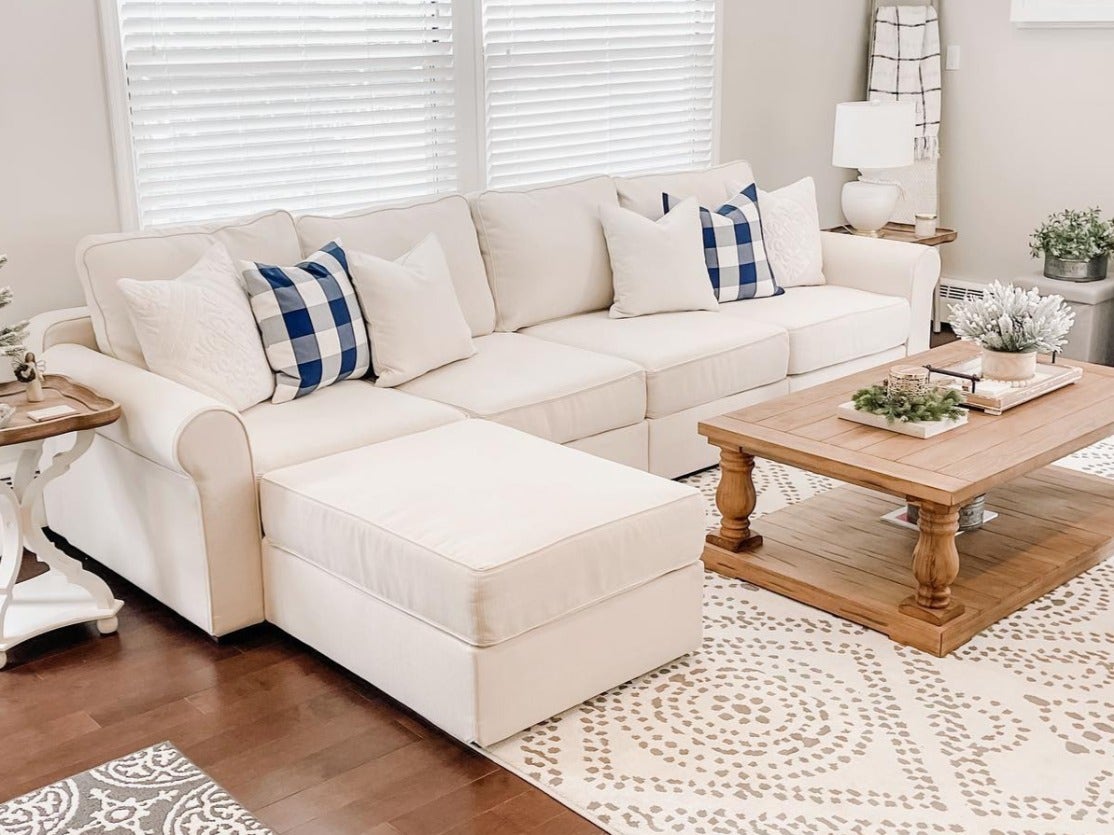 Overview of Lovesac
In 1995, Lovesac founder, Shawn Nelson, built an eight-foot foam filled "Lovesac" in the basement of his parent's home in Utah. In 1998, he joined forces with Dave Underwood, and the two officially launched the brand. Shawn competed on Rebel Billionaire in 2004 and won $1M, which he used to take the brand to the next level.
Fast forward to 2017, where 70 Lovesac furniture showrooms were opened across America, and the brand soon became a publicly-traded company the following year. Today, the Lovesac stock price is $58.
In the efforts to become a more eco-friendly brand, Lovesac partnered with Repreve, a sustainable fabric company. The upholstery fabric of all Sacs and Sactional inserts is made from 100% repurposed plastic bottles.
This Lovesac furniture review will now highlight some important pros and cons of the brand.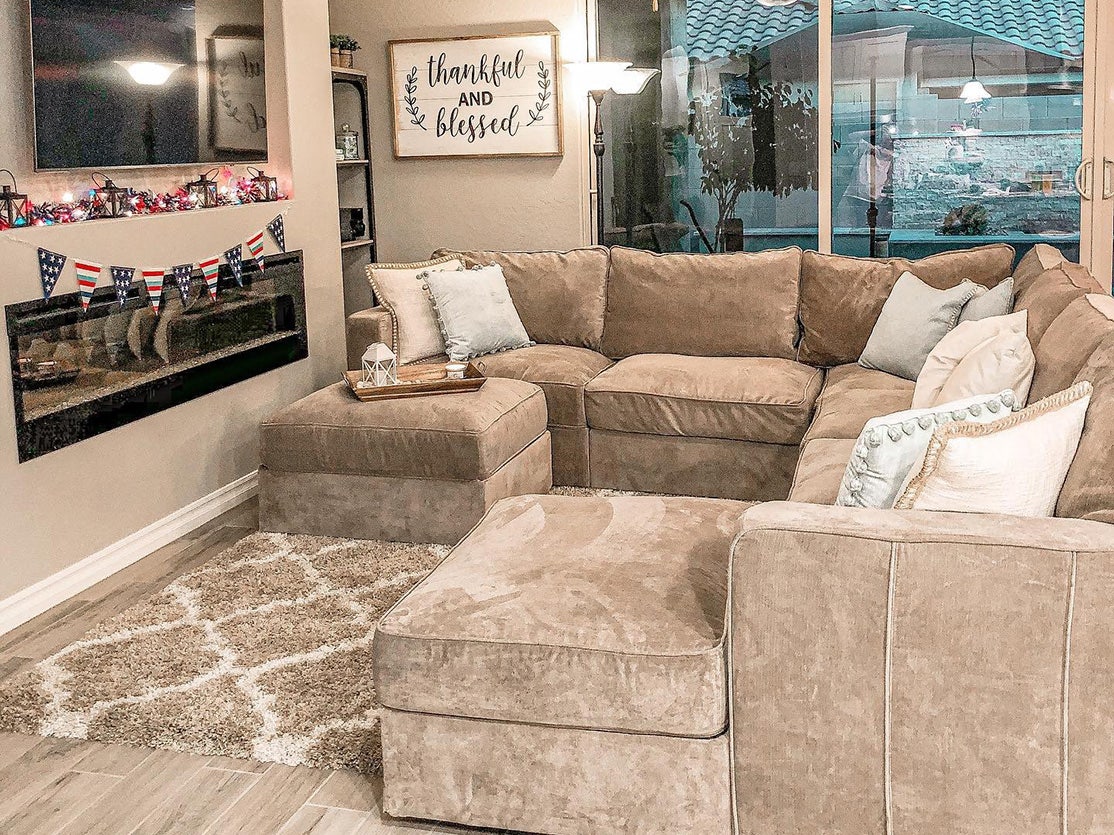 Pros
Variety of products available including Sactionals, Sacs, accessories, throw pillows, and more
Recycled bottles in Sactional fabric and inserts
Recycled foam fill in their Sacs
Sacs are made in US
Sacs shrink to 1/8th of their size for easy moving
Free shipping on all orders
Cons
No international shipping available
Lovesac products are customizable to fit any aesthetic. The covers are available in almost 200 different patterns made from traditional and new-age fabrics.
Lovesac provides all of the tools you need to make their large accessories moving-day friendly, and their accessories are made with comfort in mind, allowing you to kick back and relax.
This Lovesac furniture review will feature the brand's bestselling furniture and accessories.
Lovesac Sactionals Review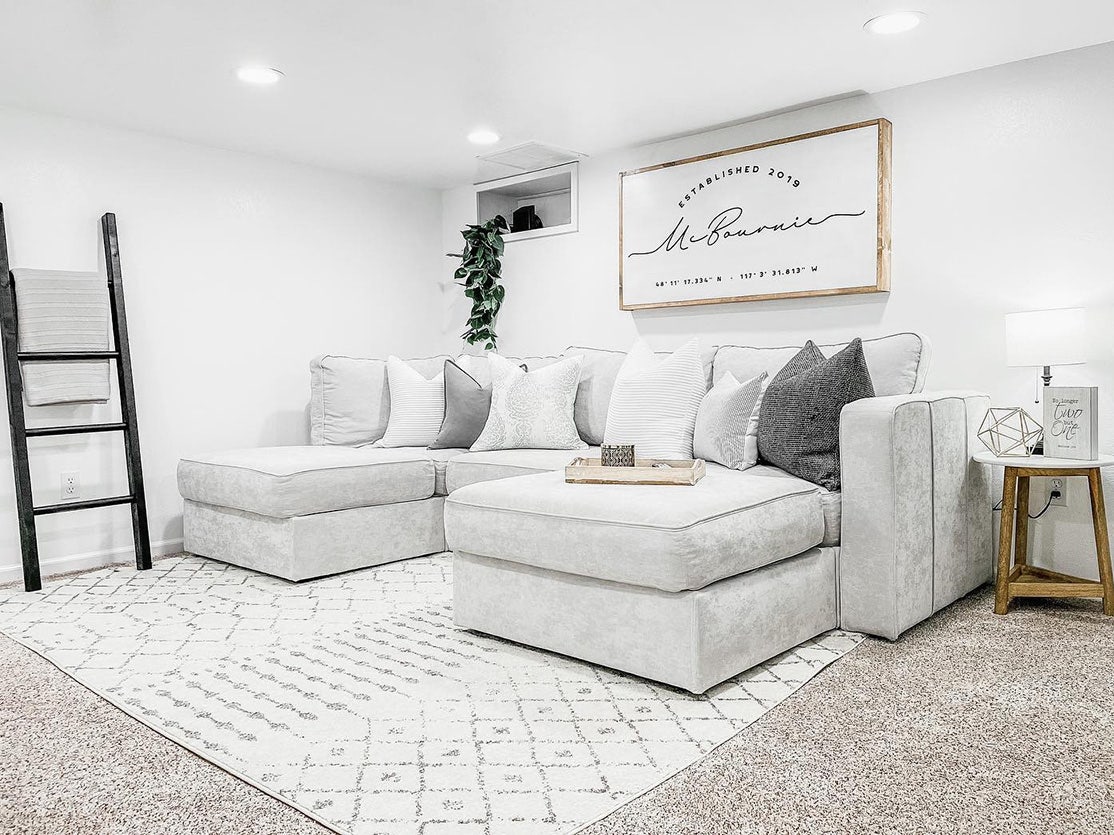 Lovesac Sactionals fit every type of room and any type of personality. Build the couch of your dreams by selecting a fabric that reflects the mood of your room. Customers can choose from 28 quick ship and 164 custom fabric options, in fun prints like Domino Spotted Velvet or Atomic Paisley Polylinen.
Looking to switch up the aesthetic of your living room? Lovesac couches use a Lovesac cover, which means that you can order alternate covers any time. The possibilities are endless, and that's what this Lovesac furniture review loves most about the brand.
When you design your Lovesac sofa, it's important to have fun and play around to figure out what style fits your personality, and your room. Lovesac carries different options for seats and sides in order for you to create various Lovesac layouts.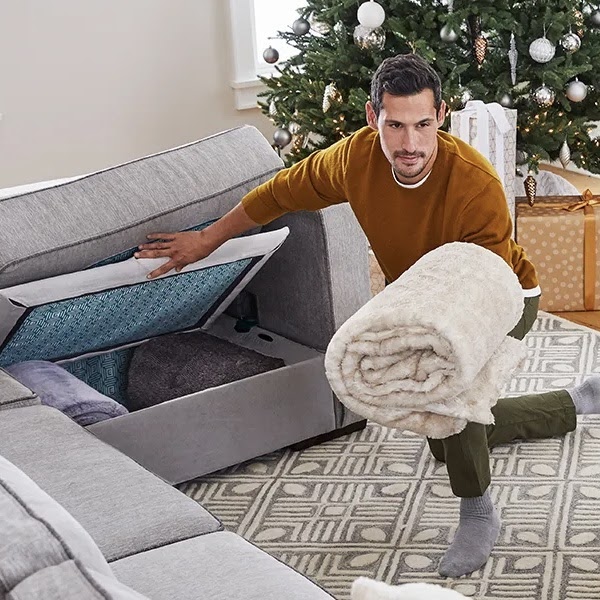 The Lovesac Seat is the base of the couches. The seats are hand-built, with steel springs and Italian webbing, to create cushiony support. The back pillow is removable and packs into the seat frame for easy moving. Start your couch journey off right with the Seat for $700.
The Wedge Seat provides different possibilities when designing your couch. It helps to navigate your sofa around tough angles and provides more dynamic options for your couch and room arrangement. For $700, you can take your couch to the next level with the Wedge Seat.
The Lovesac Storage Seat is for those organizational fanatics out there. If you have kids, it makes cleaning up a breeze and keeps your room looking tidy without the addition of extra storage bins. The Storage Seat is similar to the original seat, but with an added packability option for $875.
What is a seat without a side? To that, this Lovesac furniture review asks, what is a sandwich without the bread? The Side is the bread to your sandwich that keeps all of the seat goodness contained and looking complete. What's great about the Side is that it actually functions as a side, and the back, of your Sactional. Be sure to pick up this important piece for your couch for $300.
Take lounging to the next level with the Lovesac Deep Side. This product is thinner than the regular side and allows you to make three or more seats deep. The laidback Deep Side retails for $300.
If you're into a more sophisticated, traditional look, be sure to check out the Roll Arm. This product allows you to switch up the vibe of your room, as the arms and sides can be purchased any time as an addition, and not to mention, installed very easily and quickly. For $300, you can change the style and feel of your room with the Roll Arm from Lovesac.
Lovesac Sacs Review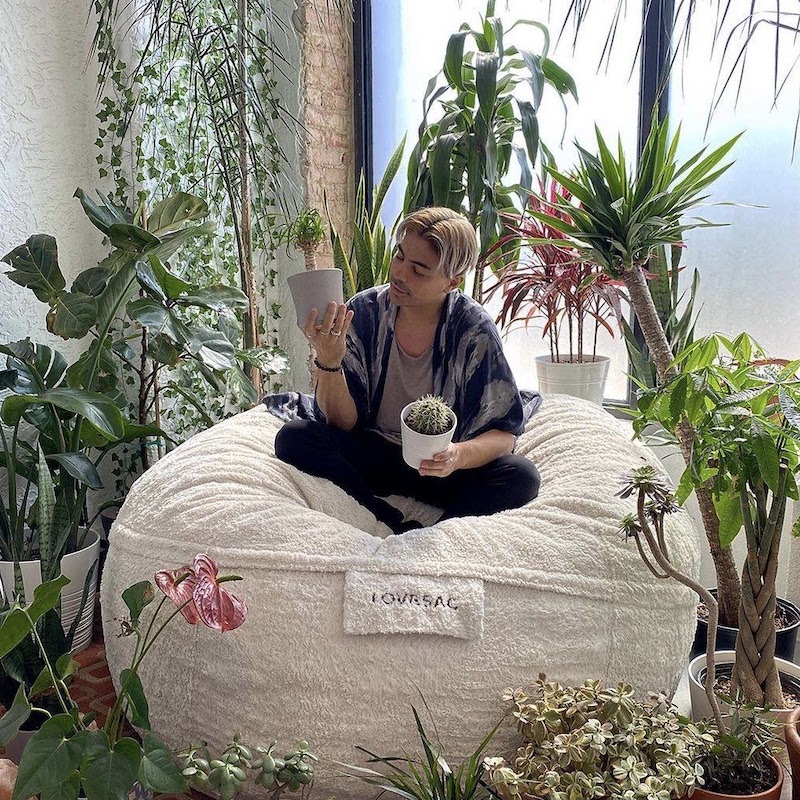 Sacs are a supremely cushy, bean-bag-like seat, that started it all. They've evolved throughout their 20-year lifespan, but one thing hasn't changed – there are no beans. Instead, Lovesac bean bag chairs are filled with Duraform, which are recycled foam remnants.
Like their Sactionals, Sacs can be customized with different covers, which are conveniently machine washable. Simply unzip the cover and wash on a gentle cycle. If you're thinking shipping is going to be a pain, Sacs ship at one-eighth of their volume.
Sacs come in an assortment of sizes. The Sacs Big One is pretty self-explanatory, but this Lovesac furniture review would never have guessed it can fit up to two adults and two children comfortably. Perfect for quality time or movie nights, the happiness-inducing bean bag retails for $1,650.
The SuperSac is a great addition to any living room. It can fit one adult and two children on its six-foot wide surface. Snuggle up next to the window on a rainy day with your nose in a book, or play an interactive game with your significant other on this cushy seat for the Lovesac price of $1,300.
The MovieSac is big enough for one adult and one child and is named rightly-so for its supportive nature and comfortability, sure to keep you answering an unphased "yes" to that guilt-inducing question, "are you still watching?" Press play with the Moviesac for $1,025.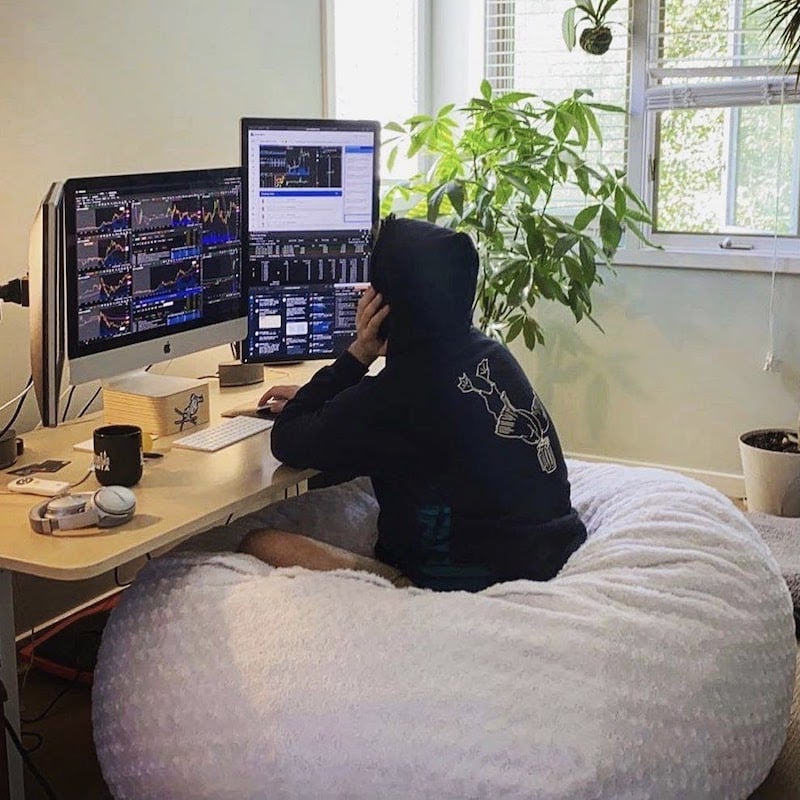 The PillowSac technically fits one adult and a child, but when you stretch it out into its signature "pea pod shape", it more so fits just one person. Don't worry! You'll be happy it does when you feel encased in pillowy-goodness.
Lovesac states that this option is great for overnight guests, but you may end up choosing to sleep on it yourself and letting your guests have the bed. This sleepover treasure is priced at $875.
The CitySac is great for city dwellers who treasure their small apartments, and for those who like to make the most of their space. It provides supreme comfort in your home, without taking up too much of that precious square footage. For $775, you could have the best spot in the house.
As if gamers need another reason to spend more time in front of the TV, this GamerSac may make them never want to leave their seat. This option is just two and a half feet wide, easy to move and store, but makes a great addition to any living room, bedroom, or dorm.
Up your TV watching spot with the compact GamerSac for $600.
Lovesac Shrink Kits Review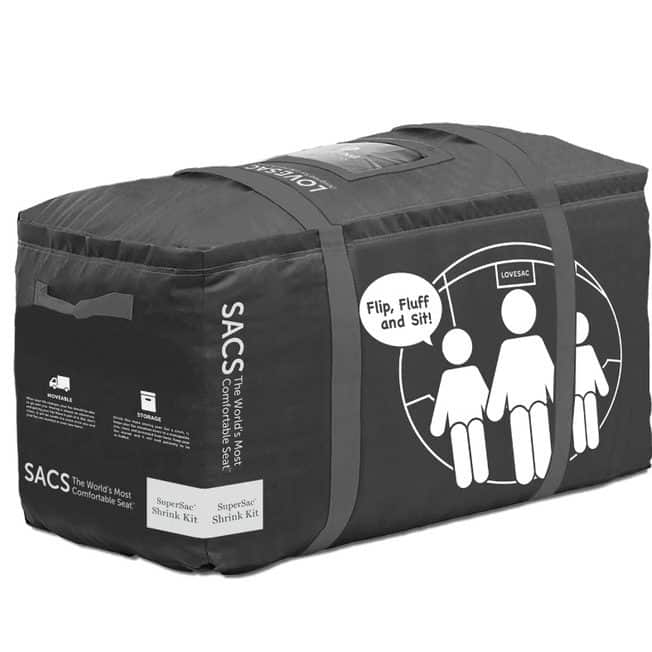 Shrink Kits from Lovesac are perfect for moving day, or if you ever need to store your Sac. In your handy kit, you'll receive the giant duffel bag, three plastic bags, and a set of instructions on how to compress your Sac.
Shrink Kits are designed for the SuperSac, the Lovesac Big One, the MovieSac, and the PillowSac/CitySac. You'll need a vacuum in order to shrink your Sac, which will compress to one-eighth of its original size. Making moving a breeze, as all of the kits are the same affordable price of $65.
Lovesac Squattoman Review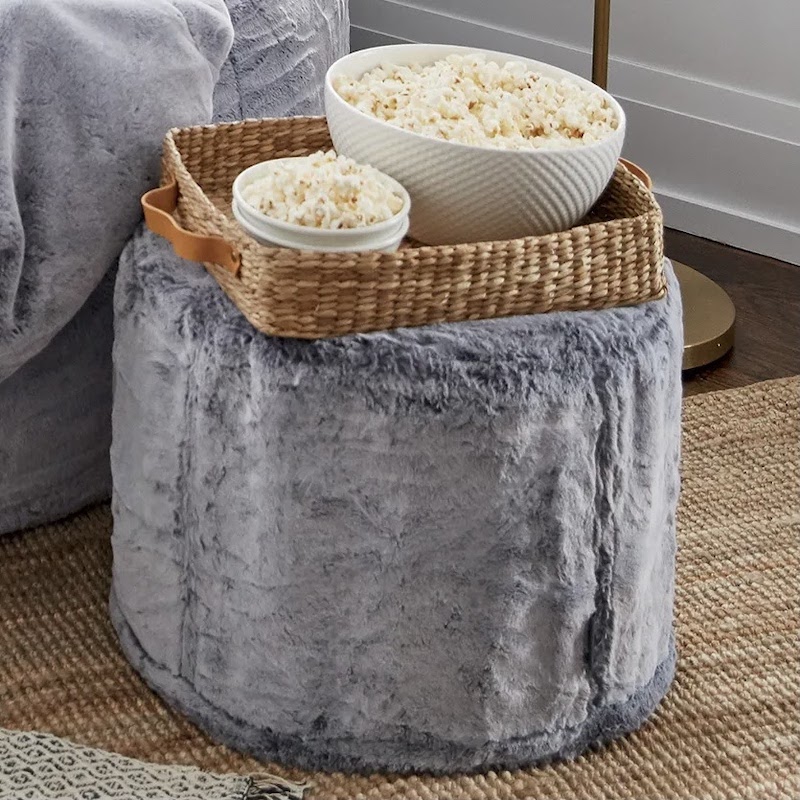 Having a Squattoman around makes all the difference. It's incredibly versatile and creates an extra seat in the room. Prop yours up at the end of a Sac, or a Sactional that doesn't have a leg rest. The Squattoman makes the most of small spaces, too, and is easily storable, as it can be put in a corner when not in use.
Choose from 14 Quick ship and 169 custom fabric options that are available in materials like Phur, Velvet, and Microsuede. The Lovesac ottoman sits one person only and measures 20″ x 21″ x 19″.
With multiple cover options, you can switch up the cover whenever you feel like it, and maybe even introduce a pop of color to your room. Add some variation to any room in your home with the Squattoman from Lovesac for $200.
Lovesac Footsac Blanket Review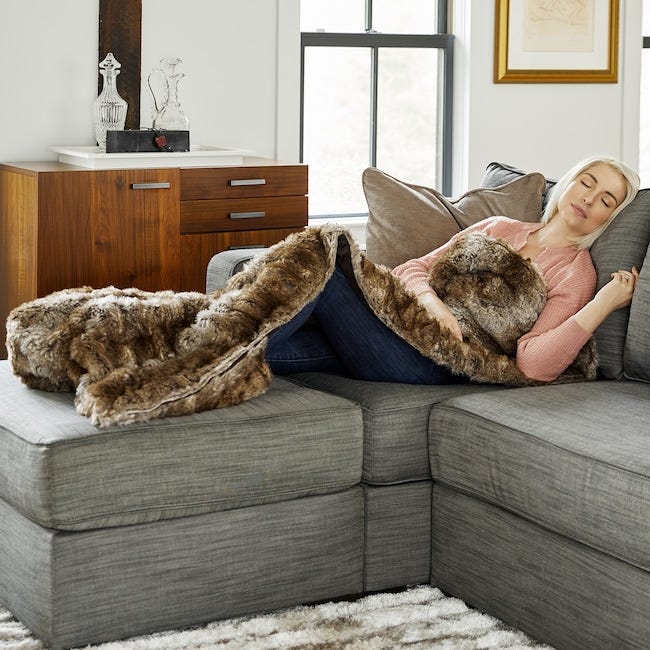 The Lovesac Footsac Blanket keeps your toes extra cozy with a built-in foot pouch. This Lovesac furniture review can't get over how genius this idea is, as blankets slipping off of our feet is one of the most frustrating things to deal with when you're trying to get comfortable.
The Footsac Blanket comes in Snow Owl Phur (not real snow owl, not real fur), and is 50" x 70". This synthetic, faux-fur blanket has a cotton-poly backing and an 18" foot pocket to keep your toes warm and happy. This machine-washable, ingenious blanket retails for $175.
Is Lovesac Furniture Worth It?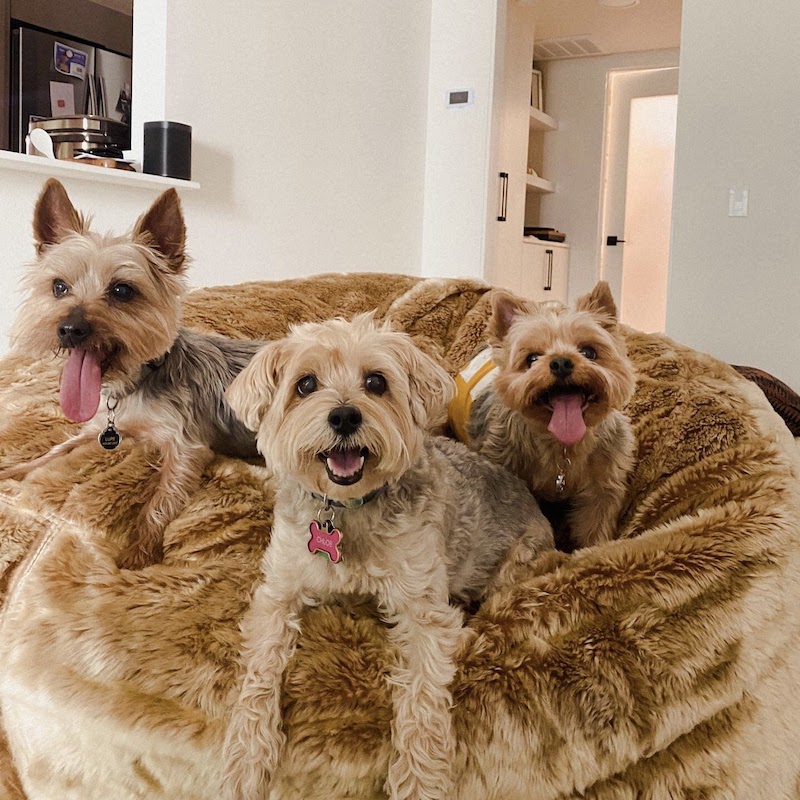 This Lovesac furniture review appreciates the versatility that their Sactionals provide customers and the playful, comfortable nature of their Sacs. Their products are for a wide range of customers, and the company does a great job of offering a variety of sizes and fabrics to make customization fun and easy.
This Lovesac furniture review also appreciates that the brand uses recycled foam for the inside of their Sacs, and 100% recycled bottles in their Sactionals. On top of that, customer service is consistently positive across reviews, regardless of whether customers are satisfied with the products or not.
Some Lovesac complaints note that customers do not like how the couches feel, nor the delivery, assembly, or return process. However, these reviews are minimal, and the overall response in regards to their Sactionals is positive.
If you place an order from Lovesac and do not enjoy how the couches feel, you can return your purchase for a full refund. So, is Lovesac worth the money?
This Lovesac furniture review believes their products are worth the buy, especially if a full-refund is granted for unsatisfied customers.
Lovesac Furniture Promotions & Discounts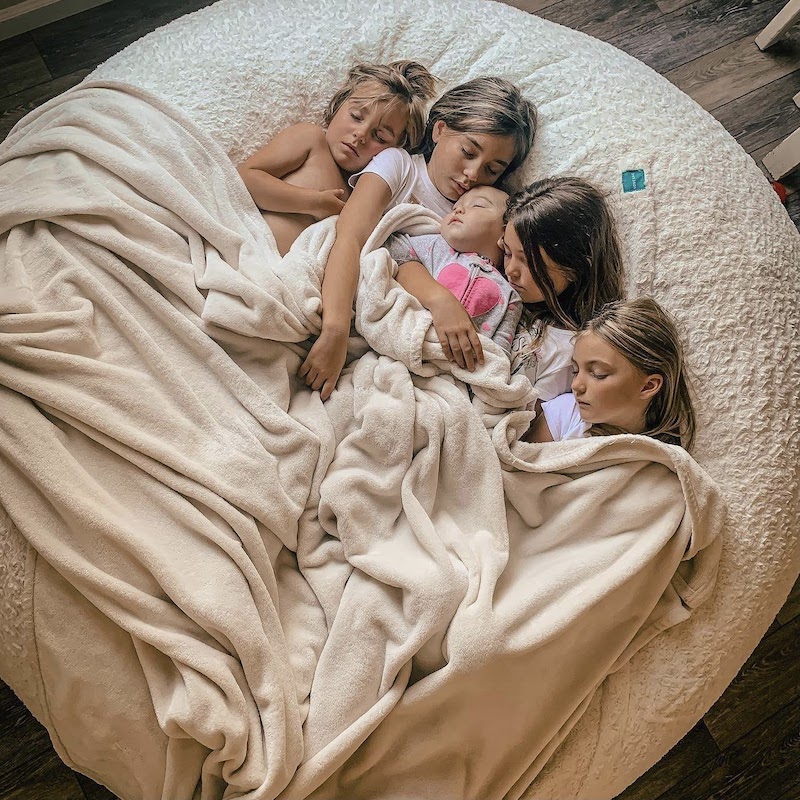 If you are an active member of the military, you can receive the Lovesac Military discount, also known as the Lovesac Heroes discount. This 5% off discount is also valid for teachers.
Where to Buy Lovesac Furniture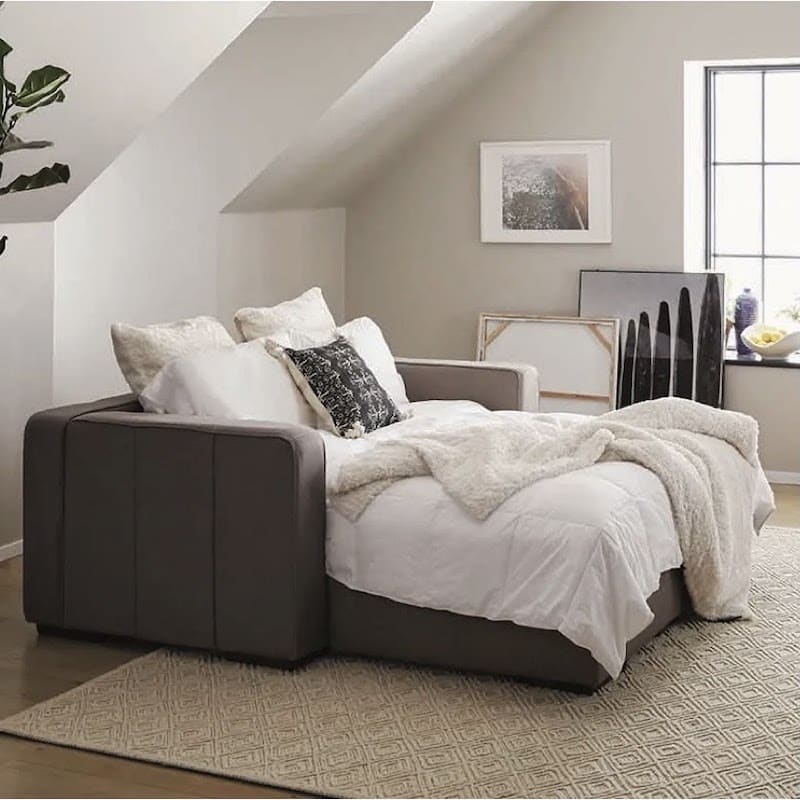 You can buy furniture directly from Lovesac.com, or visit one of their 70 showrooms across America. Certain Lovesac items are also available for purchase on Wayfair, Best Buy, and Costco. Some items may also be available on the Lovesac Amazon store.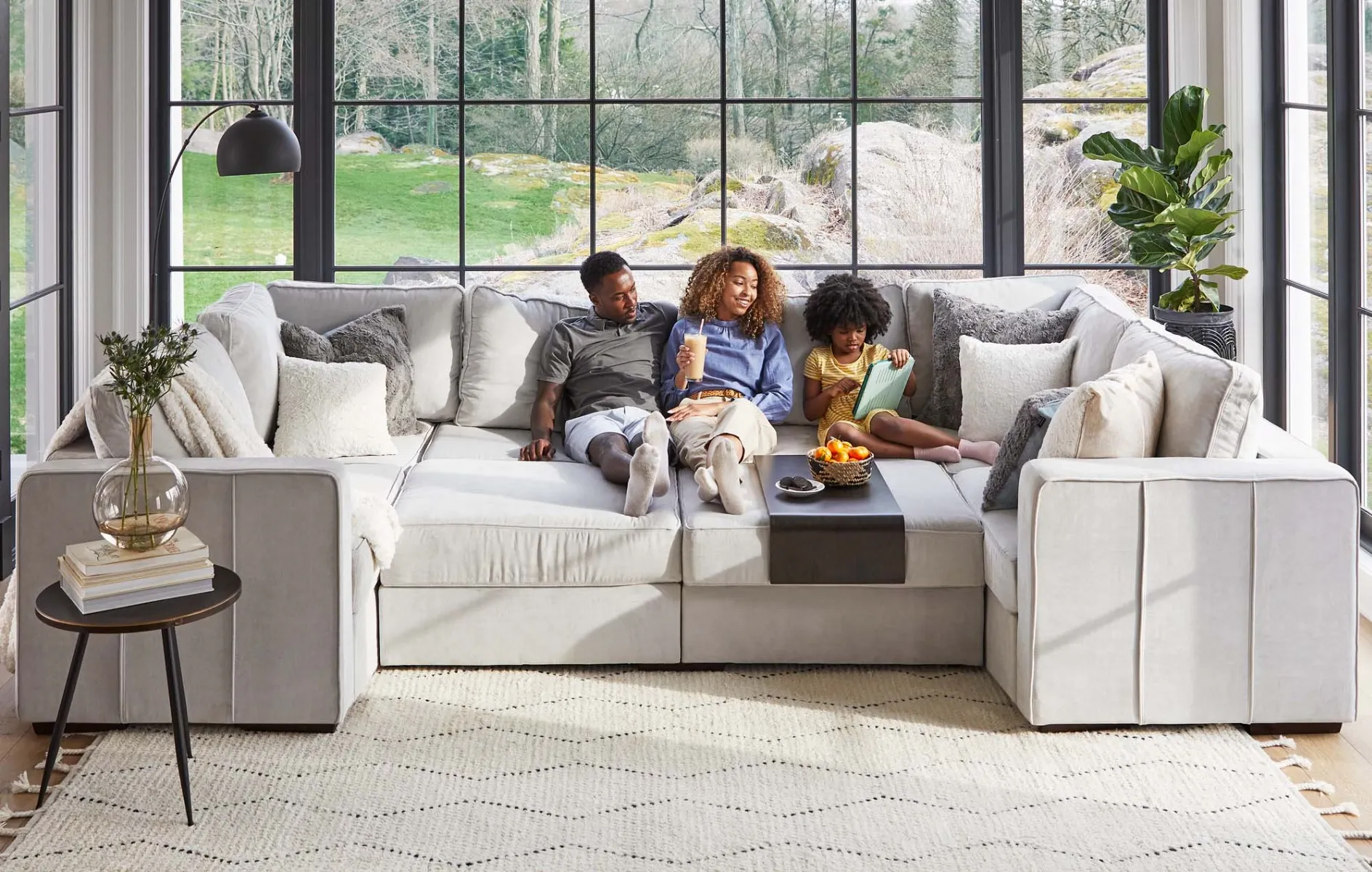 FAQ
Why is it called Lovesac?
The brand is called Lovesac after its first "Sac" invention in 1998. Lovesacs are not comparable to bean bag chairs but have a very similar look.
Who is the owner of Lovesac furniture?
Shawn Nelson founded Lovsac and created its first-ever product. He is currently still the CEO of the company.
Is Lovesac furniture made in America?
While their Sacs are made in Texas, about 60% of all their products are made in China.
Is Lovesac Furniture good quality?
Lovesac furniture inserts and covers are extremely durable and come with a 3-year warranty.
What is Lovesac furniture filled with?
Lovesac is filled with recycled foam called Durafoam. It is extremely comfortable and molds to your body.
Can you sleep on a Lovesac?
You can certainly sleep on a Lovesac. Some of their larger models, like the Big One, SuperSac, and the MovieSac, are spacious enough to cuddle up comfortably.
What is the most durable Lovesac furniture fabric?
Reviews note that the Corded Velvet holds up very well. Customers who have children and pets find that the material is extremely durable.
How much does Lovesac furniture cost?
Lovesacs range in price. Their smallest Sac, the GamerSac, is $600, whereas their largest option, the Big One, retails for $1,650.
Does Lovesac furniture negotiate?
While you won't be able to negotiate the cost of a Lovesac with the actual brand, you may be able to score a deal if you purchase a product from Costco – a company that is known to accept price negotiations.
What is the Costco Lovesac furniture deal?
The Costco Lovesac deal offers member-only customers 4 seats and 5 sides. Costco also includes two throw pillows, a Footsac, a You-Table, and two Deep You Drink accessories in this bundle for $3,400.
Can you buy Lovesac furniture in stores?
You can purchase a Lovesac Sac or Sactional in their showrooms, but the company will deliver your order directly to your home.
How is Lovesac furniture shipped?
Lovesac Sacs are compressed to one-eighth of their original size and are shipped in a nylon duffel bag. Pieces of the Sactionals are shipped in separate boxes, as well as the covers.
How long does it take to get a Lovesac?
Sacs, Sactionals, accessories, and Quick Ship covers, will be delivered in approximately 1-4 weeks from your order. Shipping is free for all orders placed online. Lovesac currently only offers shipping within the contiguous 48 US states. They do not ship to APO or PO boxes.
You can track your Lovesac order via the FedEx tracking tool with the Lovesac order tracking number provided in your shipping confirmation email.
What is Lovesac's Return Policy?
Lovesac inserts and covers both include a three-year warranty. The hard insert pieces are guaranteed for life. You'll be able to recieve Lovesac replacement foam with the warranty, too.
This Lovesac furniture review notes that you must have your original receipt number in order to claim your warranty, so make sure you keep your receipt in a safe place.
Lovesac accepts returns on eligible products within 60 days of their delivery date. If your product meets return requirements, Lovesac will issue a full refund.
Returns must include all components that are sent to you. For example, if you are returning a Sactional Seat Insert, you have to make sure to include the seat frame, the cushion, and the back pillow.