To say Husband was a little excited when Jacamo asked if he'd like to review some clothes from their range would be an understatement! Here's what he thought of the online men's fashion retailer…
There are some wardrobe staples I enjoy wearing all year round, a comfy jumper, smart but slightly lairy shirts and a pair of smart casual shoes. I'm always looking for something different and fashion which subtly stands out from the crowd. Jacamo have a great selection of clothing, shoes and accessories and with sizes ranging from small through to 5XL they have clothes for larger men, smaller blokes and everyone in between.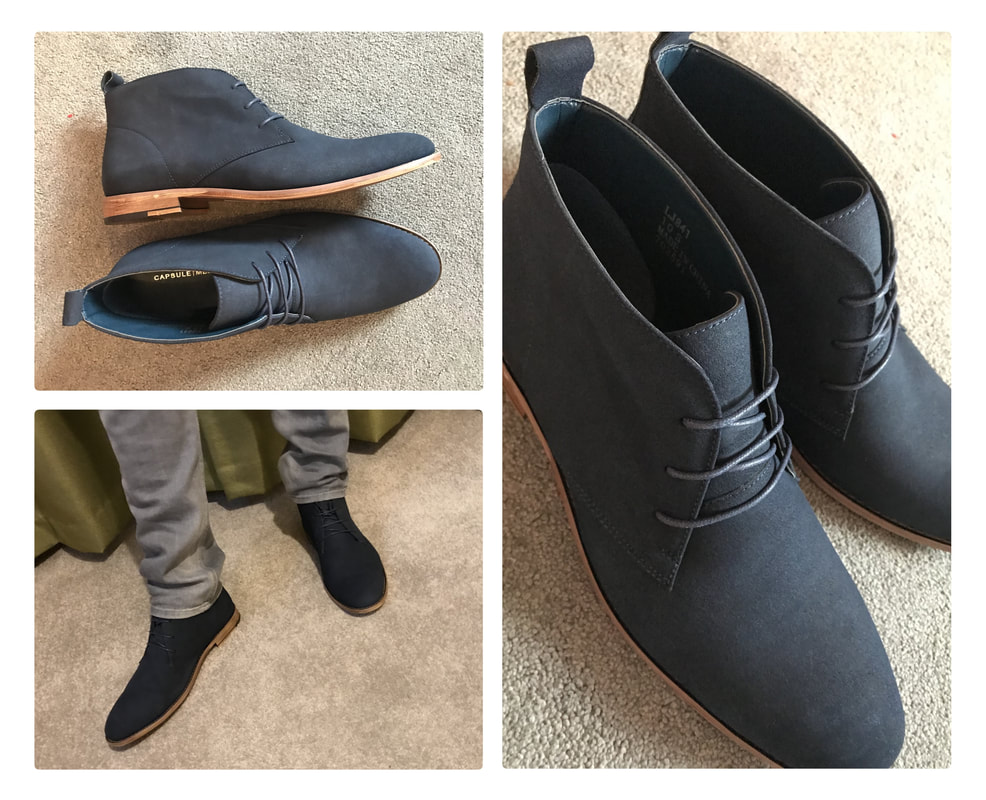 I've been on the look out for a while for nice blue pair of suede shoes with a wooden sole and these navy suede look chukka boots from the Jacamo's Capsule range are exactly that. Great value at just £35 and they look really smart, adaptable for jeans or chinos if you're looking for that smart casual look. I went for the regular fit but they also come in a wide fit.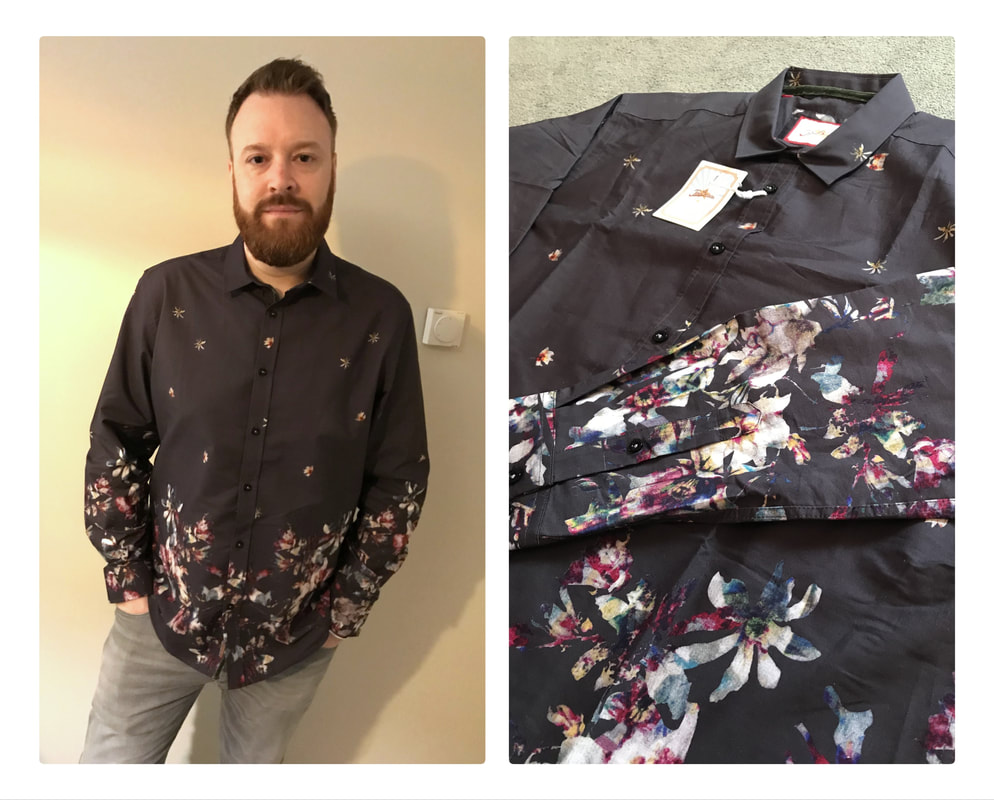 Some might say I often wear shirts resembling curtain fabric or something Alfie Moon would wear (which to be fair isn't far from the truth!). I'm always tempted a subtle flower or butterfly print shirt so when I saw this dark purple flower shirt by Joe Browns I had to investigate further. It is definitely a bit of me! I was really impressed with the quality of the material, with the print it meant the shirt was kind of double backed and felt really comfortable. It also teams well with jeans and the blue suede look boots. It can be yours for £45.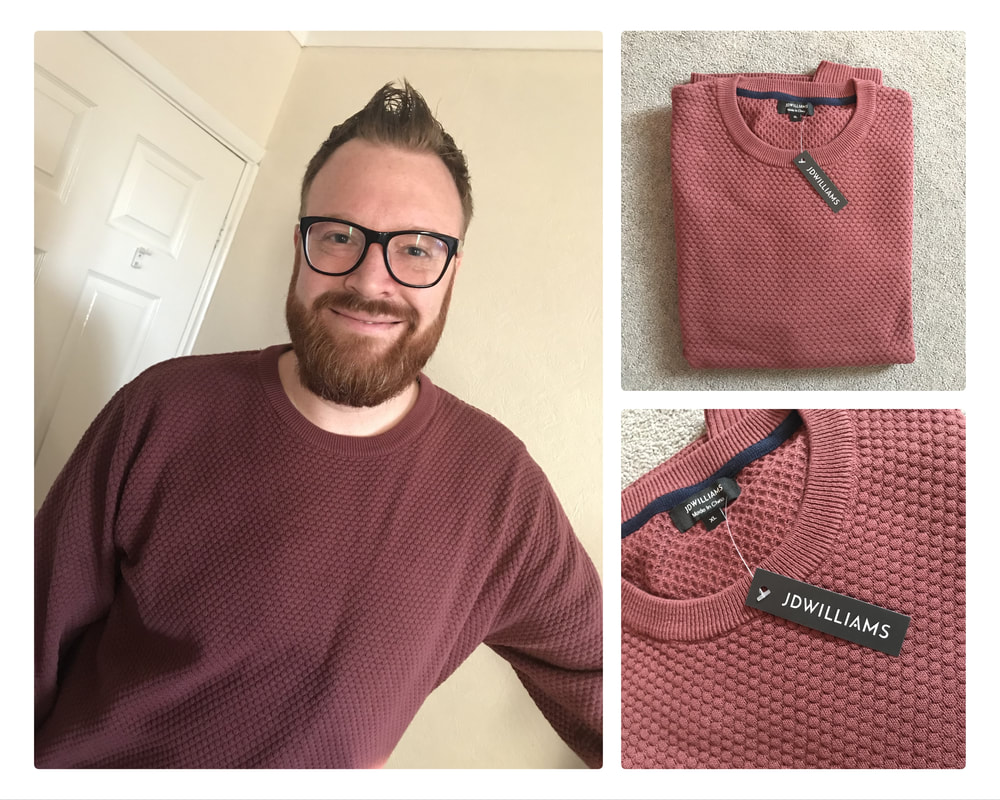 After scouring the Jacamo website I found it really hard to choose between the vast range of jumpers but I finally decided on a berry crew neck jumper by JD Williams, no print but a pattern generated by the stitching giving it a slight honeycomb type look. I'm quite into my earthy colours when it comes to jumpers, I like green, brown, mustard and red colours, probably because they go with my ginger/auburn hair colour so this hit the spot! The XL size fit really well with plenty of body length (always an issue with my 6'4" frame).
I was impressed with the Jacamo range and the quality of the clothes I received. The website has a great variety to choose from, it's easy to navigate and filter your selection and great value. Plus you wont be let down by the size options.
Until a couple of weeks ago, I knew only a limited amount about Jacamo; adverts featuring my adolescent hero Freddie Flintoff had piqued my interest somewhat, but I had yet to translate that awareness into exploring the full extent of the range they had to offer.
In hindsight, I can only reflect on what turns out to be a pretty huge oversight on my part. I fall into that (surprisingly common) size group of gents who built on the slightly larger side, and who constantly tread a tightrope when it comes to being able to fit into designer brands. Envisage the feeling of constantly walking off the high street and making enquiries as to the largest size available, often to told that "we can get your size in, but it will take a couple of weeks", as if my inconvenience might amount to them having to personally visit the cotton fields to pick the requisite materials. It's such a demoralising conversation to have with a shop assistant, who you feel just looks at you silently thinking, "go on a diet and then come back".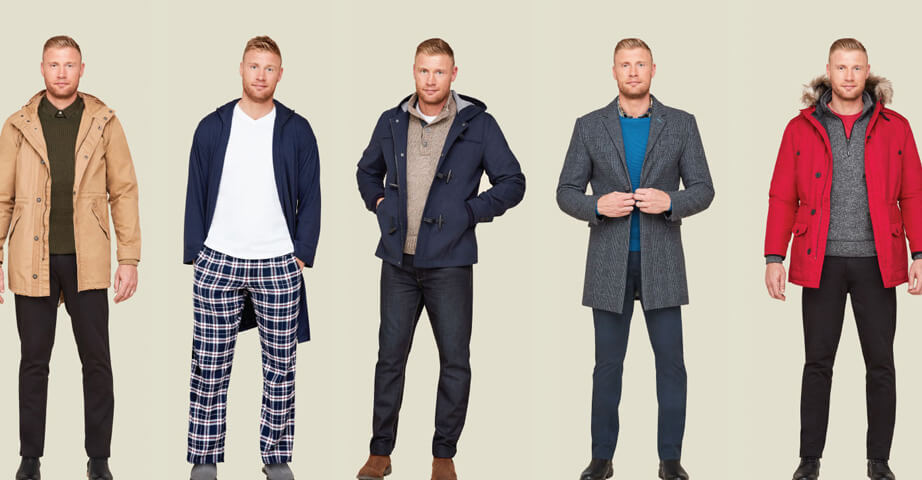 This is where Jacamo comes in: they stock these slightly larger sizes. Whether you're, like me, just at the top end of high street capabilities (44-46″ chest, 38″ waist), or exceedingly tall, or a bigger chap, this company has plenty to tailor to your needs, instead of making you feel like you are on the outside, looking in, when it comes to fashion.
I was given freedom of the Jacamo website, with a remit to find selection of clothes to create a staple wardrobe for the spring/summer season. I paired the items up with basic items from existing wardrobe, to illustrate the simplicity with which these core pieces could be integrated into an existing collection.
The first thing to make comment on would be the exceptional and speedy service I received. I placed an order about three days before going away for an extended period, expecting to have some nice clothes to return home to. I was pleasantly surprised when they arrived two days later! The clothes arrived beautifully packaged and flat. I gave them a quick iron simply for the purposes of taking some photos; had I just been wearing them in normal life, they would have been absolutely fine to wear straight out of the packet!
Look 1 paired up a Voi Clothing black polo shirt containing tartan detail stitching, with a pair of bootcut jeans. For the broad-chested gent, I find a bootcut jean balances out the body shape really well and relatively slims out the torso. Everything fitted perfectly and felt of a high quality: the jeans would pair up as well with a blazer as the polo shirt I selected here.
Look 2: coloured chinos the look the 2010s are going to remembered for. They are NOT the preserve of skinny men, and there is NOT a cut off point where you have to resort to their slightly frumpier friend, the cord! It really depends on the cut. Here, I paired them up with my own formal shirt: a well-tailored jacket would work beautifully, but I wanted to show the cut of the trouser across the saddle and leg. They really designed to flatter!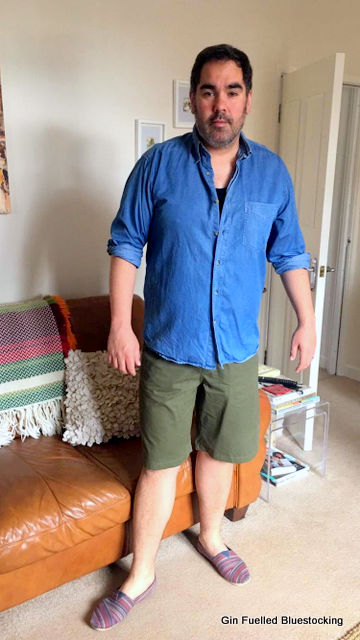 Look 3: no summer wardrobe is complete without a good pair of smart, well-cut shorts. These khaki beauties are just the ticket. They look smart, but have enough movement for the outdoor activity you might wear them for. Paired with my own denim shirt and espadrilles, they would go just as well with a gym vest and flip flops, or even solo if it's time to top up that tan!
Overall, I find it utterly impossible to find fault with the service I received from Jacamo. The sizes tally exactly with what you would expect from the high street: everything fitted exactly as I'd have hoped. The cuts flatter the larger figure and I felt smart and confident in what I'd been sent. If ever Jacamo wanted to branch out into a customer stylist service, I can only imagine they would do a roaring trade; it's truly remarkable how well they solve the sartorial problems confronting men of a "certain size". I'll certainly be shopping with them again, and I'd encourage you all to do the same.
Webshop Review
We upped review of the website has been given a high ranking by Tranco. Tranco ranks websites based on popularity (how many people are visiting the website every month) and listings (how many other websites link to the site because they consider it valuable).
The domain name of website has been registered several years ago. In general, the older the website the more trustworthy it becomes. However, scammers sometimes buy existing websites and start doing their evil thing, so please make sure you check for other scammy attributes as well.
We tried to analyze the content of the website but we failed. It may mean a temporary technical error, that the site is not active, there is no content, or that the website is actively blocking our efforts to analyze the information it is offering. As we analyze more than 2 million websites every month we recommend caution. Extra research to determine if this website legit or a scam recommended.
Technical Review
We identified an SSL certificate meaning that the data shared between your browser and the website encrypted and cannot read by others. SSL certificates always used legit and safe websites. Unfortunately scammers increasingly also use SSL certificates so it is no guarantee that you are visiting a reliable website.