About LSpace
Summer is here—the weather is warm and the sun is out. To best enjoy the season, everyone needs at least one great swimsuit in their wardrobe.
While many brands have cheap, trendy options, a swimsuit should be like an investment. You don't want something that is going to fade, stretch, or wear out after one wash. LSpace knows this and offers a wide range of stylish, high-quality women's bathing suits.
Over the past few years, L*Space has garnered a lot of attention in the press. Whether it be from the company's 2019 spot in Sports Illustrated Swimsuit Edition or the buzz for its new sustainable swimwear collection, you may already be familiar with its suits.
The company also has a solid online following, boasting over 450k followers on Instagram. Here, it regularly features influencers wearing its flattering bikinis and trendy cover-ups.
Before you hit add to cart, read through this LSpace swimwear review, which will act as your go-to guide for purchasing from the brand. We'll take a deep dive into the company's mission, collection, customer feedback, promotions, and more so you can make the most informed purchasing decisions possible.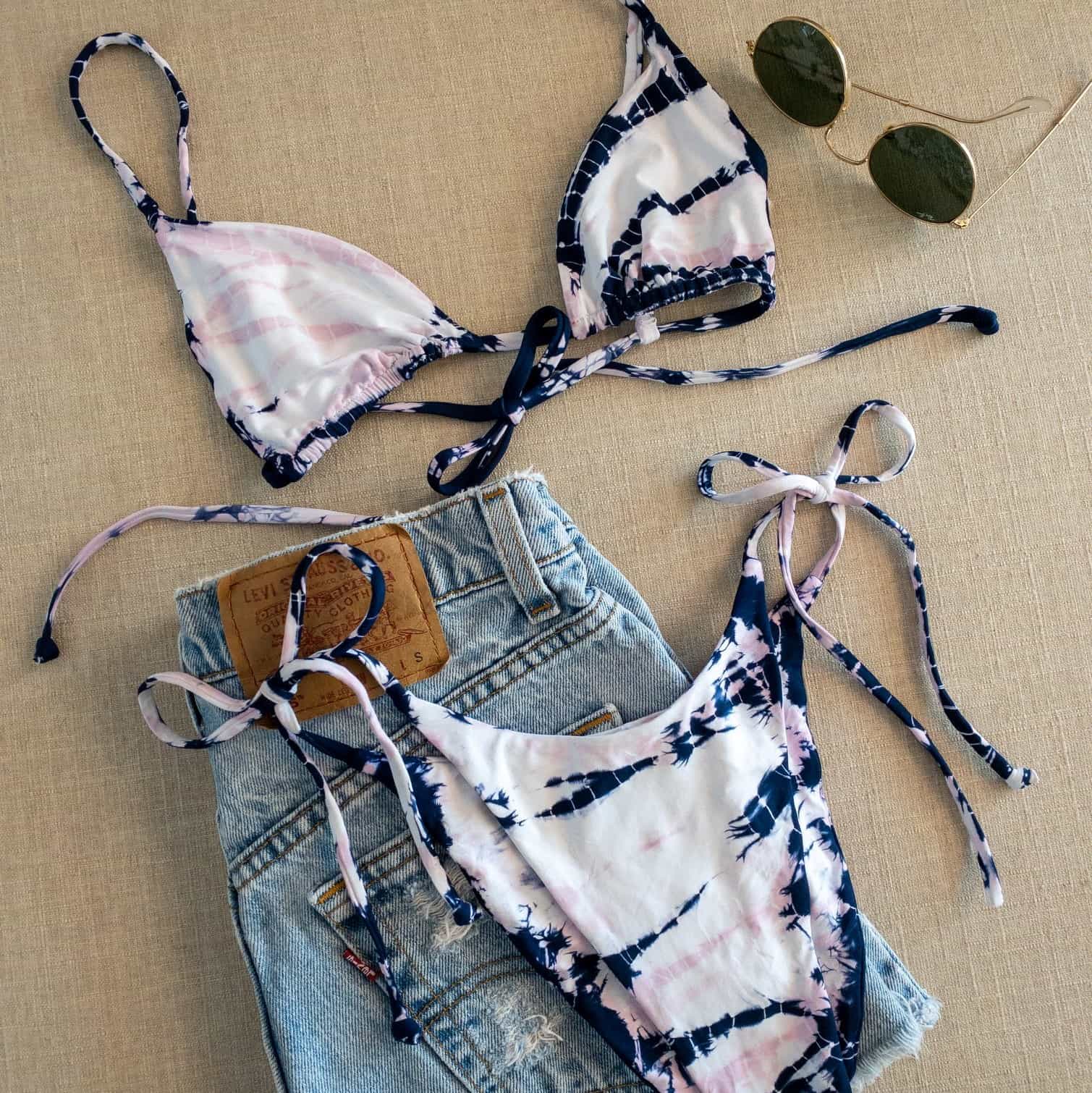 Overview of L*Space
LSpace is a female-founded and led business, with founder Monica Wise at the helm. After being in operation for roughly 20 years, the brand has certainly evolved.
When it launched in the early 2000s, the company was focused on sexy, skimpy bikini styles. Since then, it has shifted its focus to be more inclusive, adding several product lines in varying designs and styles.
The brand is based in sunny southern California and truly employs a beachy, laid-back vibe in all of its designs. LSpace's motto is all about "welcoming everyday moments, no matter how big or small." And, finding a perfect swimsuit that fits and flatters in all the right places is definitely a moment to be welcomed.
The company actually believes that fit is everything (both in the actual fit of clothing and how well an item fits into one's lifestyle) and strives to be the ultimate destination for "slip-it-on-and-go" swim styles. All of its products, from L*Space bikinis to cover-ups and accessories, are manufactured in Irvine, California.
Today, the company is passionate about being more sustainable. It recently launched its Eco Chic Off the Grid collection, in which each of the L*Space swimsuits are made from 100% recycled materials.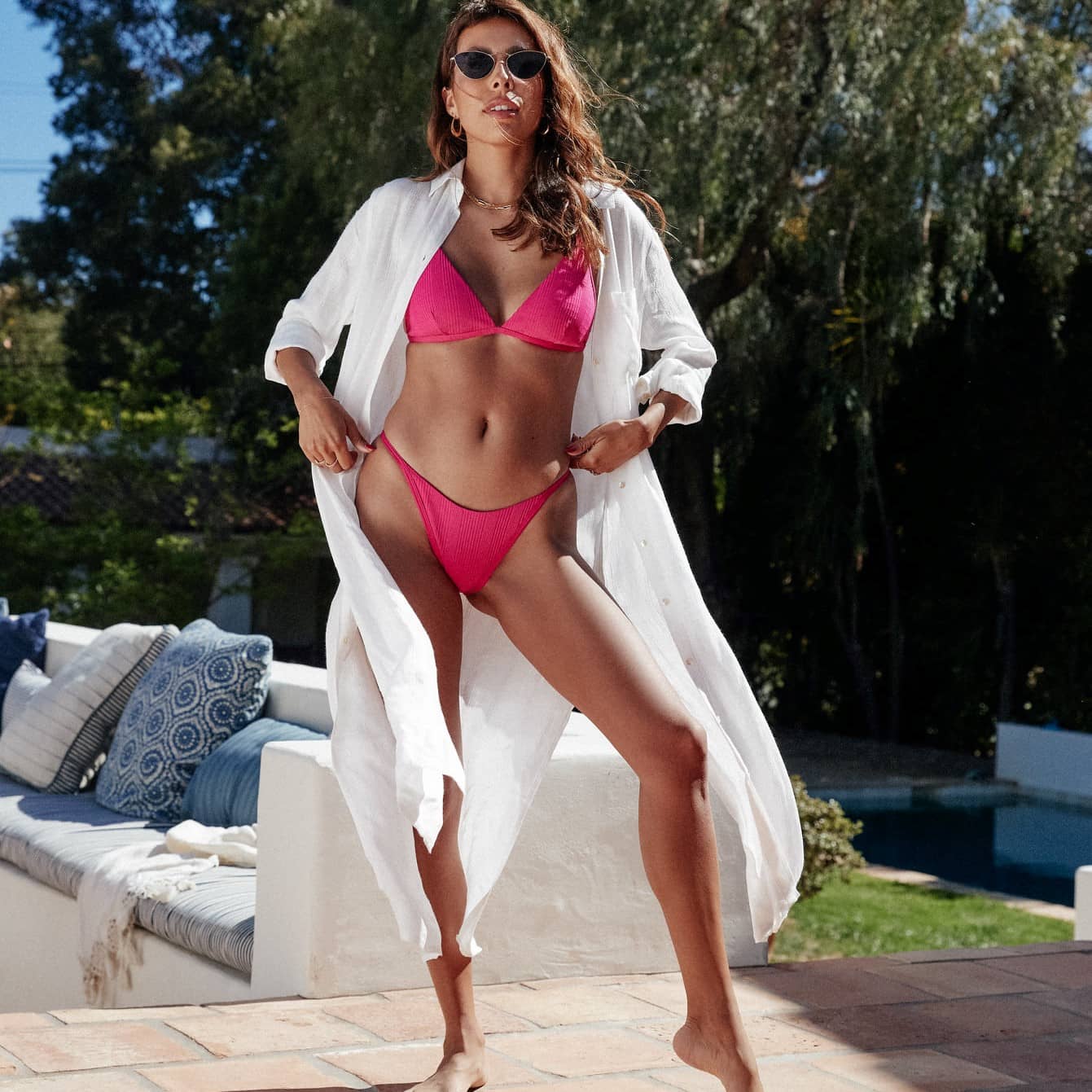 Now that you know more about the brand, including its history and values, this L*Space swimwear review will head into the pros and cons:
Pros
Wide range of bathing suits and cover-ups, with different coverage and support levels
High-quality materials
Sustainable swimwear line that offers multiple styles
Made in the US
Ships internationally
30-day return policy
Cons
Considered pricey
No fully inclusive size range (XS-XL)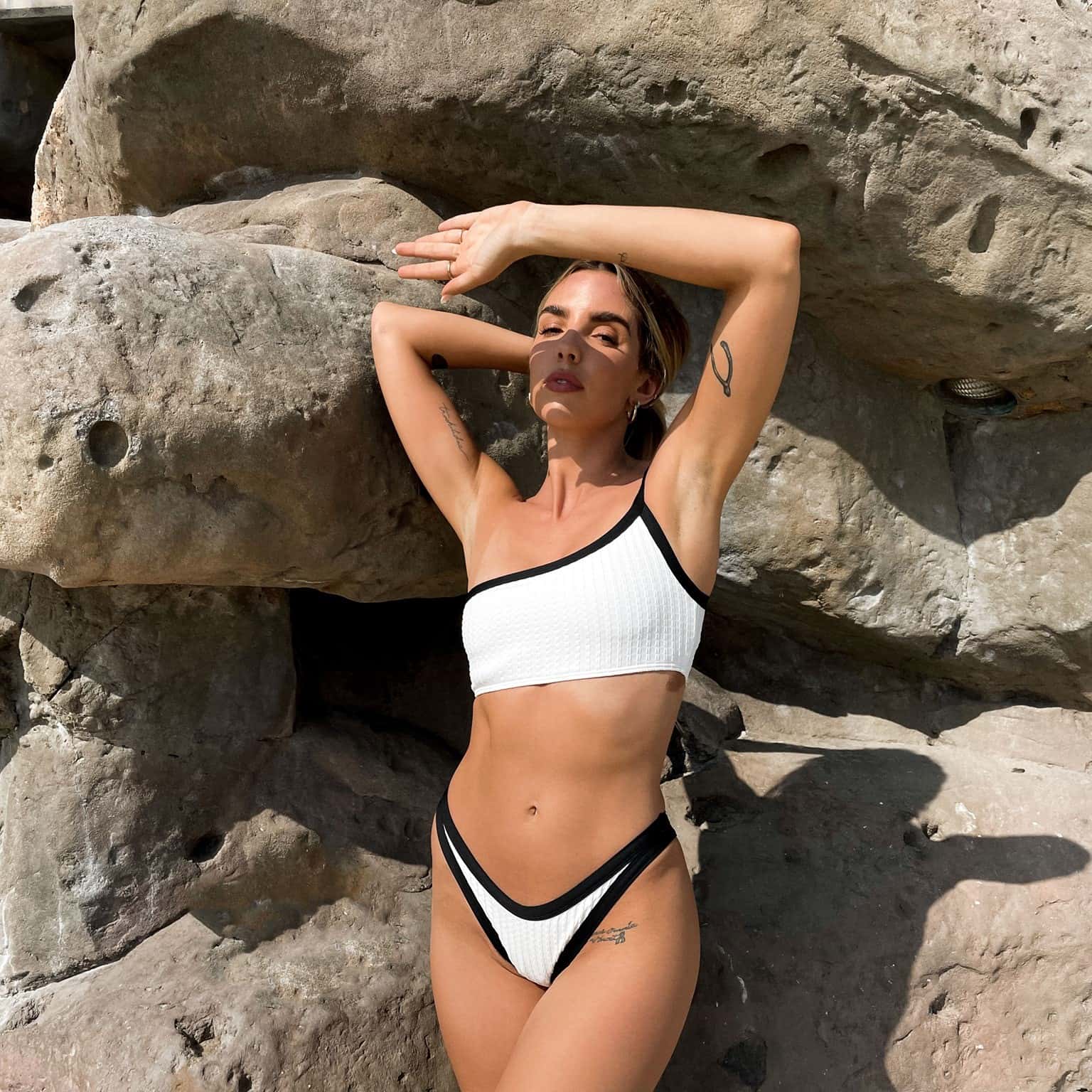 Whether you like to show off your curves in a tiny bikini or a figure-flattering one-piece, this brand offers an extensive collection of suits, with different coverage and support options. From vibrant prints to muted classics, this L*Space swimwear review will cover some of its most popular pieces.
For those who prefer to pay in installments, the brand offers Afterpay as an alternative payment method. In terms of sizes, most of L*Space's products come in XS-XL.
L*Space Bikini Tops Review
Shopping for swimsuits can be intimidating and stressful. But, when you find that flattering bikini top with the perfect amount of coverage and support, it's impossible not to feel sexy and confident.
To help you get started, this L*Space swimwear review will highlight several of the brand's top-selling options. From ultra-trendy neutrals to feminine floral detailing, you'll find a variety of styles in this lineup.
L*Space Jean Bikini Top Review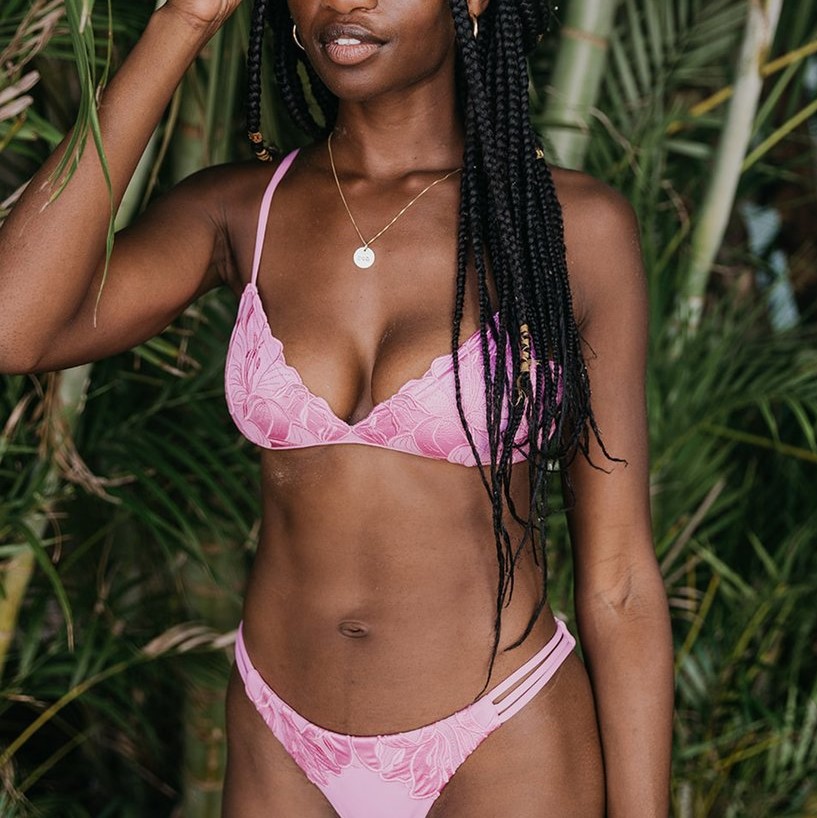 Soft and feminine in appearance, the L*Space Jean Bikini Top was inspired by delicate lace trims and lingerie. The floral detailing is embroidered on a classic triangle cut.
Made of nylon and spandex, this top features adjustable shoulder straps and a backtie for maximum comfort and a flexible fit. Its cup pads are also removable, allowing the wearer to customize the fit as they desire.
The bikini top is available in two colors: rosebud and sky blue. With medium coverage and support, grab the Jean Bikini Top for $110.
If you're looking for something with more coverage, but equally feminine, take a look at the L*Space Jaime top, which offers delicate eyelet detailing.
L*Space Farrah Bikini Top Review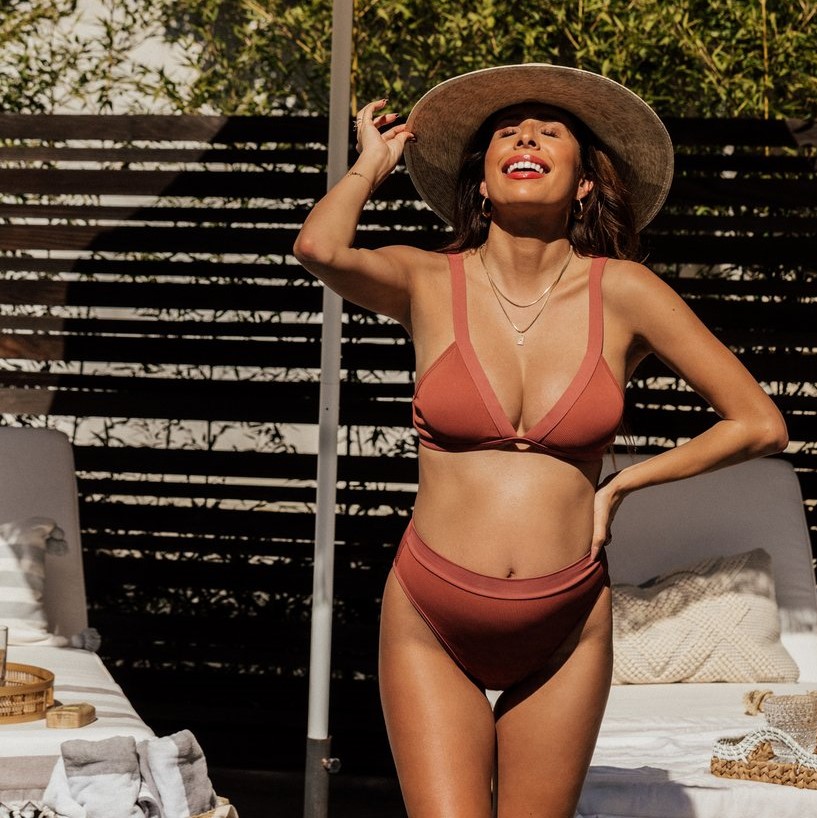 If you're looking for a bikini top that is more subtle and subdued, the Everyday Pursuits x L*Space Ribbed Farrah Bikini Top is a fun take on a classic design. Featuring a plunging neckline and solid-colored, ribbed fabric, this bikini is both modern and stylish.
Made from mostly nylon and a small amount of spandex, this bikini top has removable cup padding, making it easily malleable to your modesty preferences. It is only available in one color—the flattering Sahara, which is a muted terracotta-like hue.
The Everyday Pursuits x L*Space Ribbed Farrah Bikini Top offers medium coverage and support. But, shoppers should note that this option is not adjustable.
Add this piece from the L*Space bikini tops collection to your cart for $99.
L*Space Shimmer Brittany Bikini Top Review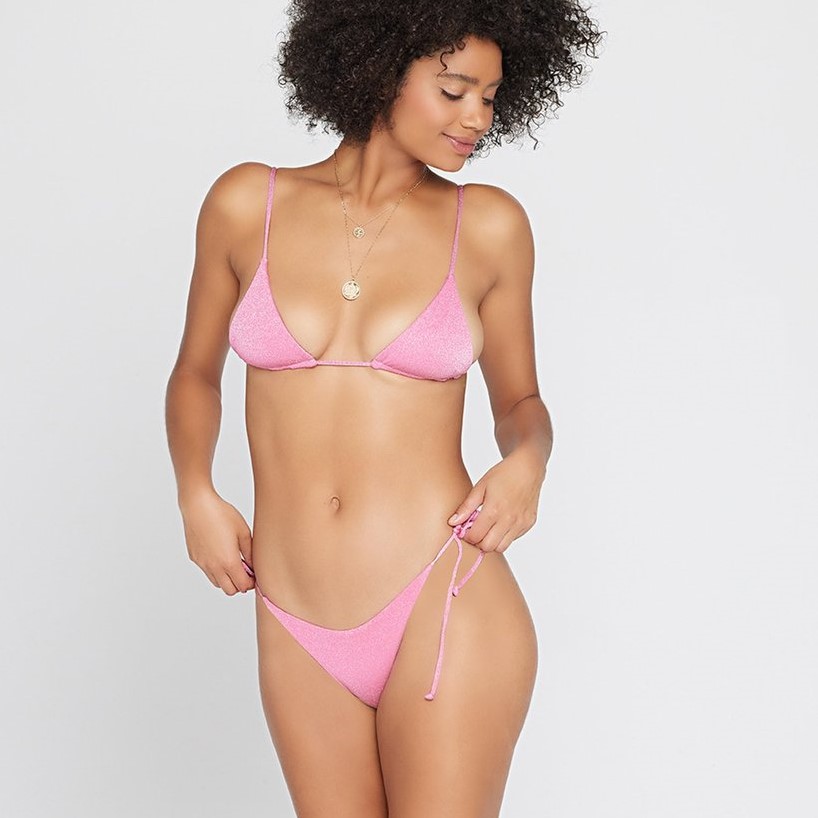 Offering an eye-catching twist on the classic triangle bikini top, the L*Space Shimmer Brittany Bikini Top is sure to attract attention. Crafted from shimmering fabric, customers can choose between bubblegum pink and champagne.
Worried about the fit? You shouldn't be! This L*Space platinum top is completely adjustable, with both shoulder straps and a back tie.
This option offers minimal support and coverage. For the bold fashionista ready to rock this style, get this stylish L*Space bikini top for $92.
L*Space Jaylo Bikini Top Review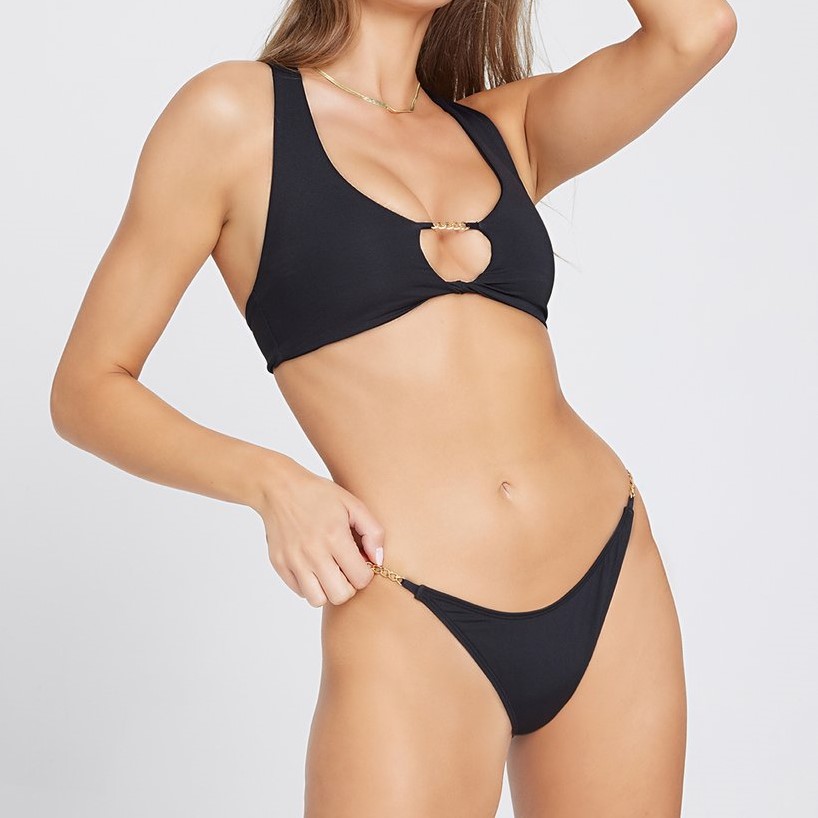 The brand describes the L*Space Jaylo Bikini Top as a "mega-babe top," and it's easy to see why. Offered in solid black with gold metal detailing, this pullover racerback design is a fun and flirty fashion statement.
Featuring a gold metal chain and keyhole twist detail in the front of the top, you'll show a peek of cleavage. This top is not adjustable, so the fit should be snug and offer medium support and coverage.
Created using a blend of mostly nylon and some spandex, the Jaylo Bikini Top sells for $110. Throw on some L*Space itsy bottoms, a pair of shades, and your sunblock—you'll be ready to hit the beach.
L*Space Color Block Ringo Bikini Top Review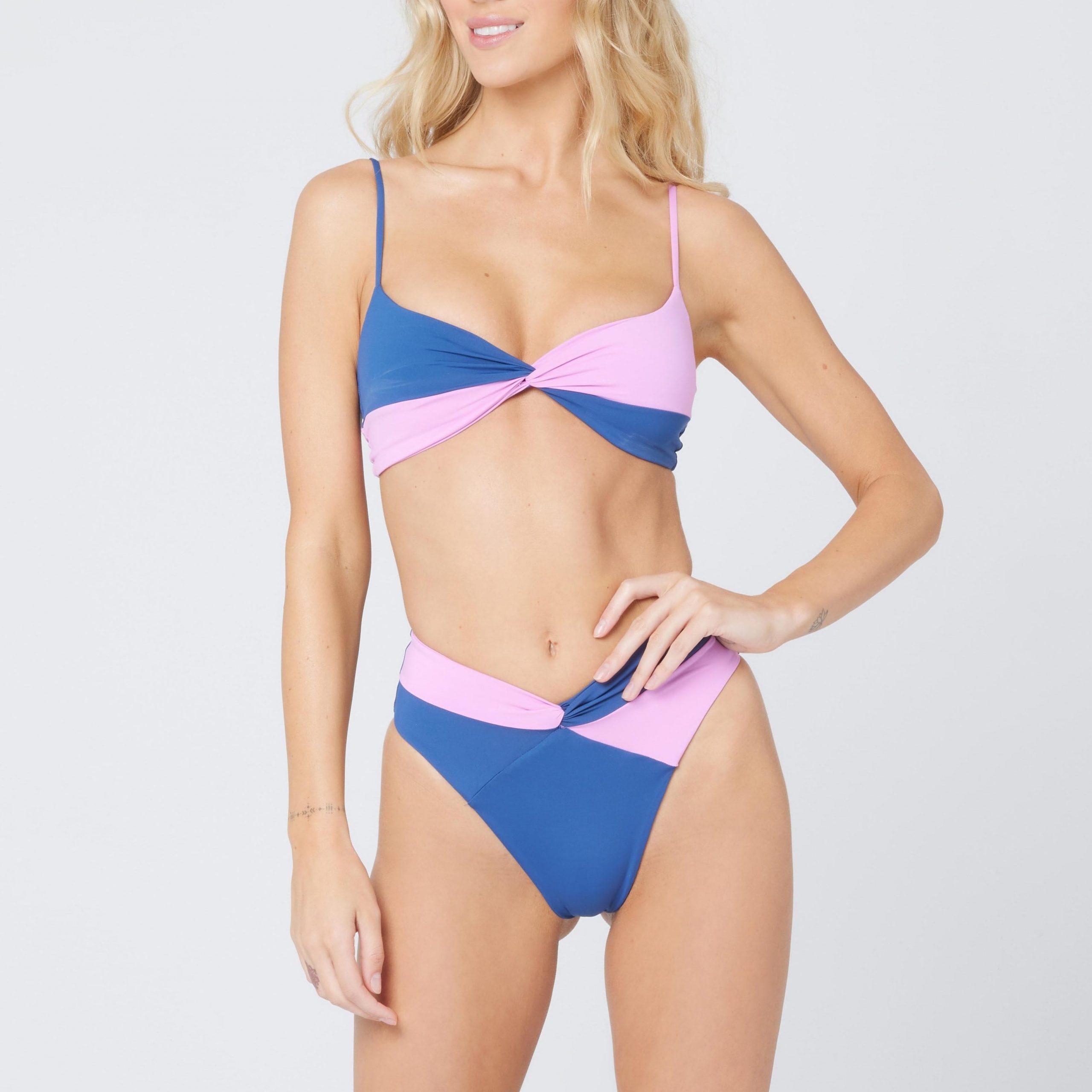 Sometimes, there is nothing more stylish than a blast from the past, and the L*Space Color Block Ringo Bikini Top gives the perfect vintage feel. It features a twist-tie front detail and bold color-blocking print in three different shades: indigo-rosebud, black-cream, and brick-champagne.
The shoulder straps on this L*Space Ringo Bikini Top are adjustable, and the back ties in a keyhole style. The top also offers medium support and medium coverage for a comfortable but secure feel. And, the cup pads are removable.
Made from high-quality nylon and spandex, this bikini top also retails for $110. We suggest pairing it with a complimentary pair of L*Space bikini bottoms.
L*Space Bikini Bottoms Review
With every good bikini top, you need a great bikini bottom. From its collection of itsy thongs and classic full-coverage options, this L*Space swimwear review will feature two customer favorites.
L*Space Sandy Bikini Bottom Review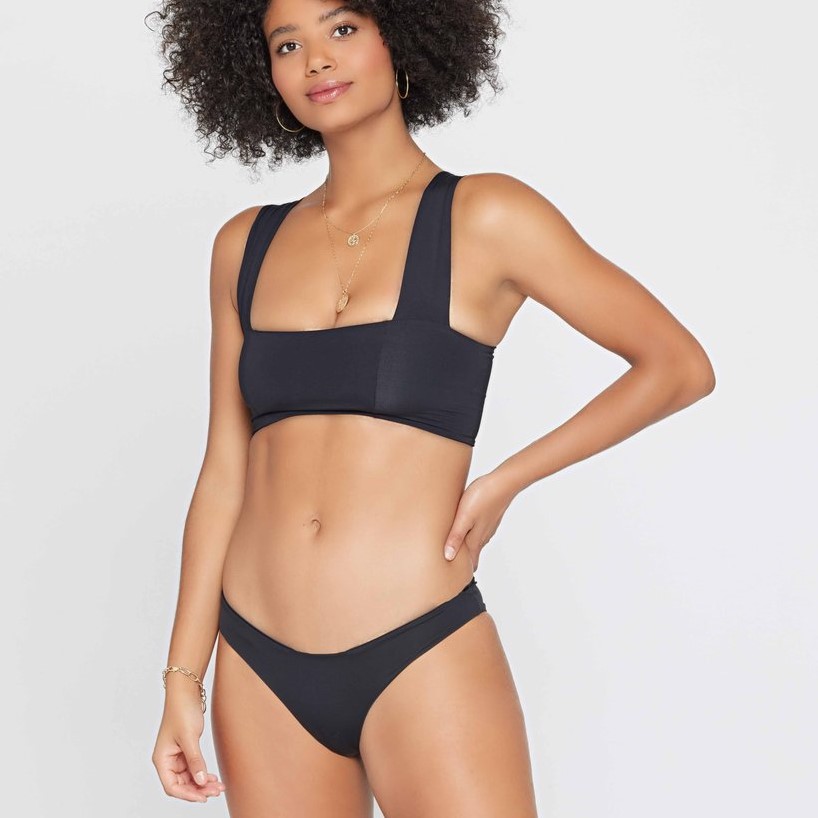 Traditional and plain, in the best way possible, the L*Space Sandy Bikini Bottom continues to be one of the brand's highest-selling items season after season. The design is seamless and pairs easily with any style of top.
The Sandy Bikini Bottom is available in several different colors, such as essential black and vibrant fuschia. In some color options, customers can choose from multiple coverage levels:
Classic fit, which hugs the hips in a flattering, curvy way
Full coverage fit, which offers just a bit more concealment
This bikini bottom ranges in price from $70 to $75, depending on the color and coverage level. We suggest pairing it with the wrap-style L*Space Rocky Top.
L*Space Pointelle Rib French Bikini Bottom Review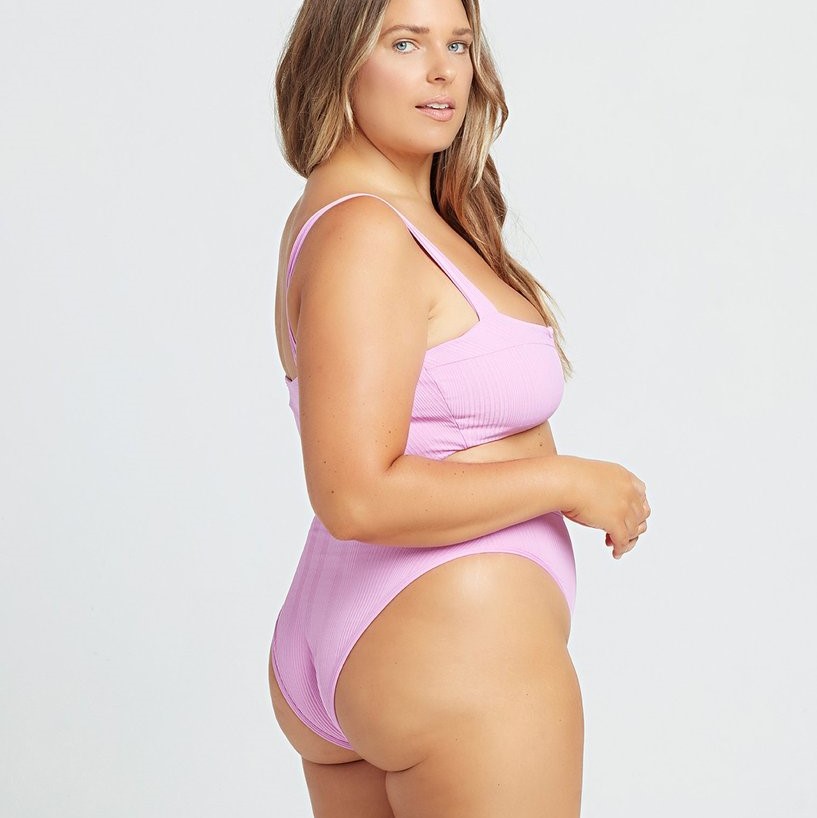 High-waisted pants are in style, so why should bikini bottoms be an exception? For anyone looking to hide a bit of their tummy, or if you're simply just looking for a bit more support, the L*Space Pointelle Rib French Bikini Bottom is sure to impress.
Featuring a sexy high-leg cut, this bikini bottom is hip-baring and curved in all the right places. Despite being high-waisted, this cut is quite cheeky and fun, and perfect for what L*Space calls the "ultimate beach bombshell."
The Pointelle Rib French Bikini Bottom also features a ribbed fabric for some subtle visual interest. Available in five colors, such as a deep red hue and a pastel pink, add these L*Space bottoms to your beach bag for $99.
L*Space Clothing Review
Though the brand's bathing suits have earned a lot of attention, it sells other products too, including basic clothing, loungewear, and accessories. Though its clothing line is quite large, this L*Space swimwear review will focus on only a select few of its best-selling items.
L*Space Sandpiper Ribbed Midi Dress Review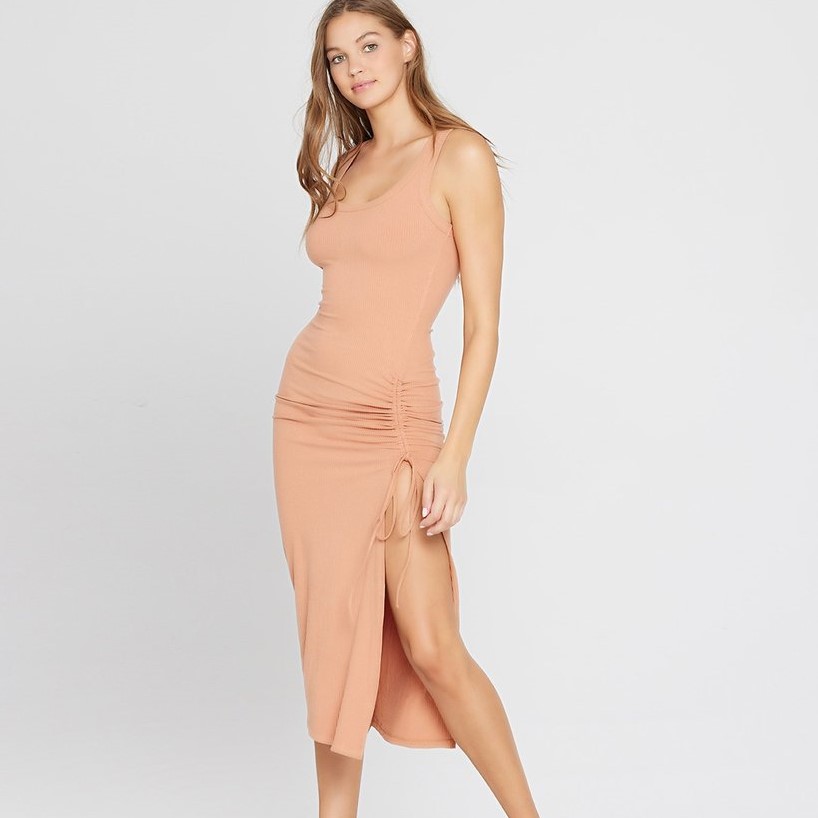 Ribbed fabrics are incredibly trendy, offering subtle dimensions to a solid-colored piece. The L*Space Sandpiper Ribbed Midi Dress appears simple at first glance but offers multiple intricate details that bring on the sex appeal.
With the ability to be dressed up or down, this dress features a side slit for a peek of your legs. The scoop neck shows just a hint of cleavage, letting the form-fitting nature of the dress steal the limelight.
Made from mostly Tencel and some spandex, this dress is midi length and in a bodycon style. The side ruching in this dress is adjustable and flexible, allowing the wearer to customize and find the best fit.
Offered in four colors, such as neutral cream and vibrant orange, spice up your style with the Sandpiper Ribbed Midi Dress for $121.
L*Space Anita Cover-Up Review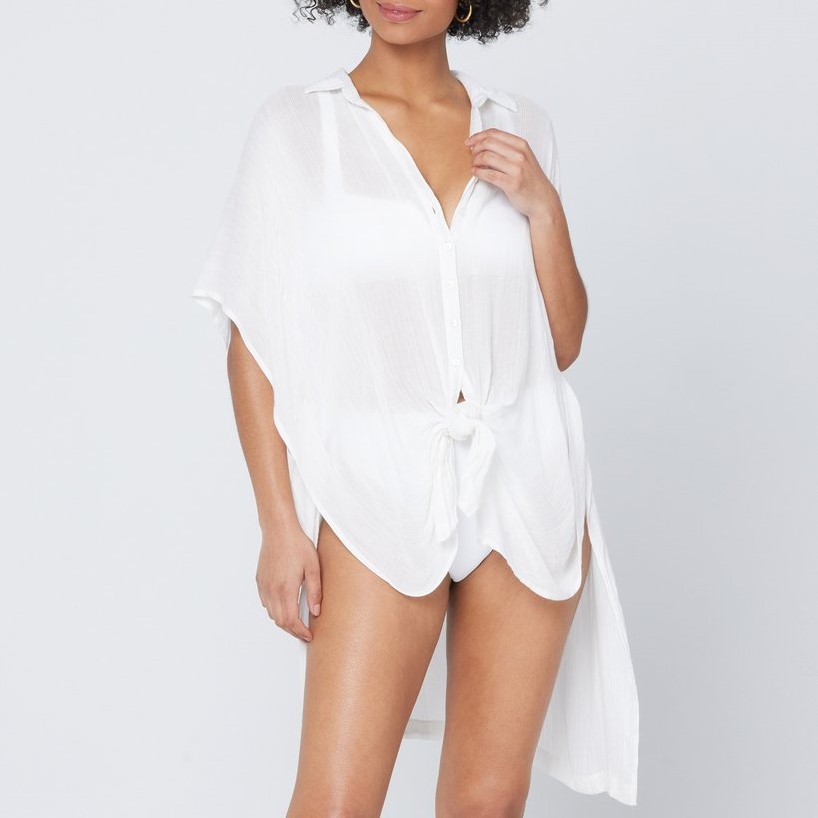 For anyone looking for a little extra coverage while you lounge poolside, consider the L*Space Anita Cover-Up. Giving us casual-vacation-on-the-beach vibes, this dress-length button-up can be tied or worn loose, thanks to the high slits on either side.
Incredibly versatile, this collared garment can be styled any number of ways, such as over a bathing suit or paired with cutoff shorts for a blousy, flowy look. It is made from 100% viscose and requires a hand wash in cold water for the best care.
Customers can choose from three colors: white, black, and toasted (a peachy tan hue). Featuring an oversized, casual fit, get the $99 Anita Cover-Up ready for your next beach vacay. Throw it on over your favorite L*Space bathing suits!
Who Is L*Space For?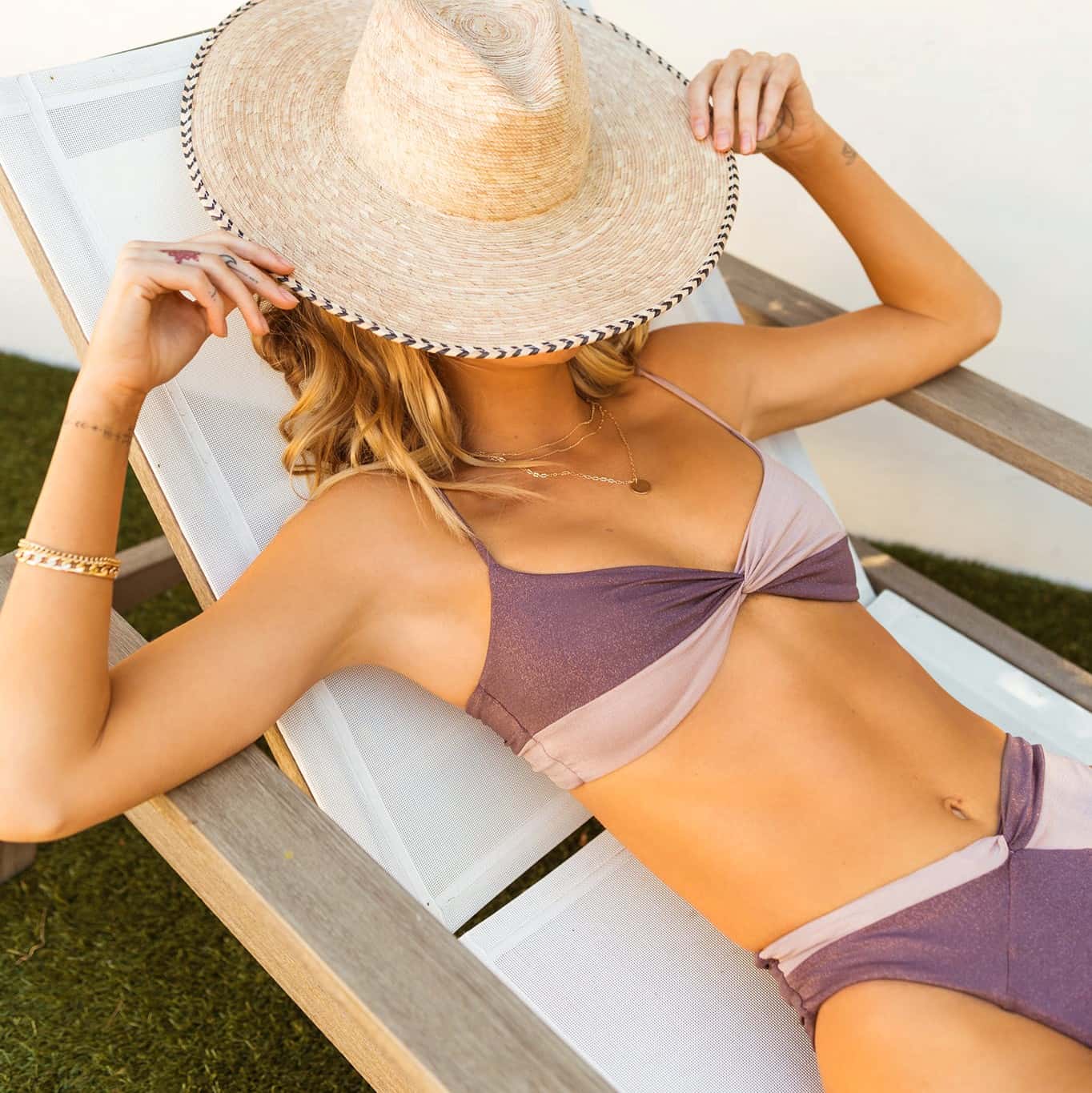 L*Space is a women's brand. Many may find the styles geared toward a younger crowd because of the sexy, revealing designs. But, these swimsuits can be worn by women of all ages, backgrounds, cultures, and ethnicities.
It is important to note that sizing is limited from XS-XL in most products, with no plus sizes available.
Is L*Space Worth It?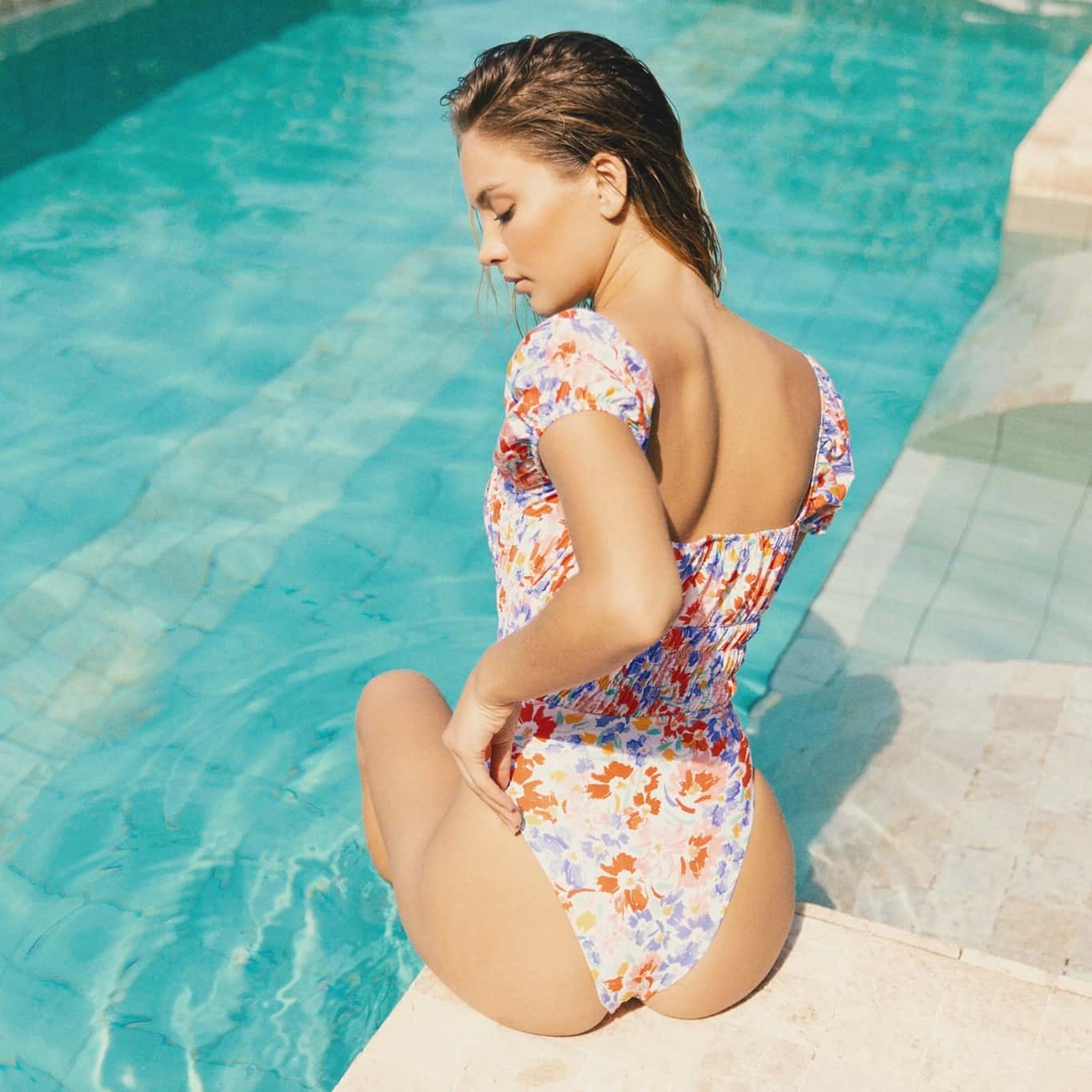 Based on the research done for this LSpace swimwear review, we think the brand is worth it. A swimsuit should be like an investment—you want something reliable, durable, and made to last.
A good bikini should remain trendy season after season. L*Space delivers on this, and its swimsuits, regardless of style, are great staple pieces for your summer or vacation wardrobe. Many customers attest to this fact—reporting high-quality suits that fit and flatter their bodies.
Plus, we love the company's sustainability initiatives. Its Eco Chic Off the Grid collection, made from 100% recycled materials, provides an option for more eco-conscious shoppers.
If you're looking to invest in a new bikini, or other clothing and accessories, this L*Space swimwear review recommends giving this shop a shot. With a 30-day return policy, there isn't much to lose!
L*Space Promotions & Discounts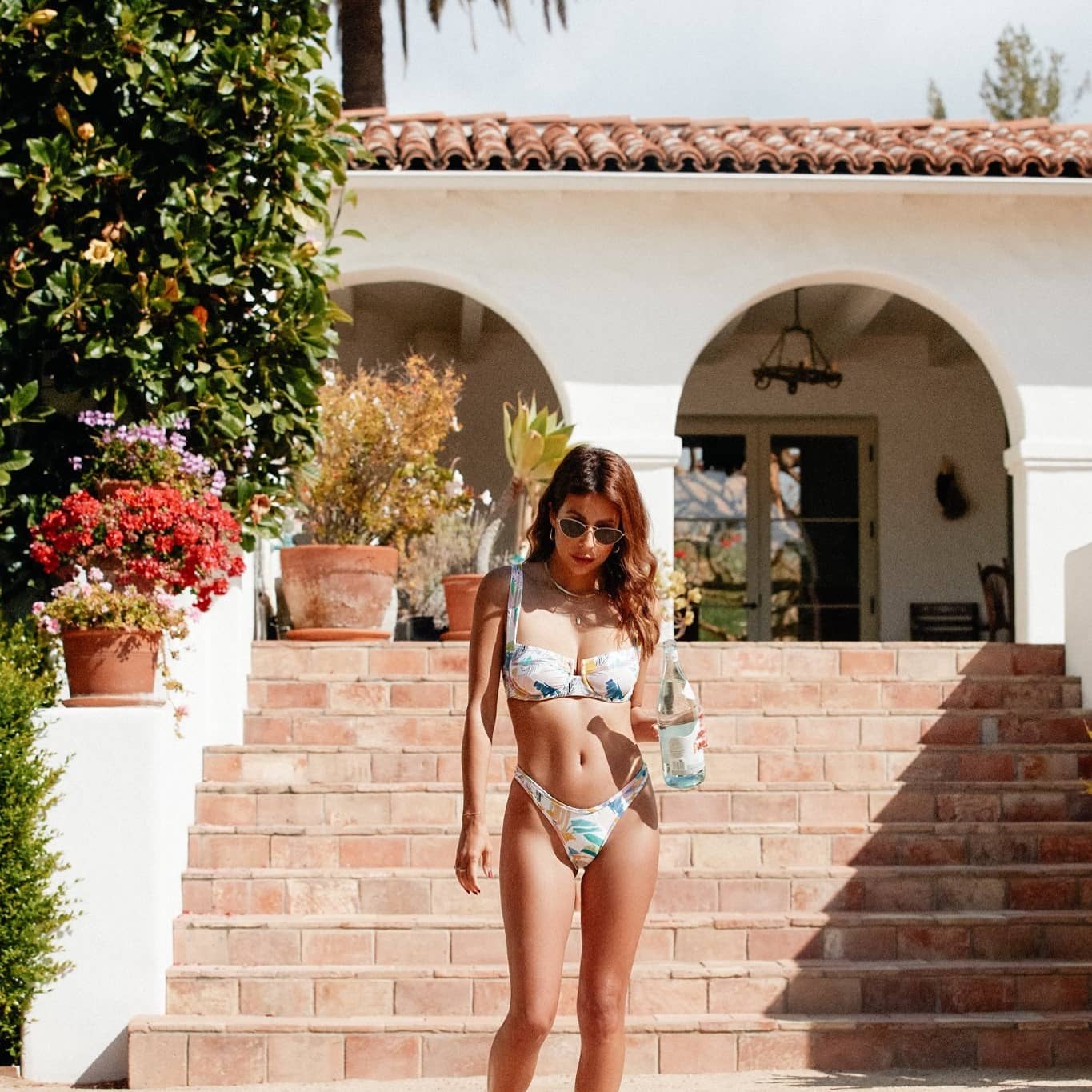 Looking for an L*Space bikinis sale? We kept an eye out for promos and discounts. Here's what we found:
Sign up for the e-newsletter for 10% off your next purchase—you'll be notified of any future L*Space promo codes, too!
Free US shipping on all orders
Free international shipping on orders of $200+
Where to Buy L*Space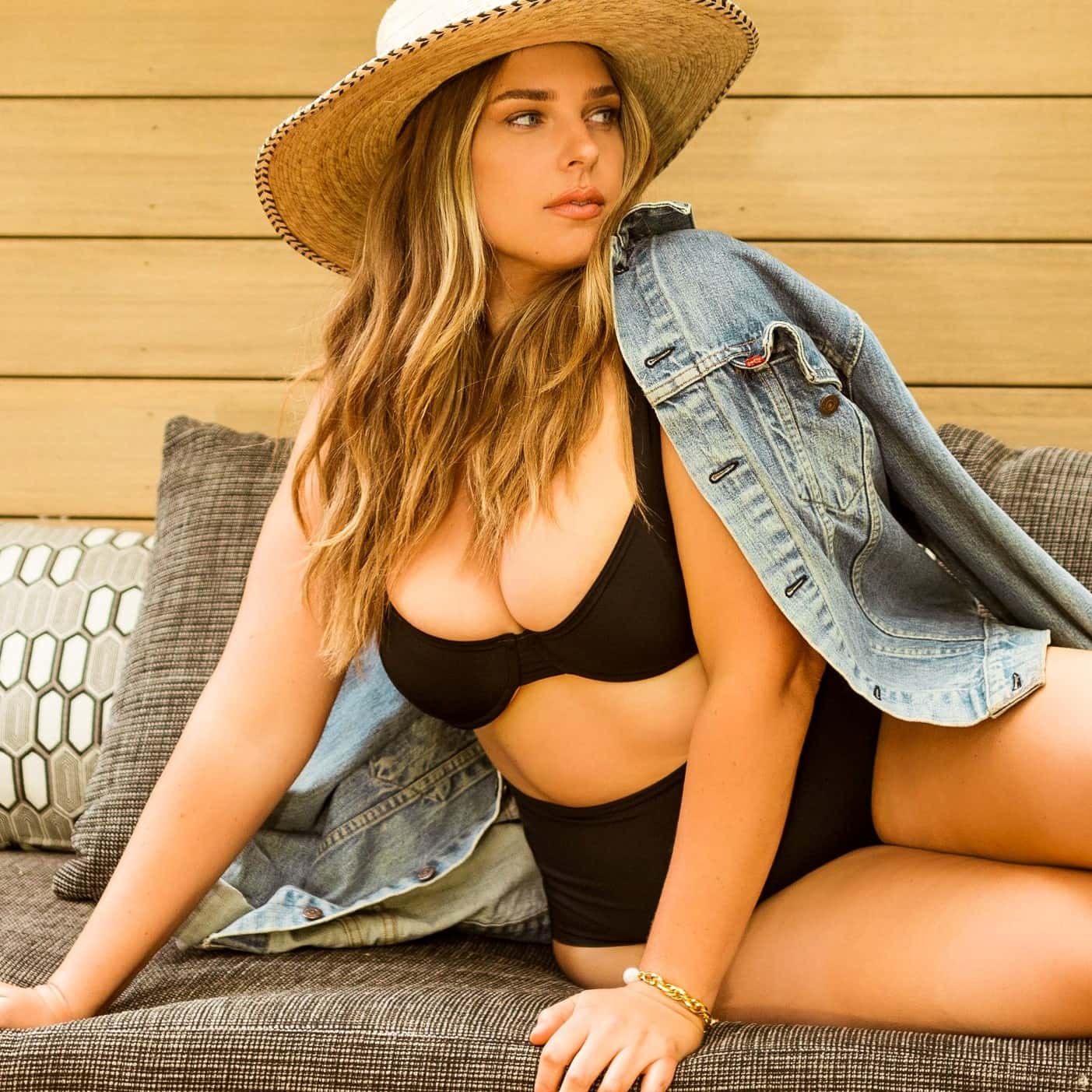 Customers can head to LSpace.com to shop for the brand's collection.
Other options include Amazon, Nordstrom, Revolve, Anthropologie, Free People, and Bikini Village. These retailers are a good option if you're looking for something that is out of stock on the brand's page, such as the L*Space Haley Top.
FAQ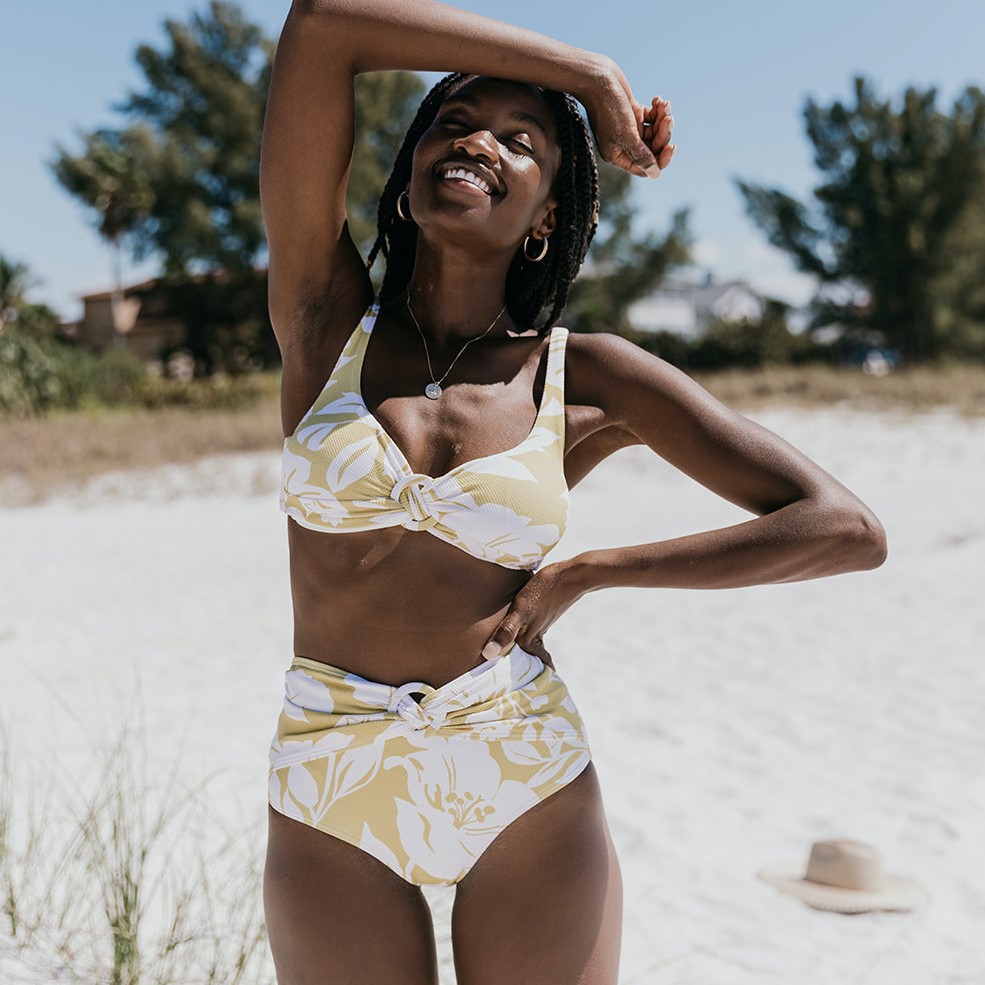 Where is L*Space made?
L*Space products are designed and made in Irvine, California.
Does L*Space run big or small?
According to some online comments, its swimwear line might occasionally run small. Always reference the L*Space sizing chart to make sure you find your perfect fit.
What is L*Space's Shipping Policy?
For US orders, L*Space offers the following shipping options:
Standard ground (1-5 business days): free
Second-day air: $15
Overnight air: $25
L*Space also ships internationally! Orders over $200 will be sent for free. The estimated delivery time will be calculated at checkout, and customers should note that a signature is required upon delivery.
What is L*Space's Return Policy?
If you are unsatisfied with your order, the company will accept returns within 30 days of purchase. But, it does not offer any returns or exchanges on L*Space sale items.
To initiate a return, simply head to the Returns & Exchanges section of the company's site and fill out the form. The company will provide you with the next steps.