About Ray-Ban
Founded in 1936 by the Bausch and Lomb Company in Rochester, New York, Ray-Ban is an iconic eyewear brand integral to classic Americana and retro style. The company's sunglasses have graced some of the most famous faces of the past 100 years, from mirrored aviators on General Douglas Macarthur (incidentally, the first mirrored sunglasses ever put into production) to black Wayfarers on the Blues Brothers to the brand's classic Aviators on practically everyone in the movie Top Gun.
Today, Ray-Ban operates from within the international eyewear conglomerate Luxottica in Milan, Italy. Luxottica also owns several other famous brands like Persol, Oliver Peoples, Arnette and Prada Eyewear, as well as the retailers LensCrafters, Sunglass Hut and Pearl Vision, among others. Thanks to such a robust backing, Ray-Ban is able to offer a wider variety of stylish sunglasses than ever before, including nearly one hundred models for men and women and enough color and material options to make you dizzy. But if you just want some classic shades and the spins are starting to set in, you're in luck — this buying guide is meant to help you pick the right shades for your style and eye-protection needs. This isn't every pair Ray-Ban sells, but it's a hell of a start.
Terms to Know
Rubber Frames vs Plastic
Acetate
This synthetic material — also known as cellulose acetate — was first used for eyewear in the late '40s. It is made from a polymer derived from wood pulp or other natural fibers and is both glossy and transparent. In recent years, the material has been replaced by less-expensive nylon frames.
Bio-Acetate
This is acetate made from bio-based materials — cotton, wood pulp, cereals, beet and sugar cane, for example.
Matte Rubber
Many new Ray-Ban frames are ditching the signature shine for a matte rubber look and feel. The texture is super different, and they look different on. If you're buying Ray-Bans because you look how Ray-Bans look on other people, avoid the rubber frame.
G-15
Ray-Ban's G-15 lens features a special green tint that was developed for military pilots in the '30s, filtering out a lot of the bright blue light a pilot's eyes would be exposed to when flying above the cloud line. These lenses only allow 15% of visible light to pass through them, hence the "15," so they're best for bright sunny days. While Ray-Ban offers a wide range of tints, mirror finishes and gradients with or without lens polarization, the G-15 lens is considered the most classic choice for any style you could want.
Temples
These keep the front of the frames (which hold the lenses) from falling off your face. In most glasses, they are the long shaft that stretches to the ear and is connected to a temple tip that curves behind the ear (holding the glasses in place).
Chromance vs Polarized/Polarization
Polarized lenses have a special film that helps them to reduce glare — that is, bright reflected light. This works by only allowing light that enters the lenses vertically — unreflected light, direct from a light source — to enter through, blocking the vast majority of light that reflects off horizontal surfaces like bodies of water, large stretches of pavement or fields of snow. Polarization is especially useful for people who do a lot of sunny highway driving, daytime fishing, skiing, mountaineering or hiking in snowy areas. Polarized lenses typically cost more than unpolarized ones.
Chromance
Ray-Ban's Chromance lenses are specially developed for outdoor athletics. In addition to polar filters, a hydrophobic and fingerprint-resistant coating, and anti-reflection, these lenses intensify colors which enhances details and clarity.
The @ Collection
These are online exclusives that you won't find in stores, including special-edition Wayfarers, Aviators, Clubmasters and more. Some are just standard models not sold at retail locations, but some are limited-edition or one-time seasonal releases, so if you see a pair from this collection that you really want, you'd be best advised to act quickly.
Blaze
The Blaze collection of eyewear takes Ray-Ban's classic eyewear silhouettes and constructs them with over-frame lenses. This means that instead of the lenses sitting embedded within the frames, the lenses lay on top of the frames themselves.
Olympian
First introduced in the 1960s, the Olympian frames are distinct for its bold brow line which extends from temple to temple. Since its introduction, this feature has made its way to the rest of the Ray-Ban lineup.
Legend
Glasses in the Legend collection have the Ray-Ban logo emblazoned in gold rather than the usual white.
Evolve
Ray-Ban's version of the popular Transition lenses, these colored lenses are light-responsive and shift their level of shade according to the amount of light present. They're also 100% UVA and UVB protective.
How to Pick a Pair for Your Face Shape
Choosing new sunglasses for everyday wear isn't exactly rocket science, but there are a few things to consider before investing in your next pair. First, decide on the functional elements you need — like polarized lenses or coatings that combat reflections, water and oil — then pick out a frame shape that complements your face. The goal is to accentuate your best features, and in general, the best way to do that is to wear frames that contrast your face shape slightly.
You can learn more about face shapes here.
Find the Right Model for You
Wayfarer Classic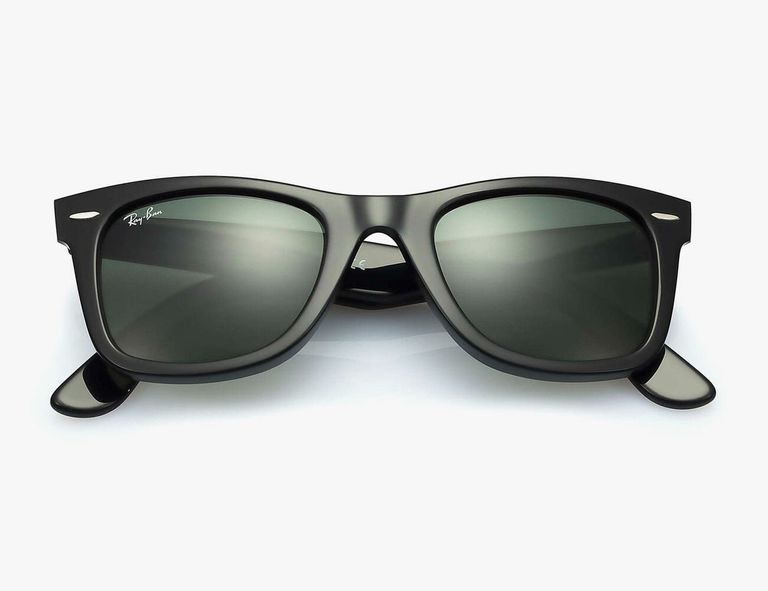 This design debuted in 1952 and quickly became one of the most iconic (and oft-imitated) eyewear shapes on the market. Wayfarers are characterized by sturdy acetate frames, logos at each temple and two tiny metal ovals on the front of the frame.
The Wayfarer Classics can be bought polarized or unpolarized, with multiple lens tint options to pick from. You also might want to keep an eye out for special editions of the Wayfarer — in the past, the iconic shape has been made available with tons of wild frame prints and texture options as well as the standard glossy black and tortoiseshell colorways.
Clubmaster Classic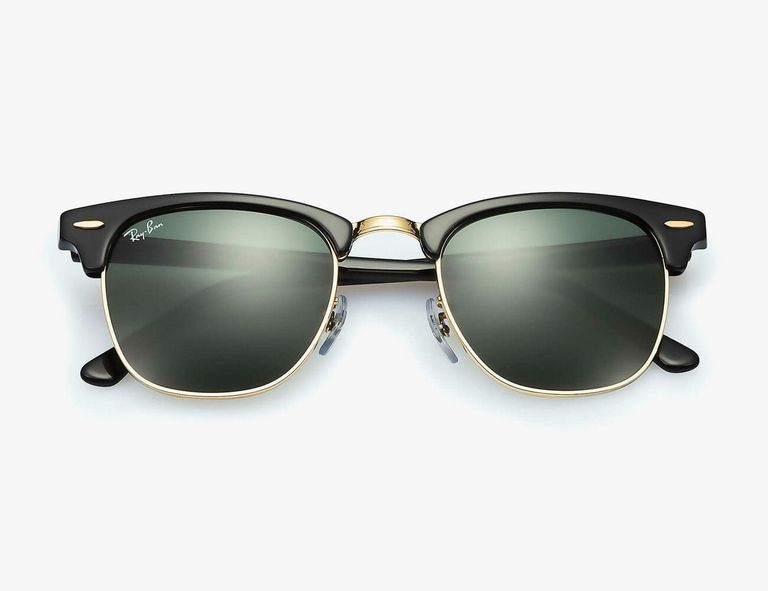 One of Ray-Ban's most vintage-inclined shapes, the Clubmaster features wire-rimmed lenses with an acetate brow piece and acetate temple arms. Similar to the Wayfarer, you'll find a Ray-Ban logo at each temple as well as the tiny metal embeds near up near the barrel hinges. The standard choice for anyone wanting a classic pair of Clubmasters is a black acetate frame with gold-tone metals and Ray-Ban's classic green G-15 lens tint, but these are also available with tortoiseshell acetate, and polarized or G-15 lenses are an option for any color you end up choosing. You might also want to check out the ClubRound sunglasses, which are closely based on the traditional Clubmaster but with a rounded lens bottom.
Clubmaster Flash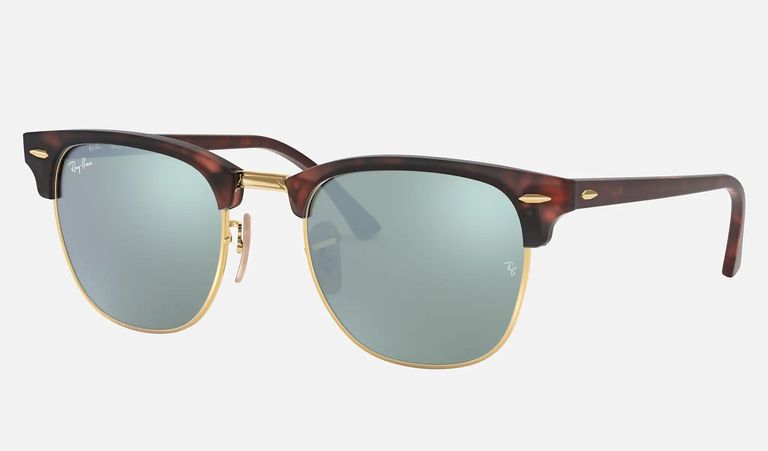 Designed for life in the bright lights, this iteration of the Clubmaster, called the Clubmaster Flash, simply comes in four mirrored lens options.
New Wayfarer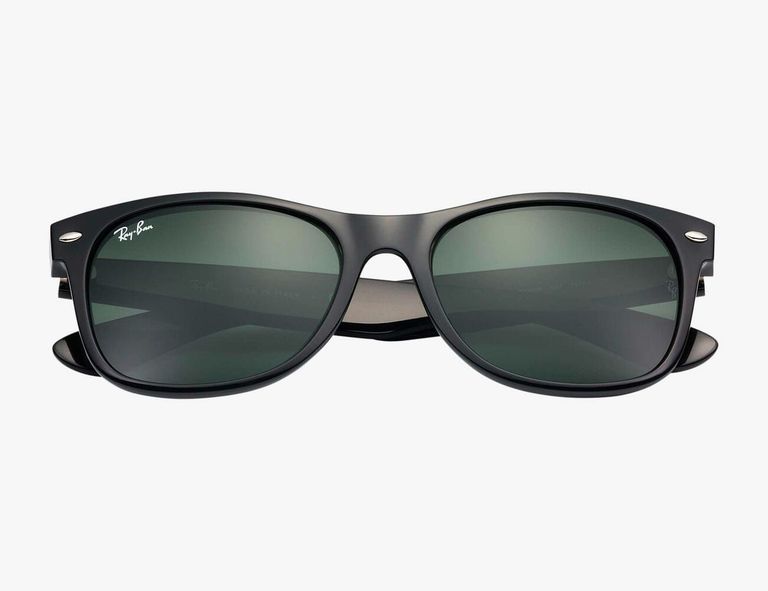 Ray-Ban's updated take on what's arguably its most classic design, these feature a slightly smaller profile and softened frame shape. The result is a pair of sunglasses that's great for smaller faces, or anyone who feels like the original Wayfarer was this close to getting it right but didn't quite cut it.
New Wayfarer Classic (Rubber)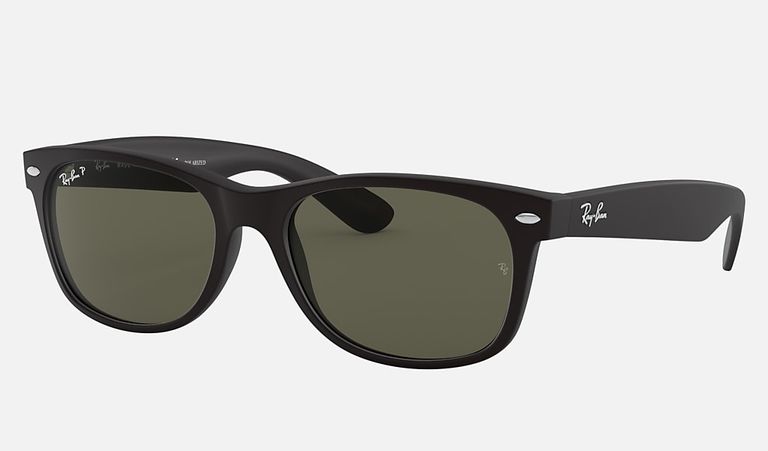 The only difference between these and the other New Wayfarer Classics is that this frame is made from matte rubber, a textural but also aesthetic difference that's very evident. Not only do these not have the usual shine, but they're a little odd-feeling on, and they get pretty greasy.
Original Wayfarer Colorblock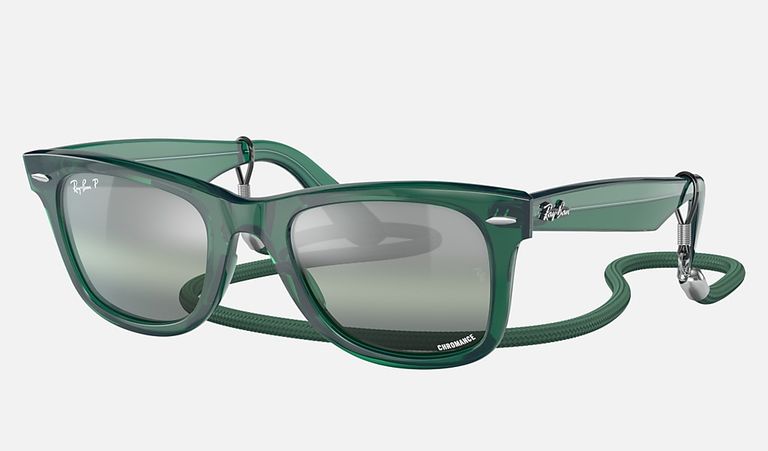 Unlike the Original Wayfarer Color Mix, the Colorblock is one solid color all-over, albeit a little translucent. This rendition trades classic black or tortoise for teal, red and blue.
Stories
Ray-Ban x Facebook
Made in collaboration with Facebook, Ray-Ban Stories come with two cameras attached to the front for capturing both stills and video.
Wayfarer II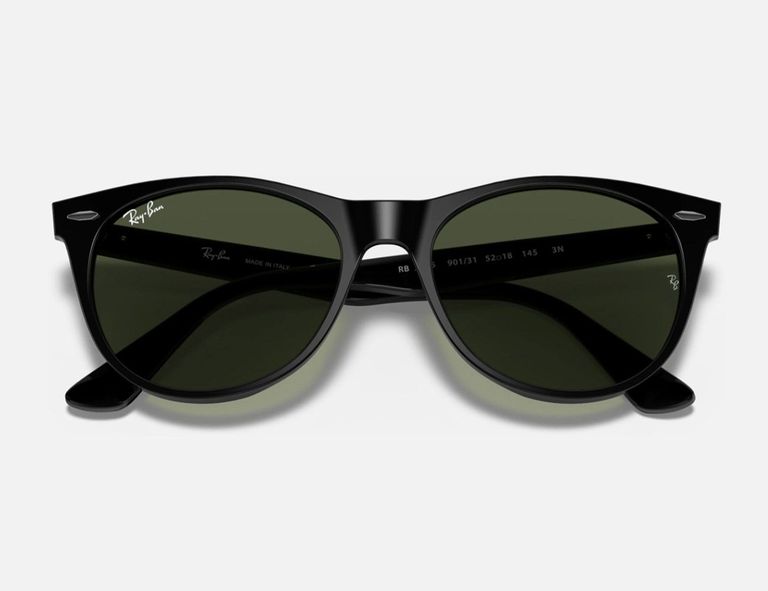 This all-new Wayfarer introduces slimmer temples, new front rivets, and a more rounded lens. It's modern. But maybe that's not for everyone.
Orion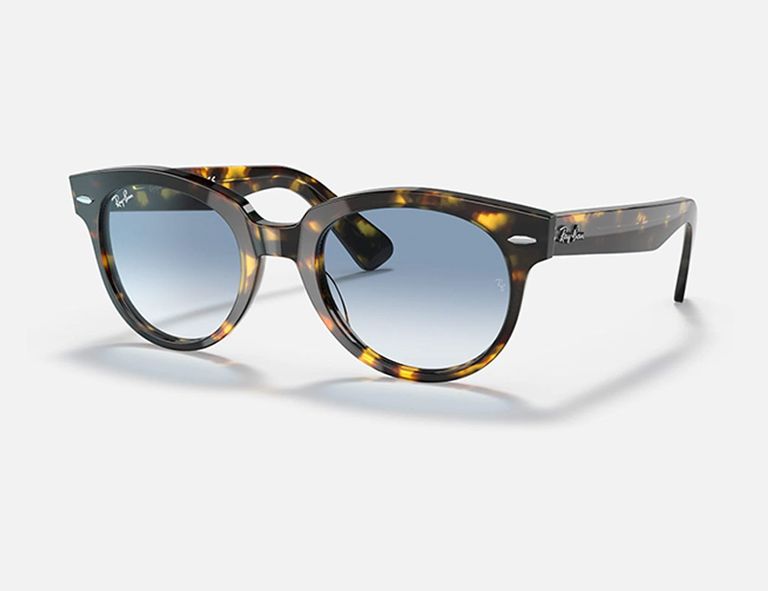 The shape is the only thing classic about Ray-Ban's Orion frame.
Hawkeye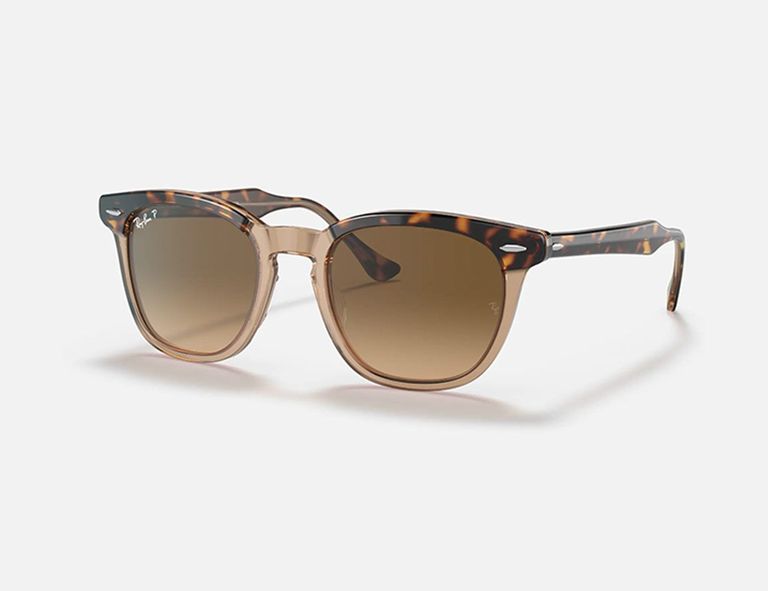 The Hawkeye is a decidedly retro frame with a gradient colorway that transitions from tortoise to a pale tan.
Blaze Meteor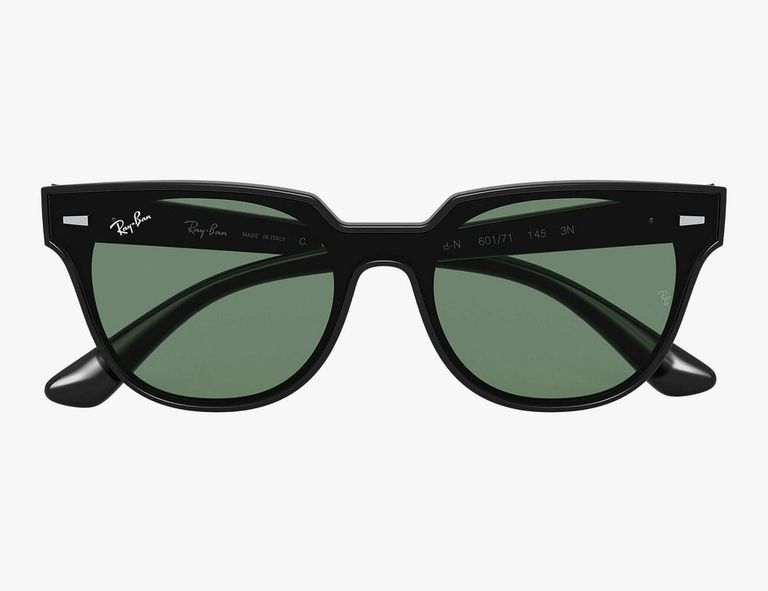 Based around a flat one-piece lens design, these sharp-shaped frames can be subtle or statement-making depending on what you're after. Choose your nylon frames in glossy black, tortoise shell or fade-striped variations for a unique look that's as versatile as anything else you can get from Ray-Ban's lineup.
State Street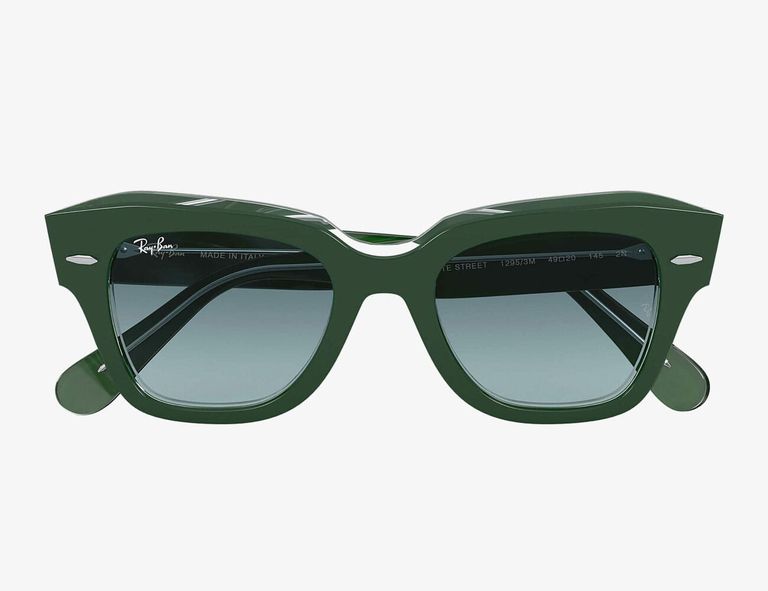 The State Street takes the original Wayfarer shape and exaggerates it. Bolder rims and more angular lines give it a distinct look.
State Side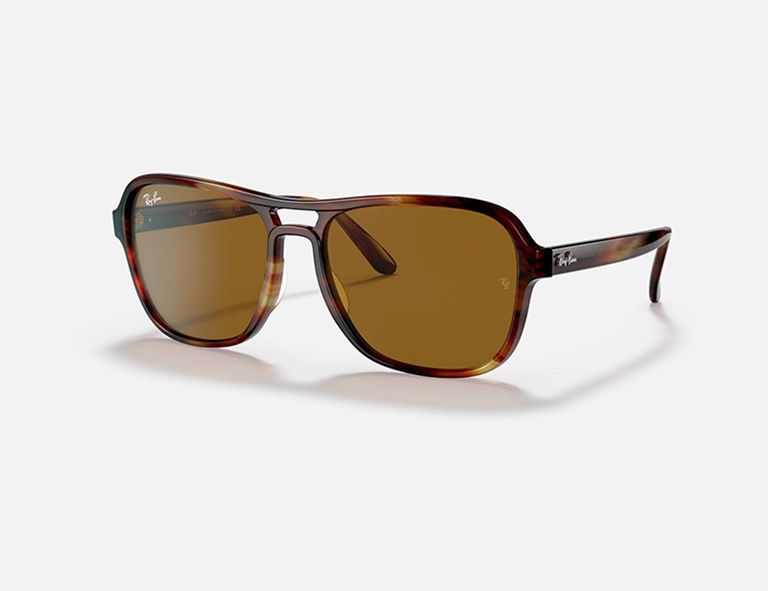 A thick acetate frame with extra large lenses highlight Ray-Ban's State Side style.
Frank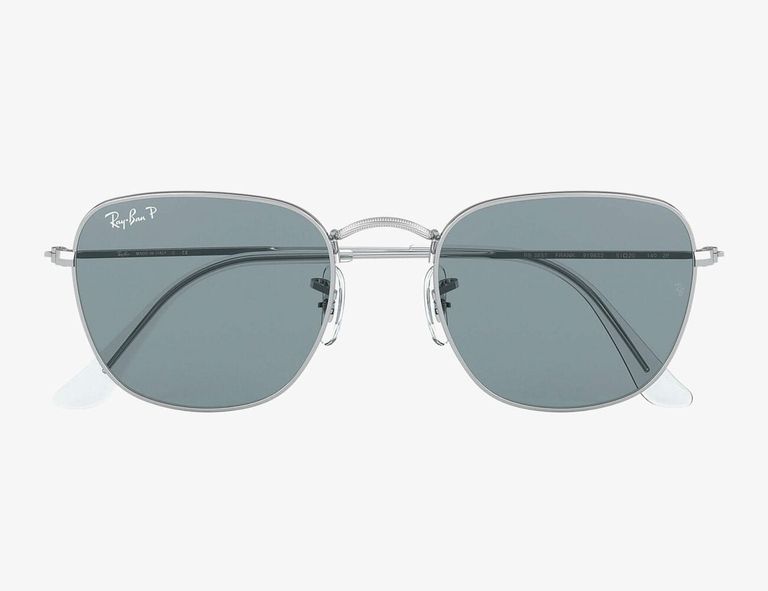 Frank comes from the design aesthetic of the 1990s, adopting a squarish shape with rounded edges that would feel right at home on the face of JFK Jr.
Square 1971 Classic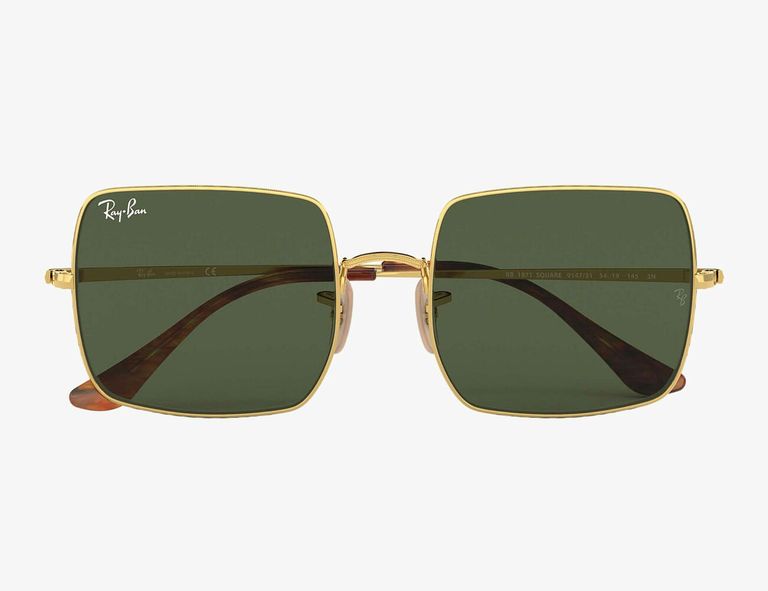 The Square 1971 is a part of Ray-Ban's throwback series of products that take to styles from the archives. These television-like lenses are mounted to metal frames and recall the groovy getups of the 1970s.
Square II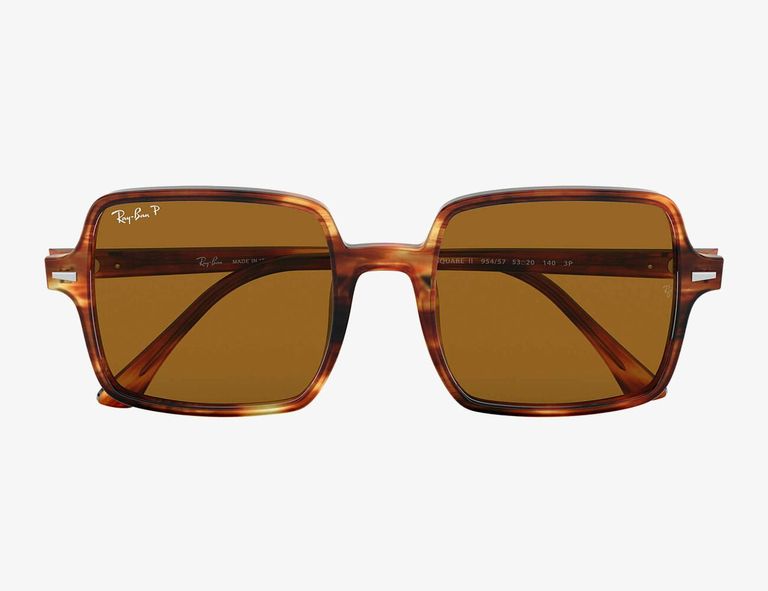 These oversized lenses offer a similar retro profile to the Square 1971, but in a slender acetate frame and with the arms positioned slightly higher on the lenses.
Aviator Classic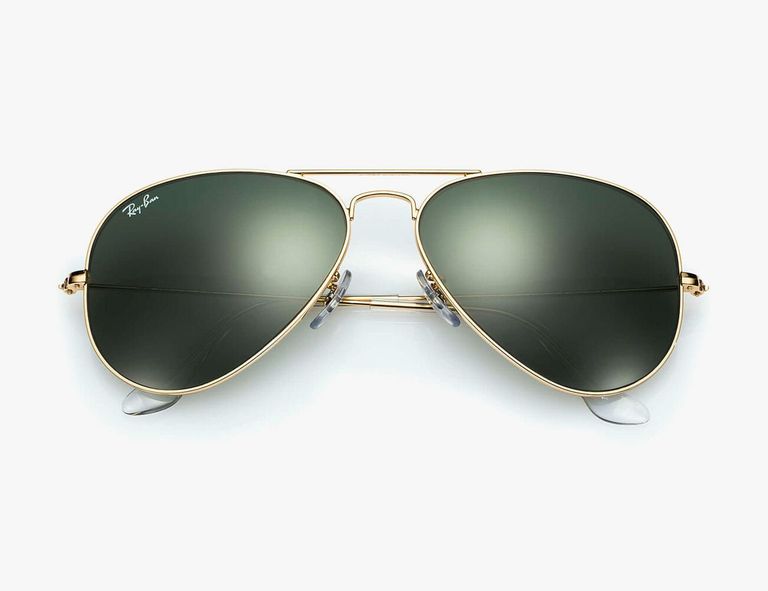 Bausch and Lomb developed this design in the '30s to help protect the vision of military pilots; this was also the origin of the brand's G-15 lens, which was made specifically for pilots before becoming a classic choice across all Ray-Ban sunglass options. Today you can also pick up polarized Aviators, in several frame styles and lens colors (as well as in titanium), for a slight increase in price.
New Aviator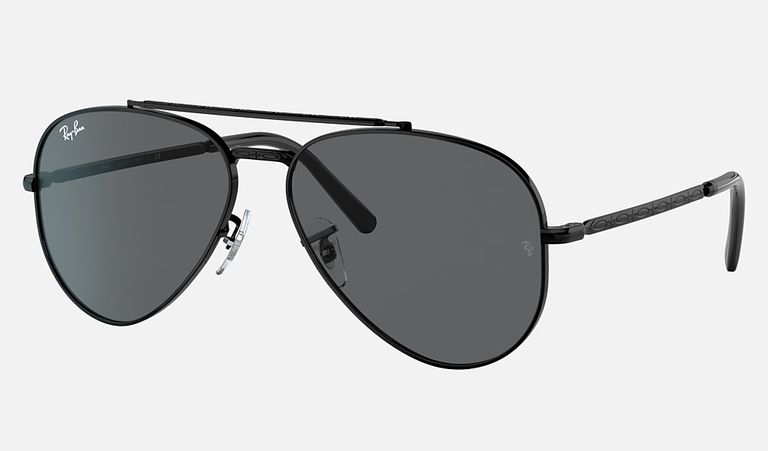 "New" Ray-Bans feature decorative etched arms, a double bridge, exclusive materials and new colors.
Outdoorsman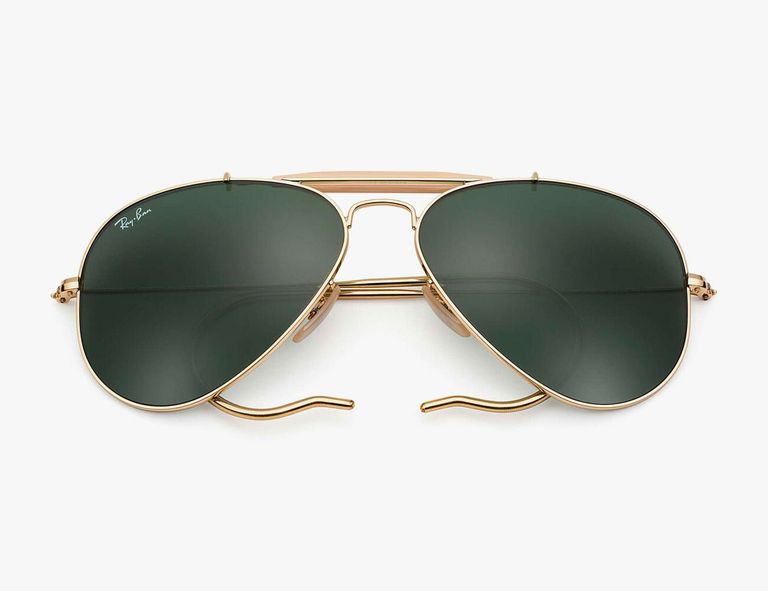 Available with gold or black frames, the Outdoorsman features vintage-inspired details like a brow bar and cable temples (hooked behind your ears) to better hold the shades on your face if you're doing more than just beachcombing. You can also opt for the Craft version of the Outdoorsman (for a significant upcharge) which has genuine deer leather at the padded brow bar and temple tips, rather than rubber or plastic.
Outdoorsman II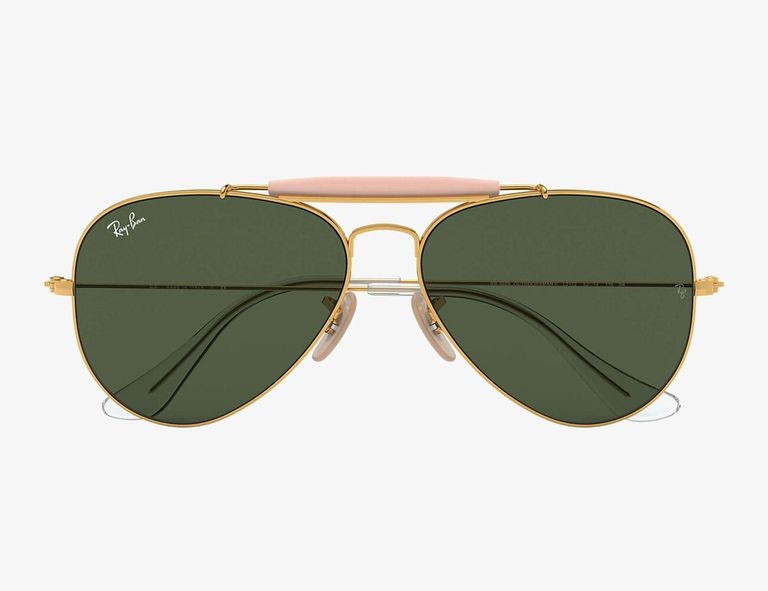 The difference between the Outdoorsman and its sequel mainly lies in the temples. Specifically, the portion that wraps around the ears. Whereas the original's temples are made of metal and wrap around the ear 180 degrees, the Outdoorsman II only goes about 90 degrees and is padded with acetate which matches the brow bar.
Shooter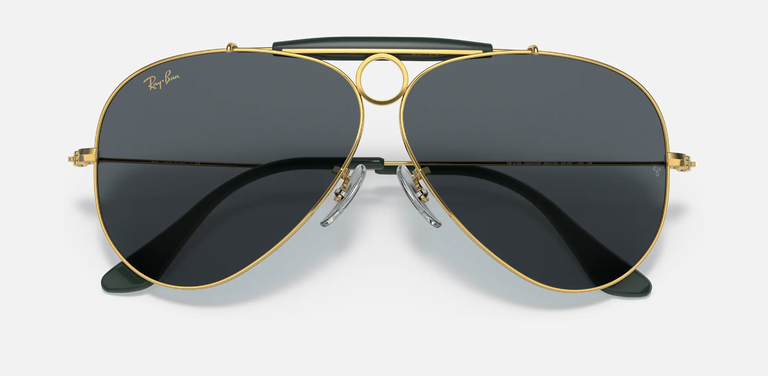 Similar to the Outdoorsman, these sunglasses have a rounded brow bar, but where the Outdoorsman has curved cable temples, these are traditional. The Shooter features one very prominent difference that'll make it stand out from the pack, though: the circular bridge. If you've ever wanted to channel Hunter S. Thompson à la Fear and Loathing In Las Vegas, start here. (Then go buy a bucket hat.)
RB8064 Titanium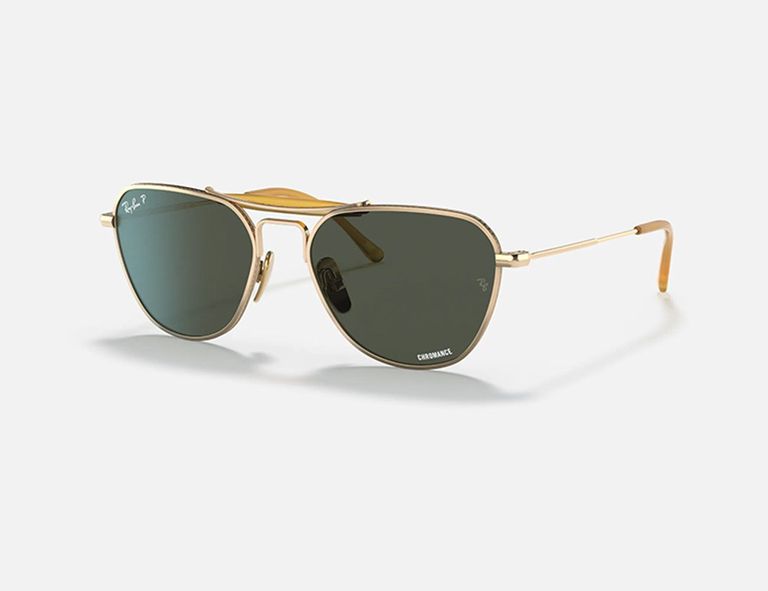 These are aviators, but elevated. The frame is primarily titanium, but there are polished gold accents.
Vagabond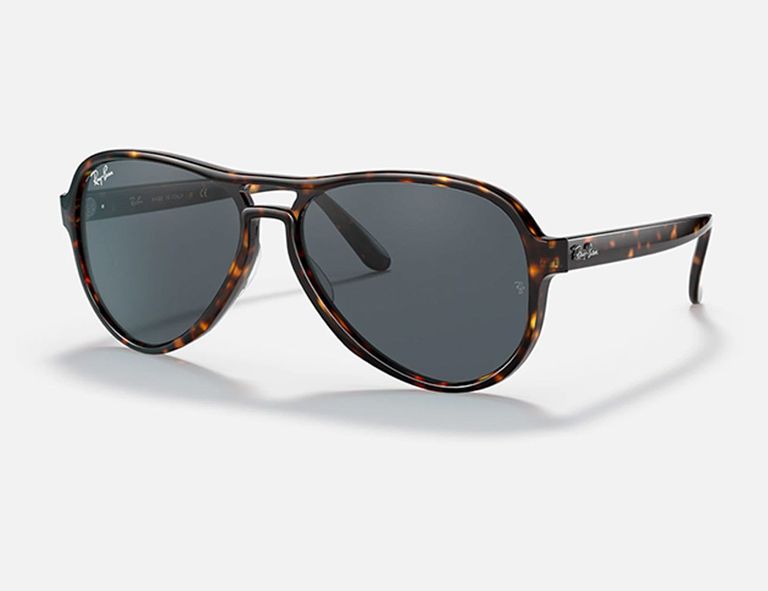 The Vagabond frame is an exception to most of Ray-Ban's pilot-shaped options. It has an acetate front with acetate arms.
Caravan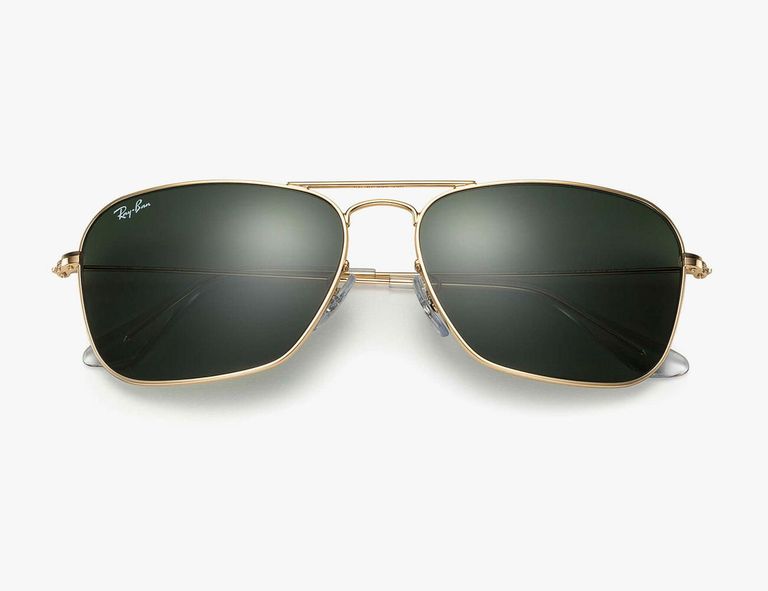 These sunglasses from 1957 were put out as a geometric alternative to the Aviator, which was already immensely popular. Like the Marshal referenced below, these definitely have some leading-man cachet akin to Ray-Ban's most popular and iconic styles, but they're far less common than traditional aviators or Wayfarers. If you want to stand out in a very elegant way, it's hard to do better than the Caravan.
Erika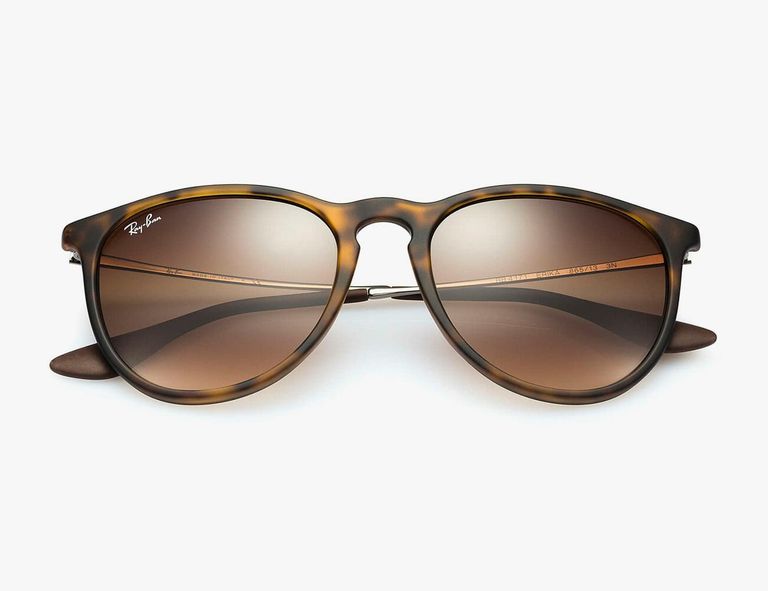 This style might sound like it leans feminine because of its name, but it's meant to be unisex. And if you like the fine temple arms and softly-shaped frame, you'll have a wide range of colors and materials — nine of them on Ray-Ban's site alone — to choose from.
Wings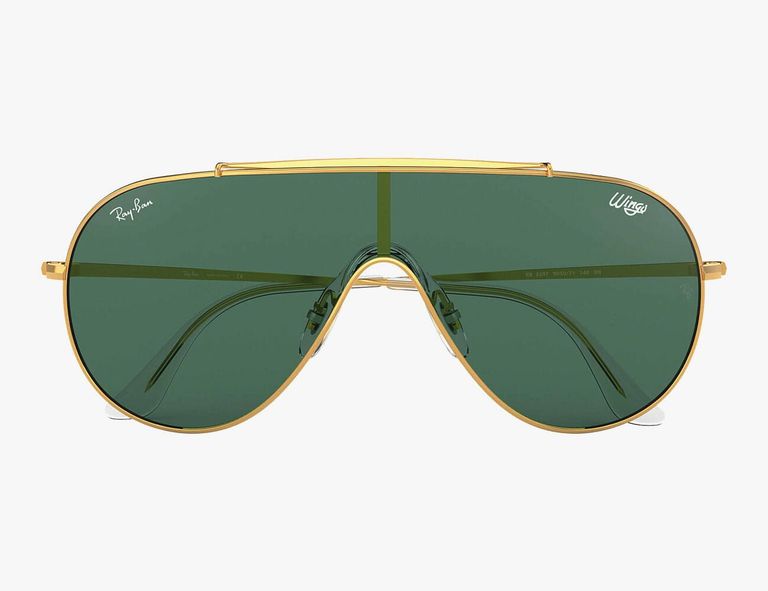 Simply put, these are a feat of daring all on their own. Part poker player, part you-definitely-own-a-vintage-motorcycle, the Wings style is for someone looking to make a statement, but with their wide wind-blocking design and mirrored lens options, they definitely aren't impractical. If they're a bit too oblong for your tastes but you like the idea of having a windshield on your face, check out the Wings II; they're very similar but with an angular frame shape to better complement a naturally rounded face.
Blaze General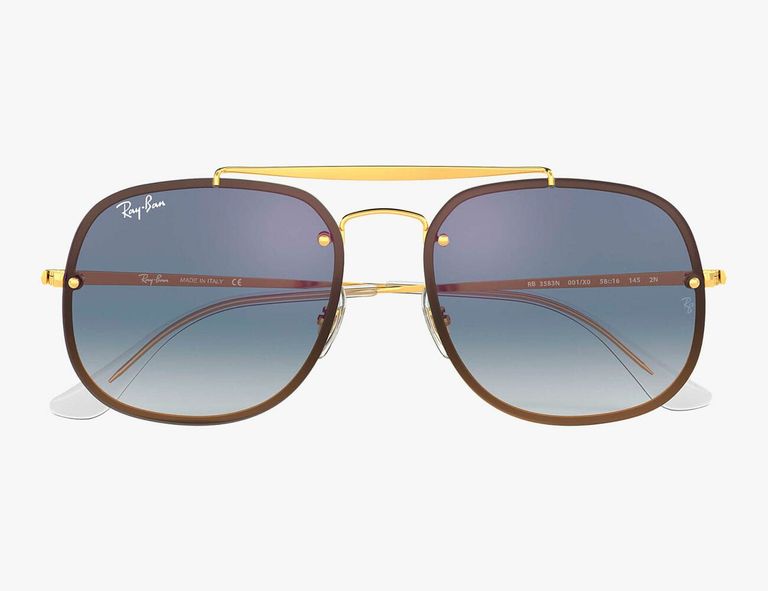 A very trendy update to the General frame style, these feature iridescent coloring, a flat-rim design around the lenses and your choice of gold- or silver-toned steel frames, plus a flattened brow bar for an extra dose of character.
Aviator Full Color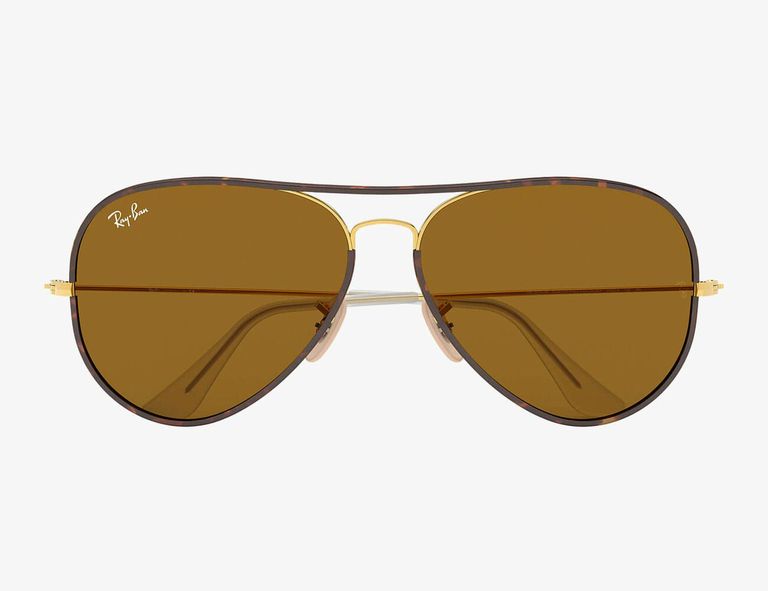 This Aviator riff combines the metal frames of the original and wraps the lenses in colorful acetate from the across the top bridge and around each lens. If you couldn't decide between acetate and metal, this one lets you have it all.
Aviator 1937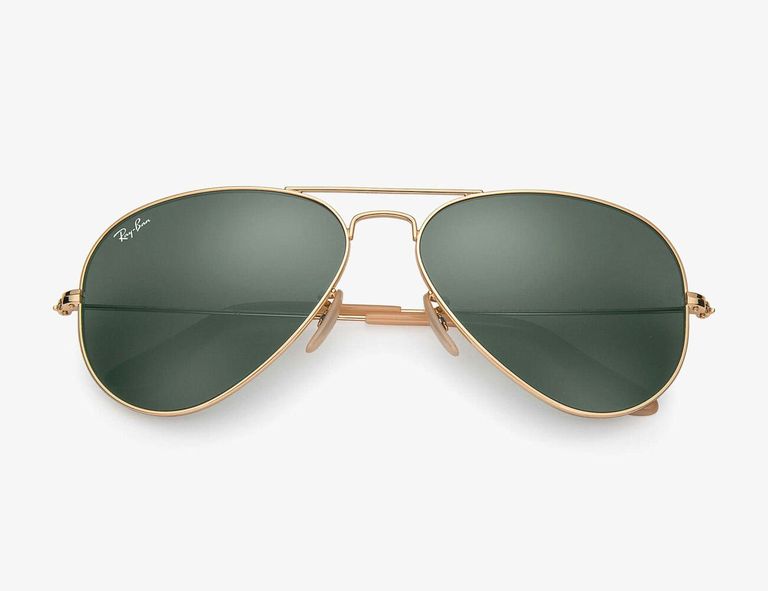 The Aviator 1937 takes the designs of the icon all the way back to its roots, which, to be honest, isn't all that different from the model you've come to know and love. This one is an online exclusive and if you'd be getting it for its mother-of-pearl accents.
Round Metal Classic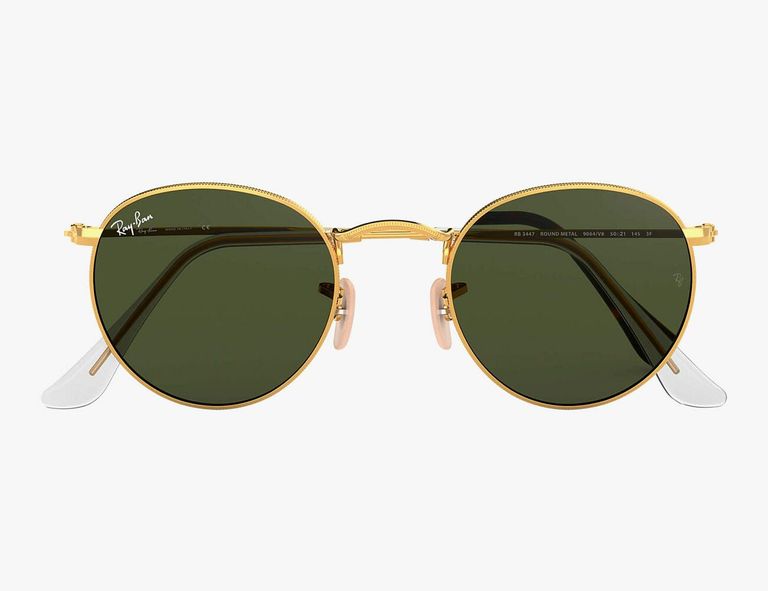 Based on a design that came from the 1960's and typically gets associated with that period's counterculture movement, Ray-Ban's Round Metal Classics feature green lenses and a thin wire frame in either grey or gold. The standard lens option is slightly convex but you can also find these with perfectly flat lenses to give them an even more opaque (and distinct) look.
New Round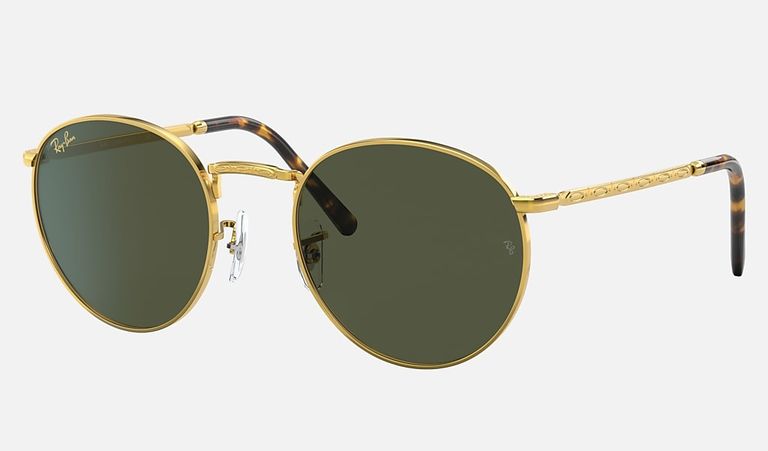 The New Round, like the New Aviator, has decorative additions to the arms and comes in new colors.
Hexagonal Flat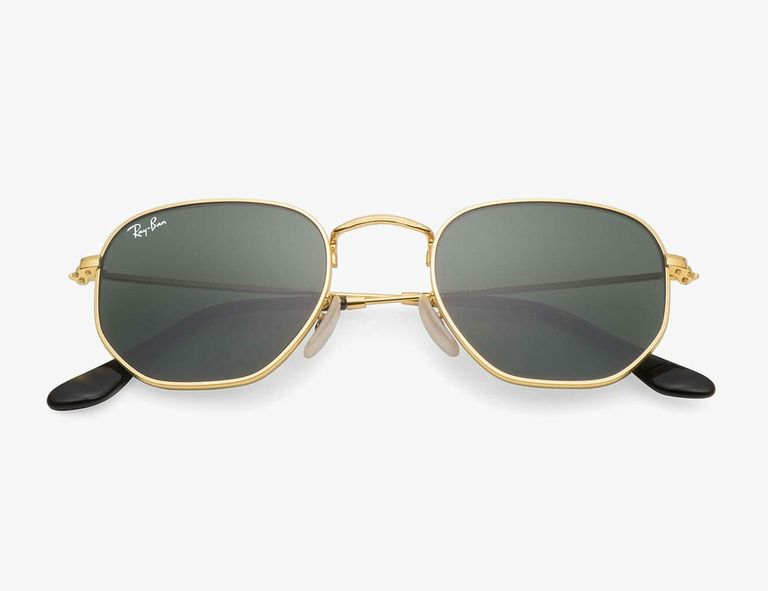 This cross between round and square frames reads a bit like a more angular aviator style. With metal frames and acetate tips, the Hexagonal Flat is available in 13 different combinations of lenses and frames.
Marshal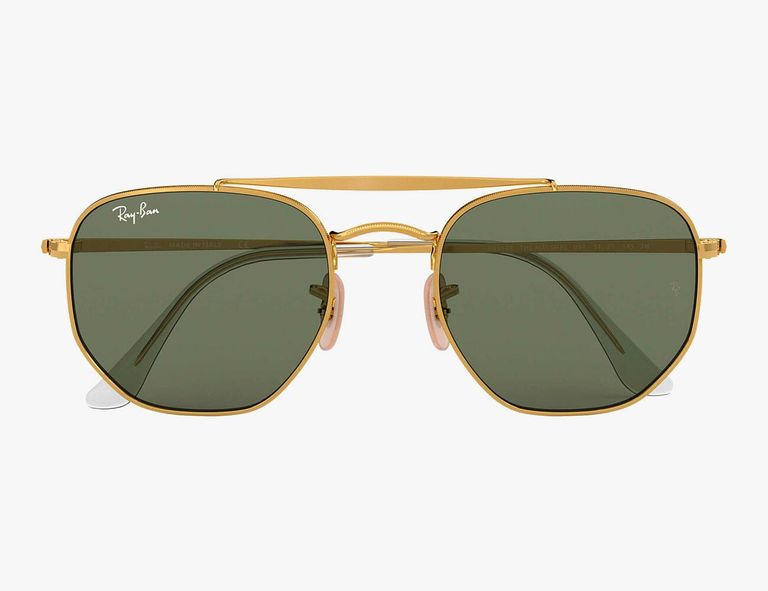 An angular cousin to Ray-Ban's classic Aviators, these flat double-bridge shades come in several frame finishes — gold, light bronze, black and gunmetal gray. All options come standard with the brand's classic green G-15 lenses. If you like the Marshal but want something with a bit more color, check out the Marshal II.
Marshal II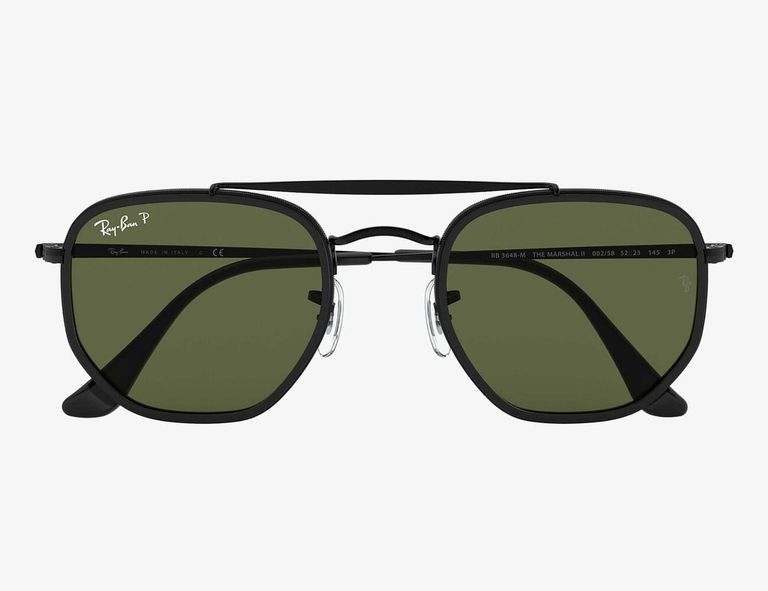 The successor to the Marshal, the Marshall II adds some extra spice by lining the hexagonal-shaped framed with acetate.
Jack RB3565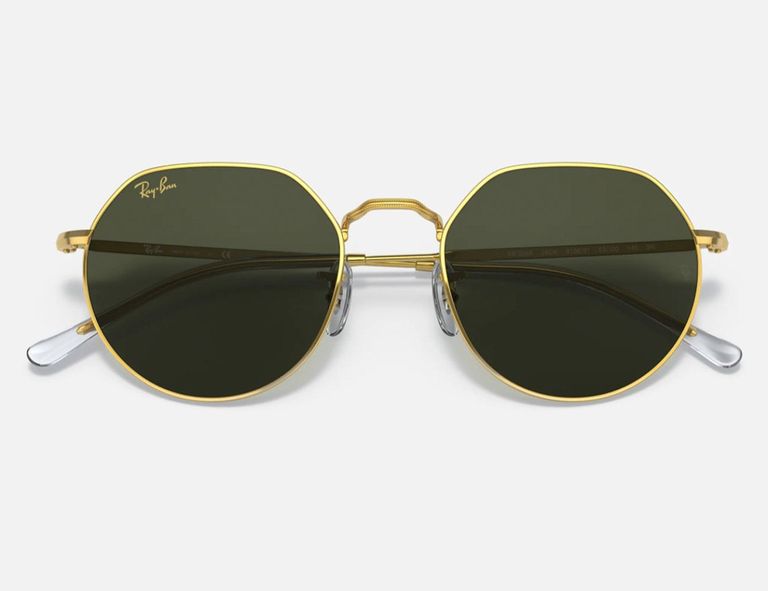 The Jack mixes round and hexagonal shapes to create a pair that looks like a pared back Marshal.
Round Double Bridge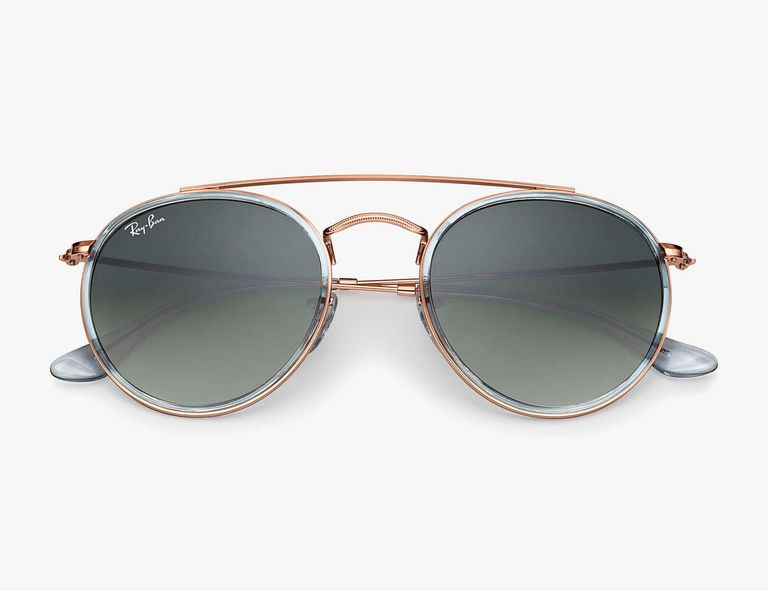 This style features a thin composite rim around each lens, which is then wrapped by a wire frame. It's a bold, fashion-forward style, but if you're looking for something more modern than the Wayfarer and you never, ever want to look like Tom Cruise from a distance, these might be right up your alley.
RB2180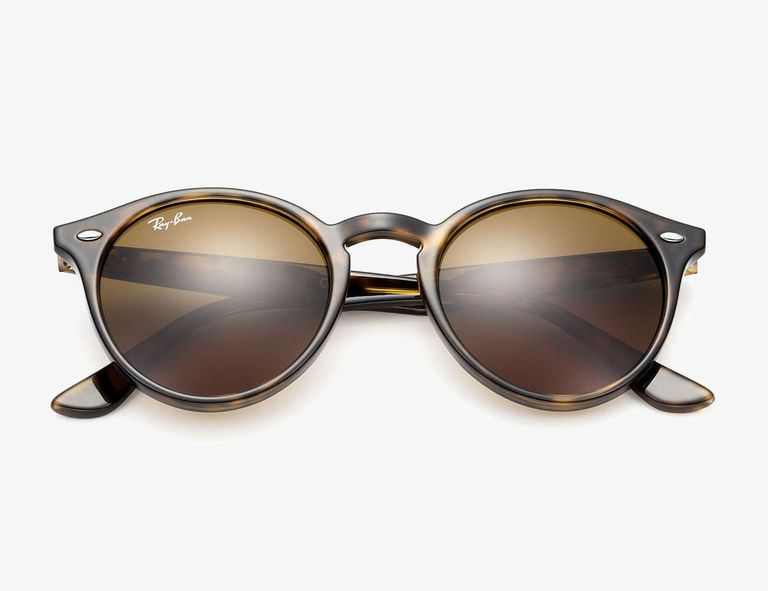 Like classic P3-style glasses before it, the RB2180 features a rounded shape with a keyhole bridge. The acetate frames come with Ray-Ban's signature logo and rivets and a Johnny Depp-level of cool.
Round Fleck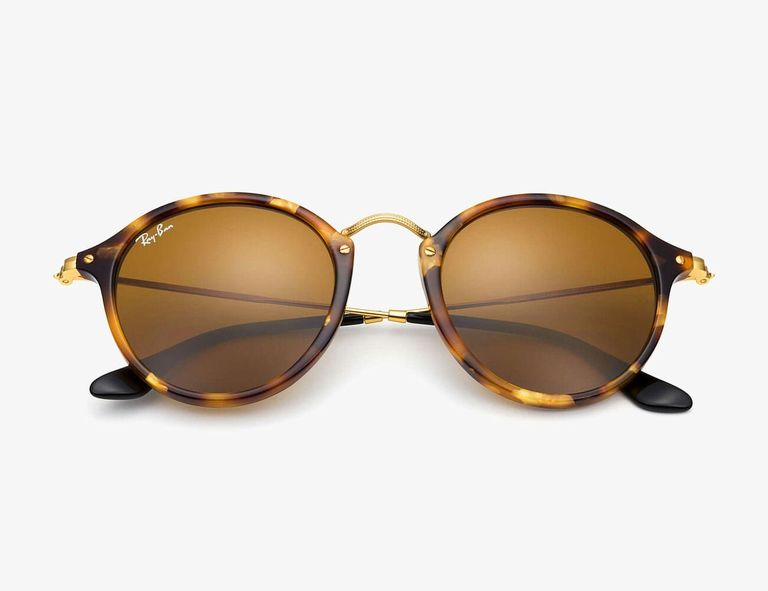 An easy way to take your sunglasses to the next level seems to be to mix acetate with metal, pretty much exactly like the Round Fleck sunglasses. The round frames combine the two materials deftly and the result is dripping in style.
Oval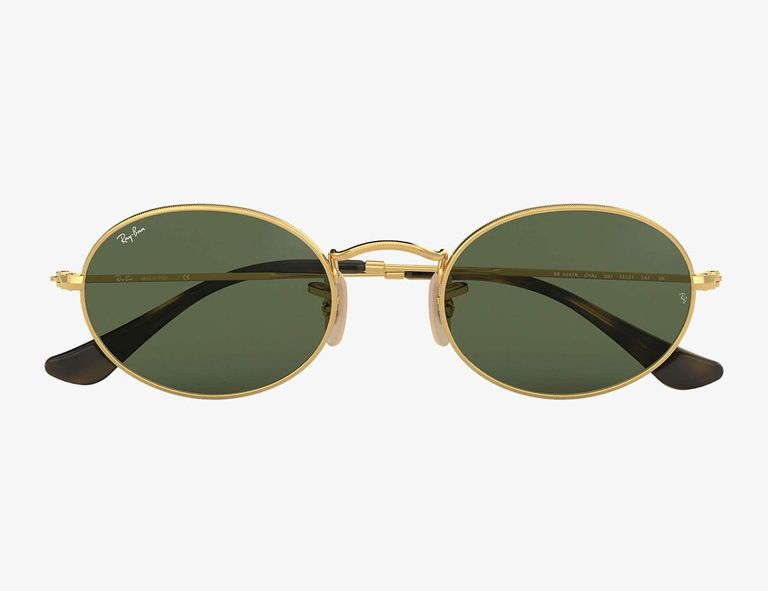 The Oval narrows in on the silhouette of Ray-Ban's iconic Round frames for a look that's more reminiscent of the 1990s but still counts as a classic. Made with metal frames, silicone nose pads and a handful of lens choices from the G15 to gradient lenses and more, the Oval exude 1996 Brad Pitt (or The Matrix, if that's more your speed).
Oval 1970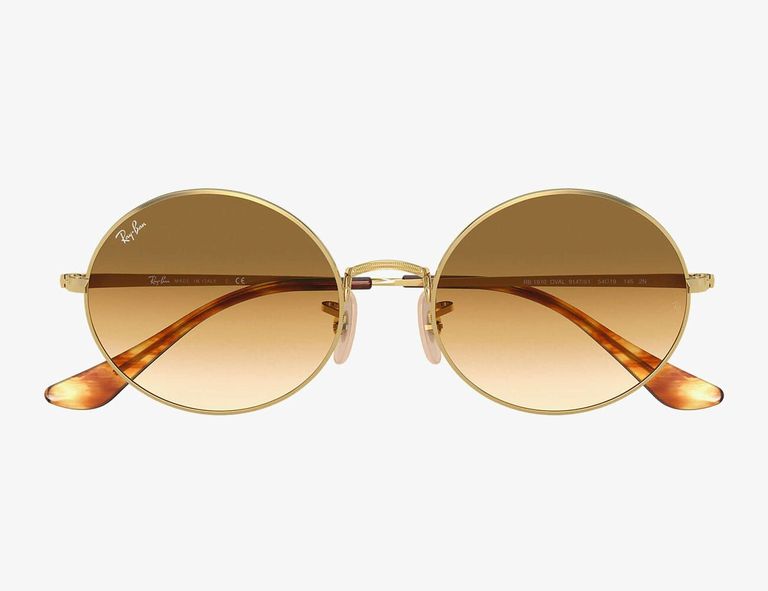 Like the Oval classic, the Oval 1970 carries an ovular shape. But, as with Ray-Ban's other archival remakes based on styles from the Flower Power generation, these shades are taller and more pronounced. No need to go full disco, but these look especially at home with a loud, open-collar shirt and some icy necklace.
Octagonal Classic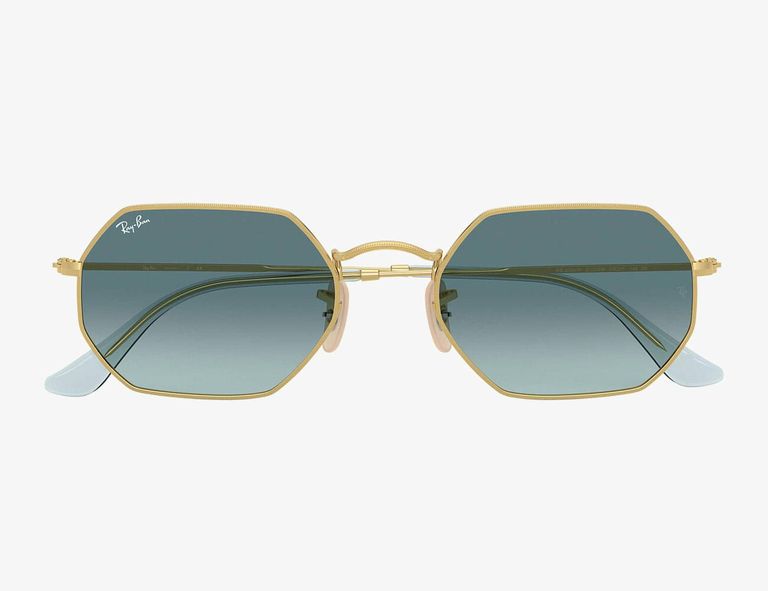 Ray-Ban doesn't mince words when it comes to many of its frames. The Octagonal Classic is somewhere between round and square.
Octagonal 1972 Legend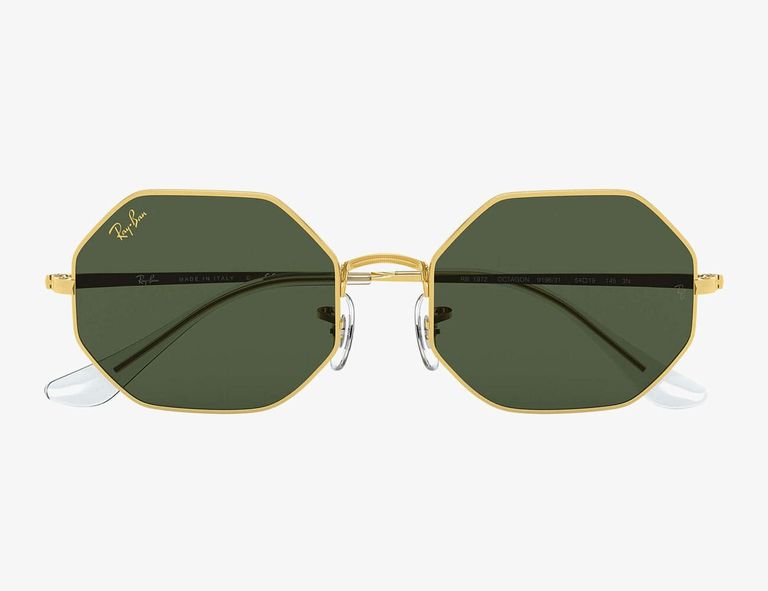 The father of the Octagonal Classic, the 1972 version is taller, but not quite equilateral. We can't say that Jimi Hendrix would have approved. But we can't not say he would have approved.
Laramie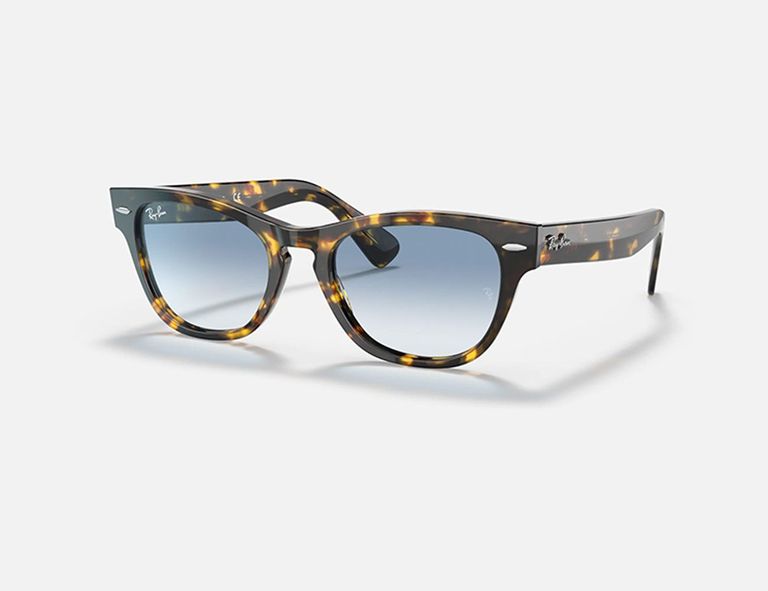 Although Ray-Ban calls this frame shape "irregular," it's nearly round. It fits right in alongside the brands other rounded pairs.
Burbank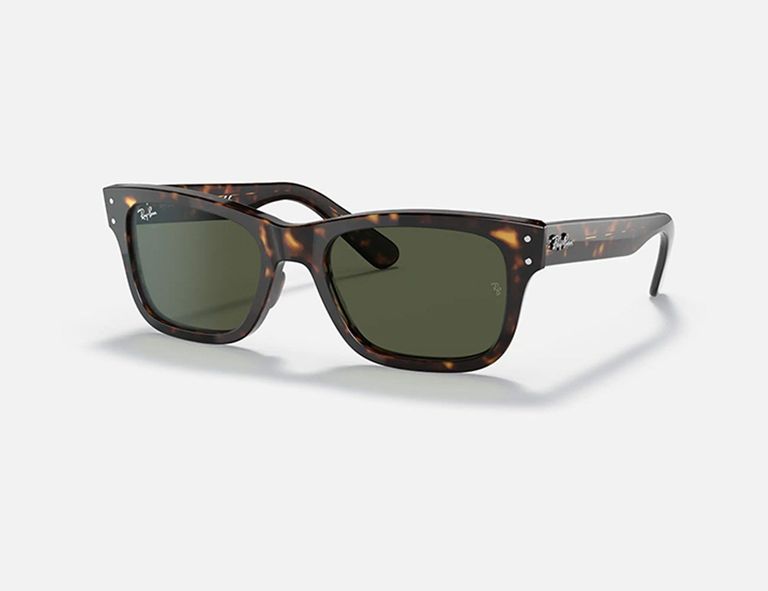 While the popular Wayfarer looks a little bit like the Burbank, it sits straighter on the face and has smaller, more rectangular lenses.
RB4344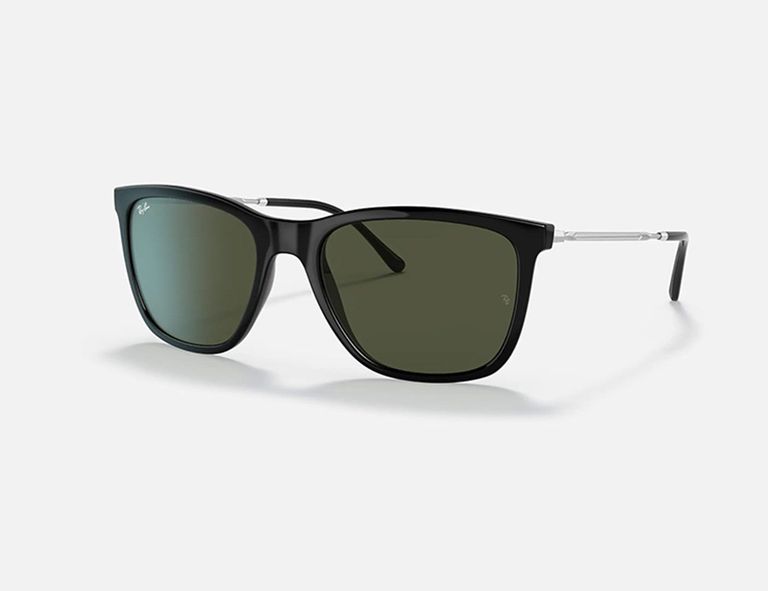 Although the front is acetate, this frame has metal arms. A nice in-between pair for folks who can't pick between full-on metal or all acetate.
Jeffrey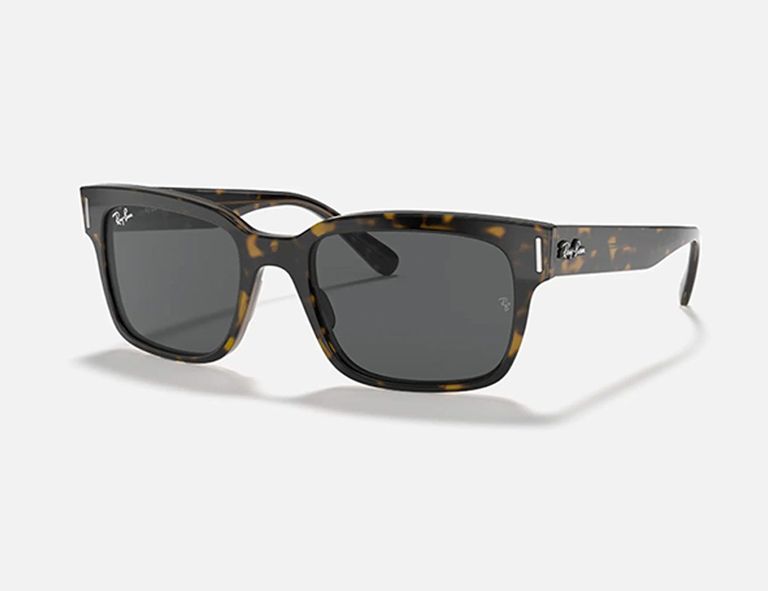 The Jeffrey frame toes the line between rectangular and square. Either way, it's a stylish, simple frame that'll look nice on most face shapes.
Rectangle 1969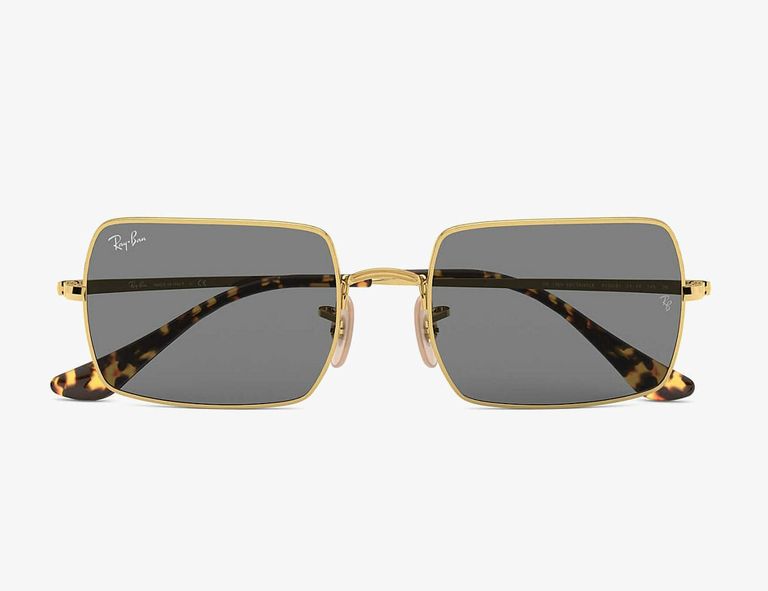 These retro-inspired frames take their inspiration directly from the Ray-Ban vault and feature oversized rectangular lenses held by metal frames. It's available in eight combinations of lens colors and frame finishes.
Julie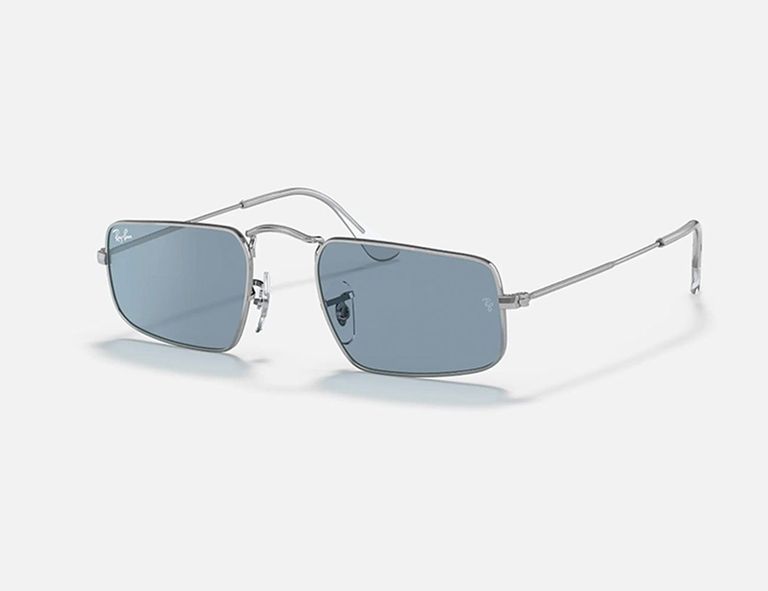 The Julie is similar to Ray-Ban's plain Rectangular 1969 — rectangular lenses, a metal frame, nose pieces — but it comes in a few more colors.
Inverness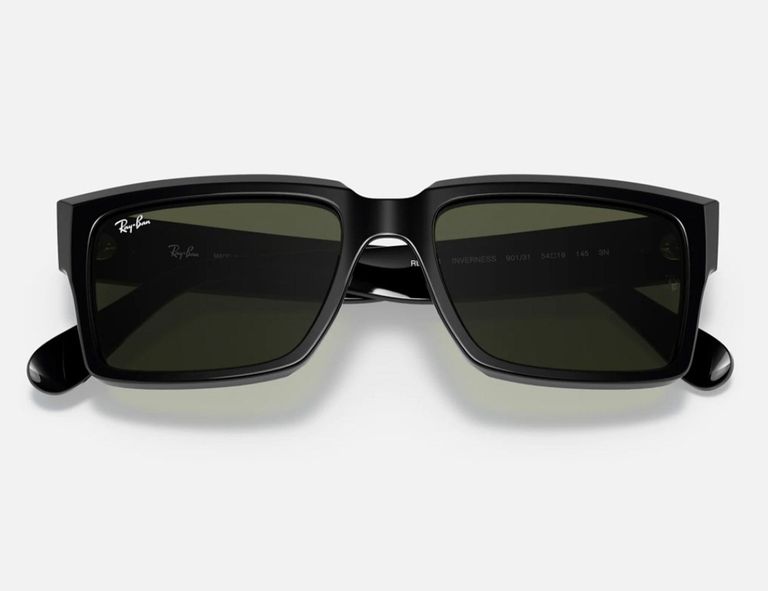 The Inverness is named after the Scottish town the shape originates from, but that's the tamest thing about them. These are '70s-inspired through and through, from the exaggerated lenses to the thick temples.
Justin Classic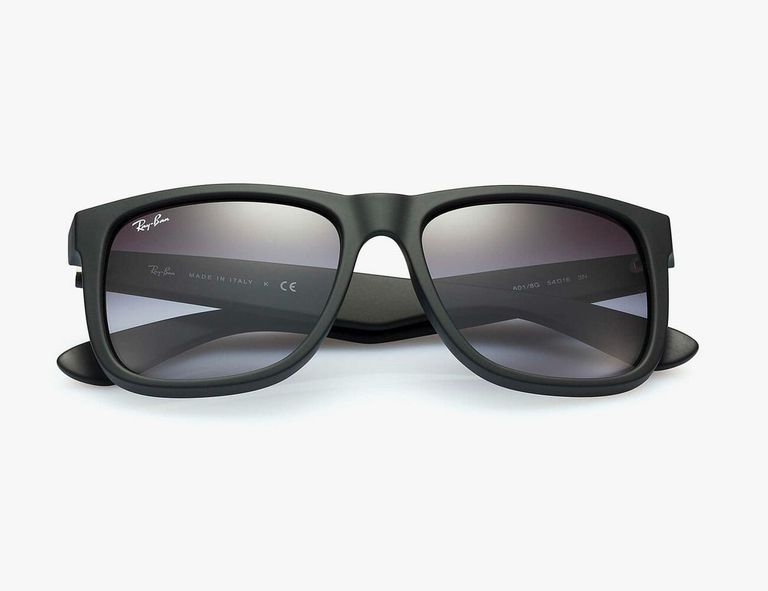 Available in six colorways, these shades boast nylon frames — flexible, lightweight — and draw inspiration from the original Wayfarer shape to provide a larger, softer profile than their source material. Each frame color option has a different corresponding lens, so whether you want gradient lenses, G-15s, red-tinted or even mirrored, consider yourself covered.
Balorama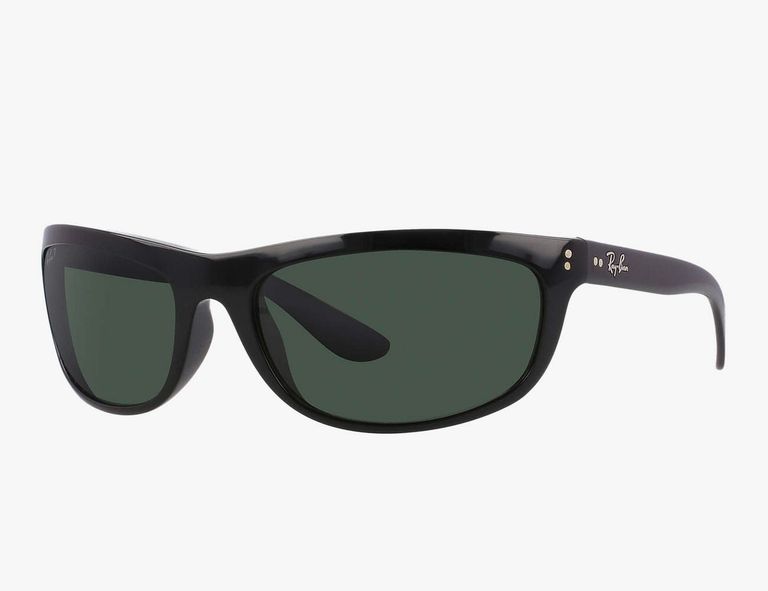 The Baloramas first came out in 1967, and were quickly popularized as the wraparound style worn by Clint Eastwood in the Dirty Harry series. Granted, these might look best on a craggy face with a bushy 1970s leading-man haircut up top, but they're such a cool cross-up between sporty functionality and sleek styling that you might have to ask yourself one question: "Do I feel lucky?"
Predator 2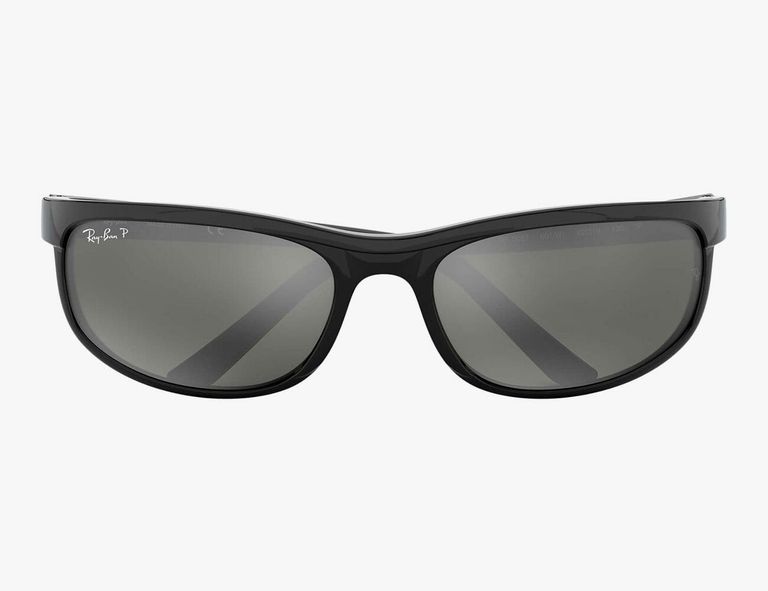 These might not wear as easily as a lot of the styles Ray-Ban sells but they definitely have some sporty throwback appeal. If you're really into 1960s-style wraparound shades, the ultra-lightweight nylon frames and classic G-15 lenses don't leave much to be desired.
Elon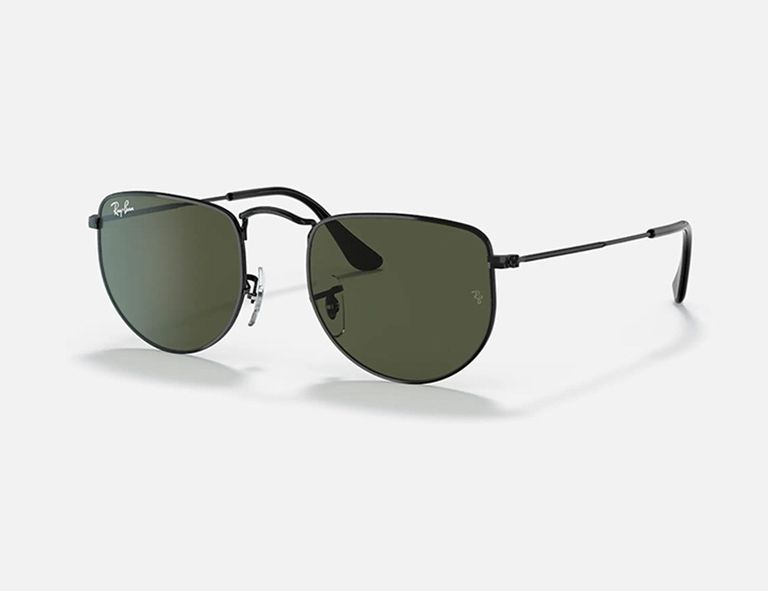 Available in seven colors, the Elon comprises a thin metal frame and gripped ear pieces.
Olympian
Another design born in the 1960s, the Olympian sunglasses are sleek and sophisticated, as at home with a dark suit as they are with a bathing suit and dripping with midcentury panache. Add in Ray-Ban's classic G-15 lenses and shiny gold-tone frames and you'll look like a walking tourism ad for the sub-tropical locale you wish you were already in.
RB4179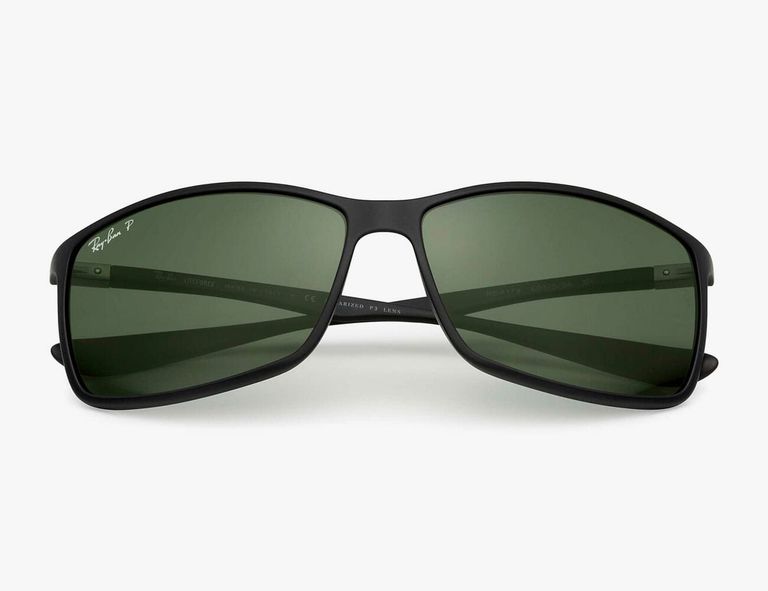 Built from a semi-crystalline thermoplastic that Ray-Ban claims is used in aerospace, medical equipment and automotive impact technology, these rectangular shades are impressively lightweight, durable and comfortable to wear. You can get the polycarbonate lenses in a silver mirrored finish or the classic G-15, and they'll come standard with an oleophobic coating that repels water, dust and smudges.
RB4300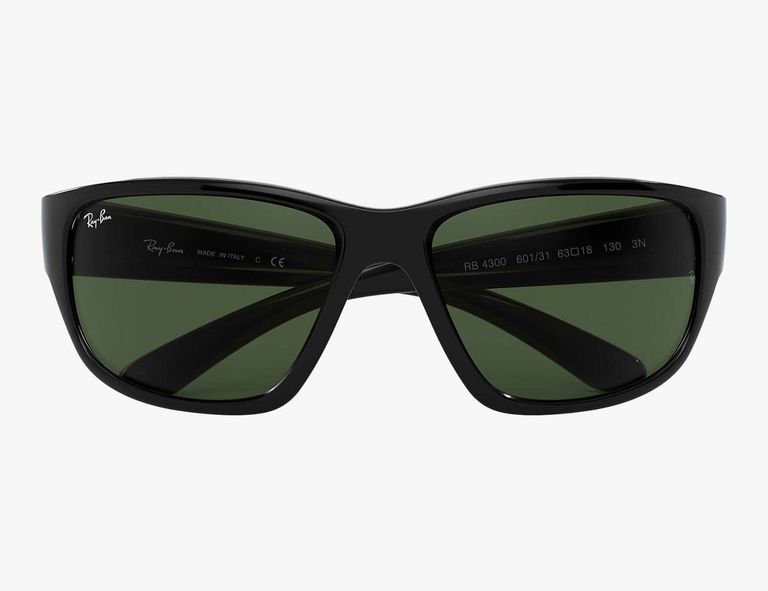 With nylon frames and your choice of lens meant to accompany you on outdoor pursuits, these sporty shades feature a bold profile, durable construction and lightweight design. And like most sunglasses from Ray-Ban, these are available in several colors and multiple lens variants to suit your tastes and eye-protection needs.