The Red Wing Moc Toe is one of the most popular and iconic boots in the world, but does it still hold up against newer brands?
After putting a new pair through some serious punishment, we're ready to give a full review on this beloved American boot.
Red Wing Classic Moc About
The Red Wing Classic Moc Toe boot has quite a large toe box, which can be off-putting for some, though it's an ideal match for American Heritage workwear aesthetic. The Puritan Triple stitching, 360-degree Goodyear welt, and thick full grain leather footbed all make for a beast of a boot that will easily last years.
Pros and Cons
Pros:
Thick leather that's durable, easy to care for, and develops a beautiful patina
The dense crepe rubber sole has a surprising amount of grip and it offers a good deal of shock absorption
With a 360-degree Goodyear welt, this boot is super easy for any cobbler to resole, and because the leather will last a decade at least, a little care will go a long way
Cons:
The sizing can be difficult to get right—I recommend going a half-size down, unless you have narrow feet, in which case go for a full size smaller
There's no shank, which reduces the arch support a little, though it's not too noticeable because the wedge sole offers a firm platform
With so many boot brands on the market, it can be easy to overlook the towering icons of the industry. One such icon is Red Wing.
The Red Wing Iron Ranger was one of the first boots I looked at and was envious of. So it makes sense that the IR was one of my first big boot purchases, too.
But I felt that my boot collection couldn't be complete without Red Wing's other behemoth: the Classic Moc Toe.
Now the Red Wing 1907 and 875 are the most popular versions of this uber-popular boot, but I couldn't resist their new Slate Muleskinner leather, and I've been wearing it around for the past few months.
So how does the old classic stack up against newer models from younger brands? Keep reading and find out.
Red Wing Moc Toe Overview
The Red Wing Moc Toe was first released in 1952 and it was designed for hunters and sportsmen. But it didn't take long for farm workers and factory-hands to pick up on the sturdy build and rugged durability of the boot.
The Classic Moc Toe is one of the most iconic boots in the world—I'd put this up on the list next to the Iron Ranger, Doc Martens, and Timberlands in terms of worldwide renown.
Today, I see this boot on the feet of construction workers and style enthusiasts equally. They remind me a bit of Timberlands in that way—they bridge the gap between work and style in a way that few boots ever have.
Red Wing 1907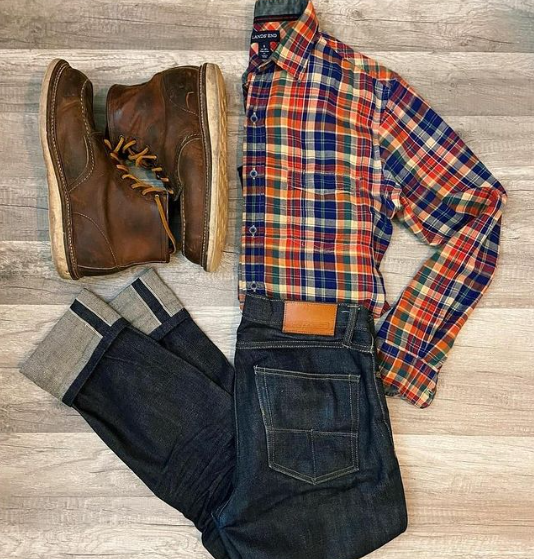 The Red Wing 1907 is the most popular leather option for the Classic Moc Toe, though there are a few other differences worth noting.
The leather is an oil-tanned rough and tough copper, which ages beautifully and requires very little care.
The 1907 is built on a No.45 last, which has more room in the footbed and allows the addition of an orthopedic insert.
Red Wing 875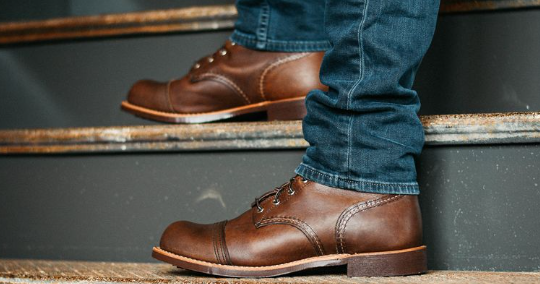 The Red Wing 875 is the original leather option, and if you want to be strict about it, it's the true version of the Classic Moc Toe.
The 875 is built on the iconic No.23 last that leaves a lot of room in the toe, and the upper is all S.B Foot Oro Legacy leather.
A little fun fact: when the Classic Moc Toe was introduced, this leather was called the Irish Setter. It proved so popular with the hunting crowd that Red Wing spun out a new brand: Irish Setter.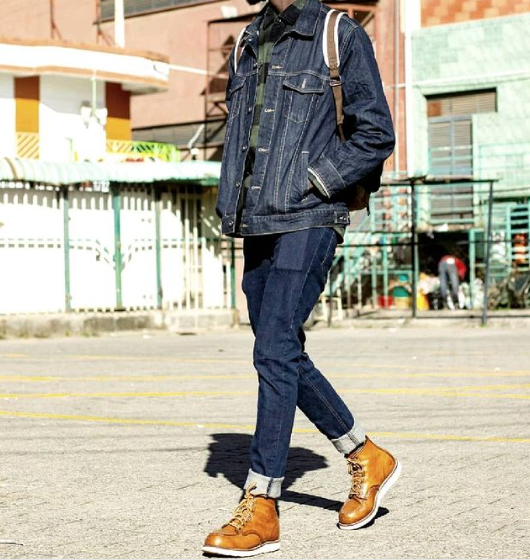 Thus the names had to change, and the Irish Setter boot became the Classic Moc Toe and the leather name changed to Oro Legacy.
Unlike the Amber Harness leather or many other options from S.B. Foot Tanning Co (Red Wing's own tannery), the Oro Legacy leather picks up oils and darkens a decent amount throughout its life.
For those who seek a fine patina on their leather goods, there are few better choices than the Oro Legacy leather. If that's you, then definitely check out the Red Wing 875.
Red Wing 1907 vs 875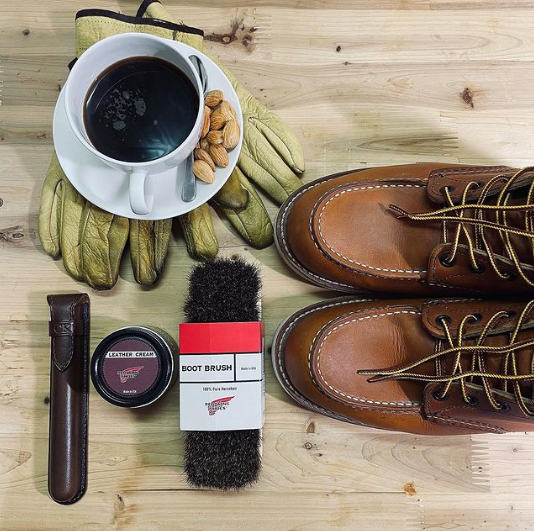 As I alluded to above, there are a few key differences between the Red Wing 1907 and the 875.
The most noticeable difference is in the leather. The 1907 is made with Copper Rough and Tough, which is an oiled rough out leather and requires very little care because it's naturally so packed with oils and waxes.
It's a darker color than the 875, which is made with S.B. Foot Tanning Company's Oro Legacy leather.
The Oro Legacy leather is a true orange leather, and it seems to soak up oils quickly. This will give your boot a distinctive patina as it ages, and you'll have a one-of-a-kind boot within six months of regular wear.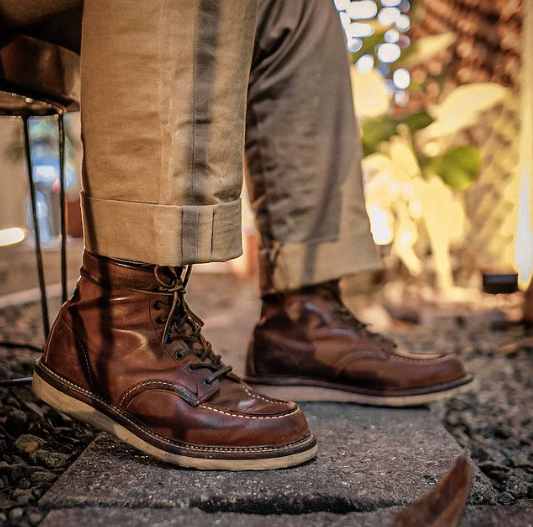 These boots, despite both being the Classic Moc Toe shape, are built on different lasts. The 1907 is built on a no.45 last, which leaves more room in the footbed for an orthopedic insert.
The 875 is built on a no.23 last (the same as the specific boot I'm reviewing below), which is the original shape.
The only other outstanding difference is that the 1907 features a 360-degree storm welt, which is the same basic process as a Goodyear welt, but offers even more water resistance.
So you can think of the 1907 as the "tank" version of a Red Wing Moc Toe. It's a little beefier because of the storm welt, and the ability to add an orthopedic insert is a total game changer for those who need lots of extra arch support.
Things to Consider Before Buying the Red Wing Moc Toe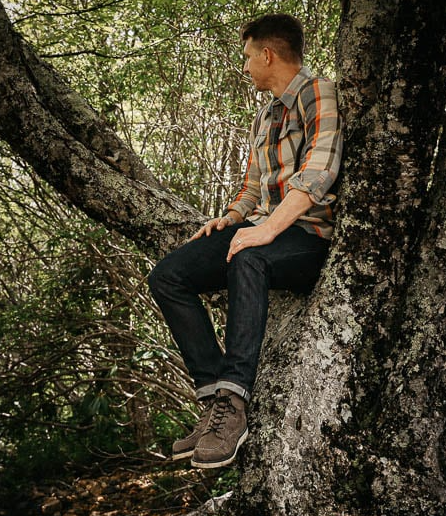 The Red Wing Classic Moc Toe has a tall toe box. If you wear straight cut jeans, or you're planning on using these boots in a working capacity, then I'll bet you'll love the style.
They're fairly bulky boots and have a super masculine shape.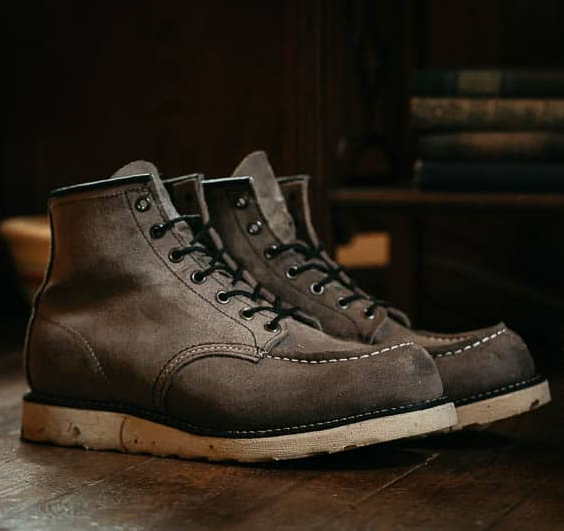 But if you wear slim fit jeans with significant taper toward the bottom of your jeans, you're running the risk of looking out of proportion. I've noted a few alternatives at the bottom of this article that are a bit slimmer and have a lower profile for those who prefer a more modern fit.
That said, I love slimmer, more fashion-forward boots, and I still have made plenty of opportunities to wear the Red Wing Moc Toe.
Red Wing Classic Moc Review
First Impression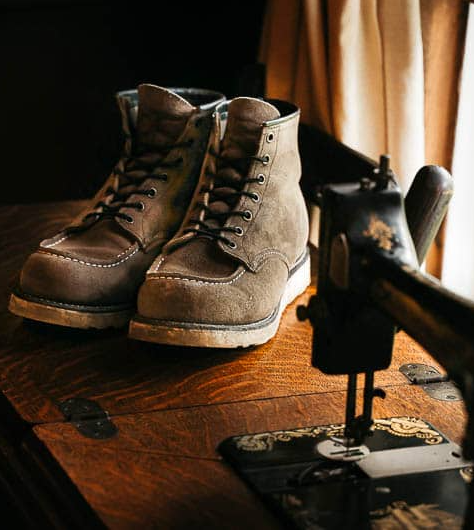 I'm so glad I went with the new Slate Muleskinner leather (8863). It's not that I don't like the other leather options, but I think this roughout suede looks super cool.
I was surprised initially at how tall the toe-box is. I knew to expect some beefy boots, and Red Wing lived up to their reputation for me.
My style trends more toward the slim and narrow, and I don't think the Red Wing Moc Toe pairs very well with really tapered jeans.
But I do have a few sets of denim that have wider leg openings, and the Moc Toe fits well with the aesthetic.
Leather Quality and Care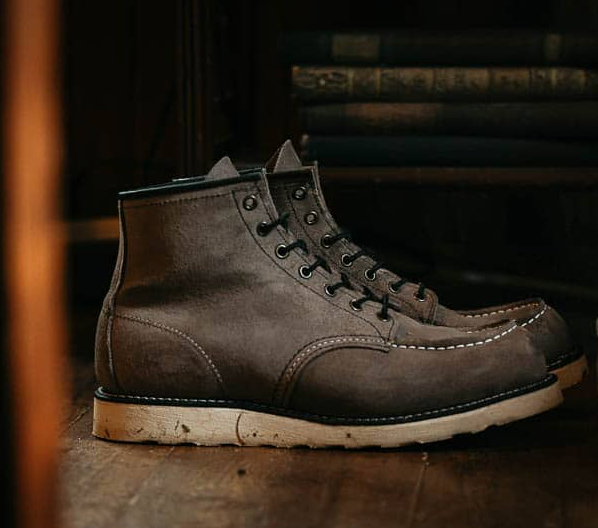 The Red Wing Classic Moc Toe comes in a variety of leather options (at least eight on their website), and the beauty is that they're all durable and easy to care for.
The upper is anywhere between 2.3mm and 2.6mm, depending on where you measure, which is quite thick. I love seeing that because it means you can actually use. These boots in pretty rugged work conditions if you need to.
I broke these in on a hike, and I exposed my boots to lots of water (sometimes submerging them completely).
I noticed that even with the Muleskinner roughout suede leather, a lot of water simply slicked off, and there was no damage to my boots even when some of the leather retained moisture anyway.
Because I got the Muleskinner leather, most of my boot-care is done with a suede brush.
After that first hike, I had a considerable amount of mud around the welt and on the leather. I cleaned off the dirt with a bit of water and was able to easily bring the muddy leather back to life with a short brush down from the suede comb.
Sole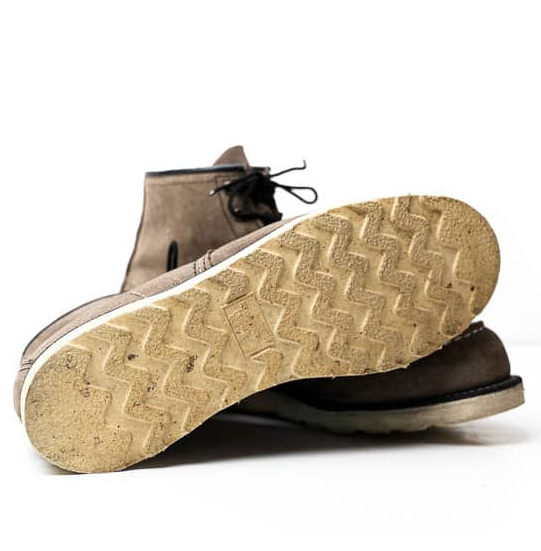 The sole is what surprised me the most. First, it's crepe rubber, which I didn't know until after I'd bought it.
I'm usually not a fan of crepe soles as they tend to get dirty and wear down quickly. The Clarks Desert Boot crepe sole is what I typically think of, and that boot offers very little support for your feet.
But the crepe rubber on the Classic Moc Toe is way more dense, so it still has all the shock absorption and comfort, but it should have much more longevity.
I noticed that it did still get dirty pretty fast (though I was hiking through mud and water). And almost every picture I see of someone else wearing these boots, the heel is quite worn down.
But the traction is excellent, which far exceeded my expectations. My first trek in these, I was walking along steep wet rocks, and had absolutely no trouble keeping my footing.
Overall, I like the sole a lot, and it's a big improvement over the other crepe soles I've experienced.
The wedge shape offers a good amount of arch support, and these are comfortable for those who do a lot of standing.
Fit and Sizing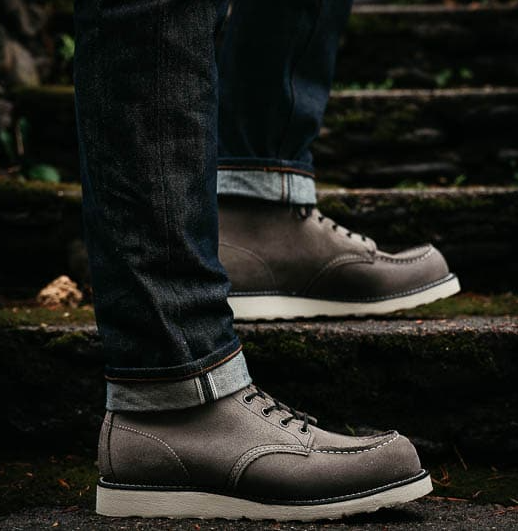 The no.23 last (and the no.45) leave a lot of room in the toe, so there's no point in trying the "thumb press" test on the Moc Toe.
I picked my Classic Moc's up in a size 10, which is a half-size smaller than my usual sneaker size. They fit perfectly.
I'm now on my third pair of Red Wing's (I have the Iron Ranger and Blacksmith), and they all fit pretty much the same, so if you've had experience with the brand, get the same size that fit you last time.
It's important to get the fit correct on the sides of your foot. It should feel snug, and as you break the boots in, the leather will relax and you'll have an ideal fit.
Red Wing offers only a D-width on the Muleskinners I have, which is fine by me. If you have a wider foot, check out the original Oro Legacy (875) and the Briar Oil Slick (8138), which come in D, E, and EE sizes.
For a full detailed breakdown on how to find the correct Classic Moc Toe fit, read our Red Wing sizing guide.
Break-in Period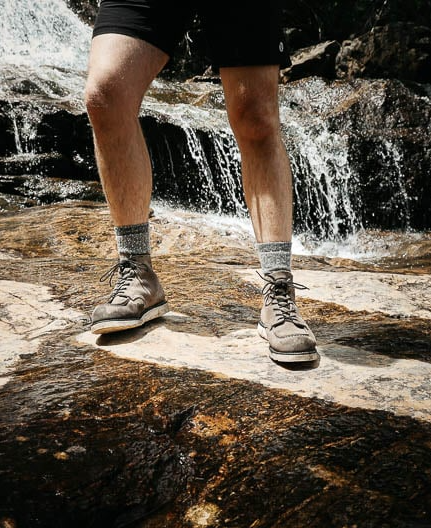 The break-in period was practically non-existent for my Muleskinner Moc Toes. Many folks have had a rough go with the 875 Oro Legacy leather, as that's apparently more stiff, especially around the tongue.
I went on a six mile hike for one my first wears and I didn't have any rubbing or blisters, which was surprising because I was also covering some pretty rough terrain. Lots of steep inclines and declines can give you blisters even if your boots fully broken in, but I didn't experience any discomfort to speak of.
What do Other Reviewers Say?
Over 300 reviewers on Red Wing's site give the Classic Moc high marks. Many reviewers noted that finding the correct size for your new Moc Toes is notoriously difficult.
Reviewers with more narrow feet found that moving a full size smaller than their usual did the trick. But those with standard D-width feet found their best fit going just a half-size smaller.
Otherwise, there's plenty of praise for all the different leather options, and it's a point of pride for many to develop the gnarliest patina possible.
Red Wing Moc Toe Alternatives
I made a video comparing the most popular moc toe boots (Danner, Thursday, Red Wing, and Thorogood). Check it out below:
Thursday Boots Diplomat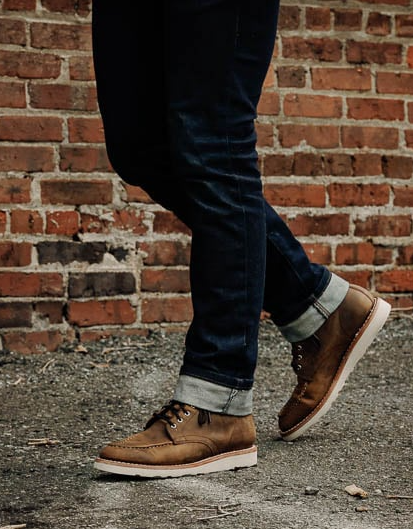 The Thursday Boots Diplomat is a much slimmer and more narrow version of the classic moc toe style.
I recommend this boot over Red Wing if you prefer slim fit jeans with a narrow tapered leg opening. The Red Wing Classic Moc Toe is much more bulky, and it works better in a rugged aesthetic with wider-fit jeans.
Both boots have a 360-degree Goodyear welt, but the Thursday Diplomat has a steel shank, a full Vibram Christy outsole, and features two speed hooks.
Thursday's sizing is easier to pin down—you're safe aiming for a half-size smaller than your sneaker size. Even folks with more narrow feet shouldn't have issues because there's not a ton of extra room in the toe due to a more compact last shape.
The leather on the Diplomat isn't quite the same quality as Red Wing's, and I would rather wear the Classic Moc Toe in any working situation.
On the other hand, the steel shank, Vibram sole, and speed hooks (not to mention the lower price tag) make the Thursday Diplomat a very attractive alternative.
Thorogood Moc Toe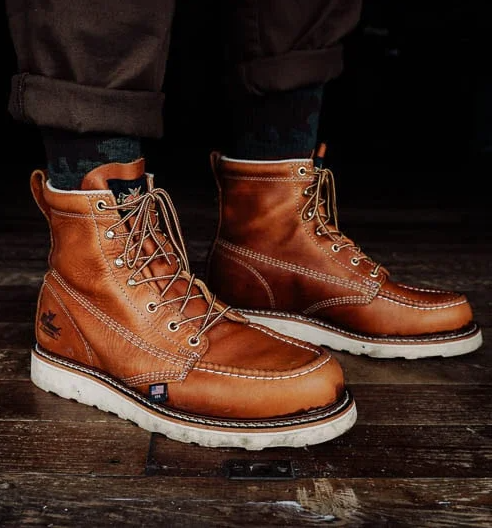 Thorogood the most common competitor for dominance in the moc toe game, though they're geared more toward workers.
The all-American Red Wing competitor has more options available with safety toes, and they have a decent mix between six-inch versions and eight-inch versions.
Thorogood doesn't offer as many leather options, but the leathers they choose built for durability and easy-care.
I would choose the Red Wing Classic Moc Toe over the Thorogood Moc Toe if you want a boot that's stylish and good for work. But if I was getting a pure work boot, I would choose a Thorogood safety toe moc.
Grant Stone Brass Boot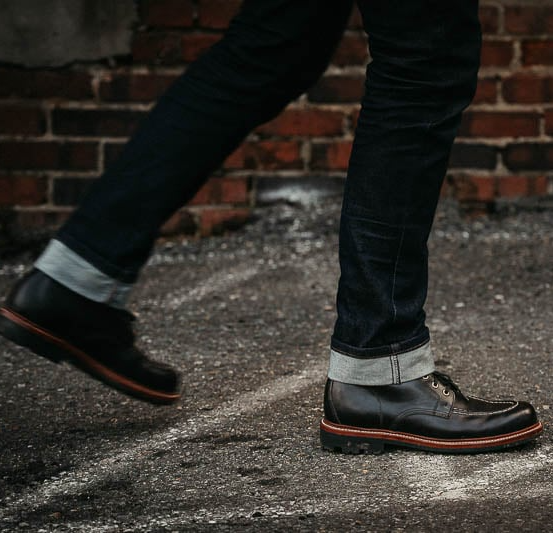 If Thursday Boots is the disruptor of Red Wing, then Grant Stone is the disruptor of Alden—those high-end $600 American boots.
The Grant Stone Brass Boot was one of my favorite pickups last year, and it's a beast of a winter boot.
It has a similar u-shaped toe box that's characteristic of the moc toe style, and it features a 360-degree storm welt and a massive, heavy rubber lug sole.
Personally, I prefer the rubber lug sole over the white wedge sole, and I find the Grant Stone Brass Boot to be much more stylish, too.
It's the most expensive boot on this list (it sits in the mid-$300 range), but it's also the best in my opinion.
If I could only choose one moc toe boot, it would be the Grant Stone Brass (though I'd never work in it because it's too nice, but I suppose one could). I picked mine up in Horween Chromexcel leather, and I love how heavy this boot feels.
My Thoughts Overall On the Red Wing Moc Toe
What I Like
All Red Wing's leather options are durable, easy to care for, and age wonderfully.
The crepe rubber sole is dense, comfortable, and has a surprising amount of grip.
With it's 360-degree Goodyear welt, the Classic Moc Toe has a lot of weather resistance and with periodic resoles can easily last over a decade.
What I Don't Like
The sizing can be difficult to get right—I recommend going a half-size down, unless you have narrow feet, in which case go for a full size smaller.
There's no shank, which reduces the arch support and stability a bit.
Who is the Red Wing Moc Toe for?
The Red Wing Moc Toe is an excellent boot for you if you're looking for iconic American heritage workwear style and a solidly built boot that won't quit on you. The Moc Toe is supremely easy to care for and it won't do any complaining—just resole it every other year as the sole wears down and you'll be rewarded with a boot that can last for decades.
The Verdict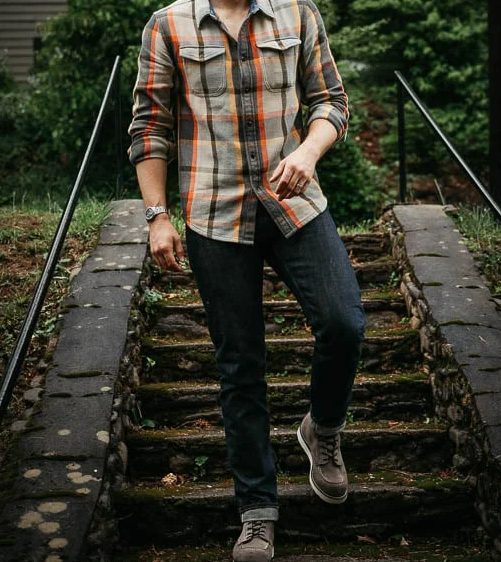 I understand why the Red Wing Classic Moc Toe is such an iconic boot.
It looks sturdy and masculine, and the construction—from the material selection to the stitching—is absolutely on point.
For such a tank of a boot, it's quite comfortable. That's mainly due to the crepe rubber wedge sole, which has a lot of shock absorption, a surprising amount of traction, and the wedge fills in on arch support.
It'd be nice if Red Wing had a shank in this boot for added structure, but it's not a deal-breaker by any means.
The style doesn't quite work when I wear my slimmest jeans, so the Red Wing Moc Toe doesn't a ton of play in my weekly wardrobe—if you exclusively wear slim fit jeans, you may want to check out the Thursday Diplomat as it's a much more narrow and lower-profile boot with a similar look.
But if your style is more rugged, or if you want a solid boot that can transition between Friday night beer and tough working conditions, the Red Wing Moc Toe is the best blend between sturdy and stylish.
FAQs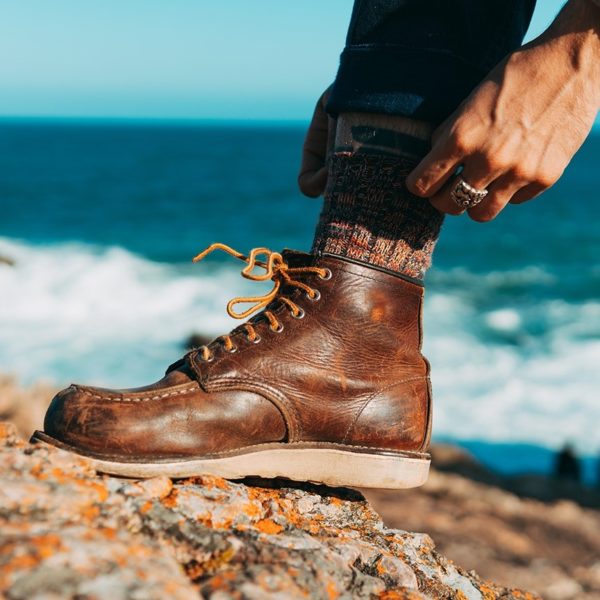 Is the Red Wing 1907 waterproof?
The Red Wing 1907 is not waterproof, but it's quite close. It features a storm welt, which will keep most water out of your boots so long as you don't stand in a puddle for a prolonged period of time. The leather packed with oils and waxes, so most water will slide off, but again, if you stand in a puddle for 10 minutes, there's a good chance your feet will wet.
What are Red Wing factory seconds?
When making their boots, sometimes there are minor imperfections in the leather or the stitching. Red Wing declares these "seconds" because they're not up to the Red Wing quality standard. The brand sells them at a discounted price, acknowledging there are minor defects. This is a fantastic way to get into Red Wing boots at a lower price.
Who made the original Moc Toe boots?
Red Wing originated the Moc Toe boot in 1952. Since then, there have been many imitators, but the Classic Moc Toe you can find today is remarkably similar to that first model back in the 50s.