Say hello to Tempur-Pedic, one of the most popular bedding brands in the game. Over the course of several decades, the company has managed to carve out a singular niche in the space by prioritizing one material above all others: Memory Foam.
In fact, Tempur-Pedic pretty much put memory foam on the map, utilizing the material in its mattresses and pillows long before other companies jumped on the bandwagon. Therefore, the brand's many products have come to epitomize all the great aspects of the foam, namely its sinkage, body-contouring, and pressure-relieving capabilities.
And though the company truly does sell a plethora of goods (from mattress toppers to sheets, pillows, bases, and more!), we're going to focus exclusively on its mattresses in this guide. Below, I'm going to introduce you to the beds, chat about their feels, examine their most prominent features, and discuss which ones might work best for certain kinds of sleepers.
So, without further ado, let's get this Tempur-Pedic party started!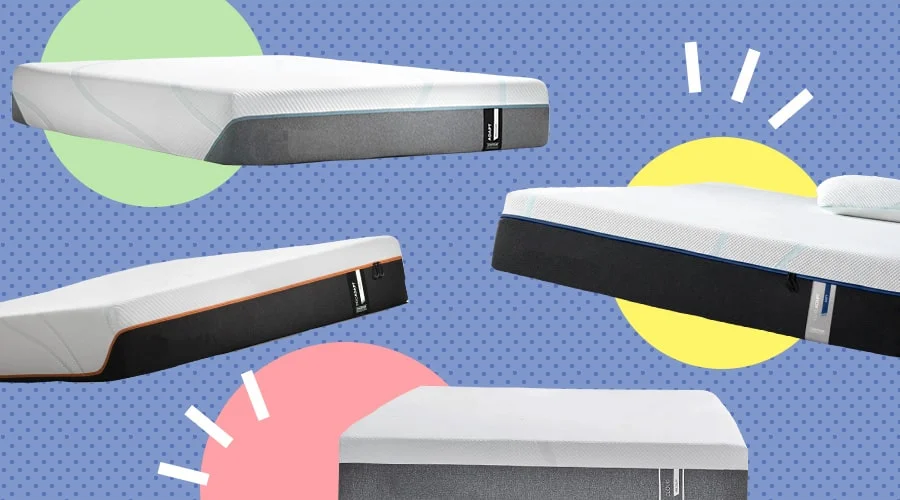 Similarities
Tempur-Pedic currently sells five different mattresses, which range in style from the relatively straightforward TEMPUR-Cloud to the ultra-luxurious TEMPUR-breeze. Though these models differ in terms of height, materials, and overall design, they do share some similarities that mark them all as clear Tempur-Pedic products.
So, before we get into the unique qualities of these mattresses, let's take a moment to explore these important similarities.
Sinkage – All Tempur-Pedic mattresses are built with memory foam, so feature a ton of sinkage. This means sleepers are likely to sink deeply into these beds for intense pressure relief and body-contouring.
Pressure Relief – In fact, pressure relief is a hallmark of the Tempur-Pedic brand. Whether folks are dealing with shoulder pain or aches at the lower back, all Tempur-Pedic mattresses are designed to alleviate tension at sensitive spots along the body.
Cooling – And though memory foam has a slight reputation for overheating at night, these beds all feature cooling modifications to regulate temperatures throughout the structure (including moisture-wicking fabrics and cool-to-the-touch covers).
Motion Transfer – These mattresses are also all excellent at isolating motion, which makes them great for couples. The secret ingredient here is memory foam, a material that's been shown to be particularly effective at dampening movement.
Price – Lastly, all Tempur-Pedic products fall into the luxury category as they're built with high-quality materials. Though these mattresses range in price, they're definitely not the most budget-friendly beds on the market.
All Tempur-Pedic mattresses are also built in the United States and come with a 10-year limited warranty (which covers indentations of ¾" or greater), 90-night trial period, and white-glove delivery.
Now that we've gone over their similarities, let's take a look at their major differences as highlighted in the table below.
Tempur-Pedic Mattresses
While the table's all well and good, I thought it might also be useful to include written sections for each mattress, detailing its unique features and exploring which kinds of sleepers might like it most.
TEMPUR-Cloud
The most affordable Tempur-Pedic mattress (with a Queen priced at $2,000), the TEMPUR-Cloud features a no-fuss, three-layer design of memory foam, support foam, and high-density poly foam. This combination of materials produces a medium firm feel that's gentle yet also quite supportive.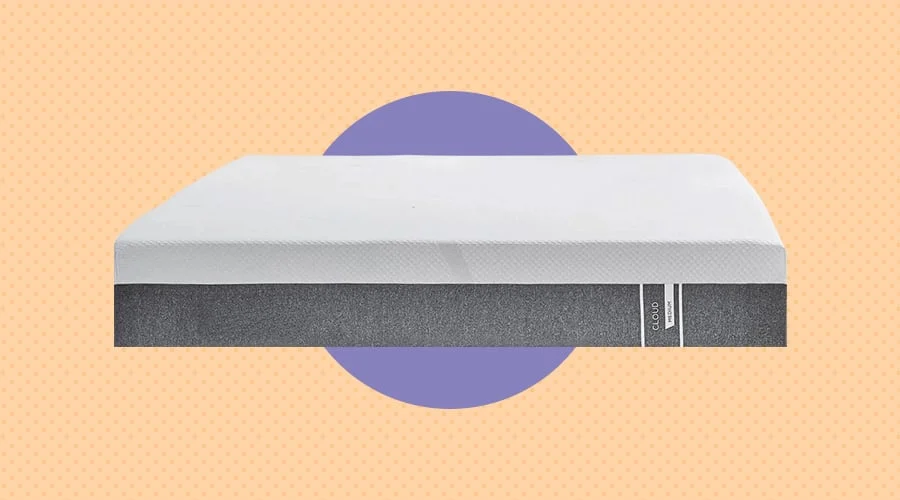 In general, I'd recommend this bed for combination sleepers, especially those who switch between their backs and sides in the night. If you're someone who likes a bit of sinkage, but doesn't want to be overwhelmed by it, this model could be a fantastic fit.
TEMPUR-Adapt
Billed as the brand's "Classic" model, the TEMPUR-Adapt is about as quintessentially Tempur-Pedic as it gets. Not only does the bed feature a thick top layer of memory foam for pressure relief at the shoulders and hips, but it also comes with a cool-to-the-touch cover to alleviate overheating in the night.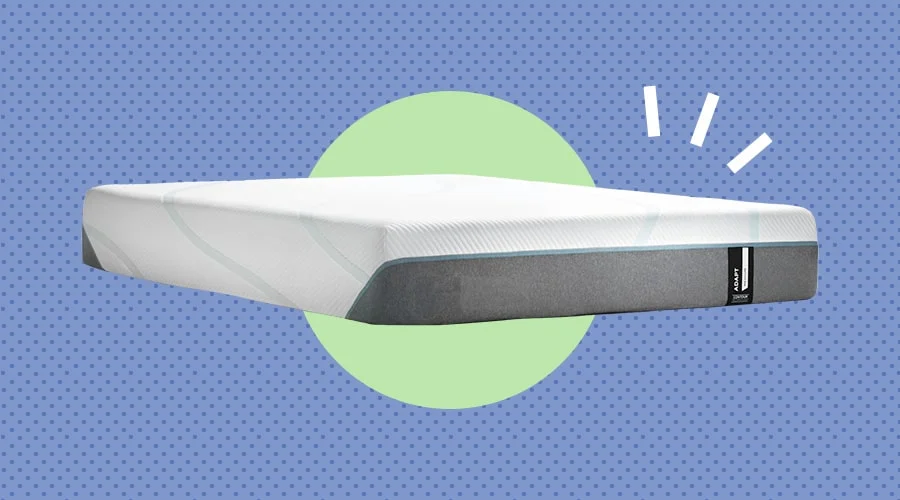 This bed has a slightly softer feel than the Cloud, so I'd be more prone to recommend it for combo or side sleepers. It's worth noting that the Adapt also comes in a hybrid version, which could make it more amenable to back and stomach sleepers. I should also add that at $2,199 for a Queen, it's just a touch more expensive than the Cloud.
TEMPUR-ProAdapt
Featuring a tall 12" profile, the TEMPUR-ProAdapt takes all the great stuff going on in the previously mentioned models and kicks 'em up a notch for added comfort. This includes a SmartClimate Dual Cover System as well as advanced memory foam and support foam. Additionally, the bed comes in four different firmnesses: Soft, Medium, Medium Hybrid, and Firm.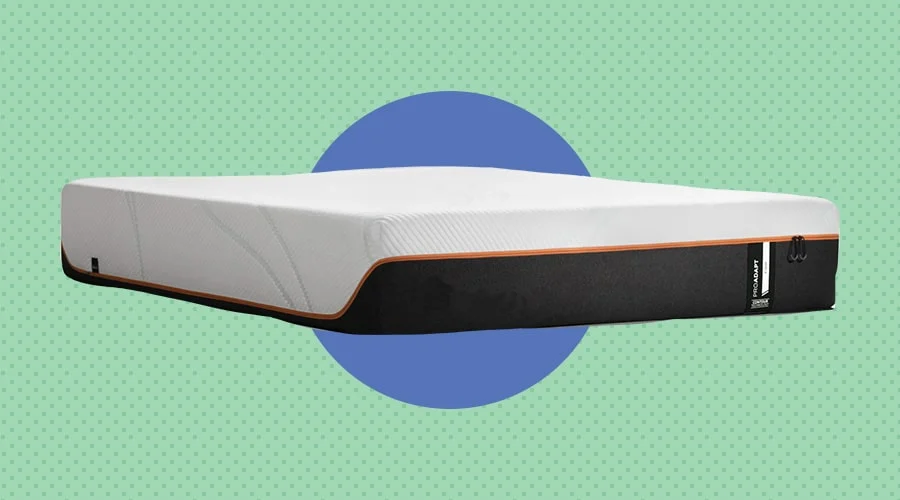 Given the customizability of this mattress, I think it could work for a wide swath of sleepers, from stomach sleepers (who should go with the Firm model) to side sleepers dealing with back pain (who might prefer the Soft or Medium Hybrid models). It could also be a nice option for folks who sleep hot at night. However, at $3,000 for a Queen, it's certainly pricier than the two models we've discussed thus far.
TEMPUR-LuxeAdapt
Of the Tempur-Pedic mattresses currently available online, this is the only one I've tested, and let me tell you… it's pretty great! Built with four layers of memory foam, poly foam, and high-density poly foam, this bed strikes a satisfying balance between pressure relief and support. Plus, it gets some cooling power from its Phase Change Material cover.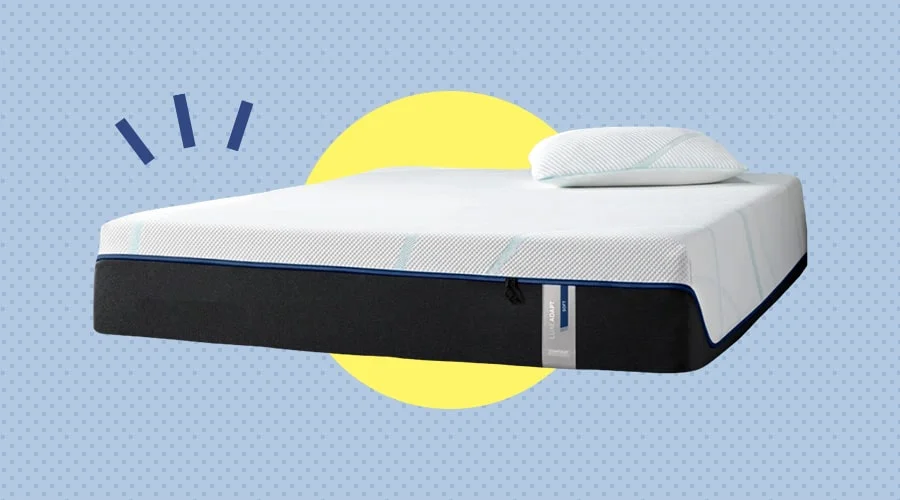 In terms of for whom I'd recommend this mattress, my mind first goes to couples who will likely enjoy the bed's low motion transfer results. I think side sleepers would also be compatible with the deep sinkage they're likely to experience into the bed. One slight caveat is that this bed is quite expensive, with a Queen going for $4,000.
TEMPUR-Breeze
And finally, we arrive at the TEMPUR-breeze, the coolest mattress in the bunch. And by coolest I mean literally cool as in this bed packs a serious thermoregulating punch with its SmartClimate Dual cover, Phase Change Material layer, and breathable comfort foam topper. When combined, these materials produce a supremely cooling structure that could be great for hot sleepers.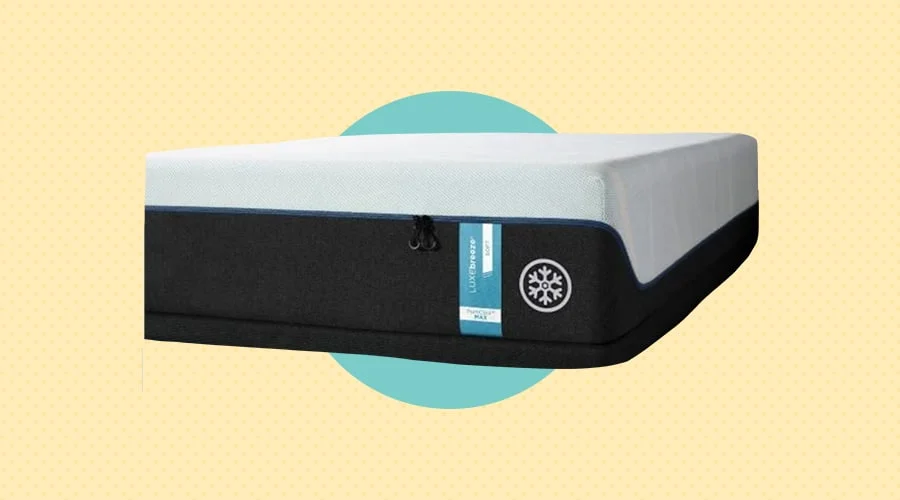 Cooling aside, the mattress is also available in the same four firmness levels as the ProAdapt (Soft, Medium, Medium Hybrid, and Firm), so sleepers of all styles should be able to take comfort in its multi-faceted design. But all these fabrications come at a price as the Breeze is the most expensive mattress in the bunch ($4,500 for a Queen, to be exact).
Which Tempur-Pedic Mattress Is for You?
Final Thoughts
Well that about does it for this guide into the world of Tempur-Pedic mattresses! Whether you like the straightforward design of the Cloud or are more interested in the souped-up fabrications of the Breeze, you're well on your way to snagging the cuddly memory foam mattress of your dreams.
Our Review Process
Our Sleepopolis reviewers personally test each mattress. We start by unboxing the mattress to figure out how difficult (or easy) it is to get the mattress from the box to the bed. Then, we spend time laying on the bed in different positions, taking time to assess it on our backs, stomachs, and sides. Next, we perform our Sleepopolis tests, using specialized tools to measure qualities like motion transfer, bounce, and pressure relief. Our last step is to open up the mattress and take a look at each layer. These steps allow us to give our final verdict on the mattress. Jump back to our mattress picks.