Your website theme can make or break your success as an ecommerce merchant. The right theme makes your shop look attractive and professional, which in turn drives sales. The wrong theme, on the other hand, can send your visitors running in the other direction.
And here's the thing: the value of website templates goes beyond aesthetics. Ecommerce themes also offer features and functionalities that can enrich the shopping experience of your customers, ultimately increasing engagement and conversions.
Selecting the right ecommerce is essential, and it's one of the first things you should do when setting up your ecommerce website. You also need to periodically reevaluate how a theme is working for you, so you can make the necessary adjustments and updates.
Enter Themeforest, a popular online marketplace that lets users buy and sell websites themes. Part of the Envato family, you can find various types of themes in the marketplace, including HTML templates and themes for WordPress, Joomla, and Drupal.
In this review, you'll get a detailed look at the Themeforest — its pros and cons, how it works, and any alternatives in the market. By the end of this guide, you'll have a better understanding of site and you'll be able to figure out if you should buy a theme from the marketplace.
Let's dive in.
Themeforest pros and cons
Like most solutions in the market, Themeforest has its own sets of advantages and disadvantages. Here are some of the pros and cons of to be aware of when using the site.
Pro: Lots of choices
Themeforest is home to more than 40,000 themes. That's a lot of choices, and it almost guarantees that there's a theme for just about any type of website out there. There aren't a lot of theme marketplaces that offer these many choices under one roof, which makes Themeforest an attractive solution.
Pro: Ease of use and convenience
Themeforest is also incredibly easy to use. The themes are organized into different categories and you can use filters to narrow down and sort your choices. The purchasing process is quick and easy, so when you find something you like, you can buy it with just a few clicks.
Con: Inconsistent coding
Pretty much any developer can submit a theme to the marketplace, and this results in a lack of consistency with how themes are made. You could encounter themes that are beautifully coded, but there's an equal chance of running into themes with messy coding that could cause issues when it comes to site aesthetic and plugins.
Con: There's a chance that you won't get ongoing updates
This particular disadvantage also stems from the fact that different developers can add themes to Themeforest's marketplace. Some people may just sell a theme then leave. That said, this shouldn't be an issue if you pick a solid template or if you purchase a theme from a supportive and committed developer.
How much do themes cost on Themeforest?
The prices at Themeforest range a gamut — you'll find PSD templates for as low as $3, and there are premium (usually HTML 5) themes that cost over $1,000. These are extremes, though. The vast majority of the themes with a regular license range from $16 to $99. Extended licenses are much more expensive, and can cost several thousand dollars.
How Themeforest licensing works
Themeforest has two types of Standard Licenses, which include a Regular License and Extended License.
A Regular License gives the purchaser "an ongoing, non-exclusive, worldwide license to make use of the digital work". With a Regular License, you're allowed to create a single End Product either for yourself or your client (in which case the license will be transferred to your client). You're allowed to make copies of the single End Product, as long as it is distributed for free. You're also allowed to modify and manipulate the item. For instance, if you want to modify the theme's layout and include your own images, you can totally go for it.
Here's what you can't do under a Regular License: You can't sell the end product to more than one client. If you intend to do this with a theme, then you need to purchase an Extended License, which gives you the right to sell multiple copies of a single end product.
That said, the Extended License has several limitations. Among others, you're not allowed to "re-distribute the Item as stock, in a tool or template, or with source files."
For more info on Themeforest licensing, check out this page.
How to find ecommerce themes
As mentioned earlier, Themeforest is incredibly easy to use. And if you're looking for a theme for your online store, you'll find plenty of options under the ecommerce section of the site. Just hover over the "ecommerce" link on the homepage and select your platform. Themeforest has website templates for all major ecommerce solutions, including Magento, Shopify, Woocommerce, and more.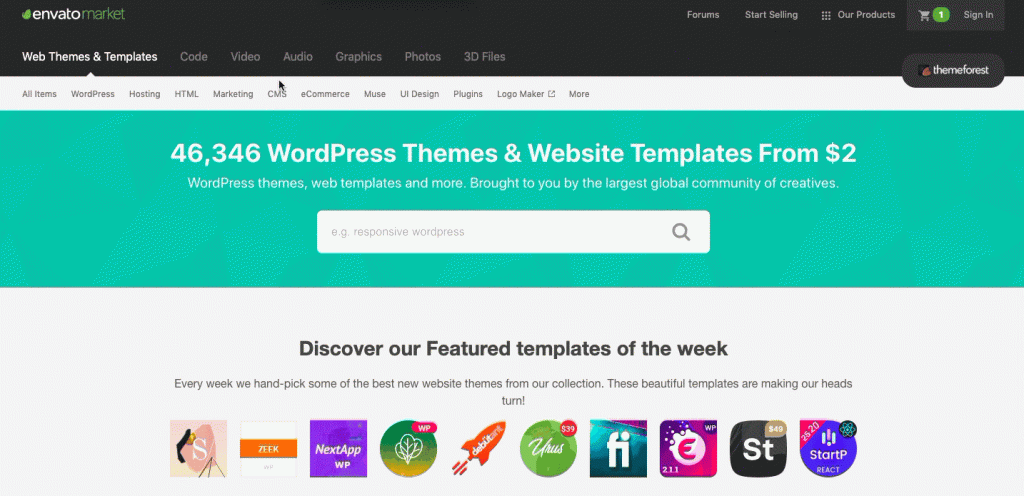 Choose the platform of your choice, then Themeforest will display all the available themes. From here you can narrow down your choices based on filters like:
Industry
Sales
Rating
Date added
Software version
Compatibility
You can also sort the results based on their rating, price, upload date, and popularity. Once you've applied the filters, you should be able to see the themes that best fit your needs.
Evaluating ecommerce themes on Themeforest
Themeforest has a highly detailed page for each theme that contains the theme description, reviews, comments, and technical details. Be sure to review these components thoroughly before making your selection.
Here are some tips to help you vet a theme effectively.
Read the description
This sounds obvious, but you'd be surprised at how some people simply skim a theme's description without fully comprehending it. Don't make the same mistake. Thoroughly examine the item details of each theme that you're considering.
What are its key functionalities? Does it have all the features that you need? Would your products be compatible with the layout of the theme? The answers to these questions will help you figure out if a theme is right for your store.
Also, note that descriptions aren't created equal. Some creators will put up a lot of effort into making their item page look as attractive as possible. Here's an example from Porto, a responsive theme for Magento.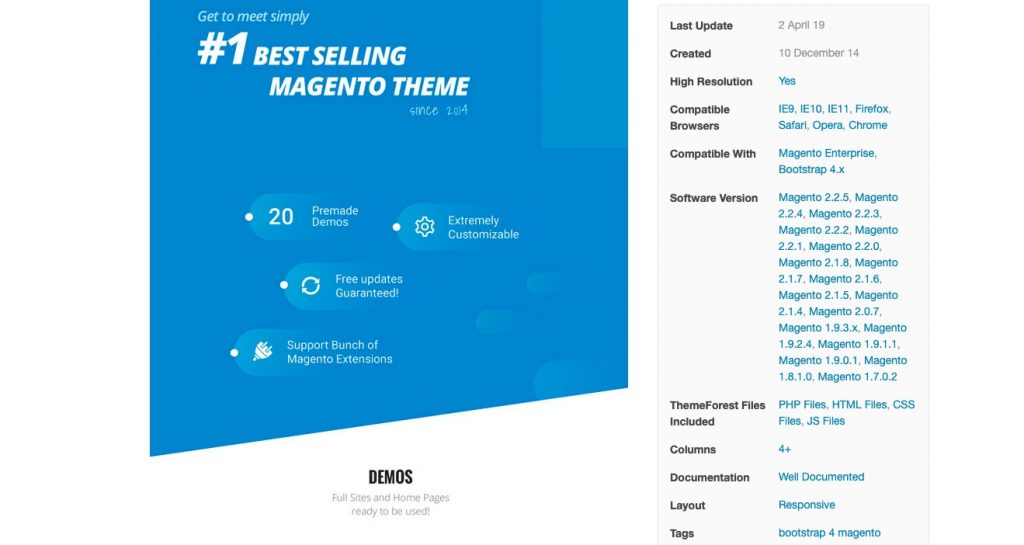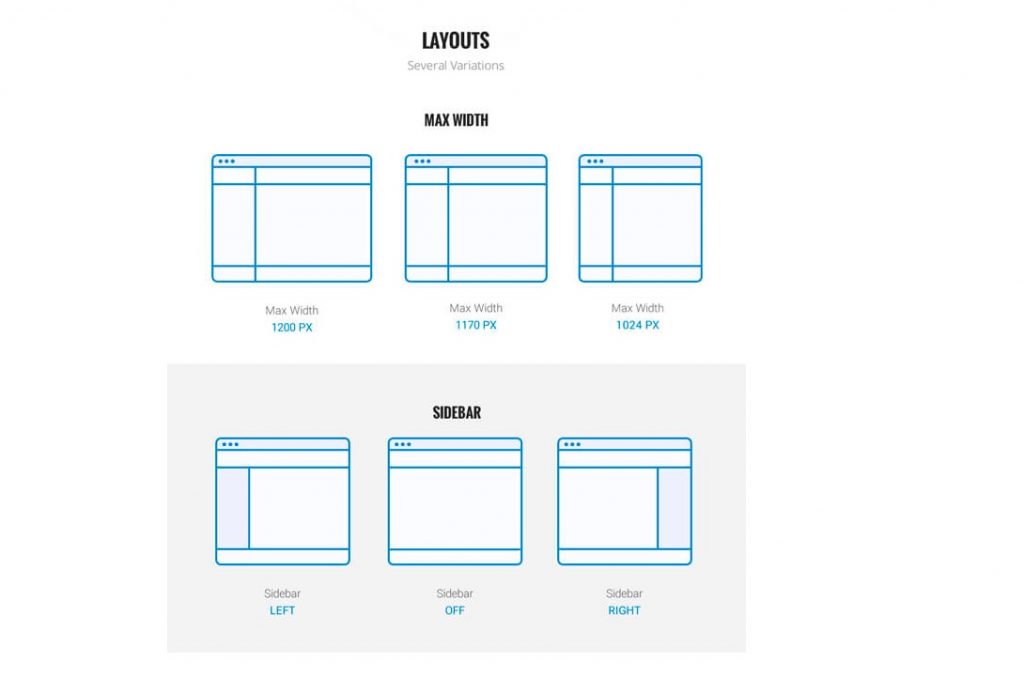 The developers behind it clearly spent a ton of time putting together the description for their theme. It contains rich images, detailed points, and it even has an update log, detailing the changes and updates they've made to the theme.
Contrast that with the item description for Raymond, a theme for Shopify, which contains broken links and limited details.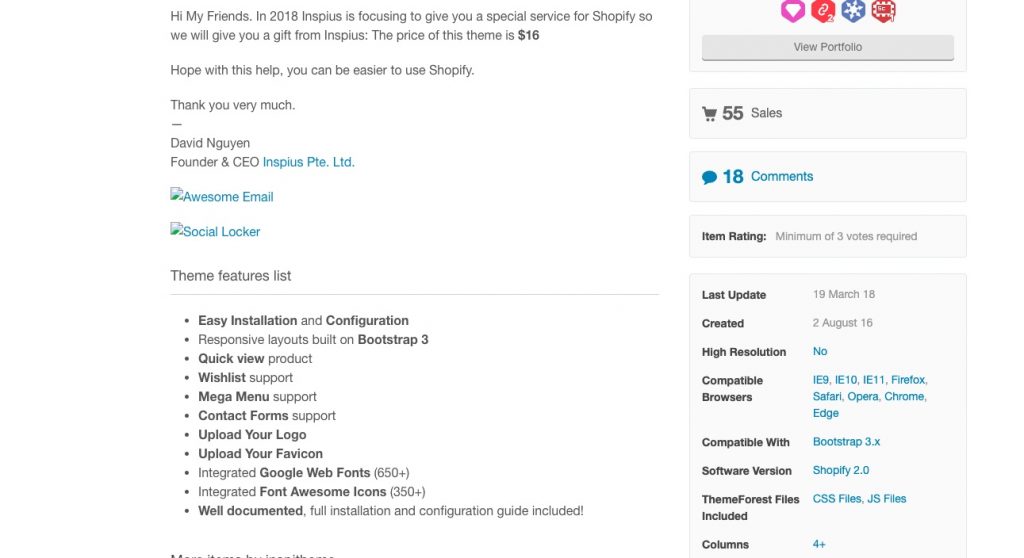 The bottom line? Read between the lines. In addition to going through a theme's bullet points and description, try to get a feel of how much effort the developer has put in when crafting their product page. This will give you an indication of their commitment level. A developer who is active and who offers regular updates is more likely to provide adequate support when you need it.
Preview the theme
Themeforest has a Live Preview feature which lets you see the theme in action. Clicking the button opens a new tab, in which you can view the theme live and check out different layouts and sample sites.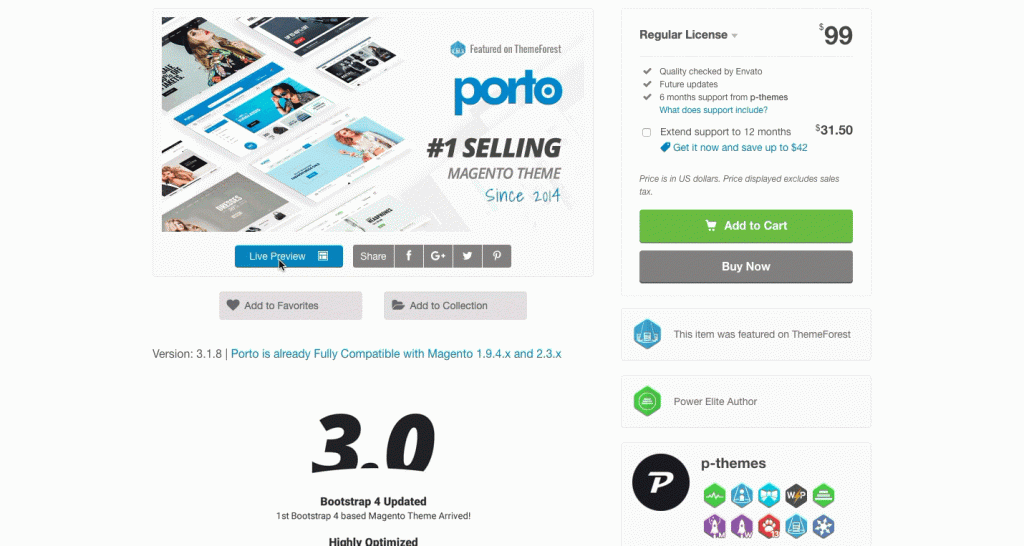 Check out the reviews
Themeforest also has a "Reviews" section on its item page, which contains star ratings and reviews from people who've purchased the theme. In many cases, people rate a specific aspect or component of the theme — such as feature availability, customizability, code quality, design, documentation, and customer support.
Themeforest presents reviews in a straightforward manner and the page is easy to read and navigate. You can also sort review by date and rating.
View the comments
Themeforest has a discussion section, which contains comments and questions from users. Themeforest displays the comments from newest to oldest and doesn't have a sorting functionality. But it does have a search box, which is handy if you're looking for a specific term or issue.
Theme creators can also respond to comments — and many do. You should take note of how long it takes for a developer to respond to comments. Do they reply within the next day or does it take longer? Needless to say, the more responsive someone is, the better.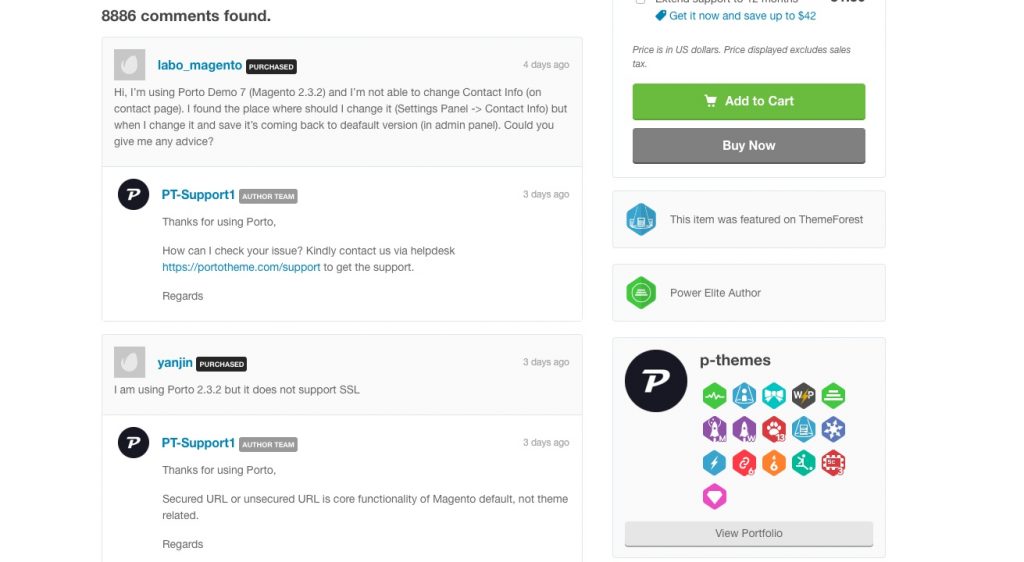 Porto's team, for instance, stays on top of the comments they receive. Porto's support folks respond to practically every comment, often within hours from user's submission.
Check the sidebar
Each Themeforest item page has a sidebar containing a wealth of information, so pay attention to it. Here are some things to keep an eye on:
Badges/Accolades – Themeforest displays any recognitions that a developer has received. For instance, if a theme was featured by Themeforest, you'll see it indicated on the sidebar. Creators who are part of Envato Elite — a program for bestselling creatives — also get an accolade.
Portfolio – The portfolio section on the sidebar lets you see the other themes that an author has on the marketplace. It's a great tool for viewing the other creations of the developer, and can also be an indication of their performance and activity level on the site. The more themes someone has in their portfolio, the more active and committed they are.
Sales and comments – Themeforest gives you a quick snapshot of how many sales and comments a theme has received.
Average item rating – This section of the sidebar sheds light on the average star rating of a theme. Do note that average star ratings are only available for themes that have gotten at least 3 ratings, so if this section isn't on the sidebar, it means that not enough people have rated the theme.
Updates and compatibility – Towards the bottom of the sidebar, you should see a box that provides an overview of the theme's updates and compatibility. In it, you'll see when the theme was updated last and when it was created. It also shows the theme's compatibility with various browsers and software versions. This is important, particularly if you're using a platform like Magento, which has several versions of the software.
Themeforest also shows the types of files included in your purchase, so you know exactly what you're getting.
Taken all together, the various components of a theme's page — from the item description to the comments and reviews — should give you an accurate idea of a theme's quality and compatibility. As mentioned earlier, it's critical to review everything thoroughly so you can make an informed decision.
Purchasing a theme
Completing the purchase on Themeforest is easy. The "buy" section is located on the left sidebar, and when you're ready to buy a theme, simply select the license you need (regular vs extended), then click "Buy Now" if you want to proceed to checkout or "Add to Cart" if you want to continue shopping.
On the checkout page, you'll need to create an Envato account if you don't have one yet, and then enter your billing and payment details.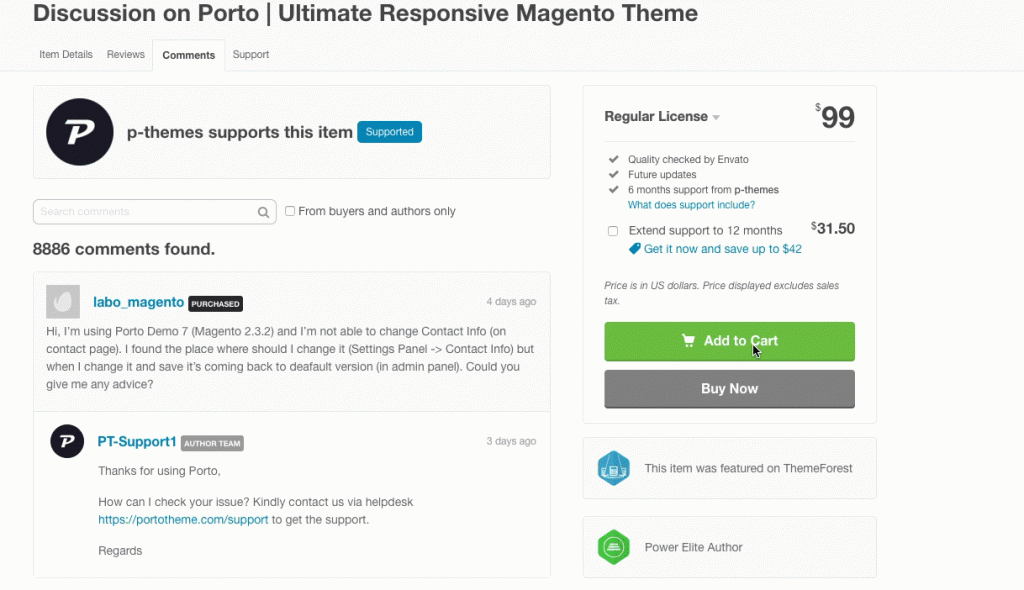 Themeforest item support policy
All items on Themeforest are ensured to work as described and are protected against major security issues. All the themes are also subject to "discretionary version updates" which means you can access the latest version of the themes that you purchased, if the developer chooses to make changes.
Many authors also offer item support — a service in which the author of a theme will be available for 6 months to answer your questions, assist with bugs, and help with other general concerns.
You can find out whether a theme author offers item support by looking at the "buy" section of a theme's page. You should see a checkmark indicating that you'll get 6 months support from the developer.
What's included with item support
Here's a quick overview of what you can expect with item support:
Answers to general and technical questions – During your support period, the author will address any questions you have with how to use the theme. For instance, if you have a question about how a feature works or how to enable a built-in functionality, the theme's creator will be able to address them.
Assistance with theme defects and third party assets – If you encounter bugs or issues with third party assets like plugins, the theme authors are expected to assist you during the support period. In some cases, they could issue bug fixes or direct you to the right resources.

What's not included with item support
Item support is useful for getting up and running with a theme and ironing out any issues with how to use the item. But it also has some limitations, including:
Theme customization – You're in charge of tailoring a theme to fit your needs. Theme authors aren't required to customize or extend the item beyond its original features and functionality.
Theme installation – Setting up the theme on your ecommerce site is completely up to you, and theme authors aren't required to provide installation services. If you need assistance in this area, you can ask the authors privately or get help from another service provider.
Servers, software, and hosting – Theme authors aren't obligated to assist you when it comes to hosting the theme and dealing with software issues. These are matters to take up with your server or web host provider.
Themeforest's refund policy
To request for a refund, log in to your Envato account and head to themeforest.net/refund_requests/new
Since Themeforest is part of Envato, its refund policy follows the one by its parent company. According to Envato, authors are expected to provide a refund if:
The theme isn't working the way that it should or it's not working as described. This is when the theme has bugs that the author can't fix or if it is "materially different" from what's depicted in the item description or preview.
There are security issues. If a theme has a security vulnerability that can't be fixed, Envato expects the author to refund you for the purchase.
You don't get the support you need. In this situation, the author doesn't follow the item support policy described above.
You haven't downloaded the theme. In this instance, you can get a refund if you haven't downloaded your theme files within 3 months or purchasing them. You'll need to send the author your purchase code to verify that you haven't downloaded the theme yet.
Note that theme authors are NOT required to issue refunds for the following situations:
You changed your mind
You purchased a theme by mistake
You don't have the technical expertise to use the item
You can't provide enough information as to why you're entitled to a refund
The bottom line
Themeforest is an excellent resource for any B merchant who needs a theme for their site. They have a wide selection templates that can fit just about any purpose, industry, and price range.
Just bear in mind that Themeforest is a marketplace and not all theme sellers are created equal. So, make it a point to vet a theme thoroughly by reading the item description, checking out its reviews, and ensuring compatibility with your site. Taking the time to evaluate a theme before buying will help ensure that you get the best experience possible.
Good luck and happy theme hunting!