What is Jungle Scout?
Jungle Scout is an Amazon research tool that helps you find winning products, estimate sales, research keywords, and spy on competitors all from one easy-to-use dashboard.
Basically, it instantly shows you what products will be the most profitable and easiest to grow your business with.
It was founded by Greg Mercer in 2014, the year that marks the divide between the Amazon research "Dark Ages" and the modern "Renaissance."
Why You Need Jungle Scout
Believe it or not, people were actually selling products in the prehistoric era referred to as pre-JS.
Aside from competing for land and food with giant reptiles, during these times Amazon geeks like me had to manually research everything by digging for products, analyzing competitors, and creating libraries of spreadsheets with what little data we had access to.
Instead of spending hours and hours doing that yourself and relying on your gut feeling (which I still love), Jungle Scout does it for you instantly.
Also, product research is the single most important factor for success, and competition is increasing by the day. If you choose a garbage product, you will fail no matter how brilliant you are. The competition is insane these days.
Over 1 million NEW SELLERS joined last year alone. That's a ton of competition. You have NO CHANCE if you don't choose a unique, profitable, in-demand product.
Did You Know?: Amazon did over 238 BILLION in sales last year? That's more than the GDP of Portugal!.

Jungle Scout Features
Here I'm going to go through each lit feature offered by them and tell you how to use them and get the most out of it.
JungleScout Web App
Web app by JungleScout is the secret weapon that helps you in making smarter product decisions and to stand-alone out of the competition. With the help of a Web App, you can easily find profitable niches and products from the entire Amazon catalog.
Here JungleScout Web App will let you filter Amazon's entire database by category, price, sales, and more. Now track any of your competitor's activity over time. Really, it will maximize success by narrowing down the roads of failure. Web App will definitely take your Amazon FBA business to a whole new level.
Product Database
It has a comprehensive database containing over 70 million products directly from Amazon. You can organize and search for all getting ideas of the products that match your search criteria. And you can then find products to sell on Amazon.
It's easy to feel devastated when you don't know where to start from, but with their pre-installed filters, you can generate ideas in seconds and start finding products with high potential. You can filter by categories, estimated sales, revenue, etc. to find profitable products.
Product Tracker
You can easily track the performance of each product by tracking potential products over time, tracking daily stocks, sales, prices, and ranking of top-selling products.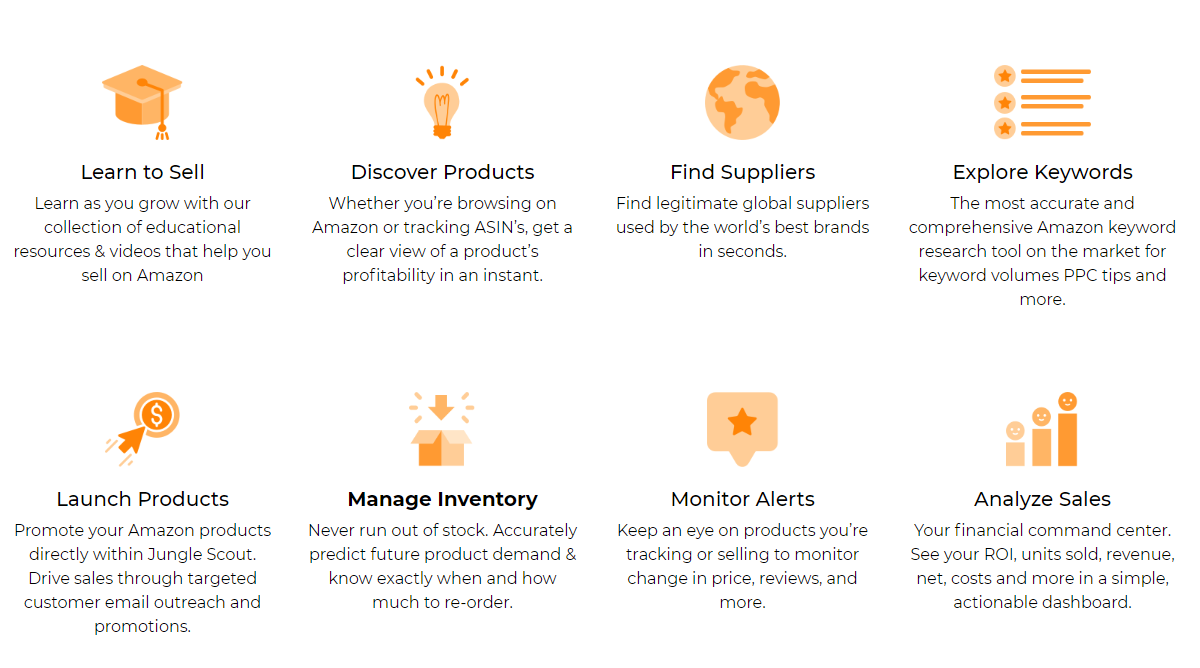 Why Jungle Scout Is Different?
1. Keyword Difficulty And Easy Of Ranking
This score ranges from 1 to 100 indicates the difficulty of ranking a term. The detailed and longer terms are usually low, whereas the short terms are almost impossible.
2. Relevancy Score
This score is an indicator of the relevance of a particular term to the original search. If you are in the beginner phase of learning more about your product/niche, this tool can be pretty useful as you can catch up on some slang terms, synonyms, or jargon that are associated with your product in order to beef up the listings.
3. Average Price
The name itself suggests that this feature provides you with an average price of top 10 listings currently when you look for a keyword on Amazon.
This can prove to be a really helpful feature because if you are planning to sell something at about $20 and the average price of the top 10 is $10, then it definitely signals that the market will not be interested in paying the extra expense.
4. Average Units Sold
This will help you in finding out the number of units of a particular product that has been sold in the period of the last 30 days.
5. Competition
On a scale ranging from 1 to 10 and 1 being the least competitive, Jungle Scout gives out this score on the basis of the number of reviews of Amazon's top 10.
To put that in perspective, if the majority of the products that are on the first page have only a few reviews, theoretically, you have an opportunity of getting rank and few reviews really quick.
On the flip side, if the first page has hundreds or thousands of reviews, the story is completely opposite. Though the sales volume is an amazing metric but if there is a massive competition to break through, you are out of luck.
6. Listing Quality Score (LQS)
This score calculated by the Jungle Scout calculates and gives you an idea about how well the current top 10 in the listing are optimized. They take into consideration the important factors for Amazon listings like: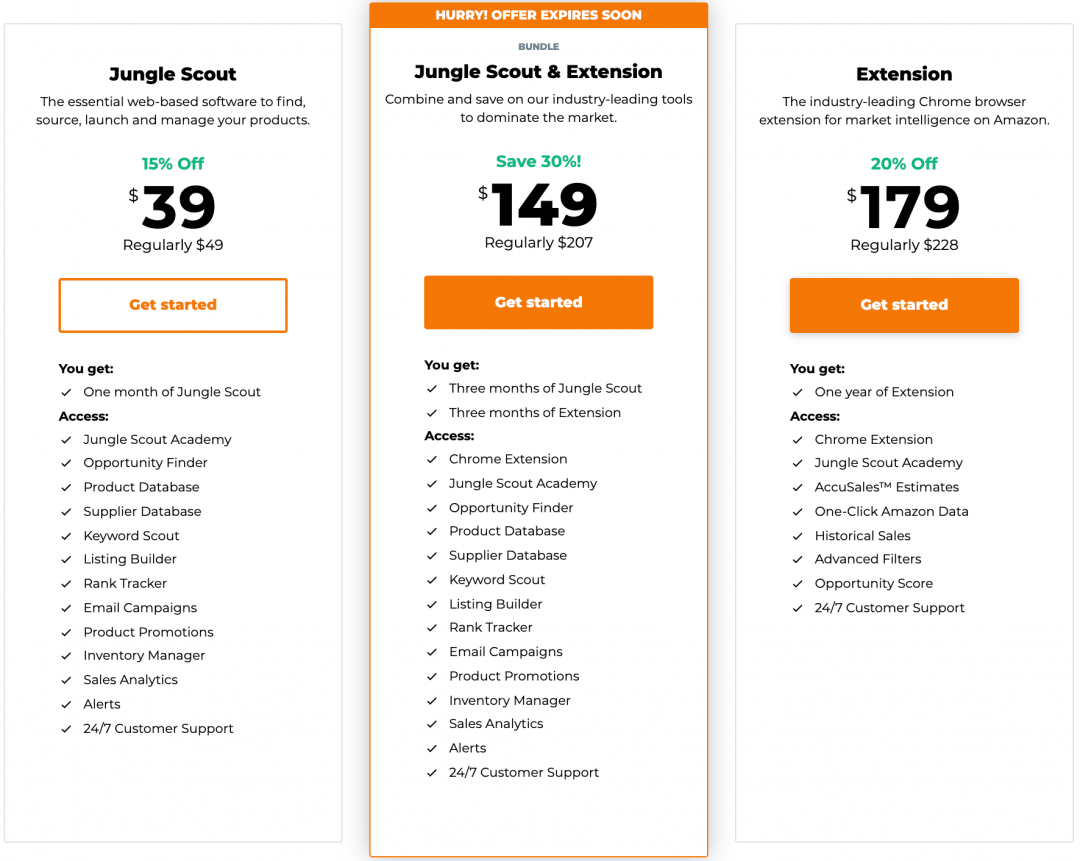 Jungle Scout Pricing
Jungle Scout's pricing is a little confusing at first. There's the web app, there's the Chrome extension, and then there's the combo package.
And the price varies whether you pay monthly or yearly. Oh, and it also changes based on how many confirmed monthly orders you get.
The Basics
If you're wondering whether or not you need Jungle Scout, then you probably aren't churning out thousands of orders a month yet. So I'll just stick to the basics (0-500 orders a month).
Here's the skinny:
Jungle Scout: Monthly – $49/mo | Yearly – $39/mo
Chrome Extension: Monthly – $39/mo | Yearly – $19/mo
Package: If you buy both together (and you should), you save big. Monthly – $69/mo | Yearly – $49/mo.
Here's the catch…
Your Payment Varies Based on the Number of Confirmed Orders
The more you sell, the more you pay for Jungle Scout. It doesn't seem very fair to me, but hey, I don't feel like building my own Amazon product research tool, so I have no choice.
NOTE: Payment for the Chrome extension never changes.
Here are the different payment levels (monthly | yearly) for the package deal ONLY:
501 – 2,000: $89/mo | $59/mo
2,001 – 5,000: $119/mo | $79/mo
5,0001 – 10,000: $219/mo | $139/mo
10,001 +: $419/mo | $259/mo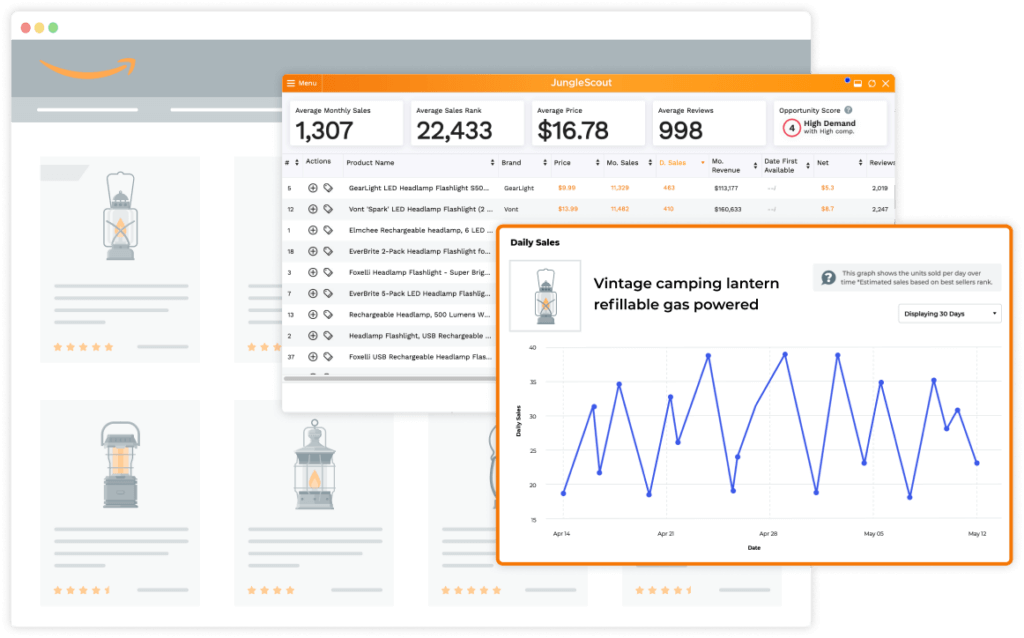 Jungle Scout Chrome Extension
he extension is a bridge between inspiration and action when you browse Amazon. The one-click extension is complemented by providing real-time sales, competition, and profit forecasts based on the product or search results page you're exploring.
The Chrome extension has an annual fee and is designed to be used when searching for Amazon products, but you won't find niche products you didn't know before. There are a Lite version and a Jungle Scout Pro extension with some additional options.
Features of Jungle Scout Extension:
Newest Numbers: Here, when you are looking to uncover and unhide the next gem in the jungle of Amazon, you will get the exact information that you can easily rely upon and trust.
Stat Checker: The best part is that the chrome extension really makes checking stats easy, and here you can easily validate all of your insights with the historical data.
Product Specific: This is really one of the amazing features, and it will let you dive deep right on any of the specific products. You can view the price, best sellers rank along with the FBA Fees, estimated monthly sales, average price, and also many other things.
Conclusion – Should You Get Jungle Scout?
Phew, you still with me? 4,000 words later and I'm starving!
I hope I've covered everything you were curious about, and I really hope you're pumped about finding winning products and growing your FBA.
I just want to drive this point home:
There is unprecedented opportunity on Amazon right now. More and more people are buying from Bezos and Co. every day. Don't listen to haters; you can grow a profitable FBA business these days! You just need to do product research the right way and work hard at it.
The time is NOW. Jungle Scout is the best Amazon research tool out there. Yes, it is a bit pricey, and yeah, it sucks that there's no free trial, but if you're serious about growing your FBA biz, it's 100% worth the money.