WP Engine is by many experts considered the best in WordPress Managed Hosting & eCommerce Solutions, they offer automatic security updates, daily backups, one-click restore points, automatic caching, top-tier security, FREE CDN &  SSL Plus FREE Site Migration.
WP Engine is not cheap compared to other cheap WordPress hosting. But if you looking for the best fully managed WordPress hosting solution. We will conduct through review of WP Engine for WordPress users. Also see any new updates in 2022 to give you better and newer review.
WP Engine is one of the most expensive fully managed WordPress hosting. The question is are they too expensive for average person to afford this hosting provider? They are on top of the most expensive hosting providers for WordPress users. To help you decide if WP Engine is the right choice for the money. We will discuss pricing, support, performance and specific key features that make WP Engine one of the best fully managed hosting provider.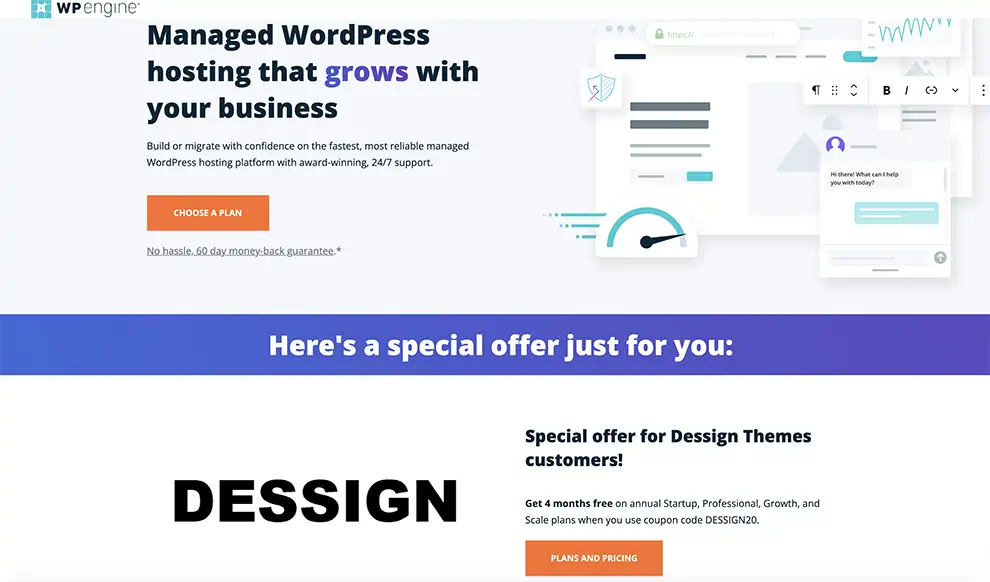 WP Engine review for managed WordPress hosting
What specific features makes WP Engine one of the most recognized fully managed hosting provider?
If you want your website to be fully secured, optimized and 100% uptime without doing a lot of technical work managed hosting is perfect option for you. WP Engine experts will ensure that your new site is fully optimized and setup to the best performance possible. You can focus on running your website and they will focus on keeping everything updated.
They offer some of the best WordPress focus services features include:
Automatically migrate your existing website
Reliable, fast servers around the world
Free SSL certificates
Daily and on-demand backups with 1-click restore
Managed WordPress core updates and patches
Support options
If you need support then WP Engine has one of the best support in the hosting business with the best technical and WordPress experts. They have resource center and knowledge based search center. One of the best solution is Live chat we talk to live person just to see. How fast they will respond and what knowledge they have.
Tech support are very knowledgeable, as they hire the best customer service technicians to answer all your questions. They are available 24/7 to help you find or fix any issues you might have. We were 100% happy with the support we got. Since this is fully managed hosting the technical support will fix all the issues for you so you can just sit and relax.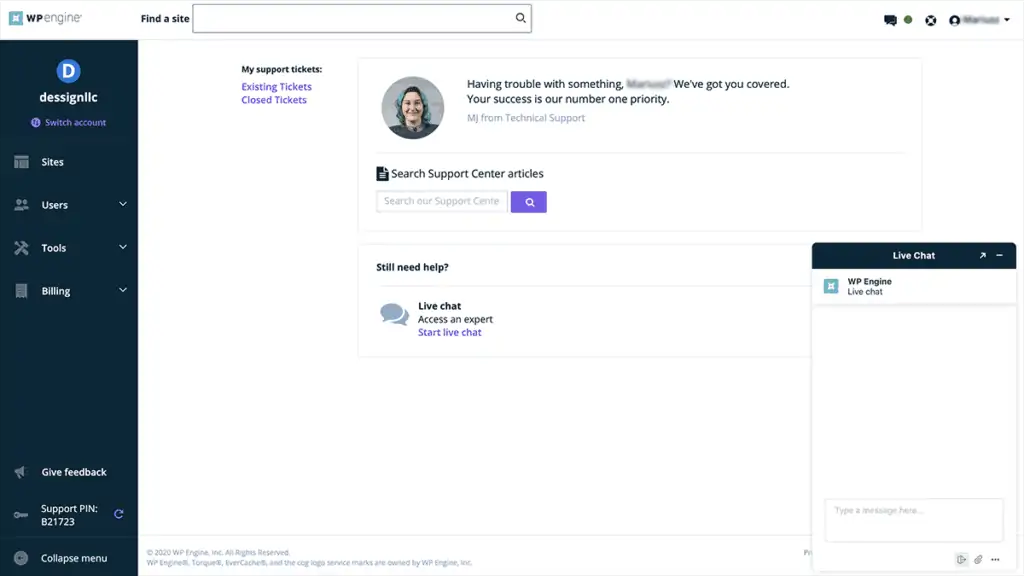 Performance
WP Engine is one of the fastest hosting provider with around 99.999% – 100% uptime and load time around 580ms loading over 97% faster than other websites. When it comes to performance WP Engine is the VIP of managed hosting and performance solutions.
But as anything the performance is not cheep as you already know. It will cost some money to have this kind of speed and load time. WP Engine can handle any kind of traffic and you don't have to worry that your site or your client site will go down.
If you are serious about your hosting performance and want only the best then WP Engine is the most recommended solution for you. WP Engine has CDN which is included for free with all WP Engine hosting plans
Page Speed run on Load impact
We run a test with LoadImpact to see how fast WP Engine website loads. The performance is amazing respond time was 80ms at average which is super fast. As you can see we setup a simple website so we can test response time from different locations around the world.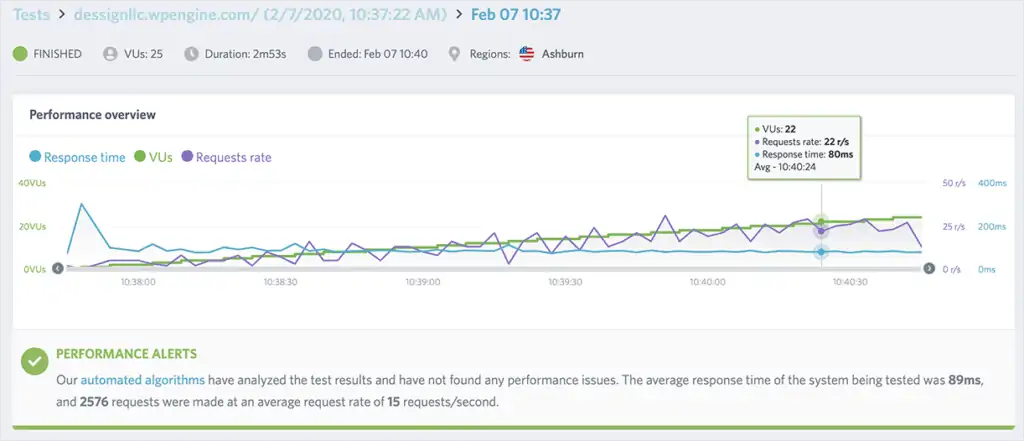 Here are the results from our test from many different locations to show you how fast WP Engine hosting will load our website with demo data.
New York – First Visit 1.2 sec Repeat Visit 624.0 ms
London – First Visit 1.6 sec Repeat Visit 307.0 ms
Minneapolis – First Visit 921.0 ms Repeat Visit 313.0 ms
San Francisco – First Visit 566.0 ms Repeat Visit 475.0 ms
Page Speed run on GTmetrix
We also run a test with GTmetrix to see how fast does your website load? As you can see we got PageSpeed Score A (99%), YSlow Score A (94%), Fully Loaded Time 1.6s, Total Page Size 271kb, Requests 9, Minify CSS A (96%), Minify JavaScript A (98%), Minify HTML A (100%), Avoid Bad Requests A (100%), Enable Compression A (100%)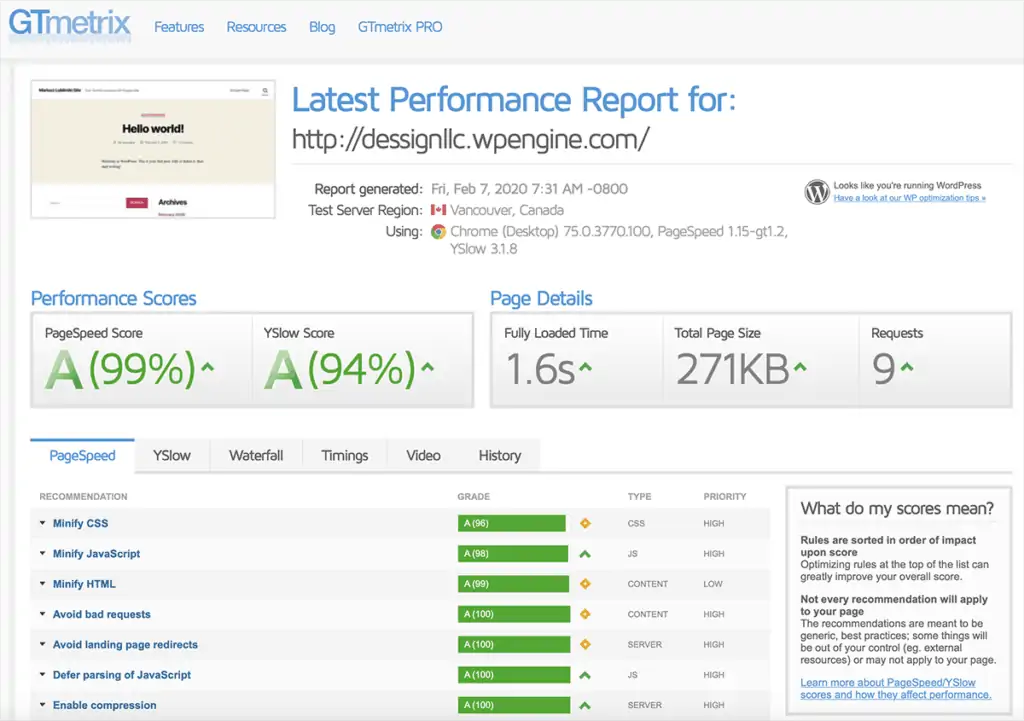 Here are some of our results from different locations in USA and Europe. So we can see the load time with many users at the same time to replicate how the hosting and servers will handle the traffic.
Denver – First Visit 632.0 ms Repeat Visit 302.0 ms
Montreal – First Visit 1.1 sec Repeat Visit 314.0 ms
Frankfurt – First Visit 1.7 sec Repeat Visit 390.0 ms
Pricing
WP Engine offers one type of hosting service which is the managed WordPress hosting, where you can pick the best option for you and pricing, depends on number of visits per month. They have a Monthly or Annually Payment plans. Hosting options include Startup, Growth, Scale, Custom. You can read full WP Engine Pricing explained and pick the best plan for you. The prices and plans updated in 2022 to reflect the most current and most accurate pricing they have.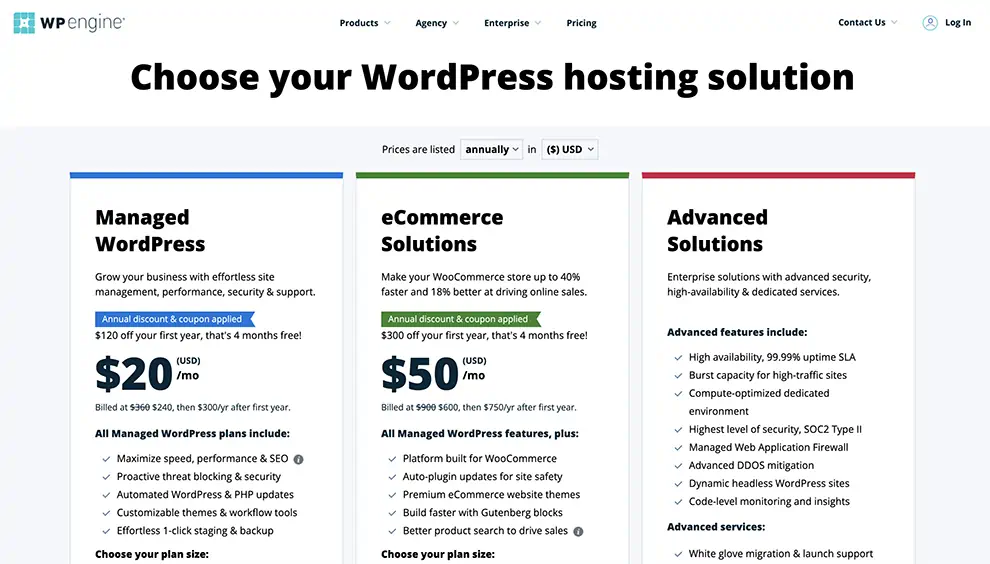 Let's go through the pricing plans to explain which plan is best for what customer and what they offer. WP Engine now offers eCommerce solutions which introduced in late 2021 and updated in 2022 to give you better understanding. They are among the best WooCommerce hosting providers if you looking for online solution.
Startup – $20/mo annual plan or $24/mo monthly plan – This the basic and most popular plan it comes with 1 site, around 25,000 visits a month, global CDN, SSL certificate and 10GB storage, great plan to get you started and test WP Engine performance, support and speed. Each plan comes with 60 day money back guaranteed so you can try their hosting for few months to decide if its right for you.
Professional – $39/mo annual plan or $47/mo monthly plan – This plan is more focus on freelancers which option to have 3 sites, and increase traffic to 75,000 visits per month, 24/7 phone support and 15GB storage with 125GB bandwidth included. Best for anyone looking for more than 1 site, maybe you want a personal blog and business website.
Growth – $77/mo annual plan or $92/mo monthly plan – This plan is more focus on freelancers which option to have 10 sites, and increase traffic to 100,000 visits per month, 24/7 phone support and 20GB storage with 200GB bandwidth included. If you planning on developing sites for clients this will be second best option for you.
Scale – $193/mo annual plan or $232/mo monthly plan – This plan is more focus on agencies looking to host clients websites with 30+ sites included with 400,000 visits per month, 50GB storage, imported SSL certificates. Great plan if you are agency and looking for fully managed WordPress hosting.
Custom & Enterprise – Those plans are for large agencies with very big resources, features and dedicated servers, prices will vary based on your specific needs.
eCommerce Solutions – $29/mo annual plan or $280/mo monthly plan the eCommerce plans are great for anyone looking to open online store using WooCommerce fully managed hosting, their eCommerce are 40% faster and 18% better at driving online sales. Similar to managed hosting the eCommerce plans are also support the Startup, Professional, Growth and Scale plans with many different price options and features you might need.
Overall pros & cons
As with any hosting provider there are pros and cons of using a specific hosting company. WP Engine is no exception, as we found some of the pros to be better than cons.
Pros
Perfect optimized for WordPress users
Solid performance with 24/7 support
60 days money back guarantee
Easy to setup your website
Cons
It will be expensive for some users
Offers only Managed WordPress hosting
Some plugins not allowed for security reasons
Dashboard overview
Since you don't know how the admin dashboard looks like until you sign up and register with WP Engine hosting to see the inside of your simple to use dashboard. We tool some current screenshots to help you visualize what you will see once you login to your admin dashboard are, it helps new users to get clear idea of what to expect.
On the left side navigation you have: Sites, Users, Tools, Billing
(Users:) Account Users, Technical Contacts and Activity Log
(Tools:) Themes, Content Performance, Global Edge Security, Page Performance, Smart Plugin manager, Atomic Blocks Pro, Devkit
(Billing:) Invoice, Modify Plan, Purchase Add-ons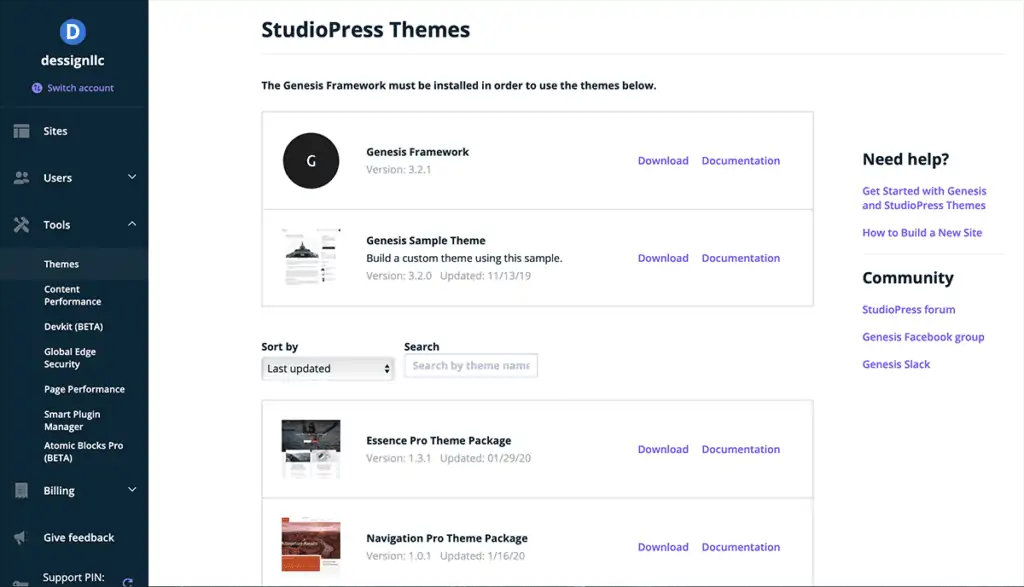 WP Engine hosting alternatives
After reading our full WP Engine reviews you decided that this hosting provider is just too expensive for your new WordPress website, we have great alternatives that will fit your budget.
SiteGround one of the best alternatives for WP Engine, since lot cheaper starting at $3.99/month vs WP Engine $20/month you will also fully managed WordPress hosting with SiteGround for lot less money.
Another great alternative for WP Engine Bluehost as this hosting the most affordable and well know in WordPress community as they recommended by WordPress.org as the best in support, performance and overall security with 30 day money back guarantee.
Conclusion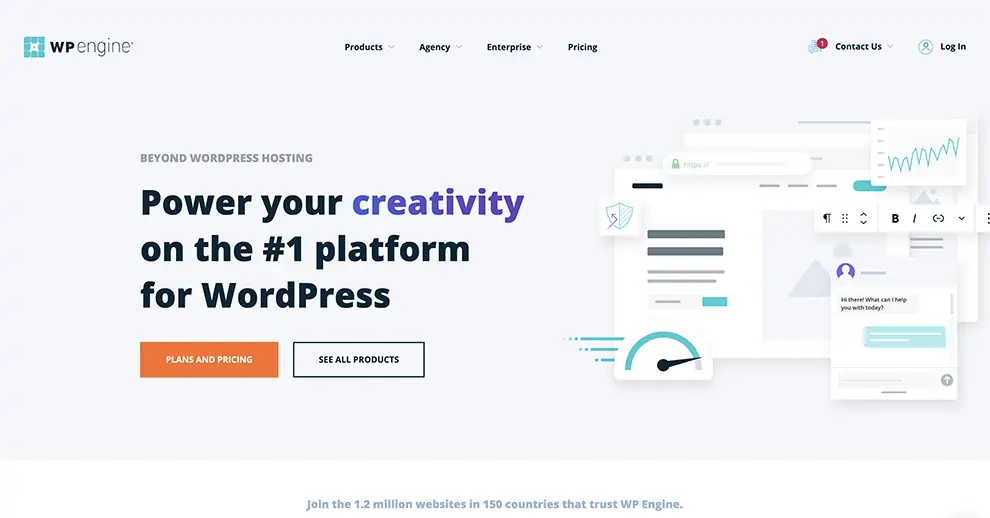 We do recommend WP Engine for any WordPress user, with hassle-free web host. This is perfect solution for professional bloggers, freelancers and entrepreneur startups looking for more advanced solution to host their business. Those plans are not cheap but offer great solutions with amazing technical support, performance and uptime.
Hosting is one of the most important aspect on any online business either. Its a WooCommerce hosting or regular business hosting you always want your website to be online and not down time.
Is WP Engine good hosting?
WP Engine one of the best Managed WordPress Hosting around. WP Engine has the best and up to date hosting equipment with focus on advanced security and excellent customer satisfactions guarantee with 60 days money back guaranteed.
Why is WP Engine so expensive?
WP Engine is more expensive then other hosting providers because it uses state of art equipment. Its fully managed WordPress hosting and it has the best and experience WordPress experts. WP Engine is more for websites with millions of visits and it can take any kind of web traffic.
Is WP Engine good for WordPress?
WP Engine is only focus on WordPress websites, so it's the best hosting for managed WordPress sites. WP Engine has the most WordPress experts customer support they take care of your hosting and website needs for you, this hosting was build in WordPress user in mind.