Does your WordPress website need more speed? More security? Does access to features such as automatic website backups, automatic WordPress software updates and a selection of high-quality premium WordPress themes as part of your hosting package sound appealing?
If so, managed WordPress hosting (rather than regular 'shared' hosting) could be just what you need! And WP Engine are quite possibly the biggest company in this space.
In this review, we'll be covering exactly what you'll get access to if you sign up with WP Engine. We'll also look at what loading times you can expect (we've carried out a series of in-depth tests with leading themes), uptime results, load-impact test results (i.e. how they perform. When lots of visitors want to access your site simultaneously. Creating traffic surges) and everything else they have to offer.
If you're tired of reading hosting reviews that simply rehash feature lists and promotional content. This WP Engine review will be of huge interest. It should provide you with all of the information and data. You need to make an informed decision on whether or not to choose WP Engine.
About WP Engine Managed WordPress Hosting
WP Engine may not have been the first to offer managed WordPress hosting. That honor actually goes to Pagely — but they're by now the biggest (and best-known) company in the managed WordPress hosting sector. With more than 120,000 customers in 140 countries, WP Engine certainly have heaps of experience hosting a huge variety of WordPress sites. In fact, according to their marketing materials, 'five percent of the online world visits at least one experience on WP Engine each day'!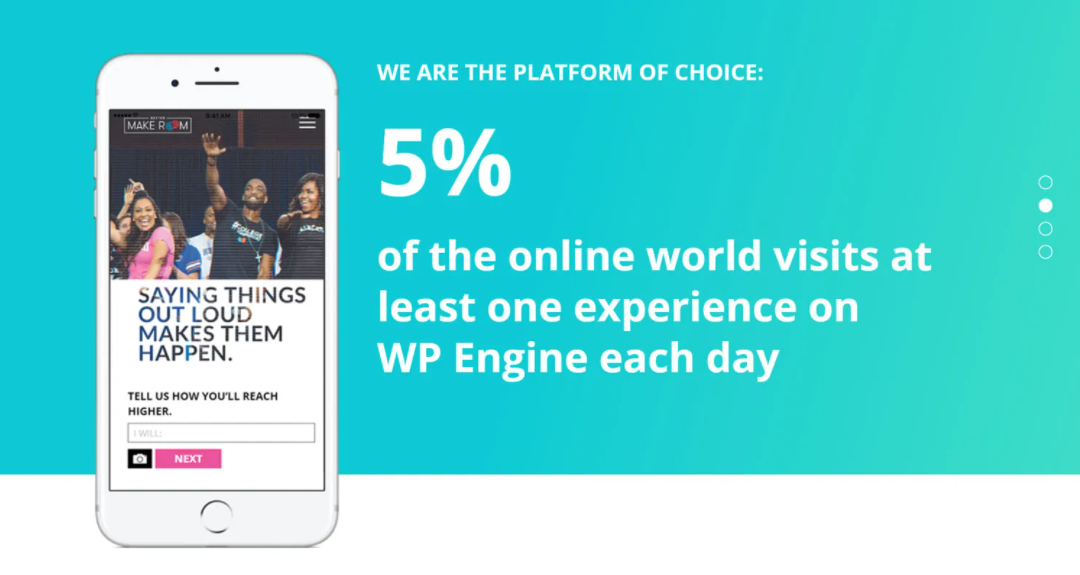 By offering high-performance hosting environments specifically optimized for WordPress websites. While also taking care of many of the ongoing tasks necessary to run a stable and secure WordPress website. WP Engine are a strong contender for anyone. Who needs more than the regular low-cost web hosts can deliver.
But do WP Engine really live up to all the marketing hype? Are they worth the extra cost?
Let's dive in…
Why Consider WP Engine?
As mentioned, WP Engine offer managed WordPress hosting. This means they specialize in creating hosting environments that are highly optimized for WordPress websites. Not only can this result in fast loading times. But it should also ensure your website is always running smoothly and securely.
That sounds good, but let's look at exactly what it means in terms of features and functionality.
A PREMIUM MANAGED WORDPRESS ENVIRONMENT
If you take a closer look at the WP Engine hosting plan specifications. You may notice that they actually offer shared hosting. But don't let the term shared hosting put you off!
As the test results later on in this review reveal. The entry-level shared hosting you'd in exchange for a few dollars a month. Where countless websites crammed onto the same low-spec server. Instead, with WP Engine, you access to well-resourced shared hosting that's optimized for WordPress. Which compares very favorably with the best premium WordPress hosting services out there.
In fact, if you want to see how well WP Engine shared hosting compares with entry-level shared hosting. Our WP Engine vs SiteGround comparison includes test results. That make the difference between these two types of hosting very clear. We'll have more performance testing results later on in this review. But that's not the only reason to choose WP Engine over budget hosting…
CHOICE OF STUDIOPRESS GENESIS WORDPRESS THEMES
In July 2018, WP Engine acquired StudioPress. The theme development company that produced the popular Genesis Framework and a large portfolio of premium WordPress themes. Because of this, WP Engine customers now have access to the Genesis Framework and a selection of 35 StudioPress WordPress themes at no extra cost. Considering these themes retail for around $129, this is great value for money.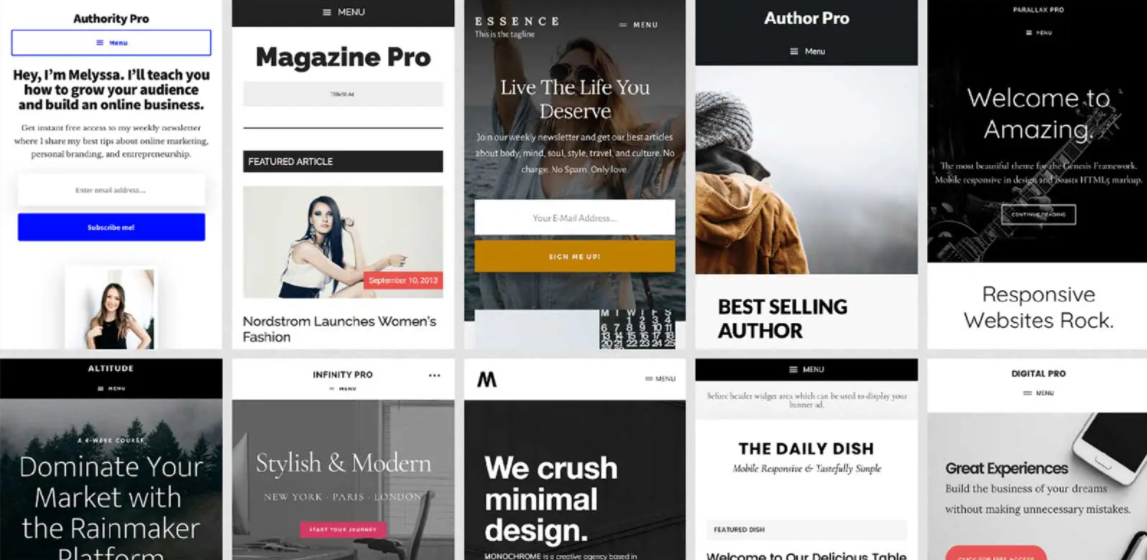 These themes cover a wide range of categories, with options for creating agency websites, many different types of blogs, café sites, online portfolios and ecommerce stores — to name just a few. Although some of these themes are starting to look a little dated. As we covered in our StudioPress review, there are still plenty of impressive options available.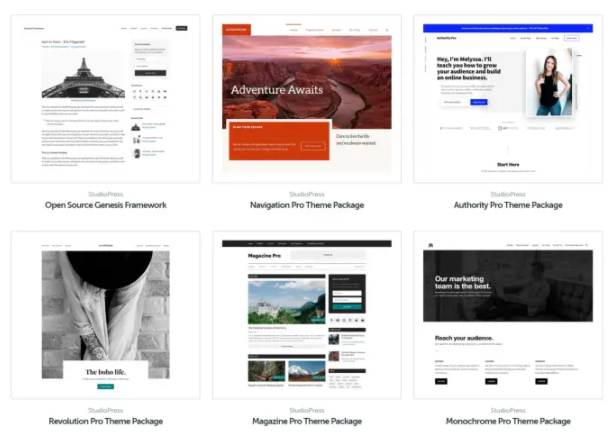 With so many great options out there, choosing a WordPress theme can be very difficult. With WP Engine, you now have a good selection of high-quality themes at your fingertips. This not only simplifies the process of choosing a theme, but saves you money. Of course, you're still free to use any other WordPress theme on your WP Engine-hosted website.
AUTOMATIC WORDPRESS SOFTWARE UPDATES
As part of their managed hosting service, WP Engine will keep the core WordPress software of your website up to date. So your website will always be using the latest version of WordPress. However, the WP Engine team do test each new update to the WordPress software beforehand to ensure it's stable, rather than instantly applying it to your website.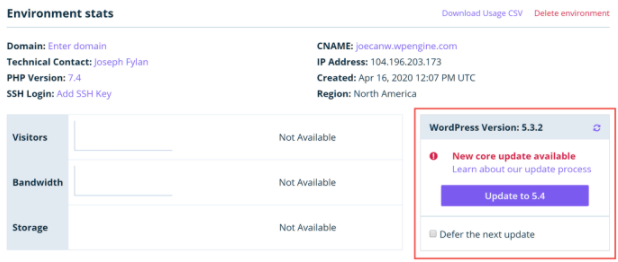 You also have the option of deferring the installation of an upcoming WordPress core software update. Giving you 30 days to test the new version before it's automatically applied to your site.
You can read more about how automatic WordPress software upgrades work on this page of the WP Engine website. However, unlike some managed WordPress web hosts. Plugins aren't automatically updated on your behalf, leaving this task up to you.
AUTOMATED WORDPRESS WEBSITE BACKUPS
As well as keeping your WordPress software up to date, thanks to their nightly automatic backups. WP Engine will also keep your website backed up. The WP Engine backups contain all of the WordPress core files, themes, plugins and the database. So if anything goes wrong with your site and you need to restore a previous point. You shouldn't have any problems doing so.

You can also manually create a full backup at any time through the WP Engine user portal. This is a useful feature that works really well. Manually creating a backup point before making changes to your site. Such as installing a new plugin or theme, gives you a quick way to roll your site back should something go wrong. The backup files are accessible through the WP Engine portal. But you can download them as Zip files for safekeeping if you want.
WORDPRESS DEVELOPMENT AND STAGING ENVIRONMENTS
As well as the production environment where you host your live WordPress website. WP Engine also provide you with two additional environments to help you to set up an efficient development workflow.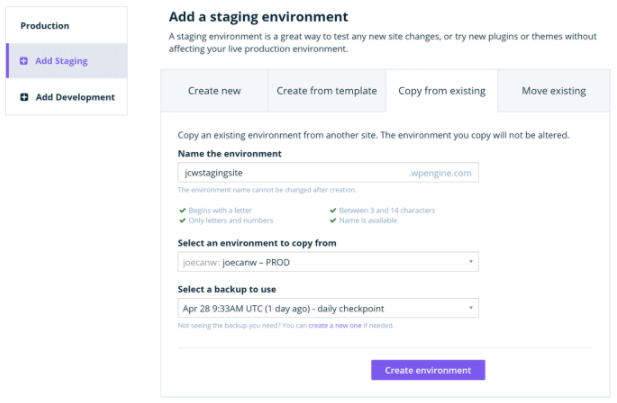 One way to use these three environments is to create your website in the development environment, then move it to the staging environment to share with clients or other team members for testing, and finally push it to the production environment when it's ready to go live. Moving the site between environments is very straightforward and takes place through the visual interface of the WP Engine user portal.
CREATE TRANSFERABLE WORDPRESS WEBSITES FOR CLIENTS
With WP Engine, you also have the ability to use the transferable environment feature to create working WordPress websites for clients. As with a regular website hosted by WP Engine. You have three environments to work with (development, staging and production) when creating a transferable website.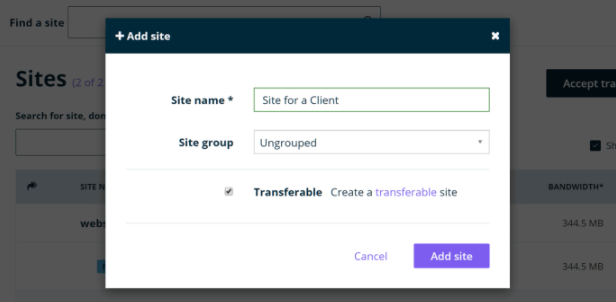 However, these transferable websites don't count against your hosting plan site allowance. Furthermore, they're password-protected to block access, and can't be made publicly available until the transfer to the client is complete.

When you create a new transferable site, you can choose to start with a fresh WordPress installation. Or use an existing site on your account as the foundation for the new project. If you're a developer creating sites for clients on a regular basis. The ability to quickly create a new WordPress installation based on an existing configuration of themes. Plugins and settings is sure to help you to save time.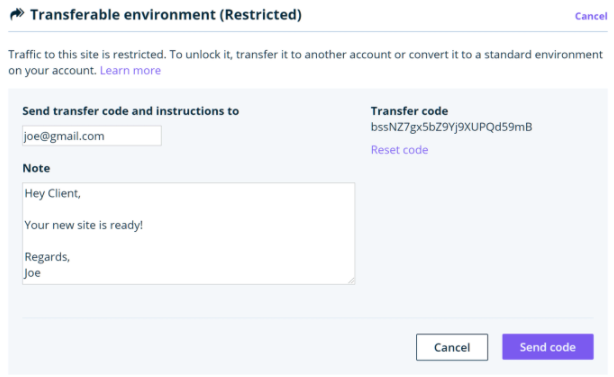 Once you've given your client access to the site using the demo link. They're happy with your work, you can transfer the site to them. They'll need to have, or create, a WP Engine account with an active hosting plan to set the site live.
This relatively new feature of WP Engine compares well with a similar feature from the developer-friendly Flywheel WordPress web host (now owned by WP Engine), helping to broaden the appeal of WP Engine to those creating websites for clients.
WP ENGINE GEOTARGET TOOL
If you want to display different versions of your website and its content to visitors based on their geographic location, then WP Engine have a feature for that. Called GeoTarget, this tool will detect the location of a visitor, and then display predefined website content to them.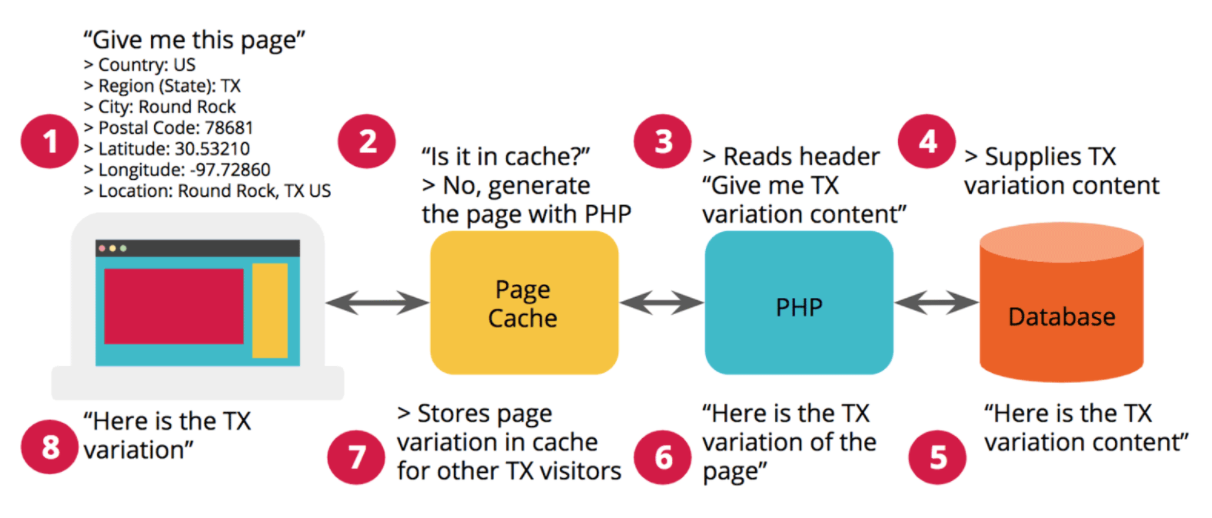 After installing the GeoTarget plugin, you can use the shortcodes to define. Which content in your posts, pages and widgets will be displayed to visitors based on their geographic location. You can even write code to perform custom actions based on the location of the visitor. When defining what content is shown to whom. You can go as far as using the visitor's zip code (if they're based in the US) to really target your audience with relevant content.
There are multilingual and translation plugins for WordPress that can enable similar features on your website. However, GeoTarget has been built to work with the WP Engine caching technology to ensure your website doesn't suffer any performance issues. When trying to handle multiple versions of your content.
If you do want to display different information on your website based on a visitor's location, then this feature should be of interest. Unfortunately, the GeoTarget feature is only available as a paid add-on for the WP Engine hosting plans.
TECHNICAL DETAILS OF WP ENGINE MANAGED HOSTING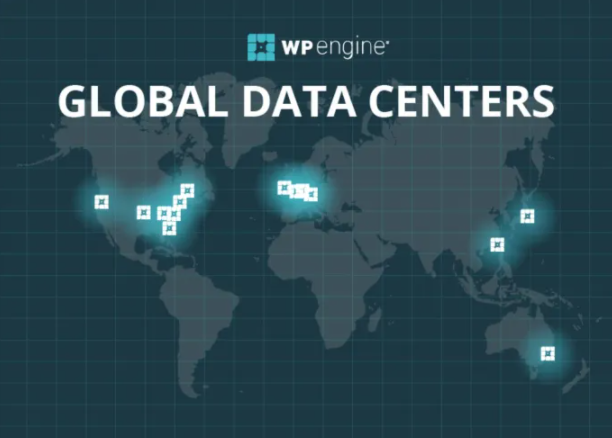 For those who want to know more about the technical details of the WP Engine hosting plans, this section of our review should answer any questions before we move on to the page speed, uptime and performance test results:
Website caching: Regular website caching and optional object caching for caching database queries.
Content Delivery Network (CDN): All WP Engine plans include CDN access from MaxCDN at no extra cost.
PHP: Ability to switch between PHP 7.2 and 7.3.
HTTP/2.0: In use on the servers and the CDN.
SSL: Use the free Let's Encrypt SSL certificate, import your own certificate or purchase one through WP Engine.
SFTP: Ability to create multiple secure FTP accounts for access to your web space for uploading and editing files.
Server file manager: No online file manager — just FTP access to the server space.
Database access: phpMyAdmin is used to access the WordPress website database through a browser.
Email service: No email service on any of the WP Engine plans.
WordPress website management: WordPress software updates are installed automatically, although you have the ability to defer an update for 60 days. No automatic plugin or theme updates.
Plugin restrictions: There's a list of disallowed plugins, including some caching, backup and optimization plugins that can affect website performance.
Security measures: Websites are scanned for malware and other security issues, and the support team will take action if anything untoward is detected.
Post-hack clean-up services: If your site is hacked while hosted by WP Engine, they'll pay Sucuri to fix it.
Data center locations: Choice of server locations across the US, Canada, Europe, Asia and Australia through a partnership with Google Cloud Platform.
Staging sites: All plans include staging and development environments, alongside the production environment, with easy site transfer between the different environments through the user portal interface.
WordPress website migration: WP Engine have a free plugin that helps you to migrate your WordPress website to their hosting platform.
Visitor analytics: You can view data on your website traffic and allocation usage through the WP Engine user portal dashboard.
Uptime checks: The front end of your site is monitored for downtime, while the back end is also monitored to keep an eye on overall site health. Action is taken if an issue is detected.
Support channels: A 24/7 live chat channel is available on all plans, while 24/7 phone support is available on all plans except the entry-level Startup plan. The 24/7 ticket support is reserved for the top tier custom plans.
You can find more information on the plan comparison page of the WP Engine website.
WP Engine Customer User Experience
As you can see, WP Engine offer customers a huge range of useful features. However, it's also important that you're able to easily manage your account and make use of these features. So, with that in mind, let's take a look around the WP Engine user portal and the user experience of installing and managing a WordPress website.
INSTALLING WORDPRESS
Once you've logged in to your WP Engine portal, creating a new WordPress website is very straightforward. Simply click on the appropriate button and enter the name of the site. When creating the site, you have the option of starting with a fresh WordPress installation or copying from an existing site on your account.
If you're someone who regularly creates websites for your clients, then you may appreciate being able to quickly apply your starter website configuration of preferred themes and plugins to a new site.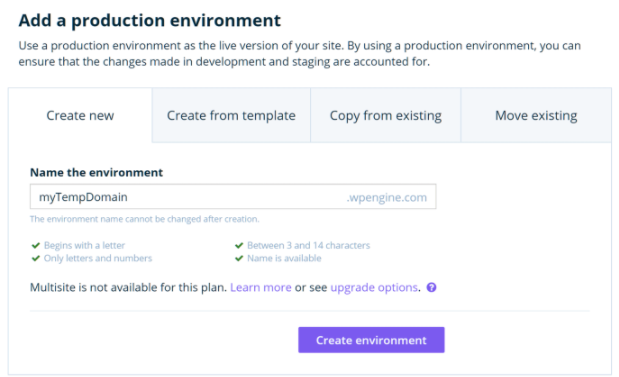 Although it only takes a few minutes to set up your site, once it's ready you'll receive an email from WP Engine. To begin with, you can use a WP Engine subdomain for the URL of your website. However, once you've chosen a domain for your website, you can easily connect it to your hosting account through the user portal.
INSTALLING A STUDIOPRESS WORDPRESS THEME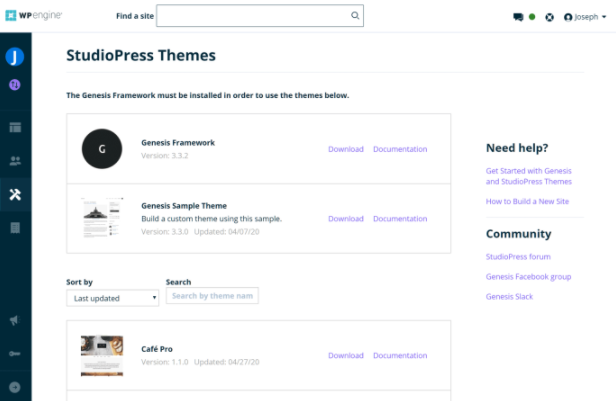 As mentioned, WP Engine customers now have access to more than 35 premium WordPress themes from StudioPress. If you want to use one of these themes on your website, simply download the file from your WP Engine user portal, then upload it to your WordPress Dashboard.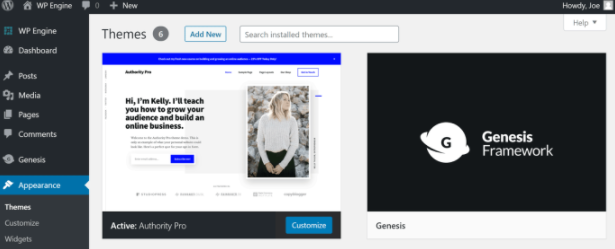 These themes come with detailed documentation to help you to set them up and launch your new website as quickly as possible.
WORDPRESS WEBSITE MANAGEMENT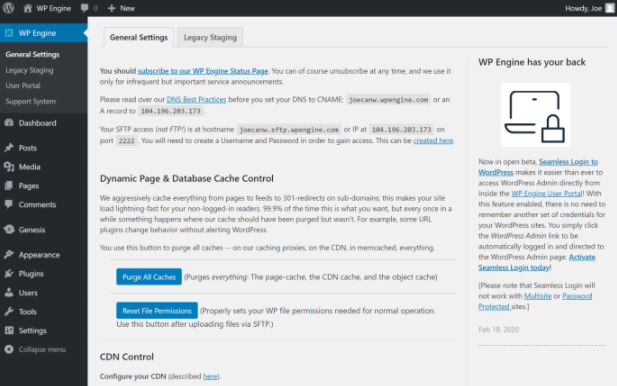 With WP Engine, WordPress installations come with an auto-enabled mandatory configuration plugin. Through the plugin area, you can clear the website cache and create a staging site. Links to your WP Engine user portal and support area are added to your WordPress Dashboard as well. Apart from that, most of the website management features are accessed through your account area on the WP Engine website.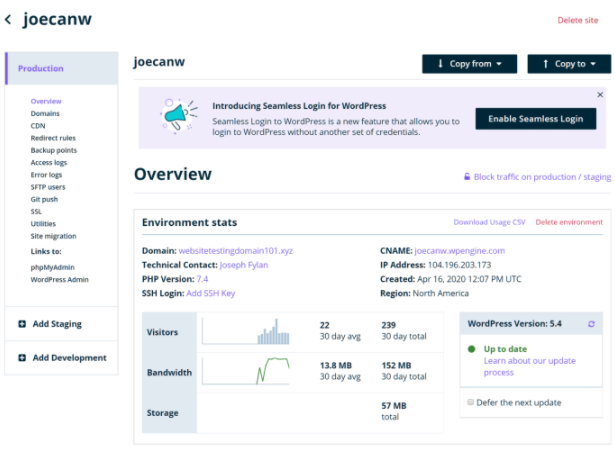 Inside your user portal, you can perform tasks such as enabling the CDN, creating SFTP user accounts, and activating the free Let's Encrypt SSL certificate. You can also choose to import your own SSL certificate or purchase one through WP Engine.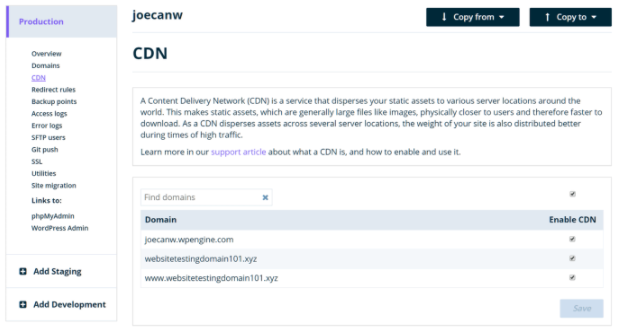 As mentioned, your website will be automatically backed up every day, but you can also create your own manual backups through the user portal. You have the option of password protecting your site through the portal — a feature that should come in handy when you're working on your site prior to launch.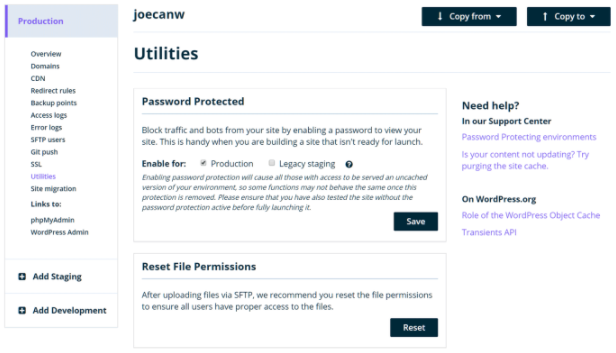 Overall, the user portal makes it easy to manage your site and access the features provided by WP Engine. Compared with low-cost shared hosting packages, which often use cPanel, the purpose-built control panel is much more user-friendly.
Web Hosting Performance
One of the main reasons to choose premium managed WordPress hosting over cheaper options is the potential decrease in website loading times, as well as the ability to accommodate more simultaneous visitors without the performance of your website suffering. Fewer instances of website downtime is another important factor.
WP Engine certainly promote their ability to deliver a high-performance hosting service, but is that really the case? Let's find out by looking at the loading times of our test websites hosted by WP Engine, as well as their ability to handle multiple visitors at the same time.
Loading Time Test Results
As all websites are different, we created two test sites for this review. The first built using a lightweight WordPress theme. While the second created with a feature-rich multipurpose theme. The two sites monitored using the Pingdom service. The loading times recorded every 30 minutes over a period of seven days. Here are the results…
SEVEN-DAY SPEED TEST RESULTS WITH A LIGHTWEIGHT THEME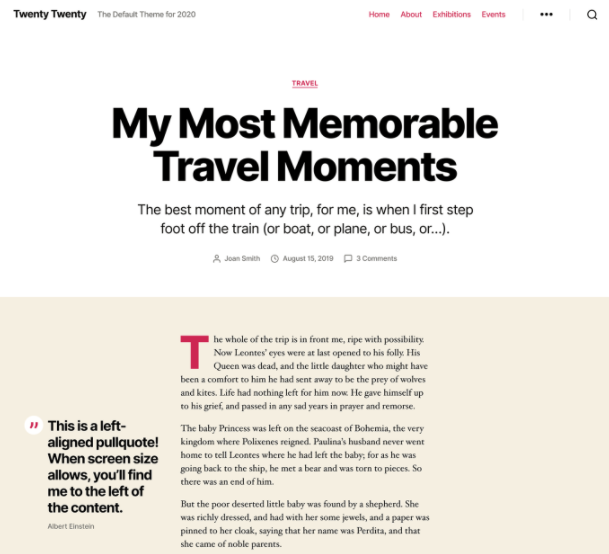 Twenty Twenty the theme that's currently activated on new WordPress installations by default. It's a lightweight option that's in use on more than a million WordPress websites, making it a good candidate for testing how quickly WP Engine can deliver a website using a basic theme.
If you plan on using this theme (or a similar option), here are the loading times you may experience with WP Engine: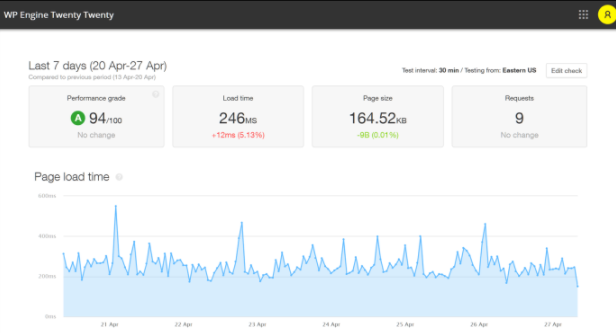 Our test site using the lightweight theme hosted by WP Engine was very fast. At around a quarter of a second, WP Engine was able to deliver impressive loading times that were much faster than the results from our comparison of the Bluehost, HostGator and SiteGround budget shared hosting plans, although these plans were much cheaper.
However, WP Engine also performed better than the test site in our Kinsta review, showing they can hold their own against other hosts in the same price bracket.
But not everyone wants to use a no-frills WordPress theme, so what happens if you choose a feature-packed multipurpose option for your website? Let's find out…
SEVEN-DAY SPEED TEST RESULTS WITH A MULTIPURPOSE THEME
When it comes to a good example of a multipurpose WordPress theme, Avada is hard to beat. With a long list of features and multiple website demos, it's not hard to see why it's so popular — racking up more than 590,000 sales to date. However, all of this functionality can have an impact on site speed, making Avada a good candidate for testing how well WP Engine can handle more heavyweight WordPress websites.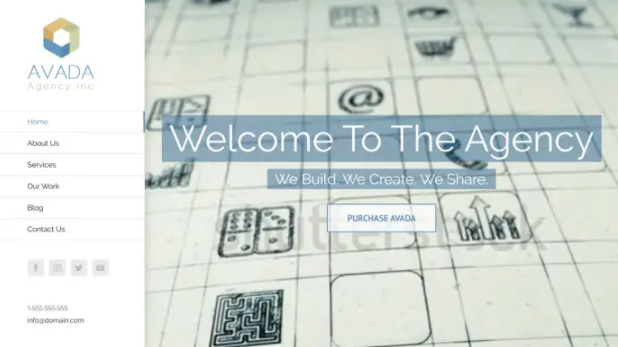 For this loading time test, the Avada theme installed, and its Agency website demo imported. Again, the loading times recorded by Pingdom at 30-minute intervals over a seven-day period.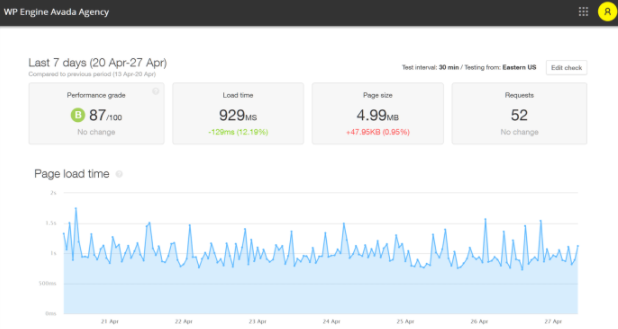 As you can see, the file size of the Avada theme test page was much larger than the page used for the Twenty Twenty theme test (165 KB compared to 4.99 MB). However, despite this, while the loading times slower compared with the site using the lightweight theme, they still very impressive.
In fact, the loading times of our test using the Avada theme hosted by WP Engine were faster than the times recorded in our Kinsta, WordPress.com Business plan, Pressable and Liquid Web reviews.
Not everyone who chooses a multipurpose theme such as Avada will use its demo sites exactly as they are. So, with that in mind, we also tested the loading times of a blog post published on our Avada test site.
For this test, the results were even better, with an average loading time of 776 milliseconds for the blog post, compared with the 929 milliseconds of the Agency homepage demo. Again, this was faster than the competition we've tested so far.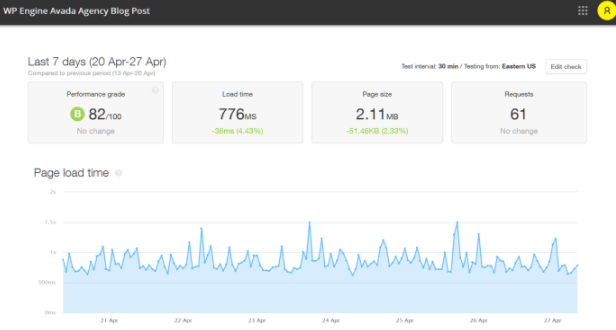 While a website using a heavyweight theme such as Avada won't load as quickly as one using a more minimal theme, you can still enjoy fast loading times if you host it with WP Engine.
SITE SPEED TEST RESULTS SUMMARY
As the loading times recorded by Pingdom show, WP Engine are certainly a fast web host. So, whether you want to use a basic theme, one of the options from StudioPress that come with all WP Engine plans, or a multipurpose theme, such as Avada, your website should load quickly if you choose this managed WordPress host.

Our test sites hosted in North America by WP Engine, and a US testing location chosen in Pingdom for the site speed monitoring. Although you can choose which data center your site hosted in, with options all around the world. The distance your visitors are from the site will have an impact on the loading times they experience. However, the use of a CDN (included with all WP Engine plans) can help to mitigate this to some degree.
LOAD IMPACT PERFORMANCE TESTING
Loading times are a useful way to judge the quality of a web host. But it's also important to get an idea of how your site will perform when multiple visitors are accessing it at the same time. For this part of our review, we used the Load Impact service to simulate. Multiple users simultaneously accessing the WP Engine-hosted WordPress website.
Over a five-minute testing period, the number of virtual users accessing the site increased from one until there were 199 virtual users visiting the site at the same time (represented by the green line on the graph below). The response time (represented by the blue line on the graph below). The site recorded by Load Impact at regular intervals to see. How well the site performed as the visitor numbers grew. Again, the multipurpose Avada theme used on the test website.

According to the Load Impact test results, up to 199 virtual users accessing. The site simultaneously did not have any impact on the performance of the site hosted by WP Engine. The results are available on the Load Impact website if you'd like to know more about the test.
Similar results recorded when testing the Kinsta managed WordPress hosting, with 250 simultaneous virtual users having no impact on the performance of the test site. However, our tests of the budget hosting from Bluehost, GoDaddy and HostGator revealed that all three had problems with more than 50 virtual users accessing the sites at the same time.
So, now we know how quickly the test websites load and what effect multiple virtual users accessing them at the same time, let's look at the results from our WP Engine downtime monitoring.
UPTIME TEST RESULTS
Downtime, no matter how small, can have a very negative impact on the effectiveness of your website. Periods of unavailability can make your website and, by extension. You, look unprofessional and untrustworthy, leading to missed opportunities and a negative reputation.

WP Engine aim to deliver an uptime of at least 99.95%. While our monitoring did detect four minutes of downtime for both of our test sites over eight days of testing. The uptime level never fell below the guaranteed 99.95%. If your site does experience less than the agreed upon uptime levels. You can apply for credit towards your monthly fees.
As you can see, WordPress websites hosted by WP Engine have the potential to load quickly and handle multiple simultaneous visitors with minimal downtime. But how much do you have to pay for this type of service?
Pricing Details
There three predefined WP Engine hosting plans to choose from, as well as a custom option that's suitable for sites receiving millions of visitors a month. Or those who need to host at least 25 WordPress websites on one account.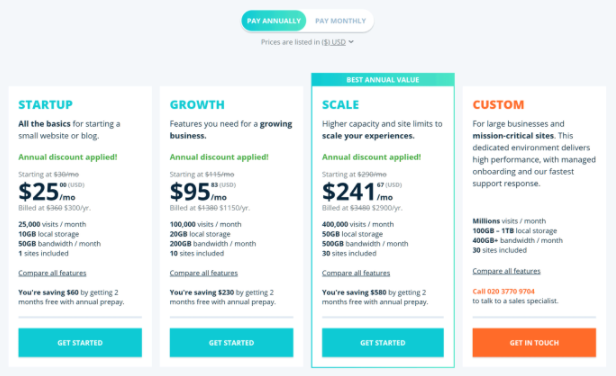 When it comes to the predefined WP Engine hosting plans, your options are as follows:
Startup: $25 a month for one WordPress website, up to 25K visits and 50 GB bandwidth per month, with 10 GB of storage.
Growth: $95.83 a month for ten WordPress websites, up to 100K visits and 200 GB bandwidth per month, with 20 GB of storage.
Scale: $241.67 a month for 30 WordPress websites, up to 400K visits and 500 GB bandwidth per month, with 50 GB of storage.
As mentioned earlier in this WP Engine review, all plans include access to the 35-plus WordPress themes from StudioPress and a free SSL certificate. You also have the option of installing more WordPress websites on your plan for an extra $20 a month per site. However, all of your sites will be sharing the resources available on your plan. Such as the bandwidth and storage allowances. There also other optional paid extras available, including the GeoTarget feature mentioned earlier, and support for WordPress Multisite.
Regardless of which of the predefined plans you choose, your WordPress websites will hosted on the same type of hardware. Therefore, whether you're paying $25 or $241 a month. You should be able to enjoy similar performance levels to our test sites. Obviously, your website configuration and traffic levels will play a large part in determining how well your sites perform.
For more information, you can view a full comparison of the WP Engine pricing plans on their website.
WHAT ABOUT OVERAGE FEES?
With each plan having limits on bandwidth and visitor numbers. You may be wondering what happens if you go over your allowance. If this does happen, customers on the Startup. Growth or Scale plans will incur an overage cost of $2 per thousand extra monthly visitors. You can find out more about these charges and how WP Engine count visitors on this page.
Final Thoughts
After carrying out testing, we feel it's fair to say that WP Engine deliver on their promise of offering a stable, high-performance WordPress hosting environment.
The extra features, such as automatic backups, security scanning and WordPress updates. Should take some of the stress out of managing a website. Also, having access to more than 35 high-quality premium WordPress themes helps to offset some of the cost of hosting your site with WP Engine.
The easy-to-use, developer-friendly features, such as the development and staging environments. As well as the ability to transfer sites to clients, are more reasons to consider WP Engine.
The only real drawback is the price of the plans. Although in the same region as many of the other leading managed WordPress hosting providers. Paying $25 a month or more isn't justifiable for every website. However, if your site generates revenue, is important to your business or is outgrowing your current host. It makes sense to add WP Engine to your shortlist. There's also a competitive 60-day money-back guarantee that lets you try them without risk.