Zenbusiness review: if you are an aspiring entrepreneur and wish to start a limited liability company, then zenbusiness is your soulmate. This texas-based company offers 360-degree services, from naming your llc to filing your llc annual reports. In my zenbusiness review, i will elaborate on why one should go for this service even when free llc formation services are available in the market.
When you start comparing the best llc services available, you will find services that provide zero-cost llc formation. Apart from the mandatory state filing fees, no other money is needed to form your llc. However, if you ask me, i would still choose zenbusiness as it provides all the mandatory services i need to form an llc at a very lower price. On the other side, some service providers, like inc authority and incfile, charge a little more to provide the same services. You can read my inc authority review on this site
"100% accuracy" and "transparency" are the main key features of zenbusiness. There is no hidden charges or delay in work, or compromise in service quality. Zenbusiness is a one-stop solution for you when forming an llc. This company's premium plan offers almost all the services, but it is lighter on your wallet than other competitors. A mid-sized to large llc will benefit from its premium plan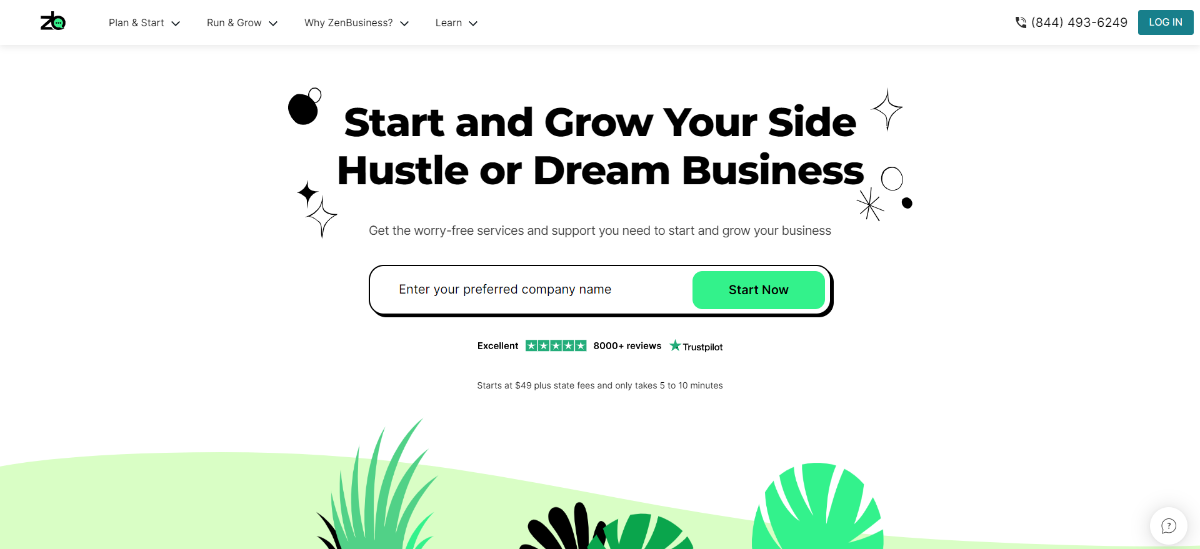 If i have to enlist the best llc services, then for me, zenbusiness will be number one. Read this review further to know why.
Zenbusiness review: a quick summary
The good
Low-cost formation services
100% accuracy in forming an llc
Hassle-free, fast & simple formation
User-friendly services
Finest, trustworthy & dedicated customer service
Exceptional customer reviews (trustpilot)
More than 2,00,000 new businesses formed
Personalized service
Customizable dashboard
Bbb accredited since 2019, with an "a+ rating"
The bad
No non-profit formation
Additional cost for obtaining an ein
Slower turnaround time (compared to other service providers)
Zenbusiness: about the company
Ross buhrdorf founded zenbusiness in 2015 in austin, texas. In november 2017, the company declared that it had raised $200 million. Even if the company is fairly new in the market, it still stands out with its consistency & services.
The core values of zenbusiness are "transparency, protection, & paying it forward." zenbusiness promises that they operate with transparency, honesty, & integrity. By the word protection, the company means that it helps your business to remain in good standing. What this company earns pays it forward – by awarding small business grants to prospective entrepreneurs. Zenbusiness boasts having formed over 2,00,000 businesses & receiving numerous positive reviews from users. You will see many online business formation services, but for me, zenbusiness surpasses them all.
With zenbusiness, you will get three plans: starter plan, pro plan, & premium plan. It is perhaps the only formation service company that offers the three important features in all its plans. Those three important features included in every plan are llc (limited liability company) formation, free registered agent & a free operating agreement draft.
Packages offered by zenbusiness
As mentioned above, zenbusiness offers three plans; starter plan, pro plan, & premium plan. Even the starter plan has essential services like free registered agents & free operating agreement templates.
Starter plan
$49 + additional state fees (tax deduction may apply)
The starter plan has all the essential services required to form an llc. It is a suitable plan for you if you are looking for a budget-friendly llc formation plan.
Name availability search
Prepare and file llc
Phone and email support
Online document access
Statement of organizer
Free accounting consultation
Virtual business guide
Google ads credit
Standard filing speed
Starter plan beneficieraies
The zenbusiness starter plan is beneficial for small businesses & startups. It is cost-effective & offers all the essential services, e.G., registered agent & operating agreement draft. With starter plan, you will have to pay an additional cost to get an employer identification number.
Pro plan
$199 + additional state fees (tax deduction may apply)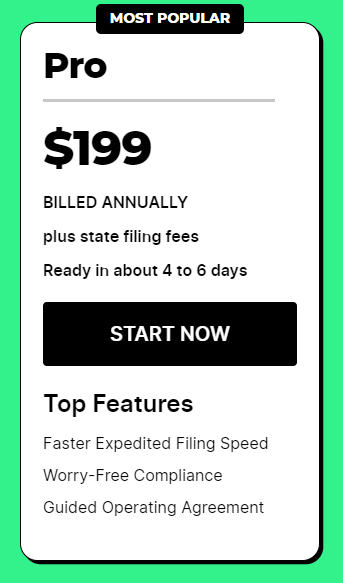 The pro plan offers some essential additional services along with all the main services offered in the starter plan. Also, in pro plan, it takes lesser time to form your llc.
The additional services included in the pro plan are,
Advertising consultant llc filing – zenbusiness does everything needed to file your application to become an advertising consultant business and communicates with the state until your llc is formalized.
Advertising consultant operating agreement
Advertising consultant annual compliance service – zenbusiness takes care of everything needed each year in your state to operate legally within your industry
Rush filing service
Pro plan beneficieraies
The pro plan is suitable for mid-sized businesses looking for an expedited process & filing of an employer id number. It is the best fit for companies; that may not be able to handle the compliance part on their own. Startups or small business owners may regret choosing this plan because they may be paying extra for services that are not required for their businesses.
Premium plan
$299 + additional state fees (tax deduction may apply)
The premium plan is the costliest plan offered by zenbusiness. Premium plan offers almost all the services related to the formation of an llc. In addition to the services mentioned in the first two plans, i.E., the starter plan & pro plan;
Premium pan has the following additional offerings,
Fastest /rush filing speed
Business website
Business domain name
Business email address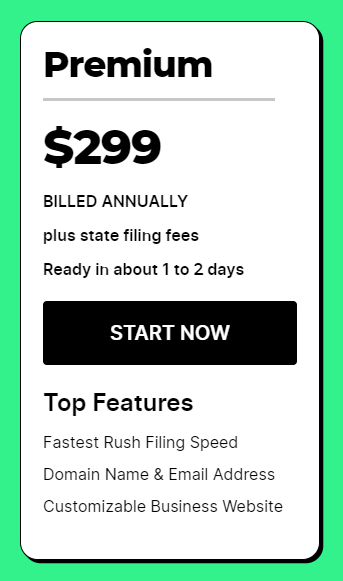 Premium plan beneficieraies
The premium plan is all-inclusive; hence, it is suitable for bigger businesses. These companies would require an agency to manage almost everything related to the formation, banking procedures, websites, email addresses, etc. So, the llcs who do not want these additional services should not opt for this plan.
Add-ons offered by zenbusiness
Along with the standard services offered within each plan, zenbusiness offers several other a-la-carte services. While some of these services are offered within the plans (at an additional cost), some services have to be bought individually. In short, for the services offered individually, you don't have to buy any plans. For further assistance on pricing & services, you can mail them or chat with the customer associate.
The individual services (services that you can buy without buying the plan) are,
Business name reservation- $50
Annual report filing- $100 + state fees
New york publication- $200 + publication cost
Filing amendment- $100 + state fees
Certificate of good standing- $100 + state fees
Business license report- $99
Business document templates library- $99
As mentioned above, zenbusiness offers services you can add to the plan; at checkout as an upgrade. Those services are
Expedite filing speed- $50
Rush filing speed- $100
Banking resolution template- $30
Employer id number- $99
Worry-free compliance- $199 yearly
Business website- $129 yearly
Business domain name- $25 yearly
Business domain name privacy- $10 yearly
Business email address- $25 yearly

Google ads credit- $150 value
Verdict: should you choose zenbusiness or not?\
Verdict: should you choose zenbusiness or not?Choosing zenbusiness service for your business depends on a few things. First, if you want to spend even a penny to form your llc if yes, then go for it. If not, go for the free llc service formation (incfile or inc authority). Now, the thing is, forming llc does not only mean filling your articles of organization; it includes other steps like an operating agreement, ein, registered agents, and so on. Get a full insight into how to form an llc from this site.
With zenbusiness, if you go for the starter plan, you will get your operating agreement draft, registered agent service, and other benefits. Besides, all the plans have free accounting consultations as well. So, for me, i would any day choose zenbusiness over any free llc service provider. If you can spend more to form your llc, then you can go for the premium plan that has everything under one roof. The premium plan has services like a website, rush filing speed, and domain name for free, which otherwise costs $225 extra in other plans.
For some, zenbusiness would not be a favorable choice. Because if you choose the started plan, you will have to carry the cost of obtaining ein. This additional cost can be waived if you directly apply to the irs. On the other hand, many people are skeptical about the hidden charges that the premium plan has, even though the company claims that it is "transparent" when it comes to its pricing.
When should you choose zenbusiness?
Zenbusiness is a kind of company anyone can choose over any competitors. Especially small and mid-sized businesses, start-ups, and businesses with a limited budget can go for zenbusiness. If you are a large business, then choosing their premium plan would be the best choice. As it offers everything, you need to form an llc at a reasonable price.
When should you not choose zenbusiness?
A very small llc looking for only the essential services may find it difficult to choose zenbusiness. The starter plan is definitely a more suitable option for them, but there is an additional cost even for the basic service like filing an ein. So, one can not rely upon the starter plan alone to cover up all the essential services.
Zenbusiness alternatives
Honestly speaking, the range of prices and services zenbusiness offers, there is no alternative to this company. However, you can still go for other options available in the market, explore their prices, and quality before you choose anything for your business. At the end of the day, it is your money that is going to be invested. To explore other competitors in the market take a look at the list of best llc services available.
Zenbusiness review: summary
Zenbusiness review: summaryzenbusiness is one company that takes care of everything when it comes to forming a business. Be it a corporation or a limited liability company, zen has everything for you. If you go and check the zenbusiness review on the internet, you will find almost all the positive customer reviews, especially trustpilot. Apart from the government fee, their own charges are comparatively lower than other registered agent service providers.
The pricing and the services it has are user-friendly. Their premium plan offers everything at a much more reasonable price compared to other services. Be it a registered agent service, bank, insurance, or any other llcs related services, zenbusiness is there to guide you through. My experience researching this company is incredible, as i have received impeccable customer reviews. Also, zenbusiness focuses on the privacy of their customer.
As users share sensitive information with the company, zen makes sure the information does not get breached. Their minimum package starts from $39 + state fee, which increases to $49 + state fee at the final bill page. This additional money is payable at the time of checkout. The customer would know about the money that is added to their final bill.
Some users complain that zenbusiness has hidden charges, and it shows on the final billing page. In that case, it is recommended to check your final bill page before you make any payments through a credit card or any other mode of payment. If you find you are wrongly billed, immediately talk to their customer portal or mail them to their official address. You can email them as well at their company email address. You will get an immediate response as their customer service is extremely swift. Llc formation is not an easy task as it involves preparing a filing document, filing a dba, obtaining an employer identification number, and other corporate services. Zen is there to serve you with everything at reasonable pricing.
How to use zenbusiness
You need to set up your account by providing all the necessary details. You can use the zenbusiness services for business name search, registered agent services, llc filing tax planning, etc.
When it comes to registering a business, the process can be quite easy with zenbusiness. Upon first accessing the website, you will need to enter your business name, state, and entity type. The site will ask you a series of questions to help you select the right package for your business. Once you've chosen what you want, you can manage your account online.
Zenbusiness's premium plan gives you access to everything you need to incorporate and run your company. This plan is ideal for start-ups and small businesses with limited budgets. It also provides helpful tools and resources that can help you start and run a business. You'll be able to register your company in just a few minutes.
The company has overwhelmingly positive user reviews on trustpilot, which indicates that its service is easy to use. Its negative reviews, on the other hand, are rare. Most users are satisfied with the service, but there are a few people who don't like the recurring fees. For these customers, zenbusiness offers a variety of solutions and is responsive to any complaints.
Moreover, the zenbusiness website is easy to use, allowing customers to monitor their order status and access the legal documents. The entire process can be completed within a single sitting. In addition, it has a friendly team of representatives who are always ready to answer any questions about state-specific requirements.
Pricing on zenbusiness is competitive. With a starter package that costs just $49, you can start your business with the worry free guarantee feature. Zenbusiness also offers a variety of add-on services for a fixed price, making it easy for any company with any budget. In addition, you can choose specific services based on your needs.
If you're not 100% satisfied with the service, you can cancel anytime without any charges. Just make sure to check your final invoice before paying. You can also reach out to zenbusiness customer support through the portal or through email. Zenbusiness also has corporate services available. If you are interested in learning more about zenbusiness, check out their faq page.
Zenbusiness offers three packages. Each of these packages includes additional services. You can customize your package to fit your business's needs. A starter package is a good choice for someone who has just started their business. The service can also help you establish a proper business structure. It's very affordable, and it provides excellent value during the first year.
Zenbusiness is also available with an optional pro package. These packages come with extra features, like tax assessment, banking resolution, and state filing. The pro package is $149 per year. It includes everything you need to start an llc, including state filings. It also has a worry-free guarantee, which means you don't need to worry about missing any compliance events.
FAQ
Is zenbusiness legit?
Yes, zenbusiness is a trustworthy & legitimate business, formed in 2015. It is bbb accredited since 2019 with an "a+ rating."
Is it essential to have a registered agent?
It is not mandatory to have a registered agent for your llc. But, it is highly advisable to have one for proper & timely filing of various documents & taxes so that you don't have to bear late fees or penalties.
How do i discontinue the zenbusiness service?
You can cancel your account with zenbusiness without any penalties or fees. You can chat with customer service during the prescribed hours.