If you remember my statements from a while ago, I was never, ever a fan of the dad sneaker trend. I thought the giant, cumbersome sneakers were a really terrible design and were incredibly unflattering, and I vowed never to jump on board the trend. However, that actually changed when I saw the Fila Disruptor! I never thought about them before, and it's a story where I ate my own words actually, because Adam had been really into the dad trainers and wanted the Balenciaga Triple S, so when we were in Urban Outfitters, I said to him, try on this pair of Fila's (having never seen them before) and see how terrible they look, then you wont need to buy any. When he put them on, they actually looked really cool, and since I can't lie, I had to eat my own words, ha ha. Since then, I've still grown fonder of them daily and I actually ended up getting them first instead of Adam. Funny how things work out isn't it? Since so many people seem to be a huge fan of the Fila Disruptor, I thought I would do a review for you and share all of my advice from sizing and comfort, to design etc. Let me know if you have any questions at all! Leave them in the comments below.
THE FILA DISRUPTOR SIZING
I'm starting with sizing first as I found this to be most awkward. I'm a standard UK 6-7 in shoes, and mostly a UK 7 when it comes to trainers/sneakers. I generally wear a 7 in Adidas and a 6.5 in Nike. I ordered these in a 40 (which is supposed to be a 7) and hoped for the best as it's the safest shoe size to go for. When they arrived, the label actually stated UK 6.5 and EU 40… This isn't correct at all, and of course they ended up being too small. So my advice here is order in the UK or US sizes and don't order the EU size as it's wrong. I actually had to size up to a UK 7.5 in the end, which is labeled as a 41, in order for them to fit as they were too small otherwise. So my advice here is size up by half a size or so from your normal trainer size as they do run quite small. I could wear the 7, but my toes were at the end and the fabric at the tip is quite stiff, so it was uncomfortable. So compared to Adidas I am wearing a half a size bigger, and compared to Nike, it's a full size bigger. I'm a 7 in New Balance too if that helps, so my Fila are a half a size up.
THE DESIGN
The Disruptor design is what attracted me to these shoes in the first place. Even though they are a 'dad sneaker' style shoe, they are actually really modern and cool. The spiked sole is really funky, and because they're a lot wider, they actually don't make your feet look too long. They are a massive shoe, don't get me wrong, compared to my normal trainers, they are huge, but they're stylish and cool with it instead of being cumbersome. Once you get used to the bulkiness, they're great. This particular design is the Fila Disruptor II and it's the one with the red and blue logo, and the Fila monogram around the laces. I loved these the most compared to the original plain ones as I thought they had more style and substance to them, they stood out more and looked less old fashioned. I have been eyeing up the pink pair though, those are so cute! The laces stay done up behind the tongue and you can't feel them, so that's another design plus. Overall, I think they have a wonderful design and out of all the trainers I've seen like this, from all designers, I like them the most.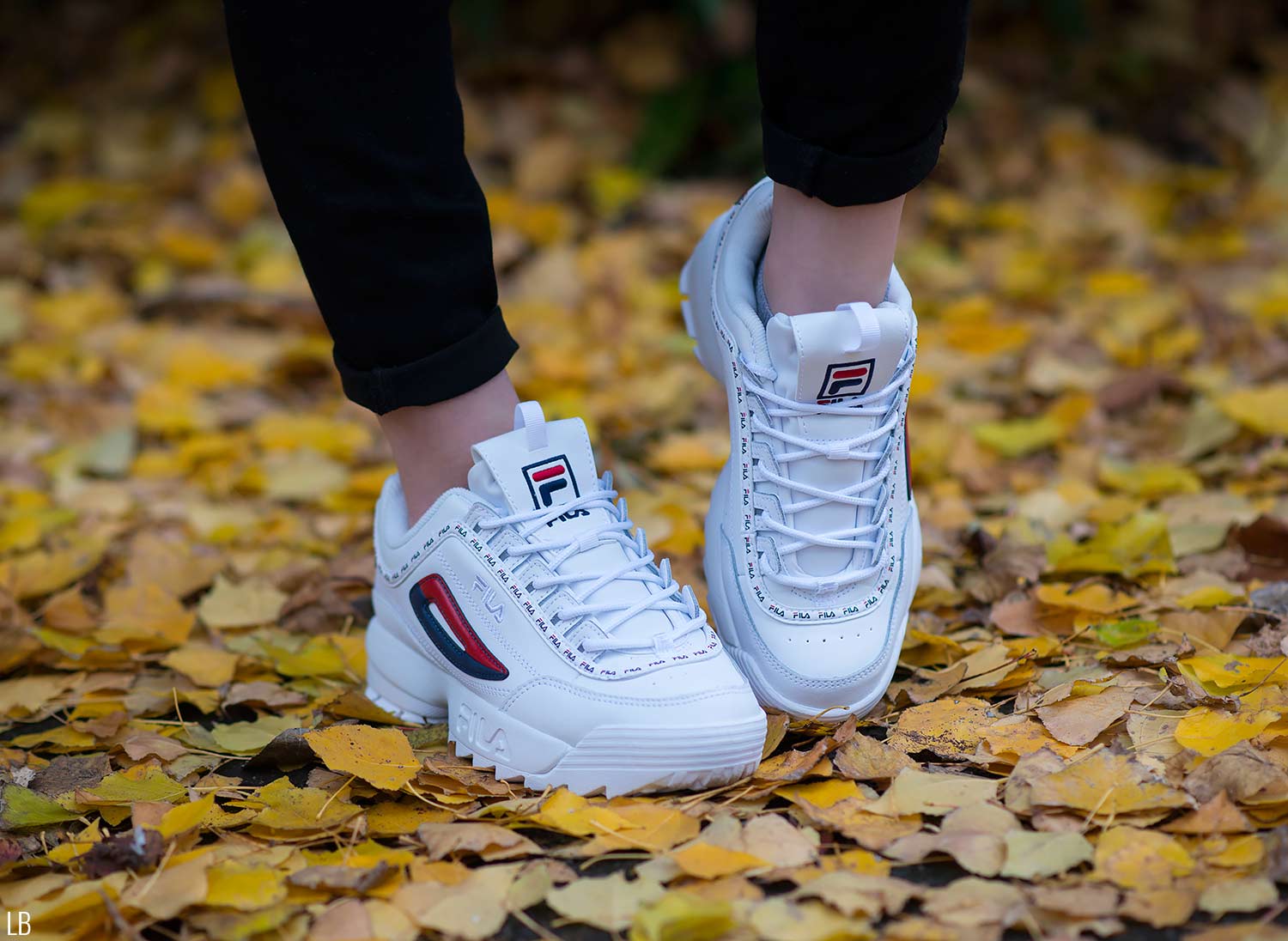 THE VERSATILITY
Regarding the versatility, I don't find them to go with everything, in fact, they really only go with super skinny jeans (that are really tight at the ankle) and leggings. I've seen girls wear them with pleated skirts though, and that looks cool, but as I'm quite short, it's not a good look for me. So I really only wear them with leggings or black skinny jeans as they need to have something to counteract the size of them. If you were to wear them with straight leg  jeans or baggy jeans, it wouldn't be good as it would be so bulky and very much a throwback to the 90's. So keep the proportions slim and it's fine! Balances the size of the shoes out perfectly.
THE QUALITY & PRICE
The quality isn't overly amazing, some of them do have little bits of glue left over, but for a Fila trainer, it is the quality you would expect. I can't really fault them as they're pretty sturdy and they are holding up well. Regarding the price, their retail over here is £80, and in the US it's $65, which I find a bit unfair, just like with Levi's, so they are an average trainer price. I did find them a bit expensive, but they always being included in sales as you can get them anywhere, and I know with the Black Friday discounts they were around £50, which is a bargain! I'm ok with the cost and quality of them, so I think they're a good investment if you love this trend, and much cheaper than all the designer options as well.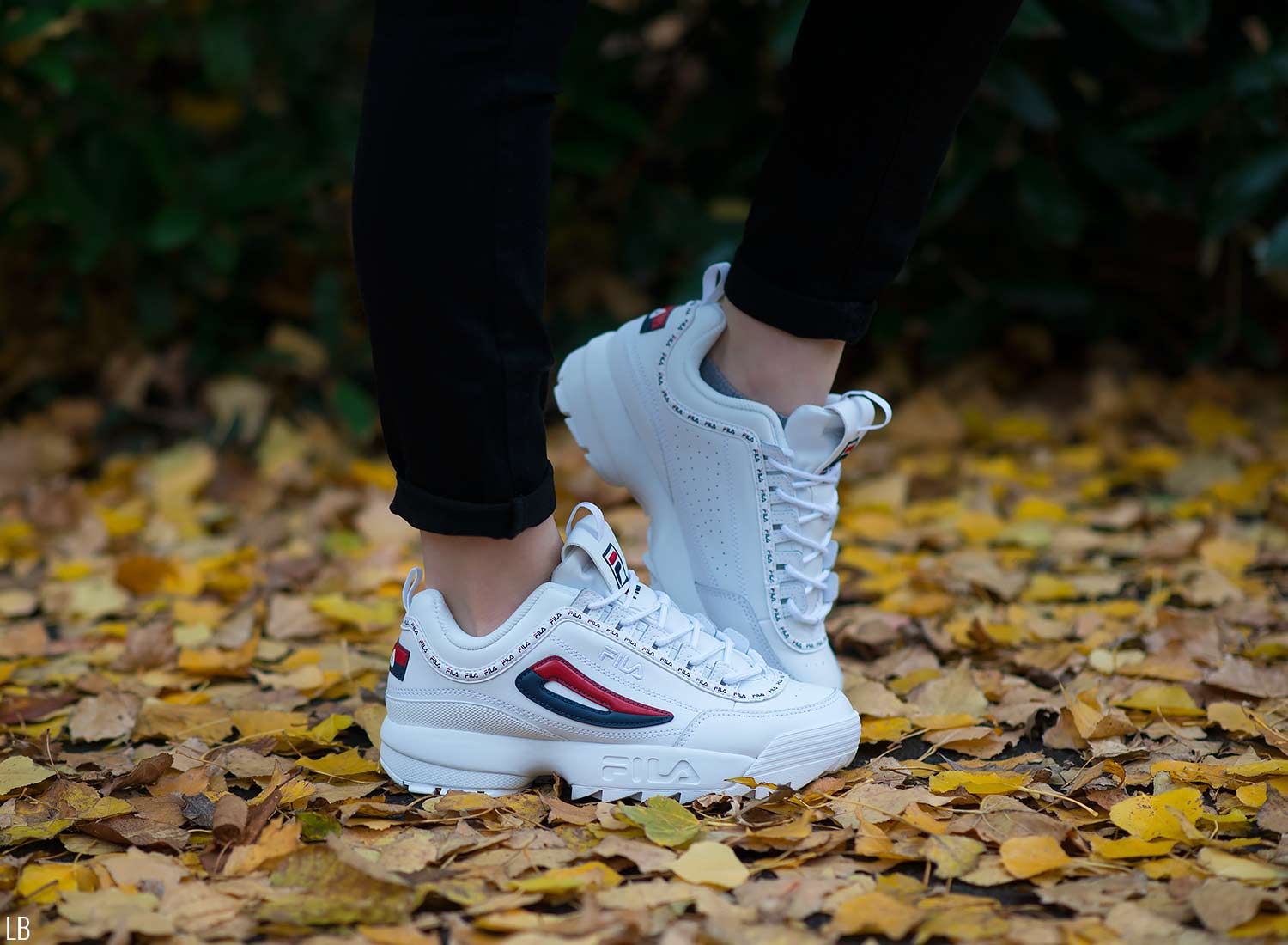 ARE THEY COMFORTABLE?
Yes! I was actually expecting them to be super comfortable and really spongey, since they're so padded and full of filling, but they weren't as soft as I initially imagined. That doesn't mean they're not comfy though as they are. They're secure on the foot, they are soft underfoot with the insole, and there's no rubbing or anything that causes blisters and I'm extremely sensitive when it comes to getting blisters as I get them from anything. That means, these are very easy to wear and very comfortable, as you would expect from a big shoe. Once you get used to the size of them (as they are so much wider than normal trainers) it's absolutely fine and I enjoy wearing mine out often.
MY OVERALL OPINION
Overall, I would probably give these Fila Disruptor II trainers a 7.5 out of 10. This is why I like doing reviews for you as I give my honest opinion. The design and style of the shoe is great, I love the different colour combinations they come in, and how cool they look, but obviously they don't have much longevity as probably in a year or so, they will be quite dated, but for a shoe right now (and the price) it's worth getting them as soon as possible so you can be on trend at the moment. They are very comfortable, and look great with leggings and skinny jeans. If I were to compare them to my Balenciaga Race Runners, I absolutely adore those so they win out, but for a trendy trainer, these are perfect as they are so hot right now! A lot of places have actually sold out and are on pre-order, but you can still get the Fila Disruptor in numerous colours in the links below. It's always helpful to me if you can purchase via my links as they are affiliated and help keep my website going, so I can continue producing content and doing reviews for you all. What's your opinion? Lorna xx.
Buy the Fila Disruptor online below at: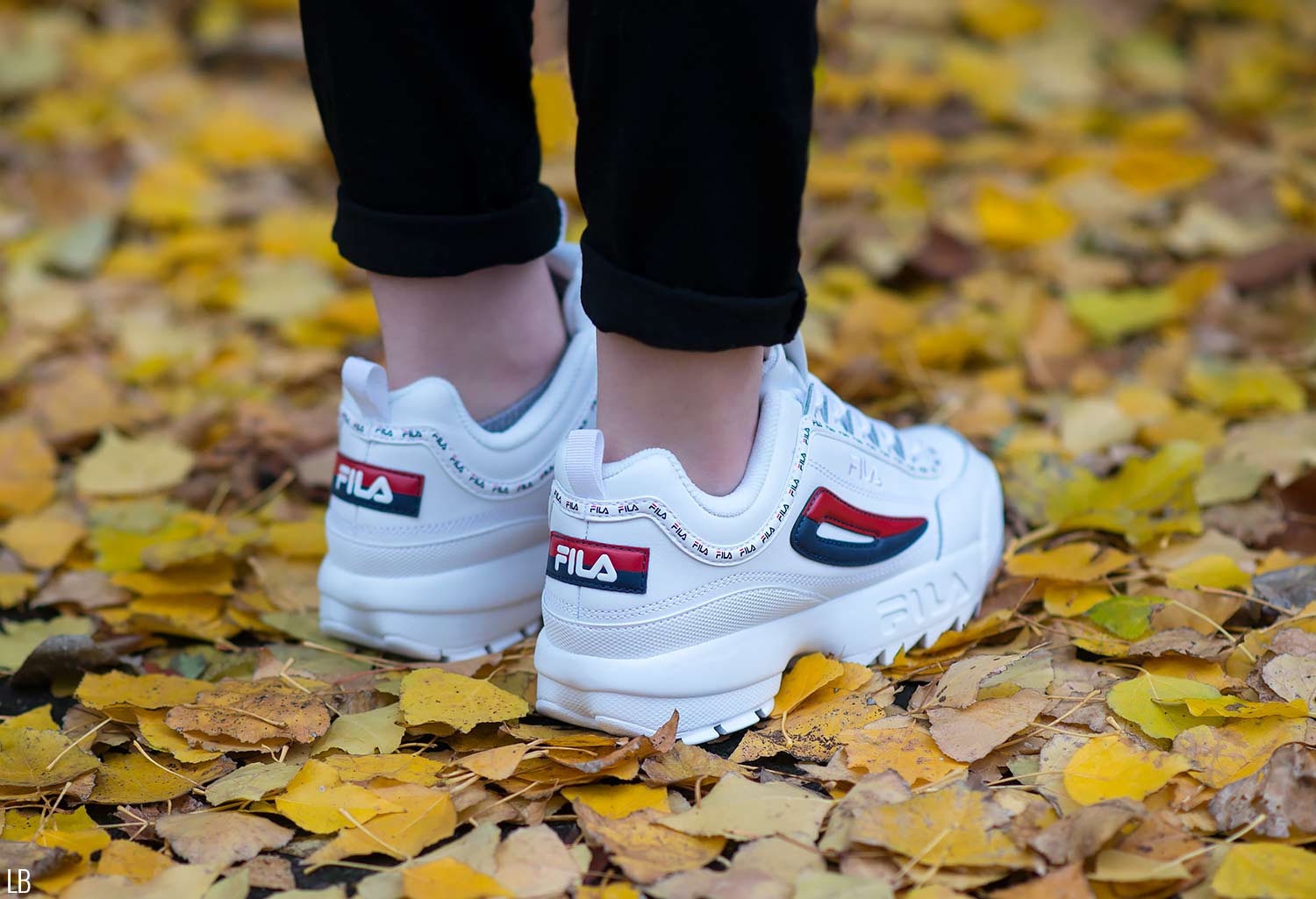 This post is not sponsored, it's written by myself based on my love of these shoes. It does contain affiliate links, so by choosing to buy from my links, you're helping to keep Raindrops of Sapphire running as a percentage of the sale goes to me, at no extra cost to you. Thank you!
Best Fila Running Shoes
If you are in the market for a killer pair of trainers that clock in at an affordable price point, Fila running shoes are worth checking out. They are composed of durable and responsive materials that are ideal for a wide variety of runners.
Whether your need something lightweight and snappy or something that provides a little extra cushioning and support, Fila has a design that will fit your specific needs. These trainers provide extra impact absorption with memory foam midsoles and also contour to the shape of your foot over time. Durable rubber outsoles and stylish uppers make this brand worth checking out.
In this guide, we have gathered some of our very favorite Fila running shoes to hit the trails in style.
Criteria Used for Evaluation
Comfort
Whether you're running distance or sprinting, comfort is key when choosing the right running shoe.
It's important to make sure that it provides the correct amount of support for your arch type and has the right level of cushioning for your feet.
Not all shoes are created equal, and the size, shape, and sensitivity of your feet will need to be taken into consideration. The type of running that you plan on doing is also a factor. If you're running over rough terrain, then you need to make sure that the shoes have the right soles and are thick enough to protect your feet from rocks.
If you plan on spending a lot of time outside, then you also need to make sure that they are properly waterproofed. Fortunately, Fila offers a huge line of products that come in all shapes and sizes to suit your needs.
Breathability
When we reviewed our list of top shoes, we looked at how breathable the materials were.
If the shoe doesn't provide good airflow, it can create a warm moist atmosphere that can breed foot fungus and lead to bacterial infections.
When feet sweat excessively, they can also have a tendency to crack and blister more often. Even an excellent pair of socks can't save you from a shoe that doesn't have breathable materials.
Fila uses good quality materials when constructing their shoes, and breathability is something they've definitely perfected.
Support
You need to make sure that every part of your body is properly supported.
Supportive shoes can prevent injury and actually improve your performance. Your feet are the most important part of your body when running and keeping them healthy is essential.
Knowing whether you have flat feet, high arches, or particularly sensitive soles can determine the level of cushioning and the interior shoe shape you'll need.
Fila understands this and targets the majority of these areas when creating comfortable running shoes.
Shock Absorption
Running can be an extremely high impact sport; this means that each time you take a step it sends a vibration or shock up to your body.
Without shoes that provide good shock absorbency, this can lead to injury. It's particularly hard on your knees and can even have an impact on your lower back. Bad shoes can end your running career in a matter of years.
Anytime that you participate in a high impact sport, you need to make sure that every part of your body is properly supported. This includes excellent shock-absorbent shoes.
The more shock that can be absorbed by the shoes, the less shock that has to be absorbed by your body. Fila does this by using layers of cushioning and air to help offset some of the impact.
1. Electro Volt 2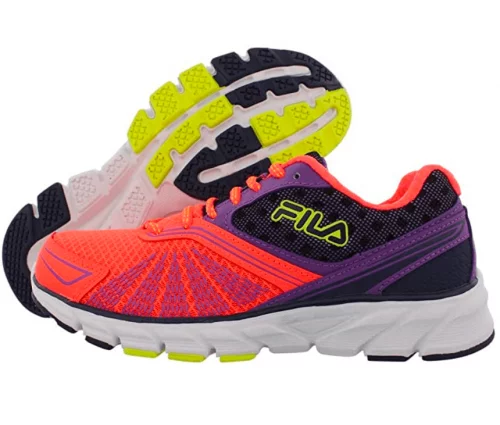 If you are looking for something to bring a little pop of color to your runs, the Electro Volt 2 is worth checking out. This colorful design is packed with supportive features that are ideal for those that need a little extra stability and support on their runs. Previous users feel that this design is incredibly comfortable and lightweight as well. Plus, you can't beat that price tag!
The very first thing that we noticed about this option is found in the outsole. The durable rubber design is incredibly grippy, and ideal for running on slick surfaces such as wet sidewalks. It also boasts modest lugs that are easily able to transition from the trails to the gym without missing a beat.
Users love that this design boasts a breathable upper that is composed of a blend of mesh materials with synthetic overlays. This allows for hot air and moisture to move up at away from your foot while the overlays promote excellent lockdown. The memory foam midsole is soft and squishy, and contours to your foot as you wear it.
This colorful design is a great option for running that needs something that a little more support that is able to transition from trails to sidewalks. We love that it utilizes smart stability features that are great for overpronators and clocks in at a price point that won't break the bank.
2. Diskize 2
If you are looking for a versatile shoe that you can wear to a Zumba class, and then take it for a run around the block, the Diskize 2 is a great choice. It provides flexibility and movement while still offering excellent stability features to keep your feet comfortable and protected.
The very first thing that we noticed about this design is that it has a breathable upper that is composed of a blend of mesh materials and synthetic overlays. The mesh helps to keep your feet cool and dry, while the well-placed overlays help to promote lockdown and provide a modest level of stability as you train.
This design also boasts a modest layer of memory foam that contours to the shape of your foot as it starts to heat up by your body heat. While the midsole is springy and supportive, it offers a good deal of flexibility, which makes the Diskize 2 incredibly versatile for a wide variety of workouts.
If you are looking for something that is lightweight and supportive, this is a great choice. It lives somewhere between a minimalistic trainer and a stability shoe. Making it a great option for a wide variety of workouts. Plus, it clocks in at a super affordable price point that won't break the bank.
3. Primeforce 4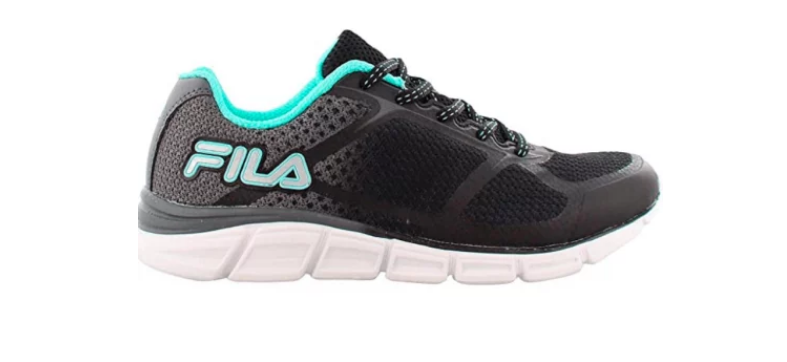 If you need something that is lightweight and made for speed, the Primeforce 4 is a great option. What we love most about this design is that it is composed of lightweight and breathable materials to keep you light on your feet, and a flexible midsole and bouncy rubber outsole provide excellent energy feedback for those long runs as well.
What makes this design ideal for speed is the construction of the upper. Unlike some of the other stiff and bulkier uppers in the Fila lineup, the build of the Primeforce 4 is very minimalist. It boasts minimal padding along the collar and tongue and made from lightweight mesh materials that contour the shape of your foot.
As with many of the designs in the FIla lineup, the Primeforce 4 provides a modest layer of EVA foam in the midsole to add an extra spring to your step. The midsole of this design is slightly more flexible than most, which is why it is ideal for HIIT and cross-training.
If you in the market for something that composed of lightweight materials that won't hold you back when pushing for speed, the Primeforce 4 an excellent choice. We love that it composed of lightweight and flexible materials that will keep your movements like and snappy, while still offering a cushioned memory foam midsole.
Fila Shadow Sprinter 4 is a great addition as it offers tons of comfort with the EVA and memory foam as well. It also comes in a classic look with upgraded mesh linings and synthetic materials. With an EVA outer sole combined with memory foam insoles, you get a soft ride with a form-fitting customized feel. Add some mesh sides and you get a cool breezy shoe that feels amazing.
Another classic lace-up option makes this a simple customized fitting shoe. You'll feel locked in and ready to go. The synthetic leathers and upper textile mesh make these super durable while keeping them light.
The memory foam in these running shoes adds tons of cushioning without adding weight and makes the Shadow Sprinter 4 ideal for longer runs. The textile mesh doesn't just allow air to push through as you run, it allows for more mobility. More mobility means less stress on the actual shoe and your foot.
These are a great combo of updated material, style, and comfort without the heavy-duty price tag. Fila always keeps it real with the value and the Shadow Sprinter 4's are no different.
5. Fraction 5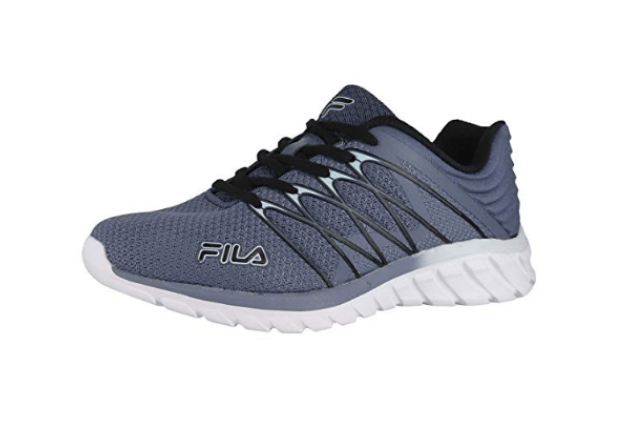 Lightweight and breathable, Fila Fraction 5 offers Coolmax technology and synthetic mesh panels on the uppers. These also have a fabric lining that hugs your foot without adding pressure or causing blisters. These don't just offer comfort but stability as well. Fraction 5 is a great option for those that need added support.
That Coolmax supports and molds to the foot. Lining the whole footbed, the memory foam technology continuously supports all points of the foot as if forms and absorbs. You also get added flexibility with the rubber outsole.
Don't fooled the fashion-forward looks. Fraction 5 isn't just aesthetic, they built to last. Stabilizing the foot while still offering tons of flexibility to destress the shoe. With the added cooling technology, the sweat doesn't have a chance to get in the shoe.
This option is durable, cooling and affordable. They run a bit pricer than other Filas but they still don't compare to other brands. This is just one reason we are huge fans of Fila, they do it right and they do it at the right price bringing in quality.
6. Fila At Peake 21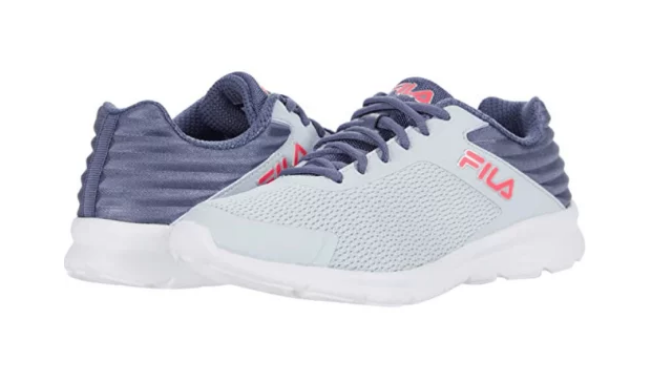 As it's a trail running shoe, the traction is better than in Fila's road models. Thanks to the thicker outsole, the shock absorption is much better. The shoes also provide a very good grip, enabling running on more uneven terrains.
Lace-up closures add to stability and provide a tight fit. The cushioned insole, along with a padded collar and tongue, provides a very smooth ride so you feel more comfortable. There are special air mesh panels that grant breathability and ventilation to the foot.
This is definitely a durable shoe as it must be for trail running. The outsole seems to be more sturdy and less prone to damages.
The cost of the shoes is mid range. For trail shoes, this is still a bargain. They may not be as durable as the more expensive options from other brands, but again, considering the price, it's still a great buy.
7. Headway 6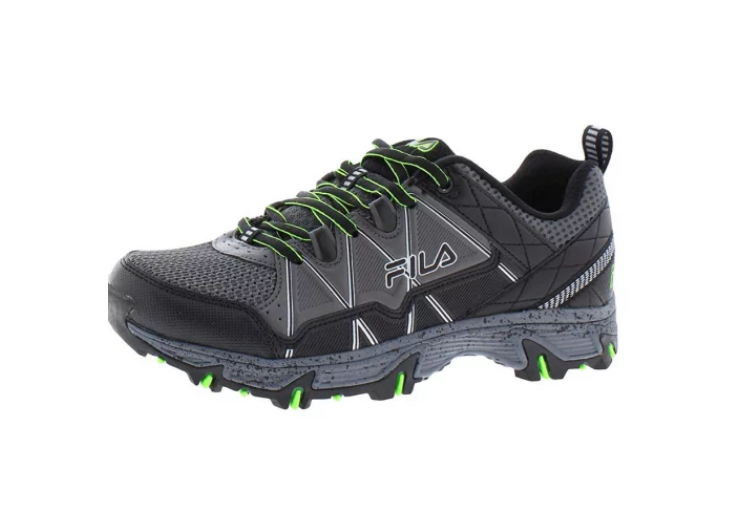 Most users love the comfort of the Headway 6 with its EVA cushioned midsole. It's well ventilated allowing your feet to breathe easily. It also comes with some reflective components that will allow others to see you more easily while you run.
The perfect shaft measurement from the arch is 2.1 inches. The overall material is thick synthetic textile and high-quality rubber sheets. The removable insole is something that you will surely love.
The outsole made of 'non-marking' rubber while the midsole designed with shock-absorbing EVA technology. The upper of this running shoe holds up well and is quite durable and made with quality materials. The outsole, on the other hand, not expected to last as long as other running shoes, but perhaps that's due to its extreme affordability.
The most praised thing about this shoe is its super affordable price range and the variety of the price range is indeed so wide that you can remain assured that you won't be emptying the bank here.
8. Vitality 8
Fila Vitality 8 is 100% synthetic and offers a solid rubber sole to absorb running impact. Lined with an EVA midsole, Vitality V offers support and comfort throughout the entire body of the shoe. A traditional lacing design keeps the foot secure and comfortable, allowing for a custom, classic fit.
The rubber we mentioned adds a bounce and helps absorb impact whether you're a heel striker or have a more forward stride. This is also accompanied by small lugs for even better traction.
Vitality 8's outer part made of synthetic leather and nylon, which helps the shoe breathe and bend to the foot's movement. The no marking rubber is also strong. This makes these a great option for milder trails.
These are sporty, comfortable and that EVA foam midsole cradles the foot with each step, making this a great option for anyone looking for a simple yet effective running shoe.
9. Sportland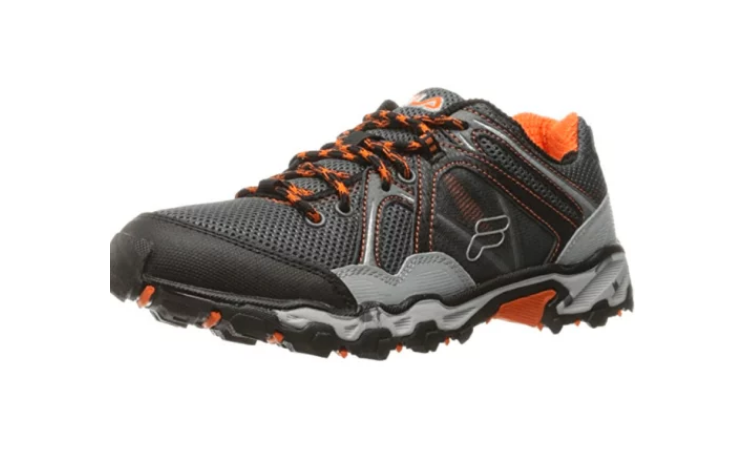 Looking for something that is a little more classic? This timeless design is a great option for those that are hard on their shoes. It boasts heightened durability when compared to some of the other designs that we have seen, and it is perfect for long distances or runners that are carrying a bit of extra weight (or that simply have a heavy gait).
What makes Sportland unique that it built a little bit different when compared to many of the designs on our list. The first difference is that the upper composed of 100 percent leather. While this many run a little hotter than mesh uppers, it is insanely durable and really helps to lock your foot in place as you run. It also helps with overpronation as well.
The midsole made of ethylene-vinyl acetate that insanely durable and provides an extra spring in your step. As with all Fila designs, it also provides a modest memory foam insert for a little extra cushioning and a responsive feel. A thick rubber outsole provides the extra bounce, and boasts modest lugs that are great for the gym or sidewalks, but not ideal for trails.
If you are in the market for something that built like a tank, Sportland a great choice. It isn't as lightweight or breathable as some of the other designs that we have seen, but it is a great choice for heavier runners or those that need something that can tackle long distances. Plus, it comes in at a price point that won't break the bank.
10. Capture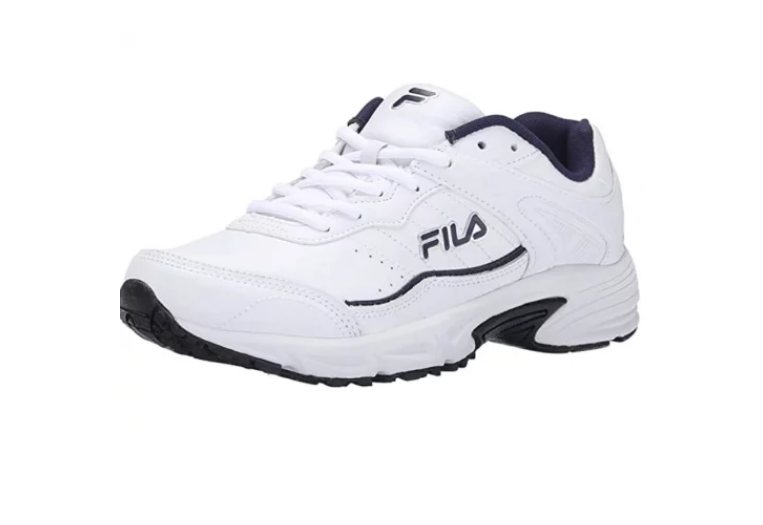 With a ton of support and neutral colors, this option will surely capture your attention. The Capture model running shoe comes with a padded tongue and collar for comfort. The footbed also padded for a comfortable run. Its Dynamic Landing System adds stability and support and reduces shock impact with each and every step you take!
If the comfort of these shoes doesn't capture your attention and make you fall in love then you are one hard runner to please.
The upper of this running shoe made with quality materials and is quite durable, while the outsole does not seem to last as long as other running shoes. With this said, you should be aware that the price of Fila running shoes is very affordable and on the cheaper side of the running shoe price market. This means you get quality and durability while also having a price tag you can afford if you do need a backup or replacement pair.
This option is perfect for all runners and will serve you well no matter what kind of running you do or the terrain you choose.