About
It was the summer of love, Elvis married Pricilla, the Beatles released Sgt. Pepper's and in 1967 the original Melbourne homeware store, Minimax, first opened the doors. Whilst Melbourne is inundated with them today, Minimax was the first to create the point of difference of presenting its curated product range with a style and service that gave inspiration to its generation of customers.
Minimax has always lived up to its tagline of providing 'Entertaining Ideas for your life'. It has played a part in some of Melbourne's best parties. If you live near this village and think back to all those dinner parties, every chink of a champagne glass, every platter you have picked up a chicken sandwich from, chances are they were bought from here. Our products have been there with our customers for the most important moments of their lives, so it seemed appropriate to raise a glass on this special occasion.
Ray and Jean Harrison originally set up a small local hardware store selling such items as hose fittings and light bulbs, the Minimax name was even a play on the brand name of the dominate Hardware chain of the day, of the store being a Mini 'McEwans'.
1967 was a time of change for Australia, we were shaking off our colonial past and maturing to form our own identity, confidence and style. Other cultural institutions such as The National Gallery of Victoria of which Minimax is a strong supporter also opened that year.
And whilst the opening both the NGV and the Minimax store were significant moments for Melbourne in 1967, they were probably overshadowed in a cultural sense by the Richmond Tigers winning the Grand Final – something that we also celebrate 50 years later.
Since opening, Minimax has done and continues to do what any good retail business must do and that is evolve. Over the journey, 2 generations of the Harrison family moved with the times and transformed that little hardware store to the stores we see today. They recognised that there was a better business to be had appealing to the real decision makers of the district, the well-heeled woman with a keen eye for style and quality. As Minimax remains a great family business today with the Blythe family at the helm it continues to grow and take its keen sense of style to other states across the country.
Minimax transformed its business by ranging a collection of European sourced kitchenware and homewares, introducing some of the top brands into the Australian market and elevating the Minimax Brand to be Australia's premiere homewares retailer. It still sets the standard for store presentation and customer service, something we have become famous for and something we are very proud of.
1 . Global Teikoku Knife Block 5 Piece Set (aka Ikasu V)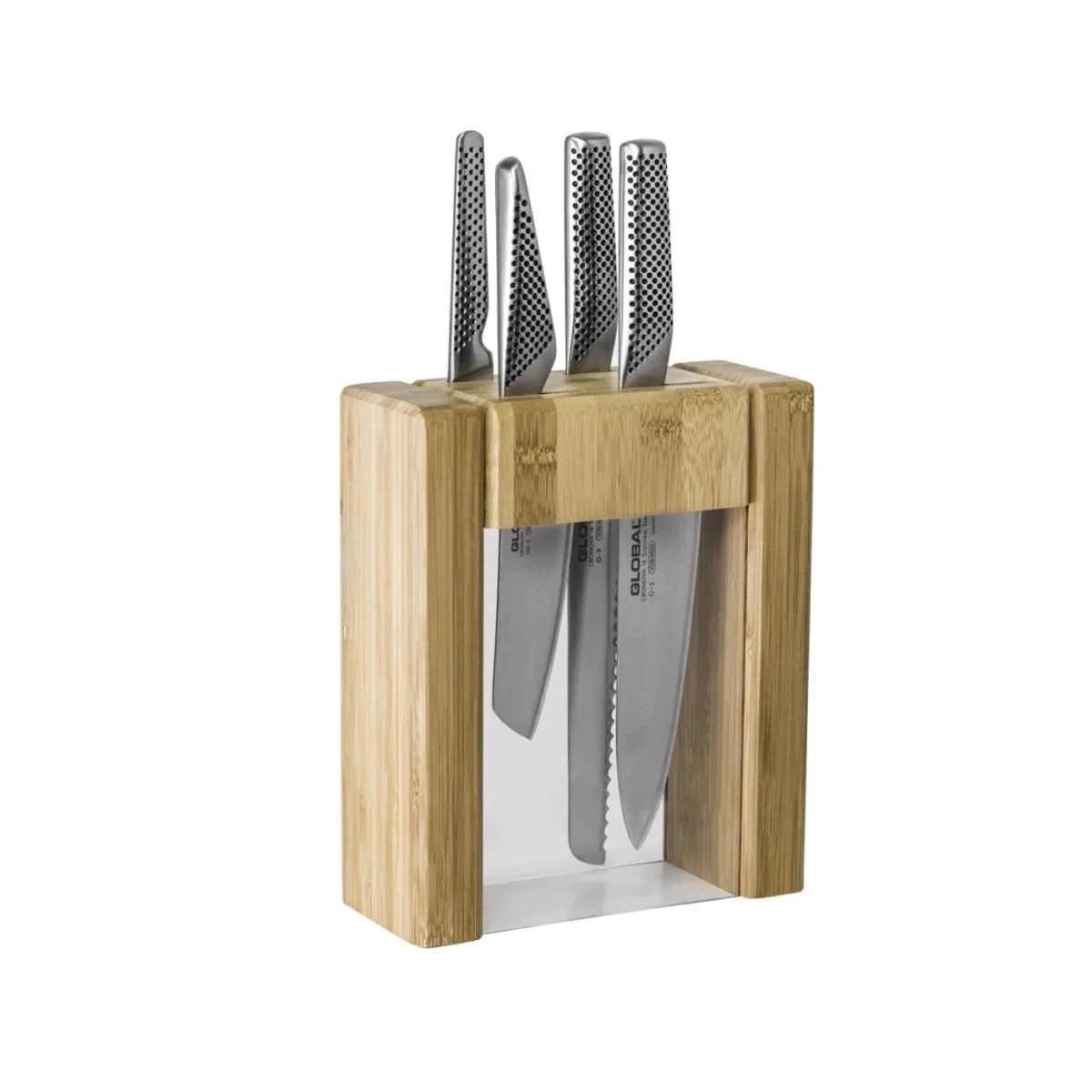 The Global Teikoku Knife Block Set 5 Pieces (aka Ikasu V) is the perfect way to store and display your beautiful Global knives. This set includes four of Global's range, including a paring knife, Santoku knife, chef's knife, and bread knife. The stylish bamboo storage block features clear acrylic windows, allowing you to safely store your knives while still enjoying the sight of their beautiful blades. This set is a must-have for any kitchen and makes a great gift for any home cook or chef.
These superior knives are made in Japan from Cromova 18 stainless steel, specially developed by Global as it holds a razor-sharp edge and resists rust, stains, and corrosion.
Carefully weighted to ensure perfect balance for comfort and safety in the hand, the knives also feature smooth contours and seamless construction to eliminate trapped food and grime offering the ultimate in hygiene.
The blades are ice tempered and hardened to Rockwell C56-C58 and are sharpened to an acute 15-degree cutting edge to provide unsurpassed performance and superior edge retention.
This set includes:
1x 11cm Utility Knife
1x 14cm Vegetable Knife
1x 20cm Cooks Knife
1x 22cm Bread Knife
1 x Bamboo Storage Block
Hand wash only.
The GSF Series is made up of smaller knives with solid handles. Perfect for peeling, paring and chopping those smaller food items, the GSF range will have something for you.
CROMOVA 18 stainless steel blade, edge retains razor sharpness and resists rust, stains and corrosion.
Acute 15 Degree Cutting Edge, provides unsurpassed performance and superior edge retention.
Ice tempered and hardened to Rockwell C56-C58.
Smooth contours and seamless construction eliminate food and dirt traps, offering the ultimate in safety and hygiene.
Perfectly balanced handles precisely calibrated to offset the weight of the blade.
Lifetime warranty against manufacturing defects.
Made in Japan
Available from Minimax online and Minimax in-store.
2 . Wusthof Silverpoint Cooks Knife 18cm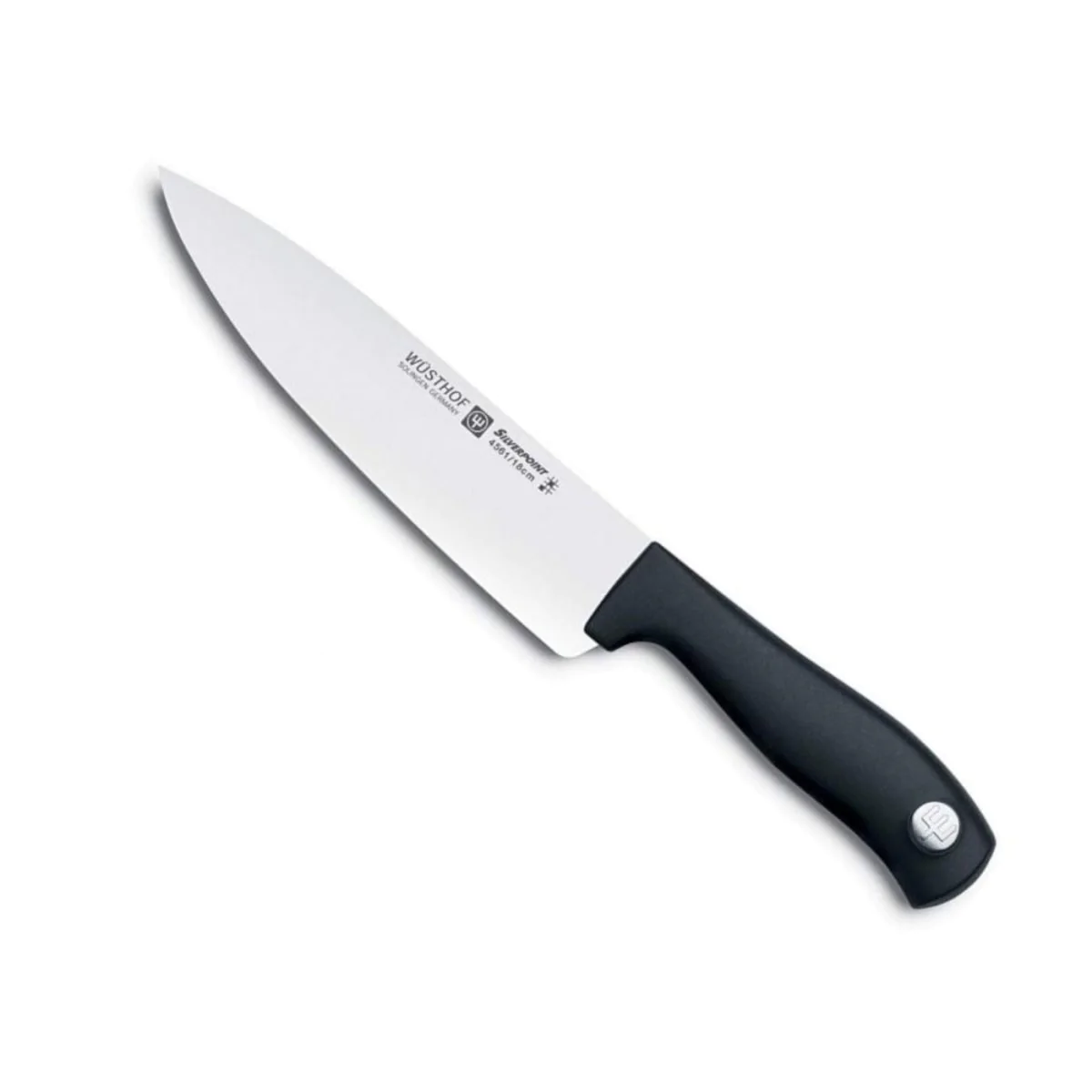 The all-rounder in the kitchen: the most important piece of basic equipment for every hobby and professional chef, the Cook's Knife is suitable for most tasks in the kitchen, for the widest variety of cutting and gripping techniques, it makes food prepping a pleasure.
Specifications:
Blade length: 18 cm
Blade width: 4 cm
Can be used for: Head of lettuce , Meat , Vegetables , Fish , Herbs , Fruit , Cabbage
Handle length: 13,2 cm
Handle material: Synthetic handle
Hardness grade: 56 HRC
Manufacturing method: laser-cut
Product type: Cook's Knives
Series: Silverpoint
Type of use: Cutting , Chopping , Mincing
3 . Furi Pro Diamond Fingers Compact Knife Sharpener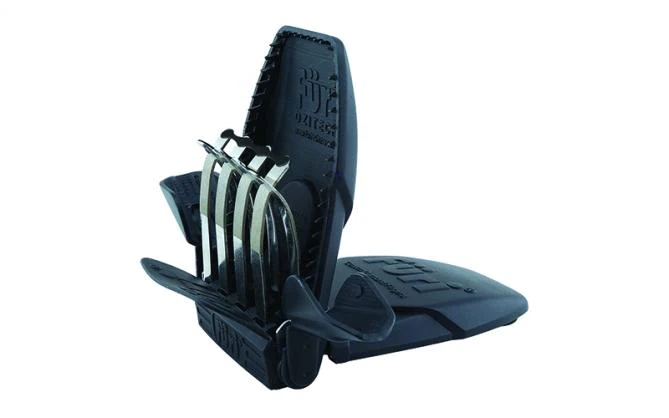 Refresh your blades back to their original razor-edge sharpness with the Pro Diamond Fingers™ Compact Knife Sharpener.
Honing the blade edge back to the ideal 20 degree angle, it's quick and easy to use making it perfect for the home.
Established in 1996 in Brisbane, the Füri story is one of innovation and rebelling against the status quo.
Discarding the common method that was previously used for hundreds of years, Füri applied a scientific approach to the art of knife making for a deeper understanding of materials, cutting edges and handle construction. The end result was the creation of the high-performing Füri knife as we know it today.
Füri's innovative Australian design elements and superior grade Japanese stainless-steel result in a knife chosen by chefs and cooks around the world.
4 . Joseph Joseph Folio Board Set Rose Gold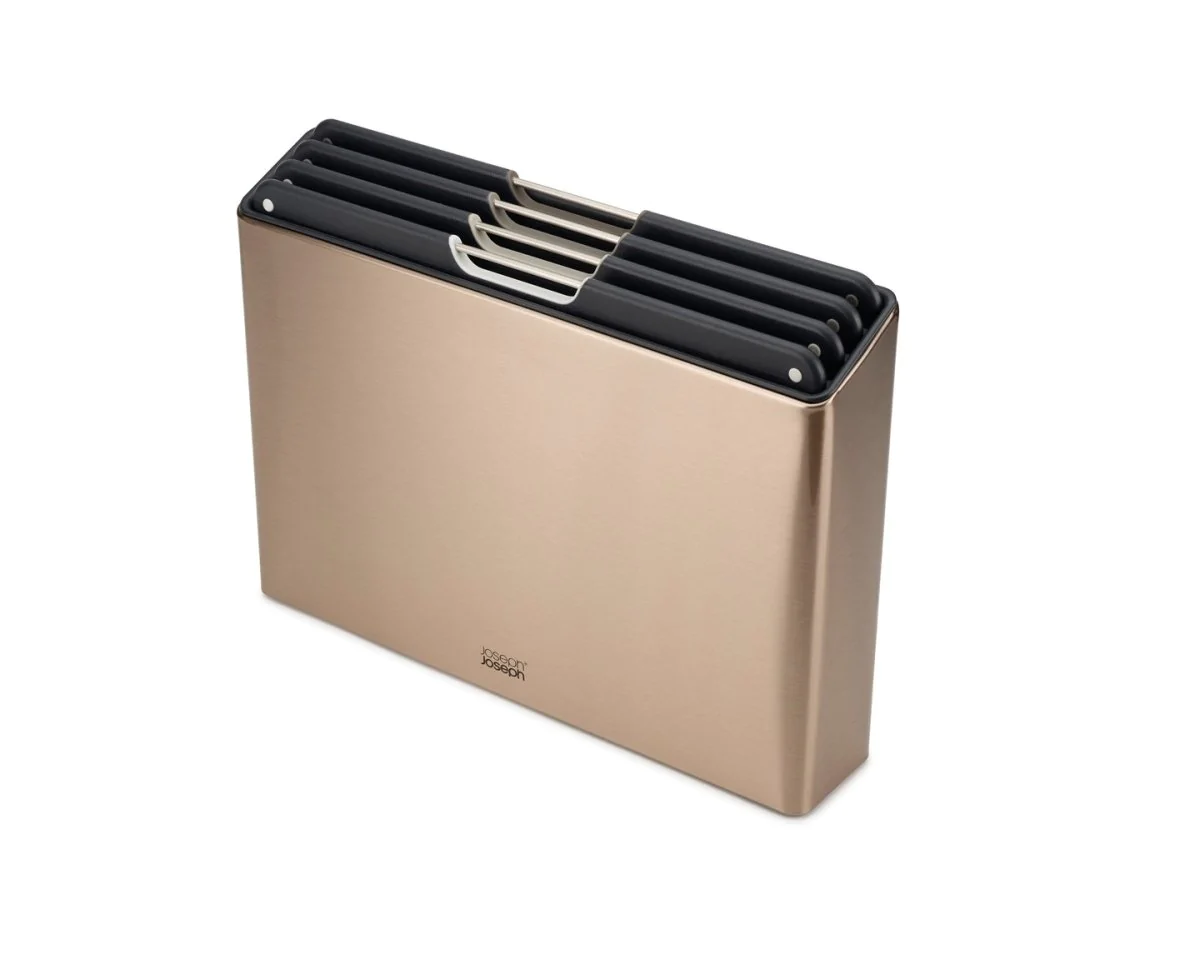 This stunning set features a slimline case that holds four large chopping boards and makes a real statement on your worktop.
Colour-coded chopping boards with non-slip feet
Knife-friendly, textured cutting surfaces
Stainless-steel bars for easy board selection
Fingerprint-proof stainless-steel case
Stand holds boards apart from each other so air can circulate
Board sizes: 24 x 34cm (9½ x 13½ inches)
5 . OXO Good Grips Poultry Shears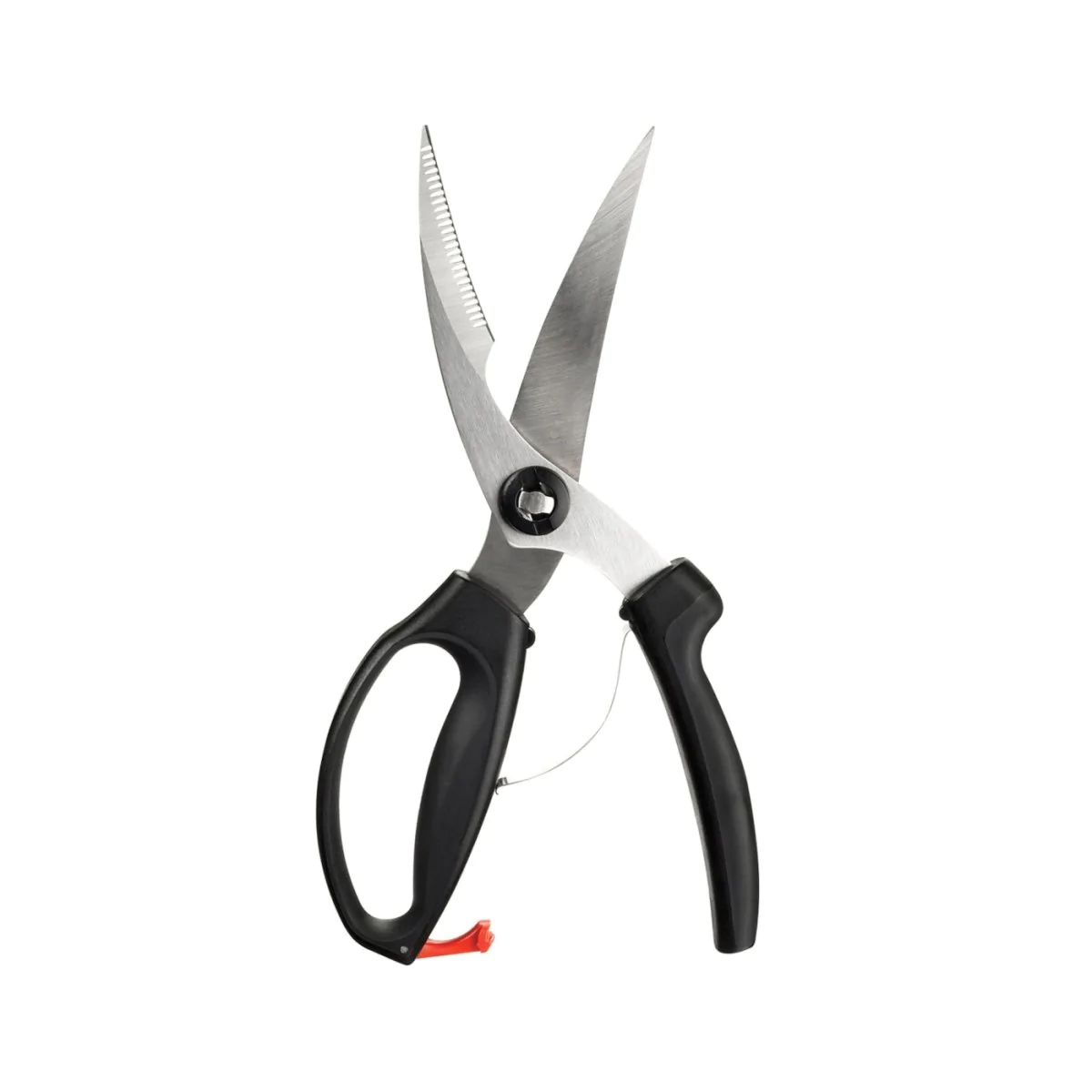 Meet the OXO Good Grips Poultry Shears: your new kitchen best friend. With their curved blades and micro-serrated edge, these shears make quick work of any poultry prep – from whole chickens to delicate herbs. And thanks to the handy notch on the blade, you can even use them to bones in place for precise cuts. The OXO Good Grips Poultry Shears are made from stainless steel for long-lasting sharpness and feature a comfortable grip that won't slip even when wet. So whether you're carving up your Thanksgiving turkey or prepping chicken for tonight's dinner, reach for the Good Grips Poultry Shears – they make light work of any task.
Curved, tapered design is precision-engineered to access hard-to-reach spots
Stainless steel, micro-serrated blades are notched to hold bones in place for cutting
Blades separate for easy cleaning by hand or in the dishwasher
Spring-loaded handles offer extra leverage while reducing hand strain
Non-slip handles provide a secure, comfortable grip
Handle lock keeps shears closed for safe storage
We Believe in a Better Way.
At OXO, we look at everyday objects and activities and we see ways to make things simpler, easier, more thoughtfully designed–better.
We notice things. We notice pain points and pains-in-the-neck. We notice problems people don't realize are problems until we solve them. We see opportunities to improve a product or a process, or a part of everyday life, and we make things that make things better. Our products make everyday life easier, in every room of your home. From cooking and baking to brewing and entertaining to cleaning and organizing, to everyday adventures with little ones. We design tools that fit comfortably in your hand and in your life.
Our History
OXO was born of love. Our founder Sam Farber designed the first OXO peeler for a pair of hands he loved more than his own. Sam and his wife Betsey were cooking together when Betsey's mild arthritis made using old-fashioned metal peeler a struggle. They knew there had to be a better way.
They created the now-iconic OXO handle—with its distinctive ergonomic form and signature non-slip grip—and paired it with a sharp stainless steel blade. OXO was born, and the brand changed the way we prepare food—and think of household tools— forever.
Design and Engineering
We frame our product development process through the lens of Universal Design and engineer items that pair innovation with purpose. We're always on the lookout for ways to make everyday tools and tasks easier—even enjoyable. Our boundless curiosity and restless search for better inform everything we do; if we can't make something better, we don't make it.
6 . Bodum Brazil 3 Cup Plunger Black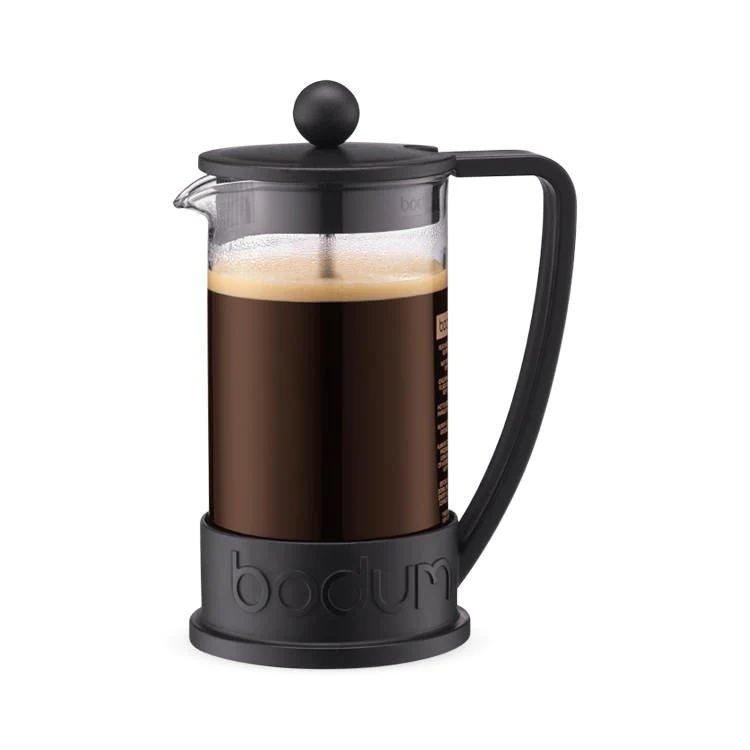 Start off the day on the right foot with a perfectly brewed cup of coffee from Bodum's Brazil Black 3 Cup Plunger.
The sleek and stylish design features a heat-resistant borosilicate glass that won't impact the coffee's natural flavour while the body, handle and ergonomic handle are made from lightweight, BPA-free plastic.
The stainless steel plunger and filter prevent ground beans from escaping when the delicious coffee is poured.
The environmentally-friendly brewing system reduces the need for paper filters or plastic capsules.
7 . Le Creuset Kone Kettle Meringue 1.6L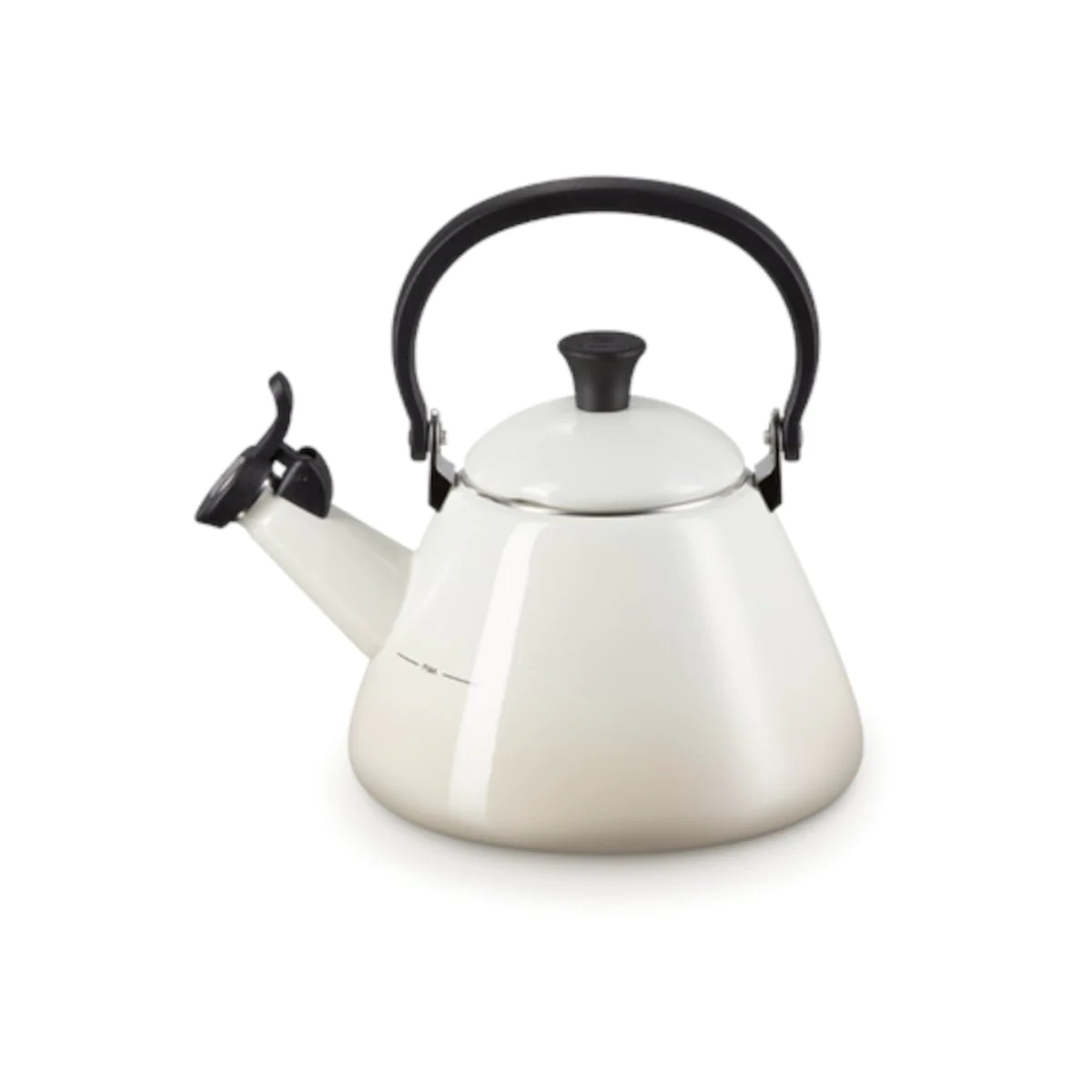 Nothing beats the tempting aroma of freshly brewed tea or coffee. Elevate your everyday ritual with this stylish stovetop kettle. Crafted from enamelled steel, it adds a vibrant pop of colour to your home. And when your water's ready, it whistles!
Features
Available in an array of colours – Black, Cerise, Meringue and Stainless Steel. Our range will inject a pop of vibrant hues in your kitchen.
Advanced efficiency: our Kettles have a wide base for more efficient heating.
Best in class: our products are crafted from the finest materials in facilities around the world, ensuring the quality you expect from Le Creuset.
Foldable Handle: A conveniently flexible handle that can bend makes it easier to fill your kettle. It also helps to make storage more practical.
Material: Enamelled Carbon Steel
Heat source: Electric Hub, Ceramic Glass Cooktop, Gas Hob, Induction Hob
Dimensions
Capacity: 1.6L
Length: 25.2cm
Width: 19.8
Height: 24cm
8 . Robert Gordon Hug Me Mugs Grey Set of 4 (400ml)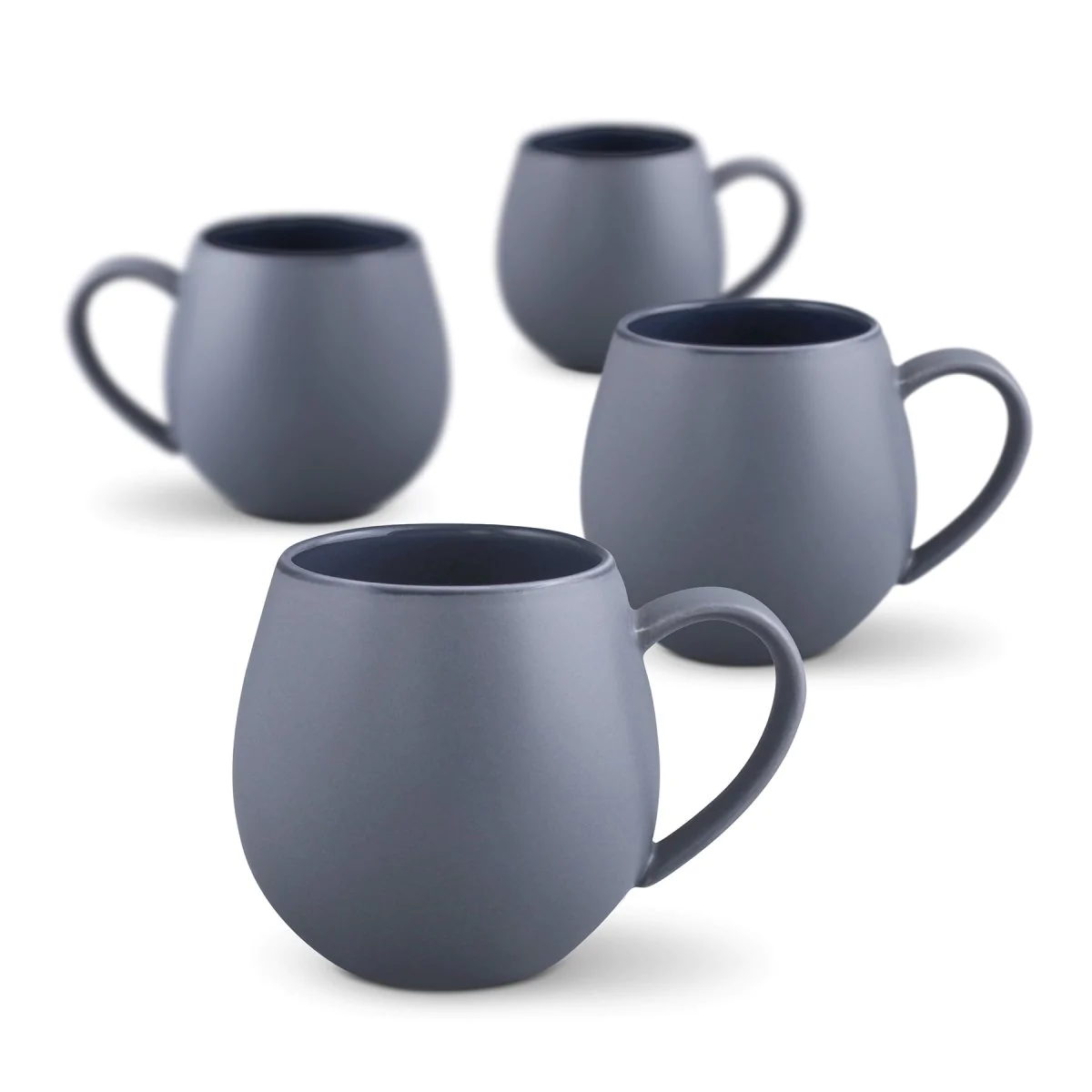 Hug me mugs are custom designed to be cupped in your hands. This collection is perfect for that warming cuppa. Beautifully gift boxed in sets of 4.
Made from stoneware
Microwave and dishwasher safe
Semi matte glaze
400ml Capacity
Designed in Australia, Made in China
ABOUT ROBERT GORDON
Around thirty years ago, Robert 'Andy' Gordon walked into a ten by eight foot tin shed, picked up a lump of clay and turned his potter's wheel. The 'Pack Track Pottery' was born. But the story and inspiration for Robert Gordon dates long before 1979 and a rickety home made studio.
Andy's mother, the renowned Australian potter June Dyson, set up her studios in 1945. June formed a formidable partnership with her husband Colin who became the company's business director. It was June's second son Andy, who showed most interest in ceramics, helping out in the studio from his early twenties. It was inevitable that Andy would one day follow in his mother's footsteps. And having married his English wife Barbara, the couple set about moulding their dream.
By 1987 it was time for the company to expand. A factory in Pakenham was bought and Robert Gordon had grown from a tin shed with a dirt floor to a large purpose built headquarters. It was also time to bring new staff into the business. Andy and Barbara didn't have far to look, their four children Hannah, Kate, Bobby and Sam all joined the firm. History had repeated. Twenty years later and the children are an integral part of the company. Each one playing a different and vital role, helping to shape Robert Gordon today.
To keep up with the times and the demand, RGA is not only a manufacturer of bespoke Australian made pottery these days but an importer too. Designs dreamed up at our Pakenham HQ are sent off to China to be made into the pieces that become part of the ever more popular collections we are so proud of. More than sixty years of heritage and three generations of potters. Robert Gordon. Proud of its past. Its future; fired with imagination.
9 . Instant Pot Vortex Plus Air Fryer 5.7L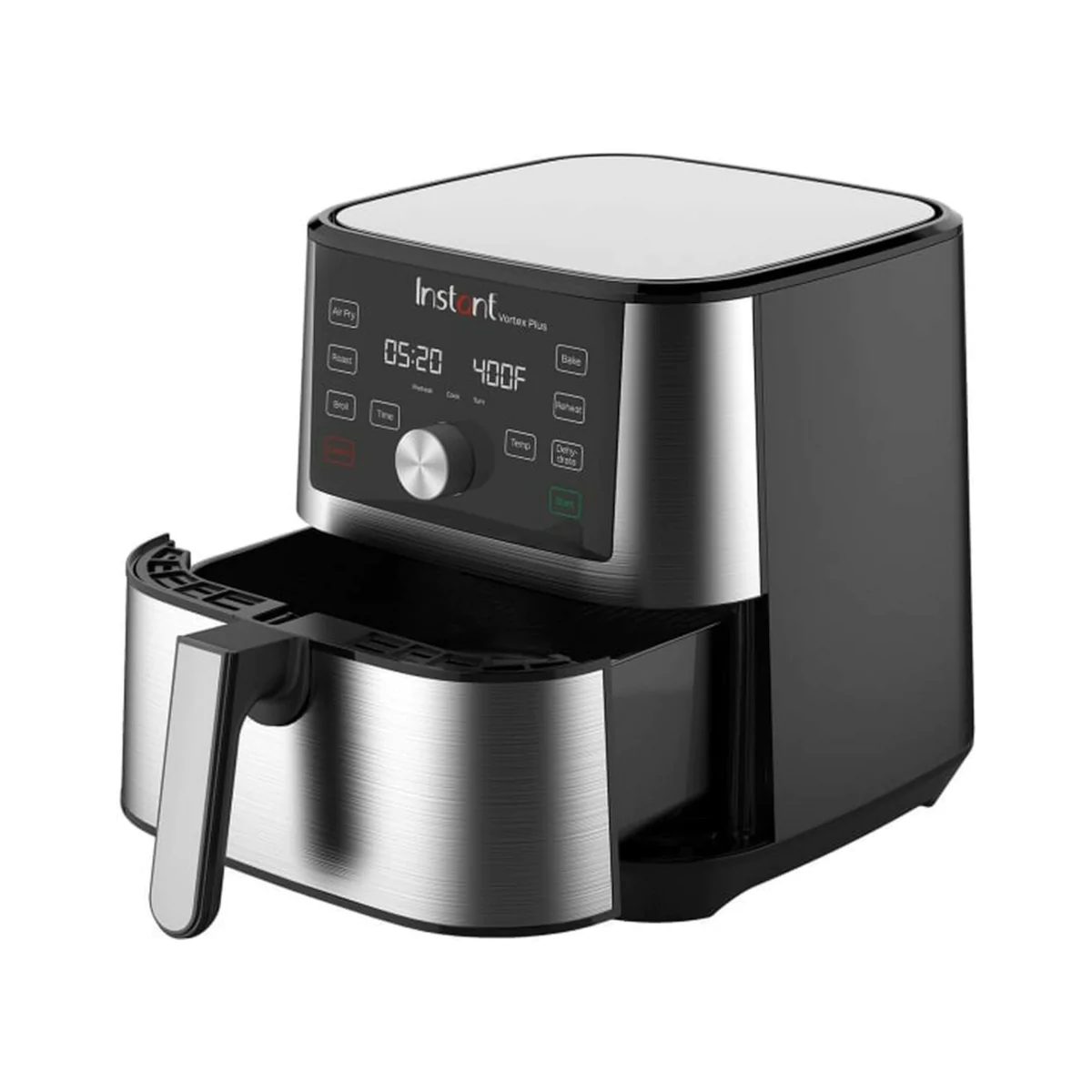 Looking for a healthier option for your favourite fried foods? Look no further than the Instant Vortex Plus 5.7L Air Fryer! This amazing appliance uses little to no oil to achieve the same crispy, delicious results you love, without all the unhealthy fats. Perfect for busy families or anyone who wants to eat healthier, the Vortex Plus has pre-set Smart Programs that make air frying, roasting, broiling, baking and dehydrating simple and quick. So whether you're whipping up a quick snack or preparing a hearty meal, the Instant Vortex Plus is up to the task! And because it's compact and easy to use, it's perfect for small spaces like apartments or dorm rooms. So why not try something new and healthier today with the Instant Vortex Plus Air Fryer? You won't be disappointed!
Easy to Use 6 One-Touch Smart Cooking Programs:
Latest-generation Air Fryer that air fries, roasts, broils, bakes, reheats and dehydrates to perfection, all in one appliance
Clean, Fast and Healthy Cooking: Get deep-fried flavour and perfectly crisp texture with 95% less oil for healthy and tasty versions of your favourites, without the oil and mess
The Perfect Crunch: EvenCrisp™ technology ensures tender juicy meals with a crisp, golden finish, using little to no oil
Saves Time: The Vortex Plus heats in a fraction of the time of a regular oven, and cooks by circulating super-hot air around your food so it cooks faster and more thoroughly
Large Capacity: Air Fry Basket is large enough to fit a 1.8kg chicken or a bag of fries
Easy to Clean: Premium Stainless-Steel exterior is easy to wipe clean. The Air Fry Basket and Cooking Tray are removable and dishwasher safe.
If you're a health-minded individual, food enthusiast or someone who just wants to save time in the kitchen – Instant Brands Inc. is the company for you. Their mission is to enable busy families and professionals to prepare high-quality and delicious food in less time, and their solution is the Instant Pot ® appliances.
Cook nutritious, well-balanced meals every time with their unparalleled user interface design and innovative technologies. Aiming to promote healthy eating and reducing the consumption of fast food, the brand perfectly complements the needs of consumers with active, busy, healthy and environmentally conscious lifestyles.
10 . Nachtmann Noblesse 3 Piece Whisky Set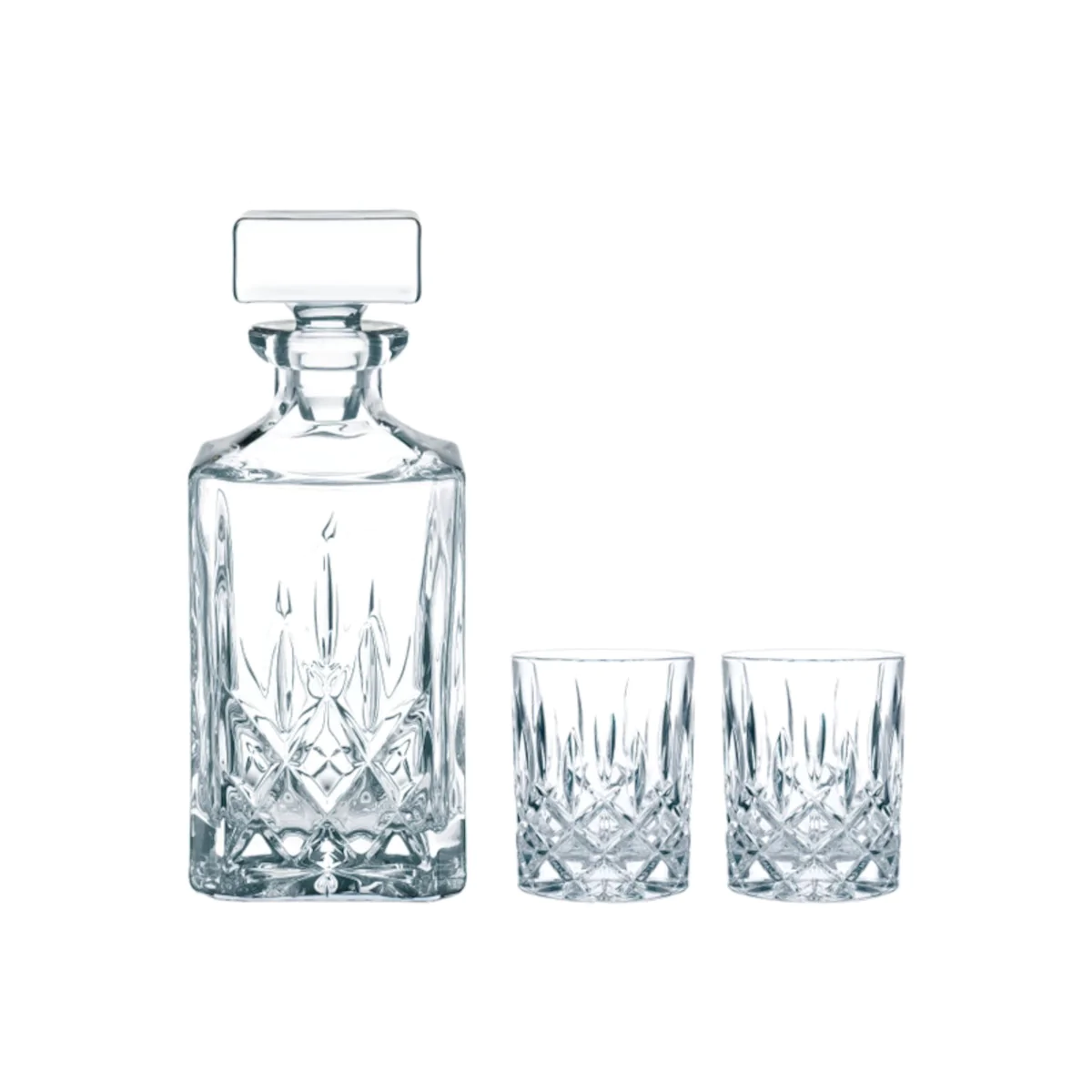 The Noblesse Whisky Set is a work of art. Each piece is crafted from the finest crystal, making it a luxurious addition to your home. The set includes two whisky glasses and a decanter, all of which are cut with intricate designs. The decanter is perfect for serving your favorite whisky, while the glasses are ideal for enjoying it. The set also makes a great gift for anyone who loves whisky. With its classic design and superior craftsmanship, the Noblesse Whisky Set is a must-have for any home.
Machine-made and dishwasher safe.
Type of Manufacturing: machine-made
Material: Crystal
11 . Bartender Crystal Whisky Rocks Set of 6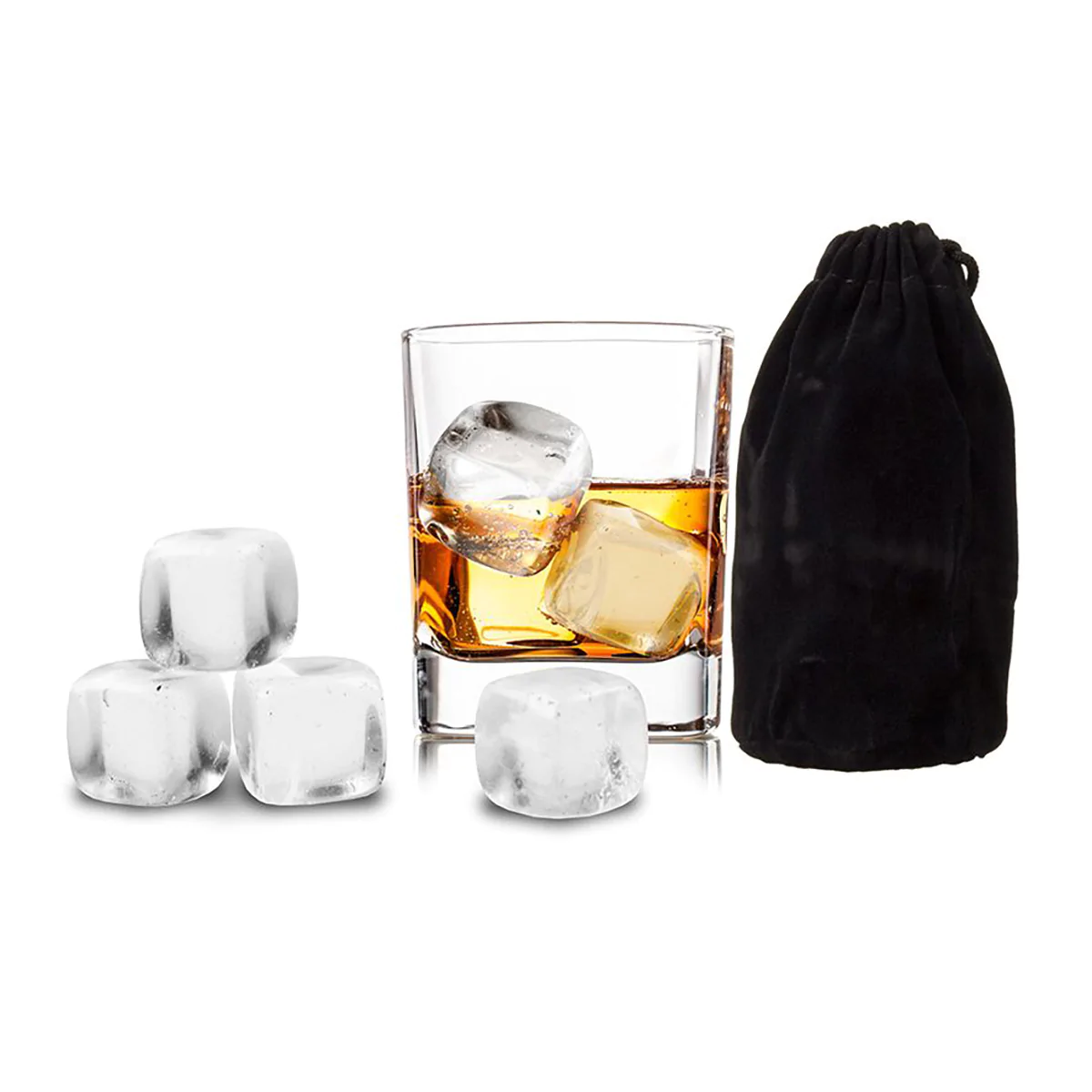 Made from high-quality quartz crystal, this set of six Bartender Quartz Crystal Whisky Rocks (with black velvet storage pouch) will cool your favourite drink with ease, without diluting the taste.
Odourless and tasteless, when frozen, the rocks will keep your spirit (whisky, gin, rum etc), white wine, or soft drink cool, eliminating the need for ice cubes that melt.
To use, simply place the rocks in the freezer for at least four hours. When your drink is ready, pop three to four rocks into the glass and enjoy!
Includes 6 high-quality whisky rocks.
Made from quartz crystal.
Odourless & tasteless.
includes black velvet storage pouch.
Food safe.
To clean, simply rinse with water.
Not to be used in cocktail shakers, delicate glassware or large volumes of liquid.
12 . Portmeirion Botanic Garden Dinner Set 12 Pieces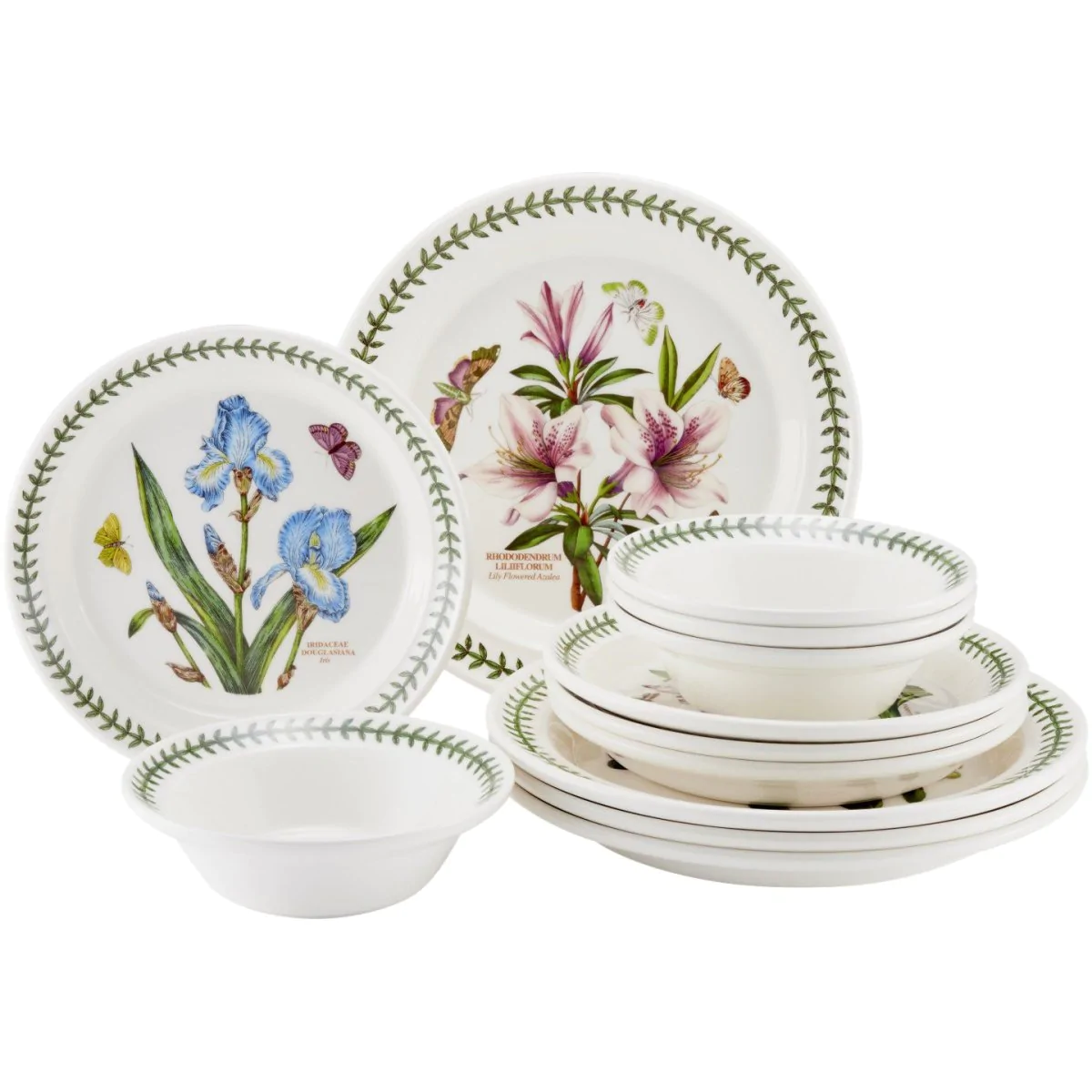 This item is made in Stoke-on-Trent, England. The set includes four of each 10 inch Plates – each with a different flower, 8 inch Plates – each with a different flower and Oatmeal Bowls – each with a different flower.
Dimensions: 25cm / 20cm / 15cm (10″/8″/6″)
Dishwasher Safe
Freezer Safe
Microwave Safe
Oven Safe Up To 170°C
ABOUT Portmeirion Botanic Garden
For 40 years, Botanic Garden has been a serene and comforting presence amidst the increasing busyness of our everyday lives. As the world races around us, the most recognised collection in British ceramics is still holding the fort at the centre of home and family life – a secret garden in which to enjoy the good times.
Botanic Garden makes everyday occasions special – like an enjoyable Sunday breakfast with the family, or afternoon tea and a catch-up with friends. Each and every ceramic piece is made with care, attention and love, passing through 22 pairs of hands before being ready for a home.