Thinking about outfitting yourself with some Brooks Brothers clothes online? It can be hard to find the right fit, especially for a suit.
Here's everything you need to know before shopping with Brooks Brothers.
Brooks Brothers
The Adult Man Image/Icon The Adult Man Image/Icon The Adult Man Image/Icon The Adult Man Image/Icon The Adult Man Image/Icon
Bottom line: As the oldest apparel brand in continuous operation in America, Brooks Brothers' fabrics and construction quality still stand out after over two centuries. Getting the correct size online for a suit took two tries, but the exchange system the brand uses makes this a breeze.
Pros:
The fabrics all look and feel phenomenal, from the lambswool to the cashmere to the woven Italian wool and silk blend
The sweaters have a nice flattering fit in the shoulders and leave a little room in the torso
There's a huge variety of sizes and fits available for all clothes
60-day returns with a prepaid shipping label available
Cons:
True with buying any suit online, it's difficult to know the right fit at first between the pants and the jacket
If it's good enough for Abe Lincoln, it's good enough for me.
I've always said that.
Which is why I decided to go all in on Brooks Brothers and pick up some fall and winter outfits. Not only that, but I picked up a new suit from the brand to see if it's a step up from other suits like J.Crew.
So does Brooks Brothers still bring the quality like they did back in 1865? Keep reading and you'll find out.
What Is Brooks Brothers?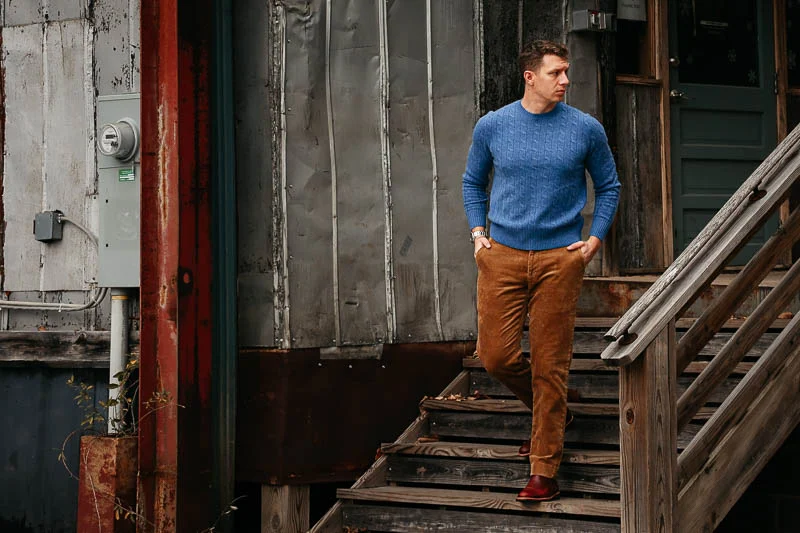 Brooks Brothers was founded in 1818 (yep, over 200 years ago), and they've been an American staple for much of that time.
Heck, I can remember my uncle getting my brother a Brooks Brothers suit for his graduation, and it was something my grandfather did for him.
It's not often a clothing brand gets passed down from generation to generation like that.
Brooks Brothers is most well known for their suits, but they have a wide range of high-end clothes, from chinos to sweaters. The brand prioritizes quality, and you can be sure that the fabrics used are among the absolute best.
Things to Consider Before Buying Clothes from Brooks Brothers
I wouldn't say that Brooks Brothers is trendy. They're very traditional, and should you choose to go with Brooks Brothers, it's important that your personal style is a match with that aesthetic.
The brand is all about quality, and from the pieces I tried, I can tell that they're experts in building clothes that accentuate traditionally masculine features like the shoulders and chest.
They do feature some slim fits (usually called the "Milano Fit"), and even those are better suited to a more mature crowd.
If you're looking for ripped skinny jeans, you won't find what you want here. But if you're looking for a super cable knit sweater that fits your shoulders without any strange rumpling around the neck or arms, you're in luck.
Brooks Brothers 1818 Suit Review
I picked up the Regent Fit Combo Check 1818 Suit for this review, but I'll be focusing more on the difference between the fits.
I'll talk a little specifically about this particular fabric, but my hope is that you leave this review knowing which fit is right for you, as all Brooks Brothers suits I've ever seen have exceptional quality fabric.
Ordering the Right Size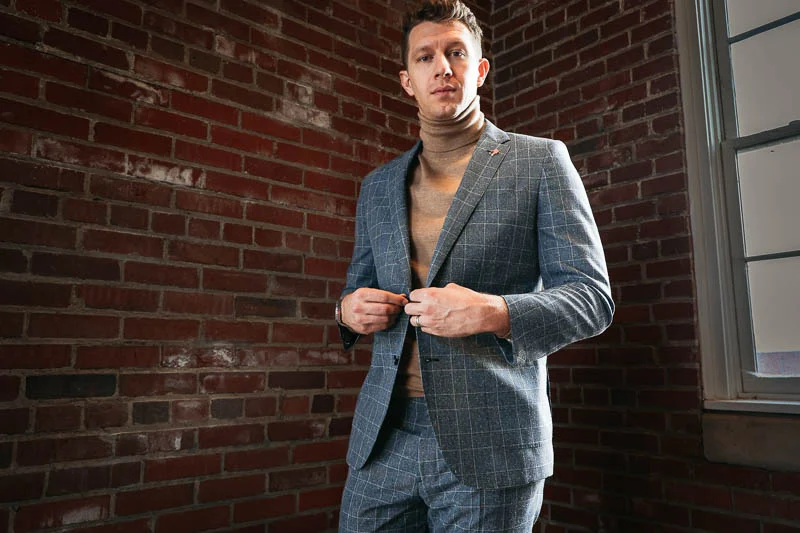 So, I have an abnormal body shape. And that can make shopping for a suit online difficult.
My first go, I ordered the Milano Fit, size 42 (I'm 6'1 and 200lbs for reference). The jacket fit quite well (a bit snug in the shoulders), but the pants weren't even close.
In the past year, I beefed my squat up from 225lbs to 315lbs, and my legs and butt probably grew 20% to match.
So I returned that suit and ordered the Regent Fit, size 44. Now the jacket fit spot on in the shoulders and the pants actually fit on my body.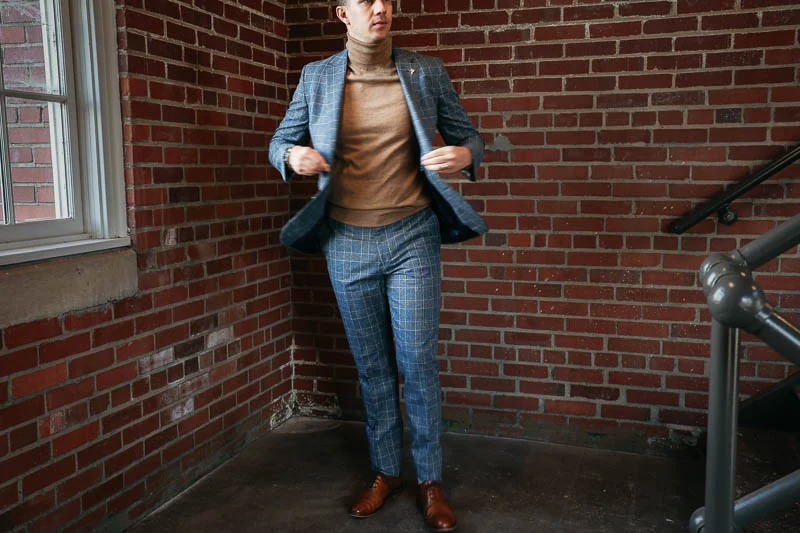 I like a slimmer fit in the jacket, and I think the Milano 44 would have been perfect for the jacket, but I know the pants would've been too small in the hips and thighs.
What I did instead was get the roomier fit for my pants, and took my Regent fit to a tailor and brought in the torso of the jacket a little to give a more slimming effect.
The most important aspect of a suit is the shoulders. If it doesn't fit in the shoulders, there's nothing a tailor can do.
Trust the Brooks Brothers sizing guide to get you the right fit. You'll need a tape measure if you're not already familiar with your measurements. Or, if you have any other suits or sport coats in your closet, you can rely on that sizing.
Fit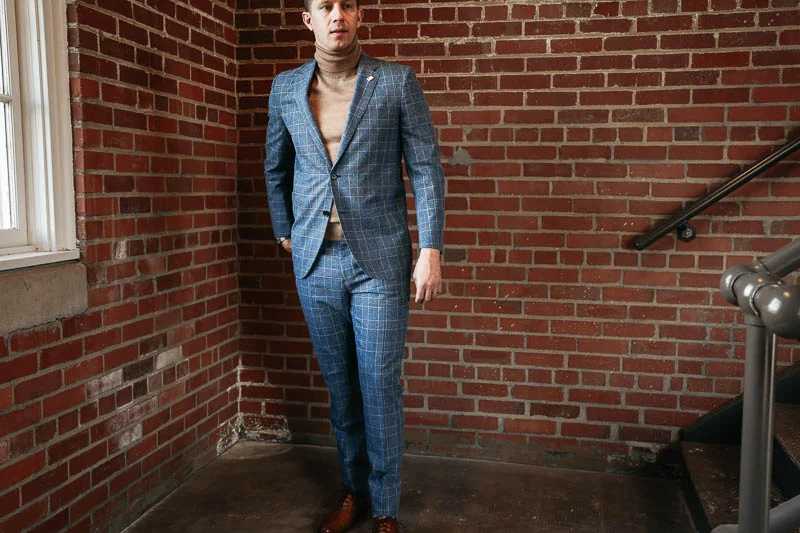 The Milano fit is the most modern, though it's definitely not the fast fashion type of slim fit.
For a slim fit, it's still very classic looking, which I really like.
The Regent fit is a little boxy through the torso, which wasn't an issue for me (as I anticipated the trip to the tailor to make the suit really pop).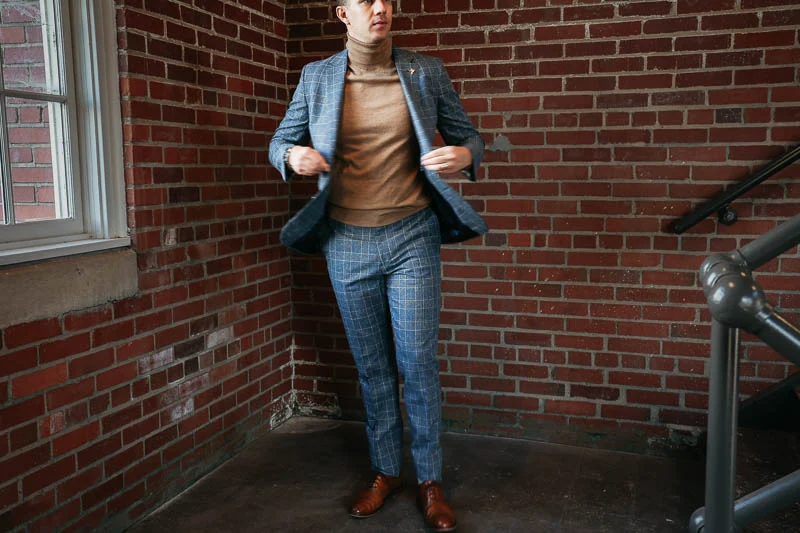 I think no matter which style you go with, you should always expect to visit a tailor when buying a suit off the rack. If you're willing to drop coin on the suit itself, the extra $100 or so will take your suit to the next level.
So for me, getting the Regent fit for the extra pant room was necessary, and I basically got the Regent jacket tailored to a Milano fit.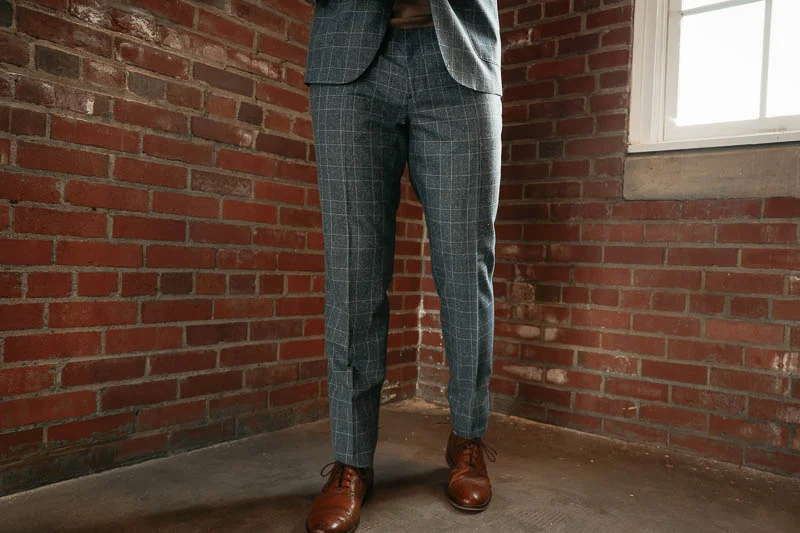 Brooks Brothers also offers the Madison fit, which is their relaxed cut. I'd only recommend this for husky gentlemen, and I think the Regent is still the best choice for the majority of guys.
Fabric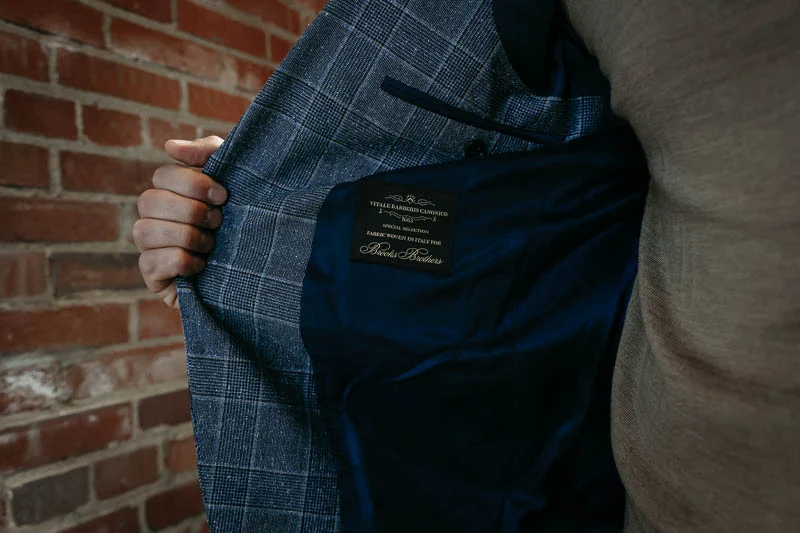 The fabric for this particular suit is an Italian blend of wool and silk with a light blue checkered pattern.
At over 200 years old, I thought Brooks Brothers had been around a while, but the fabric comes from Vitale Barberis Canonico, an Italian company that's been slinging fine fabrics since 1663. Talk about legacy.
I love the style, and because of the weight and texture, it's a great year-round piece. This specific blend is lightweight enough to rock in the hot months, but the wool addition also makes it at home in the colder months.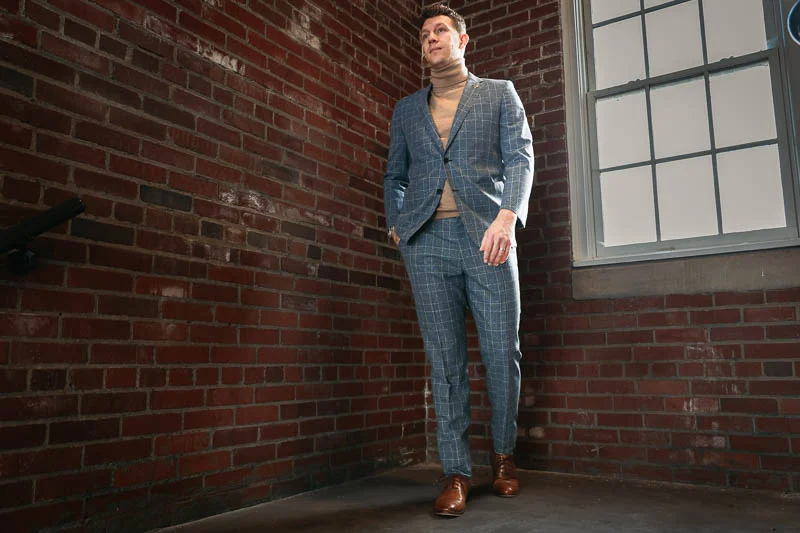 The inside of the jacket isn't fully lined, though the sleeves and internal panels have a silk lining. It feels rich, and more importantly, it looks fantastic.
Overall, I'm a big fan of this Brooks Brothers 1818 suit. It's definitely the best suit in my collection, and with a little alteration, it's also the best fitting suit I own.
Brooks Brothers Apparel Review
While the suit is what Brooks Brothers is known for, I also wanted to pick up a few cold-weather outfits to head into the winter with to see how they do with other apparel.
Milano Fit Corduroy Trousers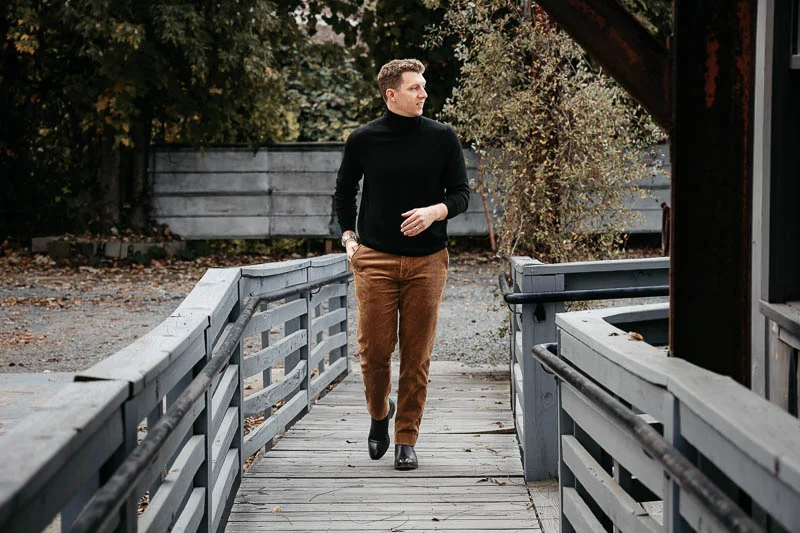 I haven't worn corduroy pants in decades, and upon seeing these Milano Fit Corduroy Trousers, I knew it was time to dive back in.
I got the slimmer Milano fit for these because I could order the appropriate waist size (which isn't how one shops for suits, so it's a different story there).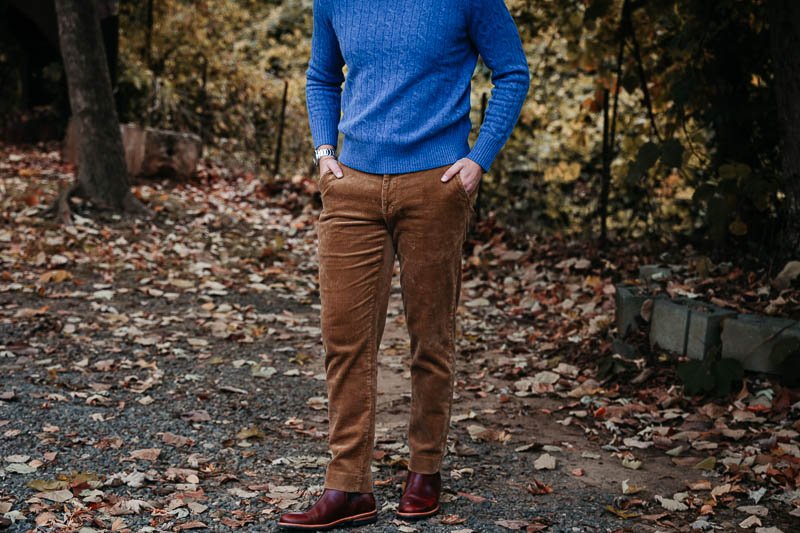 I haven't worn corduroy pants in decades, and upon seeing these Milano Fit Corduroy Trousers, I knew it was time to dive back in.
I got the slimmer Milano fit for these because I could order the appropriate waist size (which isn't how one shops for suits, so it's a different story there).
The Brooks Brothers Milano fit isn't as slim as most other slim fits—I really like this aspect. While it definitely has a more tapered and tailored look, it still leaves plenty of room where it counts and retains a classic style.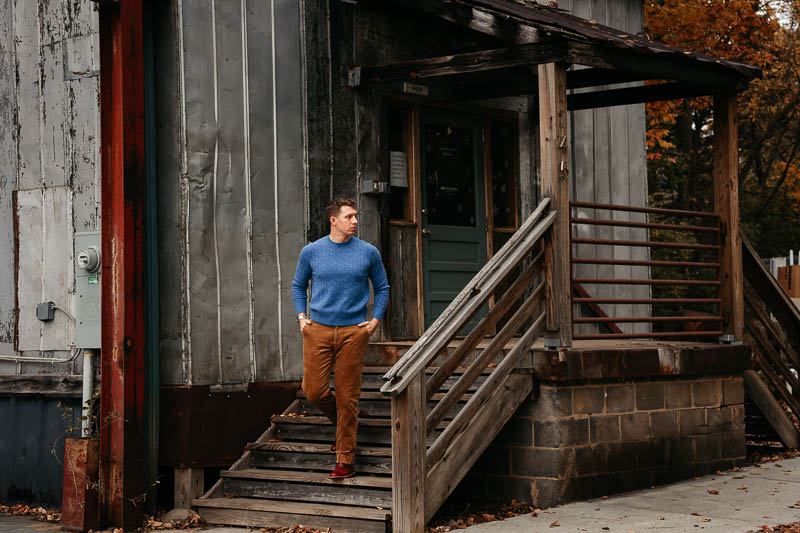 These Corduroy Trousers fit like any pair of chinos would, with some taper below the knee, but nothing too extreme. I ordered a size 34×32 (again, I'm 6'1 200lbs) and it fits perfectly.
I'm a huge fan of the texture, and when paired with a slimmer sweater on top, they make for an excellent cold-weather staple.
They're 99% cotton, with a bit of added elastane for stretch. This stretch goes a long way for comfort, allowing me to actually bend over and grab something without worrying about blowing up the seat of my pants.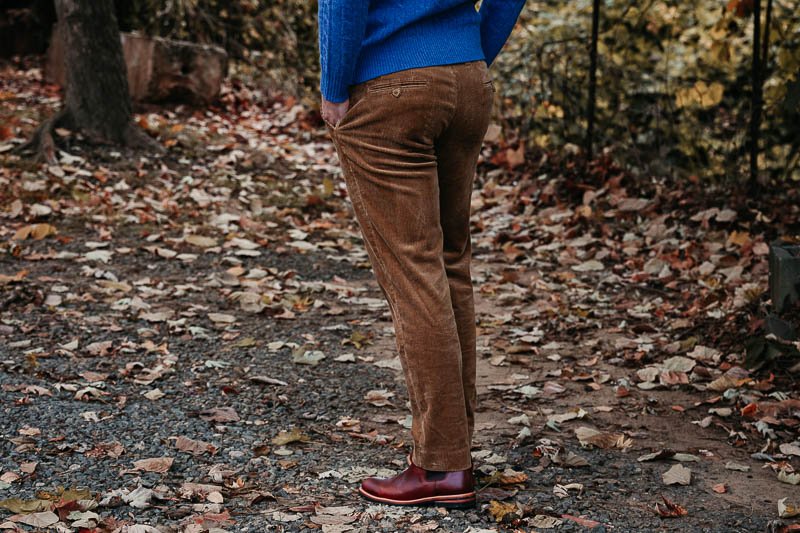 The Corduroys have two loop and button pockets in the back and chino style pockets in the front. The seams are double-bonded throughout, which is going to go a long way in the durability department.
I'm a big fan of these pants as they're a nice break between the endless parade of jeans and chinos. Not many guys go with corduroy, but it's an excellent way to add texture to your fall and winter outfits, especially when the fabric and construction is this high quality.
Merino Turtleneck Sweater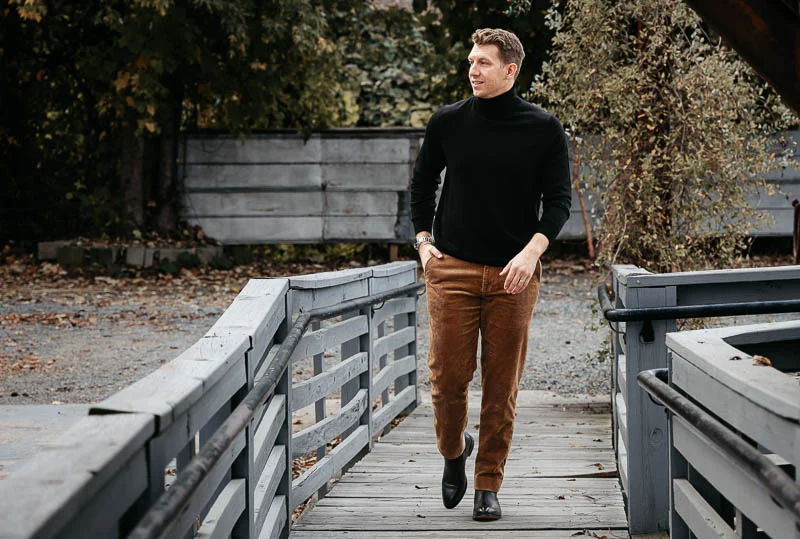 My wife has been begging me to get a turtleneck for two years, and just like I did with our dog, I finally broke down and got one.
But I didn't just get any old turtleneck. I decided to go all out and get the Merino Turtleneck Sweater, made with 100% Merino wool.
I've owned scarves made with Merino wool, but I've never had the luxurious experience of wearing a piece entirely made from the fabric. And it's very nice.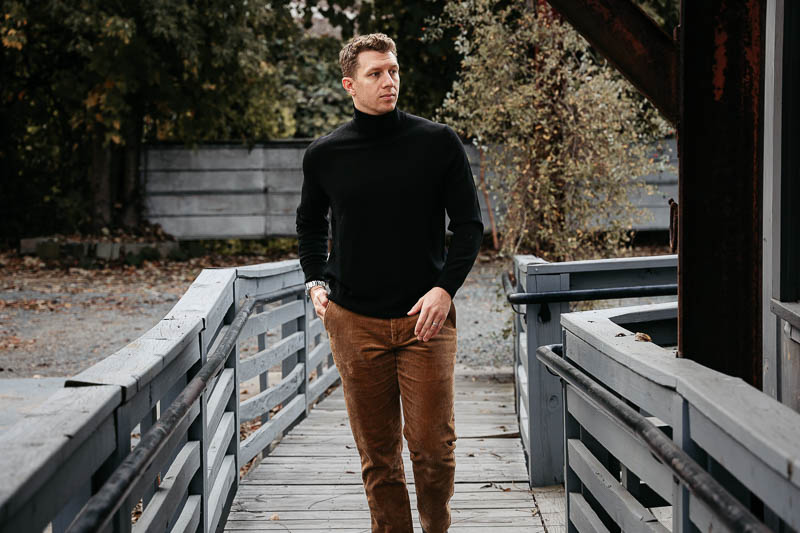 The fit is excellent in the shoulders—it's broad across the back and curves around the delts in a flattering way. I love that there's a bit of extra room in the torso, as it makes the piece look a little more relaxed. This is something you can feel confident wearing, even after Thanksgiving dinner.
I imagine getting the neck-length right on a piece like this is difficult, but Brooks Brothers has done an excellent job. There's not too much fabric that it piles up under the chin, but there's enough to crop your face and give you that sweet, sweet neck coverage.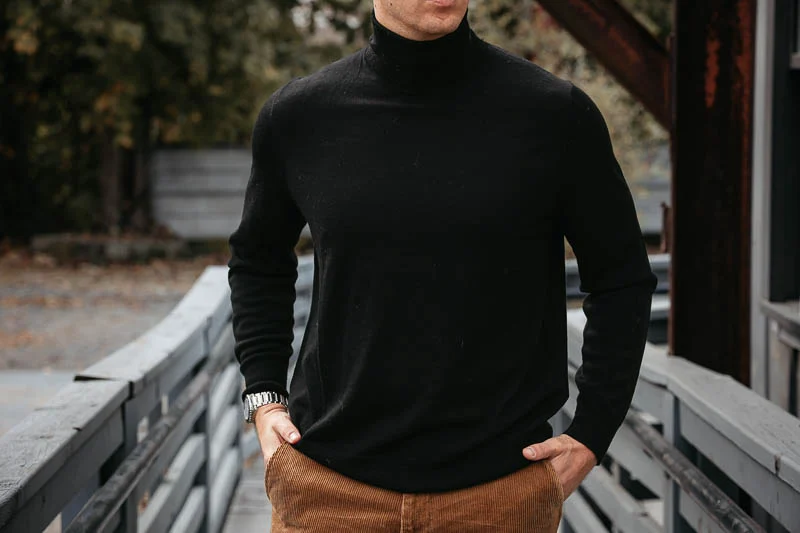 I wasn't sure how I'd feel about a turtleneck, but after trying the Merino Turtleneck Sweater, I'm a convert.
Lambswool Cable Crewneck Sweater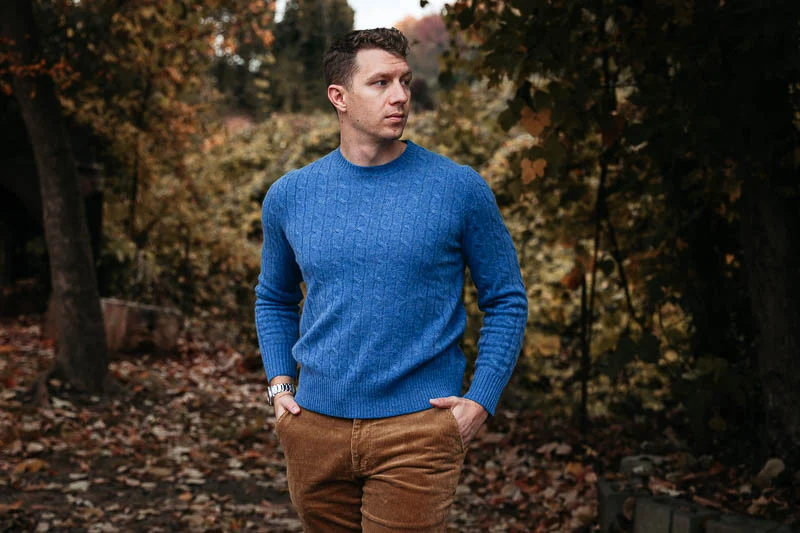 Ever since seeing Knives Out, I've been on the hunt for a cable knit sweater (me and the rest of the world).
While I didn't go full fisherman style, I opted for something a little more classic in the Lambswool Cable Crewneck Sweater in light blue.
Brooks Brothers carries a ton of different color options for this sweater, which is great if you'd like to pick up multiple sweaters to get you through the cold season.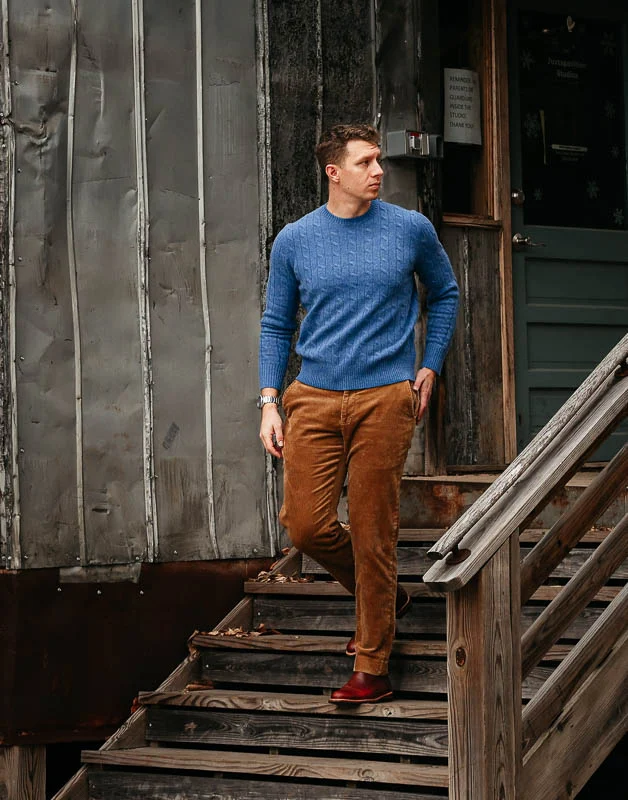 Brooks Brothers woll blue sweater
I love the fit of this sweater. I picked it up in a medium (I got the Turtleneck in large), as I feel these types of sweaters tend to run a bit large. The medium is spot on.
I only wear these kinds of sweaters with a t-shirt underneath, but if you plan on wearing something bulkier like a collared shirt or polo, you may want to go with your true size.
But since the only way I'll layer this piece is by putting it underneath a heavier coat, I opted for the smaller size and it was the way to go (for my personal style, at least).
This is a classic style that'll never go out of fashion, and Brooks Brothers does it with excellent quality materials.
If you click this link and make a purchase, we earn a commission at no additional cost to you.
What do Other Reviewers Say About Brooks Brothers?Many Brooks Brothers reviewers left notes on their suit purchases, and the majority were pleased.
Of the few negative reviews I could find, several were on the turnaround for tailoring services. I always recommend finding a tailor you like and trust, and taking all your clothes there, rather than doing tailoring services with a brand to avoid any issues that might crop up.
Other than that, reviewers seemed pleased with the shopping experience and the quality of clothes they received.
My Thoughts Overall On Brooks Brothers
What I Like
I'm a huge fan of all the fabrics they use for their clothes: the lambswool, Merino, and Italian wool and silk blend are all phenomenal.
Both sweaters I got have a flattering fit in the shoulders while still leaving some room in the torso.
There's a lot of variety in both sizing and fits, from relaxed to slim.
They offer 60-day returns with a pre-paid shipping label when shopping online.
What I Don't Like
Buying a suit online is difficult and requires some sizing research before pulling the trigger.
Who is Brooks Brothers for?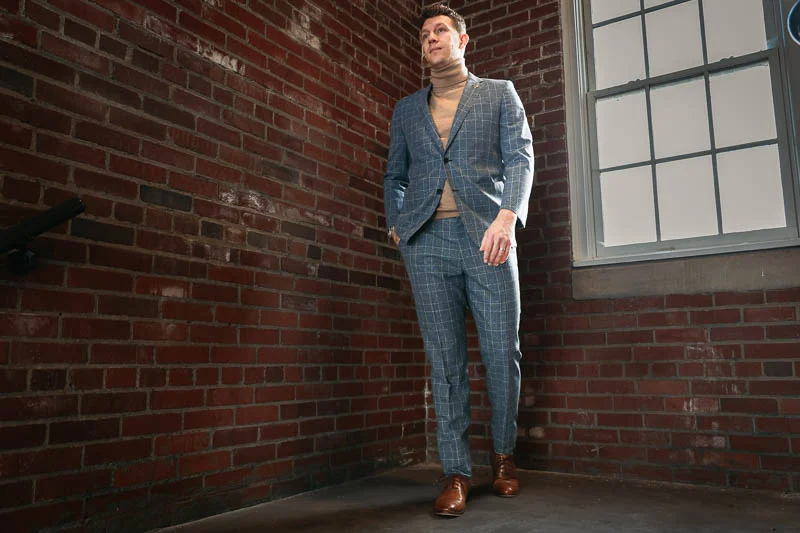 Brooks Brothers is an excellent brand for you if you want top-notch fabrics and a classic fit that accentuates your traditionally masculine features.
The Verdict
Brooks Brothers has been around since 1818, and after 200+ years, I figured, ok, I'll give them a shot now.
I'm glad I did.
The 1818 Combo Check suit I picked up is an excellent piece year-round. It looks sharp and feels incredible. I'm just hoping one of my friends gets married soon so I can bust it out on the dance floor.
What impressed me the most was Brooks Brothers sweaters—both the Lambswool Crewneck and the Merino Turtleneck are some of my new favorites in my winter wardrobe. They're pretty upscale, so I don't wear them too often, but when I do, they're the star of the show.
I'm also enjoying my Corduroy Trousers—they offer a welcome injection of texture that brings a fall/winter outfit together.
I'm pleased with my first Brooks Brothers haul, and I'm sure I'll be back soon.
If you click this link and make a purchase, we earn a commission at no additional cost to you.
FAQs
Are Brooks Brothers suits good quality?
Yes, Brooks Brothers suits are very high quality, from the construction to their fabric choices.
Why is Brooks Brothers' logo a sheep?
The logo of a sheep suspended by a silk ribbon has been a symbol of fine wool making since 1430, when the Duke of Burgundy founded the Order of the Golden Fleece as a gift for his wife.