One of the big perks of coming to Paris was that we were able to visit another bucket list item of my daughter's – Disneyland Paris!
Like most (all?) little girls, S is a huge Frozen fan. If you have looked at many pages on this site, you would have noticed that she regularly dresses up in Frozen outfits especially as her hero, Anna. We were so happy when we discovered that Disneyland Paris have special Frozen Summer Fun events at the moment. There was no way we could not visit Disneyland Paris after learning that!
We are so happy we did. We had a fantastic day. So fantastic in fact that S kept declaring it her "best day ever" and it is all she talks about.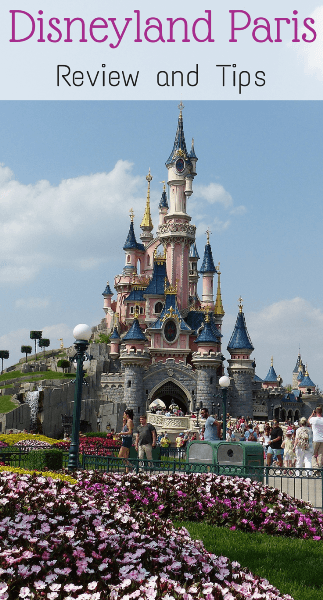 Below you will find all the information from our visit – the two parks that make up Disneyland Paris, how to get there, our tips and our overall verdict of Disneyland Paris. Be warned, you will want to visit after reading this!
Disneyland Paris Review
Disneyland Paris is actually made up of two parks – Disneyland Park and Walt Disney Studios Park.
The Disneyland Park is what is traditionally associated with Disneyland – this is where you will find Mickey Mouse, Sleeping Beauty's castle and flying Dumbo elephants. Walt Disney Studios Park also many rides but a focus on how films are made – there are many sessions and studio tours to illustrate this. More details about each below!
Disneyland Park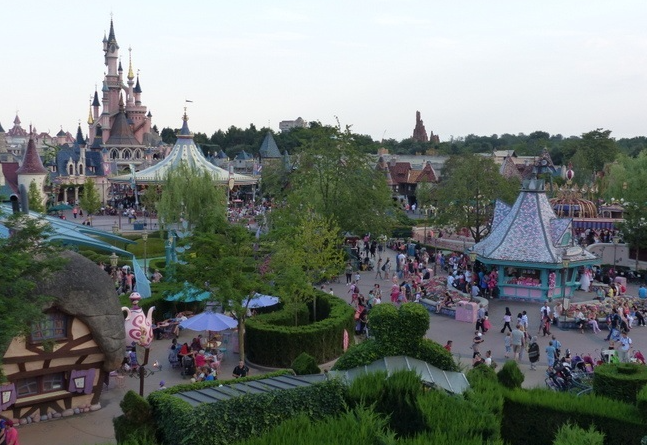 Disneyland Park set up like the others I have visited. There are 5 lands – Adventureland, Frontierland, Discoveryland, Fantasyland and Main Street USA.
We spent the majority of our time in Fantasyland where we visited Sleeping Beauty's castle, went on Snow White's adventure, saw Pinocchio's story come to life, went on tea cups and a carousel and ventured through Alice's Labyrinth. It all a big hit and the lines were relatively short for these attractions.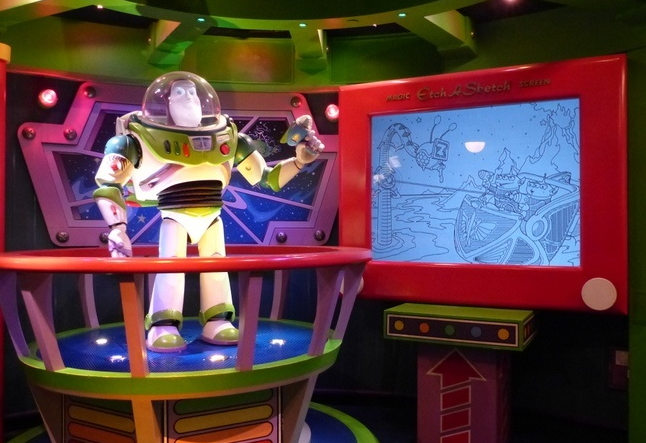 We also made it to the haunted mansion and one of our favourite rides, the Buzz Lightyear Laser Blast – the latter was so much fun although I became quite competitive trying to shoot as many things as possible!
We also went to the Frozen Summer Fun events – the Frozen sing along and the Frozen parade. The sing along was another highlight. It was a live show that is perfect for Frozen fans. They even put the words on screens although I am not sure that anyone needed them! We belted out some tunes, got to see the main characters and there was even snow falling towards the end – extra cool when it is 33 degrees!
Walt Disney Studios Park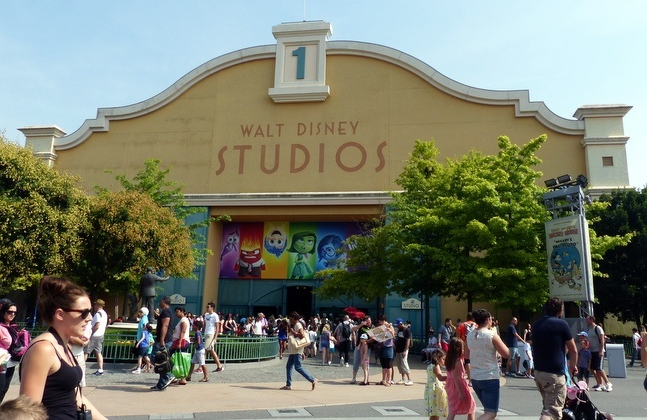 As mentioned before, this is where you can discover how Disney movies are made! There are studio tram tours, how animations are made, a Toy Story playland, rides and so much more.
S and I rode some magic carpets and raced around on some Cars themed cars. We also did my absolute highlight of the visit – we went to a Cars stunt show that featured Lightening McQueen.
We primarily went to this stunt show as my son is a massive cars fan, both of the movie and cars in general so I wanted to record some for him. It absolutely blew me away.
I have been to many stunt shows at many different parks, but this is the first one I have seen like this. They explained many of the stunts and the tricks behind them. They also had cameras around the lot so they could show us the little tricks they did during the show on a big screen.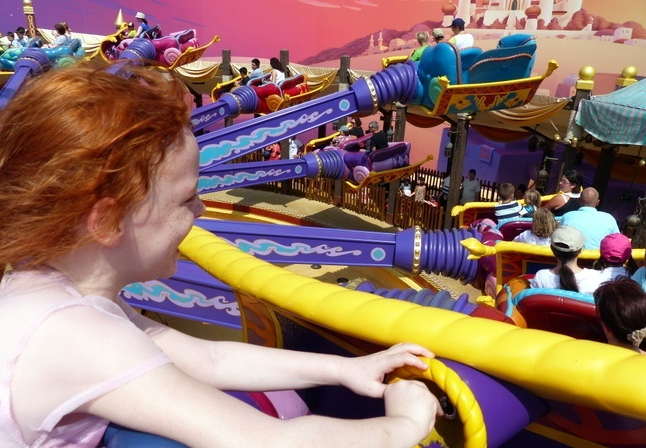 At the end, they showed us a complete reel of the scene, adding all the little bits and pieces together that they had shown us into what it would look like in a movie. It was incredibly interesting and it gave me a lot of respect for the stunt directors and just how people manage to create films in general – piecing together so many little pieces.
S also very impressed, albeit by the stunts rather than the explanations. Mr 3 has loved watching the videos too. I think this show itself is enough to justify adding Walt Disney Studios Park to your ticket.
Given we were crazy enough to be visiting both parks in one day, we unfortunately did not get to see much more of Walk Disney Studios Park. It is a shame as I think it is a great park with little ones in tow – it is smaller and less crowded than the Disneyland Park and all the shows give you a chance to rest little legs.
Getting from Paris to Disneyland
It is ultra easy to get to Disneyland Paris from central Paris. RER A (train line) runs straight to the park and it cost 7.60 Euros for a ticket for me and half price for S. We did have the worst time getting back after the train drivers on this line walked off the job when we visited. However, I believe this is incredibly rare so hopefully you will have no problems! There is also the occasional bus that heads into Paris and taxis.
If you are coming from elsewhere, there are also trains to other destinations like Brussels and London. You can also stay at one of the Disneyland hotels which would be my recommendation if you have the budget.
Tips for Disneyland Paris with kids
Go for at least two days – we spent just one day at Disneyland Paris. We had a two park ticket so we took a quick look at both parks. Obviously one day is not enough. Ideally, you should dedicate at least a day to each park. We did not even get to every themed area.
Fastpasses – if you have two adults, one should try to race around and get fast passes for the attractions that offer them. Fastpasses give you a ticket to return to the attraction at a later time. When you can effectively skip the queue. This can save so much time. However, if you are with preschoolers, particularly if there is only one adult. They don't really work and you may save yourself stress and wasted time by not worrying about it. I tried to race around with S, but she just ended up upset and the times. Were too far in the future or the fastpasses were already shut for the day. We only arrived an hour after opening!
Take lots of water if you go in summer – it was a whopping 33 degrees Celcius. When we visited and we had problems getting water at times. Lines were long and not all the drink vendors sell water. We rarely seemed to see water fountains.
Work out a schedule to around the most important things and keep in mind that little legs can only walk. So far and so fast so keep expectations low of what can be achieved in a day.
If your child wants to meet some of the Disney characters. Try to work out where and when they will be in certain locations. At other Disneylands, we have just ran into them without trying but we didn't at Disneyland Paris so we missed out on this.
Go to the shows! These were our highlights. Turn up early though. We missed out on the Disney Junior show as we arrived ten minutes early and it was already full. They recommended turning up thirty minutes in advance.
If your kids haven't been to a park like this before. Talk to them beforehand about how there will be lots of waiting.
Don't skip Walt Disney Studios Park. I actually think this park may be better with little ones that Disneyland Park.
Our verdict
Obviously we had a fantastic day and we highly recommend Disneyland Paris to other families coming to Paris. S is still gushing about it. She loved it so much that she is begging me to take her to all the Disneyland's around the world!.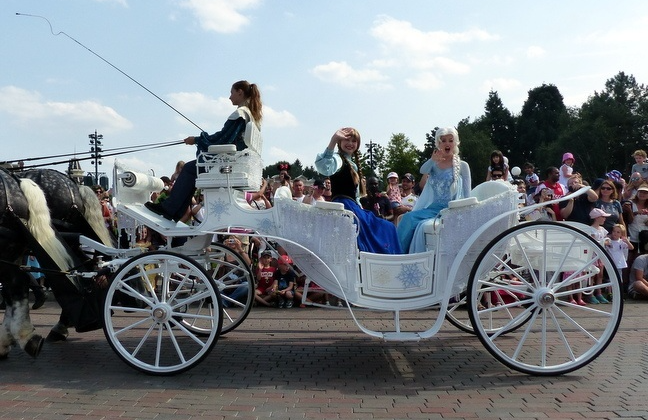 I had been hesitant about visiting another Disneyland after the horrible time we had in Orlando. However, the time could not have been more different. I do think that it was helped by the fact that S older this time – 5 and not 3. She understood that we had to wait for things.
I left Mr 3 back at our apartment because I don't think it would have worked for him. He is going through a defiant phase and is not patient at all and I think I made the right decision to leave him behind as much as I wished he was there at many points – he would have loved the car show!
This is actually my fourth Disneyland experience – I have been in LA, Orlando and Tokyo as well. I found the language barrier could be a bit annoying in Tokyo, but it was not an issue at all in Paris. I did not feel like we missed out on anything by not speaking French. Everything was in English as well and many of the shows actually have English sessions and French sessions. So don't let potential language problems deter you from visiting.
Our visit was in mid August – peak time. Obviously, there were queues and waiting times for just about everything. However, they were nowhere near as bad as I expected, especially after our visit to the Magic Kingdom in Orlando at a non peak time. The crowds were far far less at Disneyland Paris. We avoided rides with long wait times and found plenty of rides to go on with a wait time of 30 minutes or less.
Disneyland is hard work as a parent if you want to rush and do it in one day like we did. I felt like I had to rush S around to make sure. She saw the main things she had showed interest in beforehand. I did enjoy it a lot though and not just because S loved it so much. Disneyland is a magical place. There is just something so special about it that other theme parks just haven't been able to capture.
I look forward to our next Disneyland experience – maybe in Hong Kong so I can complete the set! Next time, however, we are definitely going to make a trip out of it – go for longer and stay on site and have the full Disneyland experience.
You can find all the information you need about Disneyland Paris including ticket sales on their website. You may also like to read our full guide to things to do in Paris with kids.