GreenGeeks Introduction
Green hosting, also known as eco-friendly hosting, aims to reduce environmental impact and so such companies are using various green technologies that help them to achieve that.
You won't come across green hosting providers that often, however, there are definitely enough options that you can choose from. GreenGeeks is considered to be one of the top-rated green hosting providers, so it should definitely catch your attention.
GreenGeeks was founded back in 2006 and is located in Wilmington, Delaware. They have a dedicated management team that has more than 40 years of experience in the field. The company's main goal is to provide high-quality, yet affordable web hosting.
The main reason why people who are looking for eco-friendly web hosting choose GreenGeeks is because they have a positive energy footprint on the environment as they manage to replace 3 times the amount of energy that your website uses.
Moreover, GreenGeeks claims that they strongly focus on customer service, they have a team of hosting experts that will help you to solve the issues that you're having. Also, they created a complete solution that will help to get online without much effort as well as promote your business to achieve better results.
GreenGeeks Features And Advantages
Now in this section, we are going to discuss that why you should choose GreenGeeks. As you know, GreenGeeks is one of the Green Web Hosting providers in the world. But, that is not all for someone who is looking for some specific set of services from a hosting company.
So, here are the features, advantages, and freebies that GreenGeeks provides you with all its web hosting plans.
1. 24/7 Customer Support
GreenGeeks puts Customer Support as its priority. It provides you 24/7 high-priority customer support where you can ask your queries and gets your issues solved at any time you want.
They have an expert support team which is available 24/7 for you via chat, ticket, and phone.
So, whenever you find issues and face problems regarding their server and hosting, you can connect them and seek quick help.
Every web hosting company boasts about its 24×7 service but most of the time, you don't experience it practically. However, in GreenGeeks' case, we have experience it personally and there are absolutely no complaints.
2. SSD Storage Space
One of the best things about GreenGeeks web hosting is that they provide you SSD Web Space, which means you will get the faster response and performance from your server at both User and Admin ends.
Solid State Drives(SSD) are faster than Hard Disk Drives(HDD), and are configured in a super reliable performing RAID-10 array.
3. Speed Up Your Website With Speed Technologies
Do you know, Google is going to prefer a fast website while ranking? GreenGeeks can help you there. We have tested its speed and found ultimate results.
Also, to build your audience, speed is one of the major factors that play a big role.
So, to provide you the faster speed and high performance, GreenGeeks provides you some of the best plugins and services like LiteSpeed, LSCache, MariaDB, HTTP/2, PHP7, and free CDN.
You don't have to worry about the speed and performance, GreenGeeks takes care of all that. The only thing you need to worry about is to build and create regular content for your website because it is up to you.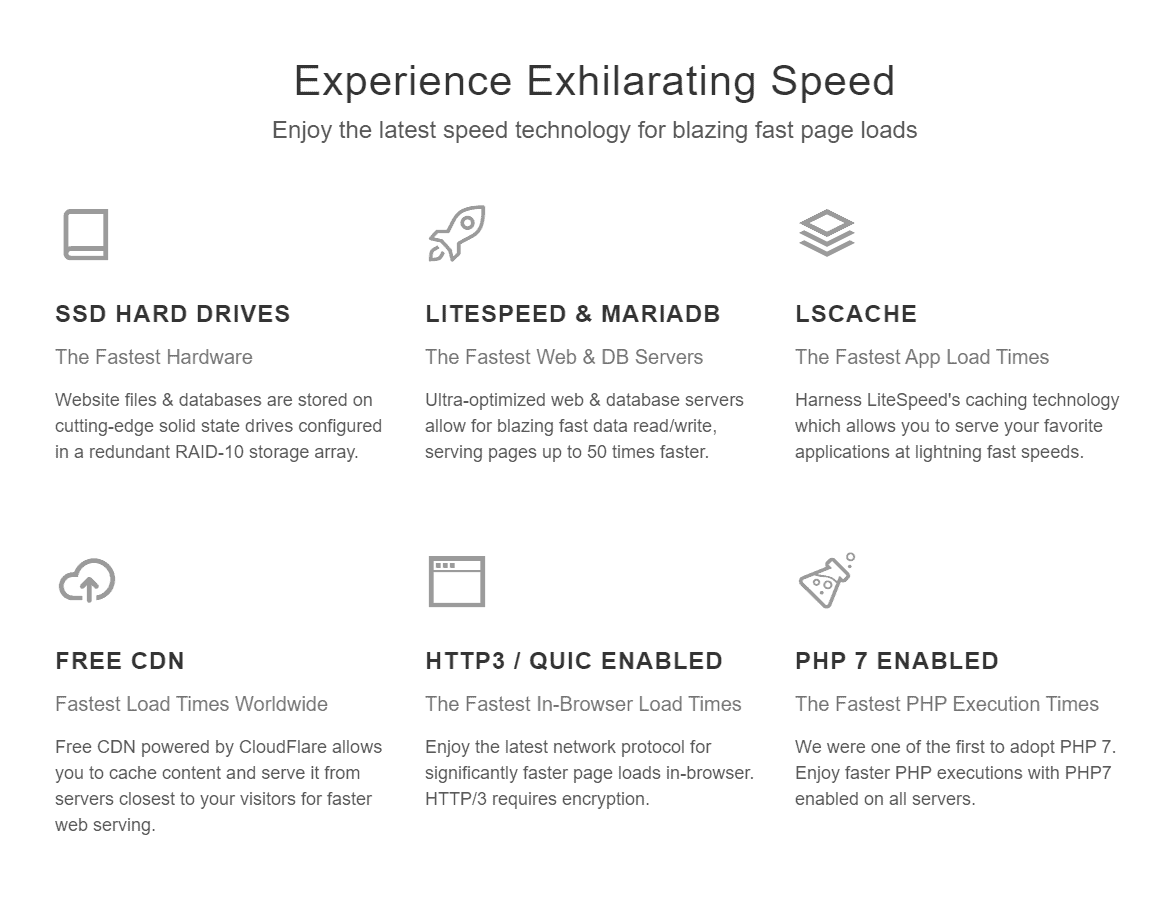 4. Free SSL Certificate
Security is very important for your website and its data. And to provide you the best security and encryption of the data of your site, GreenGeeks offers a free SSL service for your website.
It provides you a free SSL certificate with every single web hosting plan with automatic installation, which means you don't have to worry about the installation of SSL and the security of your website's content.
Is this SSL only for the first year? Don't worry about it, when you renew your web hosting plan, GreenGeeks will automatically renew the SSL certificate for your website.
5. Daily Backups
GreenGeeks provides you a daily backup service which is very important when some error happens. There are situations when due to errors you lose out on the entire content of your site. So, at that time GreenGeeks will be able to restore your website completely.
Even in the case of malware or phishing attacks, when your site gets hacked, you need to restore the last known good backup. Get started with GreenGeeks and create your site now.
6. Advanced Firewall Protection
Firewall Protection stops malware and viruses to infect your website and protects it from vulnerabilities that can harm the files.
GreenGeeks uses advanced firewall protection that uses AI(Artificial Intelligence) that automatically detects and protects your data against harmful malware and viruses.
7. User-Friendly Dashboard
GreenGeeks has created an optimized and user-friendly dashboard which makes it easier to understand and use the services and features of their web hosting.
A beginner-friendly dashboard that gives you all key information about your domains, hosting plans, and a chat option if you want to clarify anything.
It also makes it easy to use and manage your website hassle-free with all the convenient tools and services available right there.
8. Free Website Migration
Already a blogger or site owner? If you are tired of your old web host and thinking of switching to GreenGeeks web hosting, then don't worry as it is not a big deal. How?
All you have to do is, purchase GreenGeeks web hosting and ask for website migration. Their expert team will migrate your website for free to GreenGeeks.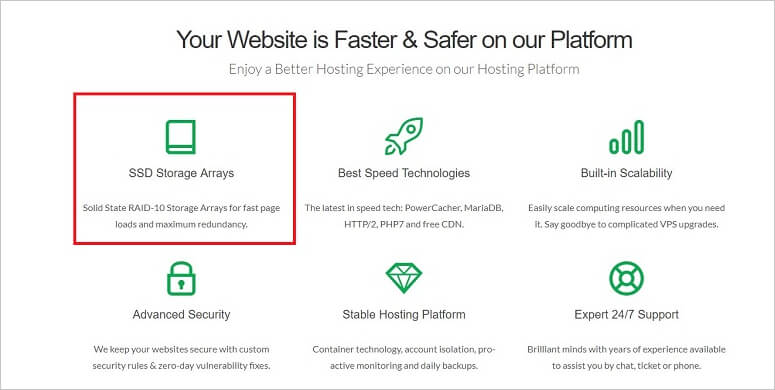 GreenGeeks Pricing
We will now discuss the vast range of products, their suitability to all user needs, and finally the pricing to check the affordability.
GreenGeeks is small in size when it comes to the number of customers, but when you look at the range of products, it is as big as Bluehost.
Here are the products, and their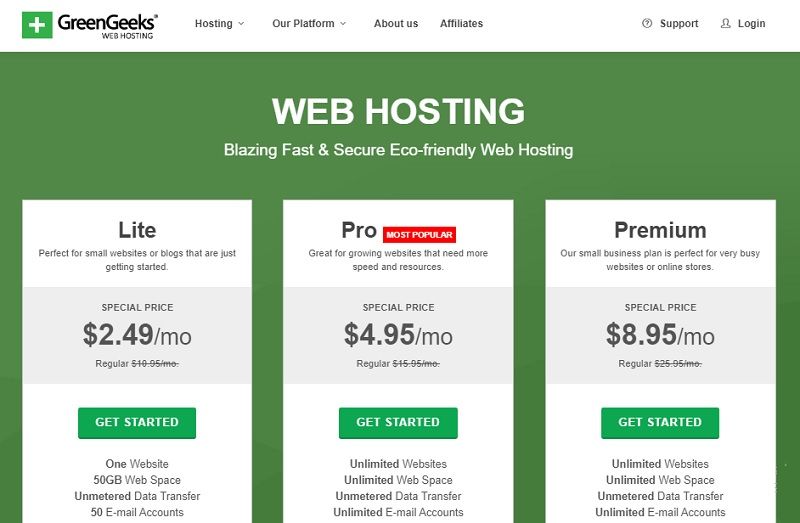 .
GreenGeek's entry-level plan starts with Shared hosting. They have also rebranded it as WordPress hosting, you will find the same name, features, and pricing.
The only difference here could be the server, as most of the hosting companies provide exclusive servers for WordPress websites, and this improves the performance.
While a plain vanilla Shared Hosting will have customers of multiple CMS and platforms on the same server, WordPress will keep it restricted to only WordPress users.
So, you can pick them carefully and don't get confused with the same plan names and pricing.
Lite: Supports 1 website, 50GB SSD, Unmetered Bandwidth, and 50 Email IDs.
Pro: Host Unlimited websites, No cap on storage, Unmetered Bandwidth, and Unlimited Email IDs.
Premium: Top-end hosting plan with all Pro features, plus, dedicated IP and premium SSL.
Pros And Cons: GreenGeeks
We should know the in and out of every product. While we loved the GreenGeeks for their ease of use and performance, we would also like to discuss the complete list with cons as well.
No hosting is perfect or flawless. It is one of the best web hosts, but it also has some disadvantages [that you can ignore] but should know them.
Pros:
30-days of the money-back guarantee
Free Website Migration
Daily Backups
99.9% Uptime Guarantee
Free CDN
Free SSL Certificate and Installation
Fast servers (using SSD, HTTP/2, PHP7, built-in caching, and more)
Unlimited SSD Web Storage
Unmetered Bandwidth
Free Domain Registration
Cons:
OnCall Support is not available for 24×7 [Chat is available]
Domain Fees is not refundable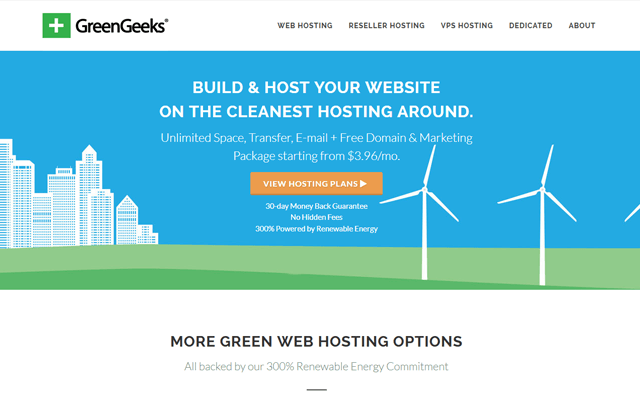 Conclusions
As mentioned at the beginning of this GreenGeeks review, it's one of the green hosting providers that was founded back in 2006. The company's main goal is to reduce environmental impact and even give some resources back.
In general, GreenGeeks could be rated as one of the better hosting providers. It offers multiple services, including shared web hosting, WordPress hosting, managed VPS hosting and reseller hosting. The pricing for these plans is also quite attractive – the basic plan starts from $2,49 per month.
What is more, this green hosting provider allows you to create fast and good-performing websites. With an uptime of 99,95%, your website will be down for only 43 seconds per day. Also, if you don't have a website yet, you'll be able to start creating one with Weebly website builder that's super easy to use, even for beginners.
The only problem is that GreenGeeks has only 3 data centers, so some inconsistencies in performance can be expected in certain areas. However, I was unable to find other GreenGeeks complaints.