What Is iPage?
iPage is a full-service domain and web hosting provider targeting smaller businesses that want to jump into the e-commerce arena. It is owned by Endurance International Group, a conglomerate that owns top internet firms like Bluehost, HostGator, and Constant Contact.
iPage was founded in 1998 in Burlington, MA, by Thomas Gorny. Its initial goal was to be a complete provider of web solutions. However, in 2000, the company put its business on hold until 2007 when it was re-launched as a 100% web hosting provider with two data centers in Boston, MA and its office in Burlington.
Today iPage is one of many providers owned and run by the Endurance International Group (EIG). The team that leads iPage today are industry leaders. iPage is now one of the most recognized web hosting brands, currently hosting more than one million sites.
In addition to offering users unlimited disk space, a free domain name, and an unlimited number of email addresses, iPage has numerous features that help you quickly and easily develop your site. You can choose from hundreds of pre-built website templates and themes. You can opt to use their mobile-optimized website builder.
Another feature appealing to small business owners is the ability to quickly implement e-commerce add-ons, such as shopping carts and PayPal integration. iPage integrates well with any of the commonly used Content Management Systems (CMS), such as WordPress, Drupal, and Magento.
Contacting iPage's customer service team is easy using their online ticketing system or 24/7 chat and phone availability. If you're not satisfied with the services you receive, iPage offers a 30-day money-back guarantee.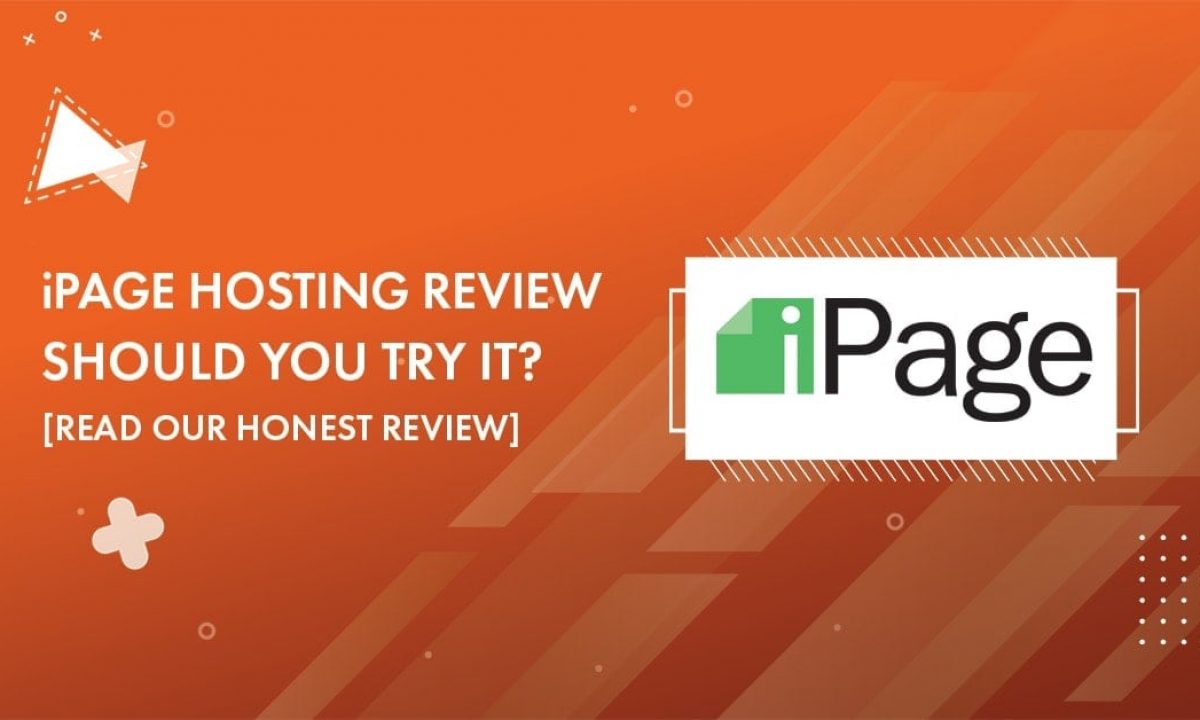 100% Green Web Hosting
It's a good thing to know that iPage buys enough Renewable Energy Certificates (REC) to offset energy use by 200%. That's the equivalent of planting 244 acres of trees.
Here is how RECs work. They are certificates proving that even though you buy your electricity from the grid, the portion you use is made from renewable sources. Otherwise, there is no way to tell where the energy originally is coming from through the grid.
Comparing iPage to the Best Web Hosting Services
iPage is among the best web hosting services for bloggers, affiliate marketers, and small businesses with limited budgets.
It offers a premium web hosting service's flexibility and service standards at only a fraction of the other companies' monthly fee.
But even on a tight budget, there are a few things that you should never compromise on when choosing a web hosting company for your online business:
Monthly bandwidth and disk space limits
Average server uptime and response time
Data security
Pros of iPage Hosting
iPage is extremely inexpensive when you sign up for the first three years. Their customer support is friendly. Furthermore, they have access to just about every tool or open-source app that you could want.
Here's a complete rundown on all of the positive things we liked about them: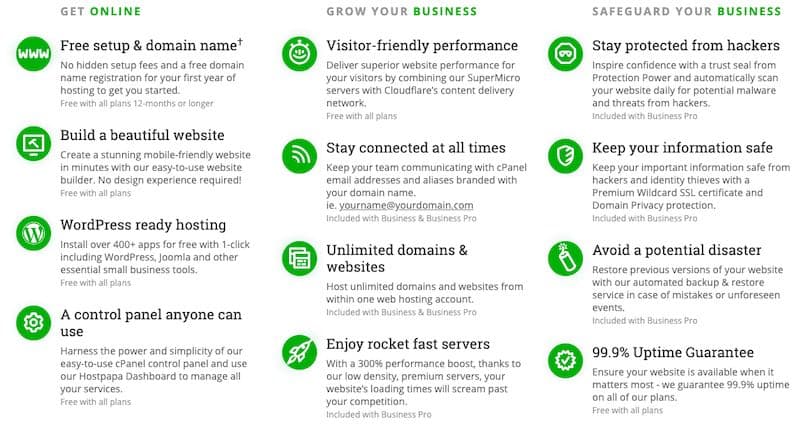 Cheap, Inexpensive Hosting
iPage has consistently been one of the cheapest web hosts we've reviewed over the past few years.
And it seems like every so often, they find a way to discount the starting price even further.
Currently, the iPage starts at $1.99/month. The value, as you'll see in a minute, is good, too. They only have one shared hosting plan, so nothing is 'held back' to try and force you to upgrade.
The only catch is that you'll have to pay for three full years upfront to get that $1.99/month price point.
Otherwise, the regular (read: "renewal") rate is $7.99/month.
If you're only paying for a single year, the introductory pricing is $2.99/month (with the renewal at $9.99/month). And if you're paying for two years, instead of three, it's $2.49/month (or $9.99 renewal).
Whichever term length you choose, the price is good enough to put all of their initial plans among the best value-per-dollar we've seen.
Lots of Third-Party Applications
As mentioned, iPage's 'core' offering is solid. Here's a brief rundown of everything you get for that $1.99/month.
All hosting plans come with a free domain registration for the first year. This saves you ~$15/year right off the top.
You'll also get a free email address and SSL certificate, too. Each email account is branded for your domain, includes email forwarding, autoresponders, spam filters, virus checking, and even POP3/IMAP accounts so you can set everything up with Outlook.
This plan comes with unlimited disk space, 'scalable' bandwidth (meaning mostly unmetered), and unlimited MySQL databases. Not too shabby.
If you're looking for an easy-to-use, drag-and-drop website builder, iPage has one that comes with six pages and hundreds of templates.
iPage has tons of popular open-source apps ready to install as well. That includes content management systems and blogging software like WordPress, Joomla, Drupal, PixelPost, and b2evolution, Gallery2 and ZenPhoto photo galleries, plus Gbook, phpBB, and SMF forums.
If you're looking for full-fledged e-commerce stores, iPage also has these. AgoraCart, OpenCart, OSCommerce, PrestaShop, Zen Cart, and TomatoCart are all included. They can even help you with PayPal integration to accept money online if you're a first-time webmaster.
30-Day Money-Back Guarantee
iPage has a no-questions-asked 30-day refund policy. Simply let them know within the first month that you're not happy and they'll gladly give your hosting money back.
Like other hosts, however, domain names and additional services are usually not refundable.
iPage gives you a free domain name for the first year. So if you ask for a refund, a $15 fee to cover the cost of the domain name will be deducted. The good news is that you will still own the domain name and can move it or 'point' the domain to another hosting company somewhere else.
Friendly Customer Support
iPage offers customer support through an online help desk and ticketing system. They offer tutorials if you want to try and fix the issue quickly by yourself. Otherwise, they also offer phone and chat support.
We tested their chat support, logging on in the late afternoon, and the customer rep joined instantly.
Cons of Using iPage Hosting
iPage's pricing is among the cheapest and they have pretty good customer support.
Unfortunately, some of their other performance statistics don't fare as well. Let's take a look: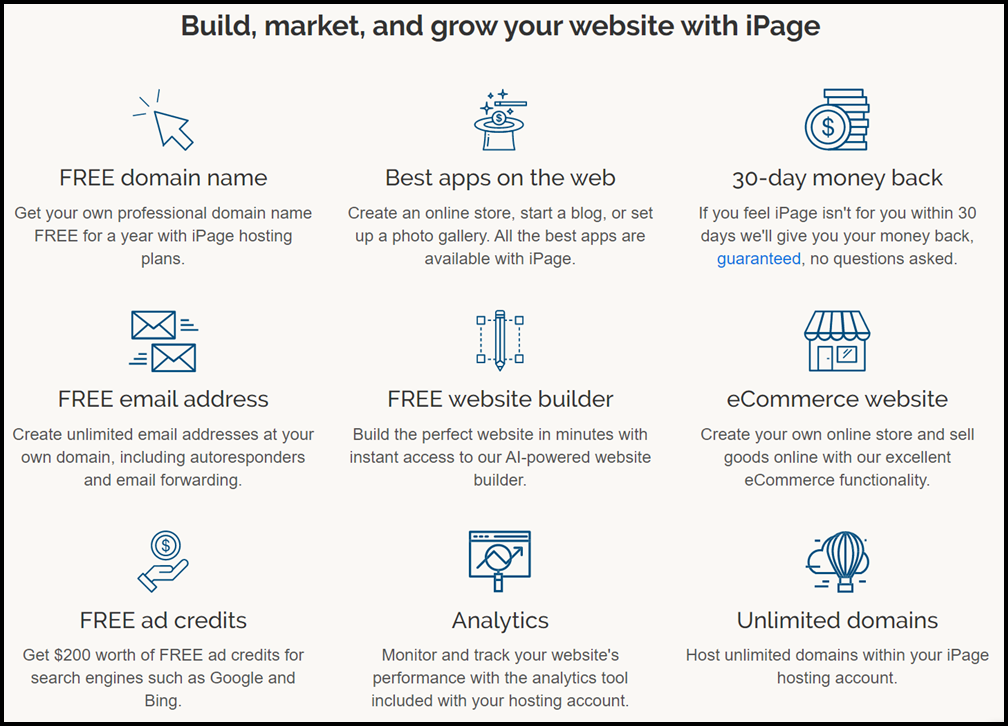 Poor Uptime of 99.72%
iPage has a lot of features to like. However, none of them are really worth anything unless your site is reliably online and open to your visitors.
That's why one of our favorite performance tests is to track uptime performance. We use a period of 12 months, so we can rule out any one-time problems. Then, we can objectively compare these uptime results against other hosting service providers to show you exactly how one host is better than another — no bias included.
Sadly, iPage has delivered a 99.72% uptime average with 401 outages and a total of more than a day of downtime over the last 12 months.
Slow Loading Time (992 ms)
Over the last 12 months, iPage's loading times have been increasing, delivering an average of 992 ms speed. That's three times slower than our fastest host – A2 Hosting. So iPage definitely has room for improvement in that area.
Lots of Extra Fees for Additional Services
It's true that iPage's core offering is solid. You basically get unlimited storage and bandwidth, plus access to dozens of different popular apps.
You also get a free domain for the first year, an SSL certificate, and an email.
The first additional fee that pops up is the renewal rate down the road. A renewal rate of $7.99/month isn't terrible – we've seen others well over $10+/month.
However, it's when you combine this with a few other additional fees that your pricing starts to snowball.
Some of the premium hosts we've reviewed include things like extra security or backups in their basic plan. iPage keeps their main plan cheap by not including these features, and instead of having you pay more for them if you want them.
No Free Site Migrations
Most of the 40 web hosts we've reviewed will move an existing site to their servers for free. This is especially nice if you're not a technical person and don't want to waste time trying to figure out how to move site files, re-point your domain, and more.
iPage, however, does not offer any free site migrations. Instead, they will only move a site for a $150 one-time fee. That's on the high side, compared to other hosts.
No cPanel (vDeck)
Most web hosts use cPanel as a dashboard of sorts. It's the industry standard, and if you use it in one place, you'll know exactly where everything is when you log into it in another place.
iPage doesn't use cPanel, going instead with an alternative called vDeck, which is not quite as robust as cPanel.
For beginners, this isn't always that big of a deal. It's usually more of an issue for people who are used to working on the same uniform platform. It can seem like a waste of time to learn a new platform and how to efficiently use it when you have already mastered that on another platform.
iPage Pricing
iPage mainly promotes its shared web hosting Go Plan on its website, designed for beginner marketers, bloggers, and small businesses.
However, it offers several other web hosting packages as well that are designed for different end-users.
Apart from its main shared web hosting plan, iPage offers WordPress shared hosting plans, dedicated web hosting, and VPS hosting for businesses looking for greater control of their hosting resources.
These hosting types have multiple pricing packages that offer different features for large, medium, and small businesses.
Let's take a closer look at each of iPage's hosting plans and what they offer.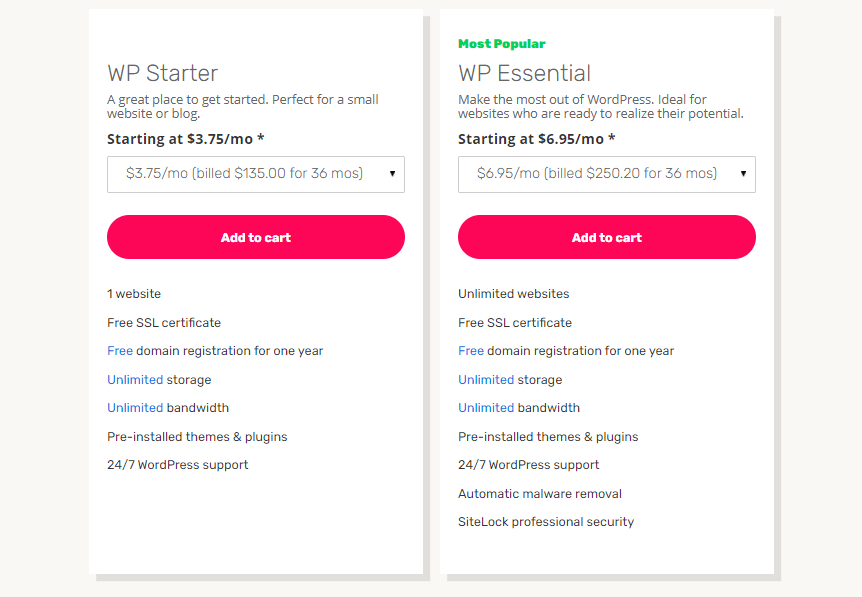 iPage Web Hosting Plans
iPage's Go Plan is their main offer that attracts a lot of press and attention because of its low rates.
It is an ideal plan for newbies, beginner affiliate marketers, and small businesses that only need a website to maintain an online presence.
For just $1.99/month, iPage Go Plan offers unlimited domain registrations, unlimited bandwidth and disk space, a free domain and SSL certificate for a year, 24/7 support, the basic version of its website builder, and many other valuable features.
There's a catch, though: to get iPage for $1.99/month, you'll need to sign up for their 36-month plan, all paid together. If you go for a 12 or 24-month plan, the rates are $2.99 and $2.49/month, respectively.
iPage WordPress Hosting Plans
WP Starter
WP Starter is designed for complete beginners and offers only one website per account. However, you still get a free domain and SSL certificate for one year, along with unlimited storage and bandwidth.
Plus, your WordPress website comes with several pre-installed themes and necessary plugins so that you don't need to worry about any of the technical stuff.
You can sign up for the WP Starter plan for $3.95/month (same price for 12, 24, and 36-month sign-ups.)
WP Essential
WP Essentials is designed for more experienced bloggers, marketers, and WordPress users managing a portfolio of sites.
On top of everything WP Starter offers, WP Essentials gives you unlimited websites, malware removal service, and a free SiteLock account for added security.
You can sign up for WP Essentials for $6.95/month.
Conclusion
However, iPage is not the best value for money if your site is quickly growing and needs more resources and add-ons. I'm not saying it's terrible, but there are better web hosting services that offer much more value in the same price bracket, especially when you consider the high renewal costs of iPage accounts.