About MatchesFashion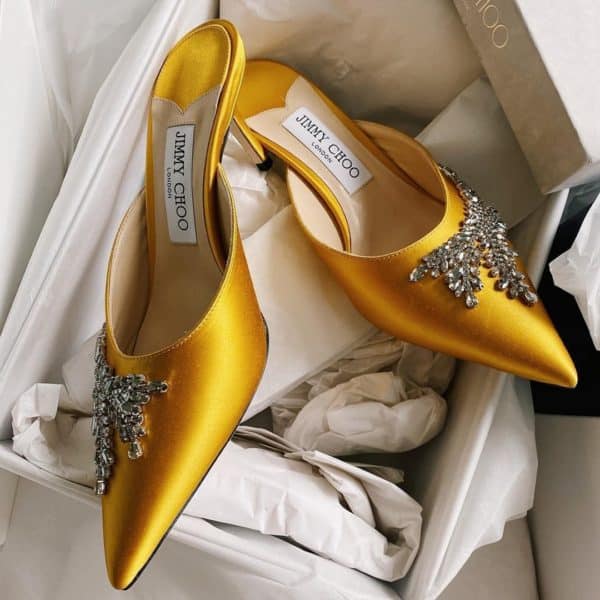 MatchesFashion is a modern luxury fashion brand offering designer clothing for men and women, with a wide selection of stylish accessories, shoes, and home goods. With a social media following of nearly 1 million, their trendy retail stores and online shop carry Balenciaga, Fendi, Acne Studios, Jil Sander and tons of other influential designers.
This MatchesFashion clothing review aims to sharpen your understanding of the brand, the shopping experience, and also introduce you to some of their bestselling items. Time for a wardrobe edit? Read on and decide if MatchesFashion is the new luxe style hub you've been searching for.
Overview of MatchesFashion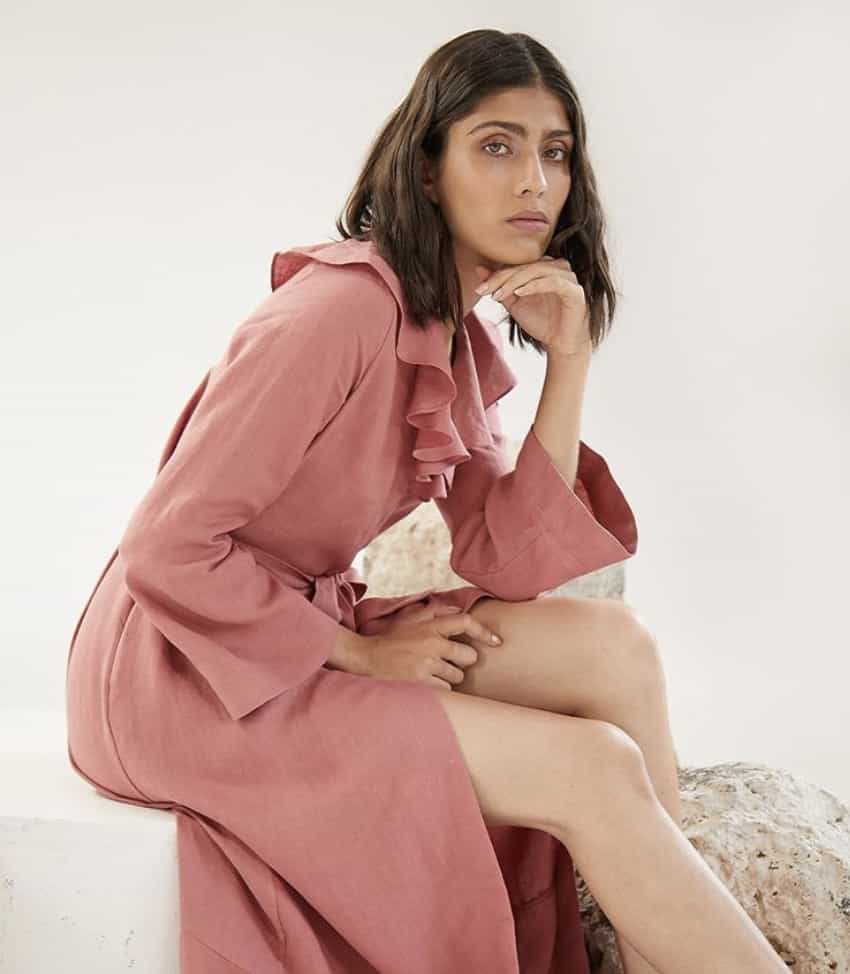 MatchesFashion was founded in Wimbledon, London in 1987 by husband and wife duo Tom and Ruth Chapman. What started out as a single standalone brick and mortar store, exploded into a chain of 14 retail stores across the British capital as well as a highly successful ecommerce venture stocking over 650+ established and emerging designers.
According to BOF, MatchesFashion.com, which was founded in 2006, receives 55 million website visitors each year. 80% of purchasers come from one of the many international markets they serve (176 to be exact). Matches Fashion aims to be "the most personal luxury shopping experience in the world".
Continue reading this MatchesFashion clothing review for the pros and cons of this luxe brand.
Pros
A selection of 650+ designers
24/7 style advice through the sites fashion-concierge team, MyStylist
Shop online, in-store, or via the brand's app
Private shopping services are available in person or via email or phone
A loyalty program with rewards and offer days
The brand is committed to sustainability and works with Eco-Age
MatchesFashion US shoppers are eligible for free delivery on all orders over $300 and free returns
All prices inclusive of duties and taxes
Cons
Some customers reported receiving damaged or defective products
Depending on where you're shopping from, returns can be pricey (they aren't free everywhere)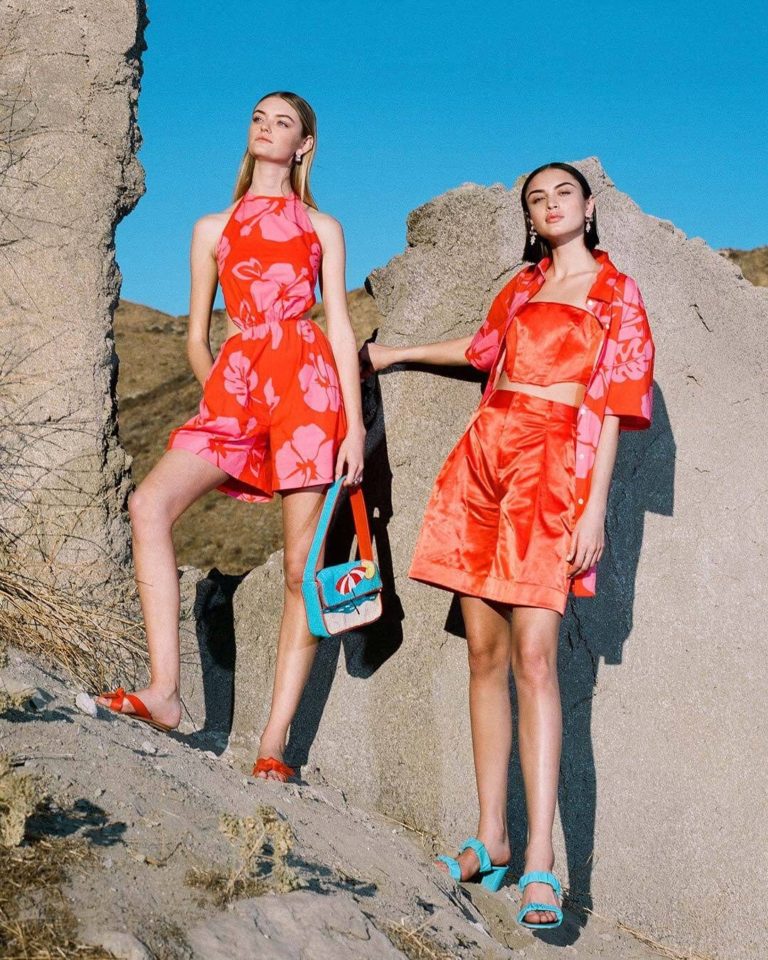 MatchesFashion Men
Keep reading this MatchesFashion clothing review to learn more about their men's category. MatchesFashion carries a wide array of stylish staples for men ranging from casual to formal to trendy. I'll cover some of the brand's essential wear pieces. These top picks for men are classic and timeless additions to the modern man's wardrobe.
Orlebar Brown OB-V Cotton Jersey T-Shirt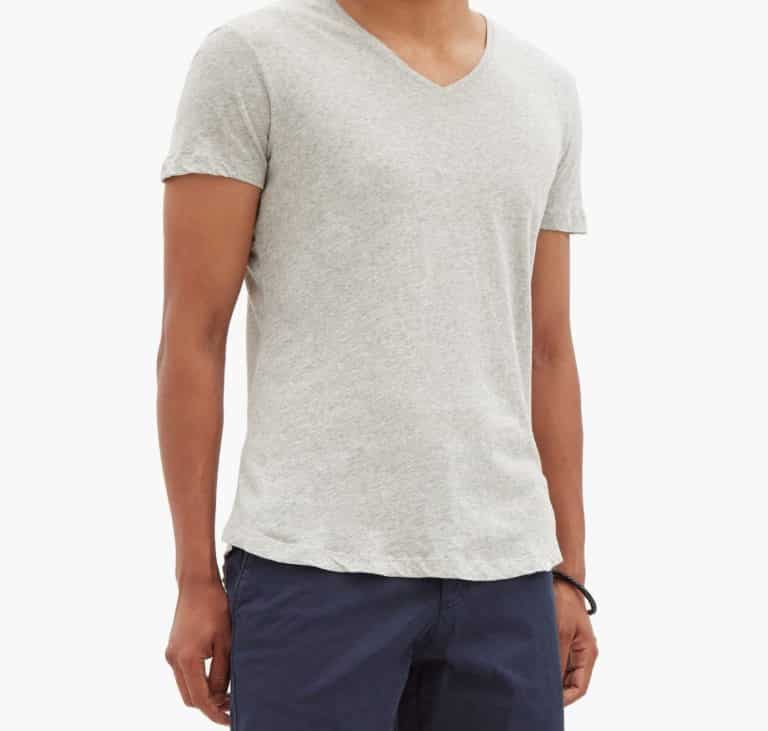 There's nothing more essential to one's wardrobe than the go-to tee, it's something most of us are always in pursuit of. A t-shirt can be dressed up or down, and this neutral OB-V Cotton Jersey T-Shirt is the definition of versatile. Quality basics are a solid investment and Orlebar Brown delivers with this cool V-neck.
The OB-V Cotton Jersey T-Shirt is made from lightweight and soft cotton jersey, with a light stretch to it. This shirt is available in a classic range of colours, including grey, white, and navy and runs from S-XXL. This Orlebar Brown tee is priced at $130 and remains one of the men's top sellers. If you're looking for a classic, comfortable, high-end tee…Add this piece to your cart.
Paul Smith Tailored Cotton Chino Trousers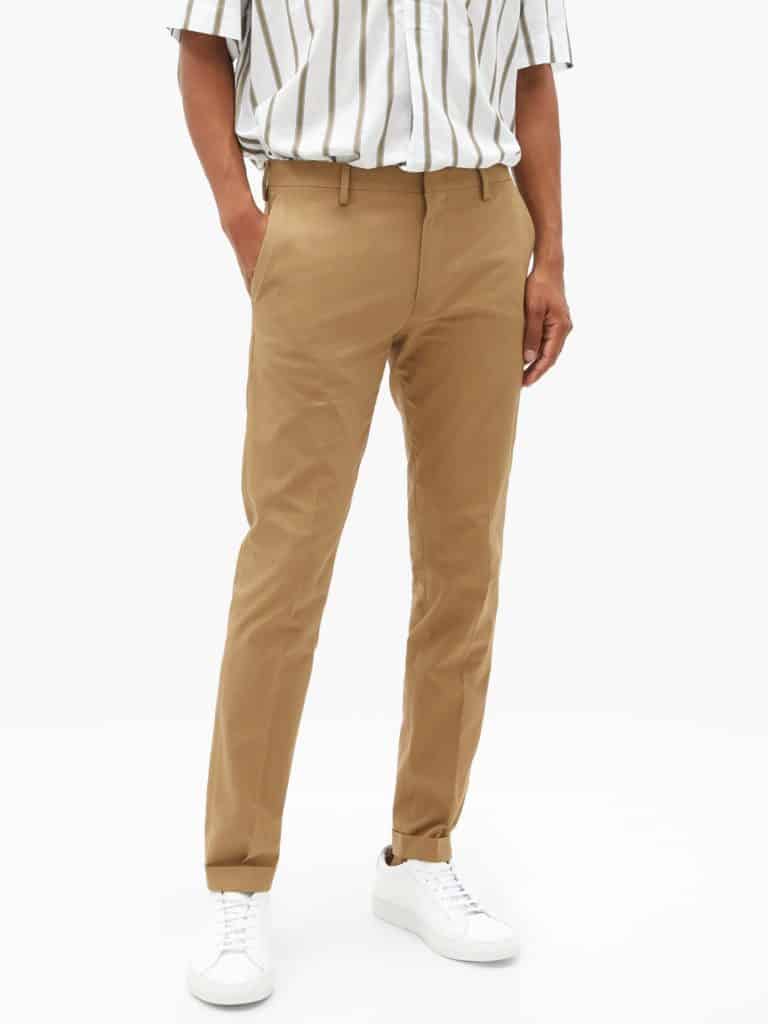 Chinos, as popularized by Steve Mcqueen in the film The Great Escape, hold an important place in the stylish guy's closet. The Tailored Cotton Chino Trousers from Paul Smith are seriously suave and can work on a date, at the bar, or in a business casual office. These Paul Smith chinos are made from cotton twill, featuring an attractive slim fit and tapered through the leg. Roll up the cuffs for a laidback look and to flaunt a nice pair of shoes.
In beige, navy, and grey, the neutral Tailored Cotton Chino Trousers can successfully styled with basically any color. The Paul Smith chinos ring in at $460 and can become your favorite pair for building stylish ensembles.
Alighieri The Dante Sterling-Silver Necklace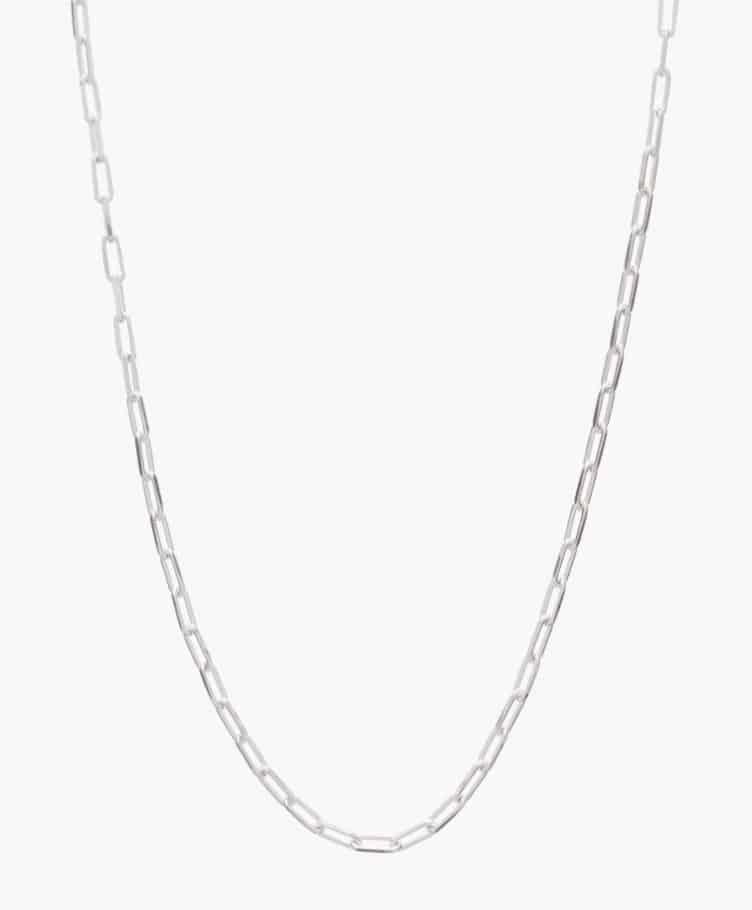 PSA to men: wear more jewelry! A man who can dress is great, but a man who dresses well and accessorizes, now that's impressive. Alighieri's The Dante Sterling-Silver Necklace inspired by Italian poet Dante. It's charming, alluring, and may just cause an inferno between you and your significant other (the sexy kind, not Dante's Inferno kind).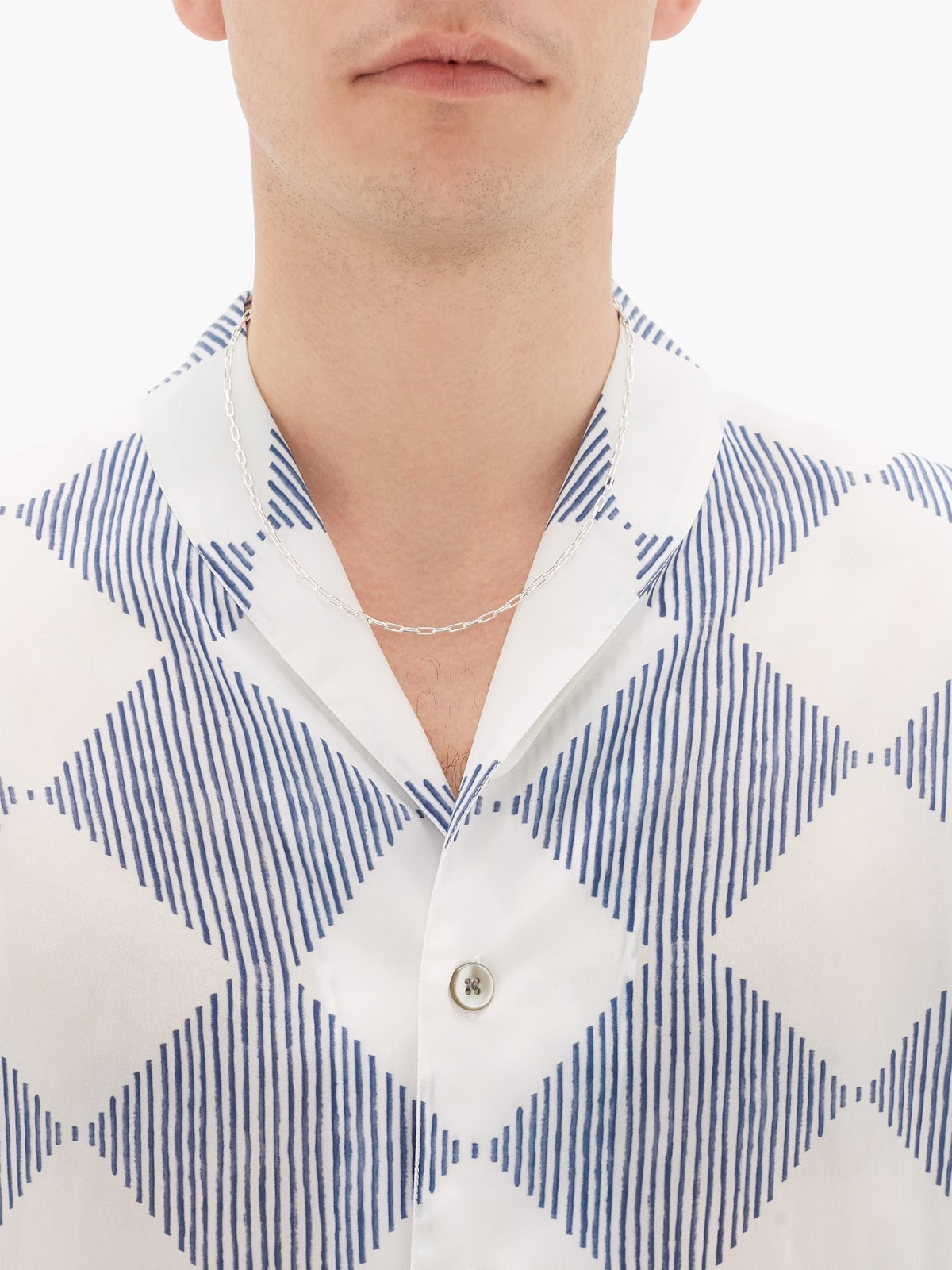 This slender box chain on The Dante Sterling-Silver Necklace adds a subtle sharpness to an outfit without being showy. This chain features a lobster clasp and is crafted in the brand's Hatton Garden Studio. Sounds fancy. This all-masculine necklace rings in $290.
Tod's Rubber-Sole Suede Desert Boots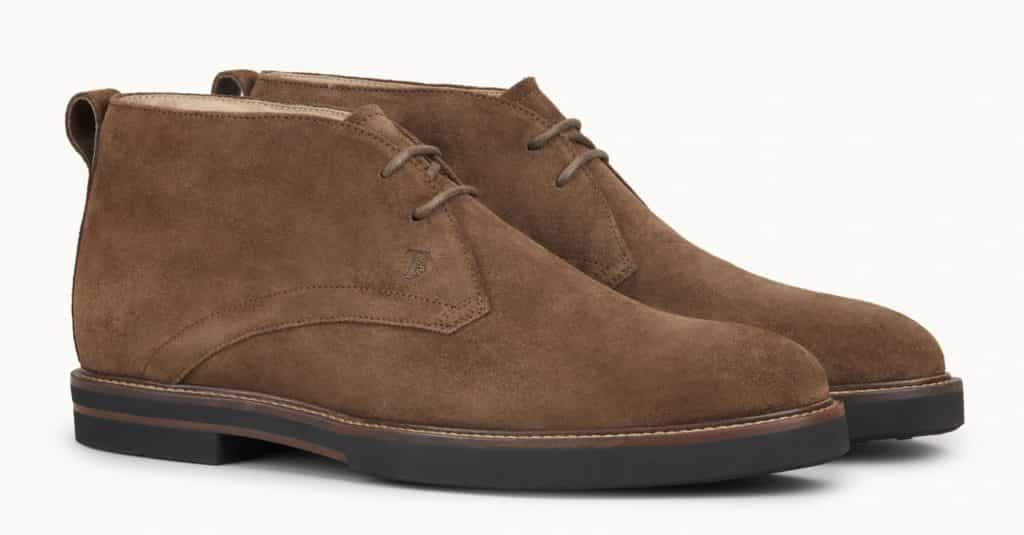 These Rubber-Sole Suede Desert Boots harken back to pairs worn by soldiers in Burma during WWII, a style that took off in the 1950s and is equally attractive today. Tod's knows boots, and this pair crafted in Italy from quality suede and a durable rubber sole.
This classic utilitarian silhouette adds a dapper sense of style to jeans and other laidback pants. The rich brown hue of the Rubber-Sole Suede Desert Boots matches well with most anything. These Tod's boots are available for $735 in sizes 5-13 (UK).
MatchesFashion Women
Continue reading this MatchesFashion clothing review to learn more about their selection of goods for women. The retailer carries a trendy range of basics and more formal options like embellished evening gowns. So whatever the occasion, MatchesFashion got you covered. Keep reading to learn more about some of their top sellers for women, essential wear.
Wardrobe.NYC Hem-Panel Long-Sleeved Jersey T-Shirt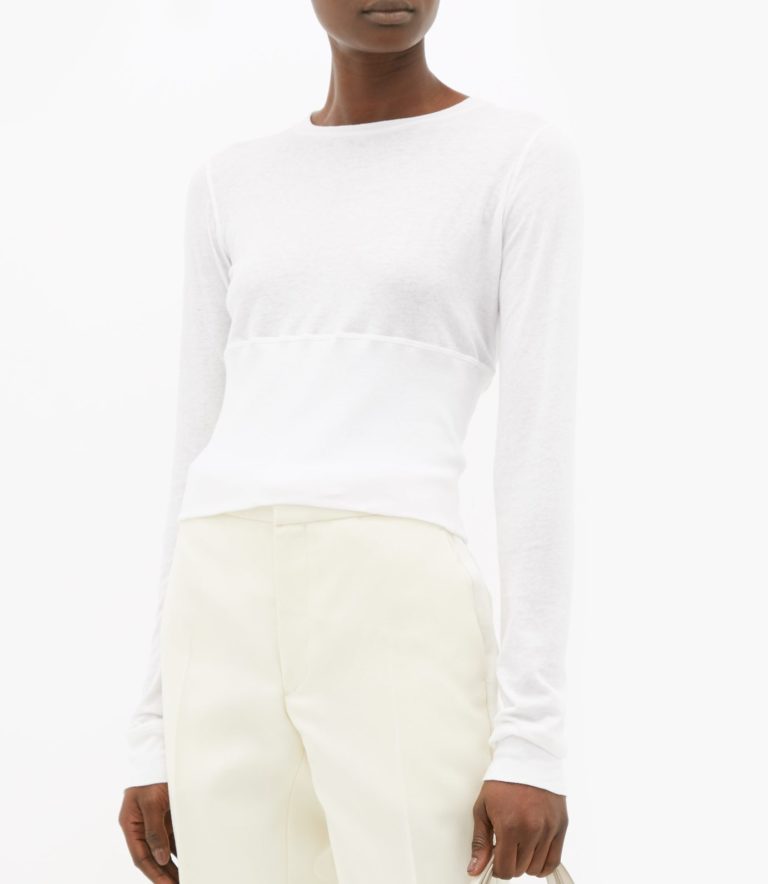 This Hem-Panel Long-Sleeved Jersey T-Shirt is a gorgeous, must-have elevated basic. It's not just your average long sleeve tee. This Wardrobe.NYC shirt features a hem panel that flatters your silhouette, and adds a bit of stylistic edge. It's made of 100% cotton.
I love this look. You can style the Hem-Panel Long-Sleeved Jersey T-Shirt with nice trousers for a more dressed up look, or pair it with a skirt for something a little more playful. Also available in black, this gorgeous long-sleeved tee rings in at $260.
Totême Straight Leg Mid-Rise Crop Jeans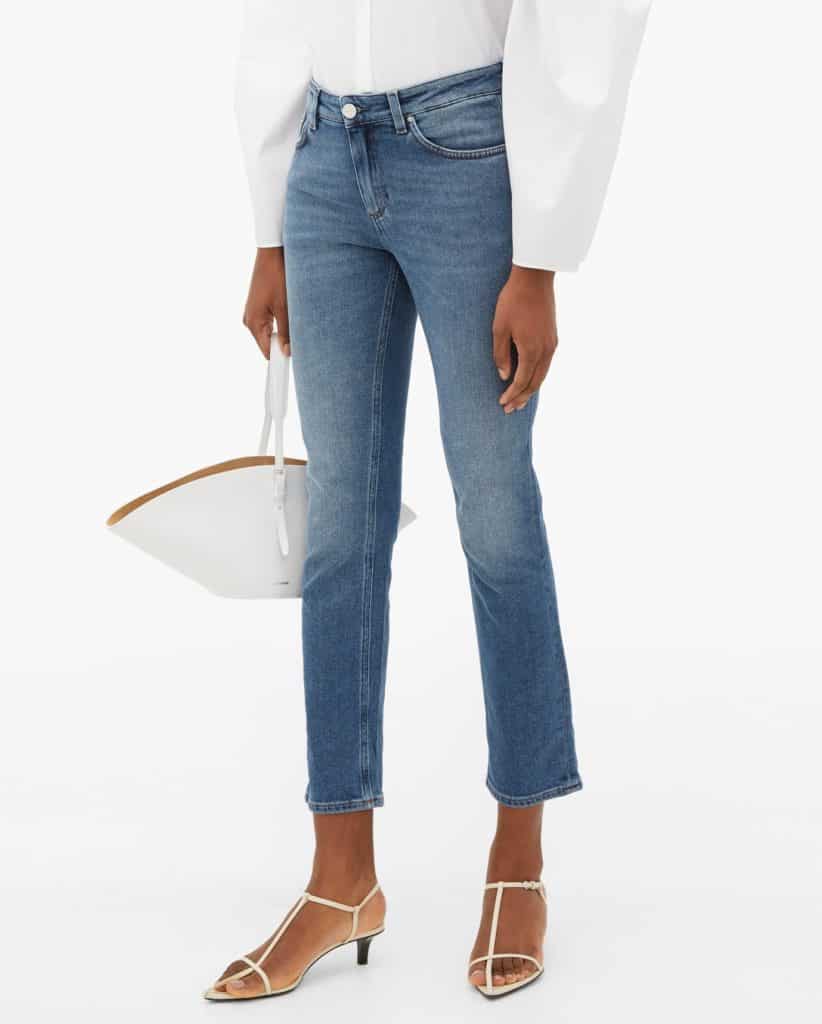 Looking for the perfect vintage-inspired pair of jeans? Enter the Straight Leg Mid-Rise Crop Jeans. This pair is effortlessly cool, with a lived in look. Italian crafted, the denim made from a mid-weight cotton blend. These cropped jeans look killer with a pair of heels, exposing your ankles and elongating the look of your legs.
Pair the Straight Leg Mid-Rise Crop Jeans with a crisp white top and blazer, or even a printed tee, and you've got a flattering look to serve. These vintage jeans ring up at $360, and are available in sizes 24-31.
Alighieri The Unbearable Lightness Gold-Plated Ring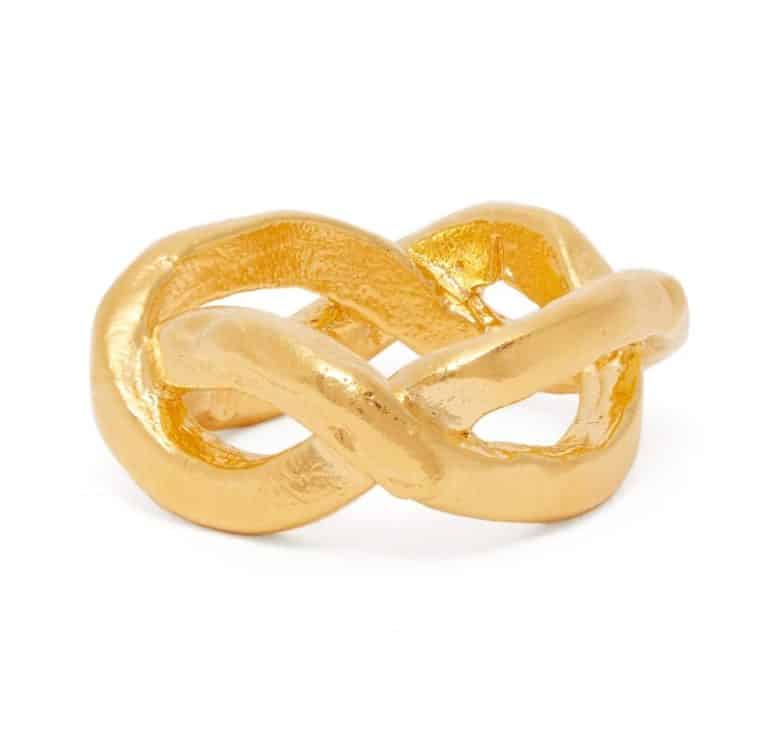 Just like the Alighieri men's necklace we showcased in this MatchesFashion clothing review, The Unbearable Lightness Gold-Plated Ring is also inspired by the founder's affinity for Dante. The twists and turns of the ring recall imagery of the rockery terrain in Dante's Divine Comedy. It's a striking design that will have eyes traveling to your hand.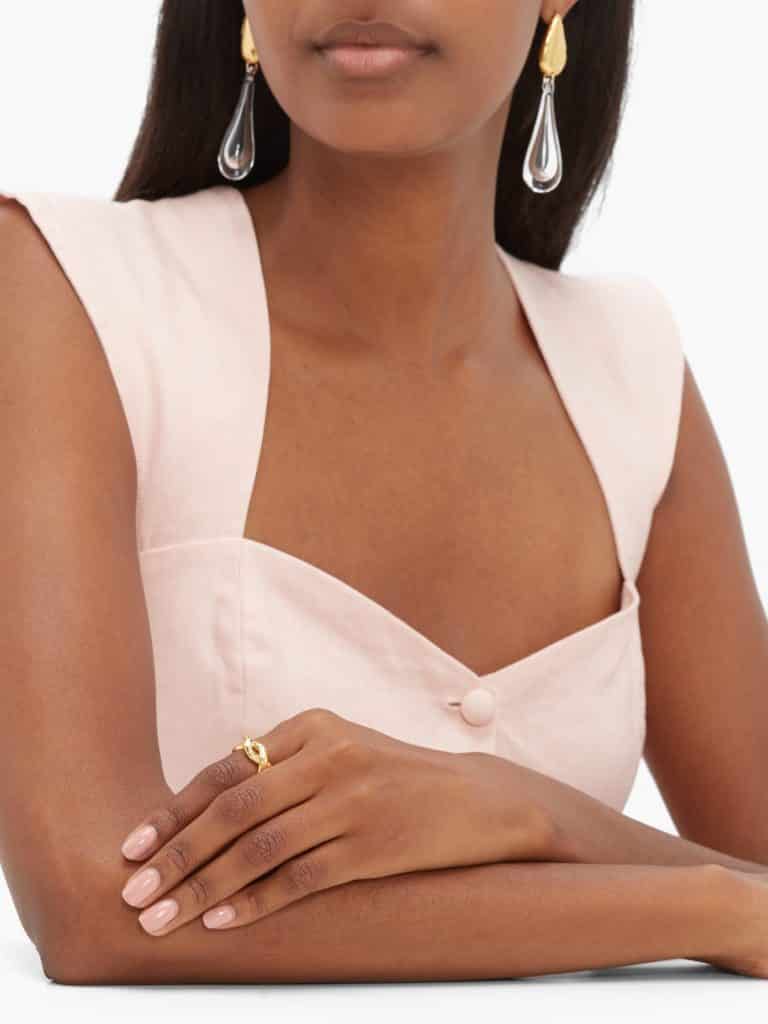 This gorgeous 24k gold-plated bronze ring has serious stacking potential, and will add sophistication and shine to your look. The Unbearable Lightness Gold-Plated Ring costs $490 and comes in sizes S,M, and L.
Le Monde Wraparound Velvet d'Orsay Slipper Shoes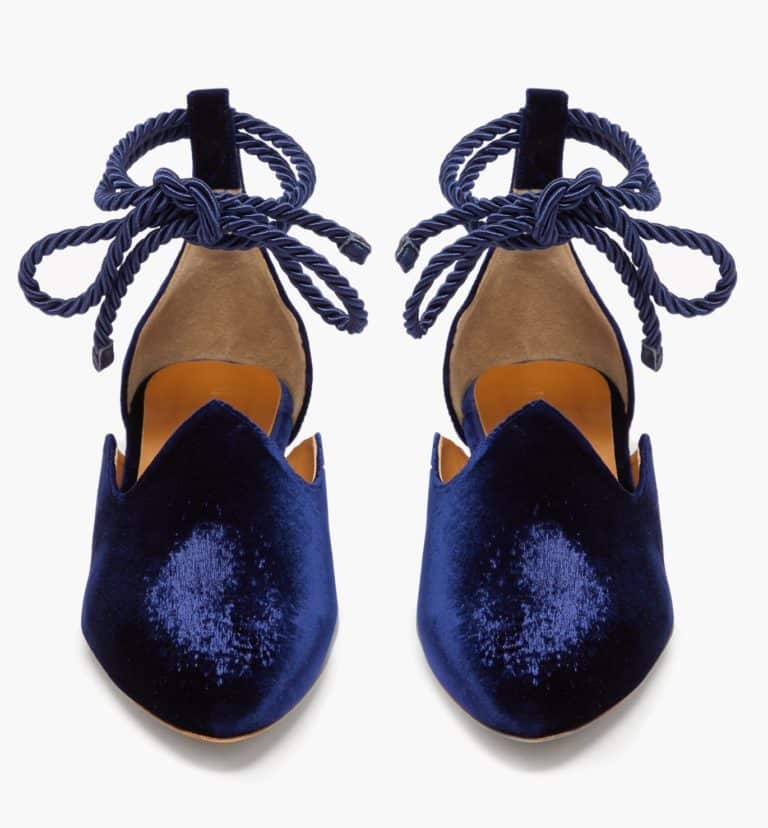 These Wraparound Velvet d'Orsay Slipper Shoes are a dream! Crafted in Italy from stunning velvet with a leather lining, this Venetian inspired slipper shoe is feminine and luxurious. The pair also features a wraparound braided ankle strap that adds a romantic flair to the style.
Emanate Italian glamor with the Wraparound Velvet d'Orsay Slipper Shoes. These luxe Le Monde slippers would pair effortlessly with a flowy dress or with your favorite blue jeans. Available in sizes 36-42(EU), these pretties ring up at $555.
MatchesFashion Clothing Reviews: What Do Customers Think?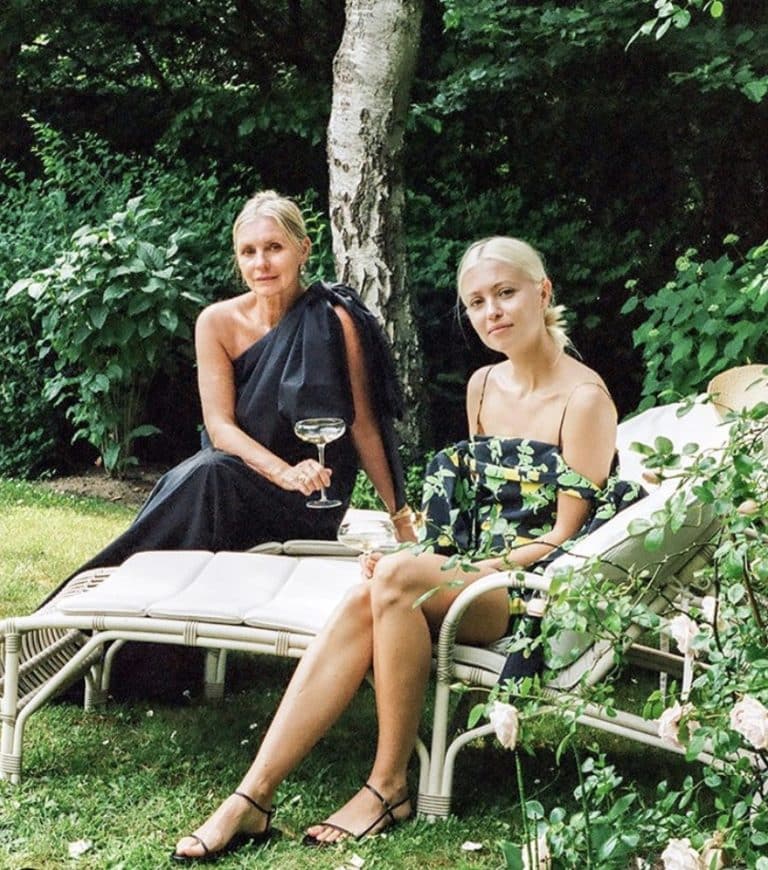 Is MatchesFashion legit? According to the research I've done in preparation for this MatchesFashion clothing review, the verdict is leaning towards the positive side. TrustPilot rates MatchesFashion 4.7/5, which is no easy feat. It's also worth pointing out that 86% of their 88,224 reviews rated the brand as excellent.
In terms of the red flags and poor ratings, the most common denominator that I found was customers' reports of received defective or damaged items. One appalling review read, Products sent are in poor condition, with large scratches, glue marks and sewing errors. Items not packaged properly and squashed. After-sales customer service is consistently appalling. As with any retailer, defects and mistakes happen. And the overabundance of praiseful reviews allow me to overlook these few bad ones.
Is MatchesFashion Worth It?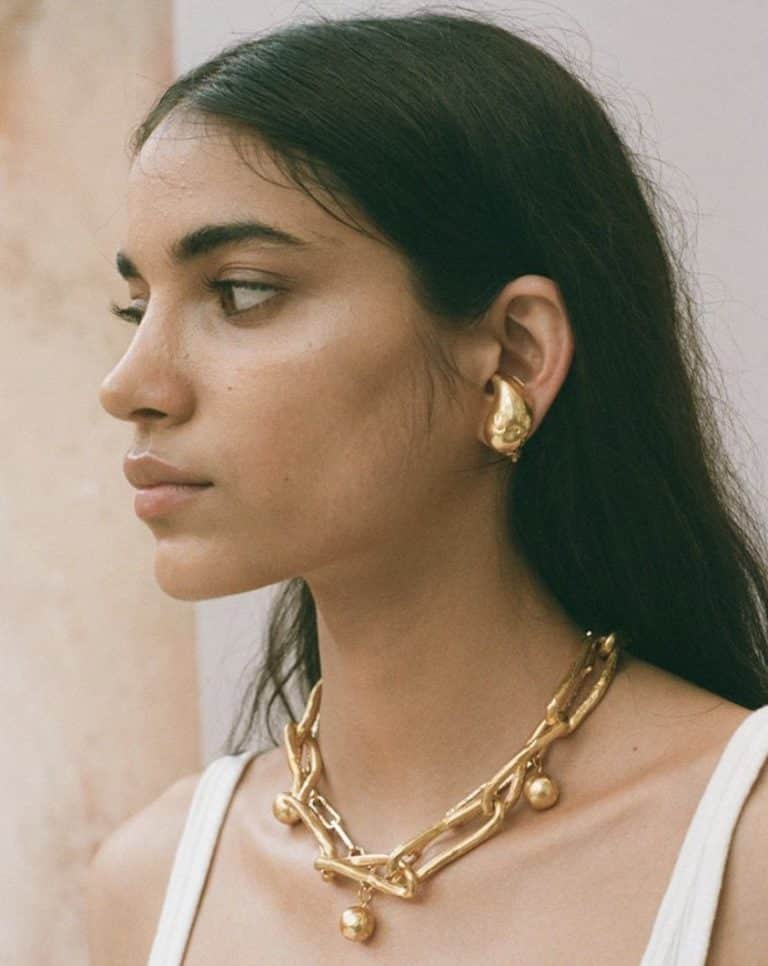 From what I've learned of the brand through my research for this MatchesFashion clothing review, it's very clear that the retailer wants to create a more personalized and interactive shopping experience for their customers. I love the fact that they have 24/7 customer service available on their site, and that they pay attention to the small details (i.e. their thoughtful and beautiful product packaging).
MatchesFashion truly emphasizes the importance of shopping as an experience, not just an act. Their prices are fair and they offer a wide selection of desirable labels. I would definitely shop with them.
MatchesFashion Promotions & Discounts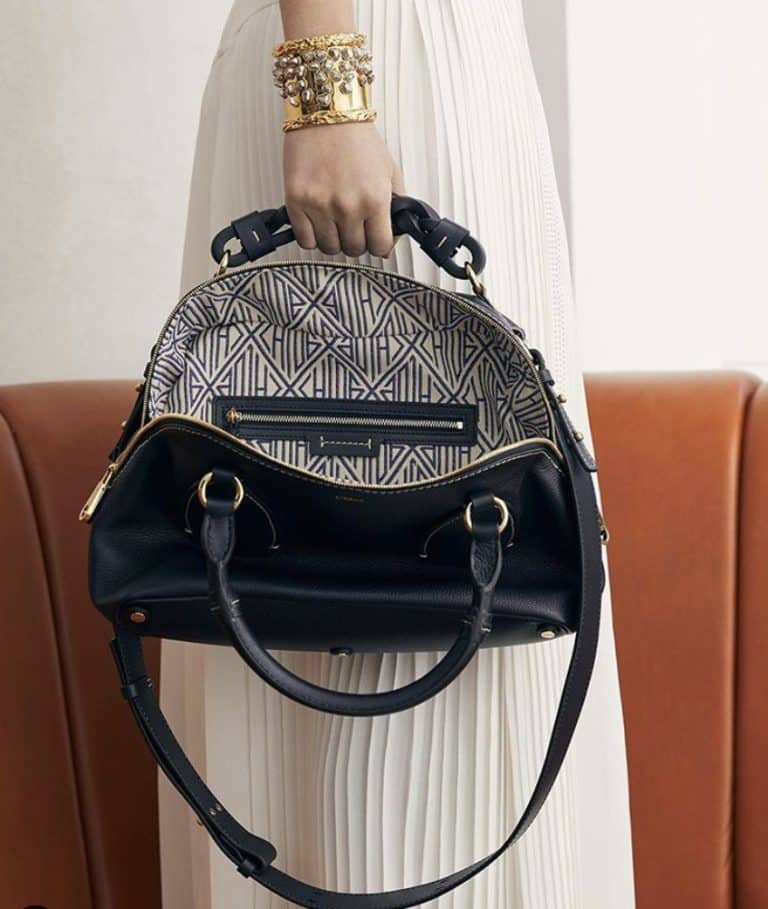 I was unable to find an active MatchesFashion promo code on their site, but if you sign up for the brand's newsletter you'll alerted to the next MatchesFashion private sale.
I'd also like to point out the MatchesFashion refer a friend program. If you refer a friend and they make a purchase, both you and that friend will receive 15% off (Your friend on their first purchase, and you on your next).
Where to Buy MatchesFashion
MatchesFashion has retail stores across the UK, including several in London. Alternatively, you can shop online at MatchesFashion.com for full access to their collection.
FAQ
MatchesFashion Sizing
Scroll down in this MatchesFashion clothing review to check out the retailer's size charts.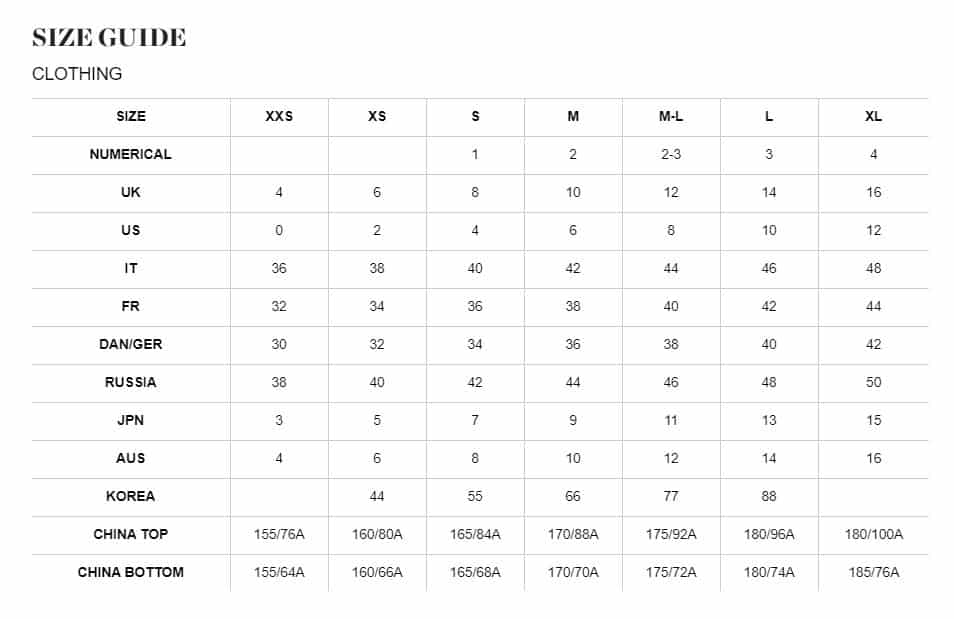 MatchesFashion Women's Size Chart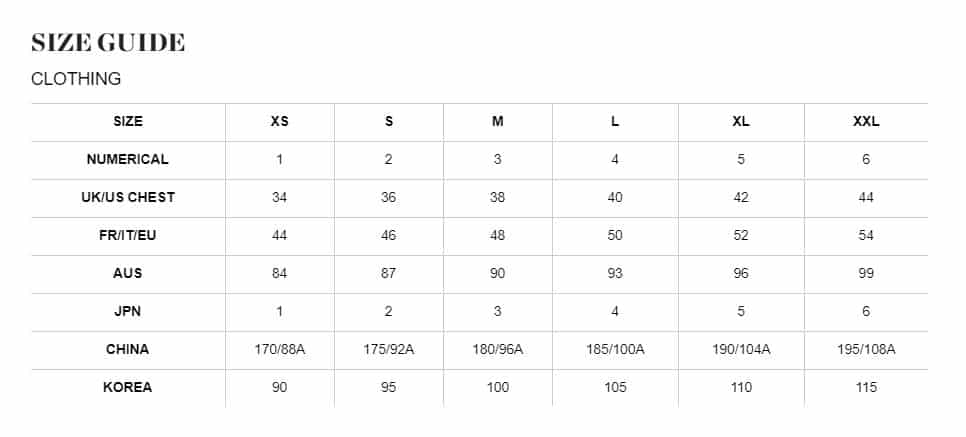 The MatchesFashion Men's Size Chart
MatchesFashion Shipping Policy
MatchesFashion ships to 176 different countries. For rates regarding shipping to a specific country, visit their website for more information.
Canada: express shipping is $20, with delivery expected within 2-4 working days
US: premium shipping $25, next day $15, express shipping is free. Delivery expected within 2-3 working days
Duties and taxes can prepaid at checkout
Orders can tracked via DHL website
MatchesFashion Return Policy
Returns can requested up to 28 days after purchase
Returns initiated by email, contact [email protected]. A customer service agent will send you a returns number by email. Items must returned within 14 days of receiving your returns number via email
Returns are free for US and Canadian shoppers (return fees for other countries can be determined on MatchesFashion.com)
Items must be in brand new, unworn condition to be eligible for return