About Ashley Furniture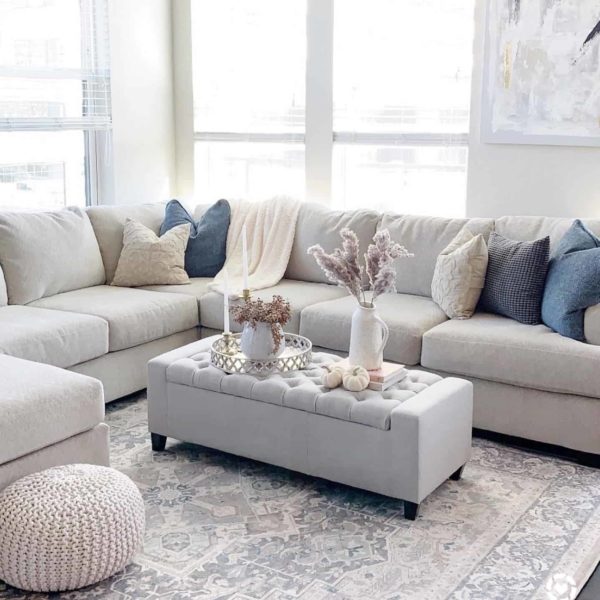 Ashley Furniture is a furniture store chain known for being the second favorite furniture and decor brand in America. In addition, their wide range of home goods and products attract many people around the globe.
Their success becomes even more apparent after learning about their 2,000+ locations worldwide and their social media following. Ashley Furniture has garnered about 665k followers on Instagram and 1.7 million likes on Facebook.
Looking to redecorate? This Ashley Furniture review can help you out. Join us as we look at the company's history, best-selling products, customer reviews, and more so you can decide if they're worth buying.
Overview of Ashley Furniture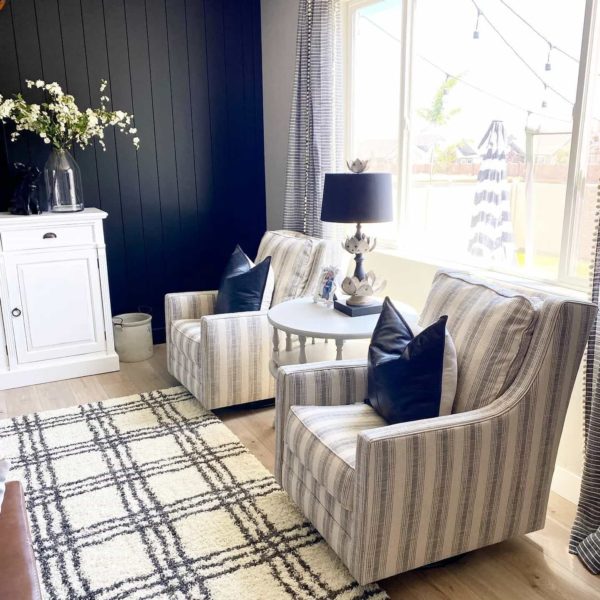 Ashley Furniture was founded in 1945 by Carlyle Weinberger in Chicago, Illinois. They were initially a sales operation that specialized in wooden furniture and marketing items made by local companies. In the following years, they invested in other furniture manufacturers to help with Ashley's own products.
After much success, Ashley began opening up retail stores and had opened 40 stores in their first year. The first Ashley HomeStore opened in Alaska in 1997 and slowly became the top furniture retailer in North America.
Many of these retail locations are independently owned and operated. Some of their furniture is not made by Ashley Furniture Industries. In addition, their mission is to "inspire the love of home and enrich the lives of those around us."  They emulate this value through their charity work with St. Jude Children's Research Hospital and other initiatives.
The Wisconsin-based furniture company is also working toward reducing their carbon footprint. They'll set energy reduction targets for their facilities, distribution centers, offices, and retail locations within the following year. And, within the next 4 years, they plan to introduce greener packaging, utilize and invest in electric trucks, and more.
In this Ashley Furniture review we will get into some highlights now that you know more about the brand.
Highlights:
Large selection of home furniture and decor available
Many retail locations across the world
Delivers to all 50 states
Financing options are available
Free standard shipping
30-day return policy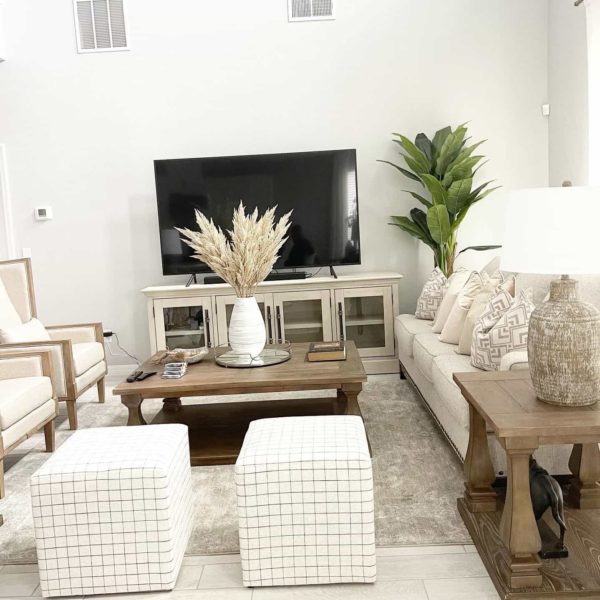 Creating a home that actually feels like home can be challenging but totally satisfying. Ashley Furniture offers bedroom, living room, and dining room sets along with recliners that'll make your space feel inviting and cozy.
Keep reading this Ashley Furniture review to learn more about their bestsellers. Also, note that financing options are available for these items, and assembly is required for all of them.
Ashley Furniture Bedroom Sets Review
Your bedroom is your sanctuary—a place to wind down and recoup from the day's events. So let's look at some of the Ashley Furniture bedroom sets to see if they match your aesthetic.
Ashley Furniture Effie Queen Panel Bed with 2 Nightstands Review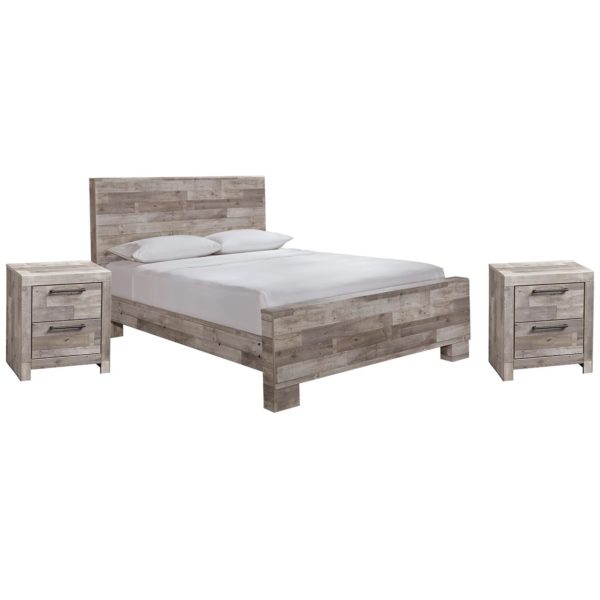 The Effie Queen Panel Bed with 2 Nightstands is perfect if you're looking for an urban and rustic feel. The set features a butcher block design with a whitewash finish over a wooden-looking grain. This gives it a restored look, adding to the farmhouse theme.
The bed frame comes with a head and footboard, and, of course, 2 nightstands to match. The nightstands are pretty sleek and contemporary, with easy-to-open drawers and USB charging ports for your devices. Together, the furniture pieces give off both an antique and modern vibe.
Ashley Furniture notes that a box spring is required for the frame and you can buy that separately. If you really want to complete the set, there are matching dressers available too! The Effie Queen Panel Bed with 2 Nightstands retails for $594 (reg. $1090)
Ashley Furniture Shawburn Queen Platform Bed with Dresser and Chest Review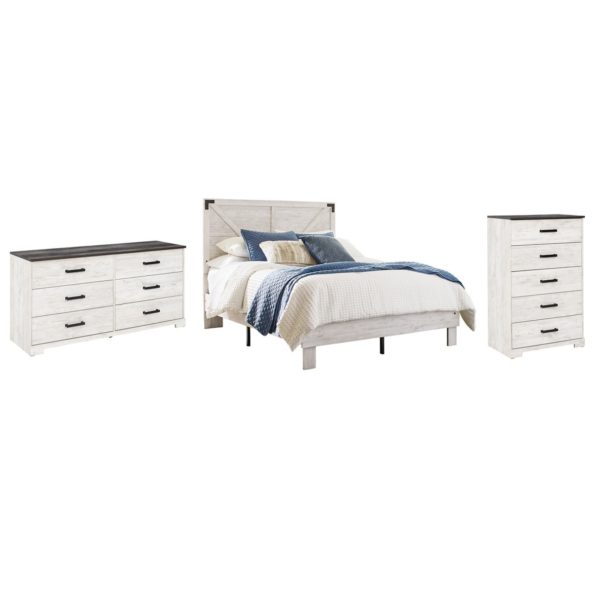 For a chic cottage-inspired theme, Ashley Furniture offers the Shawburn Queen Platform Bed with Dresser and Chest. The two-tone details and the metal hardware add urban and modern touches to the furniture pieces. Plus, the whitewash finish provides dreamy and comforting energy.
The set comes with a six-drawer dresser and a five-drawer chest, leaving plenty of room for any of your belongings. The tops are designed with gray planks resembling oak grain, providing some beautiful contrast. In addition, this platform bed doesn't require a box spring. So, all you need is a mattress to complete your cozy set.
The Shawburn Queen Platform Bed with Dresser and Chest will run you about $659 (reg. $1060).
Ashley Furniture Dining Room Sets Review
The dining room is where long-lasting memories can be made. Gathering with family at one of these Ashley furniture dining room sets can be the foundation of those special moments. So, let's take a look at their bestsellers.
Ashley Furniture Johnelle Dining Table and 6 Chairs Set Review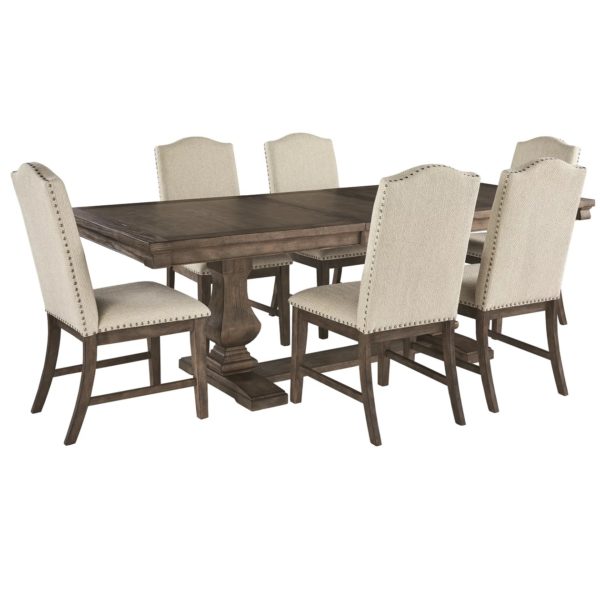 The Johnelle Dining Table and 6 Chairs is a classic dining room set. It features a long distressed table with a pedestal base along with six upholstered chairs with nailhead detailing along the edges for some charm.
This dining table can be extended by pulling both ends and dropping in an included extension leaf. It could even seat up to 8 people with these features. Plus, the chairs feature a foam cushioned seat for additional comfort during long holiday dinners. It will also look great surrounded by grays and other neutral-colored decor.
The Johnelle Dining Table and 6 Chairs Set retails for about $1311 (reg. $1940).
Ashley Furniture Centiar Dining Table and 4 Chairs Set Review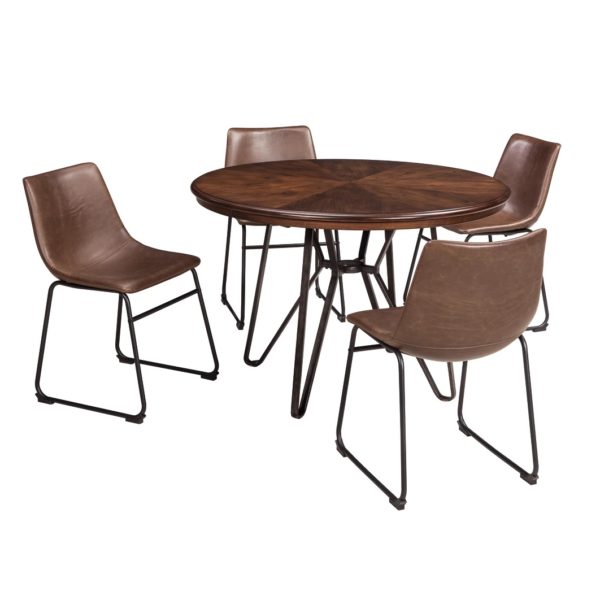 For a more contemporary look, we suggest the Centiar Dining Table and 4 Chairs. The tabletop is made with engineered wood and Mindi veneer or white cedarwood, which is resistant to decay and fungi. The top is supported by a metal base with a bronze finish, adding some two-tone charm.
The mixed materials in this set really set it apart. The stools are upholstered with faux leather with the same base as the cedar table. Overall, it's a stylish and timeless dining room package that's inviting and interesting to look at.
Refurnish your breakfast nook with the Centiar Dining Table and 4 Chairs Set for $516 (reg. $800).
Ashley Furniture Living Room Sets Review
Get ready for a fun game night or movie night with the Ashley Furniture Living Room Sets. Their best-sellers are comfortable and great for entertaining your guests.
Ashley Furniture Party Time Power Reclining Sofa and Loveseat Set Review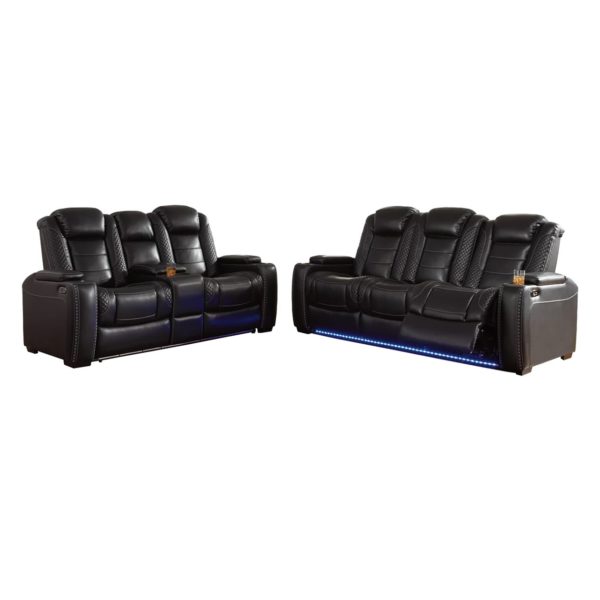 The Party Time Power Reclining Sofa and Loveseat Set can accommodate many of your party-goers. It takes inspiration from luxury cars' leather interior all the way down to its stitching details. The faux leather adds to the high-end look. Then, once the lights go down for movie time, you can amp up the relaxation with the reclining features.
A few more extras come with this luxurious set, including USB charging ports, LED lighting for cup holders, and flip-up armrests for extra storage. There's also additional LED lighting underneath the sofa which we have to admit is pretty cool.
For even more comfort, the set comes with Easy View power adjustable headrests. We're getting excited just thinking about it.
The Party Time Power Reclining Sofa and Loveseat Set retails for about $2,880 (reg. $4800).
Ashley Furniture Recliners Review
Last up in this Ashley Furniture review are the brand's recliners. Recliners are the perfect addition to your space if you're looking for comfort and coziness.
Ashley Furniture Beaconfield Oversized Power Recliner Review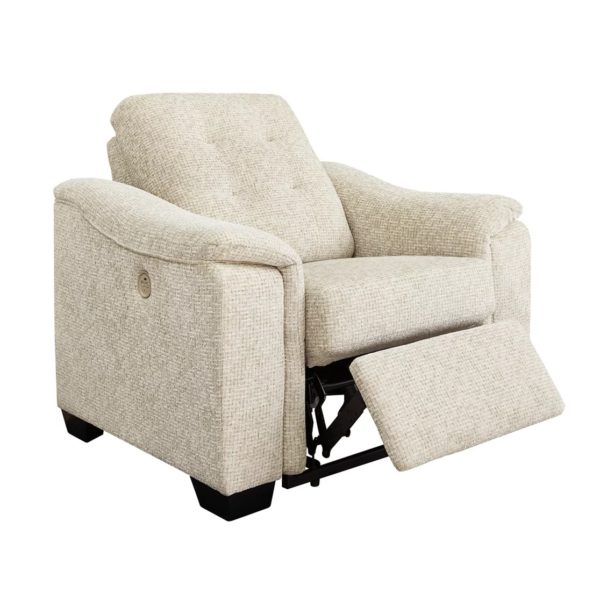 The Beaconfield Oversized Power Recliner is wrapped in chenille upholstery, steering away from the usual faux leather styles. So, it's warm, comfortable, and perfect for relaxing Sunday mornings. It's also contemporary with sloped pillow armrests and exposed wooden feet.
While writing this Ashley Furniture review, we found that the recliner also comes with a USB plug-in, but it only consumes power when it's in use. It also has one-touch power control, allowing you to move it into different positions depending on your comfort level. Besides the logistics, it's chic and modern, meaning you can chill out in style.
The Furniture Beaconfield Oversized Power Recliner will cost you about $650 (reg. $710).
Who Is Ashley Furniture For?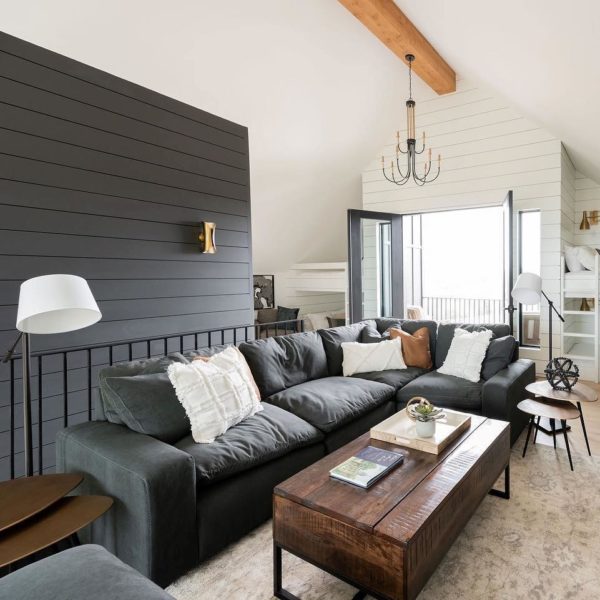 Ashley Furniture is great for anyone looking to buy new pieces for their home. Their selection is diverse and can appeal to many different aesthetics. In addition, they're pretty affordable in comparison to other furniture retailers, and they even offer financing options, allowing for some flexibility.
Ashley Furniture Reviews: What Do Customers Think?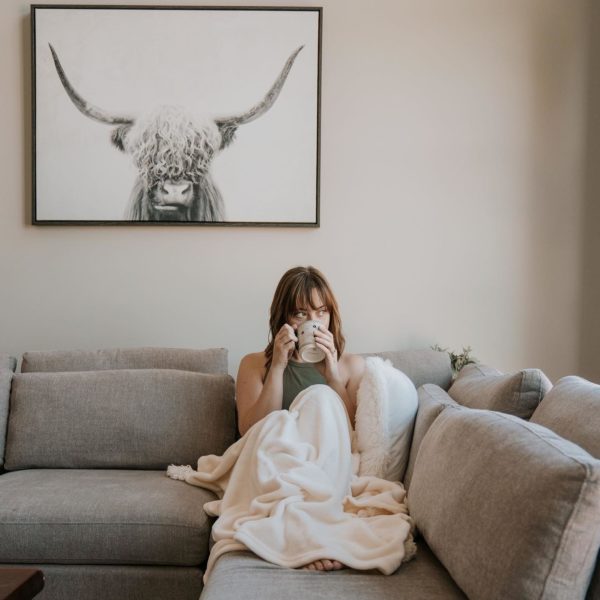 So, you've read about our brand's best-selling items. Now, we're at the fun part of this Ashley Furniture review: the customer feedback. We scoured the internet for testimonials and found some on the main website, Consumer Affairs, and Facebook.
Unfortunately, not all of the products featured here had customer reviews. But, here are the available average ratings:
Johnelle Dining Table and 6 Chairs: 4.8/5 stars from 6 reviews
Centiar Dining Table and 4 Chairs: 5/5 stars from 4 reviews
Beaconfield Oversized Power Recliner: 3.5/5 stars from 4 reviews
The classy Johnelle Dining Table and 6 Chairs Set definitely receives some praise. A customer writes, "I absolutely love my table! It's sturdy with an elegant farmhouse look and still very modern! Ashley Furniture was fast with delivery, and the guys who brought the table were very professional!"
Another reviewer writes, "We could not be happier with this purchase. We had it delivered to our house, and we put it together ourselves. Super easy to do on your own. The table is very heavy and sturdy, and the chairs are of great quality as well. One of them came broken, but they immediately sent a replacement […] This is a great deal, you will not be disappointed."
The Centiar Dining Table and 4 Chairs Set also gets rave reviews. One customer writes, "We moved into a smaller home in January, and our butcher blog dining room set was too big for the dining area and had to be replaced. We found this set at Ashley's Home Furniture, and it fit perfectly."
Another reviewer says, "I got this a couple of weeks ago for my breakfast nook. The wood top is beautiful, and I couldn't be more pleased with my purchase."
The Beaconfield Oversized Power Recliner does have mixed reviews, but they're mainly positive. A reviewer says, "I love it. Soft and comfy. Great purchase. I have not found anything wrong with it."
We also found that the company gets pretty good reviews on third-party sites while filling out this Ashley Furniture review.
A reviewer on Consumer Affairs writes, "We found the living room set we both loved at a price we could afford through good financing at an affordable rate. The selection was amazing, something for every taste and budget. I highly recommend a visit!"
Unfortunately, there is some criticism regarding the brand. For example, a few buyers cite long delivery times. Fortunately, it appears that the complaints on Facebook almost always receive responses from Ashley Furniture customer service representatives. They offer solutions and often ask to discuss the matter in private messages.
Is Ashley Furniture Worth It?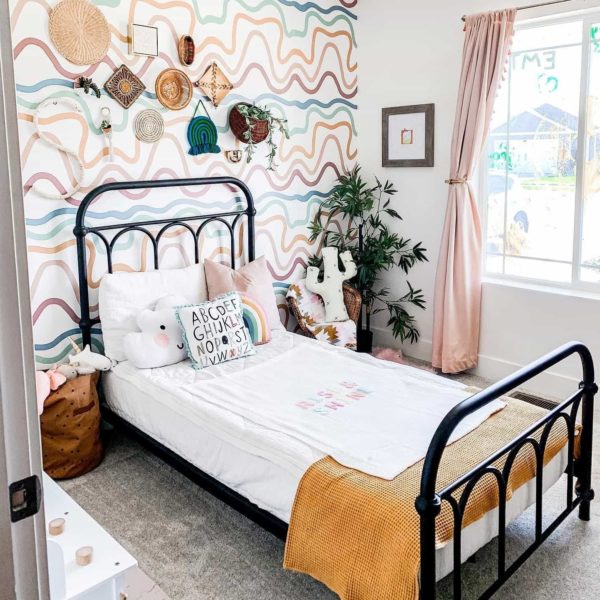 Creating a home environment that you're happy with is possible even with a variety of options. Ashley Furniture offers diverse furniture styles, from contemporary cottage to classic mid-century, making it easy for anyone to find their desired aesthetic.
After researching for this Ashley Furniture review, we think the brand is worth browsing if you're itching for a remodel. As we mentioned, their home furniture is classy, elegant, and timeless. Plus, it's pretty affordable, and the company even offers financing options so you can buy now and pay later.
Ashley Furniture Promotions & Discounts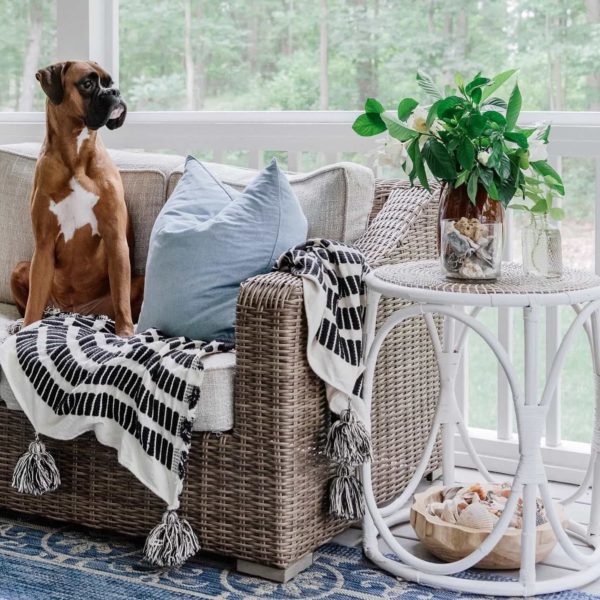 You can get 10% off your first Ashley Furniture order by signing up for their emails. The company also offers price matching.
Unfortunately, we couldn't find any additional offers, but you'll be able to stay updated on the latest codes and discounts by subscribing!
Where to Buy Ashley Furniture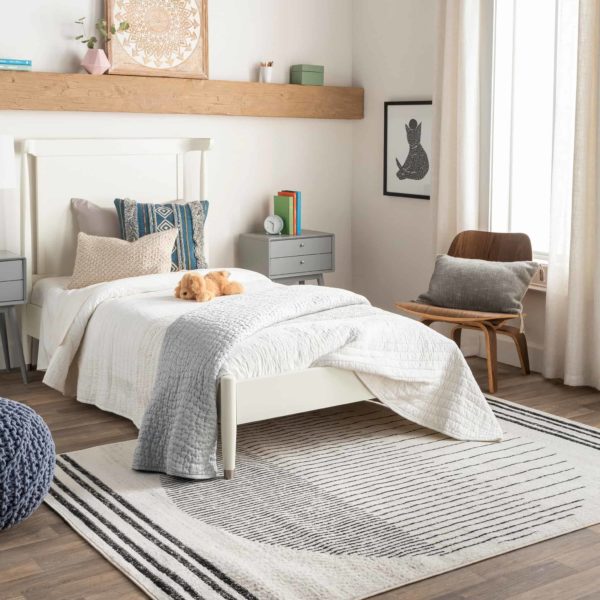 Get your hands on a new living room set at ashleyfurniture.com. You can also use their store locator to find a retail location near you.
FAQ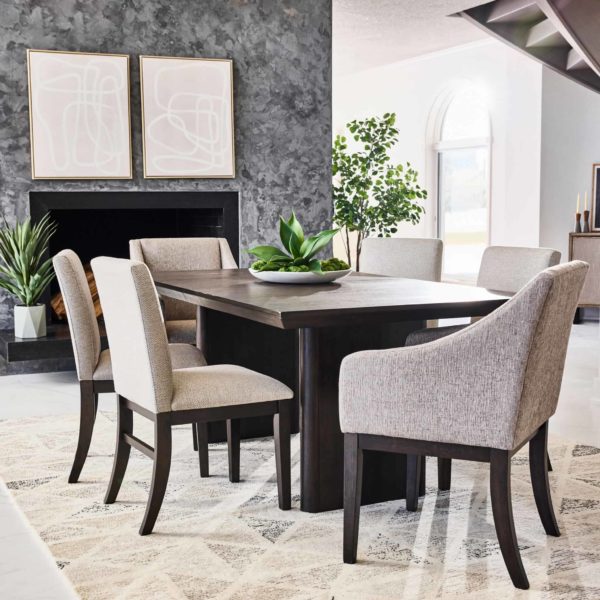 Who owns Ashley Furniture?
Ashley Furniture HomeStore is owned by Ashley Furniture Industries. The current CEO is Todd Wanek.
Does Ashley Furniture ship internationally?
Ashley Furniture does not ship internationally from their website, but they have local sites available and over 2000 physical locations worldwide.
What is Ashley Furniture's Shipping Policy?
Ashley Furniture offers free standard shipping for lighter items. These are fulfilled by UPS or FedEx. These orders generally take between 3-10 days, depending on your location. For Alaska and Hawaii, standard shipping costs range from $15-$310.
There are 1 and 2-day standard shipping options available for select areas, and this will be noted on the product's detail page and the checkout page. Estimated delivery dates are one business day and two business days, respectively.
The company will deliver larger items either by an independently owned Ashley HomeStore or their shipping service. You can also opt to have your items assembled by Ashley, and these costs calculated by the team delivering your order. They also offer Doorstep Delivery, but this option isn't available for all of their items.
What is Ashley Furniture's Return Policy?
Ashley Furniture has a 30-day return policy for Standard Shipping orders. If you have any issues, they will repair or replace the item, but if you're still not happy, they'll accept the return. Additionally, if you receive an order that's damaged upon arrival, you need to contact their customer service team within 72 hours.
For damaged items delivered by their Home Delivery Service, you have 72 hours to contact Ashley Furniture. You'll be able to repair, replace or pick up another item for return. The contact number included in your order confirmation email. If you find defects after the 72-hour period, your order might covered by the manufacturer's warranty.