In this Society6 review, we're going to be looking at one of the most appealing tools for selling online if you're a creative, or an artist.
Artists and creative professionals have never been in a better position to make a profit online. In the past, selling your artistic works used to require a significant amount of effort. Today, you can build an amazing website, join a marketplace, or sell in a host of other ways.
Society6 is a decent platform for those trying to make a significant amount of cash from their artistic creations. You can sell a variety of different products on this platform, from t-shirts and phone cases to pillowcases and more. To make these products unique, you simply add your own impressive designs. Society6 is a Print on Demand solution with plenty of versatility for growing companies.
Today, we're going to look at what you can do with Society6.
What is Society6?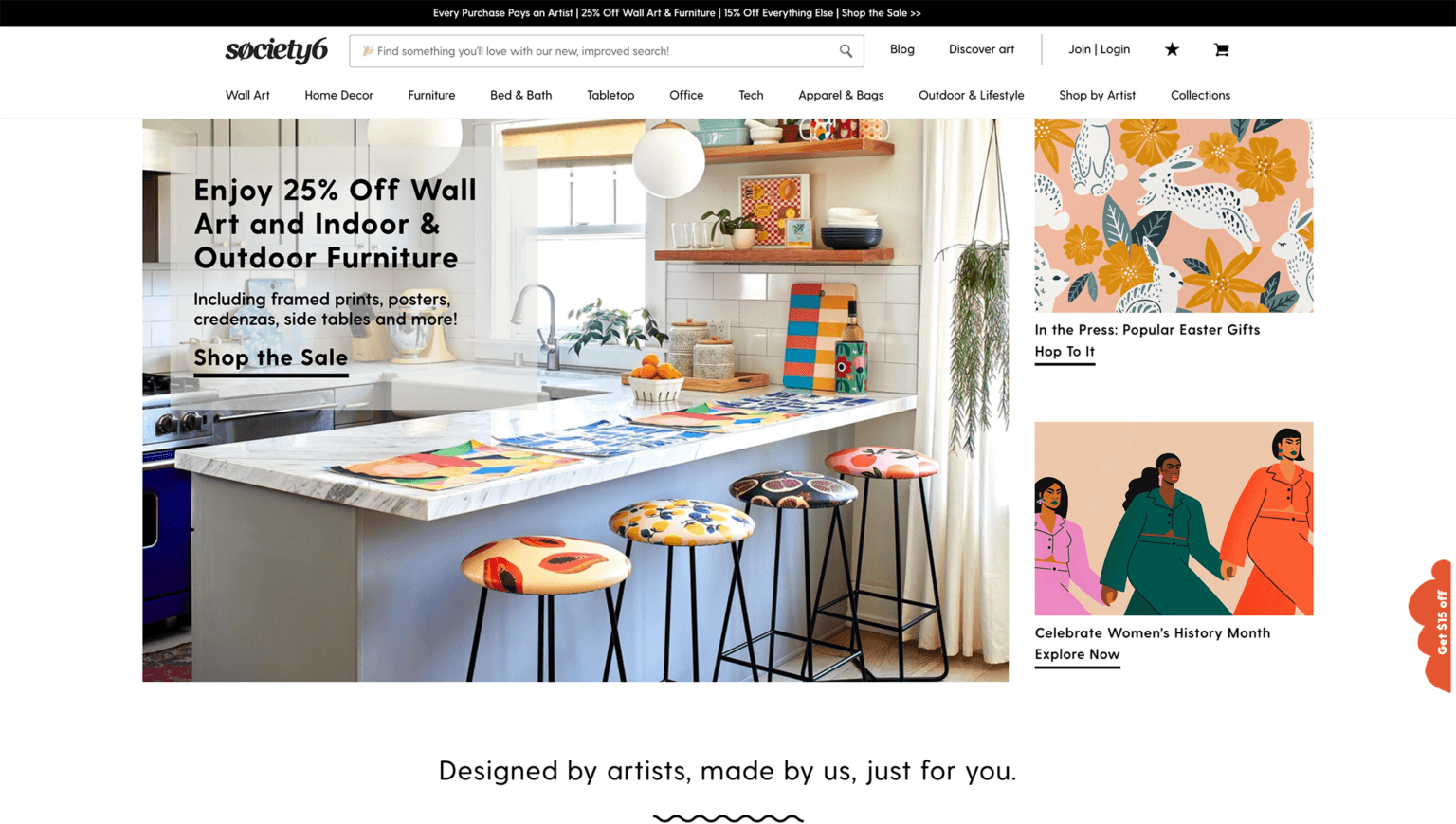 C is a tool for selling art in a range of formats online. You can showcase your art in the form of stunning originals online, or you can create prints in a host of different formats. As an artist, Society6 gives you a way to connect with customers keen to buy your creations.
You can product wall art, furniture, home décor, lifestyle products, apparel, and so many other amazing things. Wherever you are in the world, you'll find a team of experts ready to print, ship, and handle various aspects of customer service for you on Society6. You can also enjoy a pre-existing audience, because the platform already has access to a huge selection of customers all around the globe.
Society6's most attractive feature is its powerful community. When you start selling your art through this platform, you don't have to "go it alone". There are plenty of other similar professionals on the tool to help you find your way, and Society6 provides a lot of guidance for beginners too. The process is extremely easy and straightforward, making it possible for most artists to make a decent profit.
Every time a product with your design sells on the platform, you earn a cut of the profits. While you might want to open your own website and start building your personal brand on the side-lines too, Society6 gives you a good way to start making money.
Society6 Review: Creating an Account and Profile
If you want to sell your artwork with Society6, all you need to do is sign up for the service and create your own account. You'll also need to set up a PayPal account so you can get paid. This involves a $1 verification fee to ensure that you can receive cash.
Society6 claims all artists are welcome to start building their presence on the platform. The process to register is quick and easy. You'll need to choose a username and URL – make sure you do this carefully, so they're easy to remember for your customers. Then, you can start building your profile.
The profile page you have on Society6 is like the front page of your website. It helps customers to learn about you and the kind of art you sell. You'll have an avatar, where you can showcase your art, or simply a picture of your face. You'll also be able to add your name, create a cover image for your profile, and write a bio, so people can learn more about you.
Ideally, you'll want to keep the bio section short and sweet. Provide some information about where you're based, your art mediums, and what kind of things you're passionate about. Make sure you showcase a unique voice, so your customers have something to remember.
On your Society6 shop, the platform recommends sticking to around 50 words for your initial bio. You can also add social media links so customers can find you elsewhere on the web.
After you're finished designing a profile, you'll need to verify your PayPal account so you can get paid – this is where you need to pay the initial verification fee, just to ensure you're a real person. The process is very quick and straight forward.
Society6 review: Uploading your Art
Societ6 recommends uploading your art in 6500 x 6500px format. However, you should note this figure is the standard for items typically sold through the platform, like throw pillows, t-shirts, wall clocks, mugs, and so on. If you want to have your art printed on specific products, you'll need to check the specific size guidelines included by Society6.
You can find the exact specifications for all items on the Society6 website. Keep in mind, although it's possible to submit virtually any kind of art to the website, you will need to make sure you don't upload anything that could be seen as offensive. You'll also need to make sure that a piece of art specifically belongs to you.
Different kinds of image files are required for specific products. If you want to have your art printed on a t-shirt, you can simply upload a PNG or JPG file. If you're printing on a phone case, you'll be limited to a JPG file. This is why it's important to read through the guidelines provided by Society6 for your uploads before you do anything.
The artist studio on Society6 is the tool you use for uploading new artwork, setting markups, and releasing new products for purchase. To use the Artist Studio, click on the avatar icon in the top right of your account page, and click on "Manage by Posts". This will take you to the Artist Studio page, where you can see two tabs, one for setting markups, and one for uploading art.
Before uploading your art, make sure you save all of your files in RGB, rather than CMYK format. If you use the CMYK alternative, you'll end up with inverted colors. Society6 will only accept either JPG or PNG files too – so keep this in mind.
Society6 Review: Pricing
Crucially, one of the most attractive things about Society6 for most people will be the fact that you don't have to pay a subscription fee to use the service. You'll be able to sign up immediately and start uploading artworks. However, you will need to pay for each product you buy.
You purchase the products you want to send to your customers directly from Society6. Once someone buys your item, you make the money on the difference between the price you pay for the item, and the price you sell it for. This is why you need to choose the right markup or profit for each item you want to sell.
Society6 Review: Setting Markups
Making money on Societ6 is simple enough. The amount you make will depend on the kind of product you want to print your content on. As mentioned above, you can set your markups within the Artist Studio on Society6. Artists have absolute control over the personal markup amount they pick for their canvas, framed, and art prints. The default markup is set at 10%, but you can adjust this number whenever you choose.
Outside of art prints, Society6 determines what kind of money you can make for the sale of each item. This profit margin will be based on a few things, including the price of the product itself. The highest amount of money you can make when you're not setting your own profit margin will come from a metal print, which can yield around $16 in total. Alternatively, you'll usually earn a small amount from an art print on a mug, at around $1.50.
If you want to adapt the markup on your own artwork solutions, you can go into the Artist studio, and click on the art piece you want to adjust. You can scroll down and see "Set Artwork Markup" towards the left. If you want to update the markups on all the items on your store in bulk at the same time, just click on "Set store markups" in the artist studio. This will give you the option to set your markup across all designs.
Society6 Review: Making Money
If you're wondering how much money you can make by selling your art on Society6, you're not alone. In general, the artists on this site will earn 10% on all of their products, except for framed, canvas, and art prints. The retail price covers all the costs of manufacturing your art, fulfillment, and your earnings.
Art prints, canvas prints, and framed prints are a bit more flexible, because you can set your own markup beyond the standard 10%. There's also the option to boost your chances of sales by offering things like discounts and promotions. Whenever you set a discount, it comes out of your artist share as well as the overall cost of the product.
If you submit art to your account occasionally and don't invest much time into promotion, you probably won't earn a huge income with this website. On the other hand, if you do a good job of promoting your work and you're constantly adding new products, you can generally increase your earnings to a decent amount.
In most cases, you won't earn as much with the Society6 website as you would if you were just creating and selling your art on your own website. However, the reduced earnings come with the added benefit of being able to pass fulfilment, storage, and manufacturing off to someone else. If you don't have the capacity to make and ship your own prints, then you won't have to with Society6.
When you do earn an income from the website, you'll be able to access your money through PayPal. Society6 asks you to set up a PayPal account as soon as you sign up for the service, so make sure you add the right details when you're verifying your account. You'll be able to collect the money immediately, but if you leave a payment unclaimed for 30 days it's returned to Society6.
If you do forget to claim a payment and it goes back to Society6, the system will resend the money with the next scheduled payment, where you'll have an opportunity to accept it again.
Society6.com Review: Promoting your Art
Once you've created your art on Society6.com, you need a way to promote everything from your shower curtain prints to your iPhone cases. Similar to selling your art on Amazon, simply being on Society6 should help you to get some basic attention. However, if you want to get the most sales possible, you'll need to ensure you're constantly promoting yourself.
Society6 offers a selection of customer support tips on how to promote yourself. However, you'll mainly be left to do the marketing yourself. You'll need to figure out which customers might want to buy your hoodies and duvet cover designs, and make sure you're standing out beyond the https://society6.com marketplace.
Independent artists are encouraged to get active on social media and showcase their quality products in as many environments as possible. You can even promote yourself offline, by having your art promoted in art galleries, and giving people the option to purchase prints online with a return policy for peace of mind.
To help out a little more, Society6 also has some handy guides on how to predict which of your society6 products are likely to attract the most attention. You can use the guidance to determine whether your Tote bags or sweaters are most likely to be your best sellers. However, the site unfortunately doesn't have a great deal of tools to make sure you succeed in your promotion.
While society6 can promote some sellers on the website, there's no guarantee that you're going to be among the artists who get the most attention. This means that it's up to you to ensure you're promoting yourself constantly, just like if you were selling on Etsy. Fail to promote properly, and you could find your profile ends up a year old with no sales or customer reviews.
Is Selling on Society6 A Good Idea?
There are a few people out there who are still concerned tools like Society6 may be a scam. That's not really the case, as you can definitely earn some USD on this website if you know how to use it. However, like Redbubble and other print on demand companies, it's important to ensure you're not sending customers any poor-quality prints. You may want to order a sample from time to time to ensure your content looks great.
If there's any problems with your sales, there's no Society6 phone number for customer service. You can send a message to the company and wait for a response – but that's it. Lack of customer service options can make using Society6 a bit of a hassle.
While you probably won't make a fortune on Society6 overnight, that doesn't mean it's not worth the effort. A lot of artists find this environment to be a useful tool for gaining attention and bringing customers towards their high-quality art works.