About Sorel
Need a good pair of winter boots? You're definitely in the right place! I'm going to show you some amazing boots from Sorel, a brand that is a champion of winter footwear.
Sorel makes high-quality boots and uses only premium materials. Actually, did you know that the brand is owned by Columbia Sportswear, which we love for their insanely warm winter jackets? Don't be surprised when you see some of Columbia's proprietary tech in these awesome Sorel boots!
I'll show you men's boots in the first half of the review, and ladies' boots in the second half. Skip to the section that interests you, and see which Sorel boots are just right for you!
The Best Men's Sorel Boots
Sorel Madson Moc Toe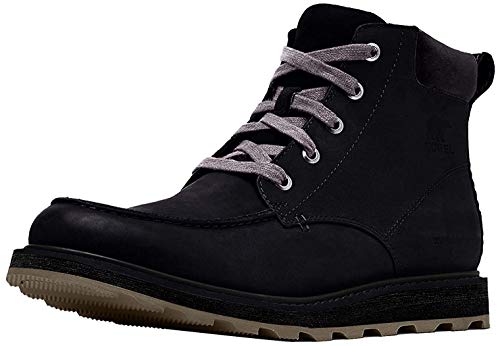 If you're looking for a pair of casual, everyday winter boots, the Madson Moc Toe is a good option. They are very stylish, so more than suitable for work. However, keep in mind that these Sorel boots are not insulated, so I don't recommend them for really cold weather. They're great boots for autumn and early winter, before the first snowfalls.
These are short ankle boots, so they will be really easy to put on and take off. Especially since they feature traditional laces, as well as a loop at the back that helps make the entire process quick and easy.
The boots are entirely waterproof, thanks to seam-sealed construction. Depending on the color you choose, you will get either full-grain or nubuck leather, both of which are coated for water resistance. And there are plenty of colors to choose from, making it easy to get a pair that you will actually love.
Sorel promises that these don't just look like moccasins, but that they are also equally comfortable. The ankle boots have an EVA footbed with a synthetic top cover, which provides you with lots of arch support. And in case you need something even more supportive, you'll be glad to know that the footbed is removable.
The outsole of the boots is made from molded rubber. It is not a classic herringbone outsole, so you can expect good grip and traction. But only for city streets; they're great for walking across an icy parking lot but not that good for rocky and snow-covered hiking trails.
The Madson Moc Toe boots run true to size, so your usual shoe size should fit you perfectly.
Sorel Conquest Boot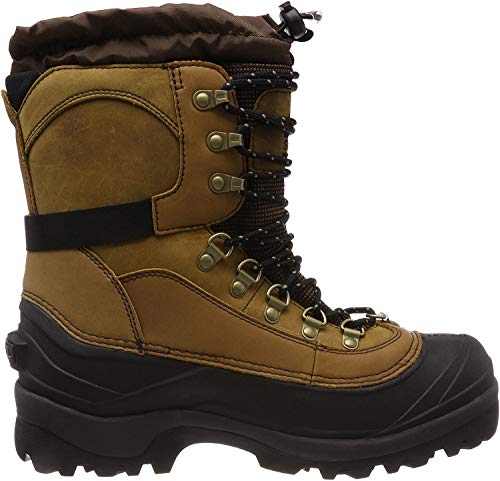 Let's move on to more rugged winter boots. Sorel Conques Boots are an old favorite of mine, which I grab whenever my friends manage to get me out of my cave for a refreshing winter hike. They are waterproof, insanely warm, and very sturdy.
I got my pair nearly a decade ago, and they're still holding up fine. But, the newer version is not quite as durable – going through the reviews, I noticed that lots of people are complaining about the rubber coming off at the sides.
This might or might not happen to you, but it is something you should be aware of. It's going to depend on how much you wear them, and honestly a little bit on your luck.
One reason why I love these for hikes is the outsole. It is made from injection-molded thermal rubber, with deep, multi-directional lugs. This gives you a lot of grip and traction, making these boots suitable even for steep and icy terrain.
The Conquest boots also have built-in gaiters, with barrel lock closure systems. So, even though they are not knee-high boots, they are more than suitable for knee-deep snow. As long as you wear waterproof pants, you should stay completely dry in these, thanks to the seam-sealed waterproof construction.
These comfy winter boots feature 400 grams of Thinsulate insulation, which will keep you warm in temperatures as low as -40 degrees Celsius/Fahrenheit.
They run true to size, so it's not going to be difficult to get the perfect fit. And you can also adjust the width of the boots, with the shatter-proof Shokonlock buckle closure.
Sorel Cheyanne II Snow Boot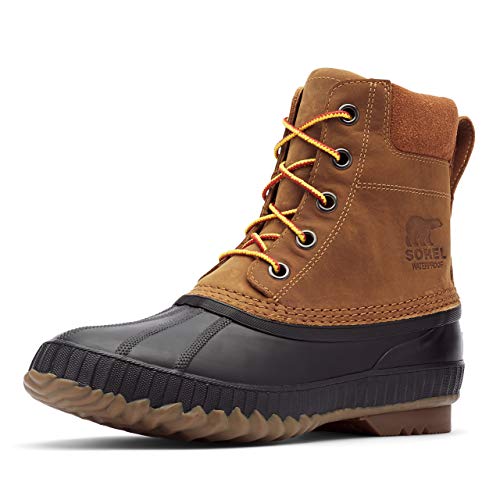 The Chayenne II Boots are a good option for mild winters. They have 200 grams of insulation, which is enough to keep you warm in temperatures up to -25° Fahrenheit (-32° Celsius). So, if you don't need extreme boots, you should consider getting this pair.
They feature waterproof uppers, which are made from either full-grain leather or suede, depending on the color you get. The seam-sealed construction does not let any water inside the boots, but sadly it also doesn't let any water out. Meaning that the breathability of these is not the best.
But some parts of the boots are actually breathable, like the EVA footbed that's covered with mesh textile.
The outsole of these Sorel winter boots is made from vulcanized rubber. It's a classic non-slip herringbone outsole, which is suitable for rain and light snow on concrete. I do not recommend these for rocky or steep terrain, as you won't have enough grip and traction. But they are perfectly fine for city streets.
It's really easy to put these on, thanks to the bungee lace cords. And the loop in the back helps you take these off in a matter of seconds, which can't be said for many other Sorel boots. If this is important to you, then I think you will love the Cheyenne II.
The sizing of these is a bit confusing. Lots of people recommend that you go up at least half a size, but even more, say that these fit true to size. The one thing that they all agree on is that you need to go at least half a size up if you have wide feet.
Sorel 1964 Pac Nylon Snow Boot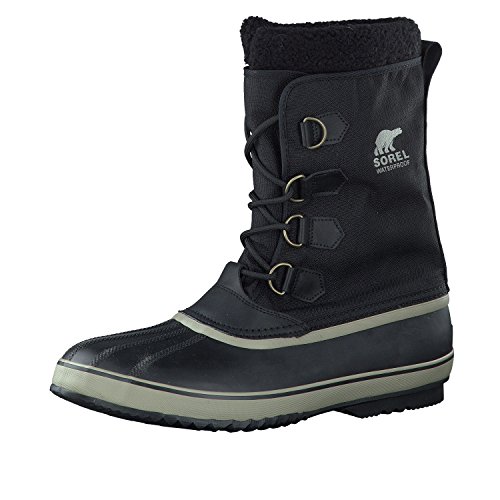 The 1964 Pac Nylon boots feature a classic Sorel silhouette. They are warm, waterproof, comfortable, and versatile – whether you want something to wear in knee-deep snow or just something to keep your feet warm while you're commuting to work, these are a good option.
Their uppers are made from Nylon, a very durable and rugged material. Nylon has really good water resistance even without any additional coating, because of the tight weave of the fibers. Plus, these winter boots feature seam-sealed waterproof construction, so there's no chance a drop of water will penetrate them.
They are also really warm, thanks to the removable felt inner liners. In fact, these boots can keep you warm in temperatures as low as -25° Fahrenheit, which is pretty great. The liners are 9 mm thick, and have a Sherpa Pile snow cuff, for extra warmth around your calves. They are not too breathable though, so your feet could get sweaty in warmer temperatures.
The only thing I'm not a fan of is the classic herringbone outsole. Sure, it's fine for everyday wear and walking around the city, but it does not perform that well on rugged terrain. This means that these boots are great for walking to the corner store, but not so good for trying to hike in the mountains.
Additionally, these aren't the easiest boots to take off. The loop in the back doesn't help you that much, and the liners often come out with your feet. Try to loosen all of the laces, if you want to avoid this.
The Sorel 1964 Pac Nylon boots run true to size, and your usual size should fit you just fine.
Sorel Glacier XT Snow Boot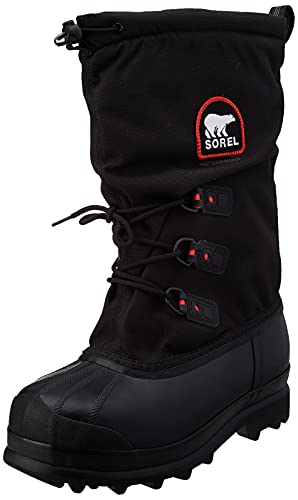 Extreme weather calls for extreme boots, and that's where Sorel Glacier boots come in. These are definitely not for everyone – think sub-zero Fahrenheit, with an abundance of snow and ice. That's where these boots excel.
They are heavily insulated and will keep you warm no matter how cold it gets outside. The Glacier XT boots feature removable 13 mm ThermoPlus liners, which have reflective Omni-Heat lining. This helps them retain heat, and perform well even at -100 degrees Fahrenheit.
But they are also really heavy – if you prefer wearing lightweight boots, then these are definitely not for you. It's going to feel like a workout when you're wearing them, especially if you choose to go hiking or trekking in them.
Which you can absolutely do, thanks to the rugged, non-slip aero-trac outsole. It has lots of deep lugs, which really help keep you stable on wet and icy terrain. Plus, the entire boots are waterproof, making them perfect for really deep snow.
A downside of the Glacier XT boot is the lack of breathability. The extreme warmth comes at a price – depending on how wet their interior gets, it could take days for them to dry completely.
Since these Sorel boots have removable liners, they don't have a proper insole. So, they are not ideal if you normally require more supportive footwear. In addition to that, the Glacier XT boots are not available in half sizes. If you're normally between two sizes, go half a size up for the best fit. Otherwise, just order the size you usually wear and they will fit perfectly.
The Best Women's Sorel Boots
Sorel Emelie Conquest Waterproof Boot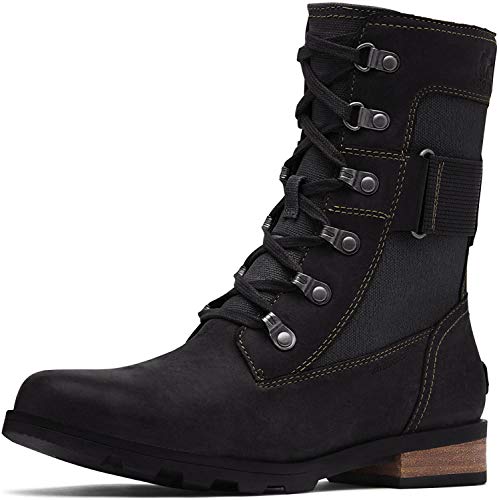 Looking for a stylish pair of boots, which you can wear with skirts and pants? Then these are the absolute best choice. The Emelie Conquest boots feature a simple and stylish exterior, which can be worn with pretty much anything.
Their exterior is made from full-grain leather and coated canvas, and they feature a seam-sealed, waterproof construction. These boots will keep your feet dry in both rain and snow, which is exactly what they should do.
However, I would recommend spraying them for extra water resistance, just to be safe. It's something I do with every single pair of boots I buy, no matter how waterproof they are supposed to be.
So, these winter boots will keep you dry, but they won't really keep you warm. The Emelie Conquest boots are not insulated, so they're not my favorite option for really cold winter days. But they are a great option for fall and those early winter days when it's cold but not so much that your toes will freeze.
These feature an EVA footbed, with canvas and synthetic lining. They are really comfortable to wear and will keep your feet from hurting even after you've had them on for an entire day.
Additionally, the Emelie Conquest boots have a molded rubber outsole, which offers a decent amount of grip and traction. There aren't many lugs on the outsole, but they are wide and evenly spaced out, which will help during those icy mornings. But I would not recommend these for hiking or climbing, as the outsole is nowhere near rugged enough for those adventures.
These Sorel boots run true to size, so you should get them in the size that you usually wear.
Sorel Women's Joan Of Arctic Boot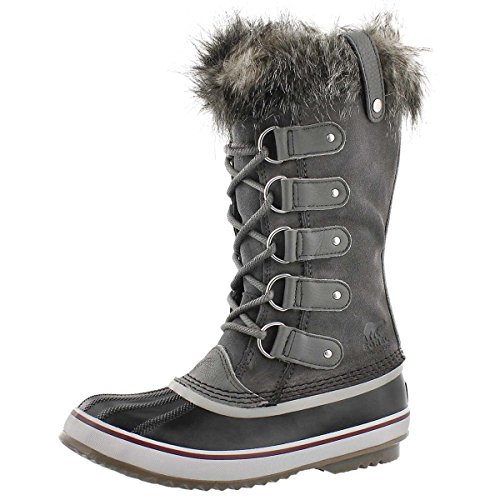 Joan of Arctic is one of my favorite snow boots of all time. They are tall, entirely waterproof, and heavily insulated, meaning that you can walk through knee-high snow and not get wet or cold. Which is exactly what a good pair of snow boots should do for you.
They're not the most stylish winter boots you can find, but that's the least important thing. Seriously – if you can forget about style and prioritize function, you will fall in love with these boots. They are that good.
These Sorel boots feature waterproof suede uppers, with a faux fur cuff. And they have a removable inner liner, which is 6 mm thick. The liner works as insulation and keeps you super warm when you're trekking through knee-deep snow, and it is very soft and comfortable. But I love it mostly because you can remove it – the inner boots work wonderfully well as slippers!
You can wear them around the house when it's chilly, and you will warm up instantly. And if you spend a lot of time in the boots and they get a bit stinky, you can just remove the liners and throw them in the washing machine. Which is priceless.
However, the liners do mean that these don't have proper, contoured insoles. They are very comfortable to wear, but if you usually need extra support, you will need to put a pair of anatomical insoles inside these.
The outsole of these boots is made from vulcanized rubber, and it performs well on icy terrain. It's not really rugged – it is a traditional herringbone outsole, which will perform well in snow and on ice. But it won't do much on steep, rocky terrain, so I would be wary of wearing these on hikes.
Sorel Explorer Joan Boot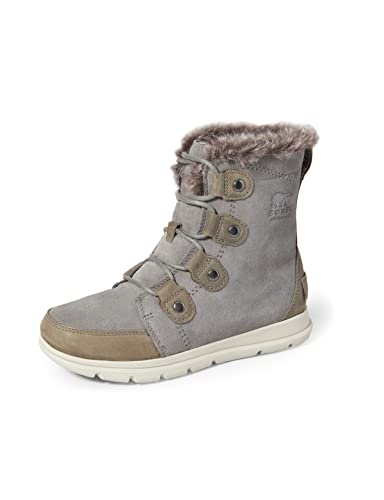 If you prefer ankle boots to knee-high boots, the Explorer Joan is a great option for you. They are quite short, but still remarkably warm and waterproof. These are actually a cross of sneakers and boots, so you get the best of both worlds.
The height of these makes them rather easy to put on and take off, which is an advantage of all ankle boots. And the loops in the back will help make taking these off even quicker and easier.
The exterior of the boots is made from full-grain leather. They feature 100 grams of insulation inside, as well as microfleece lining on the footbed. All of that means that the Explorer Joan boots are going to be exceptionally warm, and perfectly suitable for extremely cold winter days.
The boots feature an EVA footbed, which provides you with plenty of arch support. It is really comfortable, but it's not removable – if you normally require extra support, I'm not sure these would be the best option for you.
They are also waterproof, so you don't have to worry about your feet getting wet. I would recommend that you spray them just to be on the safe side, but that's just me always being extra cautious.
Their rubber outsole features molded pods, and it is very grippy. The pods vary in size, but are evenly spaced out and rather deep, allowing for great traction on different terrain types. It's not necessarily the best for steep and rocky hikes, but it's definitely good for some light winter hiking and everyday walking around.
Sorel Women's Caribou Boot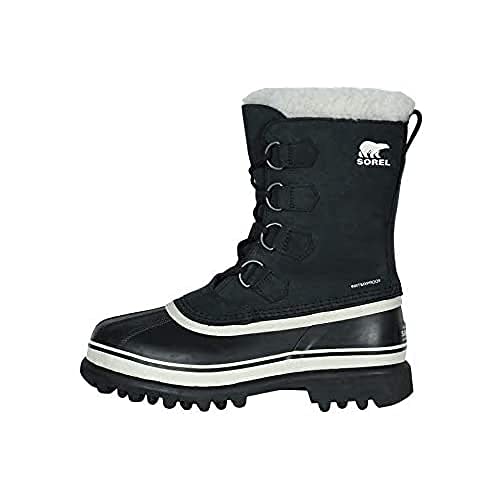 Caribou Boots are one of Sorel's all-time best-sellers. They are available in both men's and women's versions, and they are one of the pairs that perform exceptionally well on all terrain types. That's thanks to the really rugged outsole, which features loads of really deep lugs that provide you with all the grip and traction you could need.
It is called Sorel aero-trac non-loading outsole, and it is made from vulcanized rubber.
These are the boots to get if you're looking for something versatile, that's suitable for both the streets and the woods. Their uppers are made from waterproof full-grain leather and suede, and they actually look pretty stylish. But they are only available in three colors, which is a shame.
The exterior of the Caribou boot is entirely waterproof, and your feet will always stay dry. Their interior, on the other hand, features a removable inner liner, just like we saw on the Joan of Arctic. The ThermoPlus liner is very warm; in fact, these Sorel boots are able to keep you super warm even at -40° Celsius. Which is absolutely insane.
It also doesn't hurt that the liner is super soft and comfortable. However, since the boots have inner liners, that also means that they don't have proper insoles. They do have a comfortable, 2.5 mm bonded felt frost plug midsole, which provides you with a decent amount of support. But if you normally wear more supportive footwear, you will need to put in a better footbed.
The Caribou boots run a little large, so I recommend going half a size down for the best fit.
Sorel Women's Tofino II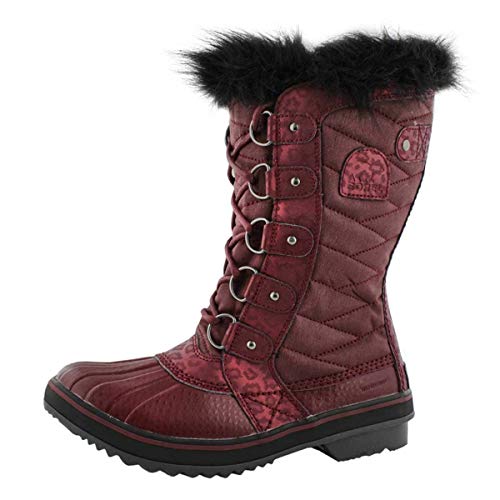 The Tofino II boots are definitely among the best ones you can get. They are tall boots, with uppers made from canvas and PU leather. The exterior is waterproof, thanks to the additional coating.
And they are also breathable, which is not something that can't be said of many Sorel boots. I love them, but they do tend to get really hot when it's not ridiculously cold outside. You won't have such issues with the Tofino II, since they feature a membrane that lets moisture out but does not let any in.
These boots feature 100 grams of synthetic insulation, and they are lined with microfleece. Which means that they will keep you warm no matter how cold it gets outside.
One reason why I really like these Sorel boots is the footbed. They feature a removable, molded EVA footbed that is lined with microfleece. So, it's going to be comfortable and warm, but you can also easily replace it with a different footbed, should you need something more supportive.
Their outsole is a basic herringbone outsole, which is not the most rugged option you can get. It's a good outsole for walking around icy city streets, but not my recommendation if you're looking for boots you can wear on rocky hiking trails.
It is made from molded rubber, so it's not going to be slippery. The amount of grip and traction you get is decent – more than enough for daily errands, but not quite enough for steep terrain.
One thing I'm not a fan of is how difficult these are to take off. There's no loop in the back to help you, and you have to loosen up almost every strap. It takes time and I wouldn't say that the Tofino II boots are quick and easy to put on.
What To Look For In Sorel Boots
Waterproofing And Insulation
Before you purchase anything, make sure that you are okay with the type of insulation and level of water resistance in a pair of boots. These are the two most important features of any winter footwear and are crucial in finding a pair that is just right for you.
If you live in an area where it snows quite a lot, get a pair of tall, warm boots. And if you live somewhere where it rains more than it snows, then you need to prioritize water resistance over insulation.
In addition to that, some Sorel boots don't really have insulation built into the boot. Not even thinsulate insulation. Instead, they come with removable inner boots liners, which are really warm. These are also really easy to clean since you can usually just throw them in the washer. However, they do make the boots kind of a nightmare to take off, since the liner tends to come out along with your foot.
Anyway, you can find info on the water resistance and insulation of every single pair of boots in the product infoboxes, below the mini-reviews. This should help you figure out if a pair has everything you're looking for or not, and make it easier to choose the best boots for you!
Grip And Traction
The outsole of a boot will tell you quite a lot about it. If it's a rather plain outsole with shallow lugs, then the boots are best suitable for everyday wear. But if it's a really rugged outsole with deep, multidirectional lugs, then that pair of boots is perfectly suitable for winter hikes and similar adventures.
So, what are you looking for? Because if it's the former, then you're fine getting any pair of boots I've shown you here. They will all perform exceptionally well in winter and offer enough grip and traction to get you from your car to the office, across the icy parking lot.
But not all of them will perform very well on rugged hiking trails. In fact, only a few pairs are actually suitable for steep and rocky terrain, so be sure to read the mini-reviews to find out which those are.
If you're in need of really good winter hiking boots, I suggest you also check out some other reviews. Sorel is a great brand for snow boots, but they're nowhere near as good as La Sportiva or Mammut when it comes to exceptional hiking boots.
Footbed
Footbeds are important for your comfort. They provide you with arch support and are pretty much the only reason why you are able to walk for hours, without your feet hurting a lot.
Sorel boots are usually comfortable; quite a lot of them have thick inner liners that are really soft. However, the boots that have inner liners don't have proper footbeds, so they're not great if you normally need extra support.
Sure, you can always put an insole inside, but there's no guarantee it will fit just right and it might make the boots too tight. If you usually put anatomical and supportive insoles in your footwear, look for Sorel boots that come with removable footbeds. You can find that information in the pros boxes.
Sizing
Most of the boots featured here run true to size. But some run small and others run large – be sure to check the pros/cons, to see which size you should buy. I've made sure to mention that a pair is not true to size in the cons boxes, so don't skip over those.
If there's no mention of the sizing in the pros/cons boxes, then those boots are true to size and you should get them in the size that you usually wear.
Best Sorel Boots: Our Top Choices
So, out of all these boots, which ones should you buy? If you still haven't decided, go with one of our top choices and you won't have any regrets!
Gentlemen, if you're looking for comfortable and stylish autumn boots, you can't go wrong with Sorel Madson Moc Toe. They are waterproof, comfortable, incredibly stylish, and have a removable EVA footbed.
But they are not insulated, so they're a good choice only if you're not looking strictly for winter boots. These are actually a cross between boots and moccasins – you get the protection of the former, but all the comfort of the latter.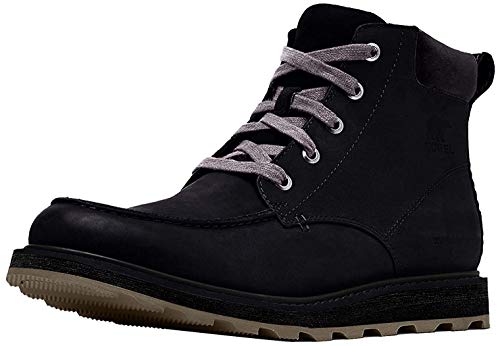 Maybe you're in need of really rugged winter boots. If so, I'm recommending the Conquest boots, a long-time favorite of mine. These are one of Sorel's all-time bestsellers, thanks to their warm interior, waterproof exterior, and really rugged outsole.
The boots come with built-in gaiters, which help keep you dry and warm even in knee-deep snow. And they are suitable even for outdoor winter activities – think snowshoeing, hiking, trekking, ice fishing, etc.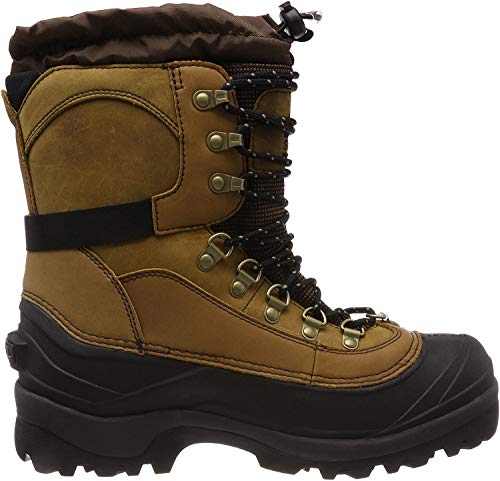 Ladies, I have to tell you that I absolutely love the Emelie Conquest boots. If you want lightweight boots that are perfect for autumn and early winter, then you should definitely get these. They're not insulated, so you won't be able to wear them when it gets too cold.
But they are more than suitable for rain, thanks to the waterproof, seam-sealed construction. And they are very stylish, so you're bound to get lots of compliments from your coworkers!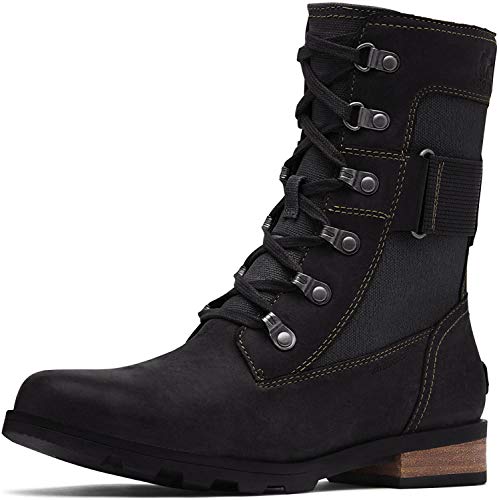 If you want really rugged snow boots, go with the Caribou boots. They are suitable even for demanding outdoor activities (hiking, trekking, etc.), thanks to the rugged outsoles with deep lugs. The boots are warm, comfortable, supportive, waterproof, and offer a lot of grip and traction on all terrain types. But they are not true to size – these run a little large, so go half a size down for the perfect fit.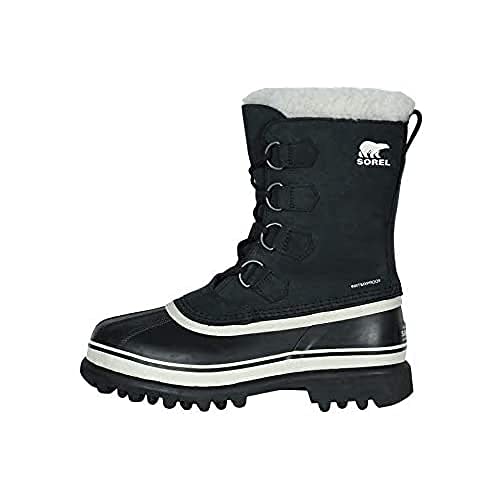 Those are my four favorite pairs of Sorel boots. But, keep in mind that all boots I showed you here are rated very highly by thousands of happy customers. Head over to Amazon to see all the rave reviews and find out just how much they cost.
If you didn't see a pair you loved here, check out our related reviews. You will find lots of amazing winter and autumn boots in them!
SOREL FAQ
Is Sorel A Good Brand?
Although Sorel boots were originally made in Canada, however, Columbia has moved production to cheaper countries like China and Vietnam. The quality of the boots is still great, but some would argue it is not as good as before.
Are Sorel Boots Warm?
Sorel boots are exceptionally warm as they are designed to be worn in the Candian winter. Their boots can be worn in a range of snow conditions and temperatures – from 0 degrees down to -40.
Is Sorel Owned By Colombia?
Sorel is a popular brand of boots and clothing owned by Columbia Sportswear Ltd since 2000. It was previously founded and owned by the Kaufman Rubber Company.
What Nationality is Sorel?
Sorel is owned by Columbia Sportswear which is based in Portland, Oregon USA. It was originally a Canadian brand founded in Ontario, Canada.
Is Sorel Made In The USA?
Sorels are currently produced in either China or Vietnam. They are American-owned and were previously made in Canada before they were purchased by Columbia.
How Much Do Sorels Cost?
Sorel boots range in price from around $120 for a low-cut boot to $220 for a high-cut winter boot. Their sneakers are on the lower end of this range too.