We don't know about you, but we generally find staying in hotels to be underwhelming. We can't remember the last time we stayed at a hotel and, upon check out, said "wow, that was great!" Which – spoiler alert! – is exactly what I said to Alysha as we were leaving the CitizenM in Seattle.
Hotels have always been a bit of a tough sell for us. We're somewhat of a special case because Matt has Celiac Disease, which means he likes to have access to a kitchen to have the option to cook our own meals in case there aren't any gluten free options around. This can be hard to find in a hotel.
Besides the kitchen, the other issue we've had with hotels is that it doesn't feel particularly homey, for lack of a better word. Staying in a hotel from one of the big chains feels very sterile and mass-produced, and we generally prefer the experience of staying in an apartment where you have more space to yourself and can feel part of the place you're traveling a bit more.
Plus, we don't like the idea of paying for the bells and whistles that we don't need. We're totally good with carrying our own bags to our room – we don't need a fancy bellhop to do it for us – and we hate the whole tipping dance that comes along with that experience.
After being on our radar for a few years as a new hotel that we'd like to stay in, we finally opted to take a little staycation in Seattle and stayed at the CitizenM in South Lake Union – one of our picks for the coolest hotels in Seattle – to see if they really delivered on their promise of "affordable luxury." In this review, we'll cover our thoughts on our stay – the location of the hotel, the rooms and common areas, and the amenities – to help you decide if it's the right place for you.
Oh, and we should note that we paid for this stay with our own hard-earned money. No #sponsored content here – this review is purely based on our own experience, and reflects our own ideas and thoughts on both our stay and the company as a whole.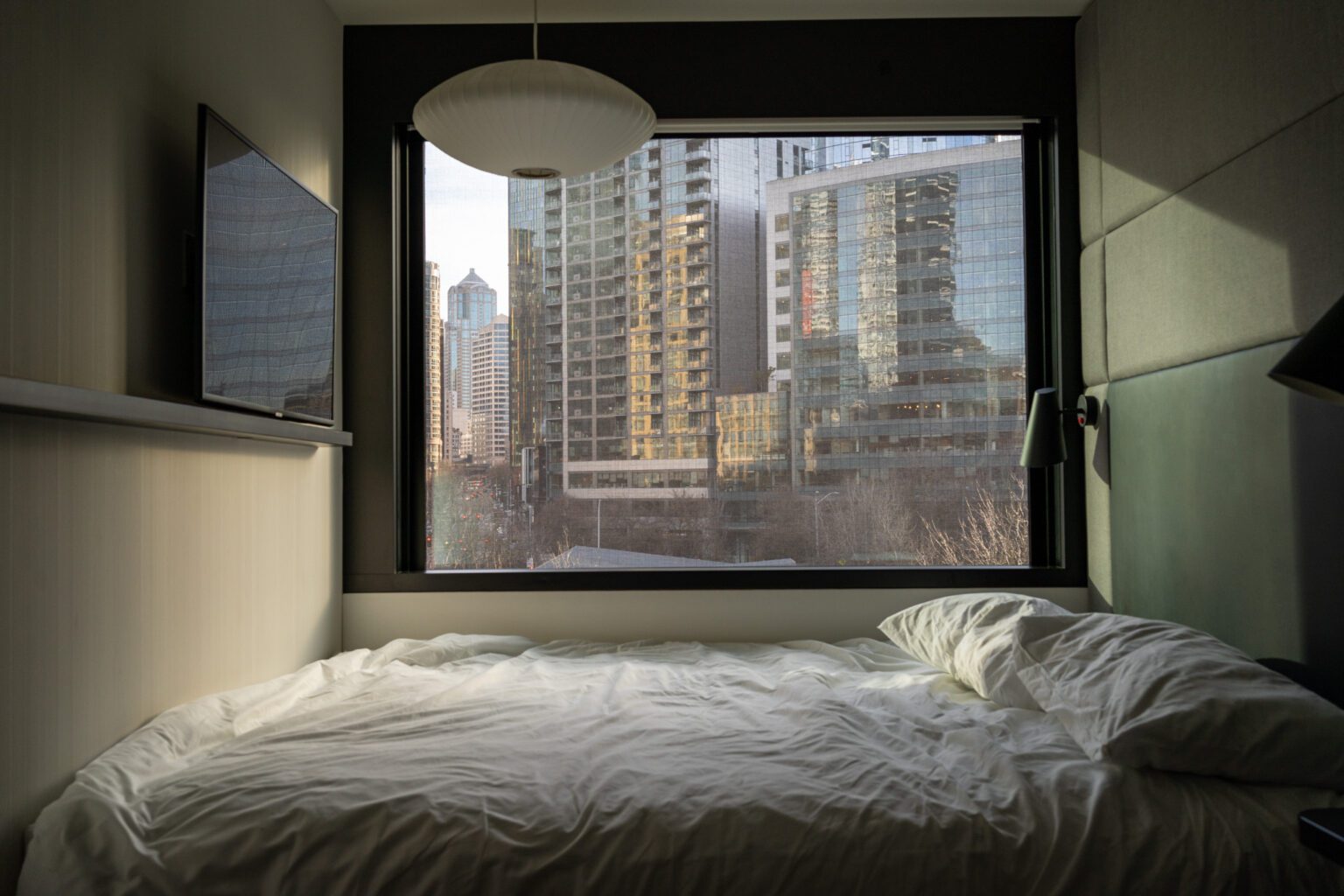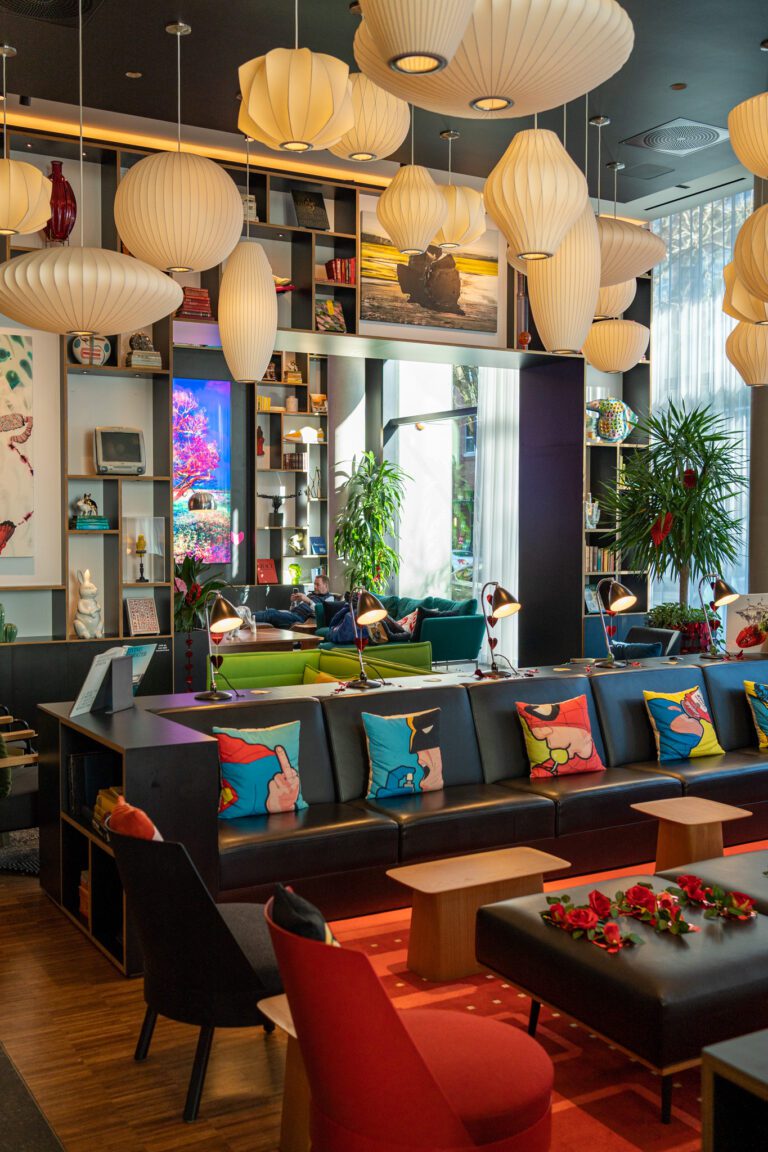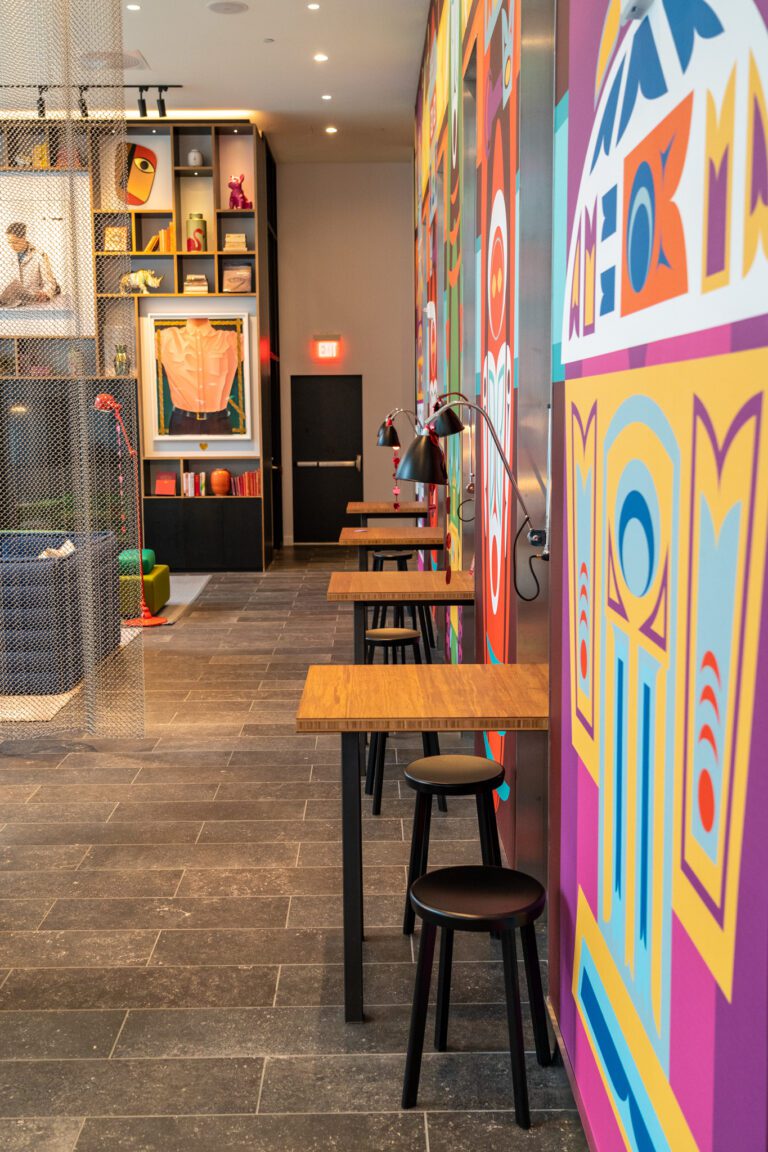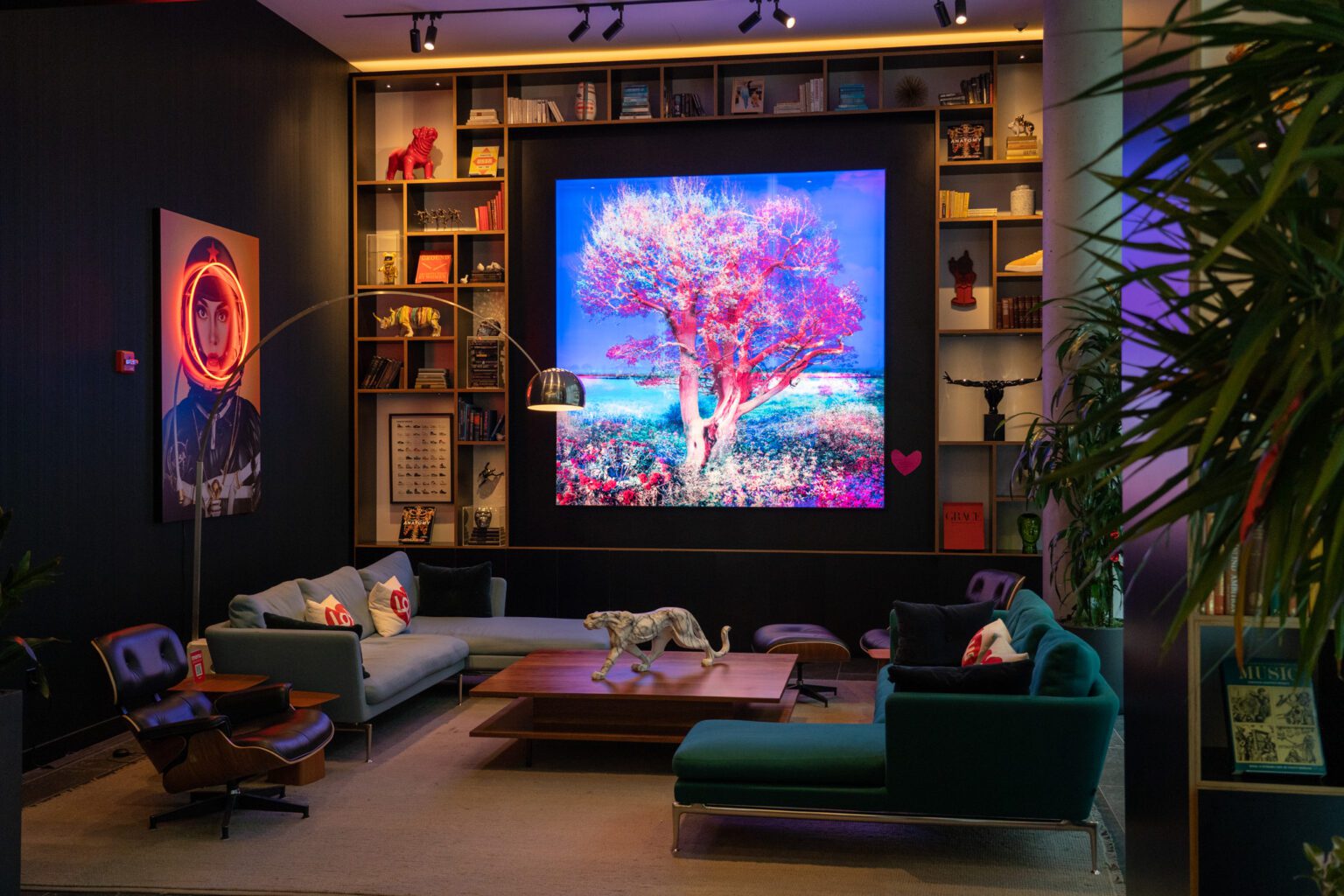 The CitizenM Seattle: A Complete Review
Let's get into our thoughts on the CitizenM Seattle in South Lake Union.
We'll start with an overview of the company – who is CitizenM, anyway? – before doing a deep dive on each aspect of the hotel that we think is important.
Who is CitizenM?
CitizenM is a Dutch Hotel company founded in 2008 in the Netherlands that set out to create a more cohesive experience for modern travelers. In their own words, they're bringing "affordable luxury" to disrupt the traditional world of hotels.
In a world (Morgan Freeman voice) full of expensive, old school hotels with bellhops in red caps that greet you with a "sir / madam" and charge you $20 for WiFi in a room with an iPod dock a decade after iPods went out of style, we agree with them that there has to be a better way.
Enter CitizenM, a refreshing take on what hotels can be. And, in our eyes, should be.
We're in our 30's now, and value both a good night's sleep and little touches of luxury. But, of course, we want it all at an affordable price. If we're up all night because we can hear every word of the conversation that our drunken neighbors are having, we're not going to be happy campers in the morning.
As we look back on our stay at the CitizenM Seattle, it feels like CitizenM took our needs and desires and built a hotel specifically for us from the ground up.
Things like a beyond-easy check in process, WiFi that is both fast and free, nice spacious and stylish common spaces, and comfortable beds (and blackout curtains!) are must haves for us, while things like the aforementioned bellhop, fluffy bathrobes and slippers, soaking tubs, and seating areas are much less important to us.
Now, CitizenM is an ever-expanding empire of modern, comfortable, and affordable hotels in the biggest cities around the world, offering younger travelers an alternative to the stale luxury hotels that we have grown up with.
We also like that they're doing the work to be environmentally responsible, and that they're more transparent about it than any other hotel chain we've ever come across. You can read about their accomplishments in that regard here, including links to specific reports about sustainability from the past few years (here's their 2020 report).
The Location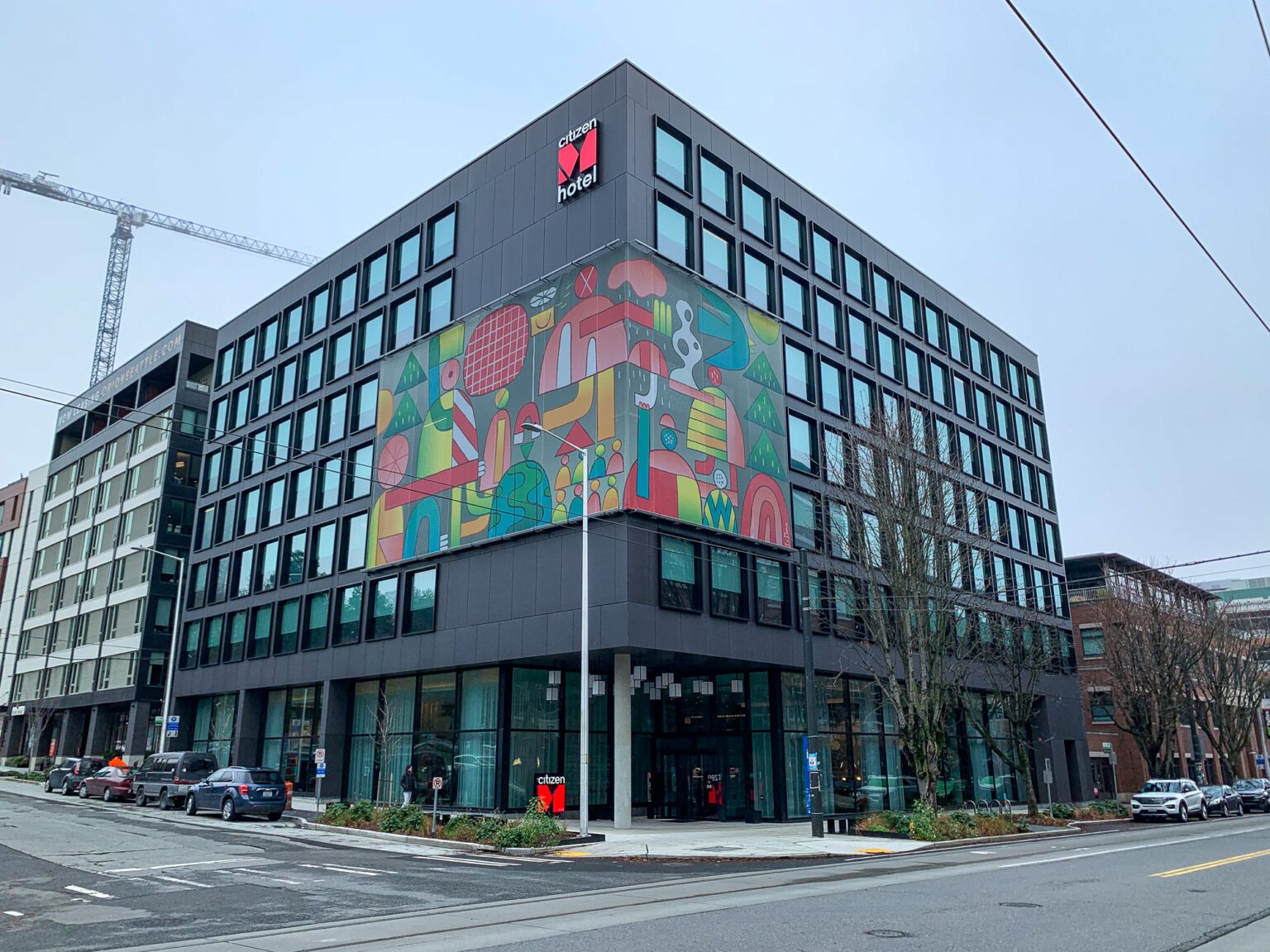 Starting off on a high note here, the location is great. It's not right in the middle of all the action, so it's a little quieter than places in Belltown or Capitol Hill.
But that doesn't mean it's not central. Within 15-20 minutes of the hotel, you can be at Pike Place Market, the Space Needle, or in the heart of Capitol Hill. We walked to all three over the course of our stay.
The two downsides of the location are parking and access from the airport.
Parking at the Hotel
If you have a car while you're in Seattle, parking is going to be a problem no matter where you're staying if you're in the downtown core.
Parking in South Lake Union can be a nightmare, and with no onsite parking, you'll have to turn to either the paid street parking nearby, or one of the garages that you can find around the neighborhood.
They have a helpful parking section on their website at the bottom of the page (I'll save you a click – they recommend checking SpotHero).
While it's nice that they don't charge $75 a night for valet parking onsite, it's also a little bit of a bummer to not have a better option than "I don't know, figure it out!"
Getting There from the Airport
Unfortunately, there's no direct route to the hotel using public transportation.
You either have to make a connection from the light rail system – which is the easiest way to get into the city from the airport – onto the bus system, or take a taxi or Lyft from the airport.
A nice middle ground would be to take the Light Rail to Westlake Station and catch a Lyft or taxi from there. Alternatively, it's a 0.6 mile walk from Westlake Station to the hotel, which might not be too bad if you have minimal luggage.
Nearby Highlights
Here are some places within a few blocks of the hotel that we enjoyed, and think you might too.
Mbar: The hotel doesn't have a rooftop bar, so this is your best option for drinks with a view. It's a few blocks east, and gets packed on Fridays and Saturdays – make a reservation or show up as they open for the best shot at a table. Keep in mind that it's pricey – you're paying for the views of the Space Needle and Lake Union.
Cafe Hagen: This place is simultaneously one of my favorite and least favorite places in Seattle. It's my favorite before 9:00 am, when the atmosphere is laid back and you can hear yourself think as you sip the great coffee. We love their espresso flight, which is a fun way to try three different coffees as espresso to highlight the diversity in flavors that coffee can bring to the table. Their house made pastries are also pretty legendary. However, after about 10:00 am, it's unbearably busy with, well, the kind of people you'd expect to work at Amazon. My friend – who lives in the neighborhood – put it like this: "only go after 10:00 am if you want to arm wrestle an Amazon employee over a cheese plate."
Elm Coffee Roasters: For better coffee and a much more laid back location, head around the corner from the hotel to Elm. They have fun flights where you can do an espresso, a brewed coffee, and a macchiato (or some different but similar combination).
Kati Vegan Thai: We really like this place. Everything is vegan, but you won't even notice (except maybe missing the fish sauce on the papaya salad). Get the khao soi – which is made with rice noodles here – and the massaman curry.
Seeking Kombucha: A kombucha taproom where you can try a variety of flavors of the bubbly probiotic drink, with or without alcohol. We're big kombucha drinkers – Matt used to have a vat of constantly fermenting tea on the kitchen counter with a giant SCOBY – and this was an unexpected discovery.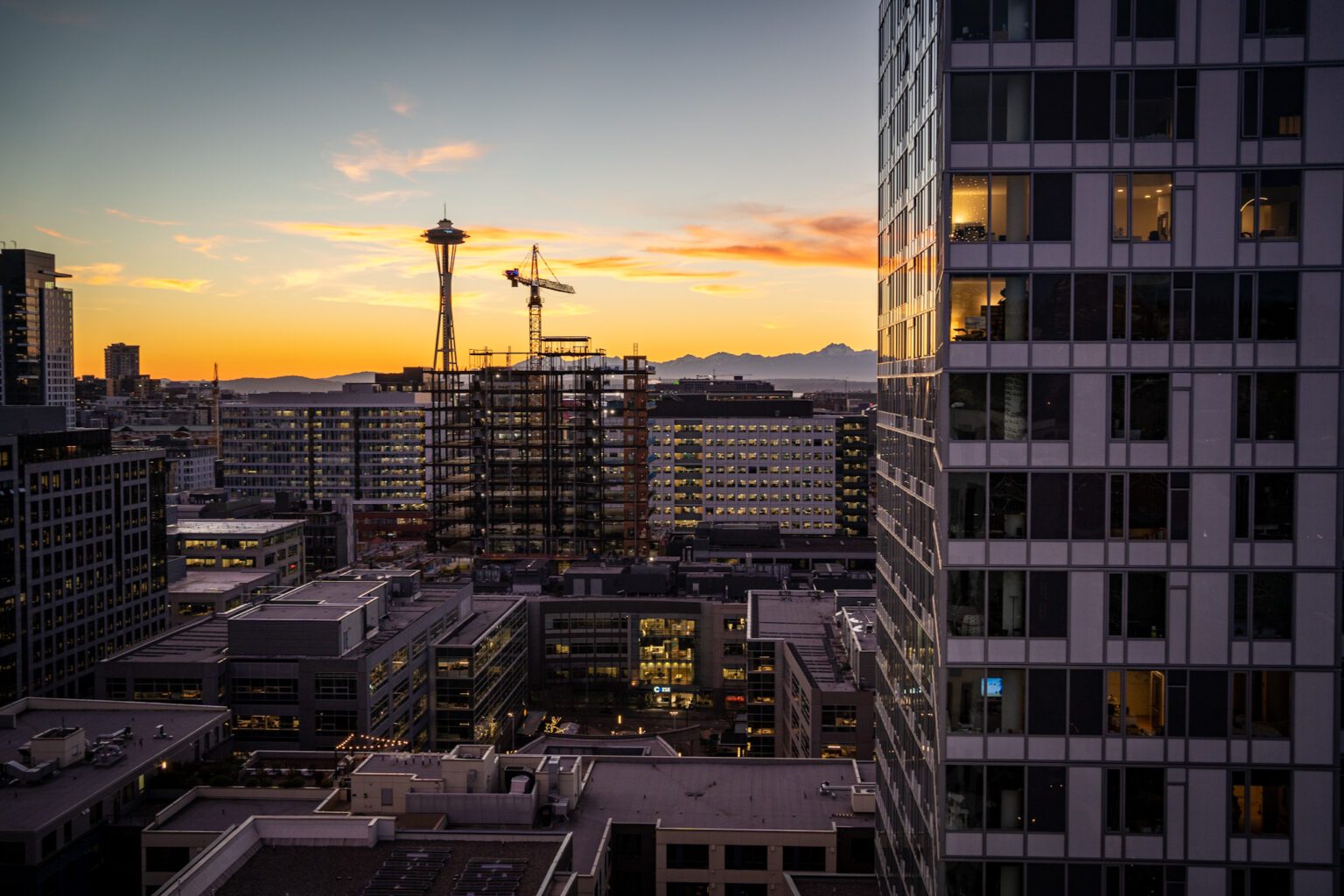 First Impressions of the CitizenM
As you walk into the hotel lobby, you're assaulted by the cornucopia of bright colors decorating the "living room" which has different seating options from long couches and comfy armchairs to the bar and small tables and individual chairs.
High ceilings and the aforementioned bright colors give it a very airy, spacious feeling. Lots of natural light streams in through the enormous windows, and the friendly staff is there to greet you as you walk up to the check in kiosks.
Checking In
Speaking of checking in, this was one of our favorite aspects of staying at the CitizenM.
Normally, when we check into a hotel, it involves waiting in line to talk to someone at the reception desk, handing over identification and payment, and twiddling your thumbs as you wait for them to give you your room key. In particularly busy times, this can take anywhere from five to 30 minutes.
At CitizenM, it took three minutes flat. They live up to the promise of serving modern travelers by offering check in through a group of electronic kiosks, which is remarkably similar to checking into a flight at the airport.
Everything is done on those screens, though the staff will need to check your identification manually.
A novel piece of the check in process was the fact that we got to select what side of the building / floor our room was on. Usually, you're at the mercy of either the computer or the person at the front desk, and you don't get much say in the matter.
Here, you have the option to select which side of the hotel you want to be on, and how high you want your room to be. It gives you some control, but not too much to the point where it could be paralyzing.
Lucky for us, the person at the counter had some suggestions – if you want the best city view, you want to be on the John Street side.
You'll then take a second to make your own keycard, which is easy and seamless and basically just means sticking a blank keycard on a pad and following the prompts on the screen (you can make a second, if you desire).
What a refreshing take that doesn't involve waiting in line and gives you some control over which room you'll be calling home for the next few nights!
The Rooms
Once you're all checked in, the next step is hopping in the elevator – which is surprisingly spacious, by the way – and heading up to your room.
When you walk in, the first thing you're going to notice is the fact that it's, well, small. Second is the huge window at the far end of the room. And the third thing you'll notice is the message on the TV with your name on it welcoming you to your temporary home.
The room being small is a choice that CitizenM has consciously made. Rather than creating huge rooms with living spaces that cost $300 a night, they've opted for smaller rooms that serve as a place to sleep, with plenty of nice common spaces where you can hang out and work or relax outside the room. Which is a trend we've seen pop up at a lot of hotels recently (the Freehand in NYC comes to mind), and we're fans.
We don't know about you, but we really value our sleep these days. CitizenM has done a fantastic job at creating a room that is the perfect place to spend the night, get a good night's sleep, and prepare for your next day, whether it'll be spent exploring a new city, or heading off to a business meeting.
The room is narrow, and as you walk in you'll have the shower and toilet on one side, and the sink on the other. At the far end of the room is the window, which takes up most of the wall, and the huge king bed.
The beds are big, and about as comfortable as any hotel bed we've ever slept in. Even better, the rooms are soundproofed so that on the fourth floor, we could barely hear any street noise, and the rooms have blackout curtains.
Everything in the room, from the temperature to the lights and curtains, is controlled through an iPad on the desk, which is something we weren't quite sure about going into our stay. Turns out, it's a nice, easy way to have all the controls for the room in one place. They also have instructions for figuring out Chromecast / Airplay for Netflix and other streaming services or Spotify for music.
The other thing to know is that every room at the hotel is essentially the same – no trying to decide between "small deluxe" and  "small deluxe premium" rooms. That means that every room has exactly one king bed – there's no option to have two queens instead.
The downside here is that they're not great for bigger groups – like young families – with more than two people who need to stay in the same space. Instead, we think it's really geared towards couples and close friends (who don't mind sharing a bed) and solo travelers.
It's also worth noting that, for people who aren't as comfortable with each other as a married couple is, the bathroom is separated from the rest of the small room with a thin plastic wall.
The Common Spaces
The entire first floor of the hotel is one big open space to be used by guests as their living room while they stay.
There's a huge seating area right behind the check in kiosks with a variety of seating options. Think long couches and communal tables, individual tables and chairs, comfy armchairs, and more. The decor is bright and colorful, with some trendy pieces of art (like a sculpture of a leopard?) that somehow bring the whole space together.
Next to the open seating area is CanteenM, which is part bar, part coffee shop, part restaurant. It's where they serve breakfast in the morning, lunch and dinner throughout the day, and coffee and other beverages at all hours. There's seating at the bar, and other high top tables on the other side of the bar area.
Around the corner from the check in kiosks is another seating area, with even more options for working or relaxing. There are two iMacs here for guest use, and options that are more like a desk than a living room, if you're trying to get some work done.
There are also three conference rooms where you can hold a meeting (though it's unclear how you'd go about reserving them).
Other Hotel Amenities
The rooms and common spaces are excellent, but a few of the other hotel amenities leave something to be desired. Which isn't exactly surprising given the cost here.
The Wifi is great. We watched a movie and streamed music in our room with absolutely zero issues. Plus, it's free! Charging for WiFi in a hotel in 2022 is absurd.
Breakfast is good, but pricey. Breakfast isn't included in the room price, but you can add it for $18.95 per person per night. We declined, but walked down to see what they had to offer and it was a nice selection of pastries and other cold items, hot items served buffet-style, and of course, coffee. It looked much better than most hotel breakfasts, and it's nice that it's right there in the lobby, but we think you can do better within a few blocks for $20. Notably, it's the same price whether you add it in advance or on the morning of, so you can make the decision when you wake up without paying a premium for the flexibility.
Parking is difficult. They don't have onsite parking, and their suggestion basically boils down to "we don't know, check this app maybe?" Street parking in the area can be competitive, but it's your most affordable option if you have a car. Otherwise, there's a couple of nearby lots. We'd choose the garage at the SpringHill Suites by Marriott a few blocks east of the hotel.
No coffee or mini bar inside the rooms (though there is a mini fridge). They serve coffee and drinks in the lobby, but sometimes it's nice to have the option to make a much-needed cup of coffee first thing when you wake up. There is, however, a Whole Foods a block away, where you can get snacks and cold brew coffee to put in the small mini fridge that is in the room.
There's a gym. We didn't use it, preferring to walk miles and miles around Seattle to get our workout in, but you can!
The Bottom Line
The CitizenM Seattle delivered on the promise of affordable luxury for the modern traveler.
From the seamless check in process, to the comfortable room and excellent beds, all the way through to the minute-long check out, we were impressed with the entire experience.
They've stripped out many of the things we don't like about staying in hotels – the unnecessary pomp and circumstance, the fluffy bathrobes, and the WiFi charges – and replaced it with warm common spaces, excellent bedrooms with blackout curtains and huge beds, and a frictionless experience from start to finish.
And while the rooms are definitely small and missing some of the in-room amenities that other hotels might have, we think they've done a good job of shifting those amenities to be in the common areas instead to allow for a more affordable price.
We'll be staying in another CitizenM Hotel soon, that's for sure. And we think you should stay in one too.
That is, as long as you don't have a car (no onsite parking, and the parking options nearby aren't great) and as long as you're good with two people to a room sharing a bed (every room is the same, which means the only option is one king bed – sorry families with kids!).