What Is monday.com?
monday.com is a cloud-based project management software that simplifies the way teams manage workloads and communicate.
The solution features color-coded boards that allow users to quickly check which projects are in progress, which tasks are finished and where team members are stuck. These boards are also organized in a way that conveys due-dates and the relationships between assignments.
Users can choose to view the board based on Status, Text, Person, Timeline, or Date. This allows project managers to easily find users who are over/underworked and balance out workloads. All team communication takes place on each board to help eliminate confusion. monday.com comes with over 200 templates, and users can customize their workflows by dragging and dropping from any of the 30 column types.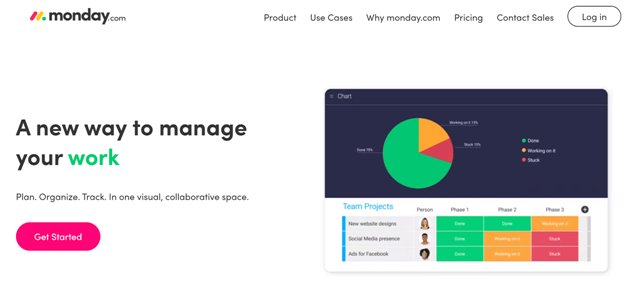 monday.com Features
monday.com earned nearly a perfect score for features; however, the only thing it seemed to be missing was an invoicing function to give project managers a way to bill their clients. Aside from that, this product offers you everything you could possibly want in a project management system in a convenient and easy-to-use package.
Documentation features
Document storage: monday.com uses a file attachment button in each task item, which allows you to store relevant project documents, images, spreadsheets, or any other related materials. This type of storage makes finding relevant materials easier than a centralized storage field.
Security features
Single Sign On (SSO) integrations: monday.com integrates with multiple big name SSO providers, such as Okta, One Login, and Azure AD.
Advanced account permissions: Protect your assets and grant access to the correct personnel using granular permissions controls to restrict access to only the correct users.
Collaboration features
Communication: Minus any kind of chat functions, monday.com offers all other forms of standard communication features such as task comments and message boards. These functions include file upload buttons, GIFs, and "@" mentions like most other collaboration tools.
File sharing: As stated before, monday.com's file storage and sharing features live in each task. This way all relevant users will have access to all of the necessary project resources. So long as you are tagged in a project board, you will receive notifications about new files added to each task.
Team dashboards: You can create dashboards for any project or user in monday.com with multiple types of widgets, including task progress, project calendar, project timeline, and custom number columns (budgets, resource numbers, etc).
Mobile application: monday.com offers a mobile version of its software for both iOS and Android users so you can remain in contact with your team and coordinate project tasks on the go.
Management and planning features
Task scheduler and prioritization: All task items organized with multiple status columns to help you track project progress.
Shared team calendar: monday.com allows you to view each of your project boards in a team calendar view. This way you'll be able to see which tasks are due weeks or months in advance.
Resource management: The system also allows you to create custom boards that are meant to track resources for your project.
Time tracking: If you need to track the time spent on each task, monday.com gives you the ability to add time tracking as a separate column. This feature is only available to the Pro and
Enterprise plans.
Pre-made templates: monday.com offers more than 200 pre-made project templates that will allow you to jump right into the action with minimal preparation time.
Budgeting features
Budget dashboards: As mentioned above, monday.com has a whole range of dashboard options, including custom number columns that can be used to create budget dashboards. Use the formula columns to put together any type budget tracking for your project.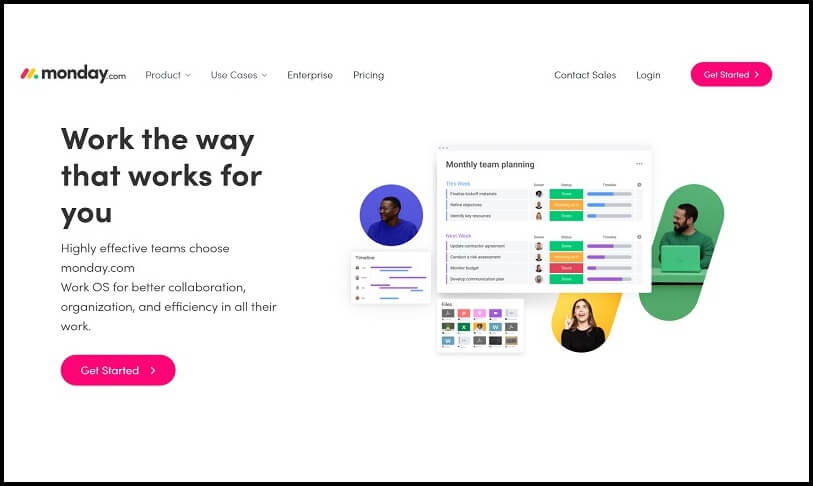 monday.c om Pricing
monday.com has four pricing tiers. The prices below are available for companies with three, five, 10, 15, 20, 25, 30, 40, 50, 100 and 200+ users. For example, for the Basic Plan, at $8 per seat, five users total cost $40 per month, whereas 40 users cost $320 per month. Companies with over 50 users must contact monday.com for a quote.
The Basic plan's features include:
5 GB of storage
Unlimited boards
Over 200 templates
Over 20 column types
iOS and Android apps
Unlimited free viewers
Unlimited number of seats per account
Shareable forms
The ability to import data from other tools
Embedded documents
Whiteboard collaboration
Updates section
Customizable notifications
One-week activity log
One board per dashboard
Kanban view
Two-factor authentication and SOC 2 Type II compliance
Self-service knowledge base
24/7 support
Daily live webinars
The Standard plan's features include:
Everything from the Basic plan
20 GB of storage
Six-month activity logs
Five boards per dashboard
Share boards with four guests
Timeline/Calendar/Map view
250 automated actions per month
Integration with Zoom
The Pro plan's features include:
Everything from the Standard plan
100 GB storage
Unlimited guests
Time tracking
Chart view
Workload
Formula and dependency columns
Custom tags
Private boards
One-year activity log
10 boards per dashboard
25,000 automated actions per month
Google authentication
Board administrators
The Enterprise plan's features include:
Everything in the Pro plan
1,000 GB storage
Five-year activity logs
50 boards per dashboard
250,000 automated actions per month
Enterprise reporting and analytics
Single sign-on
Audit logs
Session management
HIPAA compliance
Private workspaces
Panic mode (ability to lock down account if credentials are compromised)
Integration permissions
Advanced account permissions
Dedicated customer success manager
99.9% uptime SLA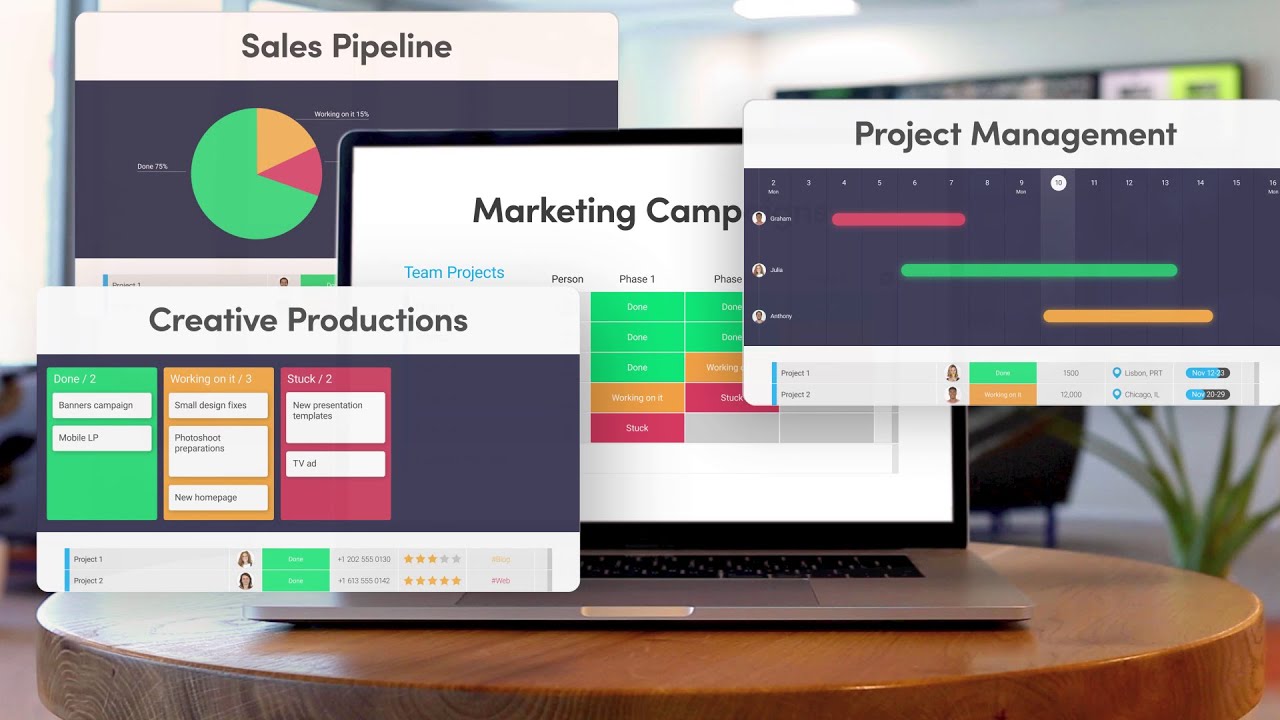 Benefits of monday.com
The biggest benefit to monday.com is how easy it is to pick up and run with, especially if you have even the slightest experience with project management software. Even if you're inexperienced, monday.com has an extensive knowledge base that covers even the most unique requirements for the software. For example, if you need to build a board that tracks profit margins, its knowledge base will walk you through the step-by-step process for creating it.
When I think of easy project management tools, I typically think of products like Basecamp. Other products are simple to use, but skimp out on features that many project managers need. Not monday.com. entire product runs off of its "board" system, and once you've mastered it, there is nothing that'll trip you up while planning, tracking, and completing your project.
Why To Use monday.com?
1. Keep everyone on the same page – Within a large team or company, all departments can set up a board to highlight their major goals and projects for the coming quarter. Everyone in the company can go there to see what the other departments are working on and what stage of the project they are up to. In addition, managers will have a go-to place to see where things are at any given time. If something is stuck, it can easily be seen and by going into the individual line item (called a pulse) the manager can quickly message the person responsible. This also eliminates the need to call someone in for a meeting or having to find the person and ask them. More time for the manager to move to the next item on his to-do list is the biggest plus of this system.
2. Easily work with freelancers and third parties – If you are working with many freelancers, you can invite them to collaborate on projects on monday.com. They'll only be able to view what you give them access to, so they can still easily share documents without viewing sensitive data. You can also use this feature to manage clients. For example, if you are a designer working with a client, you can set up a board for his project, and permit him to follow the progress of his operation. The line item is in fact a complete design plan–once the designer has a completed plan, he can share it on the board. The client will get a notification that there is a new message from the designer. Then, he can open the board and review the plan, or even change a tile to indicate that he approves the plan or request additional modifications.
3. Highly customizable interface – Let's say that you make t-shirts and have a very specific project workflow. You can create a board where the columns are the different stages of the project. In addition, you work with a number of people that are not located in your office, so each stage is related to a different team. So the first stage is "design," the second stage is "manufacturing," and the third stage is "shipped." So now you have set up a board for your unique process. Once the design is completed, they change the tile for that item to "Done." Now manufacturing knows that it's their turn. They do their job and switch the tile to "Done." Now they are ready to ship. Once shipped that tile switches to "Done." It means that all of your communication and workflow aspects are on a single platform where all team members can monitor them in real-time.