Overview
Beaches Turks and Caicos is part of the Sandals resorts family. Hotels under the Beaches brand are luxury all-inclusive, family-friendly properties dotted across the Caribbean.
The Providenciales-based resort has an impressive number of amenities included in the room rate. From the airport transfer, to SCUBA diving, guests won't have much use for their wallet beyond check-in.
Aside from a dive tour, families may want to stay on-site for the duration of the trip. Children will certainly not want to leave the 45,000 square foot waterpark, unless it is to play on the 12-miles of white-sand beach and warm, calm Caribbean waters.
The location on Grace Bay is one of the resort's biggest draws: the stretch of sand has been voted the number one beach in the world by TripAdvisor contributors.
If you are looking for Beaches Turk and Caicos reviews, read on to find out if this is the place for your Caribbean vacation.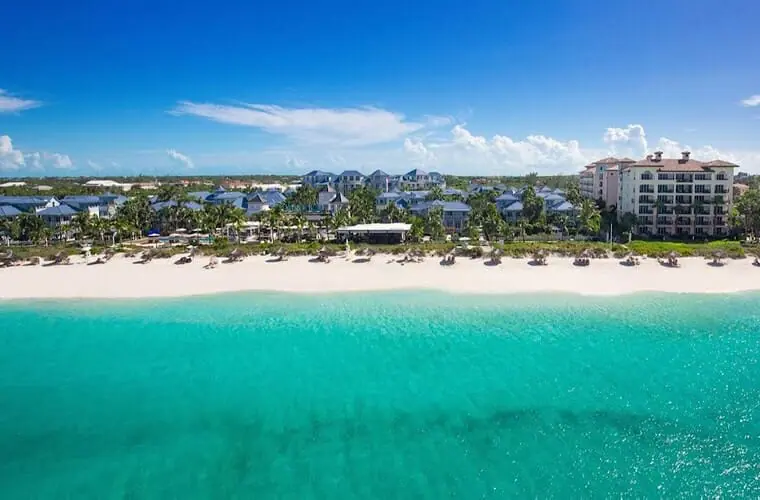 What We Love
Set directly on an incredible beach
Diving tours included in the room rate
Huge 45,000 square foot water park
Kids' club with Sesame Street characters
What We Don't Like
Older rooms need a facelift
Can get crowded and noisy
Location and Layout
Address: Lower Bight Road, Providenciales TKCA 1ZZ, Turks and Caicos Islands
Phone: +1 888-232-2437
Website: Beaches Turks and Caicos
Things to Consider Before Booking
Budget
This is a high-end resort, with almost everything included in the price. This luxury vibe is reflected in the price. Although expensive, there is no need to spend any extra once you get there.
What's included at Beaches resort? Airport transfers, all food, drinks, activities – including diving, which is rare – the kid's club and entertainment is included.
Even tips are included: the hotel has a strict "no tipping" policy so no need to bring notes to secure better service.
If you are wondering how to get the best deal at Beaches resort, consider booking early in the year for the summer, when there are likely to be promotional rates on the rooms.
Packages
Bundle a flight and stay together for savings. This is a popular destination for East Coast inhabitants, and there are plenty of direct flights from airports from Boston to Miami.
Of course, Turks and Caicos is a popular wedding destination and Beaches offers packages for weddings, anniversaries, vow renewals, elopements and seaside honeymoons.
You can also get a day pass to Beaches Turks and Caicos: the current rates are $520 for an adult day pass, $540 for an evening pass and $640 for a full-day pass.
Children also need a pass. A child day or evening pass is $180, while a full-day pass costs $270.
Family Interests
Turks and Caicos is a British Overseas Territory of 40 coral islands, only eight of which are inhabited. Providenciales is the island where the international airport and most of the resorts, including Beaches, is located.
Aside from the stunning beach, Grace Bay has a casino, Casablanca, which offers 85 slot machines and several live gaming tables. There is a free shuttle from the resort.
Families interested in nature, especially the underwater kind, plus unwinding in the sunshine, will love this island paradise.
Check-in Time
Check-in time is 3 p.m. and check-out time is 11 a.m. but guests who arrive earlier can leave their bags with the concierge and wander the resort. Online check-in is available to help speed up the process.
Guests leaving in the afternoon must be out of the room by 11 a.m. but again, can leave their bags at the front desk and enjoy the resort until it is time to go.
Features & Benefits
Amenities
All tips, taxes and gratuities
Roundtrip airport transfers
PADI-Certified scuba diving (and all equipment)
Snorkeling, hobie Cats, paddle boards, kayaks
Beach volleyball, basketball, pool tables
Day and night tennis
Fitness center
Live shows
Free WiFi
Certified Autism Centers
10 freshwater pools, four whirlpools and one scuba diving pool
All tips, taxes and gratuities
Beaches has a strict "no tipping" policy, which means guests need not keep cash on hand to tip their servers.
Roundtrip airport transfers
The airport, which is only 15 minutes drive away, has a Beaches desk in the arrivals lounge. Guests can travel to the resort on the provided air-conditioned bus, or for an extra fee, arrange for a private transfer.
PADI-Certified scuba diving (and all equipment)
Diving the coral reefs surrounding the archipelago is legendary. Beaches provides guests with tours, training and equipment to enjoy the spectacular underwater scenery.
Snorkeling, hobie Cats, paddle boards, kayaks
Free water sports rental, plus instructors on hand to assist guests with lessons.
Beach volleyball, basketball, pool tables and tennis
Whole family entertainment with basketball and tennis courts, plus volleyball and pool tables. Tennis is available day and night.
Fitness center
There is a fitness center with all the usual training machines and weights.
Live shows
Night and day live entertainment with live bands and weekly beach parties.
Free WiFi
WiFi is available in the rooms and common areas.
Certified Autism Centers
Beaches has partnered with The International Board of Credentialing and Continuing Education Standards (IBCCES) to offer child care from staff trained to meet the special needs of children with autism.
10 freshwater pools, four whirlpools and one scuba diving pool
Families will not find themselves far from a swimming pool during their stay. Pools can be found in each "village" plus kid's pools and a SCUBA training pool.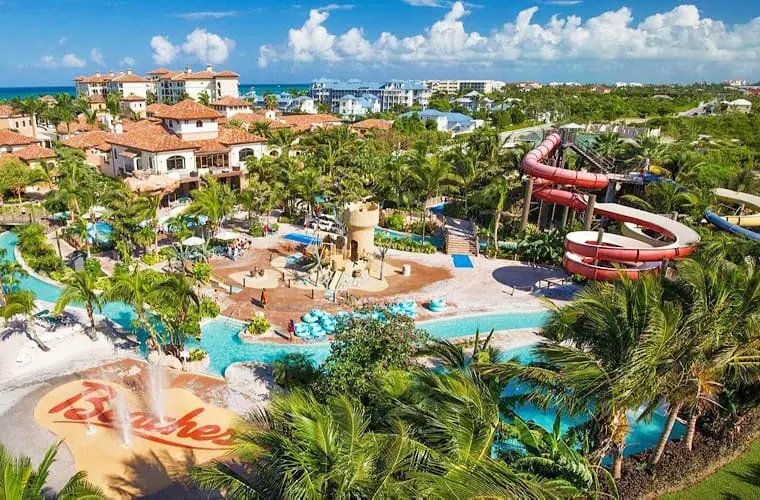 Family Activities
Liquid at Beaches nightly teen club
Xbox Play Lounge
Kids Camp with certified nannies and Sesame Street
Pirates Island Waterpark
Liquid at Beaches nightly teen club
Guest DJs play dance music in the resort's night club. Teens get the place to themselves until later at night, when it is open to over 21's only.
Xbox Play Lounge
Not just for teens, Xbox Play Lounge offers unlimited free play to the whole family.
Kids Camp with certified nannies and Sesame Street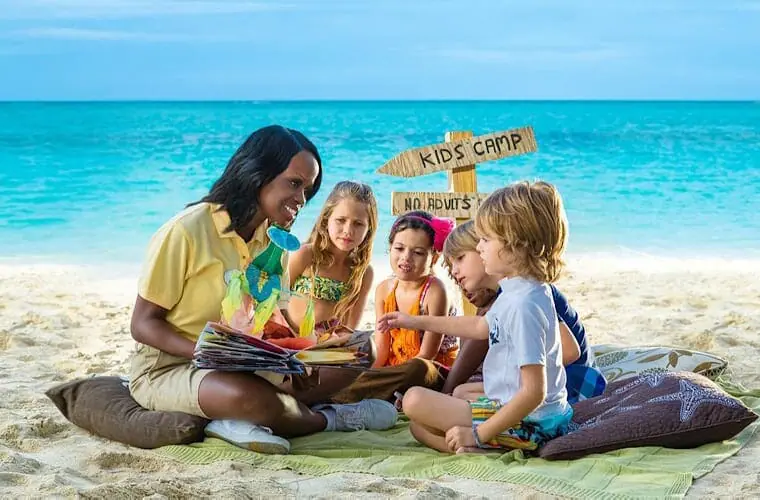 The children's programs are truly all-inclusive: from 9 a.m. until 9 p.m., certified child care providers take care of your kids.
All ages, from 0 to 17, receive this service. Kids are grouped together by age, so they receive age-appropriate care.
In addition, Beaches' child care staff have received special needs training, so kids with additional needs do not miss out on the fun. One-to-one care is available for children with autism.
Sesame Street characters join in, leading activities or just on hand for a cuddle.
Pirates Island Waterpark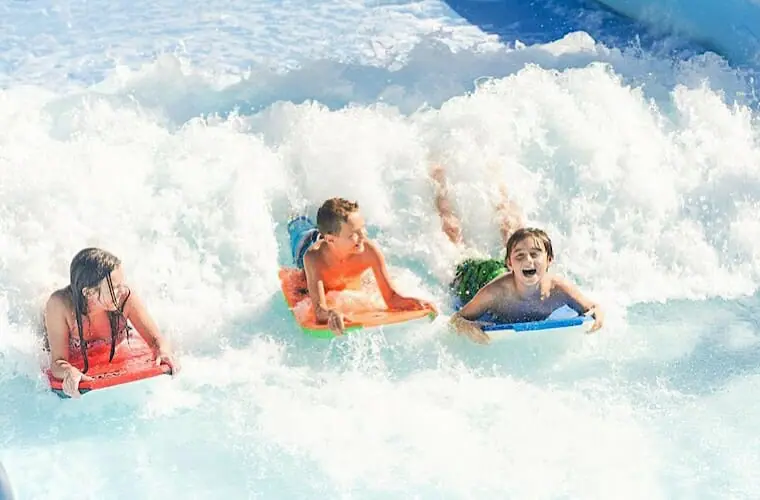 Pirates Island is a 45,000 square foot water park filled with waterslides, child‐friendly pools and even swim‐up soda bars. There are also whirlpools, water cannons and a surf simulator.
For Mom and Dad
Liquid night club is open to adults after the teens have had their turn. DJs play a mixture of dance, house and of course, reggae tunes.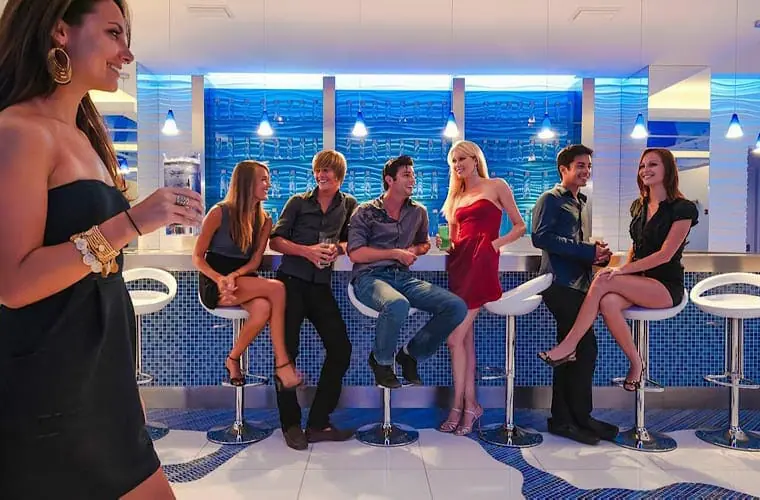 Parents can also sample unlimited premium liquors at the 15 bars, including swim-up bars, or just enjoy the fully-stocked bar in your room.
Beaches offers PADI-certified SCUBA divers two dives a day, included in the price. If you are not yet certified, you can take a PADI course at the hotel, at an additional cost.
Equipment and the boat out to the reef is all included in the room rate.
But if you just want to relax, there is of course Red Lane Spa, where you can enjoy an aromatherapy massage or Caribbean-inspired treatment.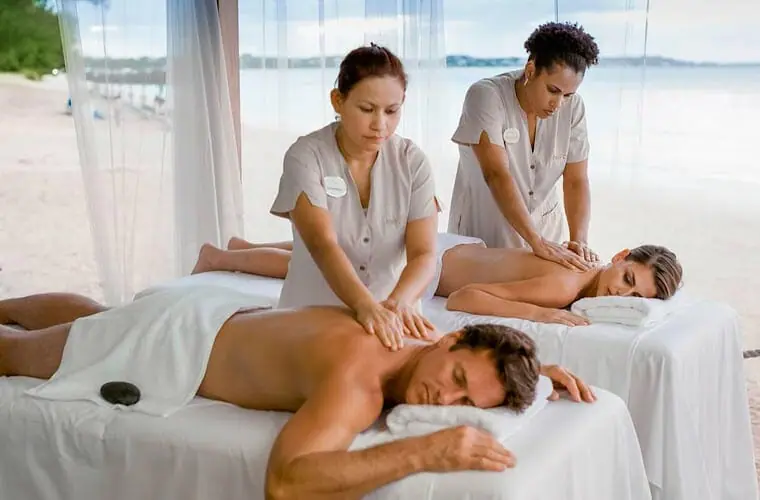 Dining Options
All food is included at 21 restaurants and bars across the resort.
Schooners
Open-air seafood grill serving regional cuisine.
Soy Sushi Bar
Made-to-order sushi inside, or sip a cocktail by the fire pits outside.
Kimonos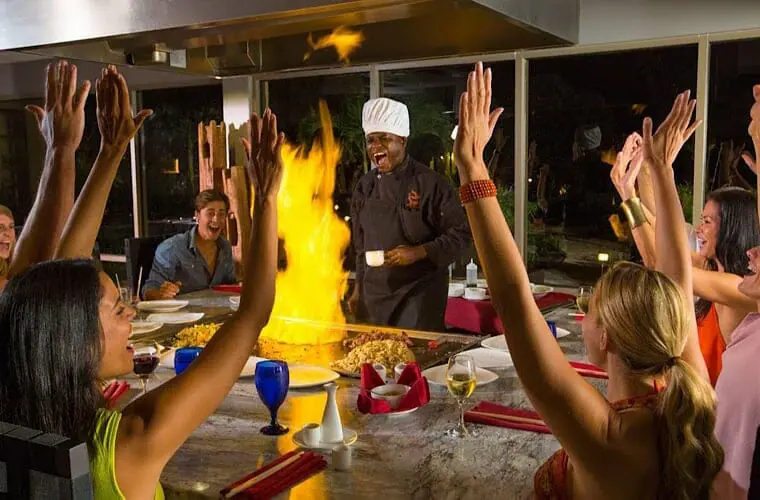 Far-East food cooked in front of you with flair.
Bella Napoli Pizzaria
Casual brick-oven pizza served outdoors.
Bayside
International cuisine served buffet-style for breakfast and lunch. At night, guests can order French fare from an la carte menu.
Neptunes
Mediterranean seafood restaurant on the deck by the ocean.
Barefoot By The Sea
Right on the beach, enjoy Caribbean flavors while digging your feet into the soft sand.
Marios
Italian dishes inspired by the Lombardia region.
Arizonas
Southwestern flair around the pool.
The Cricketer's Pub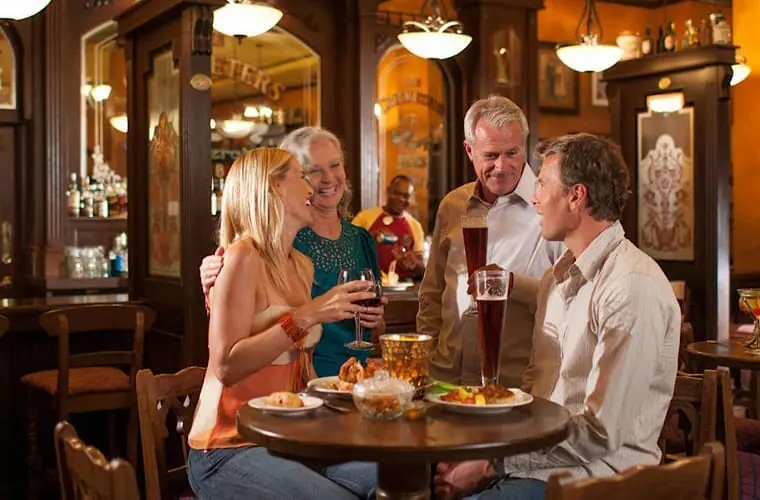 British pub-style plates with ale.
Cafe de Paris Patisserie
Enjoy delicious French pastries anytime at this cafe.
Le Petit Chateau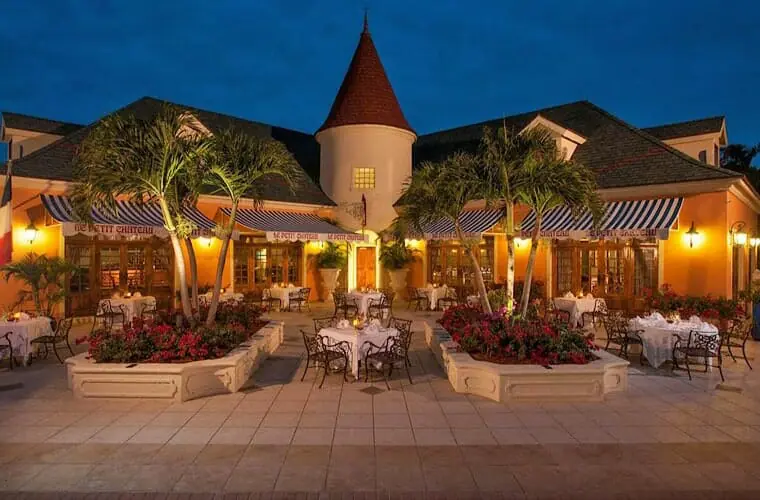 The resort's adults-only French restaurant.
Giuseppe's Italian Restaurant
Italian trattoria-style restaurant.
Room Information
There plenty of choice when it comes to selecting where to sleep. Rooms are divided into villages and levels.
Each village has its own style: French, Italian, Florida Keys, and Caribbean.
The French village is furthest from the beach but in a quieter location than the other villages. It's a good option for larger families as there are three-bedroom suites available.
Caribbean and Seaside village is right on the beach and has two pools with swim-up bars. One and two-bedroom rooms are available here. These rooms are the smallest and oldest on the resort, and do not have ocean views.
The Italian village is in the center of the complex, the tile-roofed buildings surrounding a large pool. Most of the family amenities are located in this village and the nicest rooms can be found here.
The Key West village is a collection of low-rise villas situated directly on the beach. The ultra-luxurious complex has one and two-bedroom suites, plus three and four-bedroom villas available.
Most of the one-bedroom suites can accommodate a family of four, with a king and a double sofa bed. Many have terraces, while others have kitchens and dining rooms.
Different tiers are available for the suites: Together, Butler, Concierge and Luxury. The higher-level rooms have butler service, which means personalized service including private check-in.
Wheelchair Accessibility
The entire resort is wheelchair accessible with ramps and elevators. All rooms have doors wide enough for a wheelchair. Four rooms have lowered beds and closets.
Guests can rent wheelchairs, including beach wheelchairs, from the resort, subject to availability.
Customer Reviews
I searched the internet and found these reviews from guests.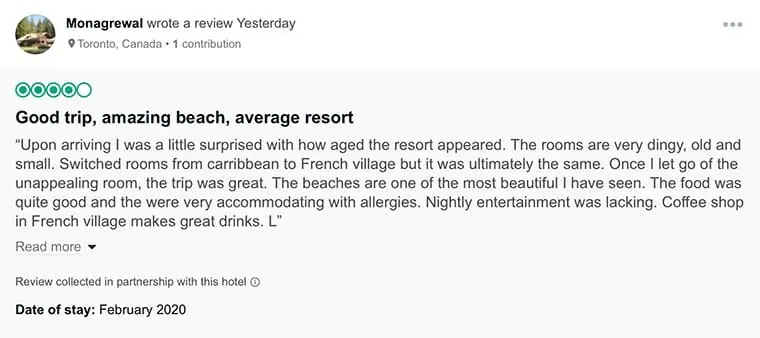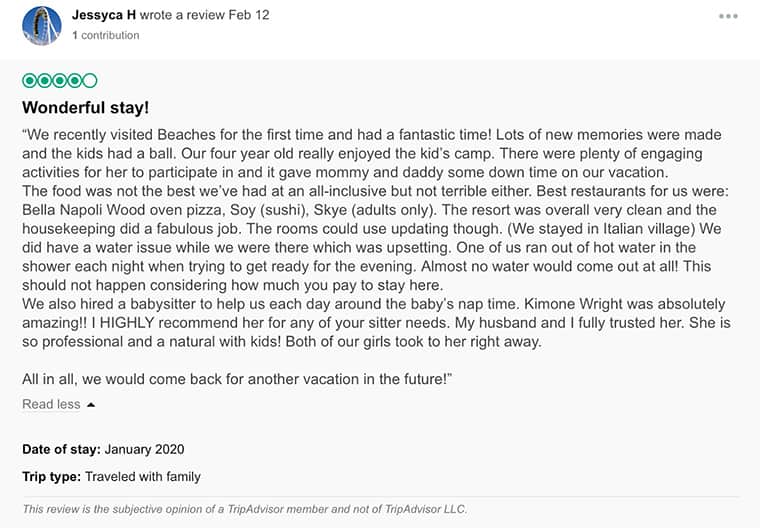 Alternatives
Iberostar Grand Rose Hall vs Beaches Turks and Caicos
Iberostar Grand Rose Hall is an adults-only all-inclusive luxury resort in Montego Bay, Jamaica. With 295 rooms, this is a large hotel, but the included butler service gives the stay a more personalized feel.
Some of the decor in the rooms can feel a little dated but they are all spacious and comfortable. Swim-up suites and rooms with terraces are available.
Infinity pool with swim-up bar and ocean views
Grand Rose Hall guests can visit two other nearby Iberostar resorts
Butler service
Beaches Negril vs Beaches Turks and Caicos
Located on the stunning Seven Mile Beach in Jamaica, Beaches Negril is a luxury all-inclusive resort aimed at families.
Beaches Negril shares many of the same features as Beaches Turks and Caicos, including Sesame Street characters, a variety of room options and multiple restaurants.
However, Beaches Negril is smaller than Turks and Caicos and the beach is not private.
Pirates Island Water Park has a lazy river and water slides
Rooms are spacious with outdoor spaces
Upgraded rooms have butler service
Atlantis Bahamas vs Beaches Turks and Caicos
Atlantis is not so much a hotel as a destination: the Paradise Island resort features six different hotels, an aquarium, plenty of restaurants and of course, the famous water park.
This is not an all-inclusive resort and families will have to budget for all their food and drinks. However, access to Aquaventure water park and Ruins aquarium is included in the price.
Aquaventure water park
Ruins aquarium
Huge variety of accommodation to suit most budgets
Conclusion
Beaches Turks and Caicos is a great option for families looking for a beach vacation with an excellent kids' club. Although there is not a whole lot to walk to, there are so many on-site activities there is no compelling reason to leave the resort anyway.
The free SCUBA dives are a nice touch and parents should take the opportunity to explore the incredible coral reefs while their children enjoy the activities at the kid's club.
Beaches Turks and Caicos is enormous yet still feels crowded and noisy at times. It's definitely not a romantic atmosphere but with plenty to occupy children and teens, parents may not mind.
The rooms do let the resort down somewhat. The cheapest rooms are quite small and dated, so families hoping for a luxurious pad should upgrade to the Italian village or the newer Key West rooms.